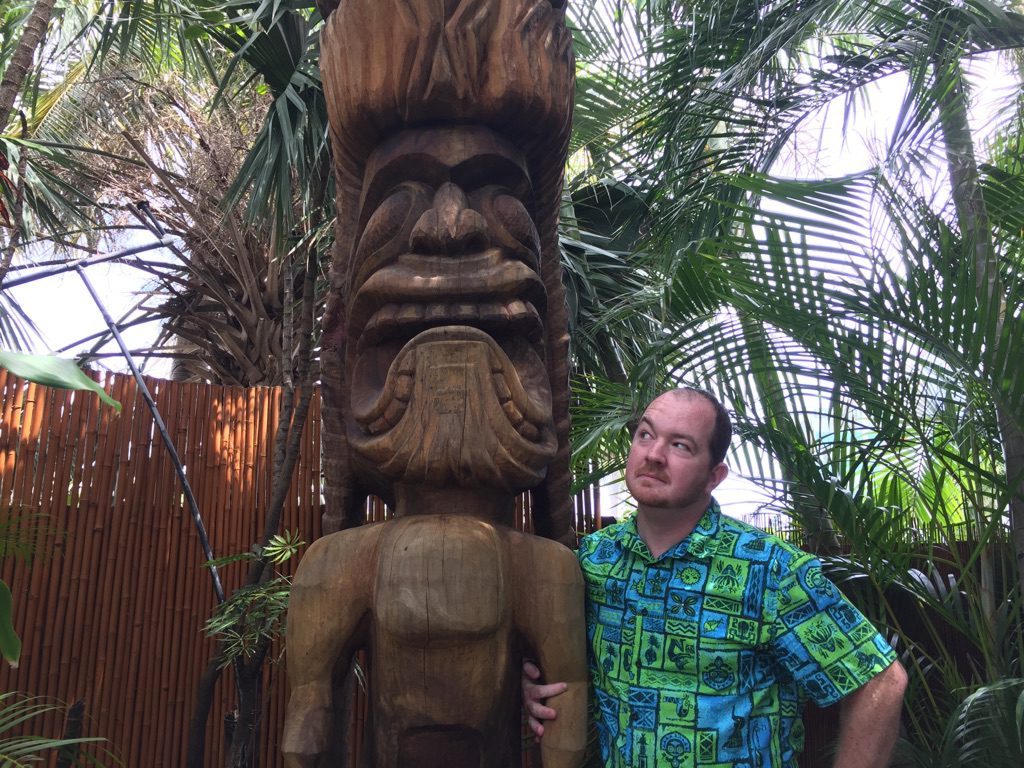 The man behind the curtain.
I know it's a Wizard Of Oz reference, but it's fitting with Brandon Kleyla. He literally was the man behind making both Trader Sam's locations what they are. Everything you see was hand picked by Brandon. You'd like to think that Walt Disney himself is somehow still pulling the strings making Disney the magical place that it is. Well, sadly old Walt is no longer with us, but his spirit is alive and well with people like Brandon Kleyla. Here is his story…
What's the Tiki scene like in Orlando?
Brandon- The Tiki scene in Orlando is surprisingly light. There's really only Aku Aku in downtown Orlando and Trader Sam's Grog Grotto over at the Polynesian Village Resort. Beyond that, Universal Orlando recently opened the Volcano Bay water park and of course Magic Kingdom has the Enchanted Tiki Room. Outside of those four, there are a couple of great home bars in the area, including Rob Ripley's Cannibal Lounge and then my own Trader Sam's Shipwreck Shack. And thankfully, we're only a couple hours away from Mai-Kai!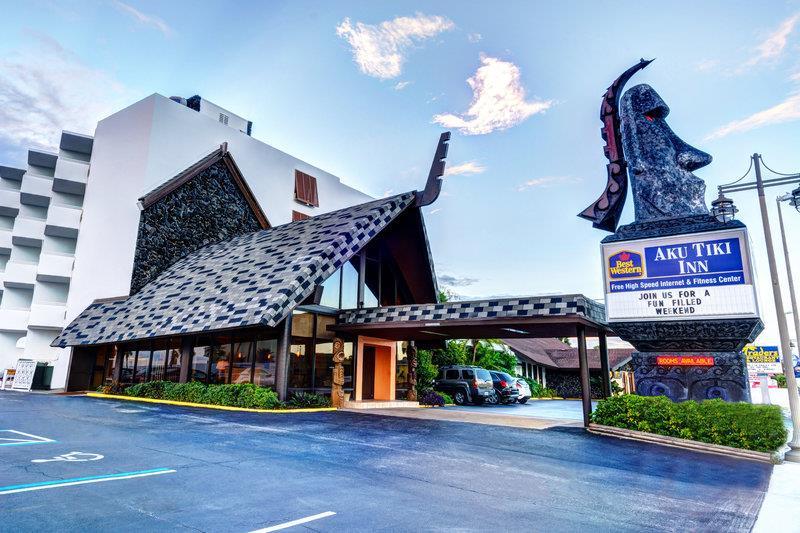 What brought you into the "Tiki lifestyle" and how long has it been part of your life?
Brandon– Trader Sam's is fully responsible for bringing me into the Tiki lifestyle when we started working on the original Anaheim location in 2009. Before that, my Tiki memories were limited. My dad's aunt worked at the Aku Tiki in Daytona Beach. Their marquee has a giant Moai head. It's still there to this day. So that was always fascinating to a little kid. I put a postcard from Aku Tiki into Trader Sam's Grog Grotto as well. Of course I visited the Enchanted Tiki Room when I was young. Then in 2005/2006 I worked at Disneyland as a Jungle Cruise Skipper. Your shift also included the occasional "Tiki shift," which was great fun! But obviously Tiki hasn't left me since completing Trader Sam's. My wife and I had Tiki Tony carve our wedding cake topper, we had custom mugs for everyone at the reception, and we're building a Tiki backyard with a lagoon and bar. So it's like malaria: once you get bit….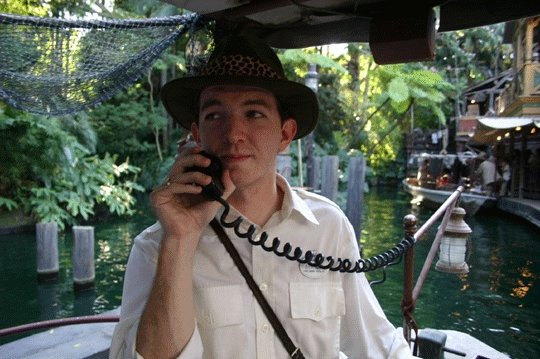 How did you your relationship with Disney start and how did it evolve?
Brandon- Well as I just mentioned, I worked at Disneyland during the 50th Anniversary, mostly because I had always wanted to work Jungle Cruise. But even before that, I was an actor in Florida and would get called in for the occasional Disney commercial or brochure, so Disney has in some way always been a part of my life. I eventually became friends with some people at Walt Disney Imagineering and would go over for lunch any chance I could. And as luck would have it, I ended up getting in and spending seven years there doing a variety of jobs including stage manager, lighting, documentation, and eventually ending at Set Decoration.
So you've done some acting?
Brandon– Oh yes, my first paying job was when I was seven. I did a production of Evita, which was followed by my stint as Tiny Tim in A Christmas Carol, and a couple other plays. Then I did a variety of TV shows for Nickelodeon Studios when they had their Orlando facilities at Universal Studios. I did a few films after that and eventually hit the age of being too young to play an adult, but too old to play a kid. That's when I got into directing, writing, and behind the camera stuff, which ultimately led me to the designing part of my life. Everything I learned as an actor I still use and I'm sure it's why I frequently become the one who has to do all the talking in meetings or for press.
Can you give a little history of how Trader Sam's came together and what was your vision?
Brandon- I had been at WDI about two weeks and read an article on the Disney Parks Blog that they were planning on putting in a Jungle Cruise-themed Tiki bar. So I printed out the page, ran to my boss's office, dramatically threw the paper on his desk and said, "I have to do this!" He thankfully got me into a meeting and I saw what the plan was. It was originally very different from what I had in my head. So I talked them into letting me do a pass at how I would decorate it and then took it back to them the following week and that was the path we took.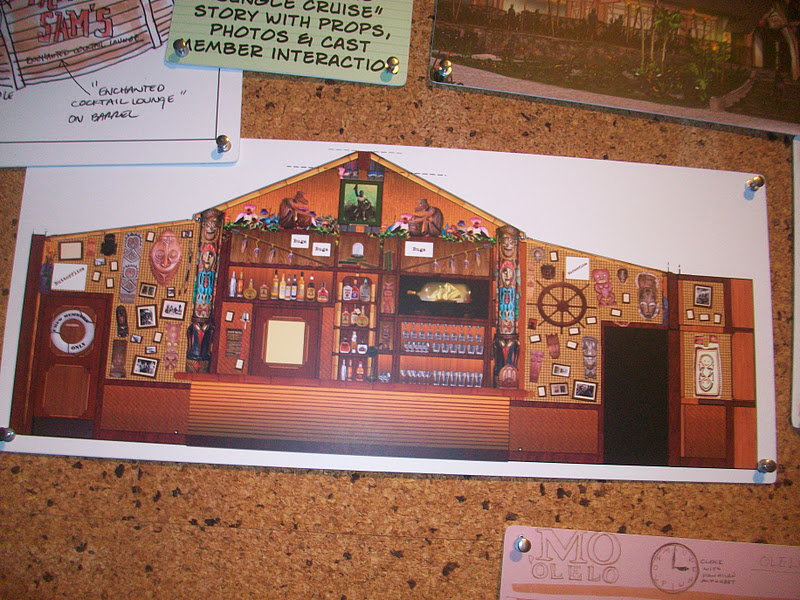 The great Kevin Rafferty was our show writer in the beginning and he and I were always on the same page as far as jungle humor. Kevin was swamped on being the show writer on the upcoming Cars Land at the time and knowing my Jungle Cruise background, he really trusted me to write what was right for the space. So I pretty much took over as the show writer from really early on. I developed the overall backstory, all of the notes in framed images, came up with drink names, wrote all the spiels for the cast. We knew early on that the cast would be off-duty or retired skippers helping out their pal Trader Sam. My real vision for it came to fruition when I started buying all the props. Every prop inside a Trader Sam's location was collected by me, by hand. We have around 1600 props in Anaheim and around 1400 props in Orlando. That was how I could make the space feel lived-in and look like it had always been there. Nothing is hung straight, nothing is perfect, it's a real breathing environment, with real genuine artifacts. Very little was fabricated. Almost everything is a found item from the real world. Even the book entitled Eating People is Wrong, which now is going on eBay for about four times what I originally bought a copy for because now everyone wants one for their bar.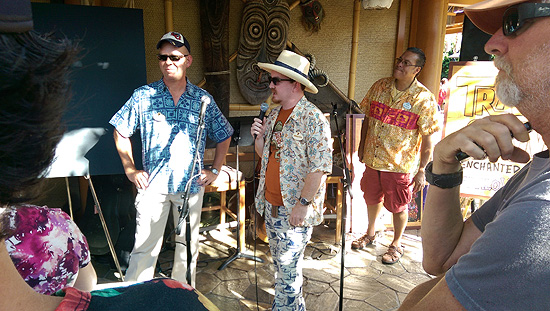 I had amazing partners in Ray Spencer and Kyle Barnes as my bosses over the multiyear Sam's journey I embarked on. Kyle and I ended up becoming great friends over those years and really shared the same vision and direction for this brand and how we were going to get it there. Most importantly, Kyle simply trusted me to do my job and have fun and you can't ask for a better partner than that! I do miss the days of running into his office to name a drink or share thoughts on an upcoming mug design. Those are great memories!!
What are the main differences between the two locations in terms of theme?
Brandon- We were very fortunate to be able to go with Sam on a second adventure. I mean you always hope the original will do so well you'll get to do another. Kyle and I agreed early on that it needed to be handled like "Trader Sam and the…" A new adventure! So at the Enchanted Tiki Bar, you're in an early 1930s story that goes until 1950s. It's very Adventureland-driven as far as the props and overall look. It really is a love letter to Adventureland.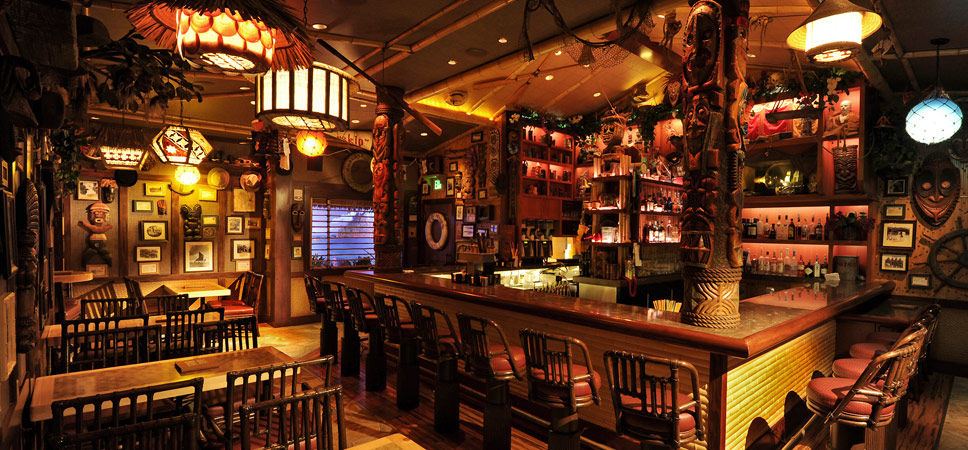 When Grog Grotto came up, we wanted to tell that new story and push it a bit further, so it tells a Technicolor story from the 1950s to 1970s. The most noticeable change was that Grog Grotto is overall so much more colorful than the Enchanted Tiki Bar. We wanted that Technicolor vibe. By moving it to a later time period, I knew we wouldn't want any sepia photos. Every photo in Grog Grotto would be color, and not only color, but colorized! So I hand colored almost every photo in the place. That was fun! One of the truly unique elements about Sam's is everything he's collected is one-of-a-kind discoveries, so you won't find two props that match on either coast. That was certainly challenging, but very exciting to accomplish. Even the drinks/mugs are different, all following our new story. It's funny to watch people compare which Sam's they like best. I don't think that's really fair to compare them because they're so different. I think it's great that we're able to offer a different experience depending on what coast you're on. You don't have to like one more than the other.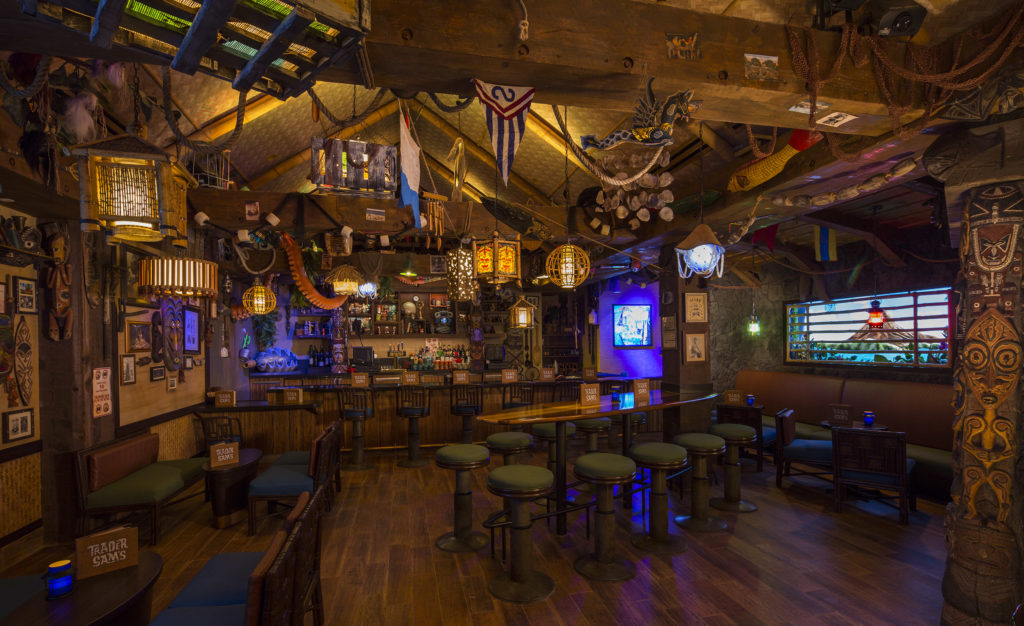 What is your favorite Tiki drink? Why? 
Brandon– Fun fact: I actually don't drink. But I will say that I do really enjoy going to Tiki bars and saying "give me something nonalcoholic" and seeing what they come up with. You'd think it'd just end up being a glass of pineapple juice, but it's amazing the variety of drinks I've had. Truth be told, when I go to Trader Sam's I always have a nice tall glass of straight Gorilla Grog!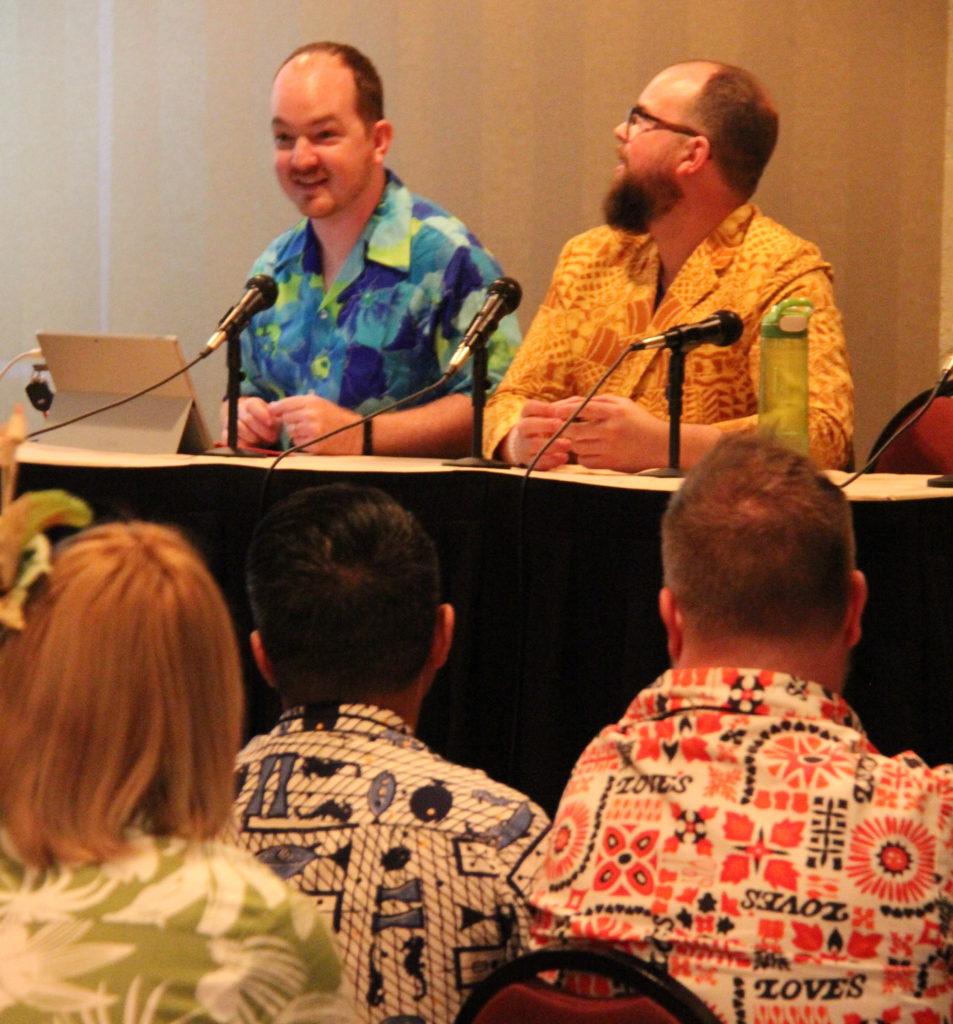 What is your favorite Tiki bar, not including Trader Sam's?
Brandon- I've come to really love Tiki bars because no two are alike. And as a designer, that's just awesome. I love the Mai-Kai and take so many photos every time I'm there. You certainly feel like you're in a special place when you're there. I really enjoy the S.O.S. Tiki Bar in Georgia. That's a great place. But honestly, probably my favorite is Ventiki in Ventura, CA. My wife and I absolutely love that place! Josh and the drinks are great, the décor is fun, the food is amazing. It's VERY high on my list!
Outside of great drinks, what do you think are essential elements in creating the perfect Tiki environment?
Brandon- You need to walk in and immediately be right at home and never want to leave. Personally, I think the most important thing is size. I love Tiki bars that are little holes in the wall. Look at Tiki Ti in Los Angeles. Look at S.O.S. Tiki Bar in Georgia. I love when they've just been wedged into places. The Molokai Bar at the Mai-Kai. I love the low ceilings and how snug it gets. You really feel like you're in a ship. Only occasionally does a large location work, and that's the Mai-Kai. I have yet to visit another large place and feel the same way.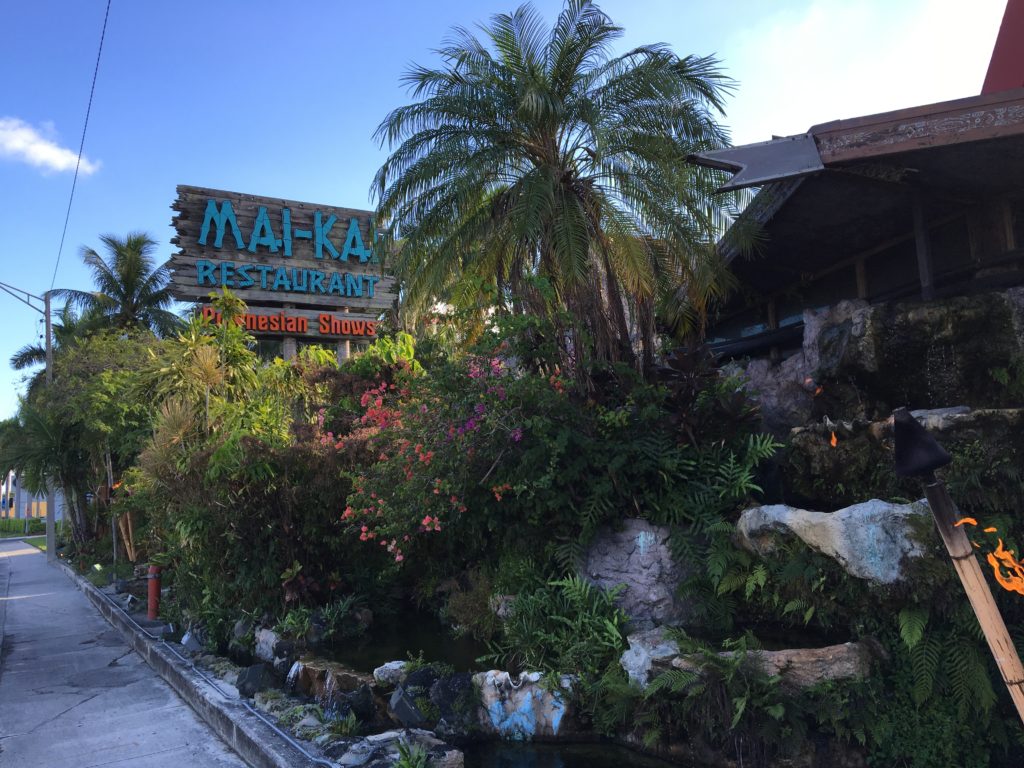 You have to have the right music. I was in a Tiki bar last week and it's a nice up and coming bar, but the music just didn't work. That was off-putting. But again, it's hard for me to go places and not think as a designer. Because I certainly wouldn't play Salsa music in my Tiki bar, but did anyone else in the bar notice it?
And because it's an obvious one for me: décor, décor, décor! I can appreciate all types of Tiki bar décor. I love what I call the "traditionally designed" places like Pacific Seas in Los Angeles, Three Dots and a Dash in Chicago, and Bali Hai in San Diego. I love finding little one-offs, like Tiki Ti that so obviously has continued to grow over years, or the Alibi in Portland that are in their own category. My wife was cruising around the internet one night and someone was asking a message board if they thought an item fell within the Sam's category. So I was flattered to see that Trader Sam's seems to have created its own category of bar as well. I call it the "Explorer" bar. I'd put Hale Pele into that category as well. That's personally my favorite, not just because of Sam's, but because it allows for the most imagination. That's what I'm currently building in my backyard. I just think it's the most fun.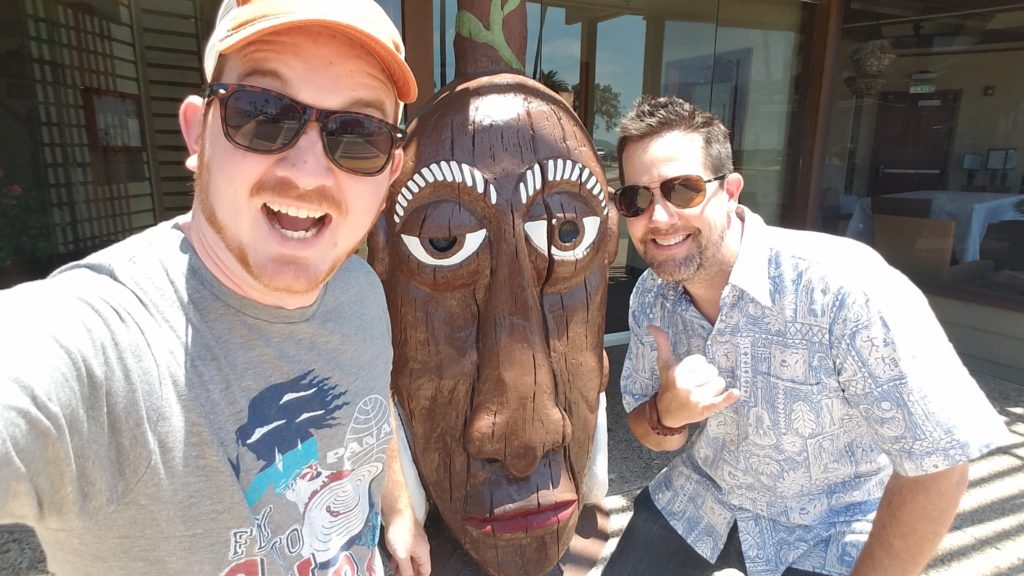 What does the future hold for you?
Brandon-Oh man, lets see. I'm currently a Props Manager for Universal Creative, working on our upcoming theme park in Beijing, China. So I'm overseeing the prop creation for two lands within the park. That's obviously a full time job. In my spare time, I'm working on a Tiki book with Tiki Tony that we're hoping to have out by 2018 Hukilau. And then Brandon Giraldez at Geeki Tiki and I are working on reinventing a few things in the Tiki world by bringing a whole new approach to them. Unfortunately, both of those last two things I can't talk too much about right now, but they are in motion and are very exciting.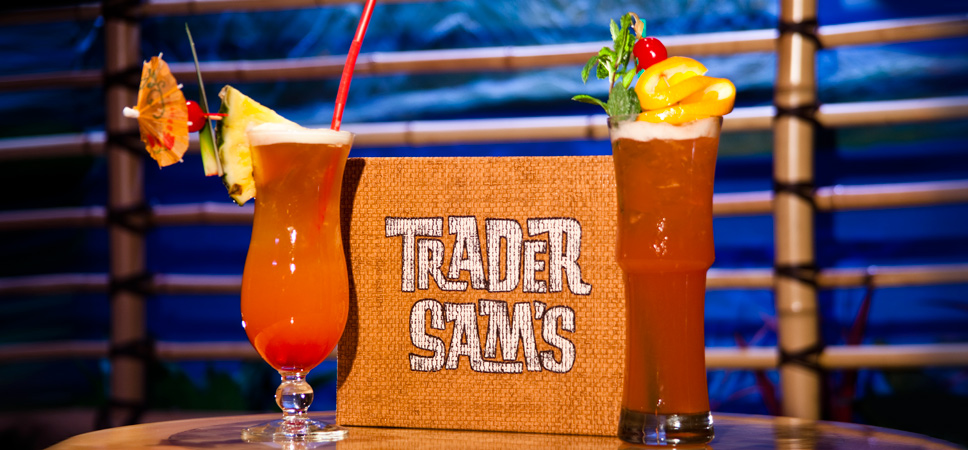 Here is my write up on Trader Sam's Enchanted Tiki Bar