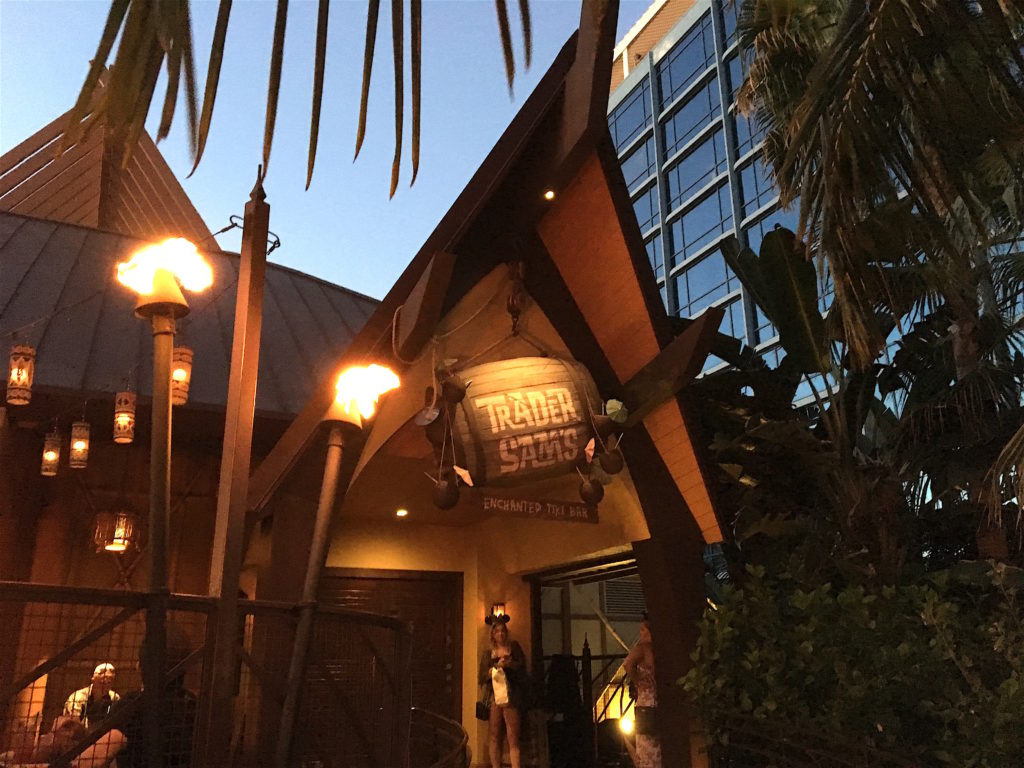 One of my favorite things to ask people is, "What got you into Tiki?" For some people, their first step was going to a Tiki bar for the first time. Another thing people tell me is a trip to Hawaii or someplace tropical got them interested in living the Tiki lifestyle. There is one last reason that is quite common, especially out on the West Coast, and that is Disneyland!
If you are from California, there is a good chance you have been to Disneyland. If you live in Southern California, Disneyland is practically in your backyard! You can even buy a yearly pass so you can go to Disneyland as much as you like! For many people, they have grown up with Disney and now they are taking their kids to see Mickey Mouse. I'm sure this cycle will go on and on until maybe an earthquake puts Southern California underwater.
When it comes to escapism and creating a fictional place, Disney has it all down to a science. Want to go to the Wild West? Head to Frontierland. Want to go into the jungle? Make your way to Adventureland. You can even venture into the future by entering Tomorrowland! How about a Tiki bar? Yes! Disney has you covered there too! It's called Trader Sam's…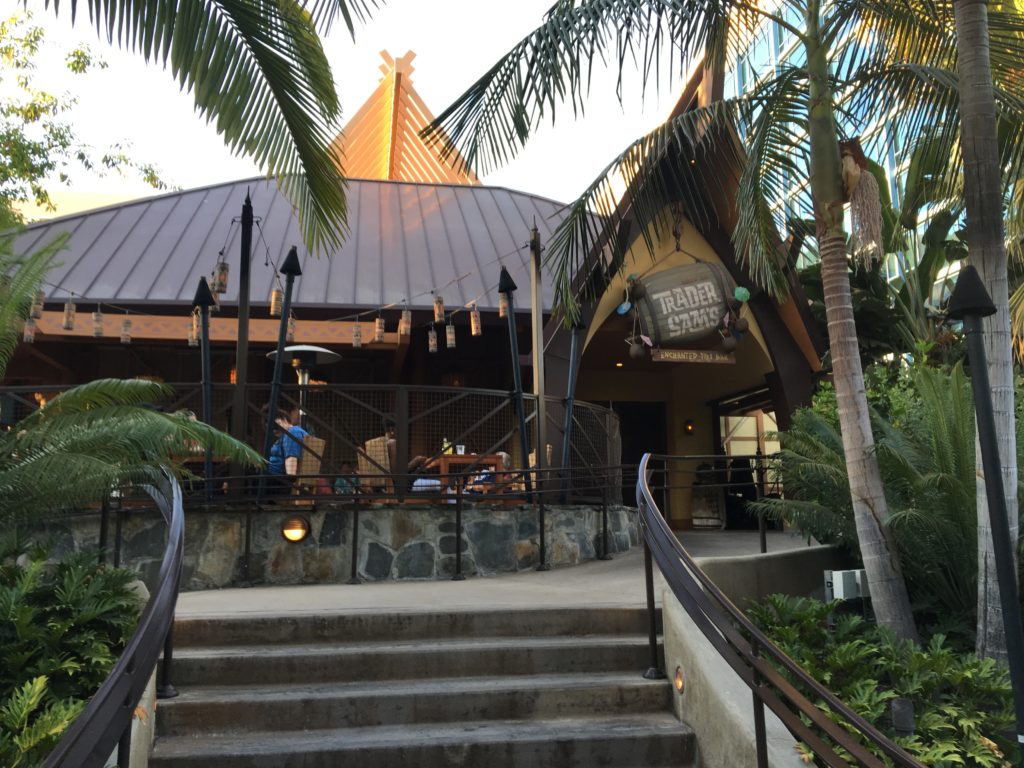 I have to be honest, I didn't know that Disneyland had a Tiki bar. I knew of the Enchanted Tiki Room, but you can't buy a Mai Tai there. I was also very skeptical about a Tiki bar that Disney built. I mean, would Goofy and Donald Duck be behind the bar serving you drinks? Would "It's A Small World After All" be playing over and over again through the speakers? I had to go see for myself.
There are two Trader Sam's locations. One is in The Polynesian Resort at Disneyworld and the other is at the Disneyland Hotel…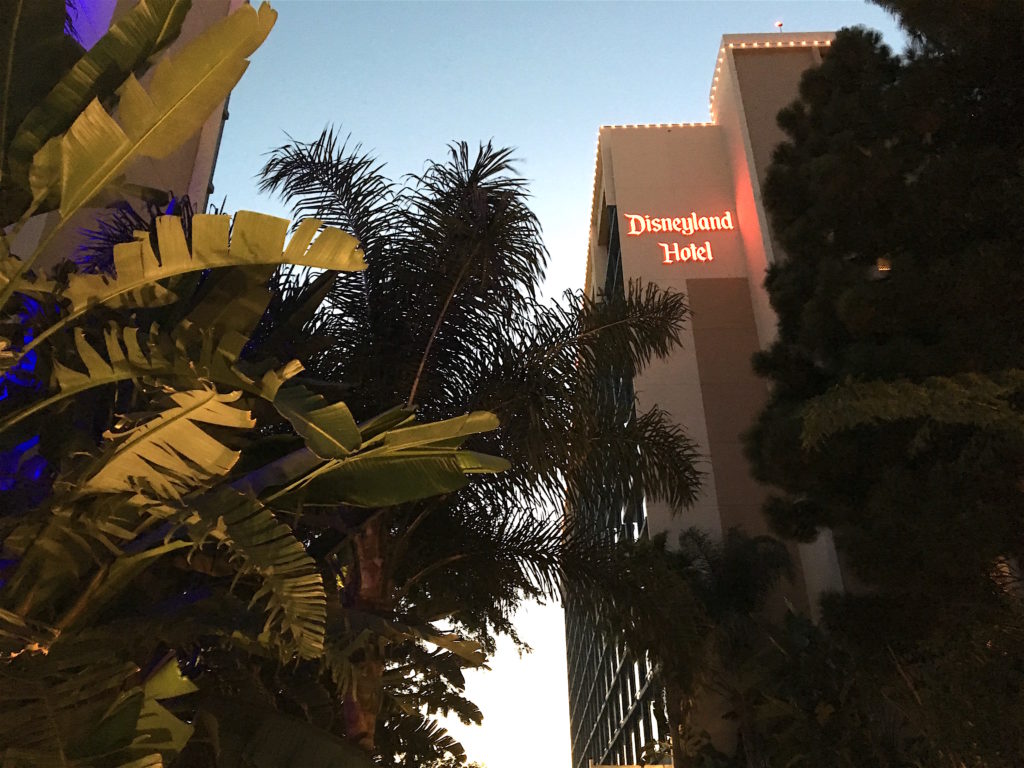 I assumed that you would have to pay for admission to get into the park, but since Trader Sam's is not technically inside Disneyland, it's free! All you have to pay for is parking and you can get the first two hours validated.
If I am going to sum up my Trader Sam's experience with one word it has to be "fun!"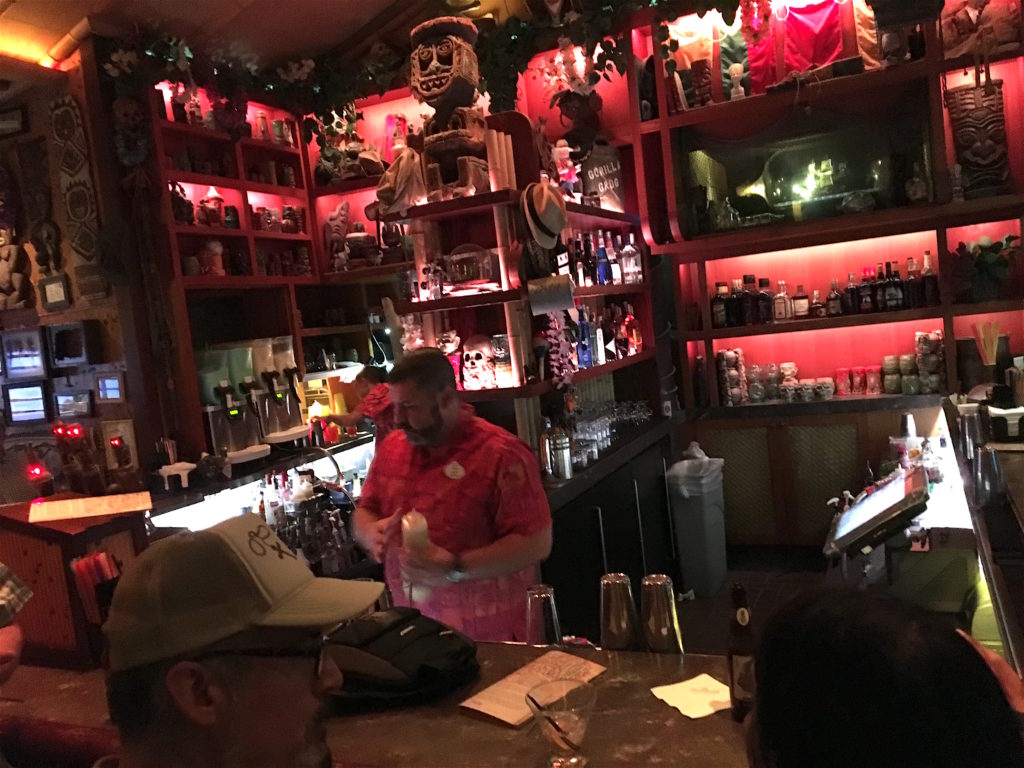 Sam's had pretty much every element of a great Tiki bar down. Right off the bat, I noticed the music being played. It was Les Baxter! Sweet! This made me smile. After Les came Martin Denny, followed by another exotica tuned, followed by some surf, and so on. No Disney tunes of any kind. Just the music that any great Tiki bar would play.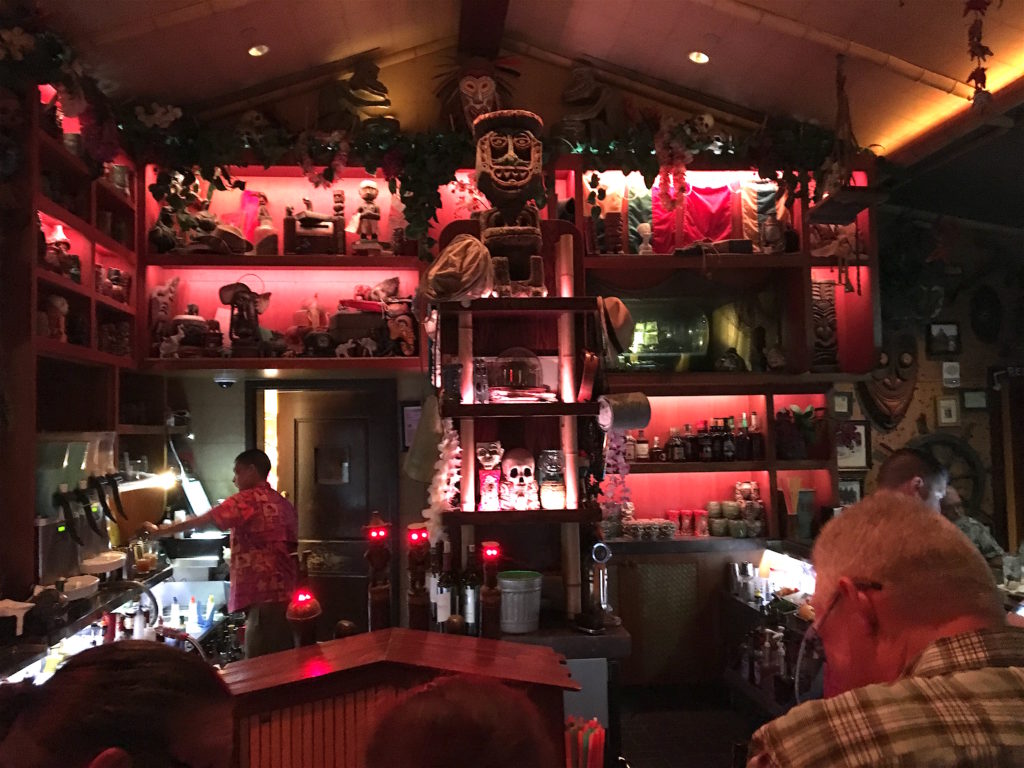 Trader Sam's is not a large place. The bar is in the center of the room with a row of tables that horseshoe around it…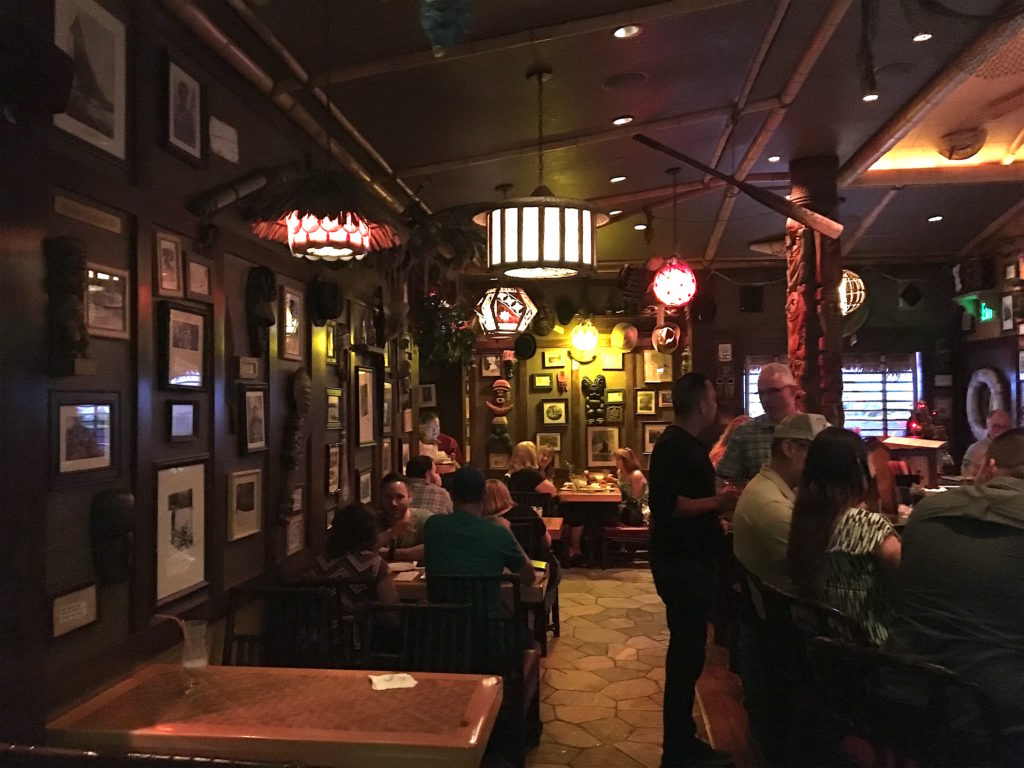 The space is cozy and intimate. This is totally cool with me. The décor at Trader Sam's is about as Tiki as you get.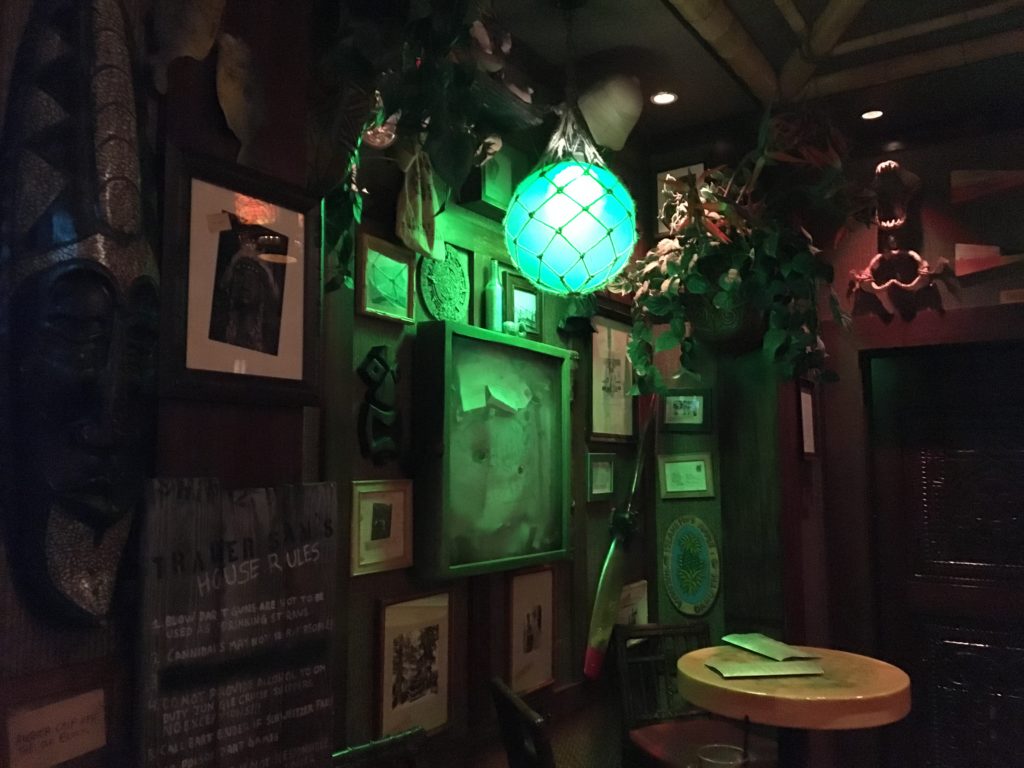 Taking care of my friends and I was the lovely Dani…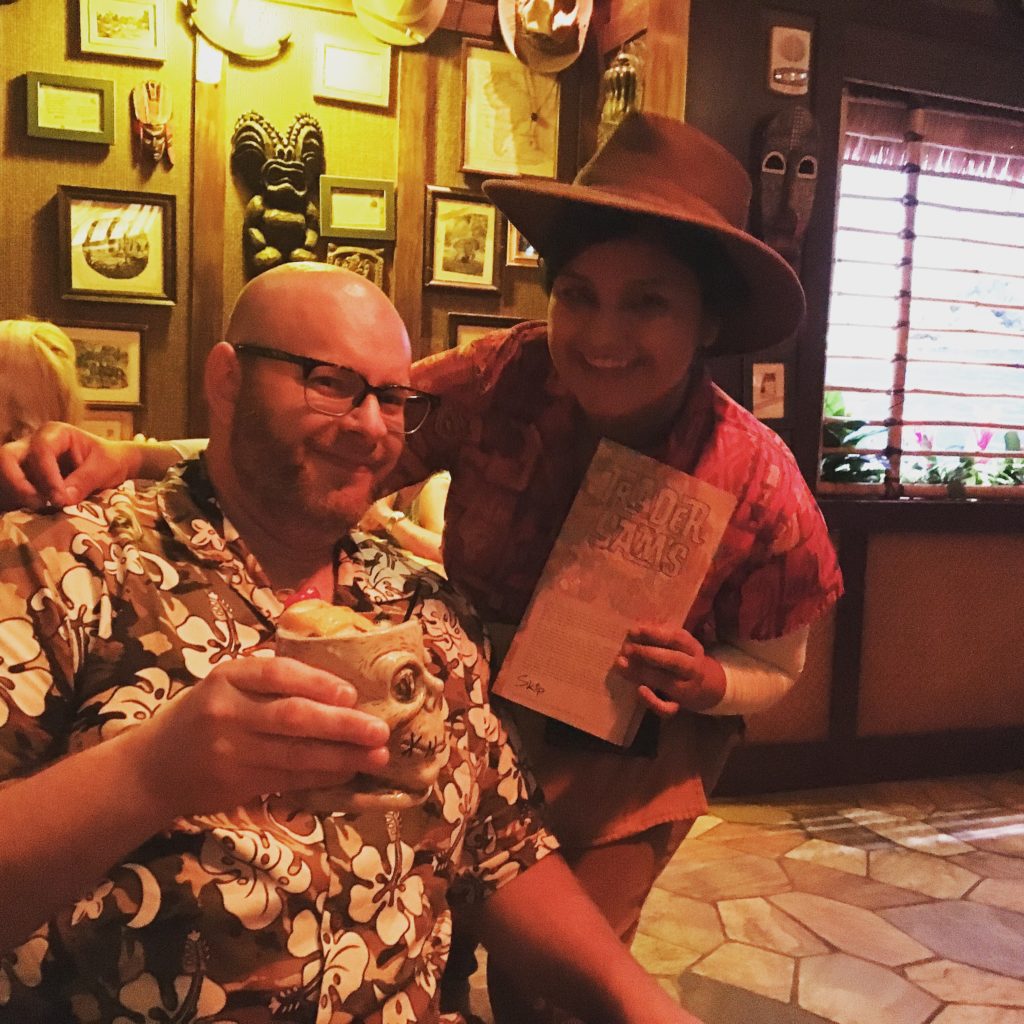 She was really cool and friendly. Dani pointed out that if you ordered certain drinks you get to keep the mug. That sounded good to us! Now we just had to decide what to get…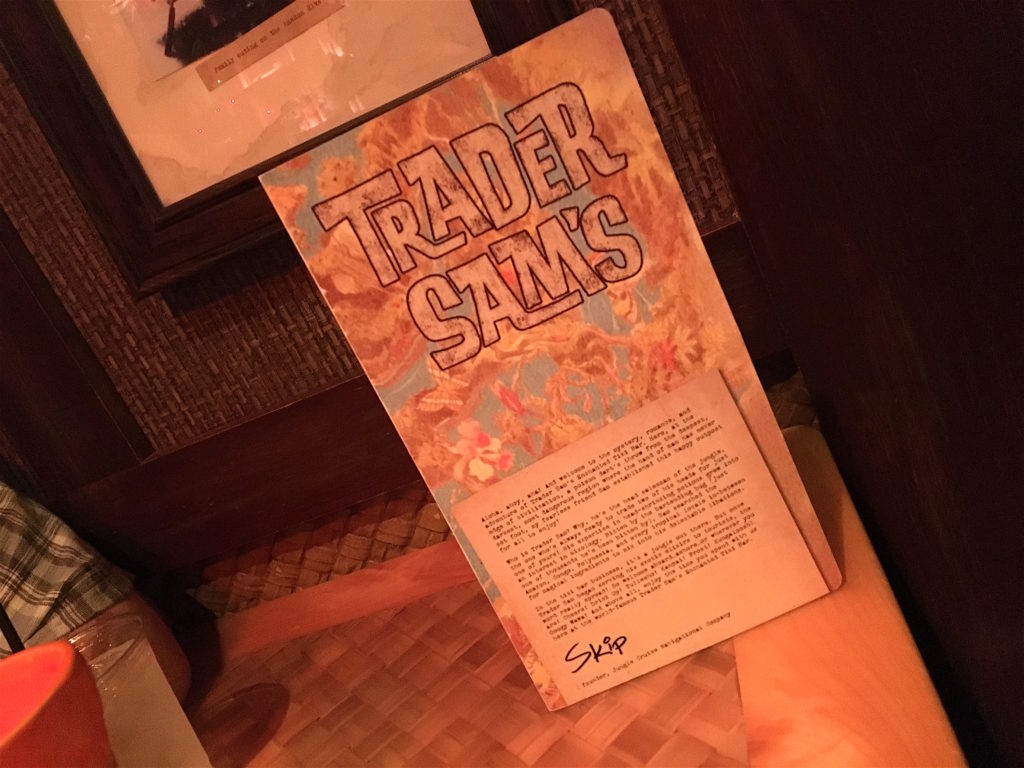 Trader Sam's has a pretty good selection of drinks…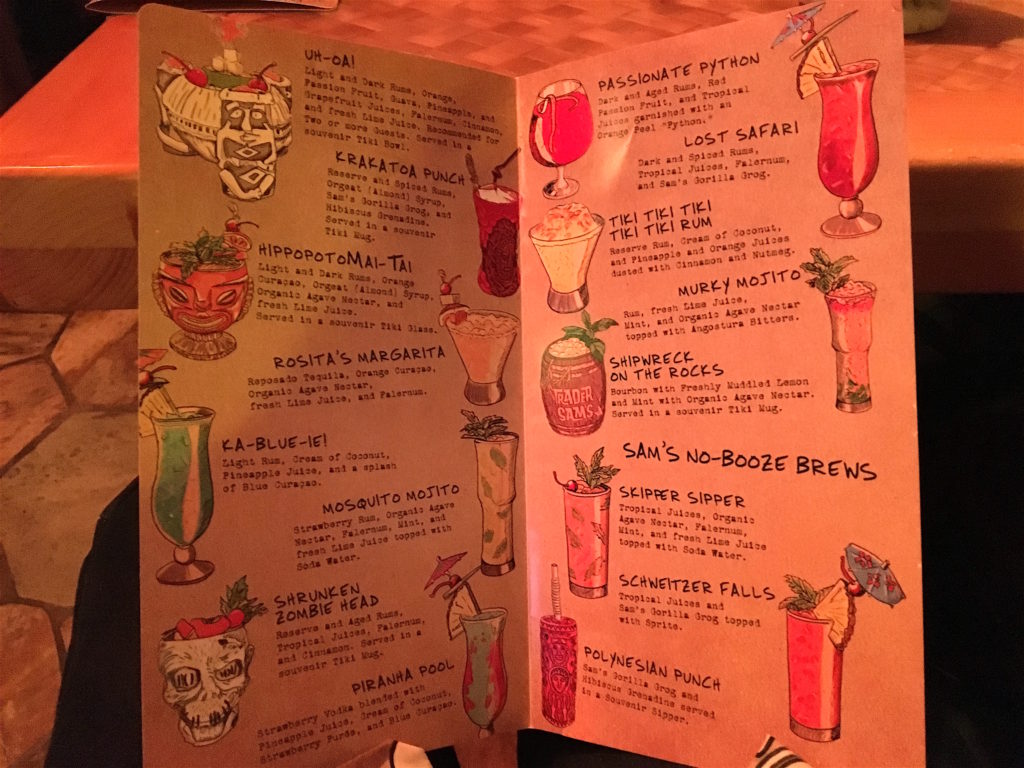 You could get a classic Tiki drink like Mai Tai (at Trader Sam's it was called the HippopotoMai Tai), or a Trader Sam's original creation like a Krakatoa Punch. This is the drink my buddy Joe went with…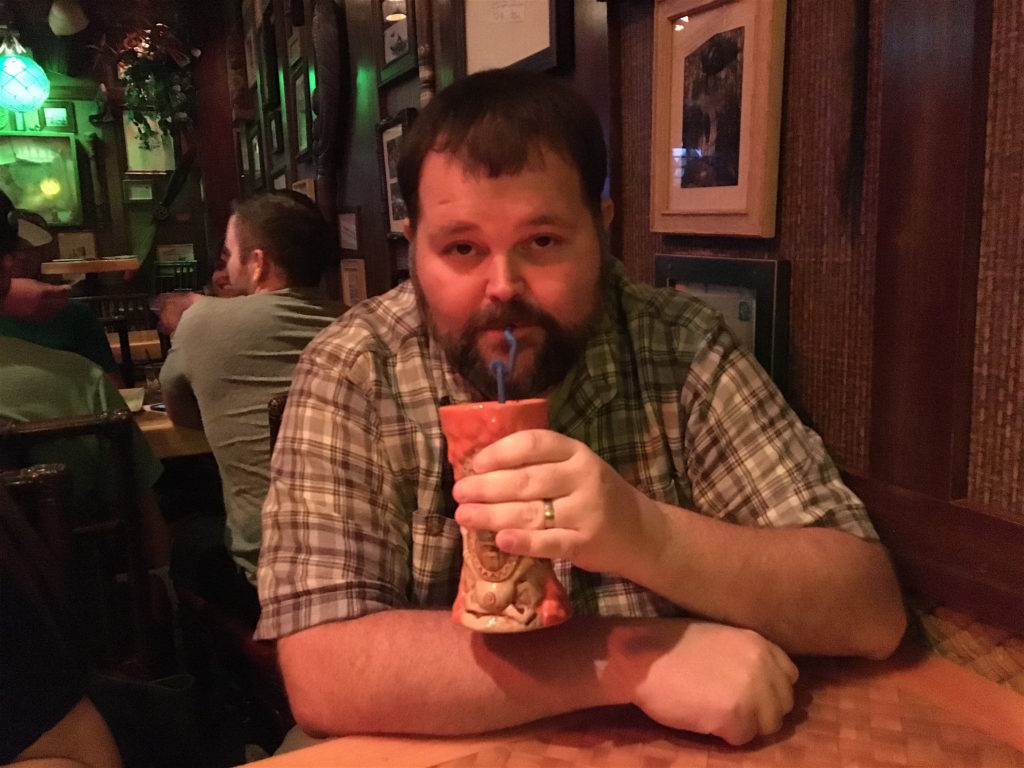 Carla was our designated driver. Thank you Carla! She got a non-alcoholic drink. It was the Polynesian Punch…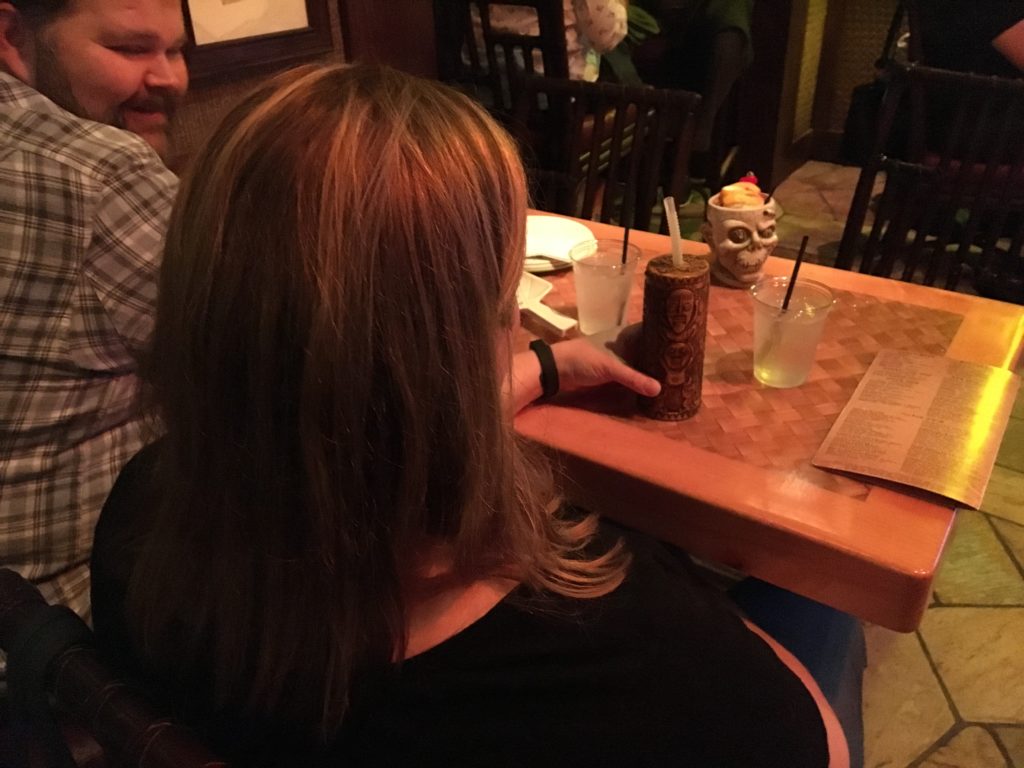 I needed to have the Shrunken Head Tiki mug, so I ordered Shrunken Zombie Head…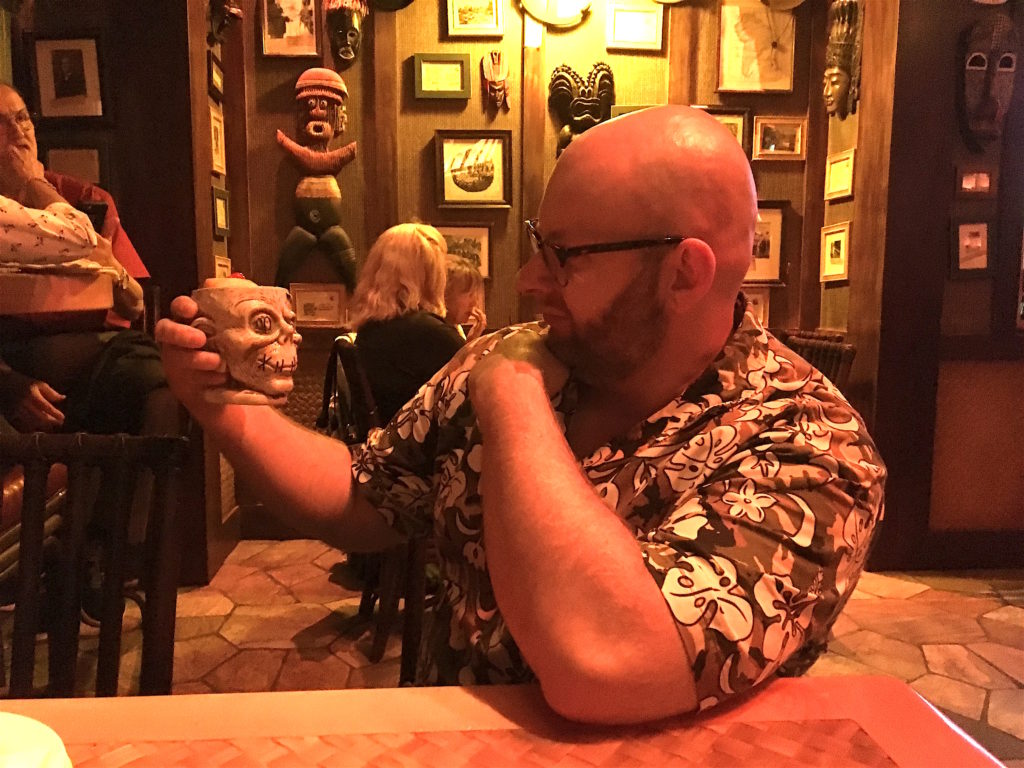 All our drinks were good and strong. Well, except for Carla's!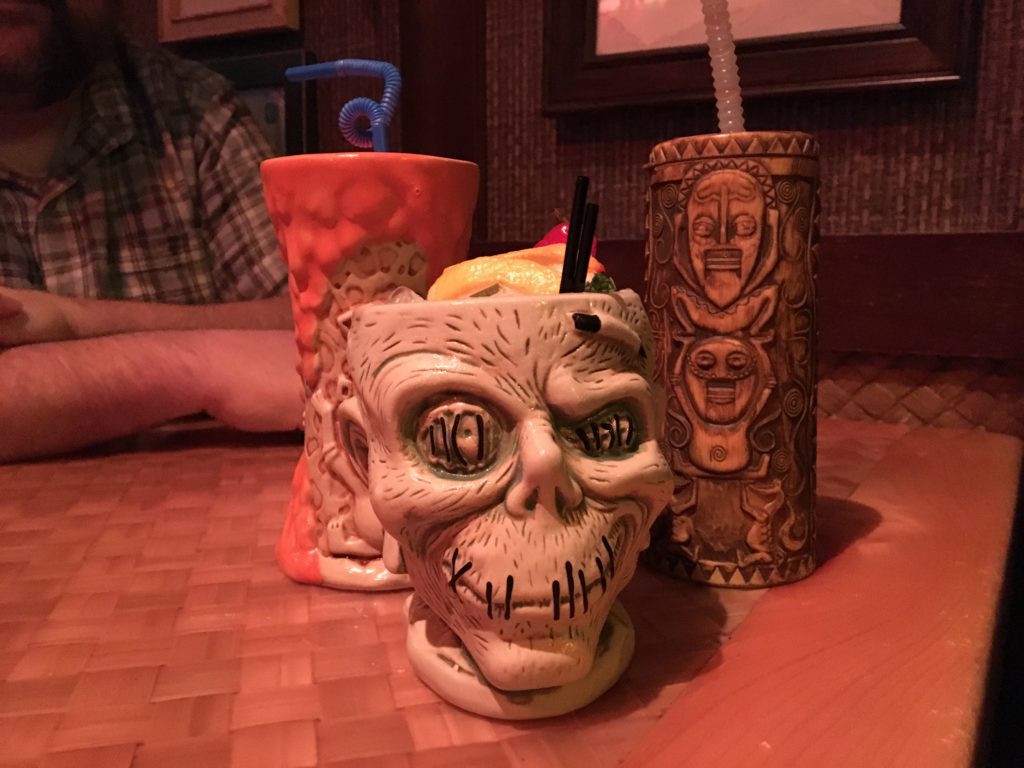 Speaking of drinks, I noticed a gentleman sitting at the bar sipping his Tiki cocktail. His drink was actually lit up like a lantern! His name was Paul…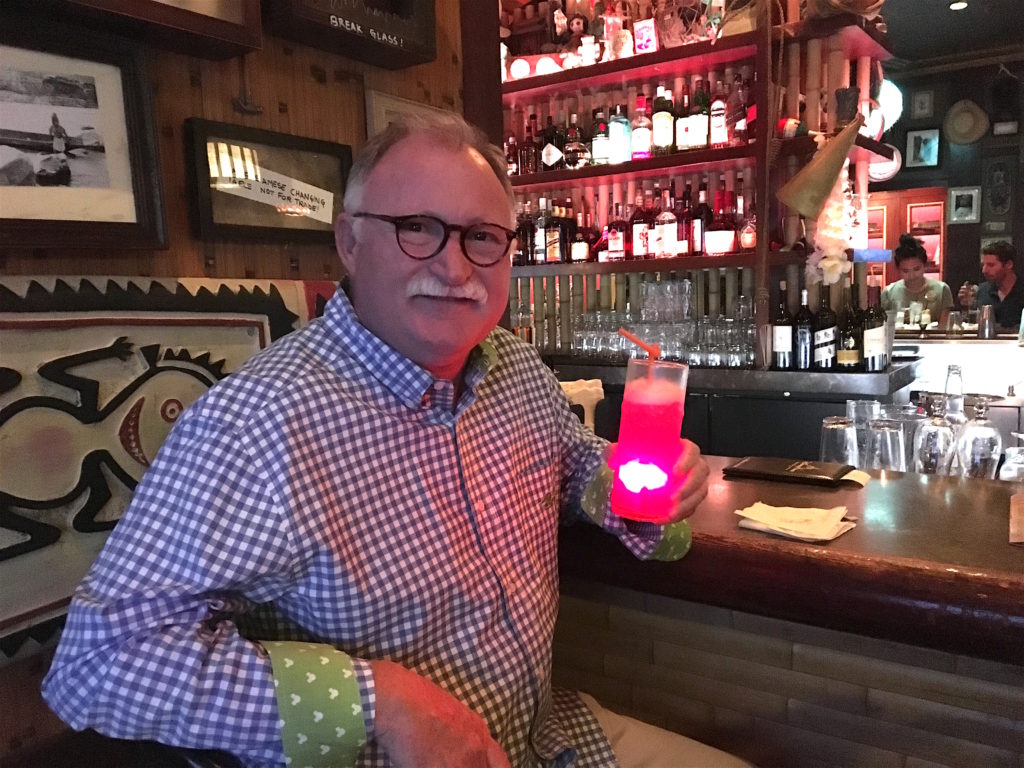 There are no windows at Trader Sam's, or at least no real ones. There is one "window" that looks out to an island with a volcano…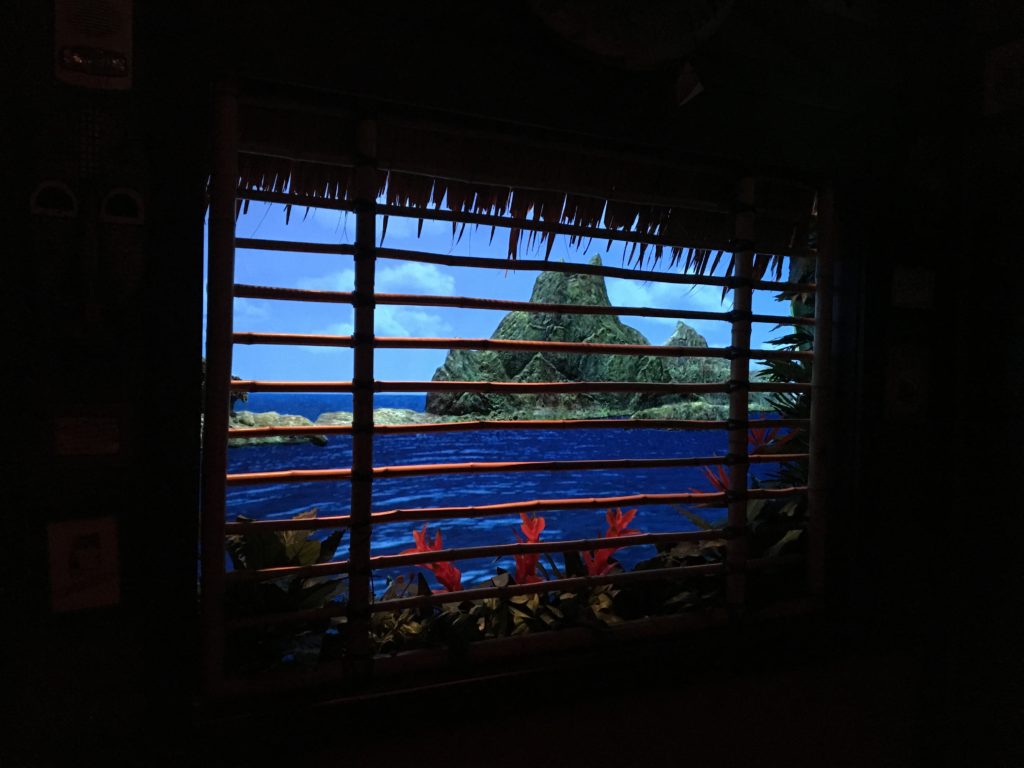 When someone orders certain drinks, the volcano will erupt!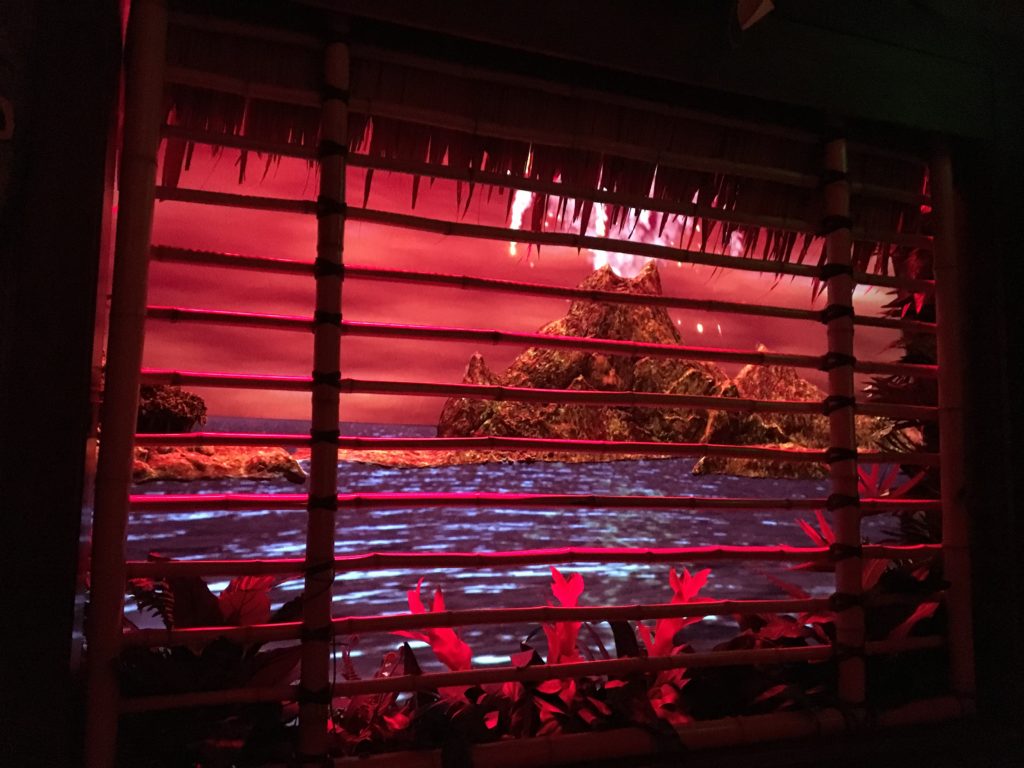 This only one part of the action that goes on at Trader Sam's. The barstools will slowly move down while people sit on them…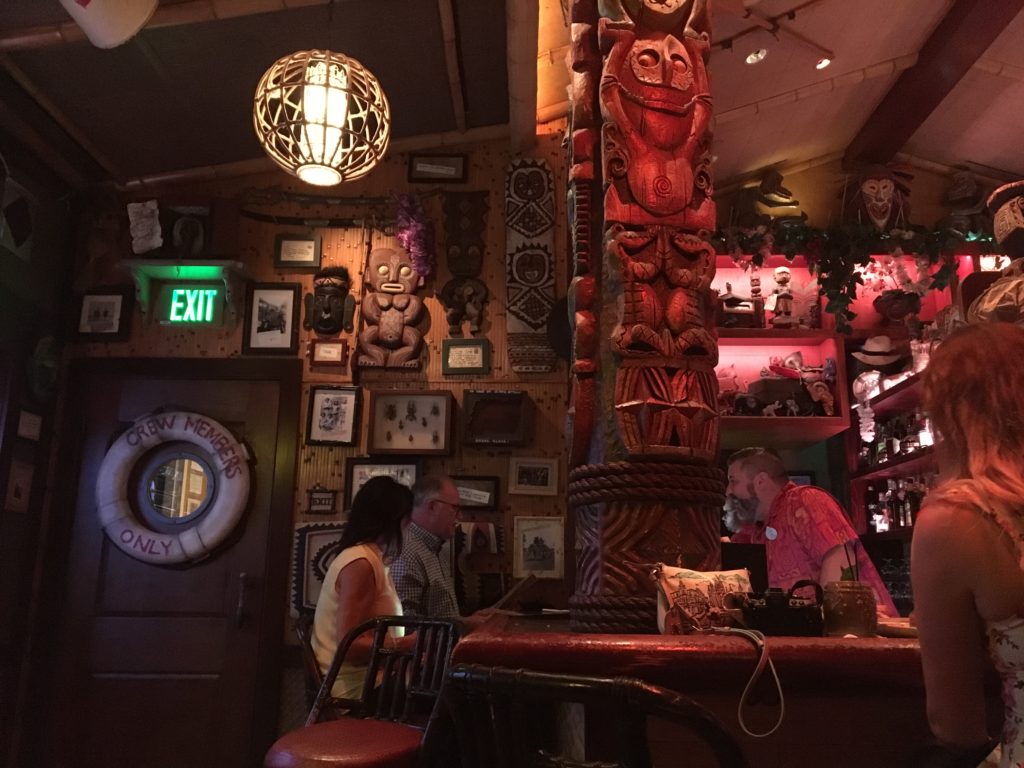 The bartenders were constantly chanting and ringing bells…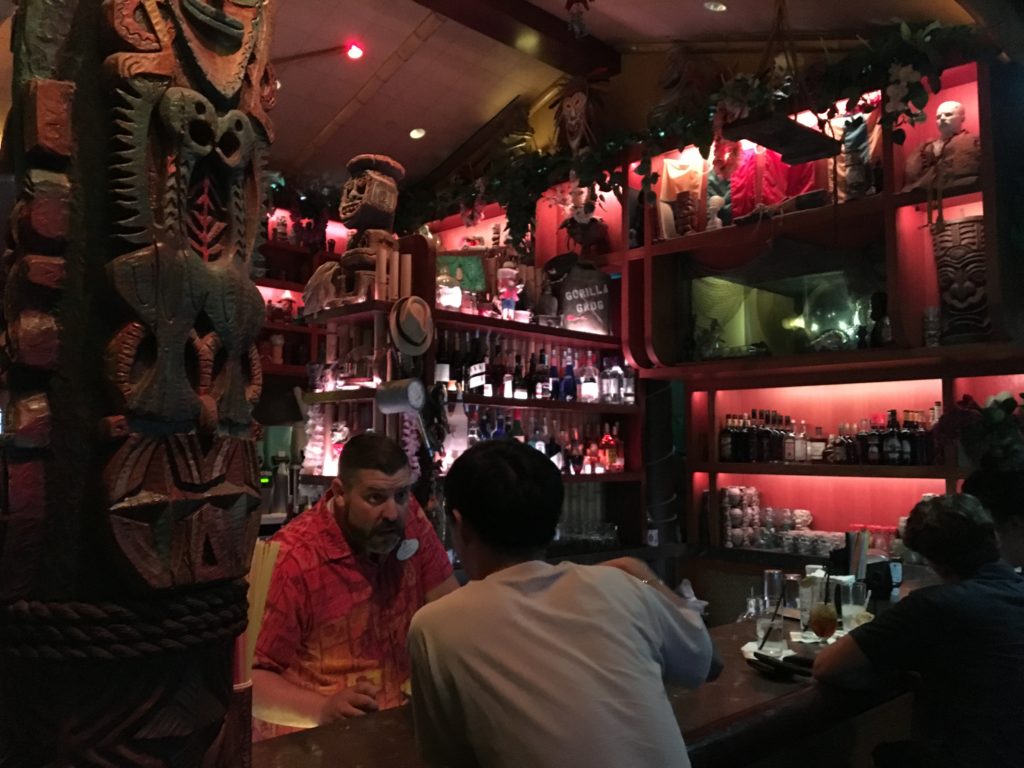 It even actually rained inside the bar while we were there!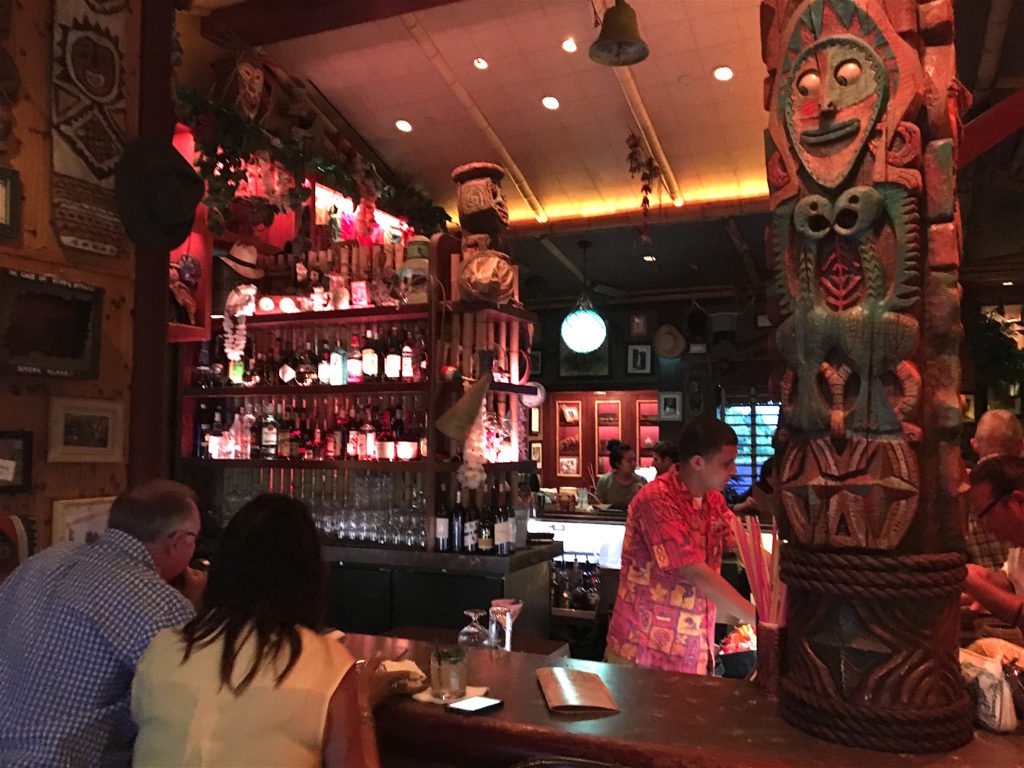 The bathrooms also were done up with Tiki coolness…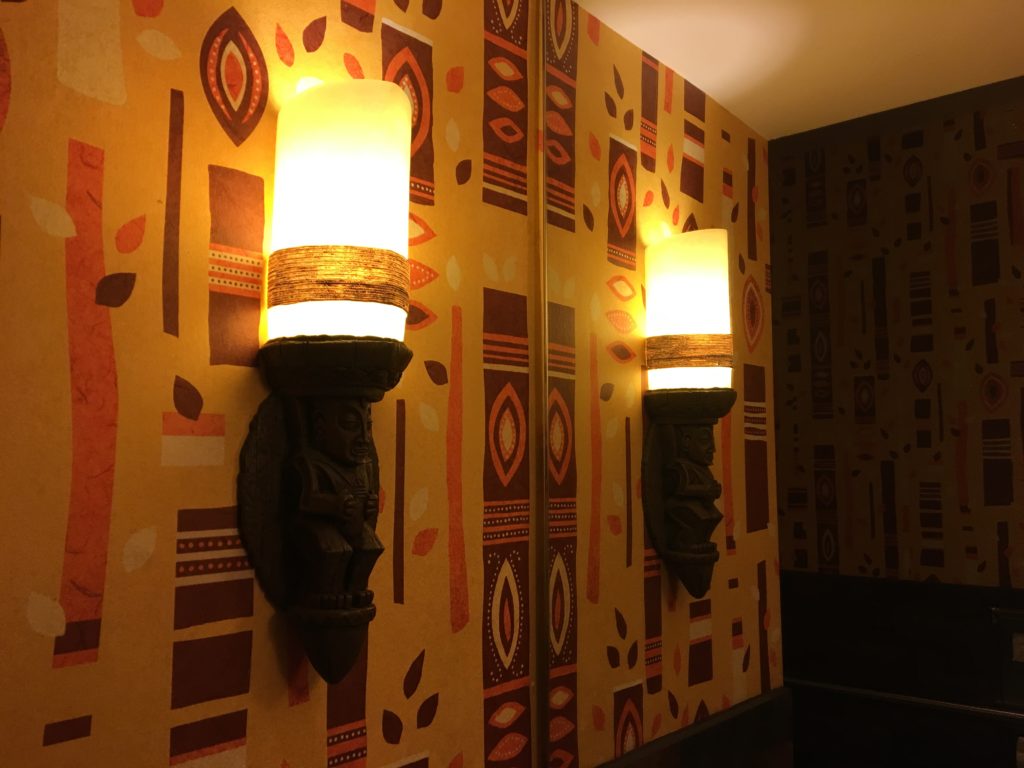 Check out that wallpaper!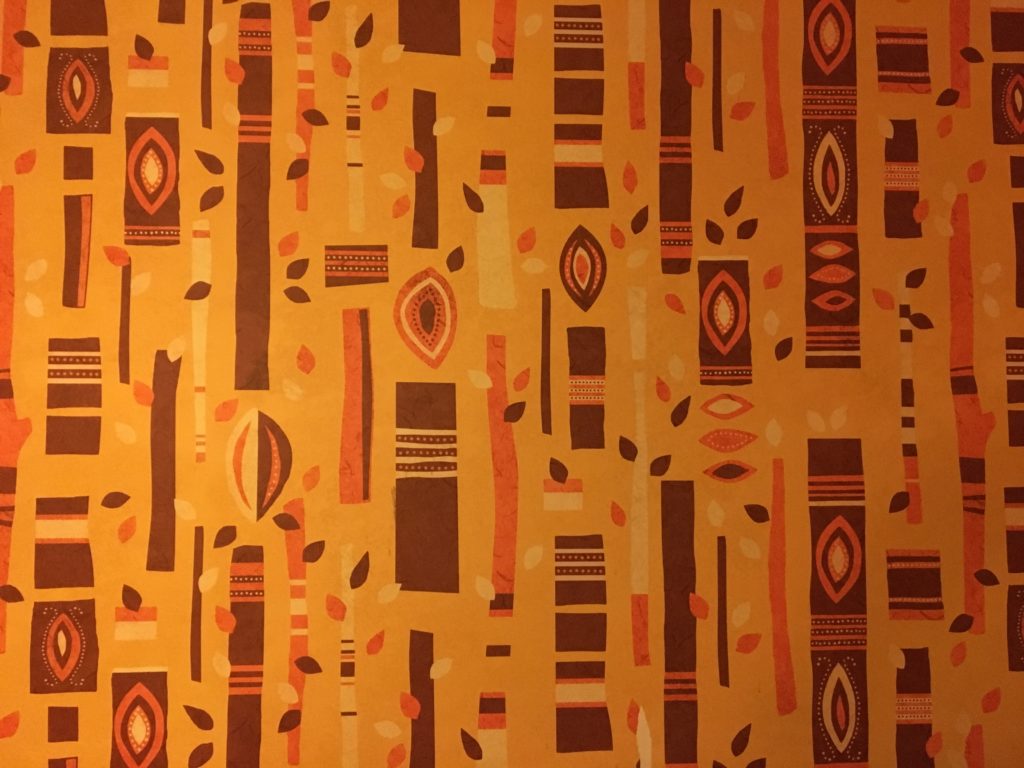 My experience at Trader Sam's was so much fun. And that's the key word: experience. Going to Trader Sam's wasn't just going to a bar to drink. It felt like an event. It felt like things were happening there and I wanted to see what was next. The overall vibe was just so cool and chill. Everyone was having a good time and was happy to be there. I know this for a fact because everyone was smiling from ear to ear, including me!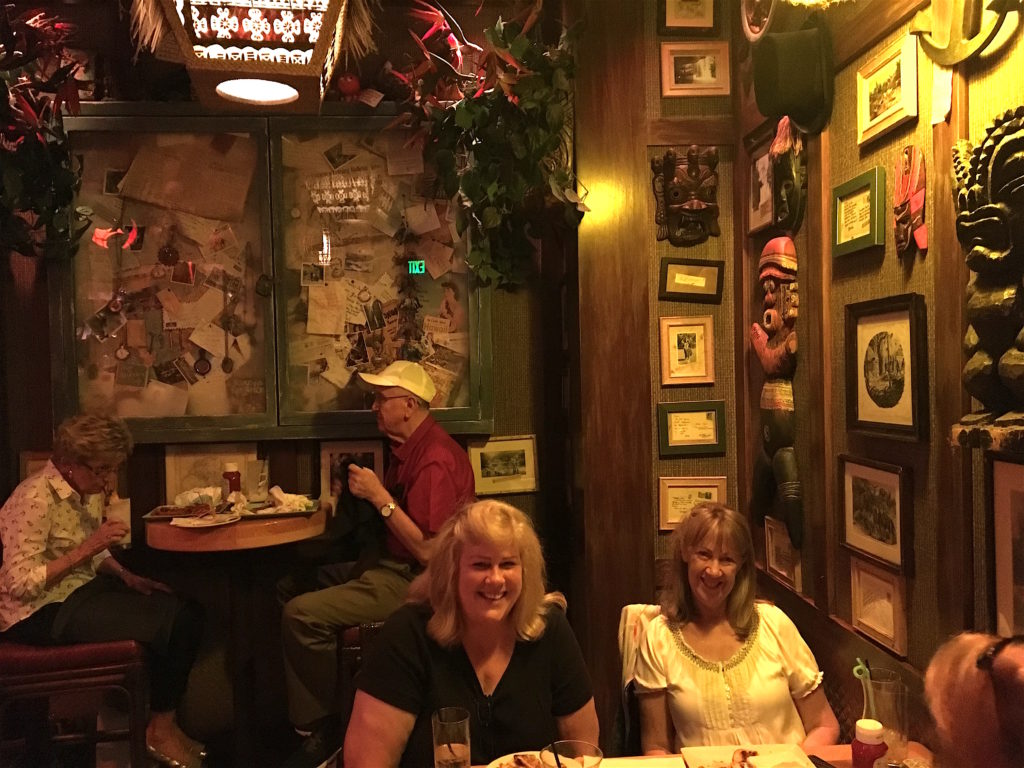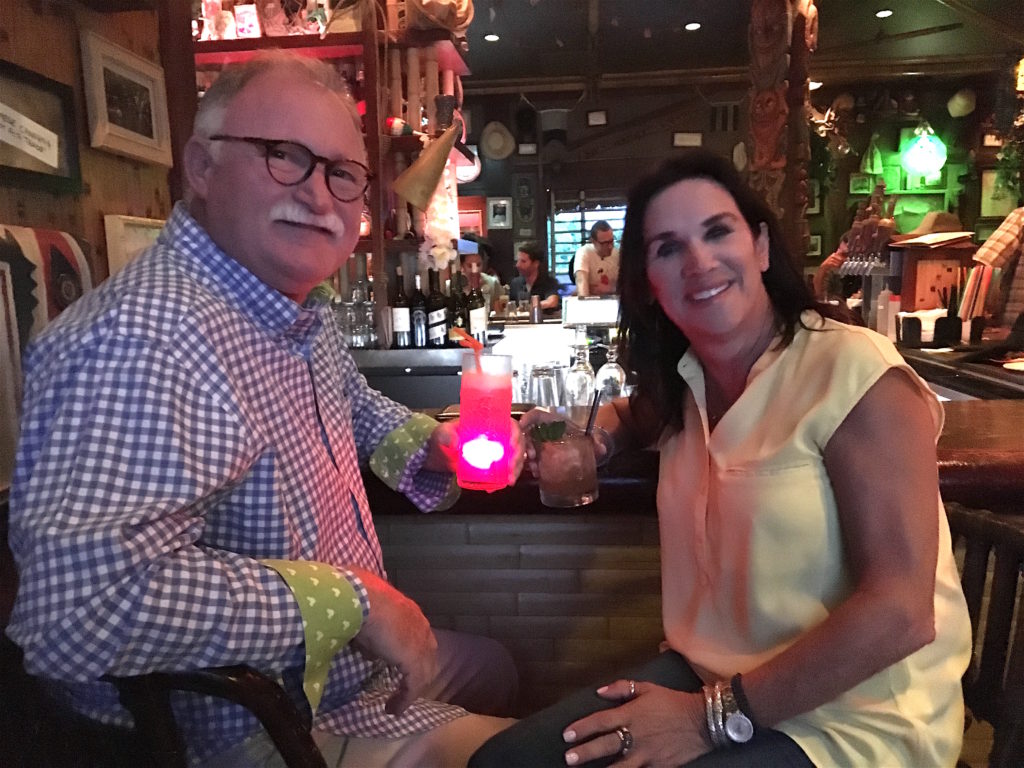 Here is the website for Trader Sam's Enchanted Tiki Bar.
And Facebook page.