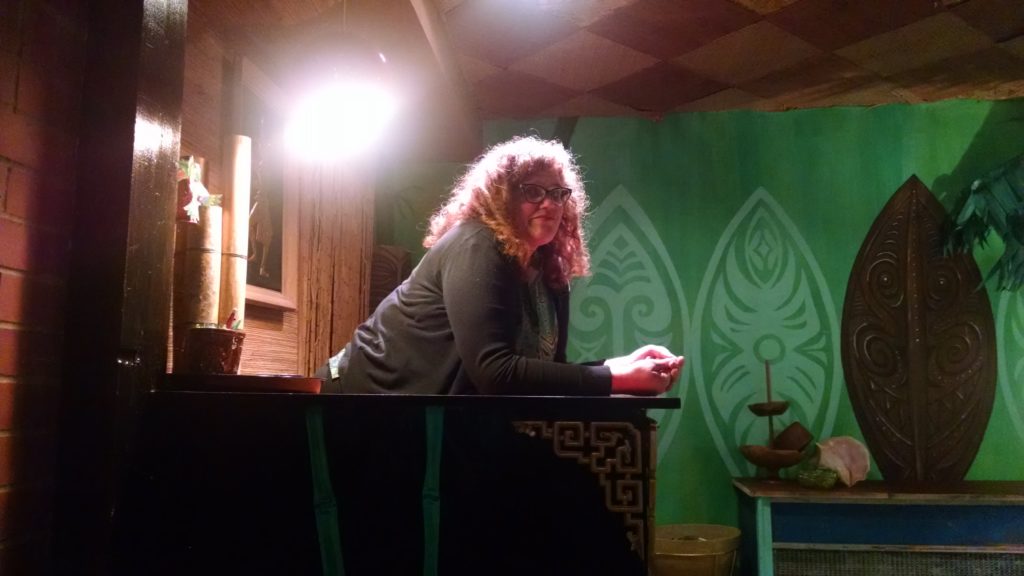 David Bowie. We all loved him and his music. But why? What made him so special? I believe it was because Bowie always was two steps ahead of everyone else. He truly was a trendsetter. It takes guts to be into something no one else is doing and to break all the rules on how something is supposed to be done.
Bowie was a music trendsetter. Tiki has its own trendsetters. The Tiki revival started in the '90s. Dawn Frasier was already ahead of the rest of us. She was living the Tiki lifestyle back in the '80s.
Remember the '80s? It was a decade of new wave and pop music, arcades and Atari, and bad clothing and hairstyle choices! Pastel pants and mullets: need I say more? While we were watching MTV, Dawn was painting Tiki landscapes and collecting Mid-Century furniture. When the '90s finally came around and we started rediscovering Tiki culture, Dawn had already lived in Fiji for a few years.
Let's talk about Dawn's paintings. Dawn paints tropical scenes that create a sense of peacefulness. Picture aqua blues and greens. Picture water and palm trees. Picture A-frame homes and Tiki huts. In her paintings, it's always just past dawn!
Dawn will usually paint the Seattle Space Needle into the picture somewhere. Why? Well, that's where she's from! I'm from Seattle too, so that's okay with me.
Dawn invited me over to her incredible Tiki-Modern home in West Seattle to take some pictures and ask her some questions. I asked Dawn how long she had been painting. She told me, "All my life!" Dawn learned to paint from her mother, who happened to be an art teacher. Dawn grew up in Montana and then moved to Seattle, where she went to college.  After she finished school, Dawn moved to Fiji and lived there for four years. We're talking living on the beach with no electricity! Now that's living the Tiki lifestyle! Dawn moved back to Seattle and has been living in her awesome Mid-Century home since.
Now let's talk about Dawn's home. We all have seen the Reese's Peanut Butter Cup commercial, right? "Two great tastes that tastes great together." As much as Dawn is into Tiki, she is also into Mid-Century design. Dawn has been acquiring Mid-Century furniture since the '80s. Dawn joked that back then, nobody wanted any of that stuff. So she got most of her pieces for almost nothing, or even for free! Dawn combined her love for Tiki and Mid-Century by decorating her home as such. It's an idea that I never thought about until I saw Dawn's place.
This is Dawn's den…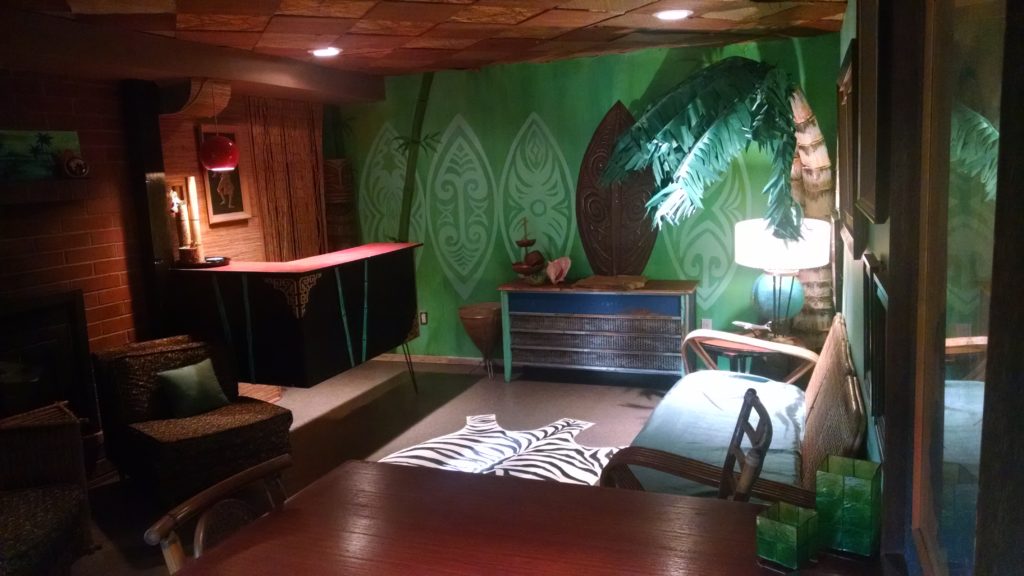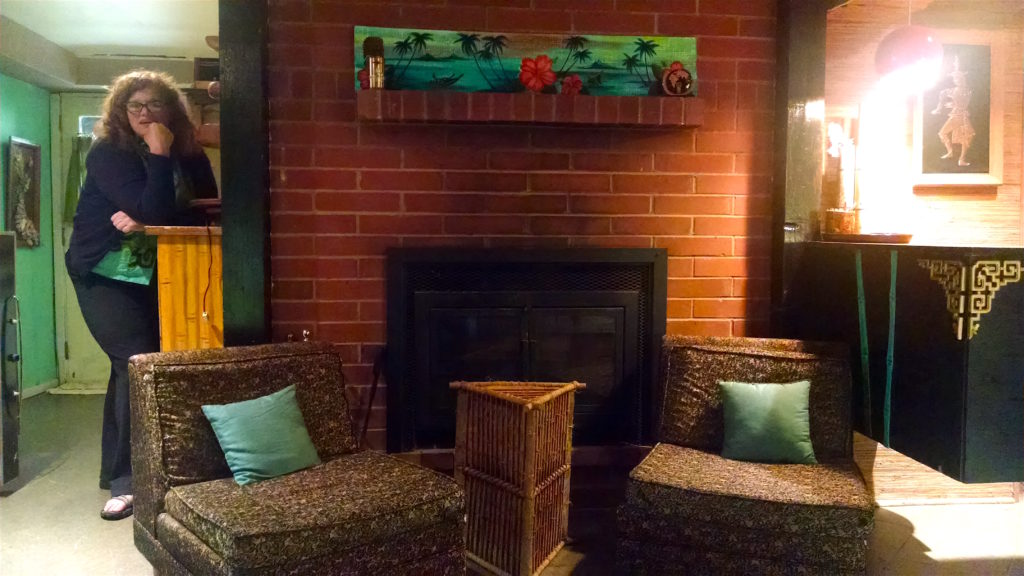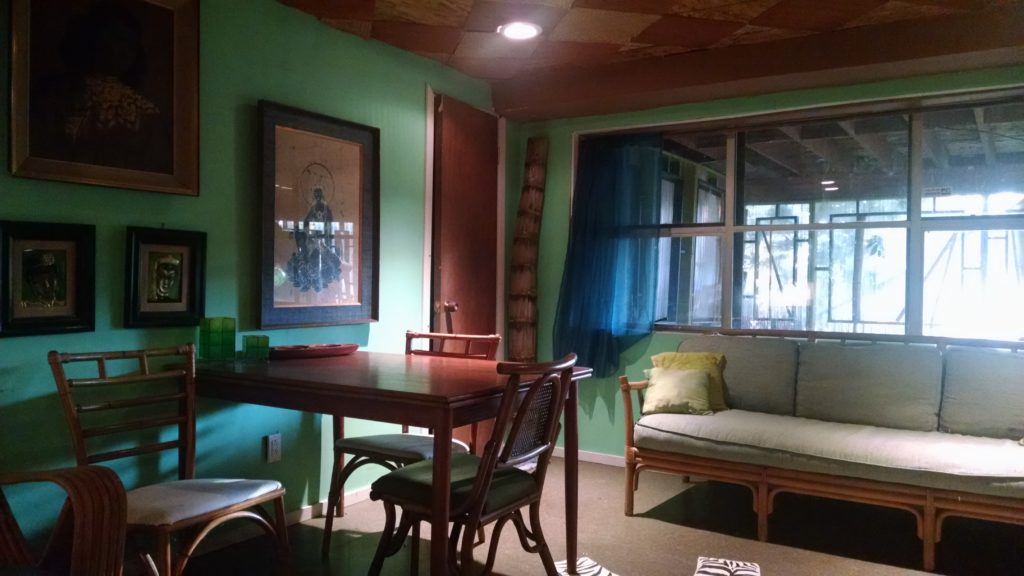 I was in awe. It's a perfect combination of Tiki and Mid-Century—and it even has a bar. I didn't want to leave!
Here is Dawn's downstairs bedroom…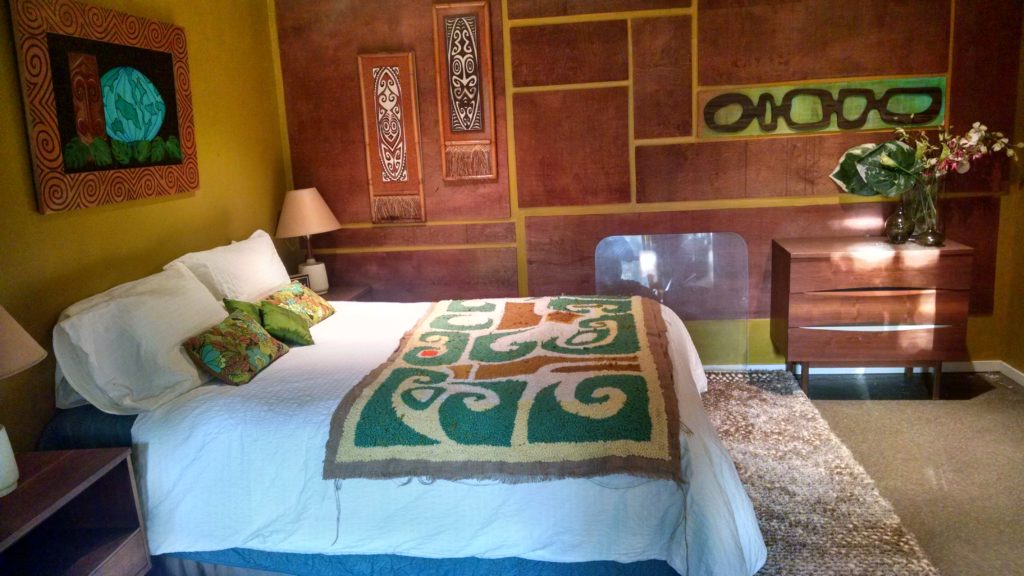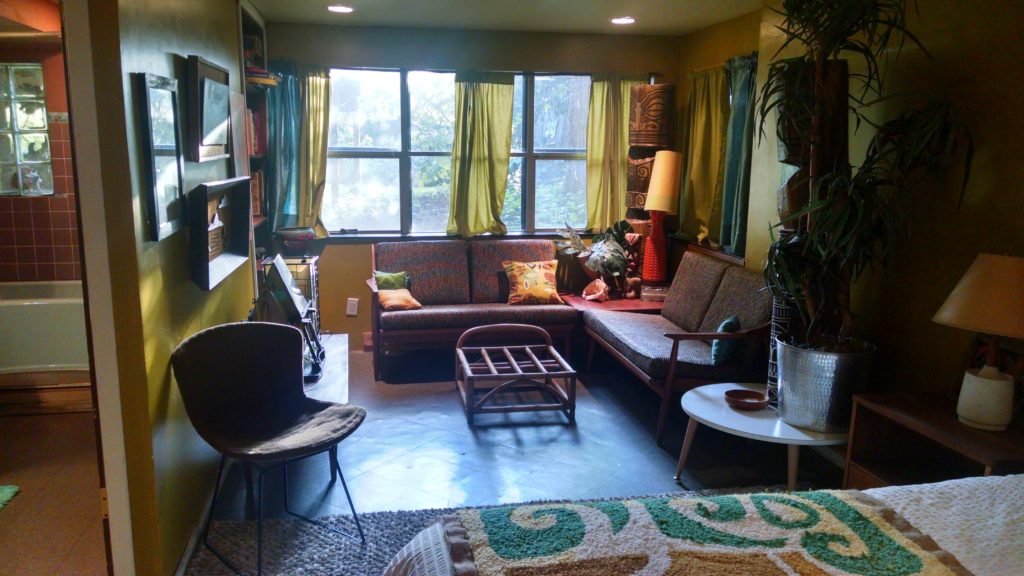 That rug on the bed is her design!
Not only does Dawn paint, but she also runs her own business: Sophista-Tiki. As Sophista-Tiki, Dawn makes her own fabric, clothing, handbags, and much more! Dawn has been supporting herself off her own work for years and that's awesome!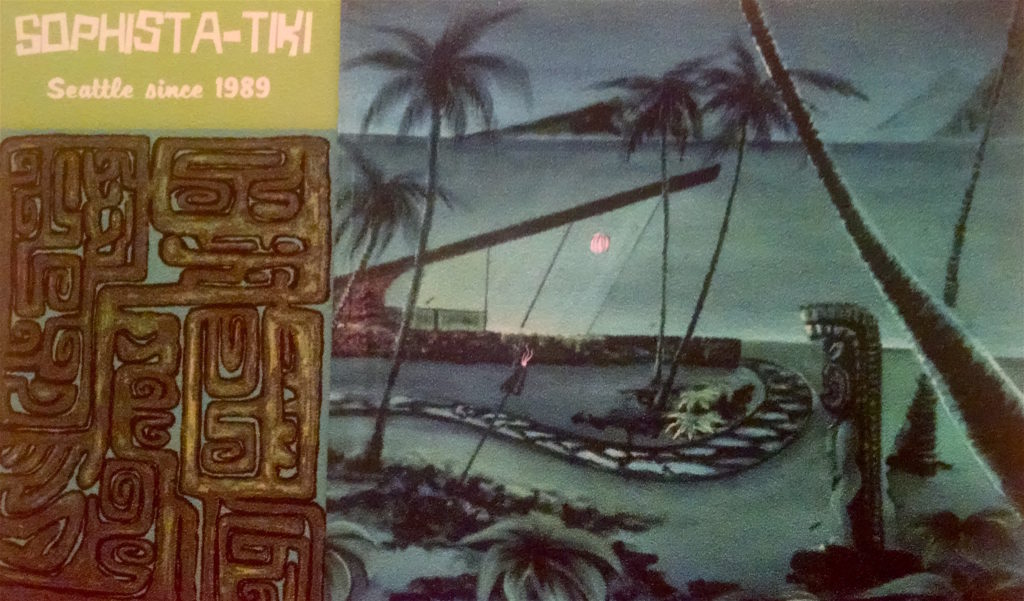 Below is the back room upstairs. This is the room Dawn's extensive collection of funk records call home. By the way, Dawn LOVES funk! If you take a close look, you can see some of Dawn's newest work. Pictures don't do the paintings justice. They look amazing in real life!
Then you see these guys hiding over in the corner…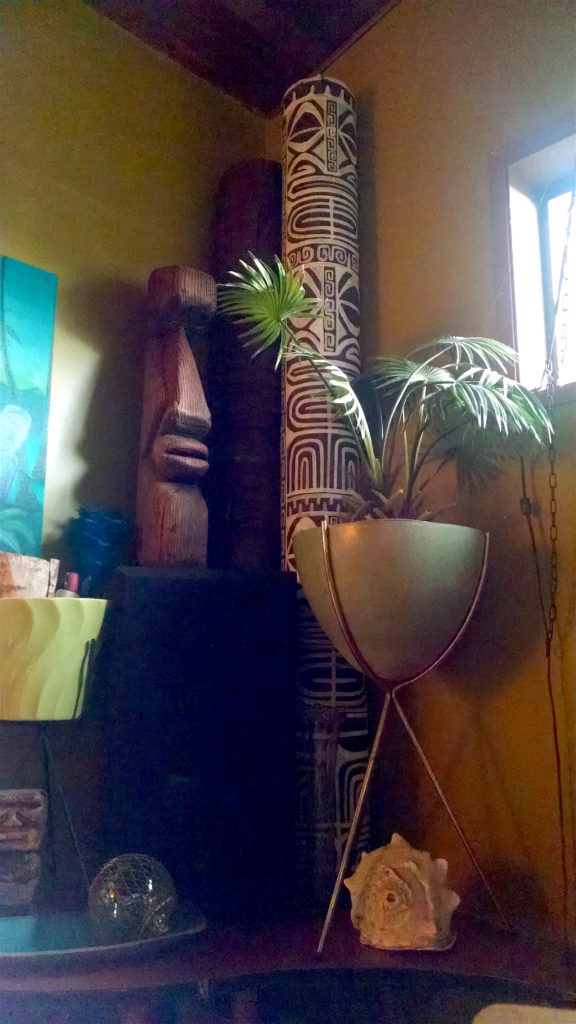 Finally we make it to Dawn's living room…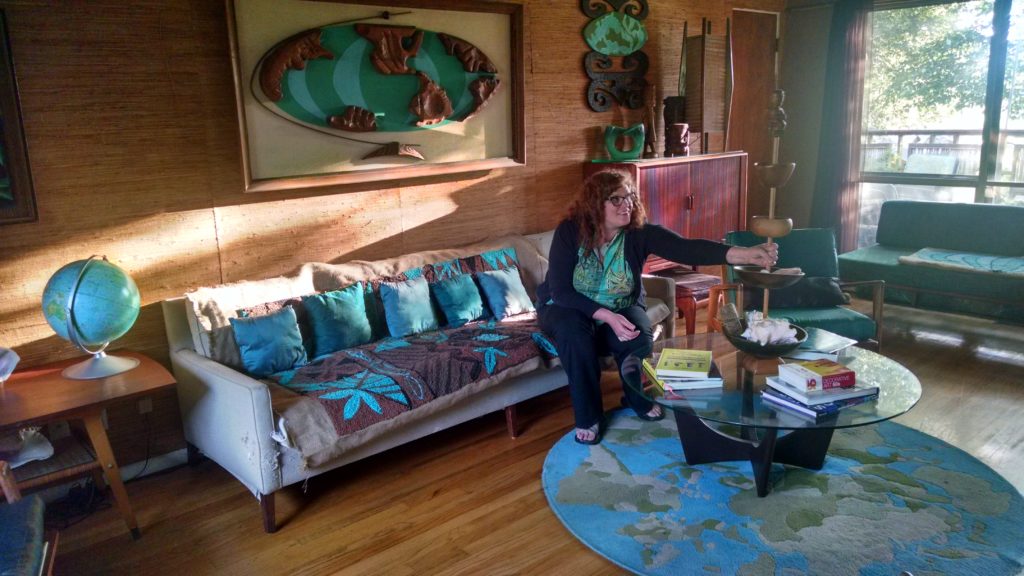 What can I say? Perfection!
On the coffee table was an issue of Tiki Magazine. It has Dawn's artwork on the cover! Dawn points to the wall and there hangs the original painting! I was floored.
I had to take a picture of Dawn with both!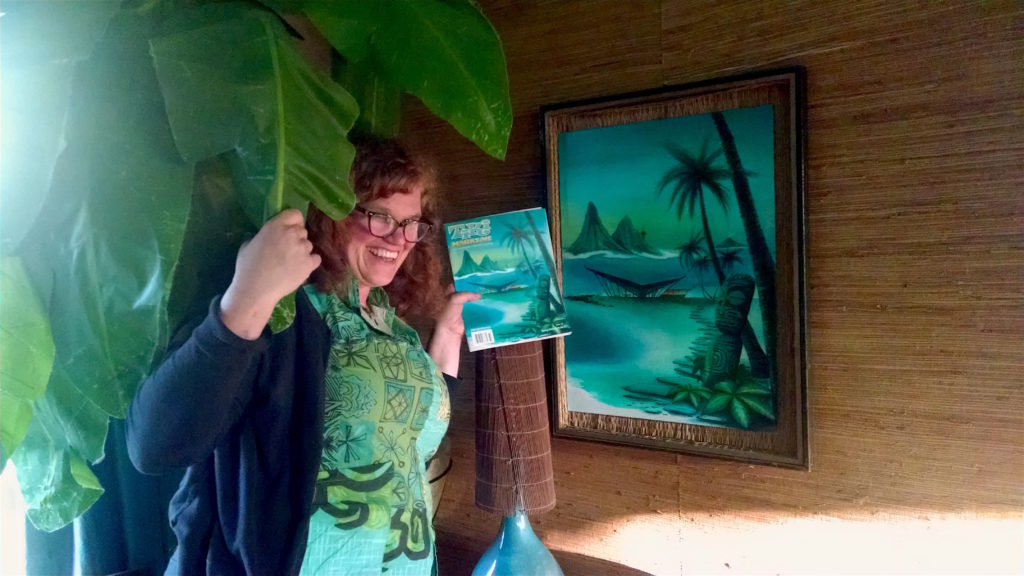 As a laugh, Dawn asked me if I wanted to see her Tiki mug collection. I said, "Sure!" She pointed to a cabinet that was under the stairs. There were a couple, but too not many.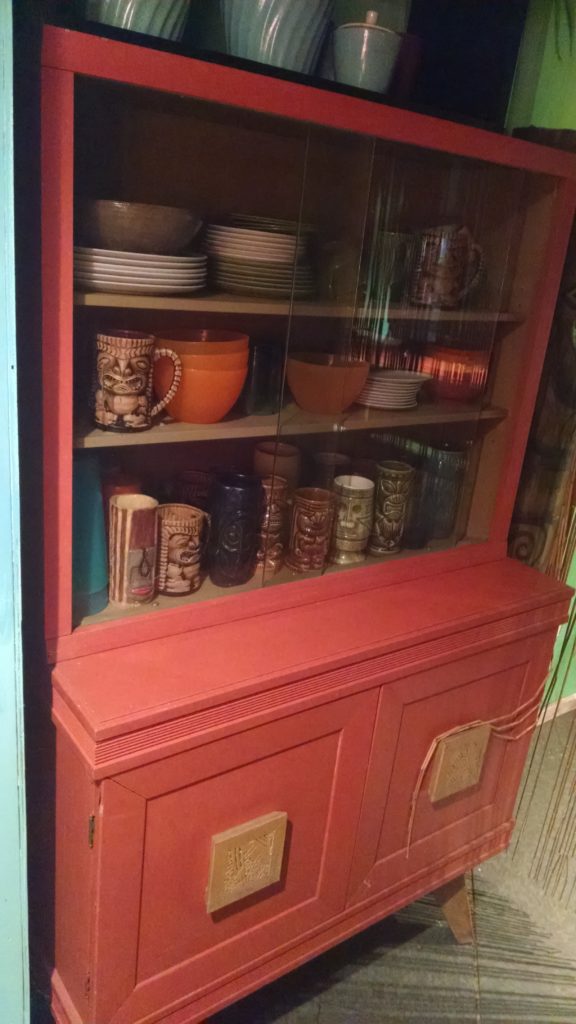 She started to laugh. "I don't bother with mugs," she said. "I'm all about furniture and art." That's what I love about Dawn Frasier. She plays by her own rules!
Here is the Sophista-Tiki Etsy page.
And Facebook page.
Looking for some Sophista-Tiki designs or fabric? Click here.
Check out this video from the Velveteen Lounge featuring Dawn's art.
And last but not least, click here to see Dawn's paintings.