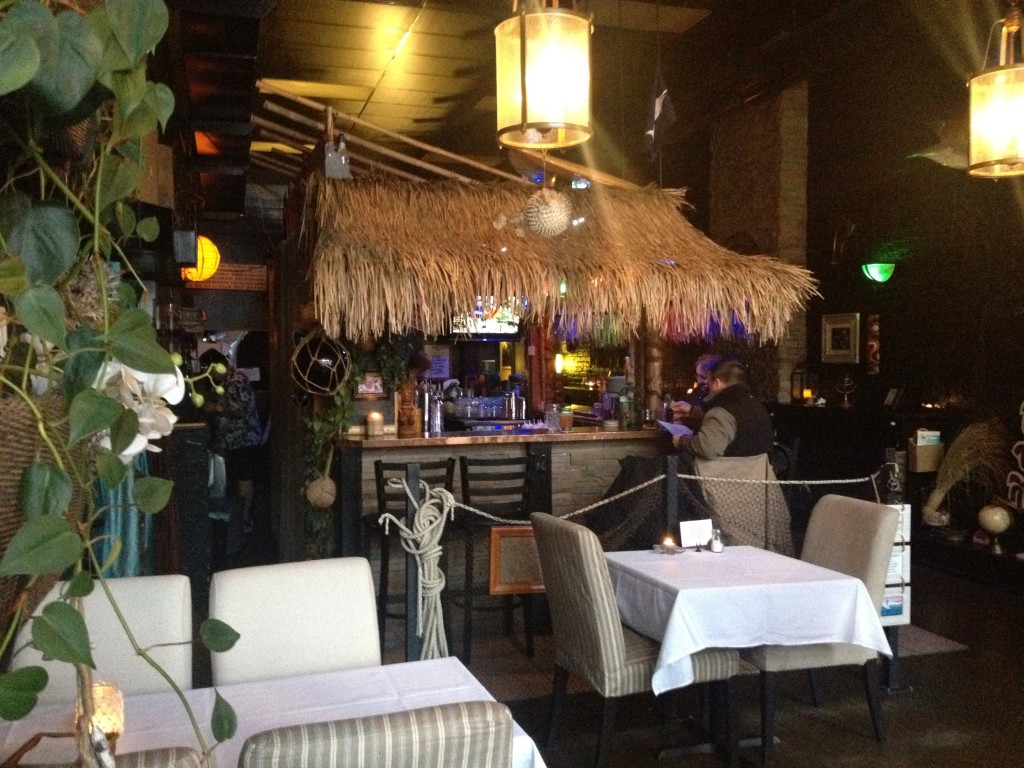 I live in Seattle. I love my city. There are tons of things to do. There are more than enough restaurants, bars, coffee shops, places to buy cupcakes (I love cupcakes!), etc. But sadly, Seattle is lacking one important thing: a really great Tiki bar!
Sure, there is The Lava Lounge in Belltown, but it's not really a Tiki bar in a traditional sense. I'd go there to hear some punk rock and drink a couple PBRs! I wouldn't go to hear exotica or to order a Mai Tai, though.
There is Hula Hula, which actually is the first Tiki bar I ever visited. It started my love affair with Tiki! (I will be doing a review of Hula Hula really soon.) At first, Hula Hula had it all going on. It had a very large menu of drinks, plenty of surf music, and awesome decor. But over time, Hula Hula started putting up large screen TVs and eventually it became more of a karaoke bar. Don't get me wrong, I have spent some time on Hula Hula's stage singing my favorite tunes from the '80s while I had a few cocktails in me. But I digress…
So I started searching online for Tiki bars outside Seattle. I found one here and there, but the "Tiki bars" I discovered were pretty lame. Throw the word Tiki in front of a guy's name. Put up a Tiki head somewhere. Throw up some bamboo, offer some "blue" cocktails, and there you go: a "Tiki" bar!
Then I came across Tacoma Cabana.
Tacoma Cabana is in Tacoma, which is almost an hour away from Seattle with traffic. Not an easy trek, but I decided to give this "Tiki" bar a shot.
I stepped in and right off the bat, I loved the decor!
This is the front room….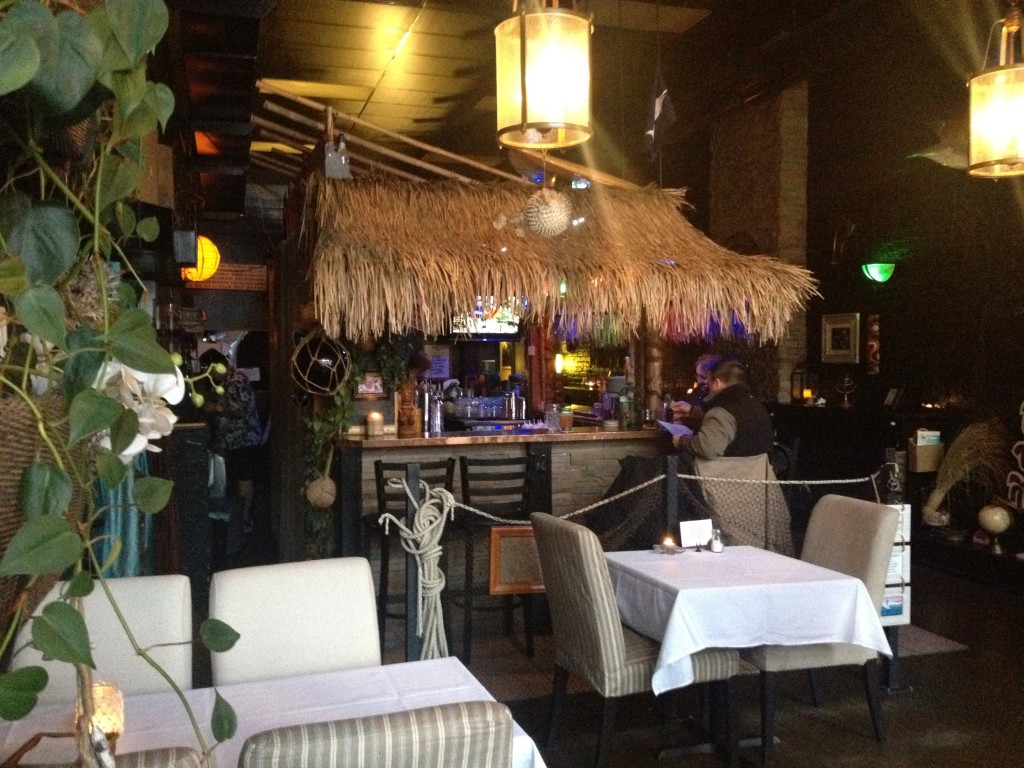 And to the left of the bar is another huge room!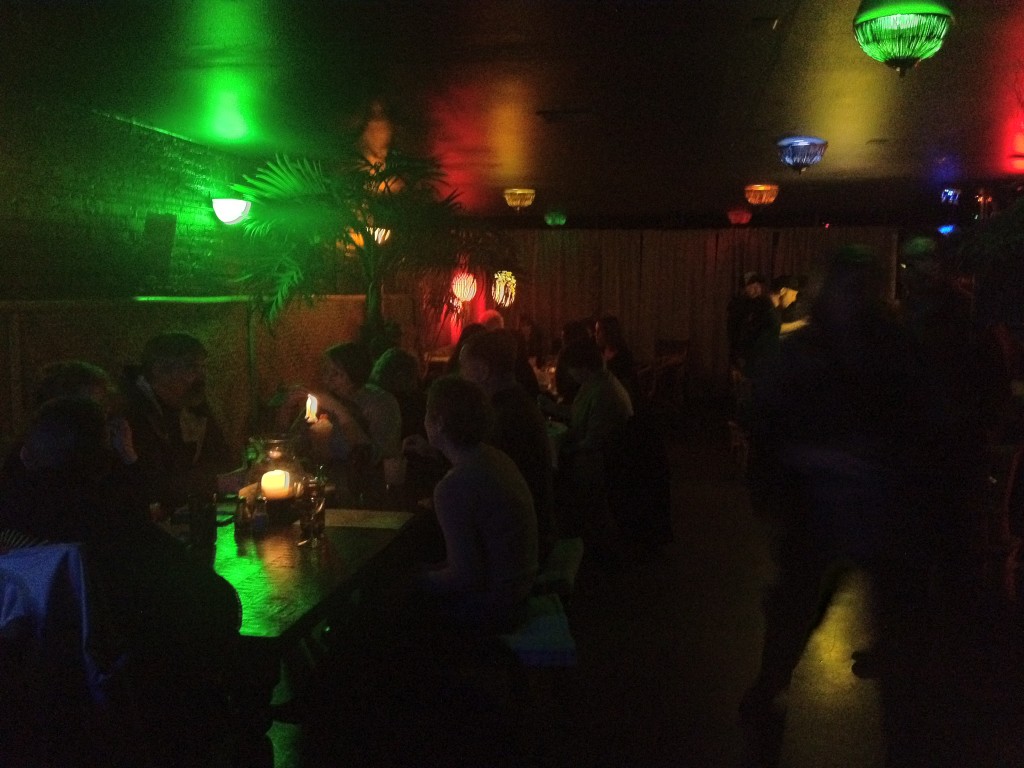 There is an entire other room in the back of the building as well!
When I sat down at the bar. I started to page though the drink menu…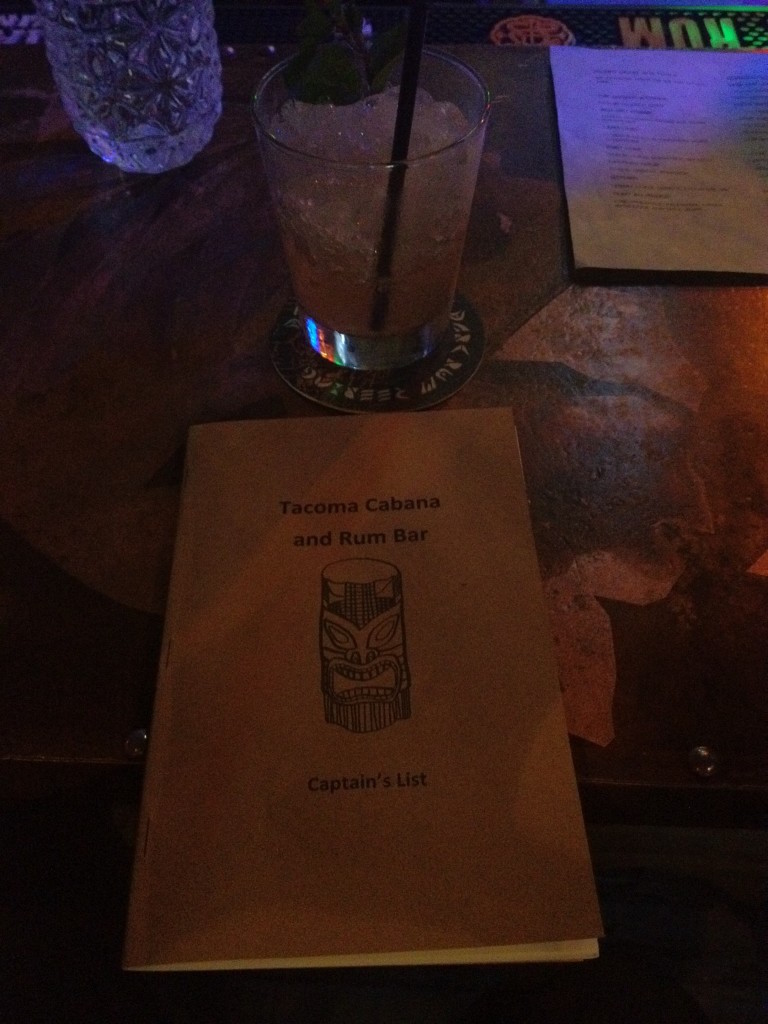 This menu is big! There is page after page of drinks. The first page listed five different Mai Tais alone! Each drink listed comes with a really good description of the ingredients. There is a glossary in the back that tells you what things like falernum and lilikoi are. And then there is the rum list. It goes on and on.
As I was sitting at the bar, I noticed this place card…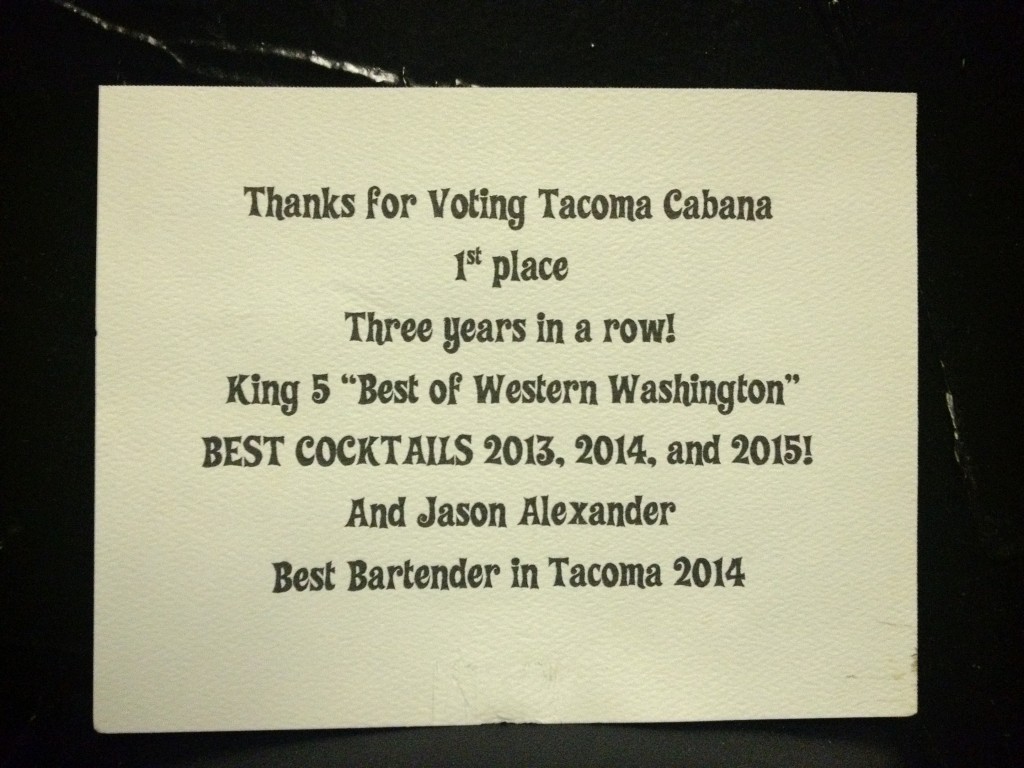 Between reading the place card and going over the menu, I knew I was in good hands. And I was. Jason Alexander is incredible. I was watching him as he carefully measured out everything that was going into a cocktail. He even added ingredients using an eye dropper! Enjoying a cocktail made by Jason is like enjoying fine art, but in your mouth. If you go, I would recommend anything on the menu, or you can even ask Jason to make you something special. He will and you will love it!
This is a picture of Jason and me…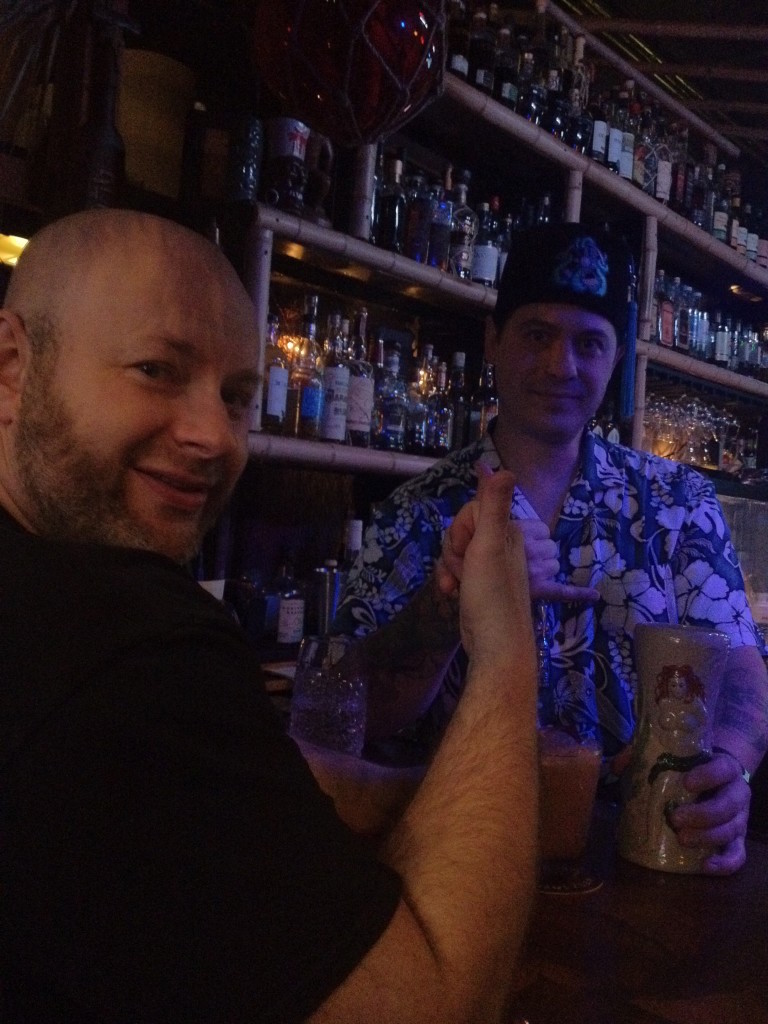 After a couple drinks and waiting a LONG time to sober up, I was about ready to leave. I also ran into Jason's wife Robyn. She runs the bar along with Jason. She's really cool and friendly. What can I say? I love these people!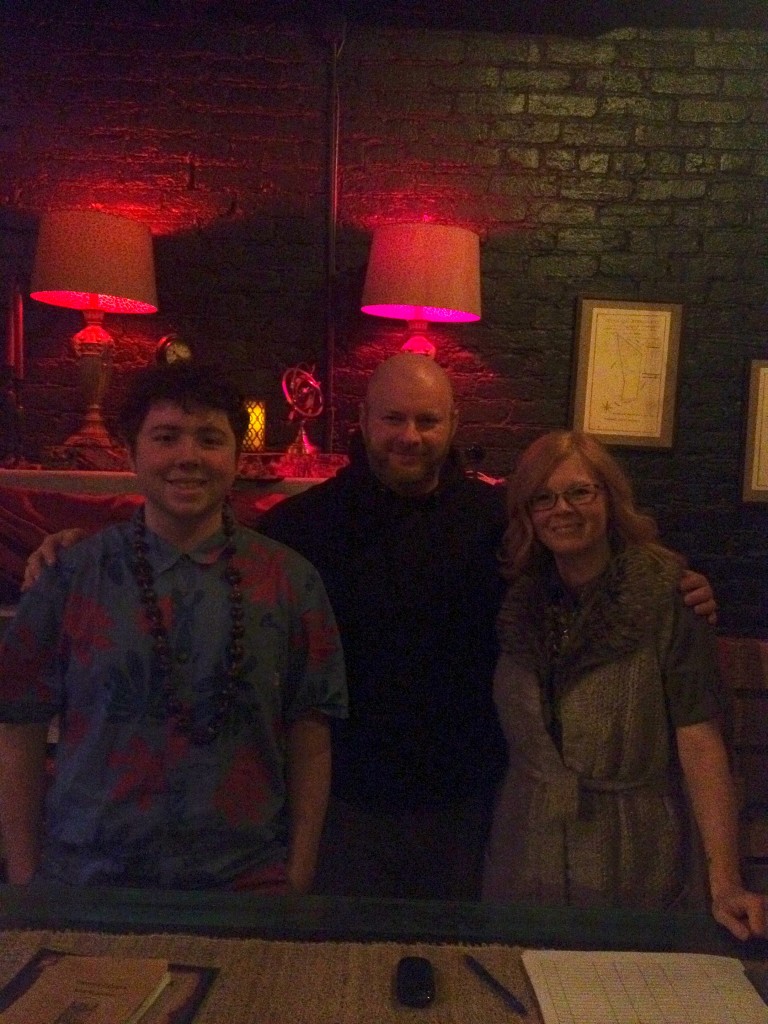 Tacoma Cabana takes Tiki to another level. A good friend of mine ordered a Zombie and not only did he say it was the best Zombie he ever had, but the best cocktail he ever had! I think that says it all!
Here is the link to Tacoma Cabana's website.
And the link to their Facebook Page.
Here is a video of Jason lighting some drinks on fire.
And here is an interview Jason did with Grit City Podcast,