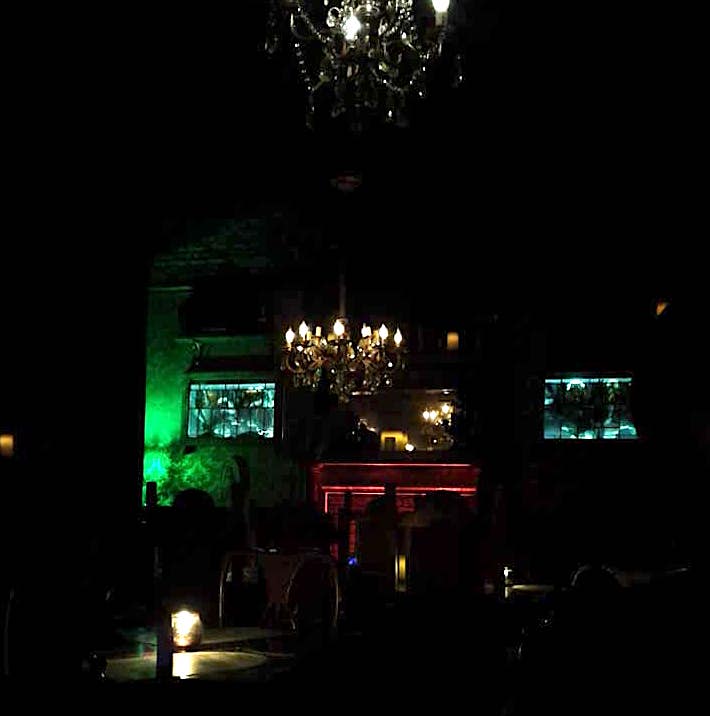 My friends Jeanie Duval and Tom Hemmen took a trip up to Vancouver B.C. to visit The Dark Manor Inn. They had a great time and sampled many of the drinks. Here's what they thought…
Already fans of Rod Moore's outrageously popular Shameful Tiki, we wanted to go to his latest theme bar creation, Dark Manor Inn, also in Vancouver B.C.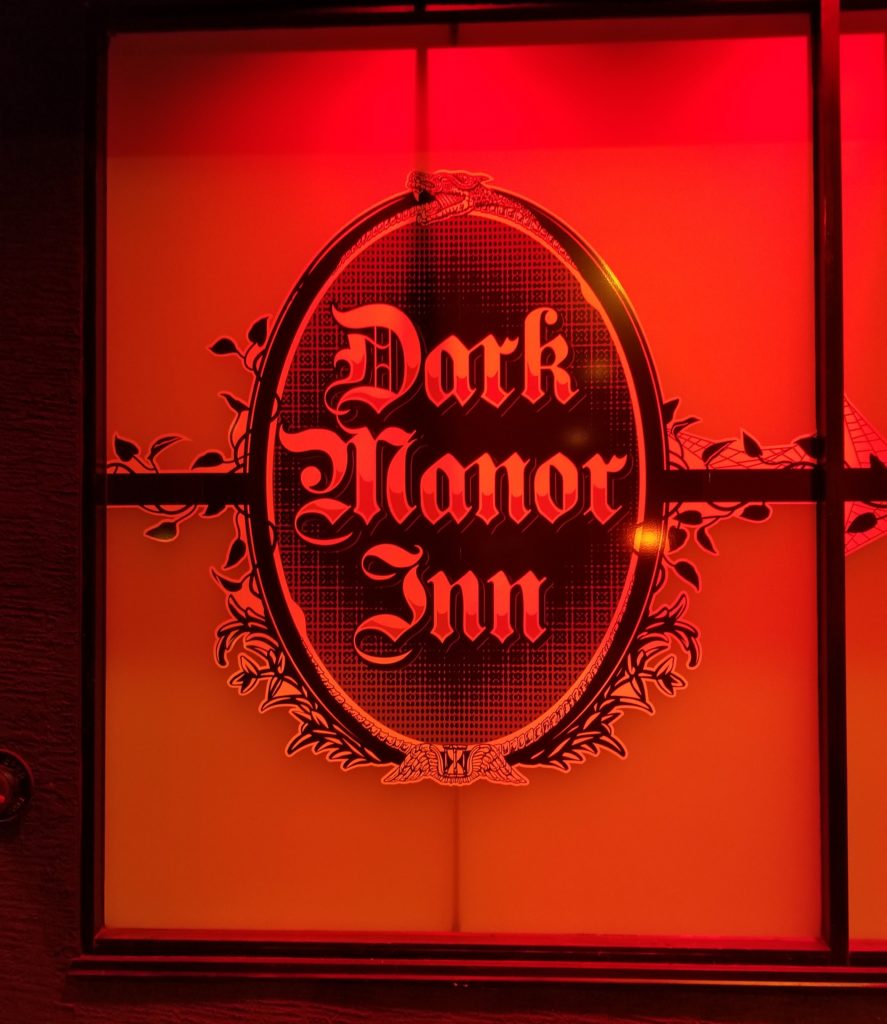 There are some similarities between The Shameful Tiki and Dark Manor Inn. Both are immersive, meticulously themed experiences – but whereas The Shameful Tiki is a bit like being in Adventureland in a Disney park (think the Jungle Boat Cruise and the Enchanted Tiki Room) with adult beverages, Dark Manor Inn is like what you'd get if you could go cocktailing in Disney's Haunted Mansion.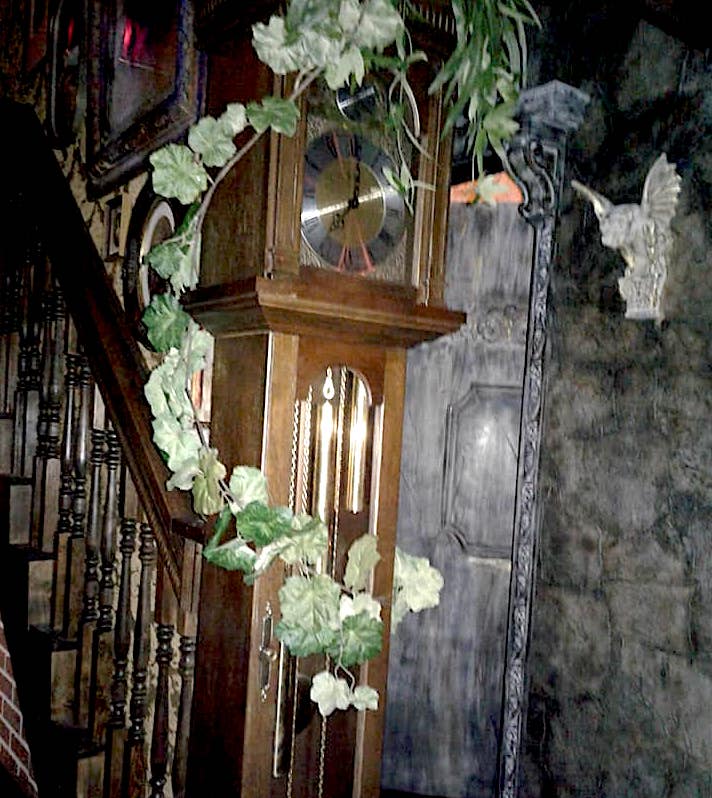 It's clear from some reviews that the writers really weren't into the experience, and that is not surprising, as Dark Manor Inn is a very strong, love-it-or-hate it flavor.
For instance, is it "smoky"? Not in the normal sense of the term; there is an intermittent layer of atmospheric fog drifting through the room, and while we sat at the bar there was an old china teapot bubbling away, spilling mist onto the counter with a cool dry ice effect. Actual smoke … absolutely not!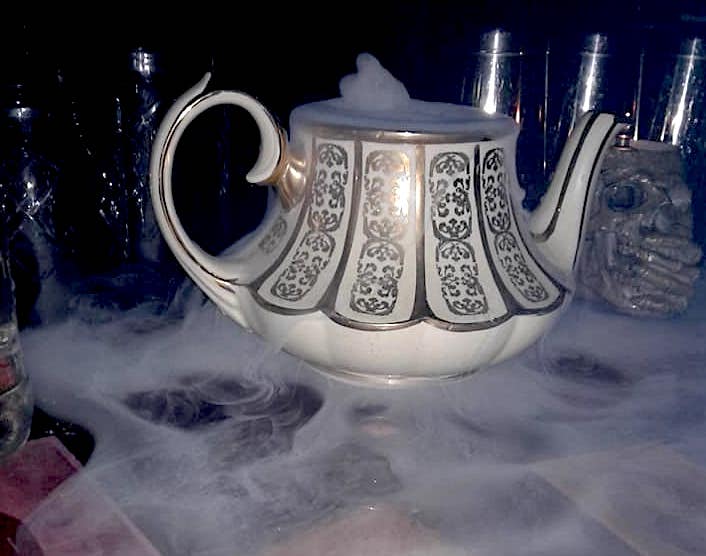 The Dark Manor Inn does also play some haunted house-type music, to be sure, but many of the songs in the carefully composed soundtrack are simply old jazz and ragtime standards – that, combined with the surroundings in the bar, enhance the gently creepy, vintage feel. Suffice it to say that, when we went in, just after they opened for the day, the overall effect of all the deep décor, music, and special effects was nothing short of breathtaking.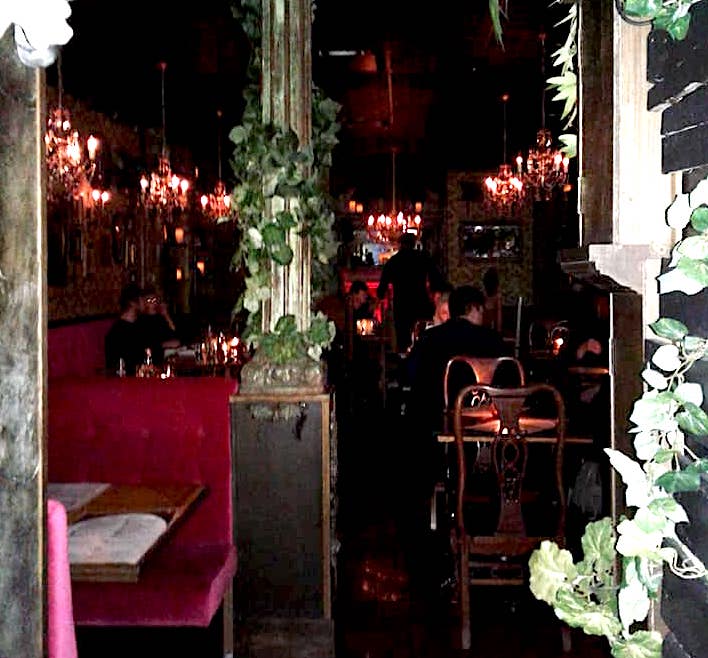 Dark Manor Inn is primarily a theme bar that serves some food. As such, the food choices are limited, but the selections we had – salmon dip, fresh-baked onion rolls, pork medallions, and salmon fillet – were all well-prepared, well-presented, and enjoyable.
The main focus, of course, is the drinks. As The Shameful Tiki plays primarily with tropical rum drinks, so the Dark Manor plays primarily with craft whiskey cocktails, with a clear passion for house-made, natural ingredients and a stress on eco-friendly, reusable, or compostable garnishes. Everyone will have different tastes, so rather than rate drinks, I'm going to simply describe a few things we tried, so you have some practical examples supporting the notes above. This is a whiskey place, but not a Jack-and-Coke place; as a rule, the drinks are thoughtful and complex, with a pre-Prohibition sophistication.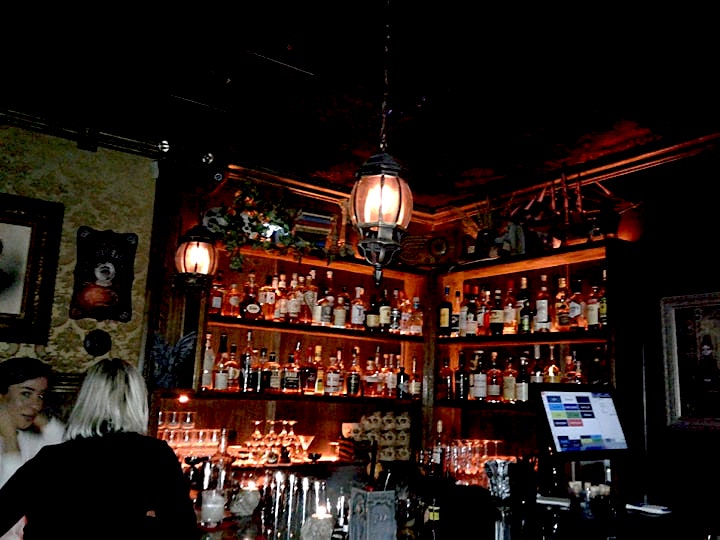 The Widow's Grove: A riff on a rye whiskey Manhattan with a hint of pear (the orchard in question, presumably) and smoky scotch.
Asylum Escapee: A lively, spicy blend of rye whiskey and pomegranate, balanced with a touch of dryness on the finish, probably from the fino sherry. Comes with a lime shell cup of candy "pills" – or if you prefer, a little cuckoo's nest.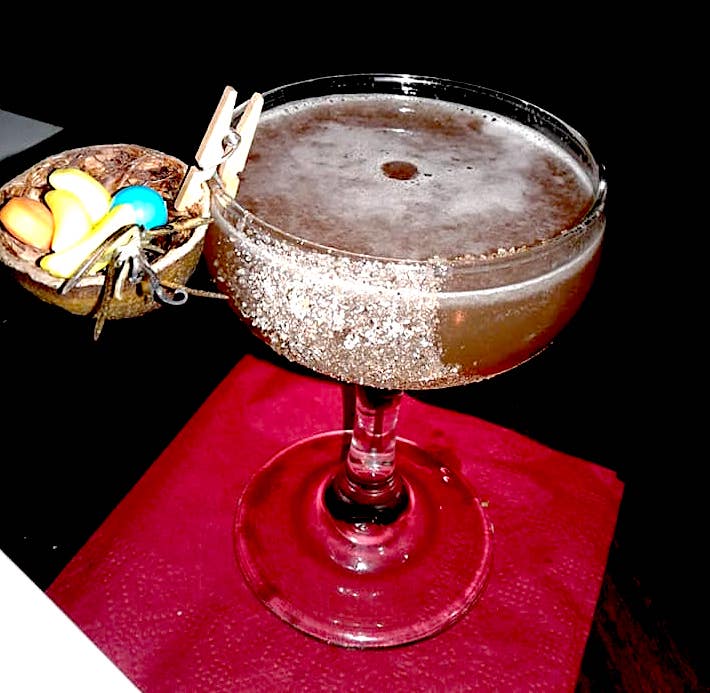 Arsenic & Ash: Along classic fizz lines, this delicate, floral drink is whiskey-based, with red wine and Aperol in supporting roles, and a dusting of lemon zest ash sprinkled over the top for an appropriately bitter finish. Like that old attic trunk full of faded sepia photographs, old letters, and withered flower petals, this is one to enjoy slowly.
Deadmarch to Mountain View: This cleverly presented gin fizz has a lot going on, with assertive flavors from chartreuse, lime, smoke, pineapple, and the best blue curacao we've ever tasted (no joke; the Martinique rhum-based curacao used here was made by the Sons of Vancouver  Distillery, and is very good) in a state of happy détente, with no single element dominating this complex potion.
Baron's End: A rejiggered Old Fashioned, done right with a big stamped ice cube and a "poison" vial for effect.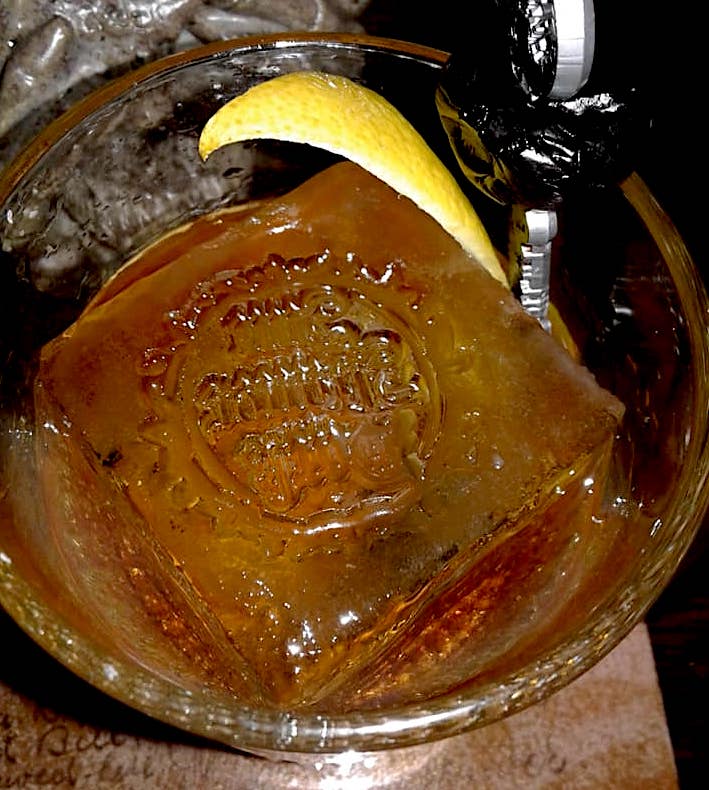 Tight-Lipped Butler: A bit of a riff on a rye Manhattan — and a good one — with a chaser of Fernet Branca and housemade cola in a pretty little glass.
Speaking of potions … Pills, Potions, & Quack Nostrums:
VERY cool bubbling potion effect on this one, in its gothic goblet. In flavor, it is a little reminiscent of a whiskey (not rum) -driven Dark & Stormy, with a hint of cinnamon spice. My wife also mentioned that it's mouthfeel was a little curious, no doubt due to whatever ingredient was responsible for the impressive head of bubbles.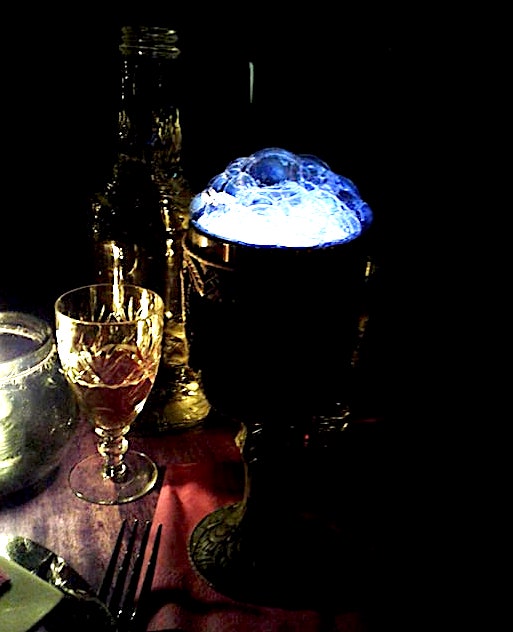 The presentation of all of the drinks benefited from the theatrics of the super-friendly, helpful staff; since we were there early we had a chance to settle in, watch the place come to life (so to speak), and chat with them about how the drinks were conceived and made.
We went to the Shameful Tiki  the following evening, and at risk of theme bar heresy, we both admitted later that we actually enjoyed our Dark Manor Inn visit more – in large part because we got to interact to a greater degree with the staff, and it wasn't as loud and busting at the seams with people as Shameful Tiki, even when very busy.
In sum, Dark Manor Inn is a great, non-such bar experience for October People (you know who you are), but also fun for anyone 21+ who would consider going to the Disney Haunted Mansion ride in the middle of summer or is simply looking for an unusual, immersive night out with lovely drinks.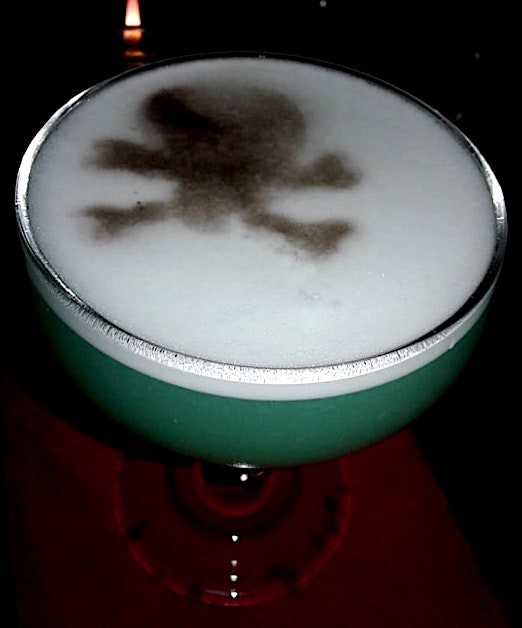 I'd like to thank Jeanie Duval and Tom Hemmen for their review of The Dark Manor Inn!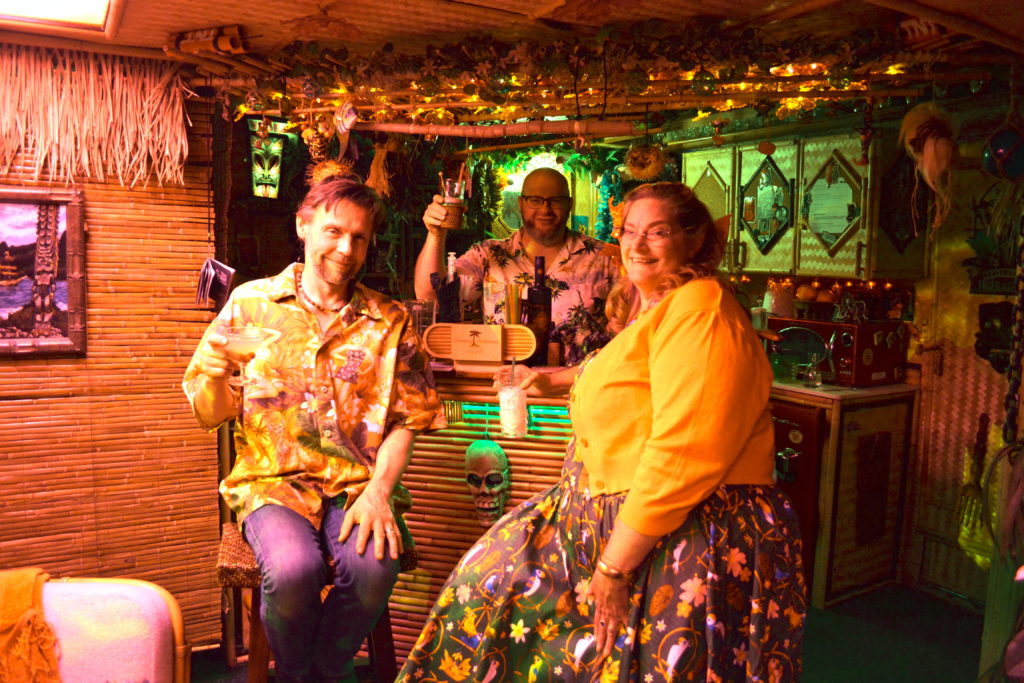 Here is the Dark Manor Inn website
Here is Jason Craig's write up on the Dark Manor Inn