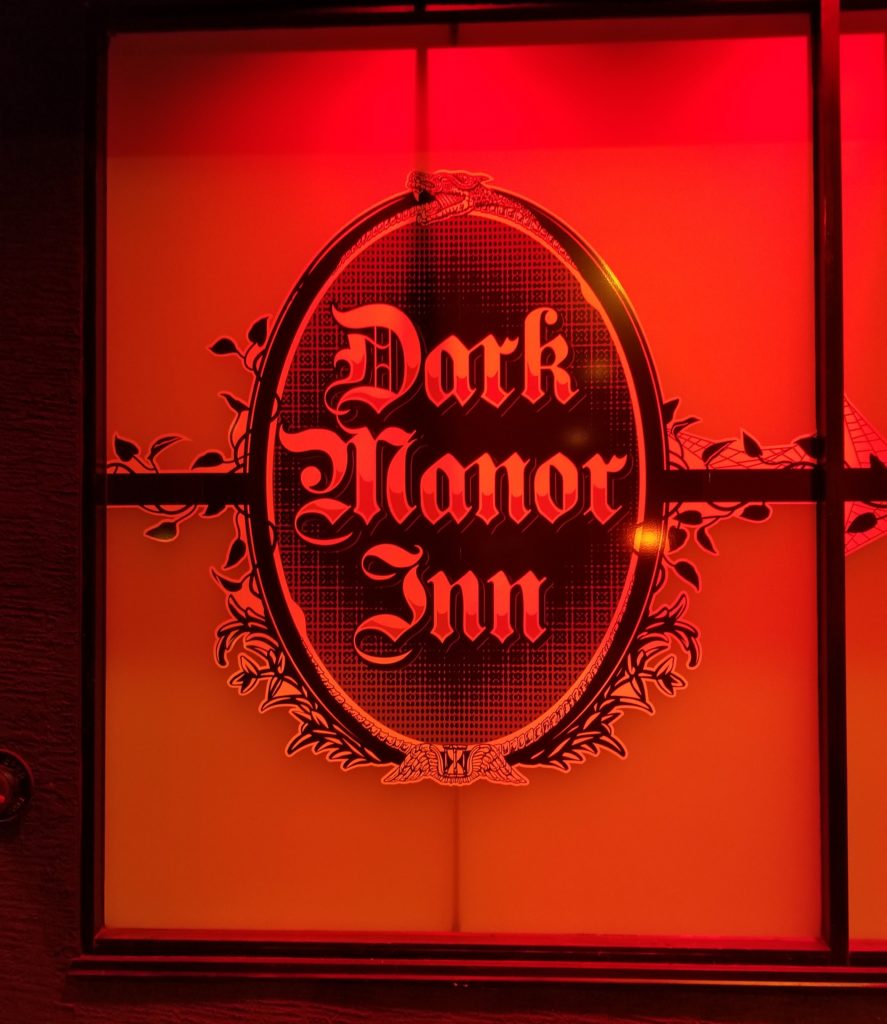 Rod Moore gave us his vision of what a Tiki bar should be with The Shameful Tiki Room in Vancouver BC Canada in 2013, and he created a second Shameful Tiki in Toronto ON Canada in 2015. You'd think that'd be enough, but Rod had another vision in mind … A Haunted Mansion Whiskey Bar in Vancouver BC called the Dark Manor Inn …
The Shameful Tiki Room alone, along with the friends we've made in the tiki community North of the border already gives us plenty of reasons to visit Vancouver BC. On a trip up there for Labor Day weekend in early September, Rod offered to show Ray Wyland and I a preview of what he'd been working on for his latest endeavor. We jumped at the opportunity. We met the next day at the space that they were working on to find Rod and his lovely wife Monica busy adding layers, and building up the illusions that would become the Dark Manor Inn. There were still relatively untouched areas, allowing us to see the transformations taking place. We were amazed at the work in progress we saw, and anxious to see its promises fulfilled!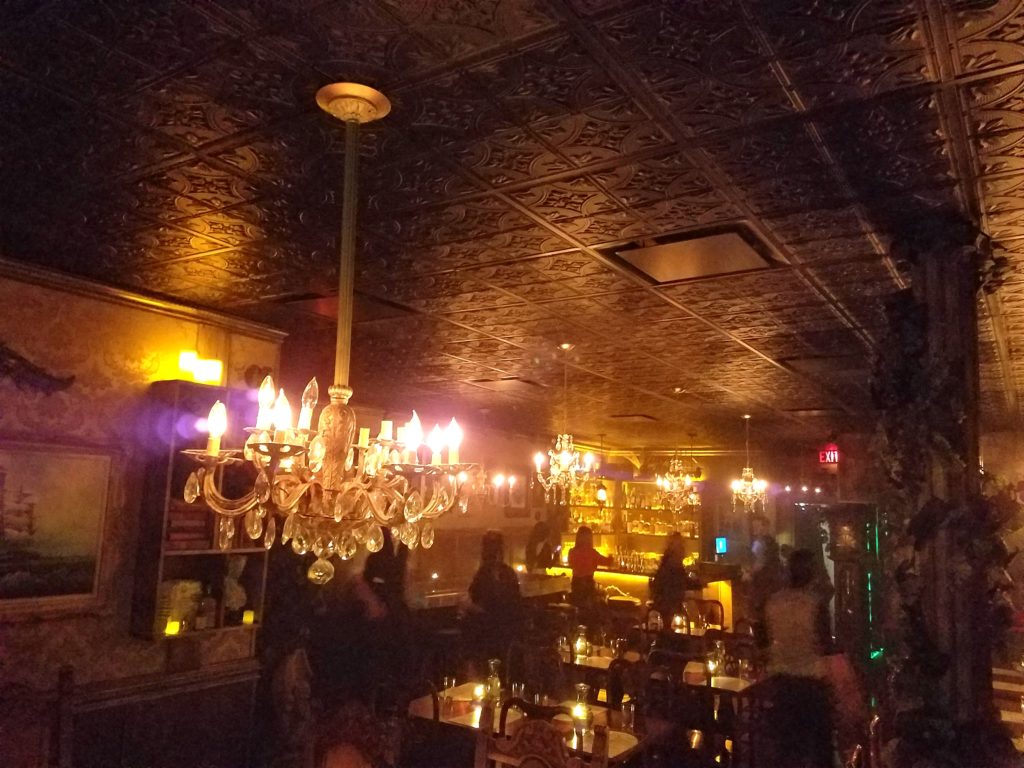 The Dark Manor Inn was ready for friends and family to get a preview for Halloween, but we couldn't get there until after the official opening of Monday November 5th. We made it in on the following Saturday, November 10th, and were joined by friends from Seattle, Tacoma and Everett WA, Portland OR, and Vancouver BC as well. We all know each other from our shared love of Tiki culture, and our Pacific Northwest Tiki community, where we share the experiences of home bars and lounges, the Tiki Kon convention, and commercial tiki bars.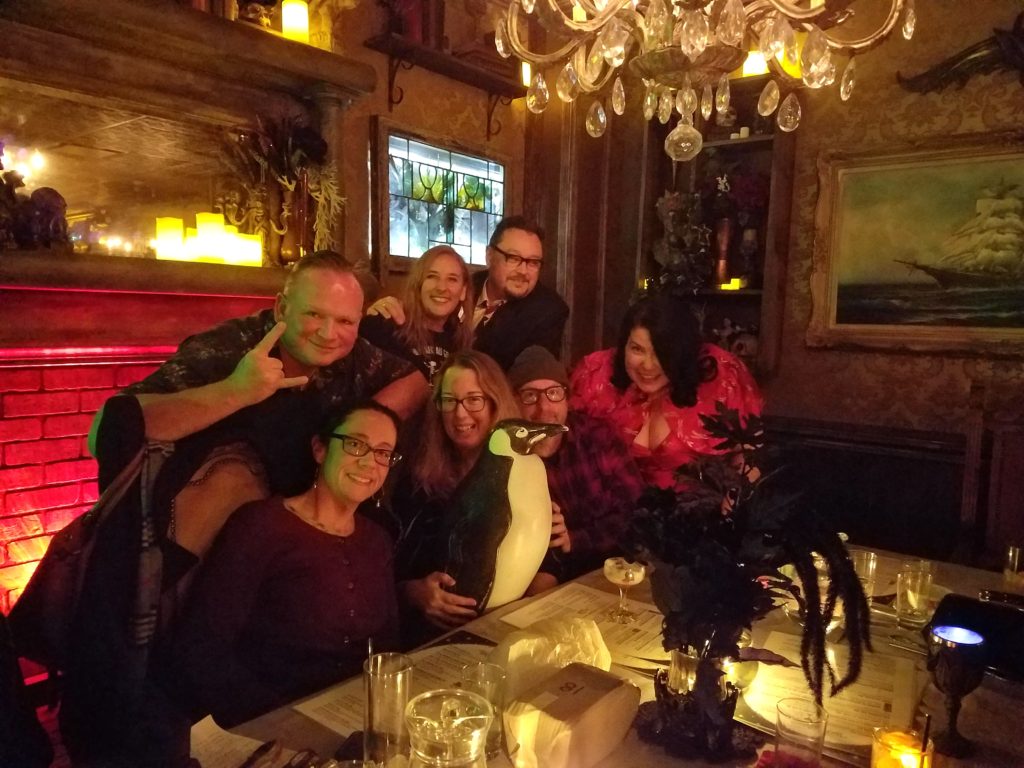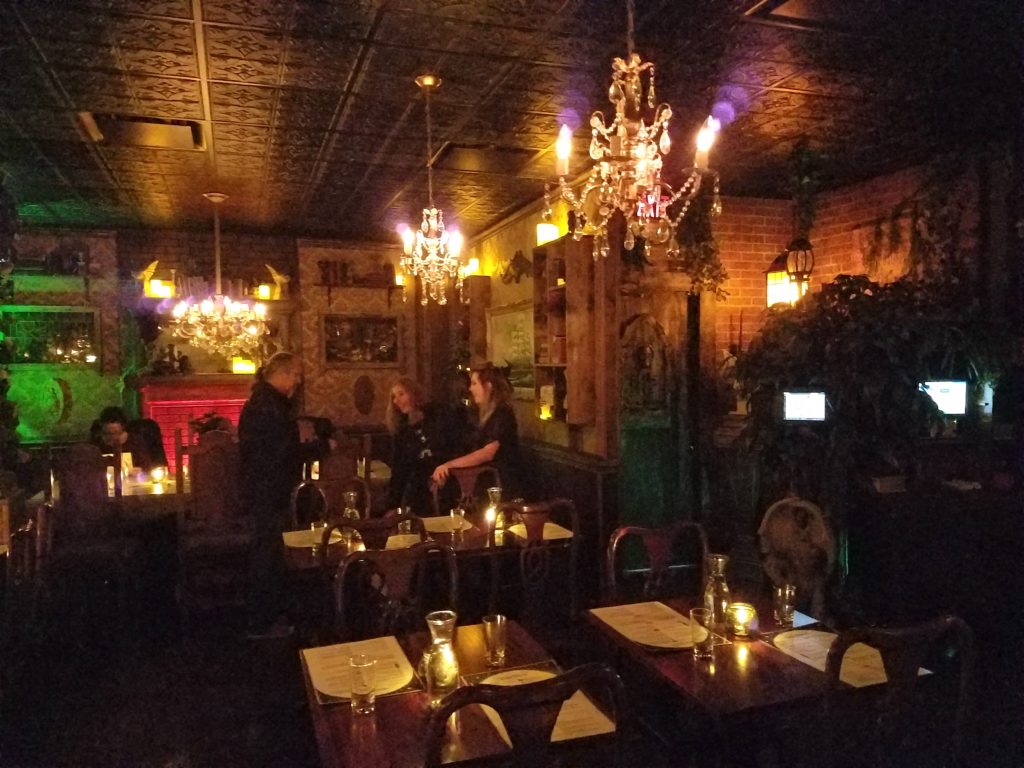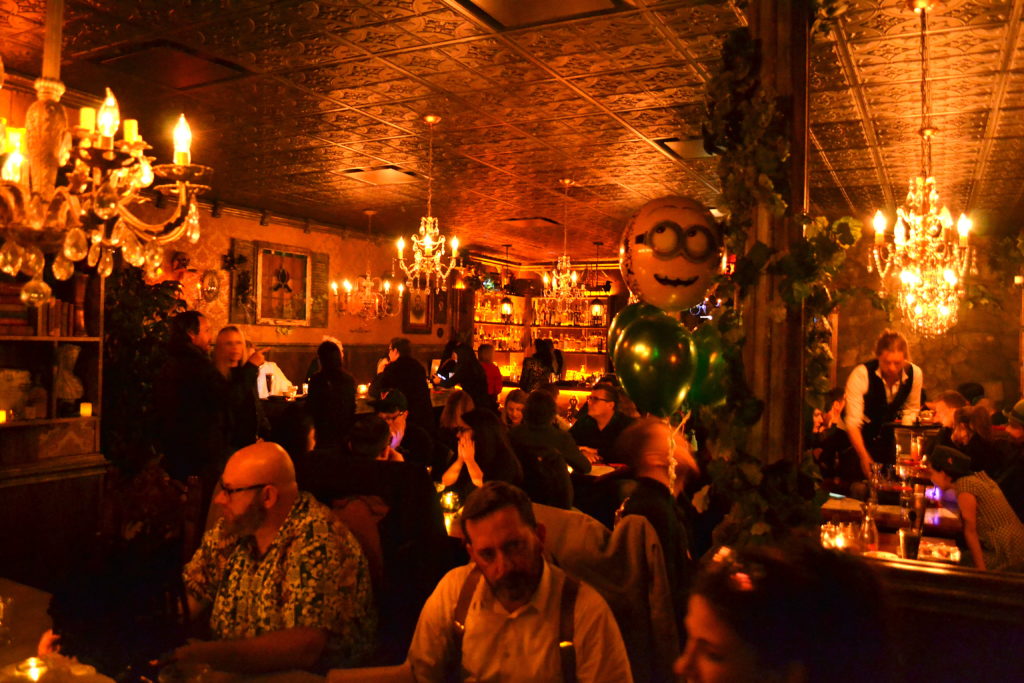 So, what makes for a really good Tiki bar, besides a quality cocktail program? A really good Tiki bar is a truly immersive environment, where the sights and sounds take you out of the here and now, and transport you to a different place, removed from the mundane world. To an exotic place where adventure, fantasy, whimsy, and maybe even a little danger seem to be just outside the walls, or around the corner. Uniquely imaginative, well crafted cocktails and a well suited menu add to the theme of such an environment. But where else might you find that sort of experience, besides in a tiki bar or a Disney theme park?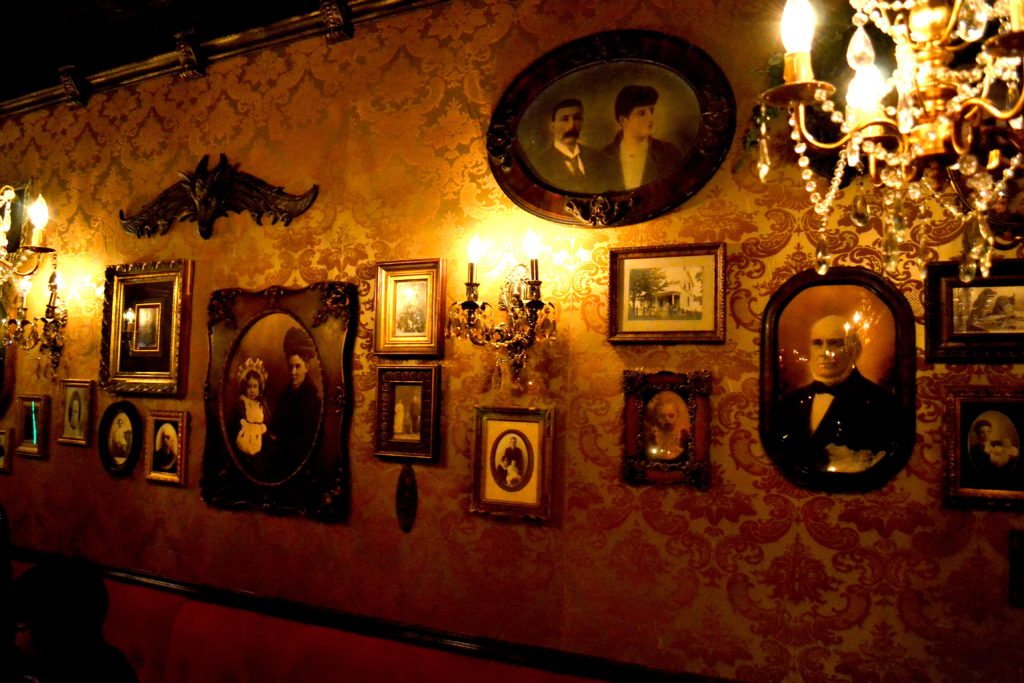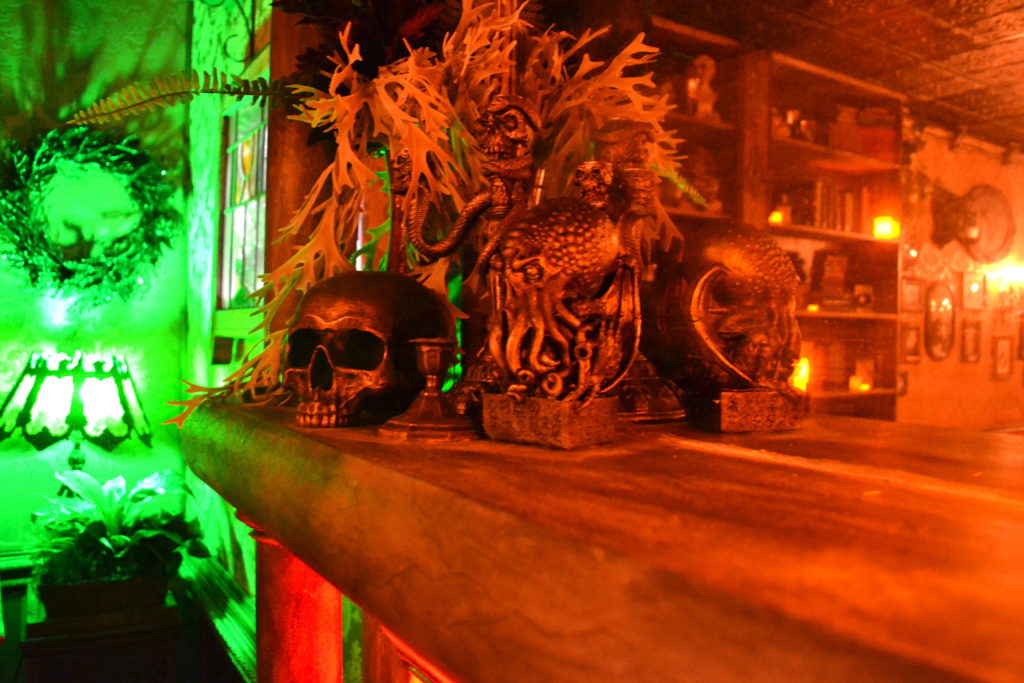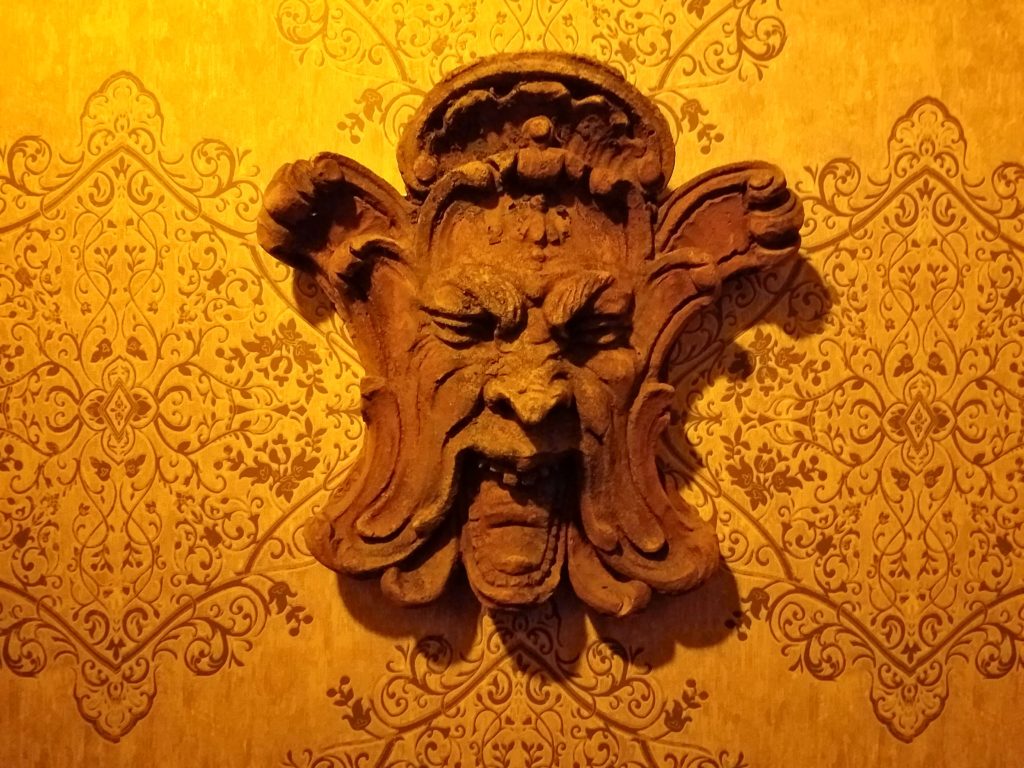 To that end, Rod Moore and crew built out a bar giving the impression of a haunted late 1800's manor house in a seemingly ordinary city storefront that had formerly housed a Chinese restaurant. Like his Shameful Tiki Rooms, the windows are painted over and an imaginative internal façade effectively eliminates the outside world. To further the illusion, a legend was created, of Sir Baron Rodney Seagrave, who met an untimely end, possibly with poisoned whiskey … and perhaps poured by his beloved young wife Constance Dee. The cocktail menu is whiskey-centric, and the menu reflects foods that were favored in the late 1800's. The menu appropriately resembles a tombstone, and so do their first release of ceramic mugs.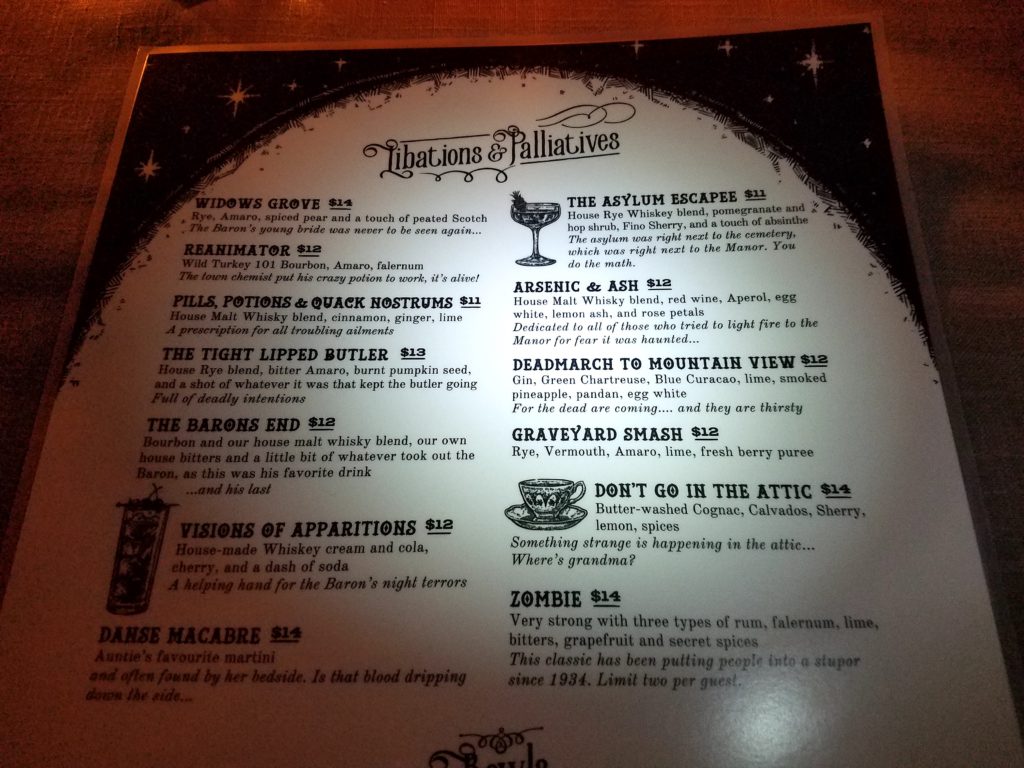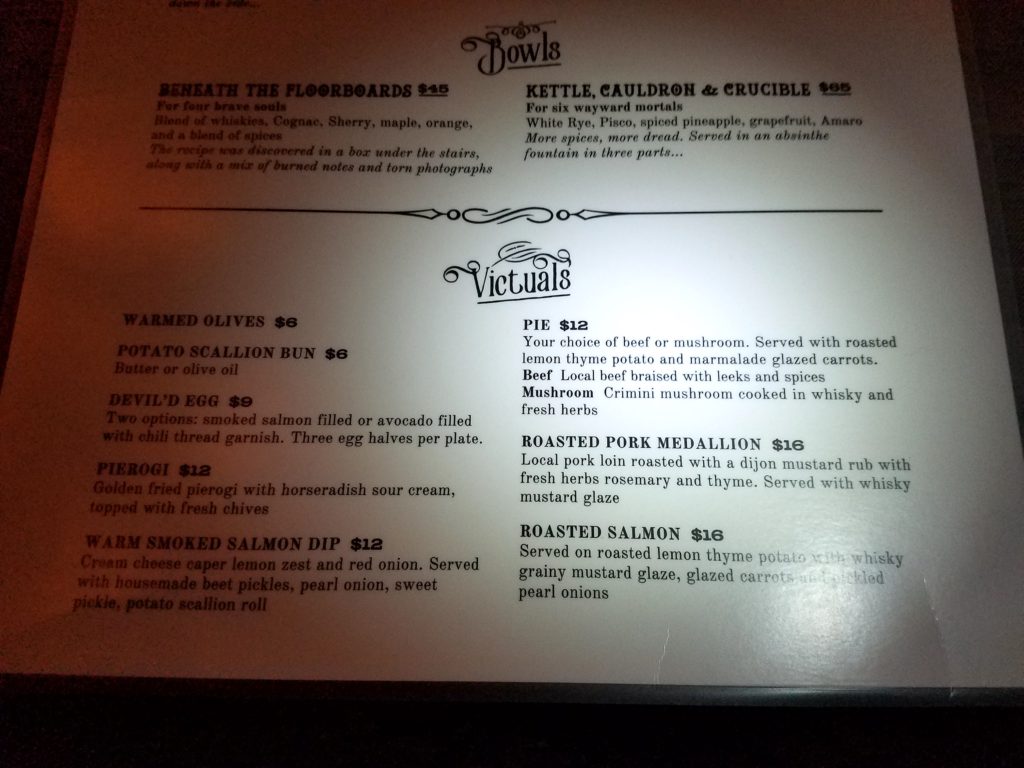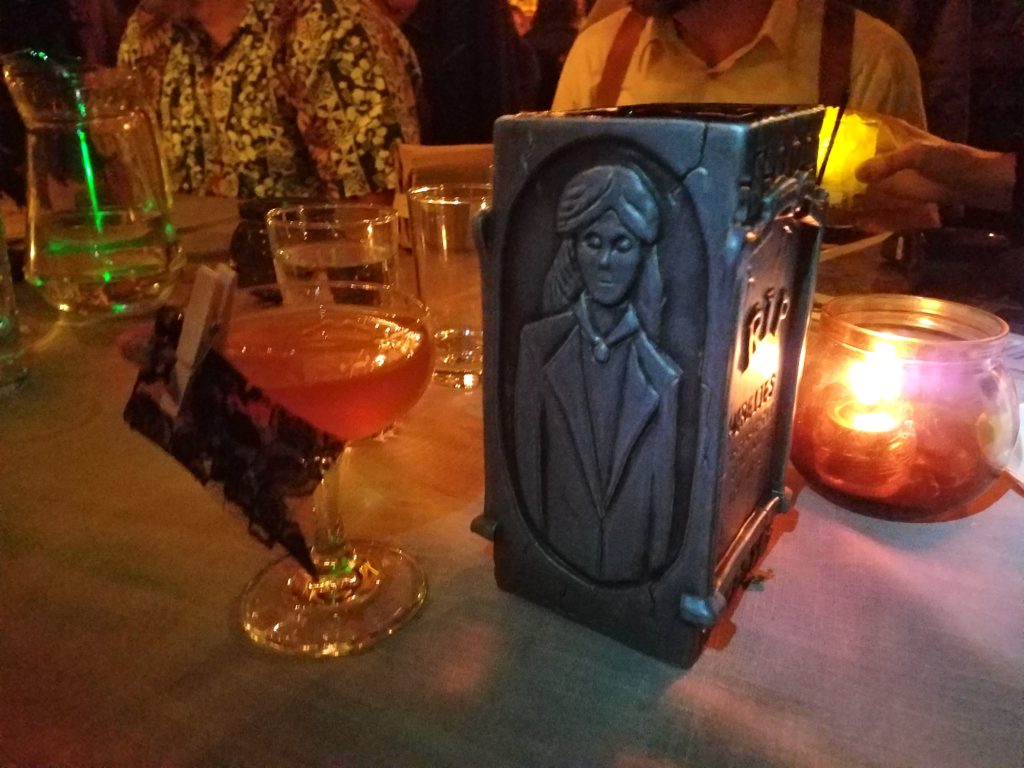 The Dark Manor Inn is indeed immersive from front to back. A small foyer keeps outside light from entering. Though really all one room, it is cunningly sectioned into seating areas that suggest different areas of a much larger manor house. Antique looking hanging chandeliers, wall sconces, and simulated candles provide dim lighting, and smoke machine generated fog billows about.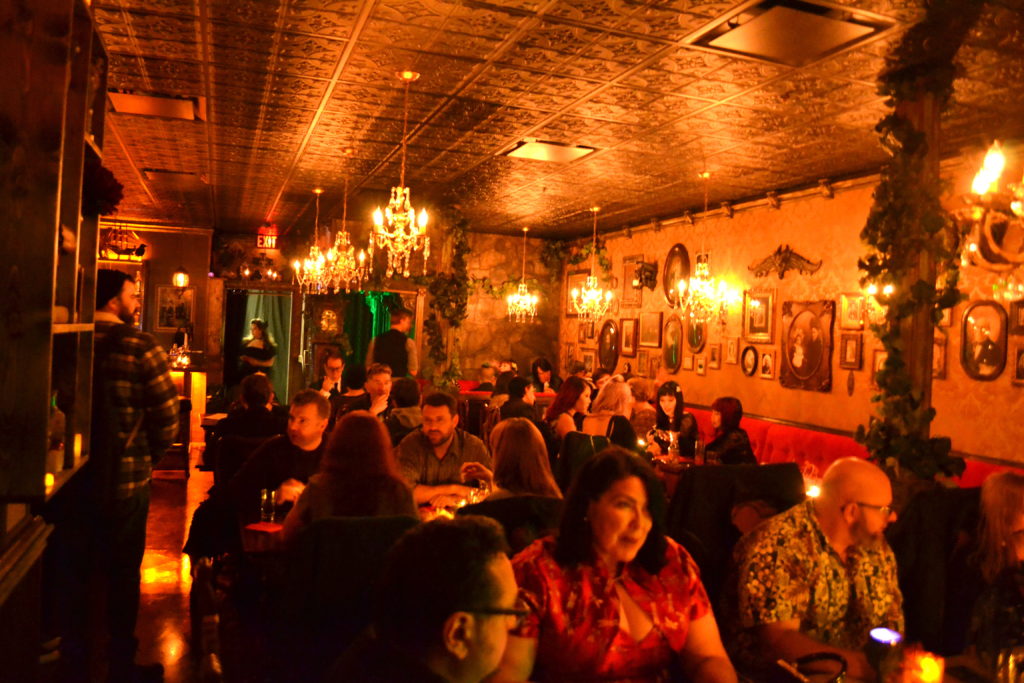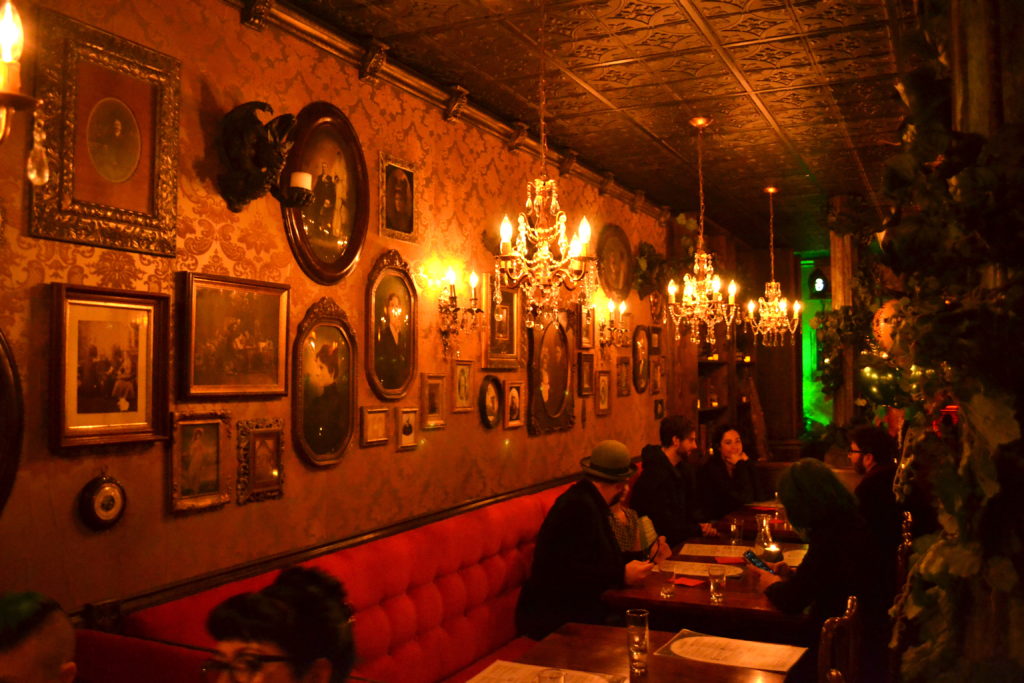 The center of the room is filled with individual tables for smaller parties. There is a small bar area to the rear, and a faux staircase rail in the service hall back to the kitchen that suggests an upper floor. On one side, near the bar, is a long high-top group table in the shape of a coffin.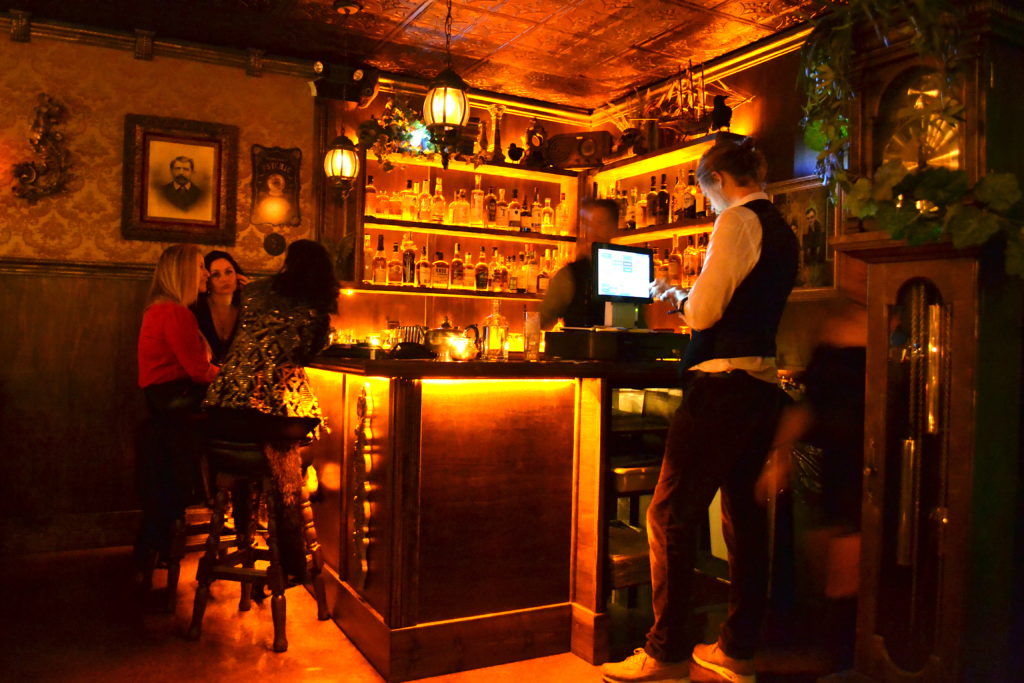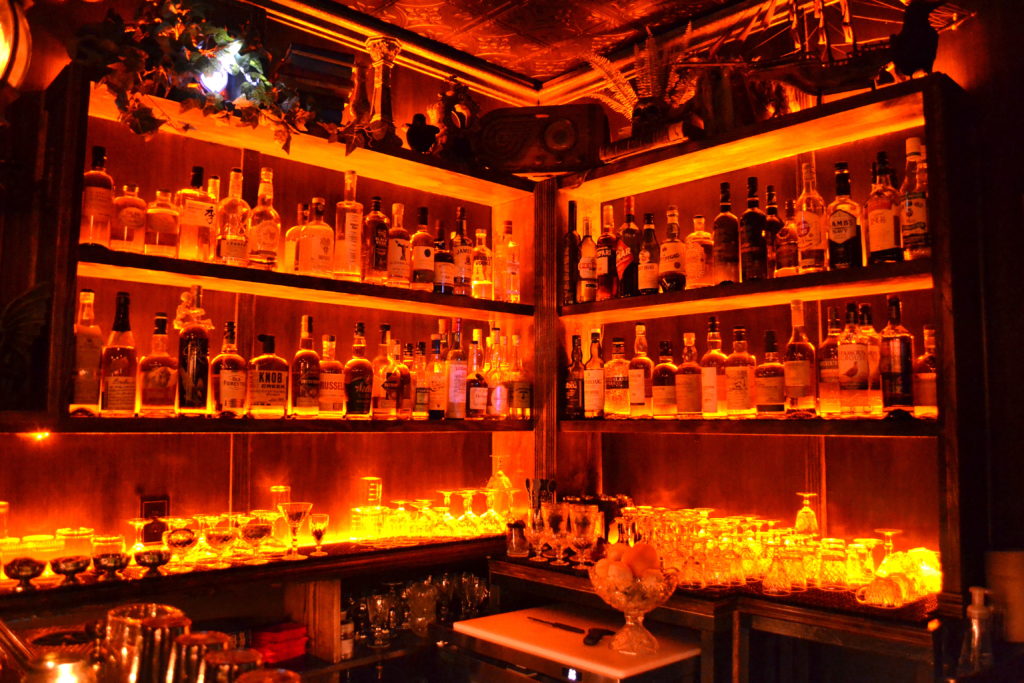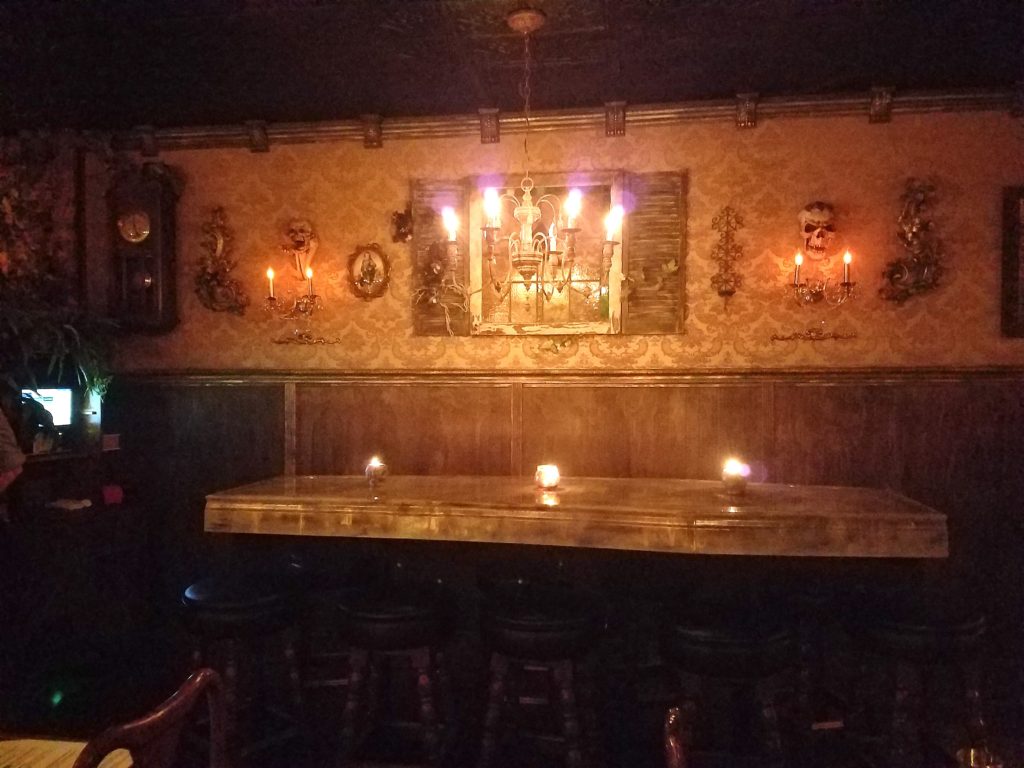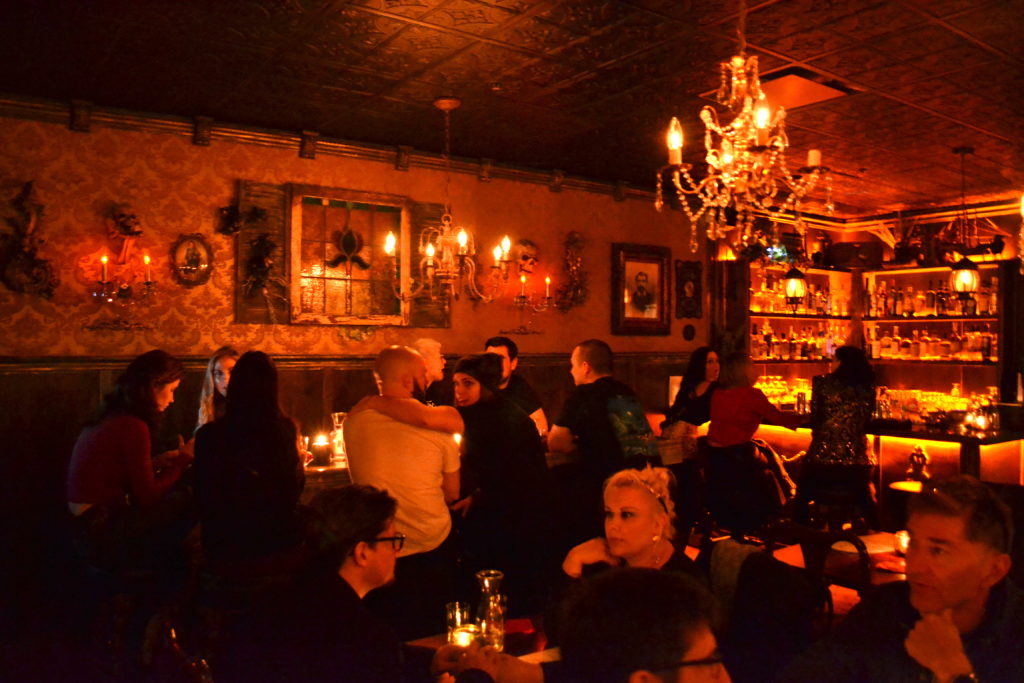 To the other side are booths, set against a wall festooned with real and imagined vintage framed pictures and such.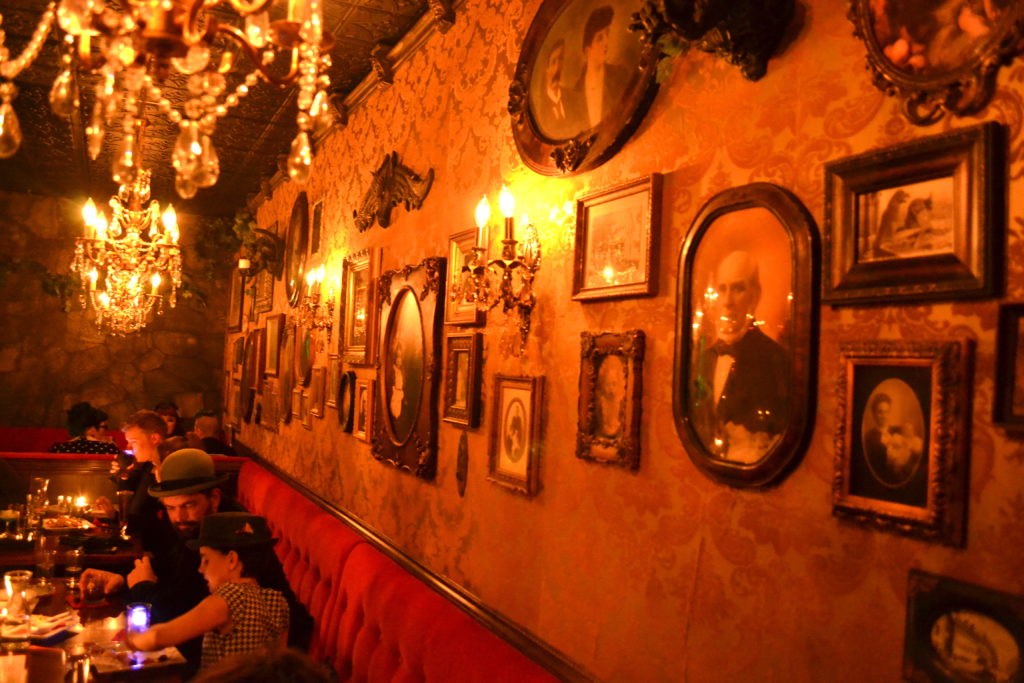 At the front of the room, around a corner to the right from the entrance, is a large dining table in an area resembling a library or study, complete with book cases, a throne-like master-of-the-house chair, and faux windows that illuminate like lightning (with macabre bits behind the glass), set over and to the sides of a mocked up fireplace and mantle. Ray, my lovely wife Samantha, myself, and several of our friends sat around this table. It felt like we were attending a paranormal dinner party!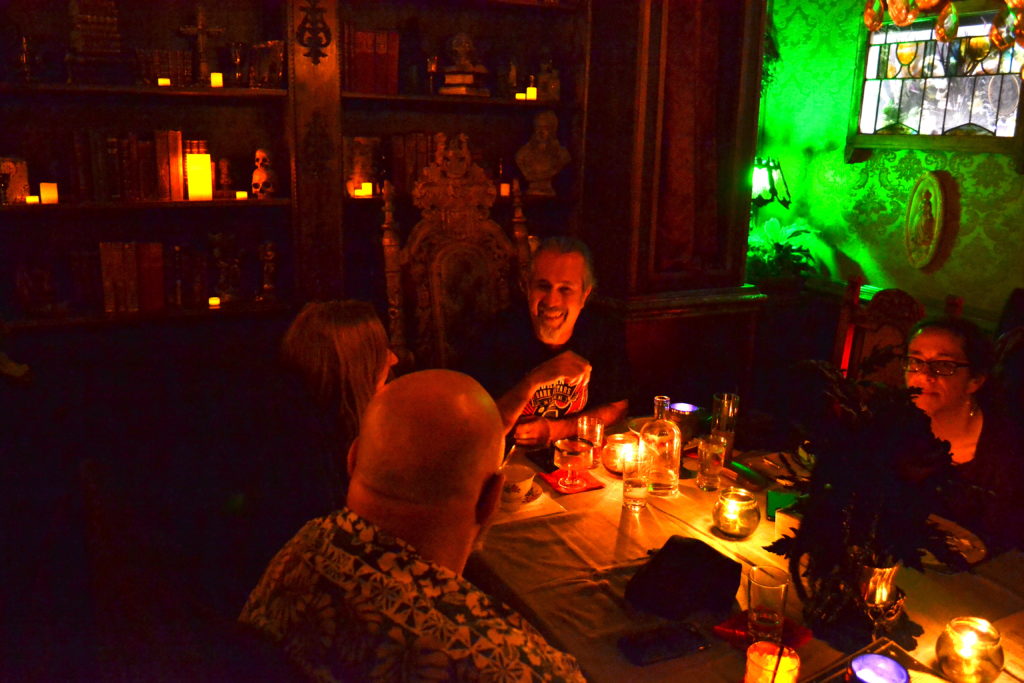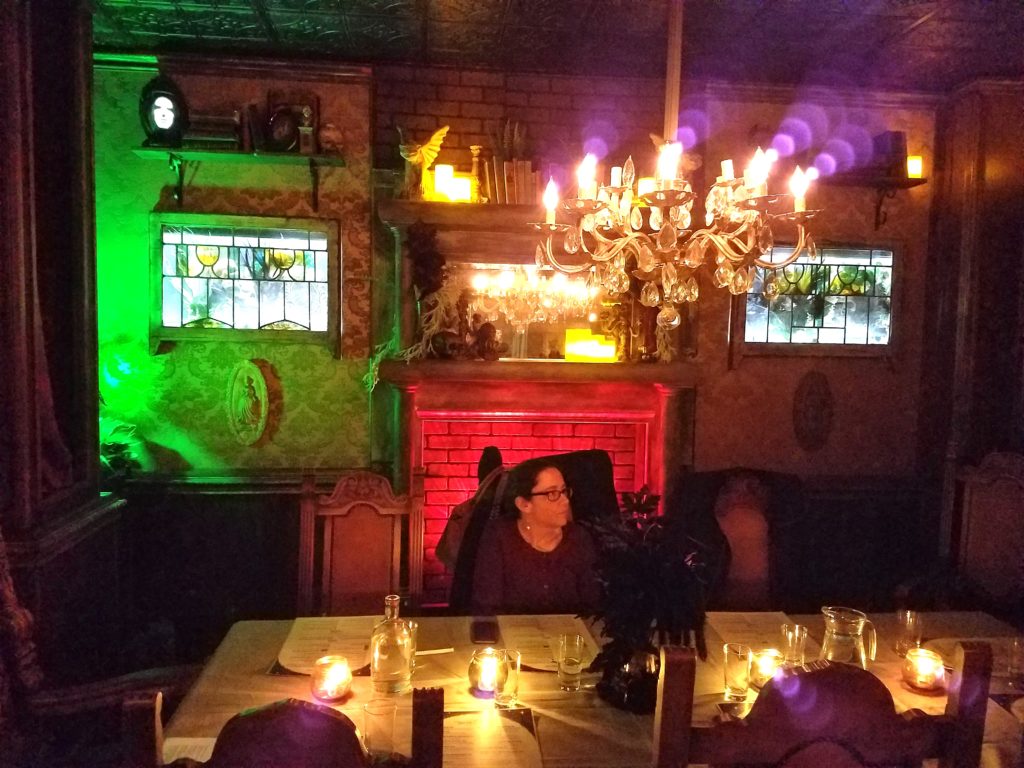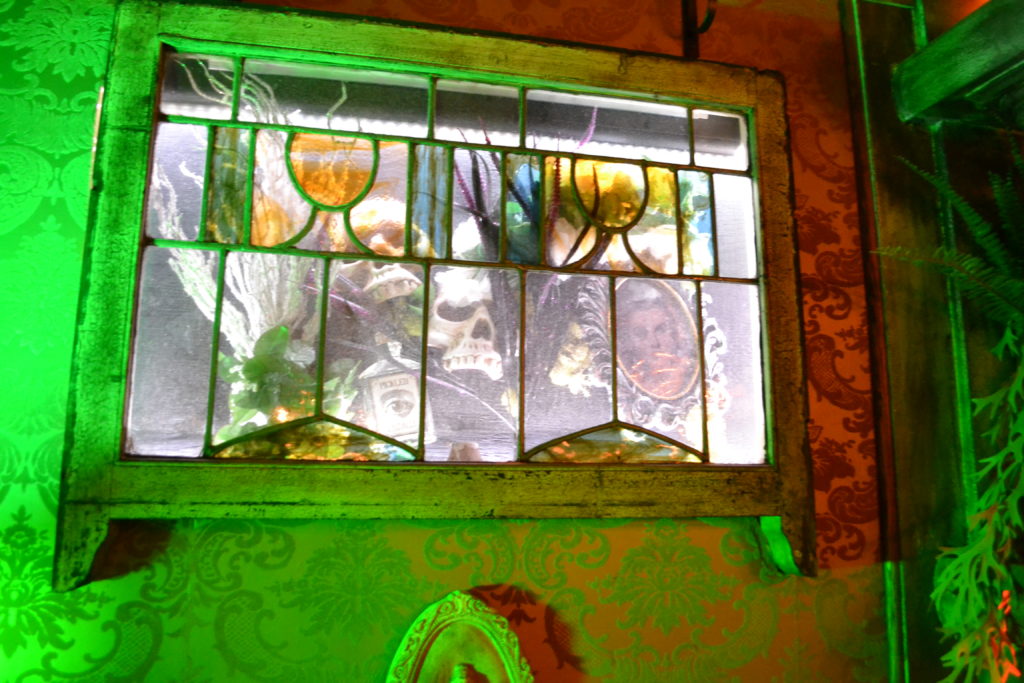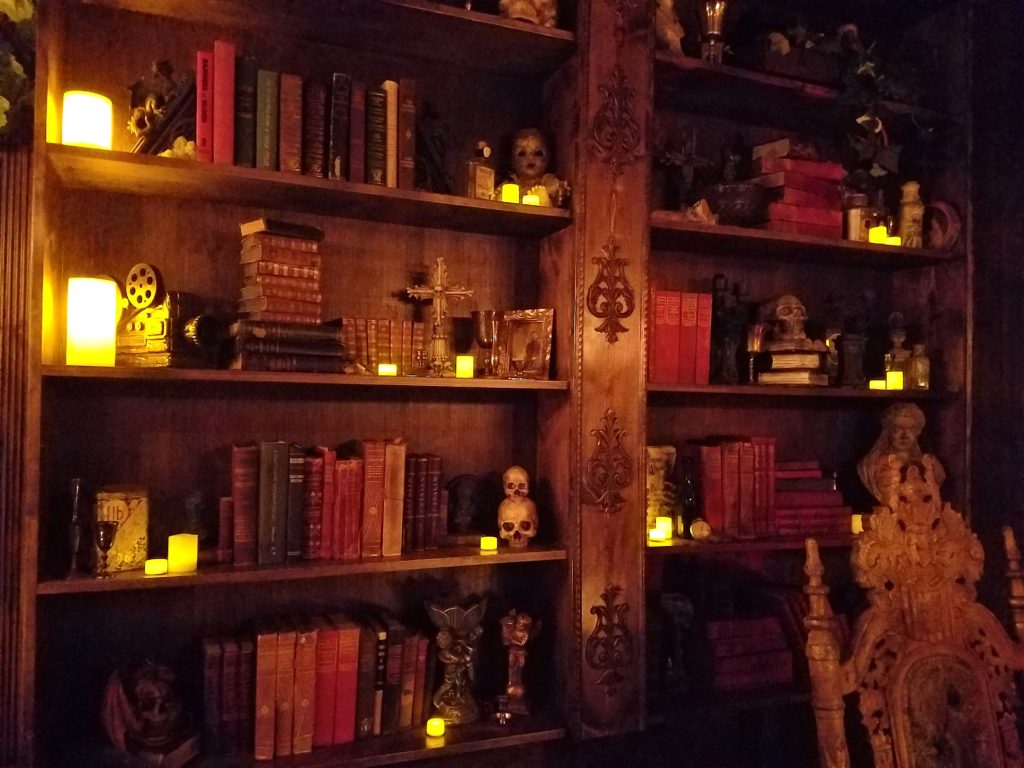 Even the restrooms sustain the immersive illusion that you're in a haunted Victorian manor house. The restroom hallway has rattling doors with sound and light effects making up the left side wall, backlit with an eerie green glow. Wherever you look in the Dark Manor, on every exposed surface, nook and cranny, there are carefully crafted details to delight in.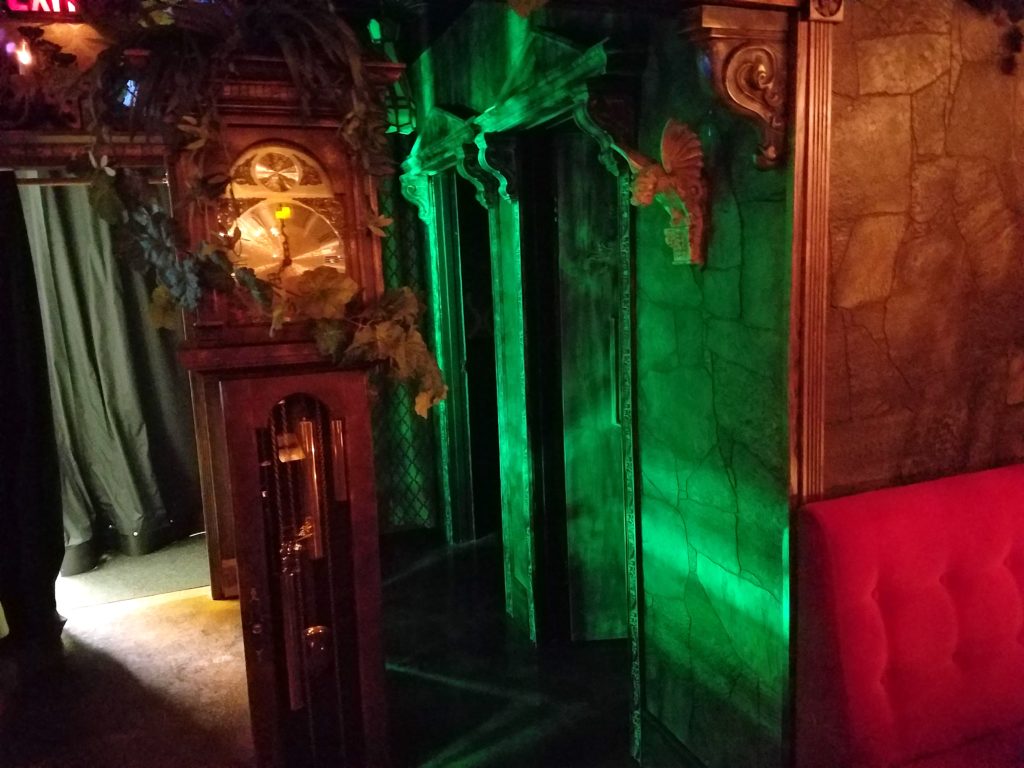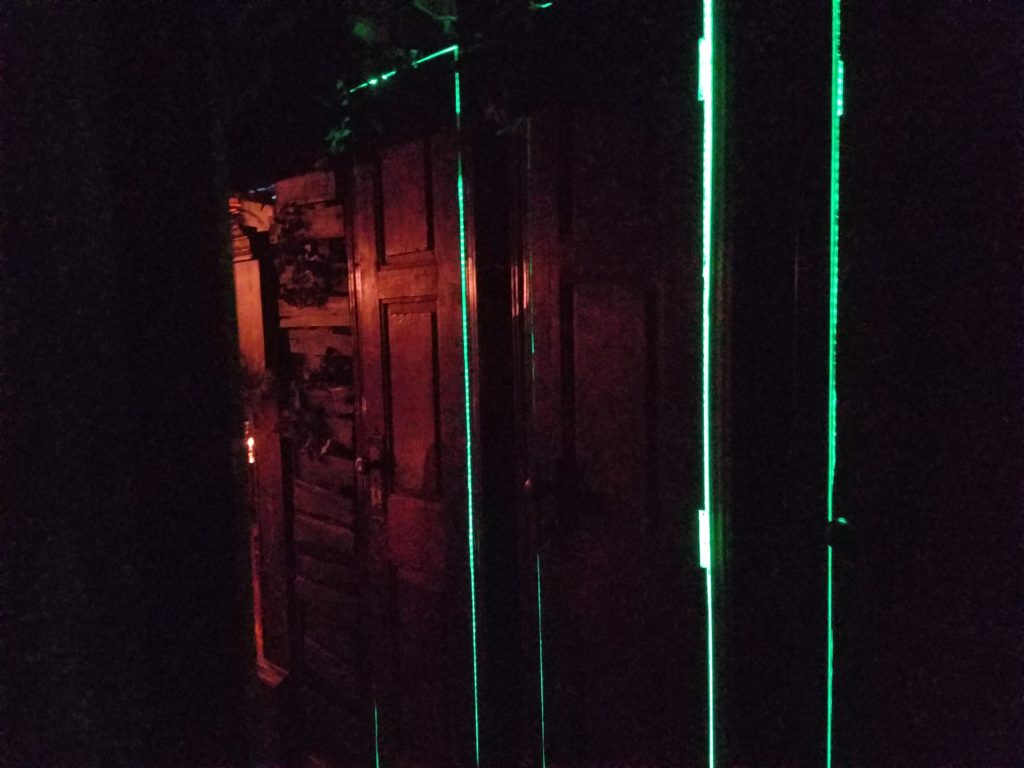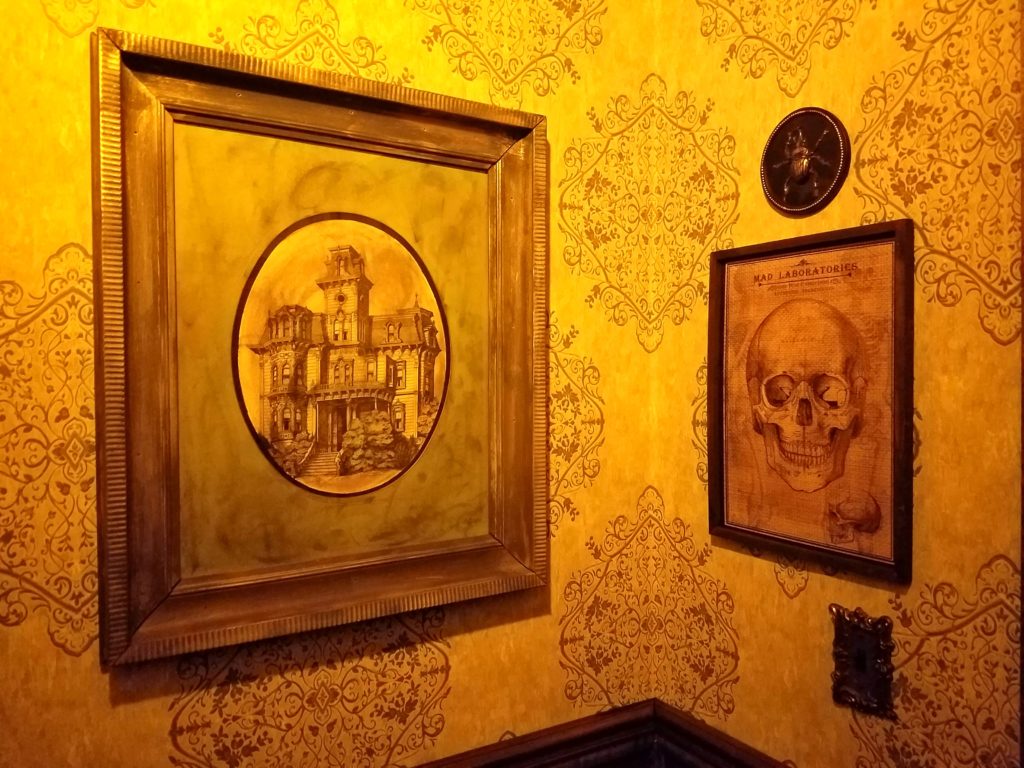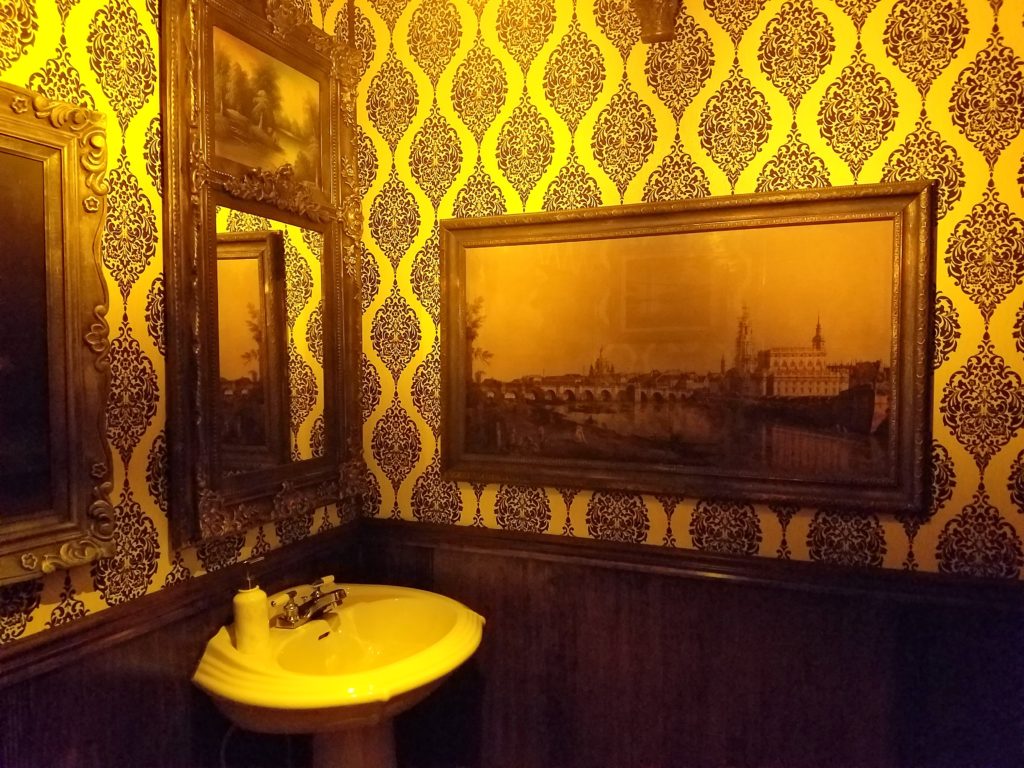 The soundscape continued the environment with a mix of haunting sound effects and playfully spooky music played at a conversationally conducive volume. Above the library area I noticed a speaker with a projected minimal ghoulish face that moved its mouth to the words and lyrics. Among the background sounds I noticed were the Monster Mash, bits of Nightmare Before Christmas, and the always delightful theme song to the 1958 horror classic The Blob.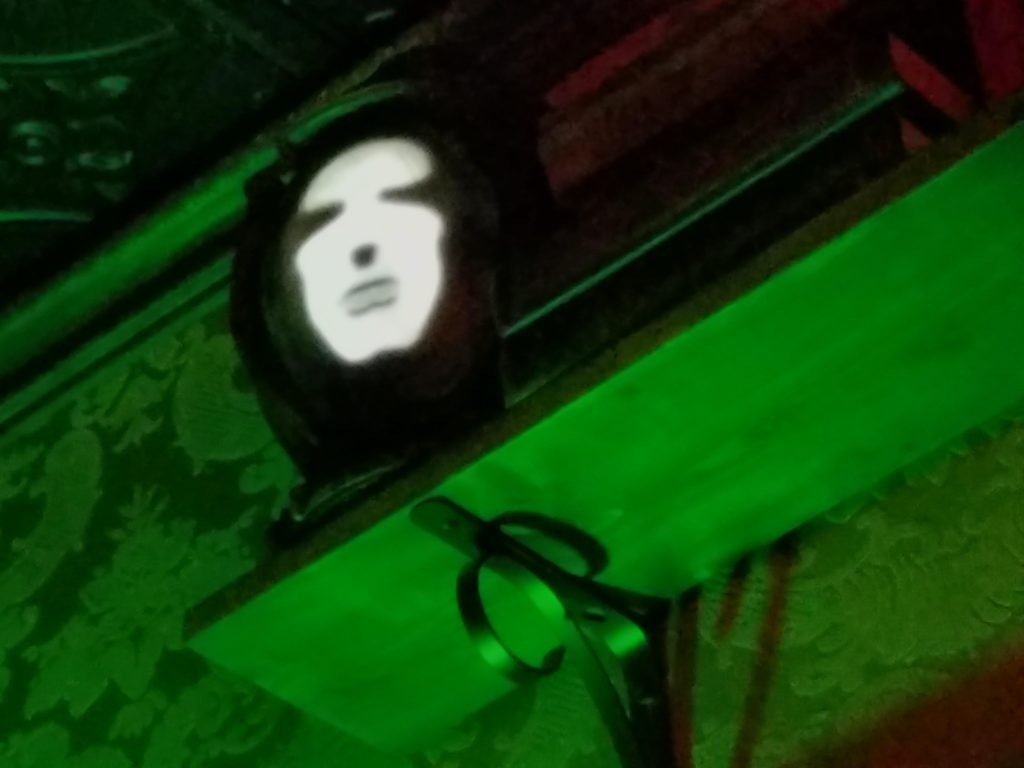 We delved into the menu as we prepared to party like it was 1899, beginning with our first round of cocktails. Ray chose to begin with the Visions of Apparitions, a whiskey cream and cola concoction with a bit of cherry, while Samantha picked the Zombie, which was tiki bar authentic and well fortified with 3 rums and a flaming garnish. My first hoist was the Pills, Potions & Quack Nostrums, a satisfying libation of blended Malt Whisky, ginger and lime, capped with a frothy glow.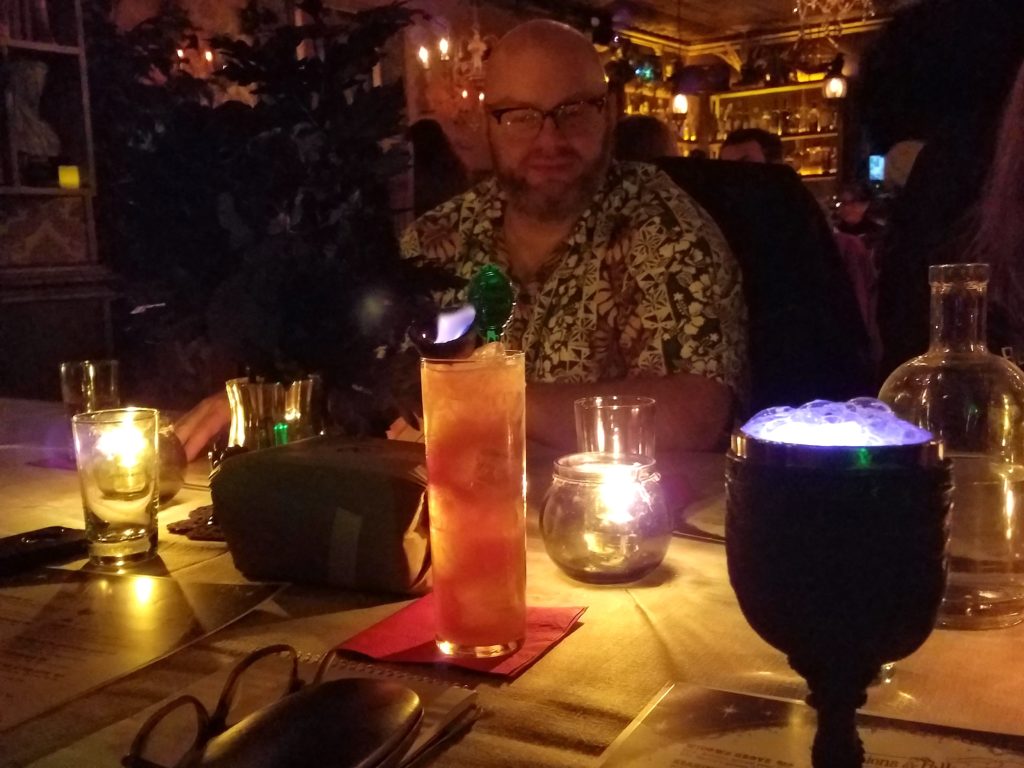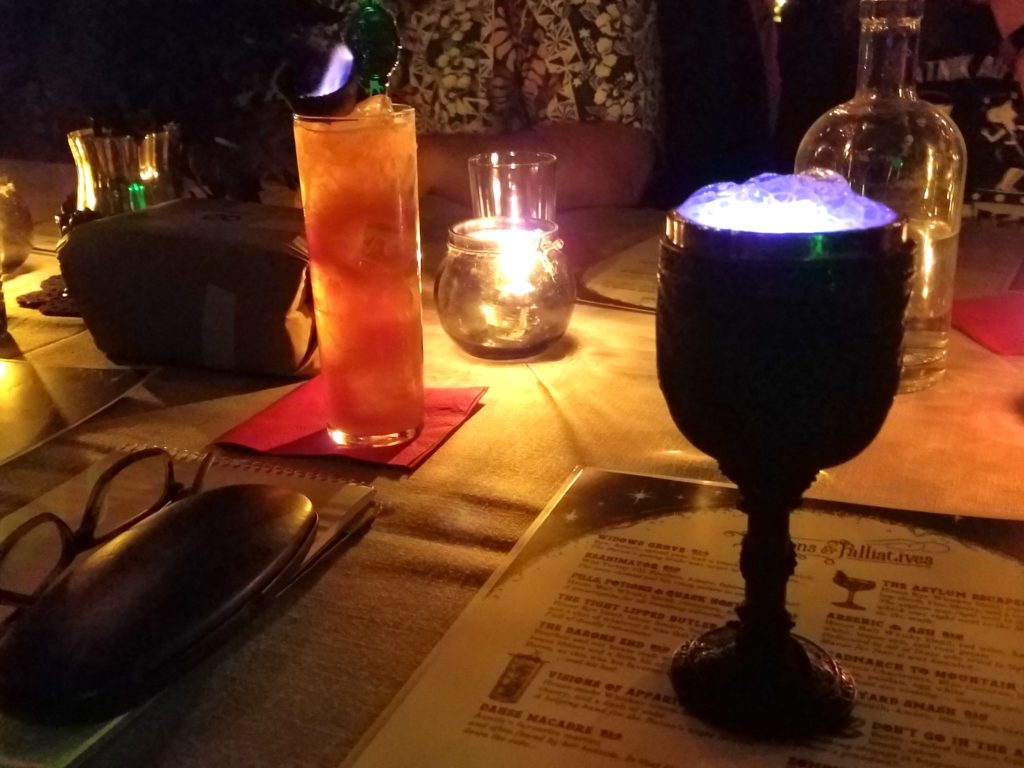 Our friend Bernie chose Don't Go In The Attic for her first inebriant. It was a complex Cognac cocktail in a teacup, with a lemon wheel and honey. She remarked that it was somewhat like a boozy Earl Grey tea. Her husband Brian picked the Tight Lipped Butler, served inverted with a shot on top. You lift the cup within a cup to take the shot and release the contents of blended Rye, Amaro and burnt pumpkin seed trapped within. Their Traveling Penguin looked on, but wasn't drinking on this night.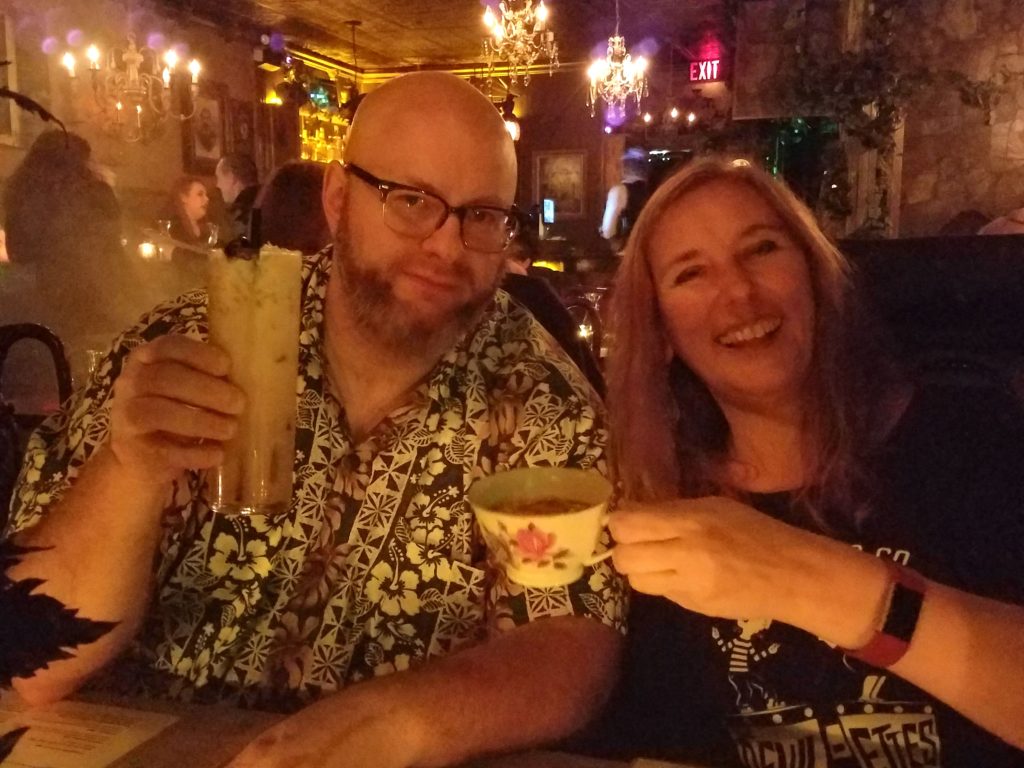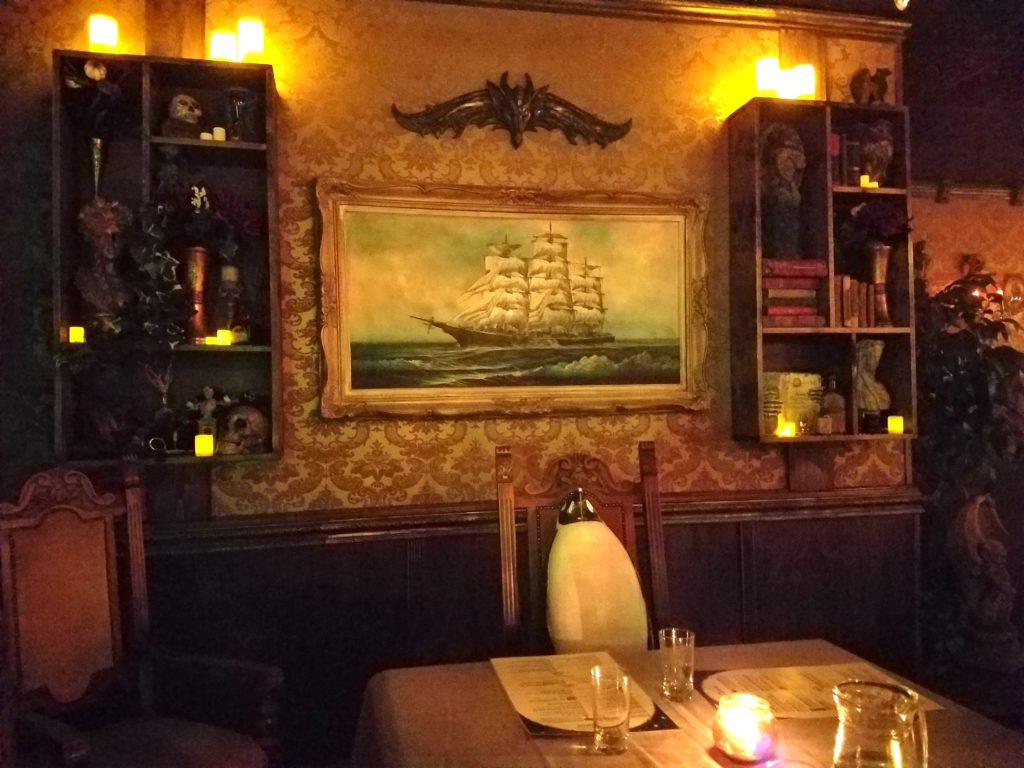 Among the food items we enjoyed were the Beef Pie, and the Roasted Pork Medallions, both of which were delicious. I started with the Devil'd Eggs. You could get them filled with avocado, but I was very pleased with the salmon filling. The chili threads on top gave it the perfect spice too.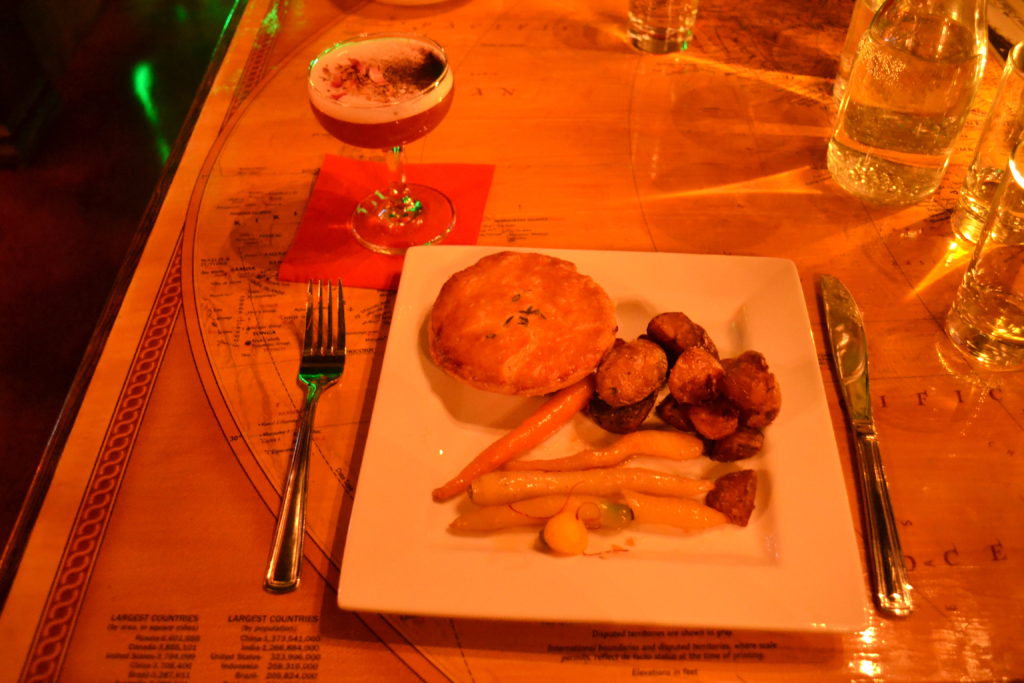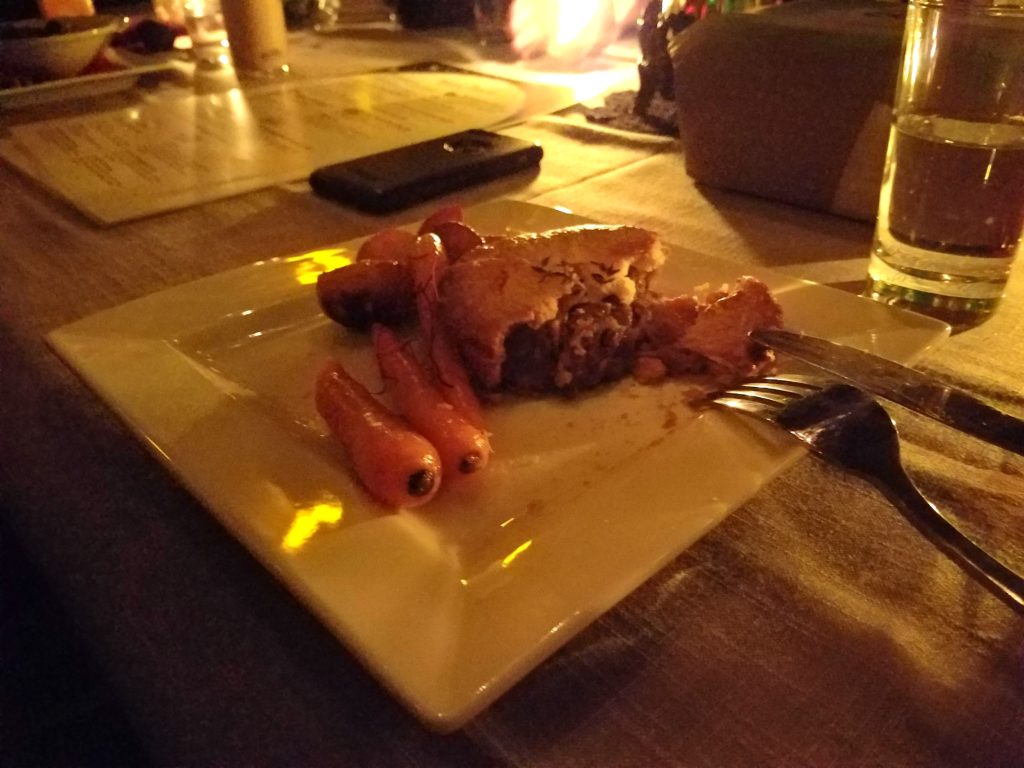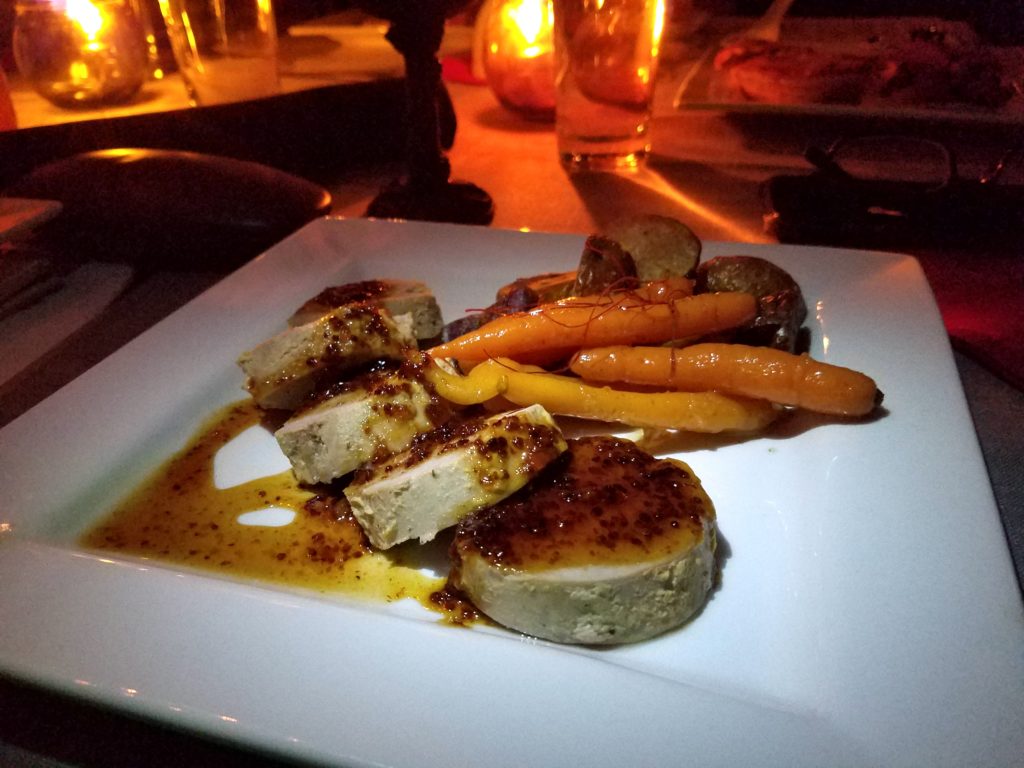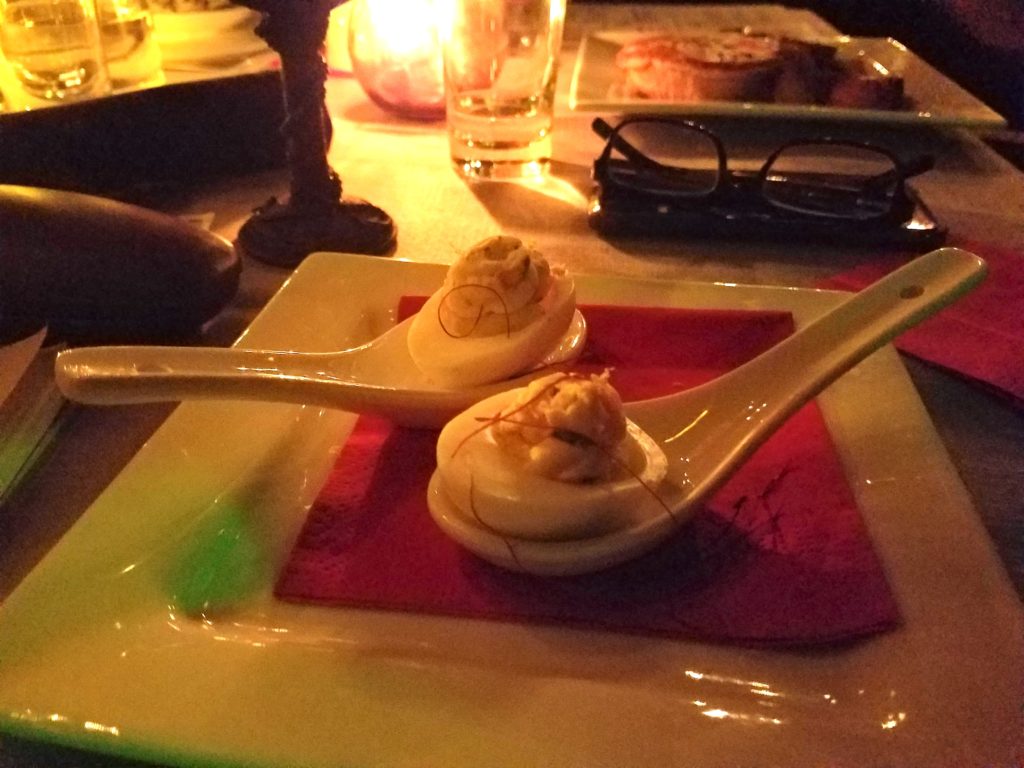 Working our way through the enticing options, I tried The Barons End, a house blend of Malt Whiskey and house bitters, with a dark and mysterious vile to pour into it. My lovely Samantha and I also shared a Widows Grove, which was Rye, Amaro, spiced pear, and peated Scotch, and had a smoky and astringent quality, with a bit of black lace clipped to the glass. The menu had two Bowl drinks available for sharing, that looked very interesting, but we didn't quite get to those.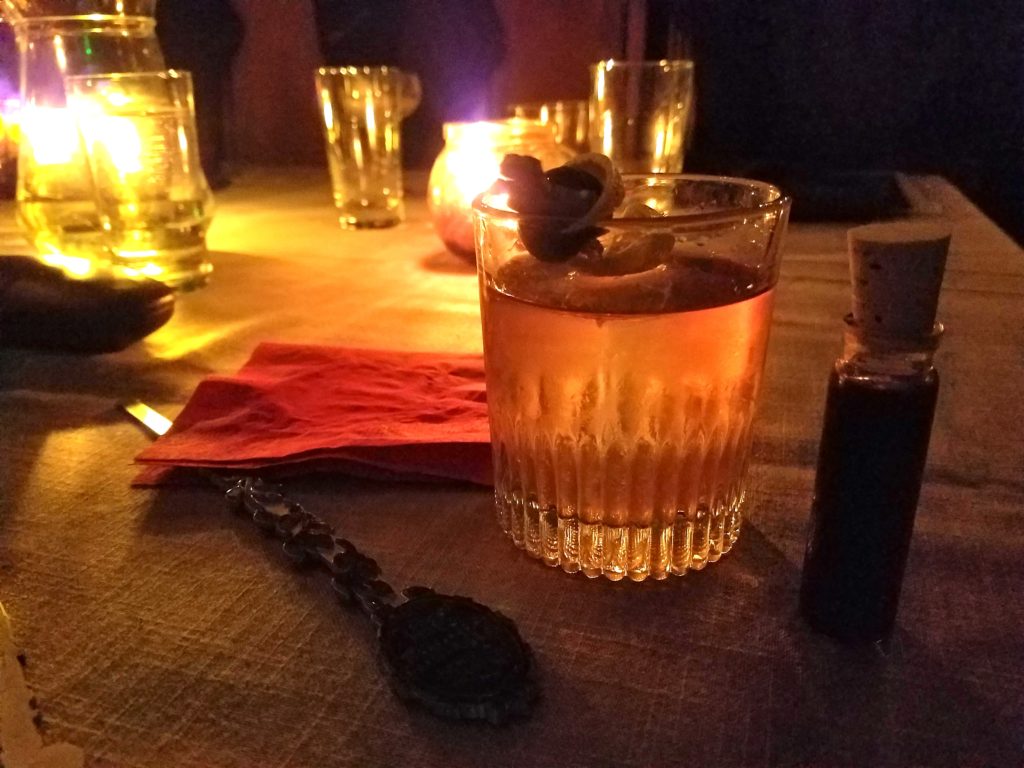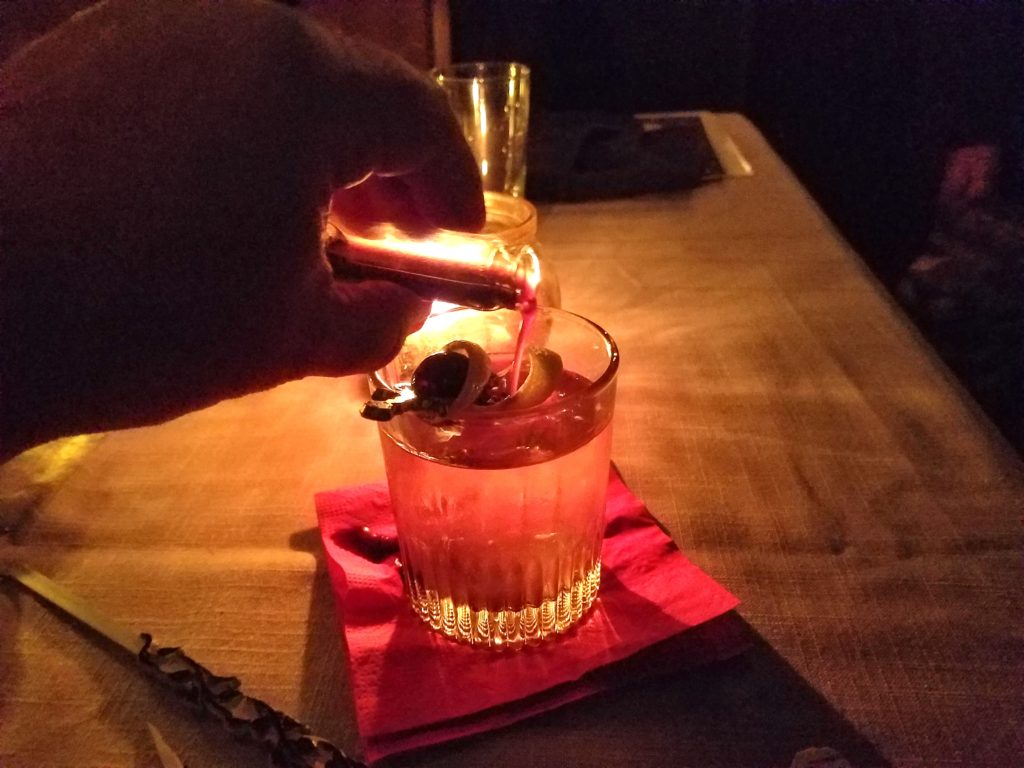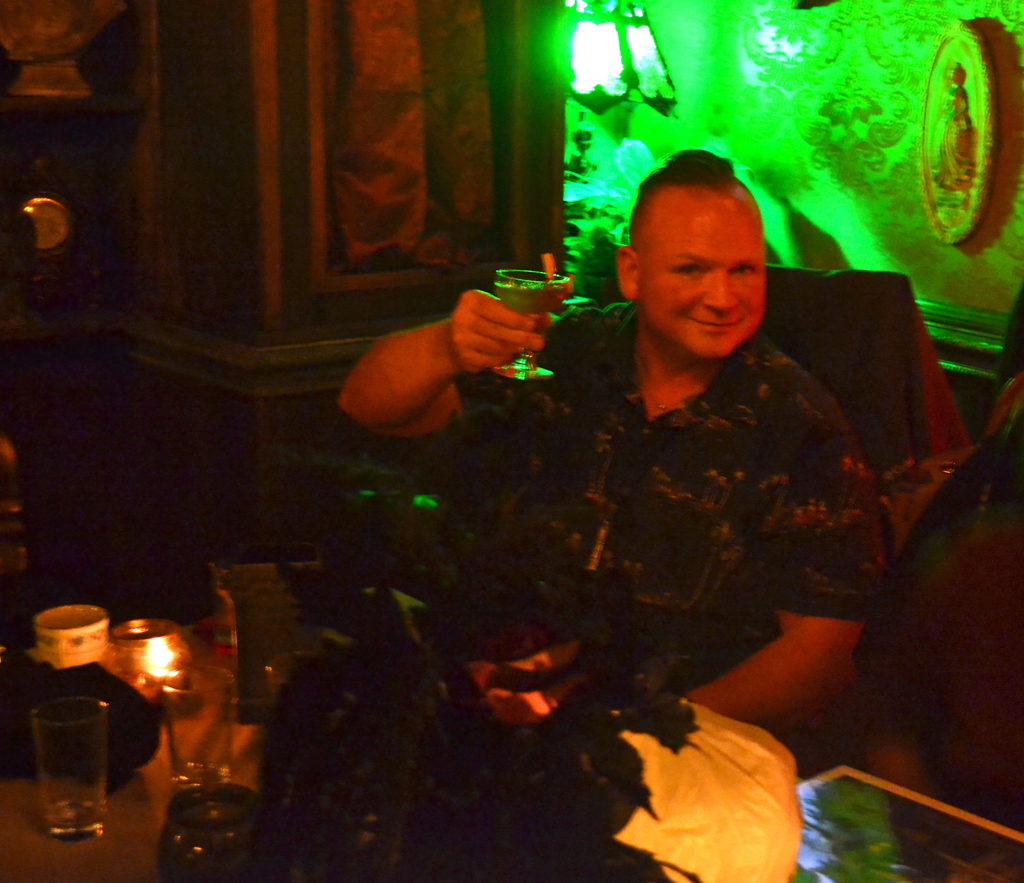 Our friend Heather partook in the Reanimator. It was Wild Turkey 101 Bourbon, Amaro and Falernum, in a glass that glowed and bubbled ominously. Heather enjoyed a Don't Go In The Attic as well. She and her husband John had also braved the Barons End and Tight Lipped Butler.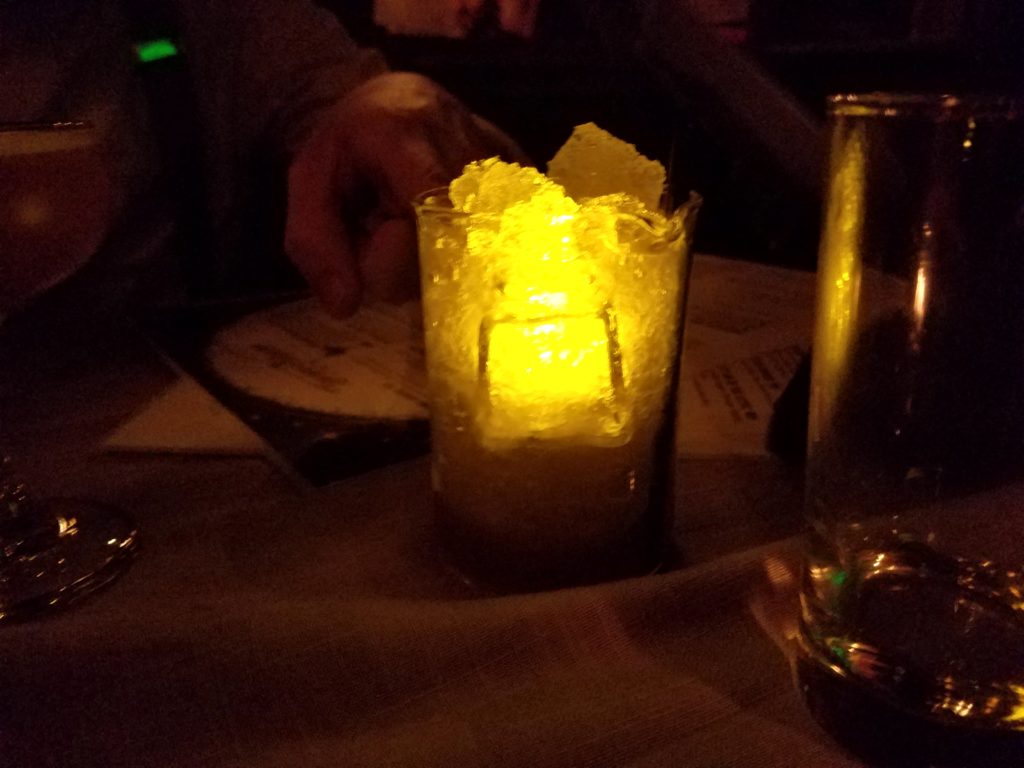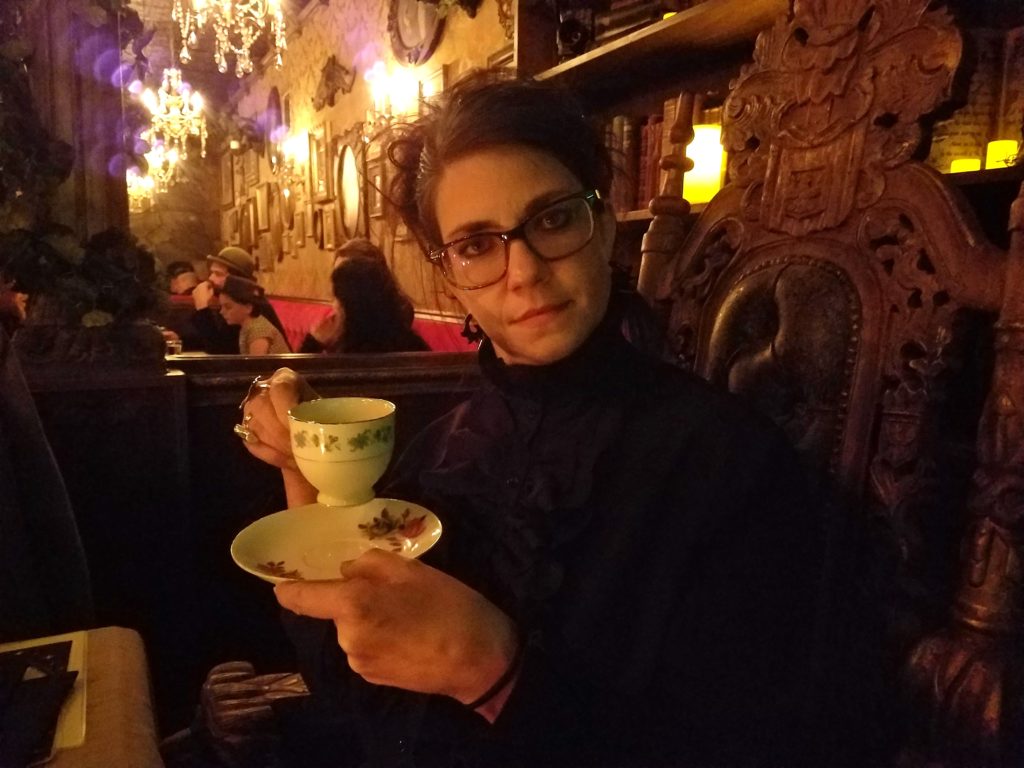 Overall, the Dark Manor Inn was sumptuously imaginative. We thoroughly enjoyed our food and cocktails. Service was wonderful, the presentations of food and beverage were very theatrical, and we much appreciated the craft of it all. The atmosphere is fun and spooky, and lends itself well to a unique night out or special occasion. It is not so much scary as it is playfully macabre, like the Addams Family or Disney's Haunted Mansion. Many patrons wore clothing suggestive of the Victorian era, or of a Gothic sense of fashion, becoming a part of their environment.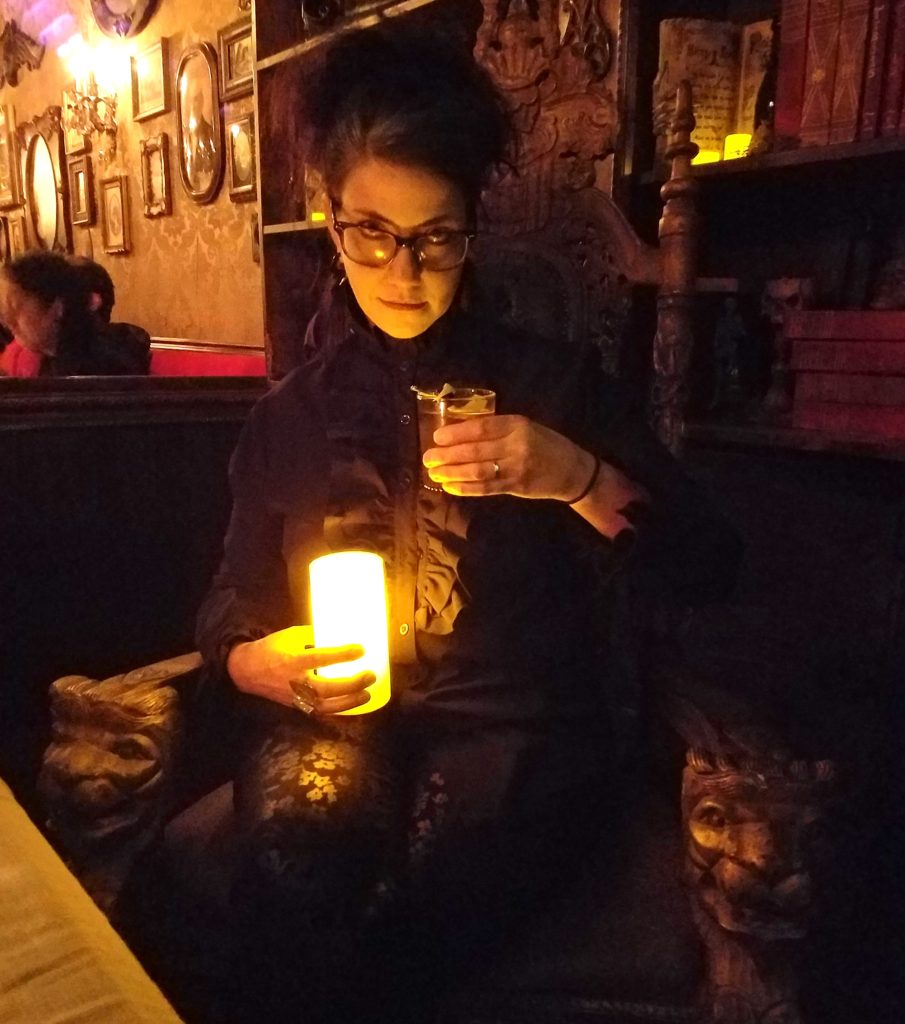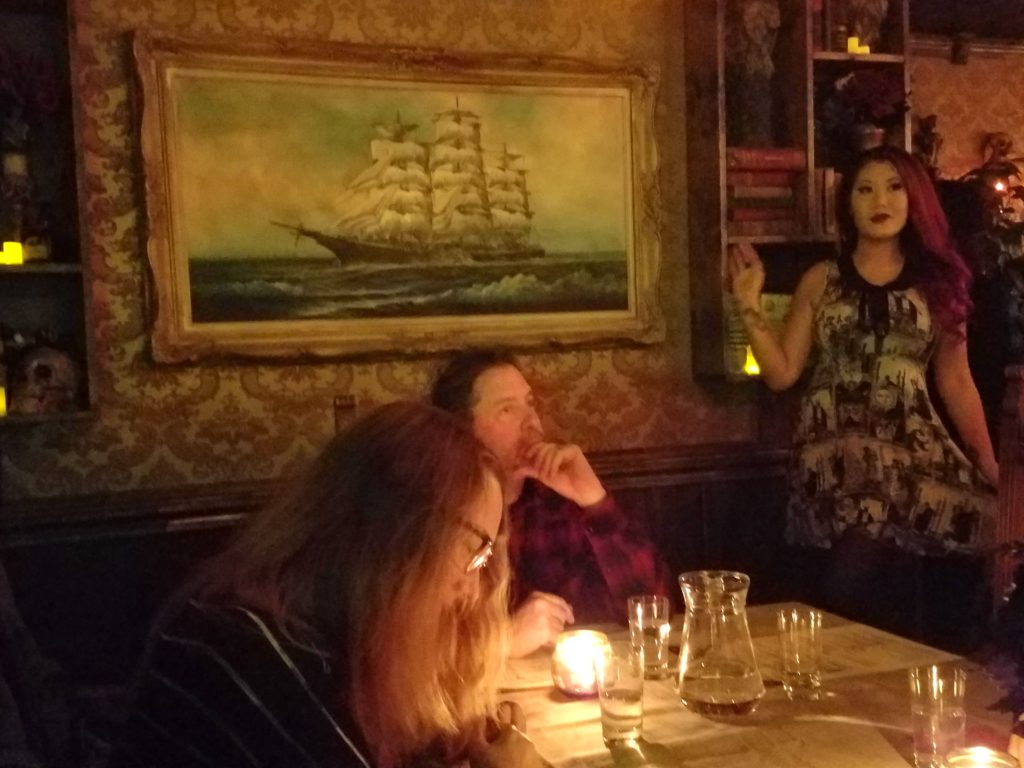 This all combines to make you feel as if you're participating in something rather than simply dining out. We were transported for the evening, and look forward to future visits to the Dark Manor Inn. Well done Rod Moore, very well done!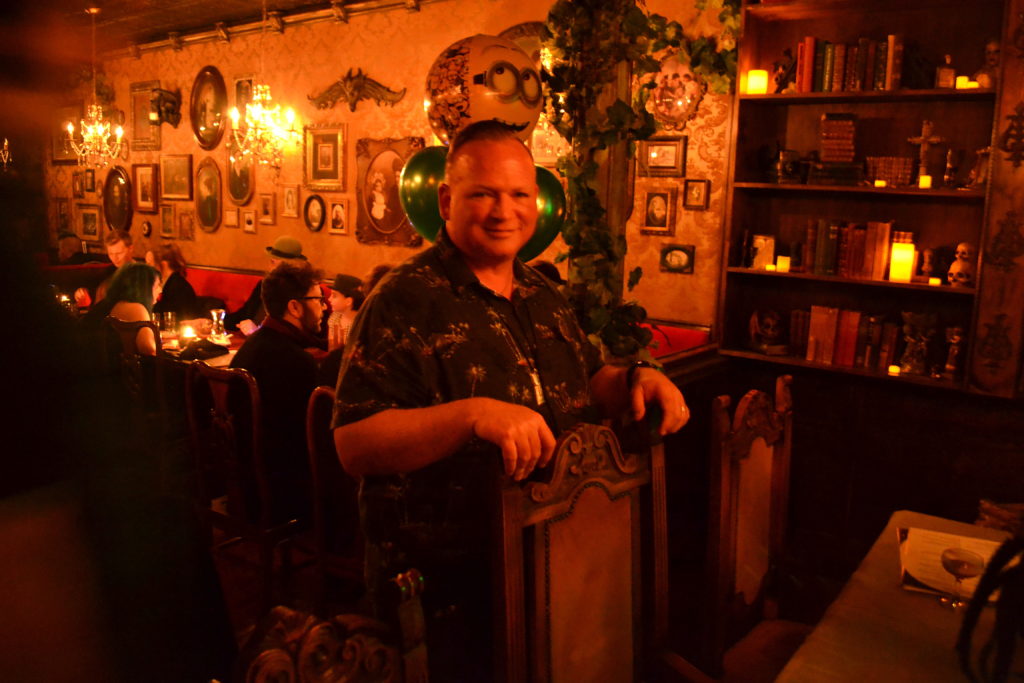 Here is the Dark Manor website
And Facebook page