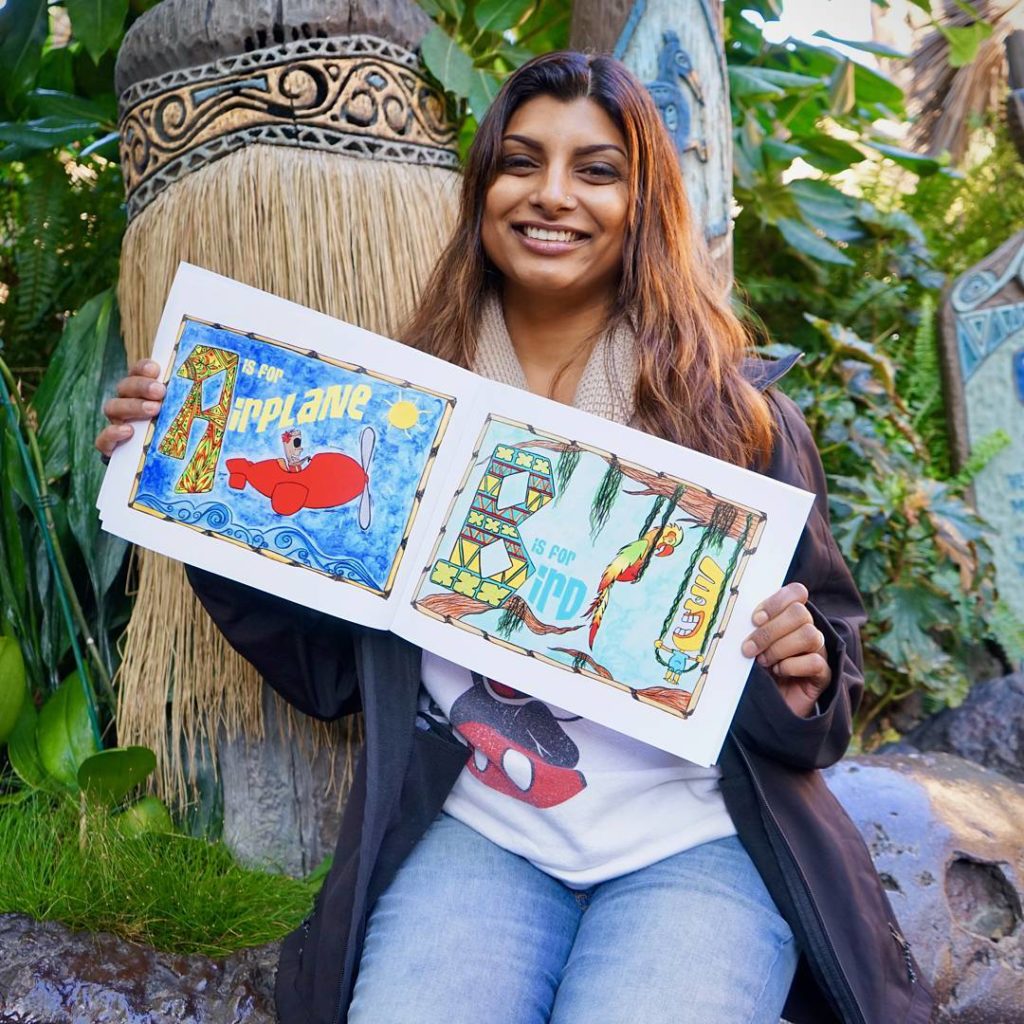 Hey Gang! I would like you to meet Nadia Reddy. She wrote and illustrated the first Tiki children's picture book ever! It's called Tiki ABC. The story is simple, Nadia wanted a children's Tiki picture to read to her baby. She searched around and found that none existed, so she wrote her own. I love that! If you want something and it doesn't exist, create it yourself. Here is Nadia's story…
 What's the tiki scene like where you live?
Nadia– My first introduction to the tiki scene here in the San Francisco Bay Area was in 2013 when my husband and I celebrated our Bachelor/Bachelorette party at Forbidden Island Tiki Lounge in Alameda, CA. We loved the Mid-Century tiki decor, atmosphere, and drinks, and so we started researching and discovered that there's no shortage of tiki bar variety in the San Francisco Bay Area.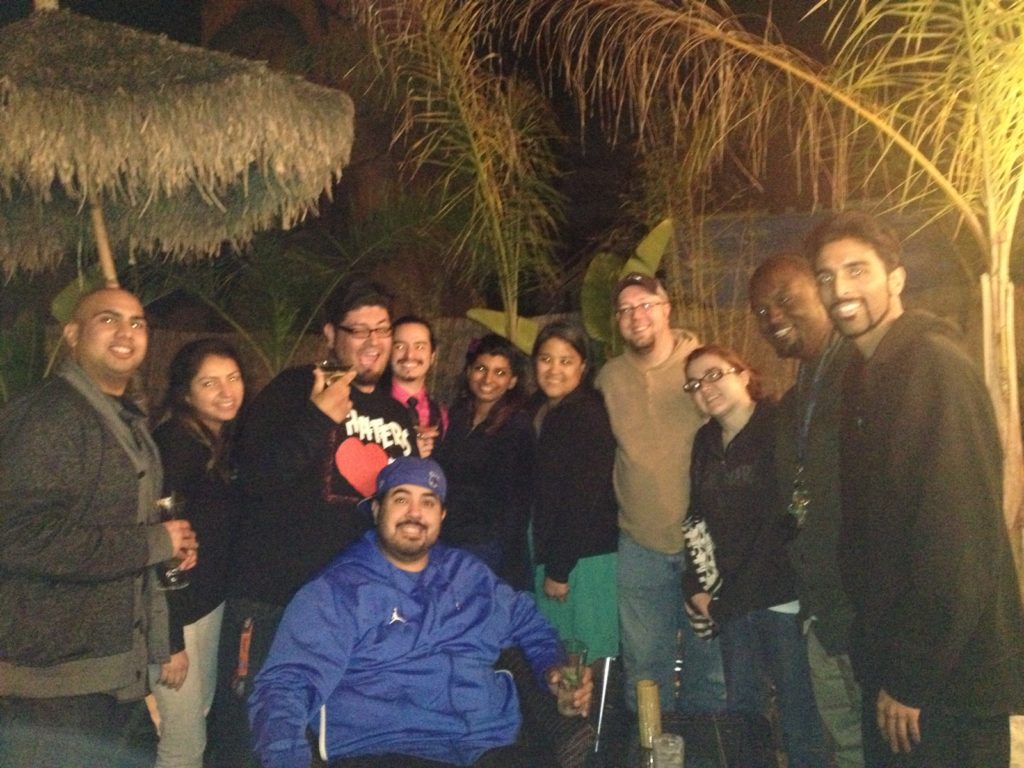 We have the Tonga Room & Hurricane Bar at the SF Fairmont Hotel, complete with fake rain, thunder and lightning, and a live band that floats on a barge across what use to be the hotel swimming pool, the Pagan Idol in The Financial District with it's thatched roof, aquarium, and erupting volcano, and Trader Vic's in Emeryville which offers their world-famous cocktails and so much to look at while your enjoying your food and drink. That's just to name a few. Tiki enthusiasts also seem to be Disney enthusiasts – much like my husband, Sean​​​​​​​​​​​​​​​​​​​​​​​​​​​​​​​​​​​​ and I.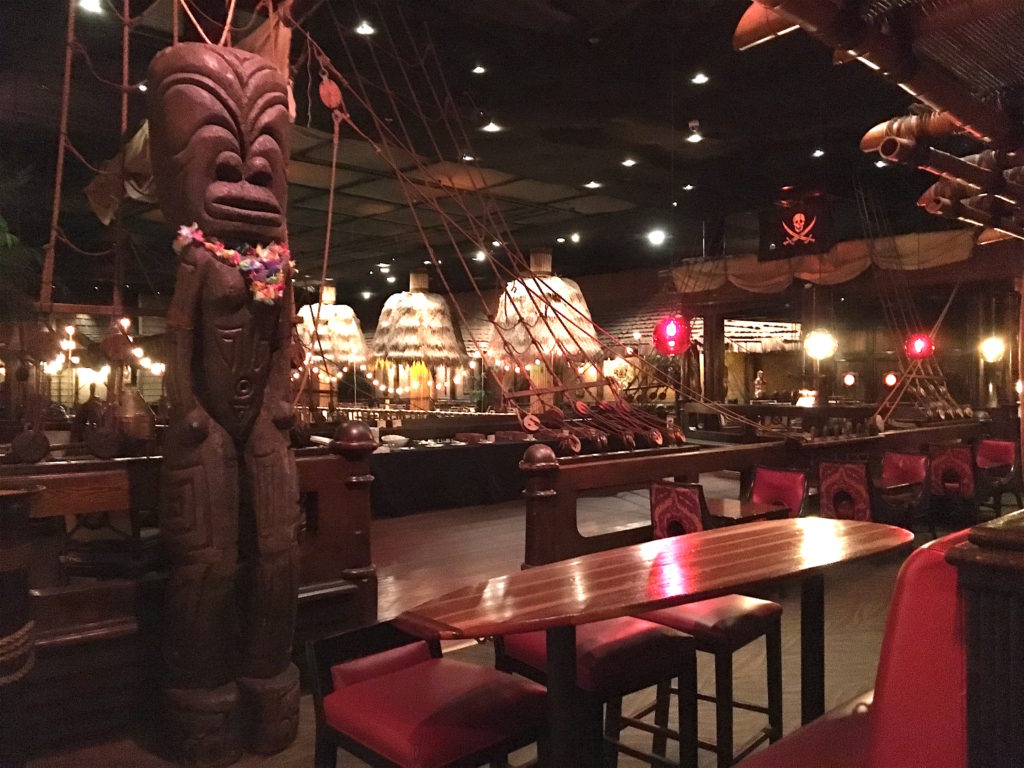 That same year, 2013, The Walt Disney Family Museum, which is located not too far from the Golden Gate Bridge, had an exhibit dedicated to the 50th anniversary celebration of Walt Disney's Enchanted Tiki Room. We learned all about the history of the Enchanted Tiki Room, met Diane Disney Miller, and found the whole event so fascinating that the Enchanted Tiki Room has since become one of our favorite attractions at Disneyland.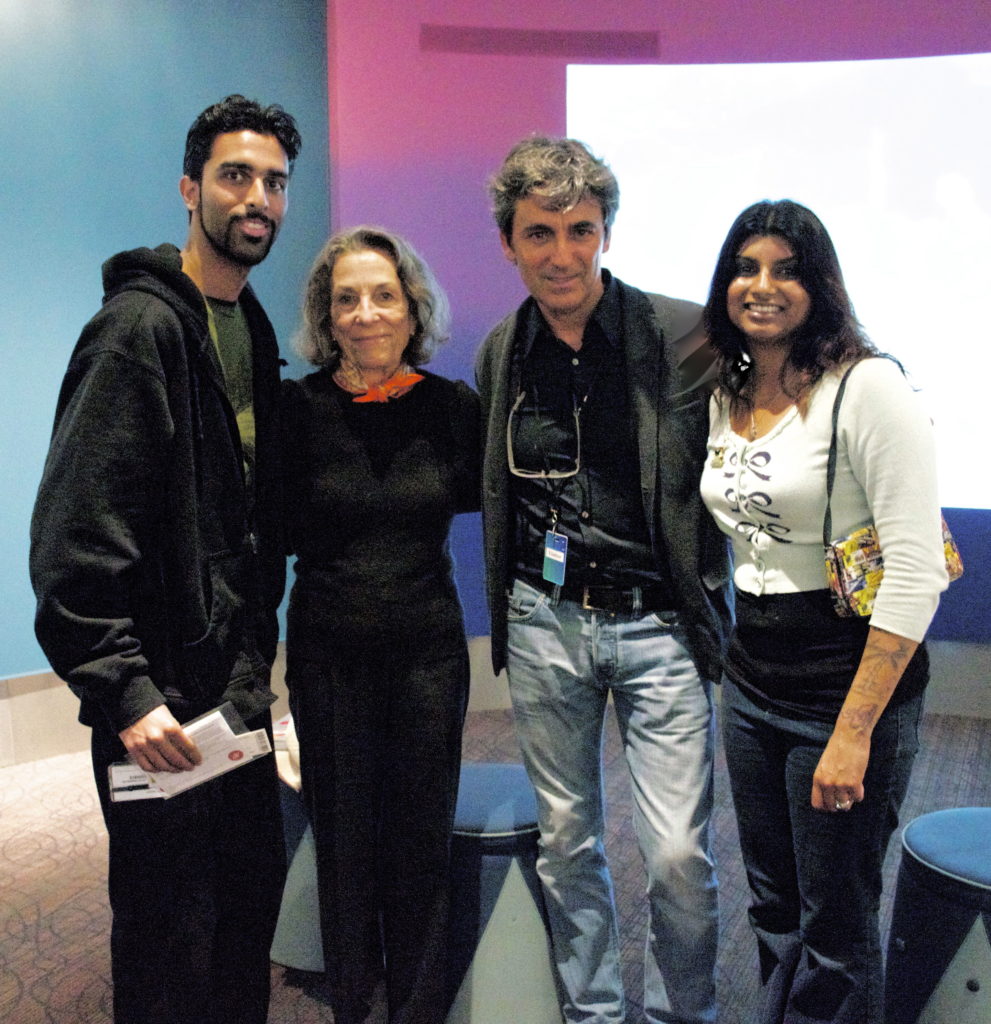 Here's a link to the article about the Enchanted Tiki Room 50th anniversary exhibit.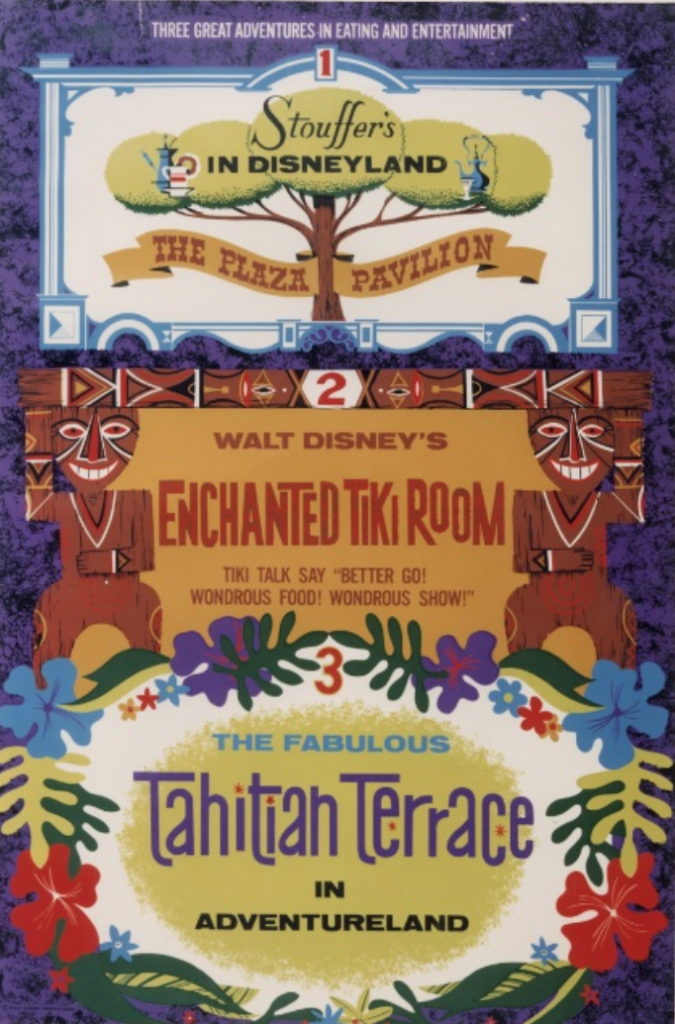 What brought you into the 'Tiki lifestyle' and how long has it been part of your life?
Nadia- My family is from the Fiji Islands, so naturally they are beachcombers. In 1990 I visited Fiji for the first time. I was 1-year-old. According to my mom I fell in love with the beach and spent my days eating fruits and sugar cane and walking around in a grass skirt, bra and a lei.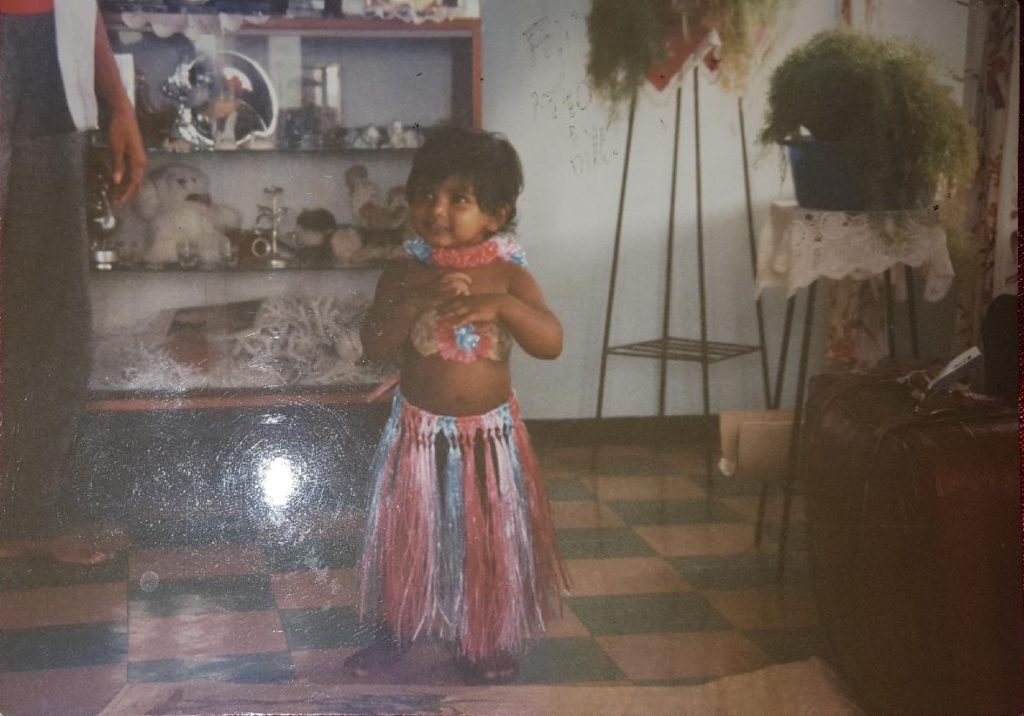 Even as I grew up I never stopped loving the islands and learned a lot about Polynesian culture. My husband's family is also from Fiji and we love the islands so much that we had a barefoot beach wedding on Pirates Cove in North Shore Hawaii.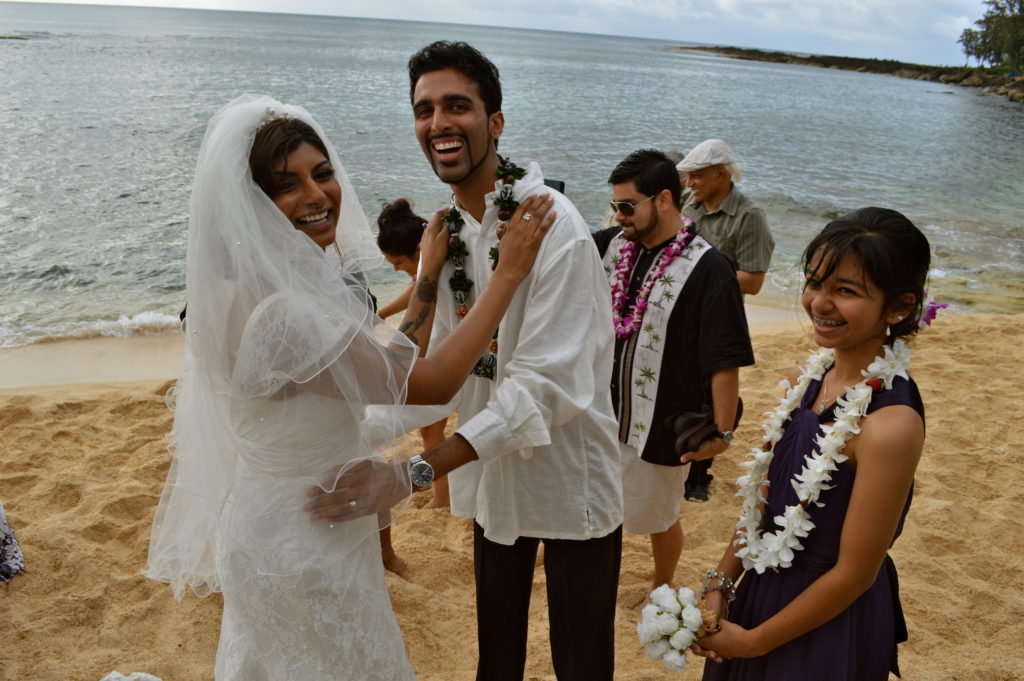 We started collecting Tiki novelty items, books like Smuggler's Cove by Martin Cate with Rebecca Cate, and mugs shortly after that.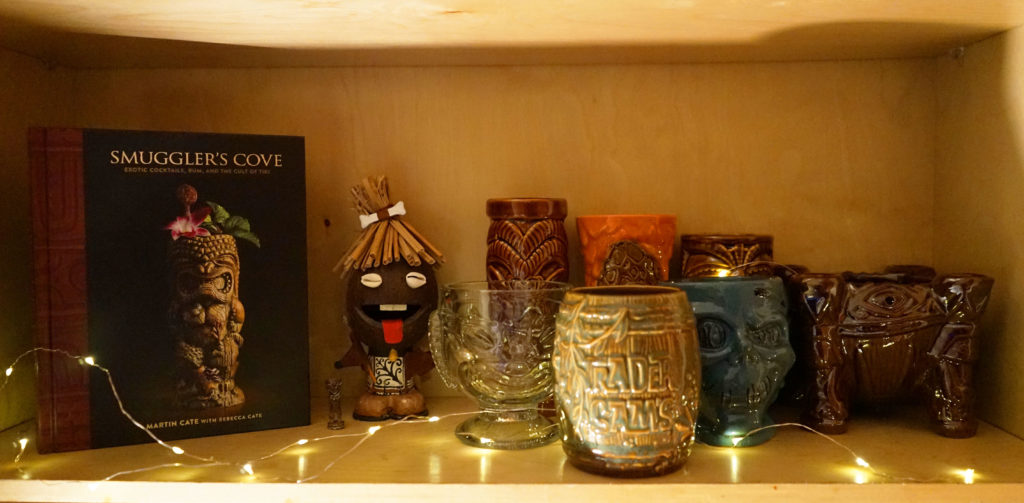 In September 2016 we got pregnant for the first time with twins. I tried to find a Tiki children's book that I could read to them but could not so I told myself that I would write one eventually. Unfortunately, we lost the twins to a miscarriage after 4 months. I remember walking out of the hospital on the day we were told that we miscarried and telling myself and my husband that I would write a children's Tiki book in their memory so that Tiki enthusiasts could share it with the child/children in their life just like I wanted to. After recovering I began the storyboard for Tiki ABC and 6 months later it went from an idea to a physical book.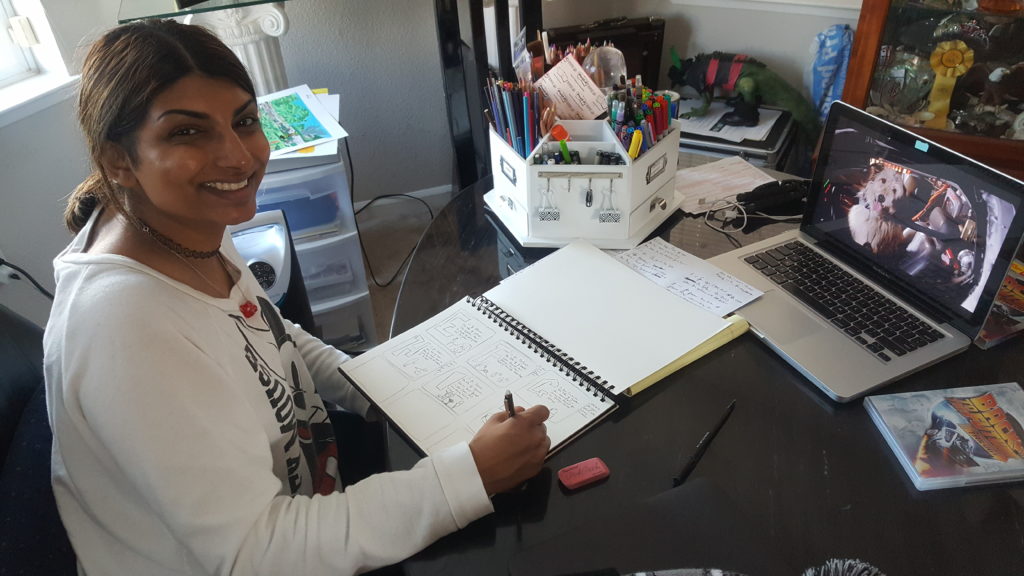 Can you give a little history of how you got into writing?  
Nadia– I never planned to be a writer and illustrator but I always liked writing short stories and drawing as a kid. I began writing seriously in 2008 while at Las Positas College. I accidentally signed up for journalism (I thought it was a class about writing in a journal). My professors urged me to stay in the class and I fell in love with procrastinating before deadlines, writing descriptive features and drawing a controversial weekly comic strip that once received an angry email fro the Dean.​​
I went on to become the creative director and a featured artist for my college magazine for 2 semesters. In 2009 my husband's pet iguana, Mr. Green, passed away.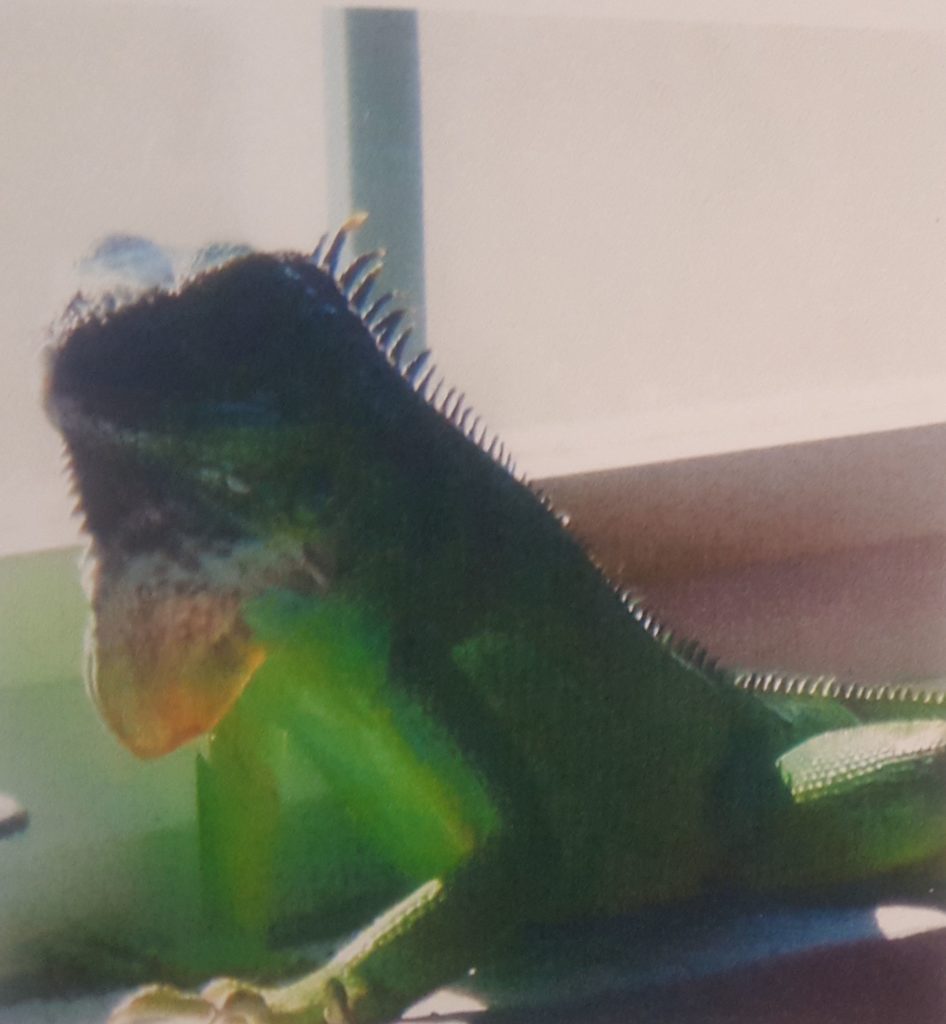 I wanted to help him get closure but I just didn't know how to. In 2010 I took a children's book illustration class at Chabot College in Hayward, CA and wrote a book called Mr. Green the Pirate Iguana. Sean loved the book so much that he encouraged me to continue writing and illustrating children's books.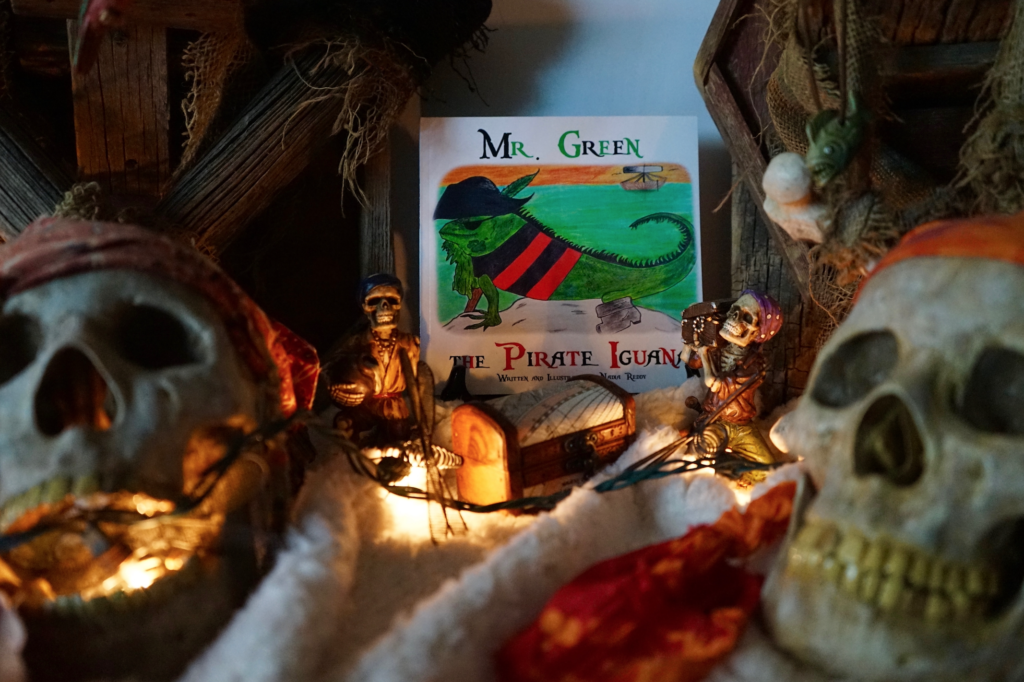 Tell us about your children's book: Tiki ABC
Nadia- Tiki ABC is the first Tiki children's picture book in the world. When I was pregnant I searched for a Tiki themed picture book but couldn't find one. So, I made one. All of the illustrations are hand drawn and fully colored using ink, prisma color pencil and watercolor. Each page features a letter, a word to go with that letter, and a unique Tiki to illustrate the letter. Tiki ABC is for Tiki collectors and Tiki enthusiasts to share with the child/children in their life. Tiki ABC is available at www.nadiareddy.com , at the Sun Gallery in Hayward, Towne Center Books in Pleasanton and will be on tour at book festivals and fairs around the Bay Area.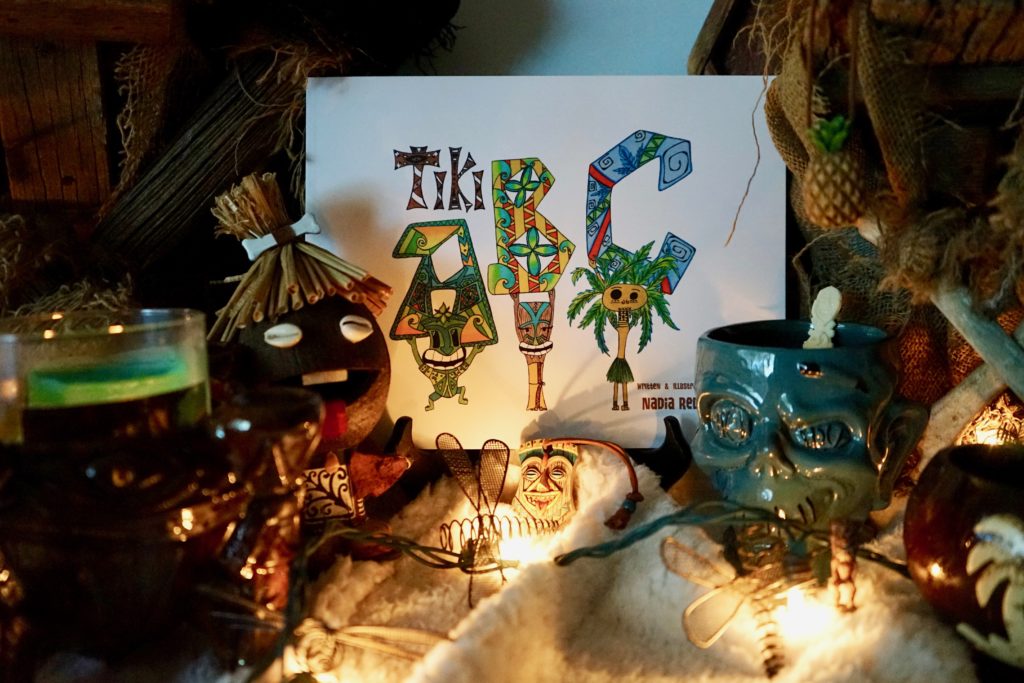 Have you done any other writing?
Nadia- I've written and illustrated Mr. Green the Pirate Iguana, the Mr. Green travel series (currently under refurbishment, but you can see what it's like on Amazon), and a few short stories that can be seen on my YouTube channel and Everydayfiction.com.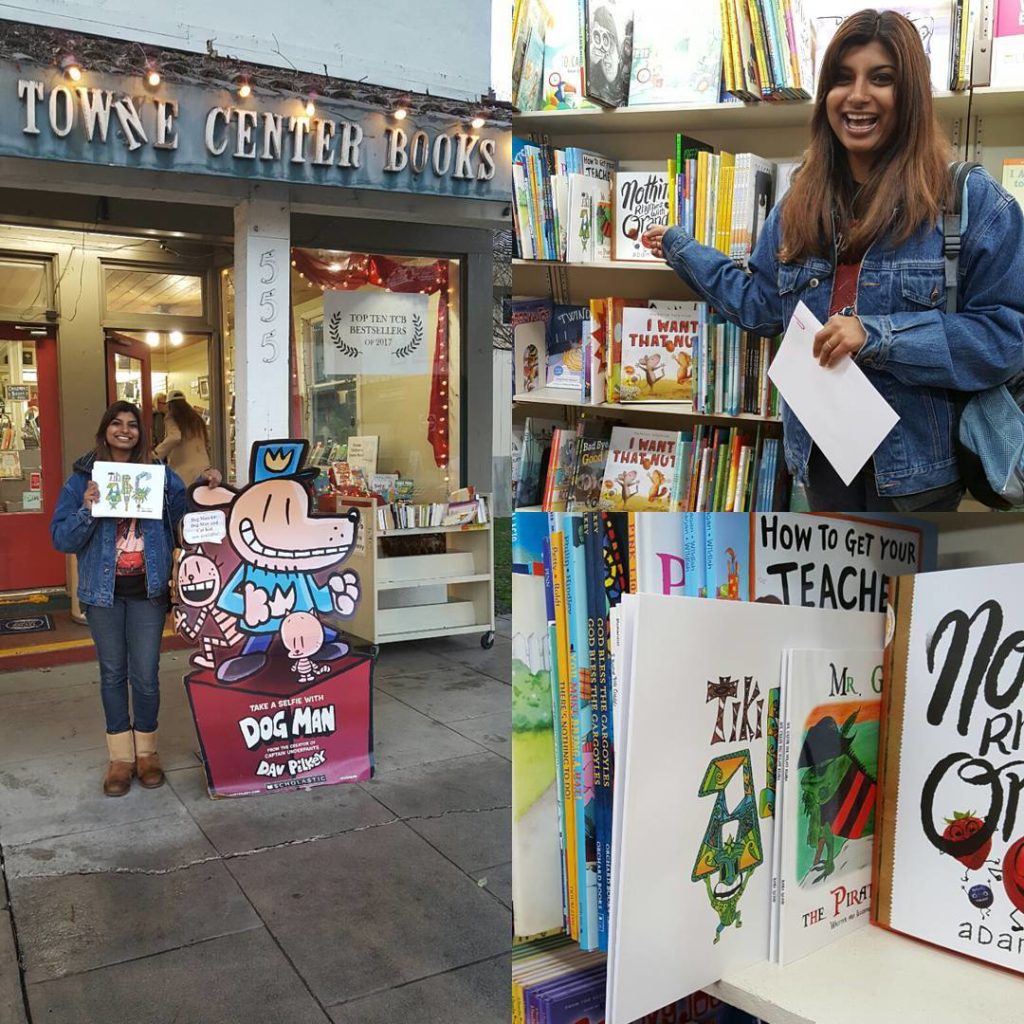 You are also a painter, can you talk about that?
Nadia- I have loved watching Bob Ross since he was on PBS. I always wanted to be a painter like him but never tried. I also admire the work of Vincent Van Gough, Margaret Keane and Tim Burton. I remember watching Big Eyes and feeling a burning desire to paint something. I remembered what Bob Ross said, "We don't make mistakes, just happy little accidents," and decided I would go buy some painting supplies. I bought paint, brushes and black canvases. I didn't know what I would do with them but I carried them around with me so that when inspiration strikes I can have at it.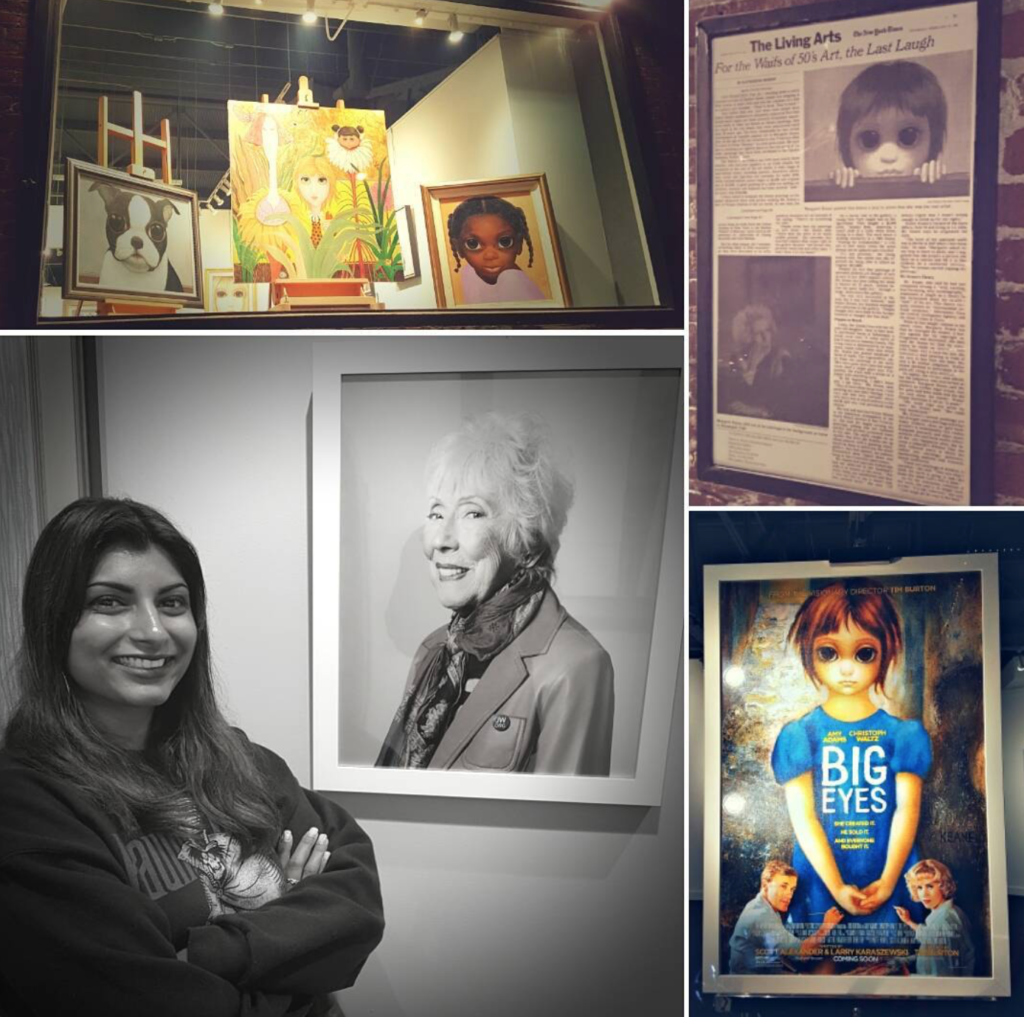 One day my husband and I were in Sonoma Valley and we were in a beautiful town square. I found a spot next to a fountain and began painting. I just took out some colors I liked and began painting. What emerged was what I now call 'Featherheads.' Featherheads are shrunken heads with a colorful twist.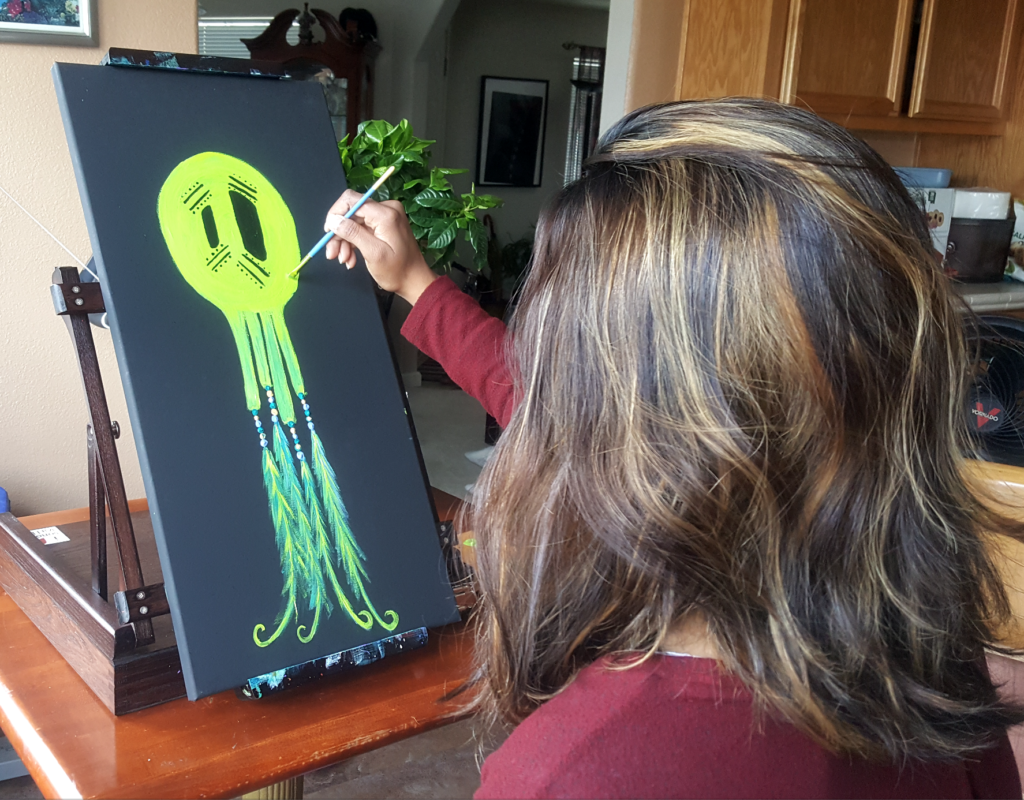 Here's a video from when I painted my first featherhead.
What does the future hold for you?
Nadia- I plan to write and illustrate more children's books, continue painting, and I hope to own a gallery/bookstore one day so that I can be surrounded by my two favorite things – books and art. More trips to Disneyland are also on the agenda.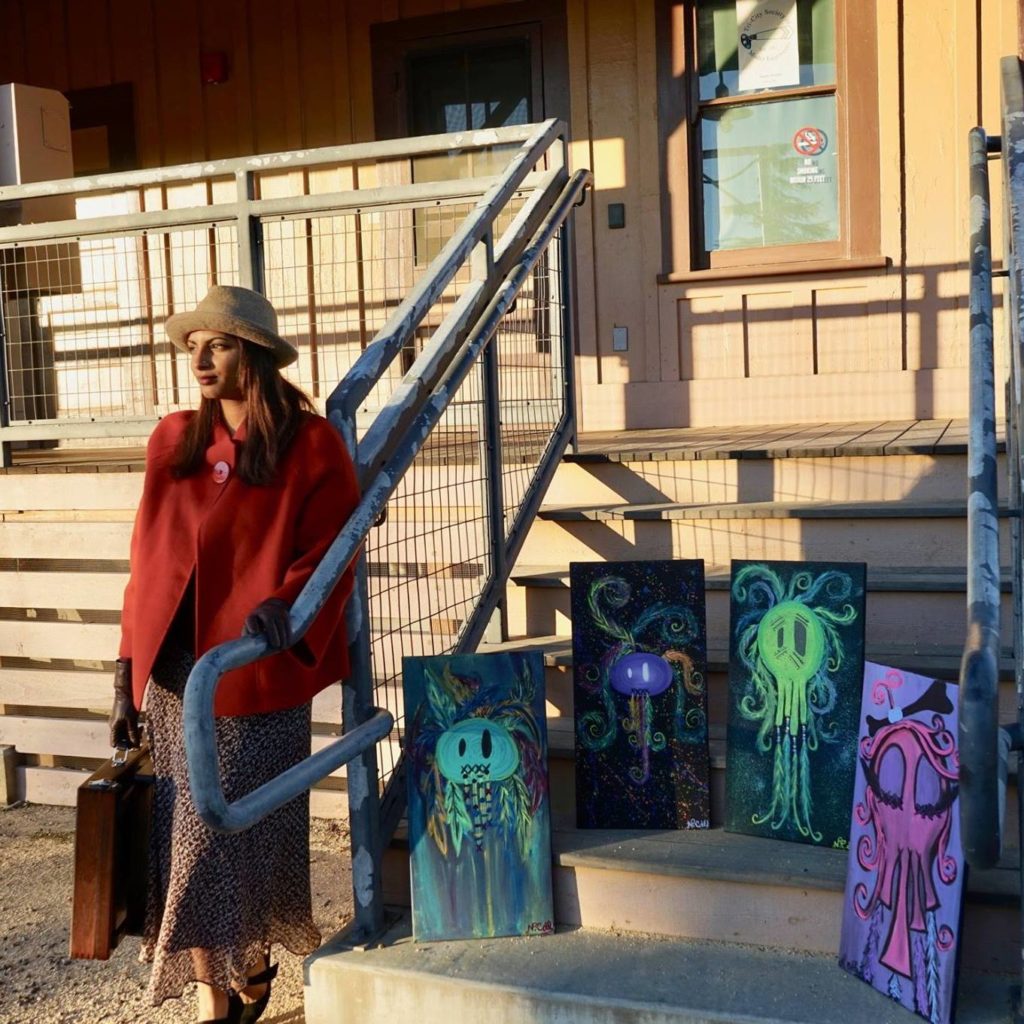 Anything else you would like to add?
Nadia- The best book review that Tiki ABC has received is from the Godfathers of Tiki themselves, Bob Van Oosting and Leroy Schmaltz of Oceanic Arts in Whittier, CA. They praised my art work and now have a signed copy of Tiki ABC for their personal Tiki collection.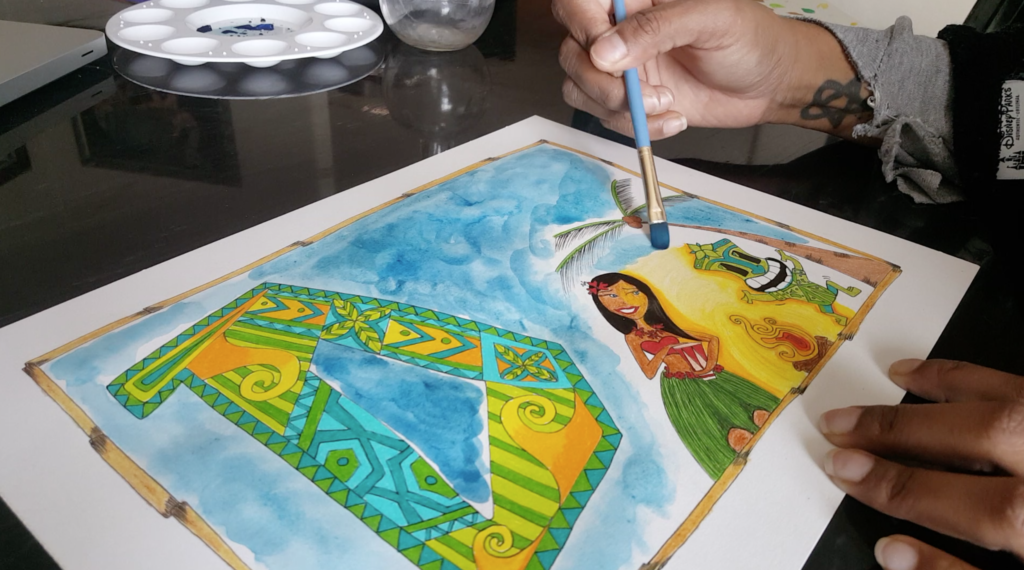 Here's the video of my visit to Oceanic Arts
Other links: