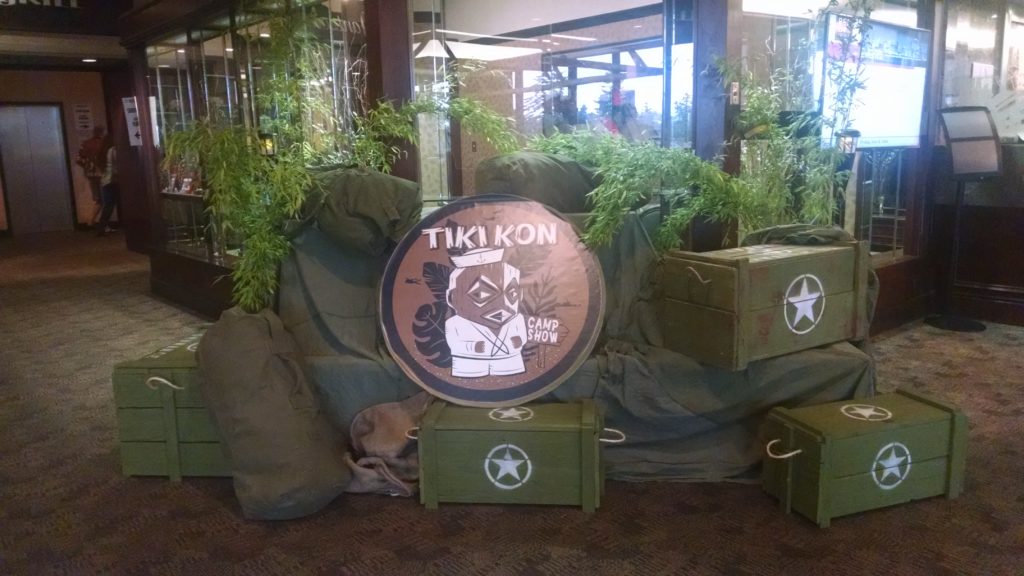 It has been a rainy year so far up in the Pacific Northwest. It's no joke: it rains a lot, but usually things start to get nicer by May and the weather is perfect until October. Not this year. It's already well into July and I'm driving through one rainstorm after another on my three-hour trek down from Seattle to Portland for Tiki Kon 2016. The Tiki lifestyle is all about escapism. I'm looking forward to a weekend of Tiki drinks and entertainment, room parties, and getting to see some home Tiki bars along the way. I'll spoil the ending: Tiki Kon 2016 was a blast and for three days I forgot that it was the middle of July and I'm still wearing a raincoat!
As I'm making my way down to Tiki Kon is see this post from my buddy Rich on Facebook…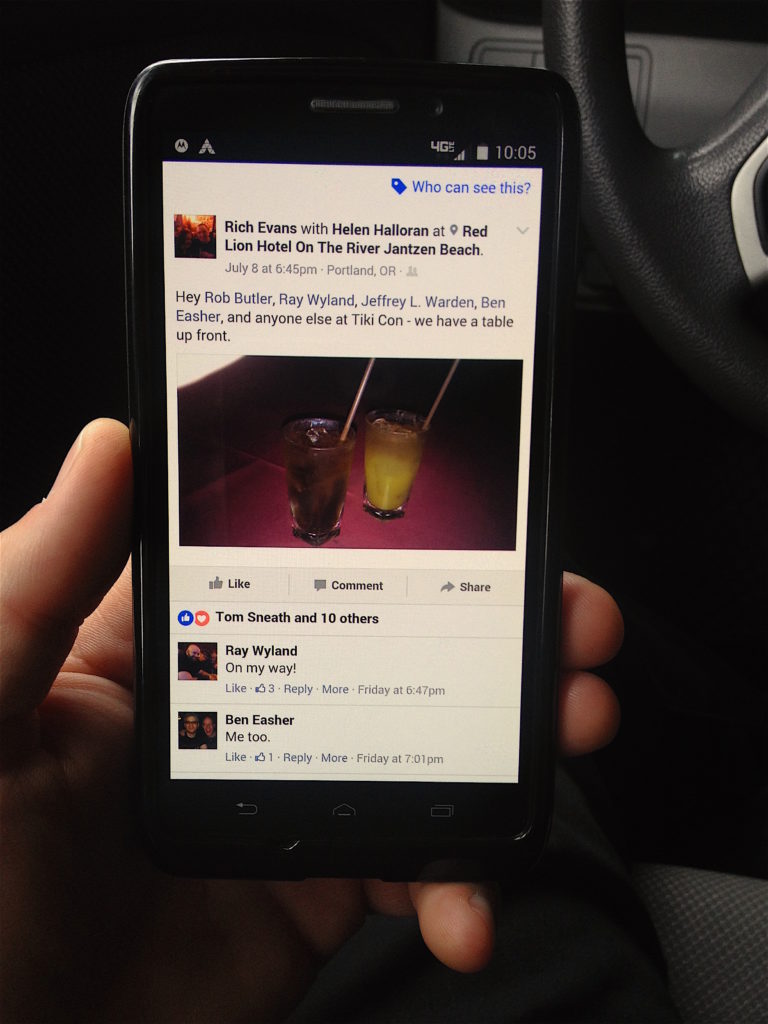 Awesome! There is nothing like having a front row seat to all the Tiki action. I wrote back, "I'm on my way!"
Tiki Kon 2016 was held at the Red Lion Hotel on the River at Jantzen Beach…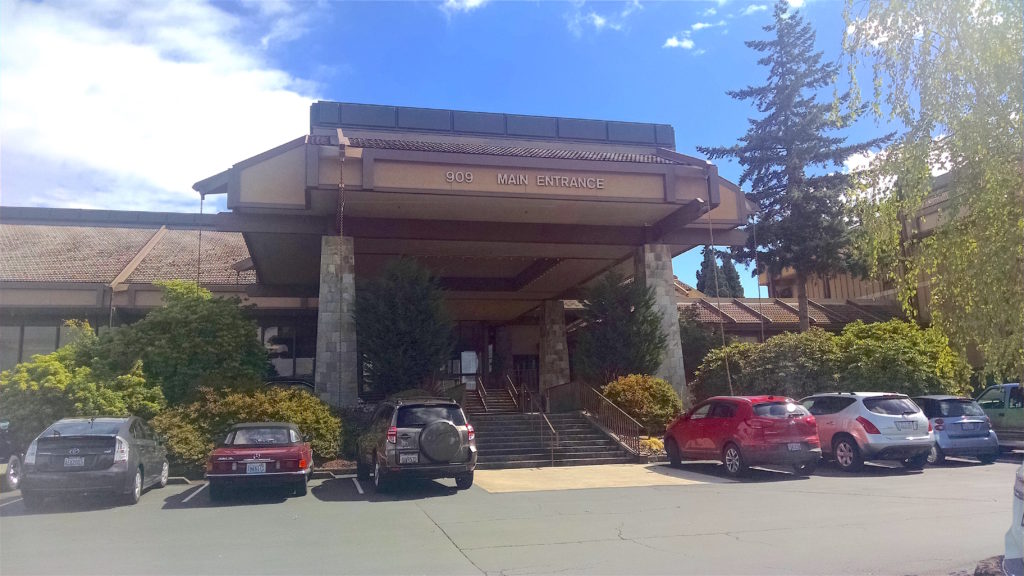 I knew I was at the right place. Dawn Frasier's custom painted truck was parked right up front!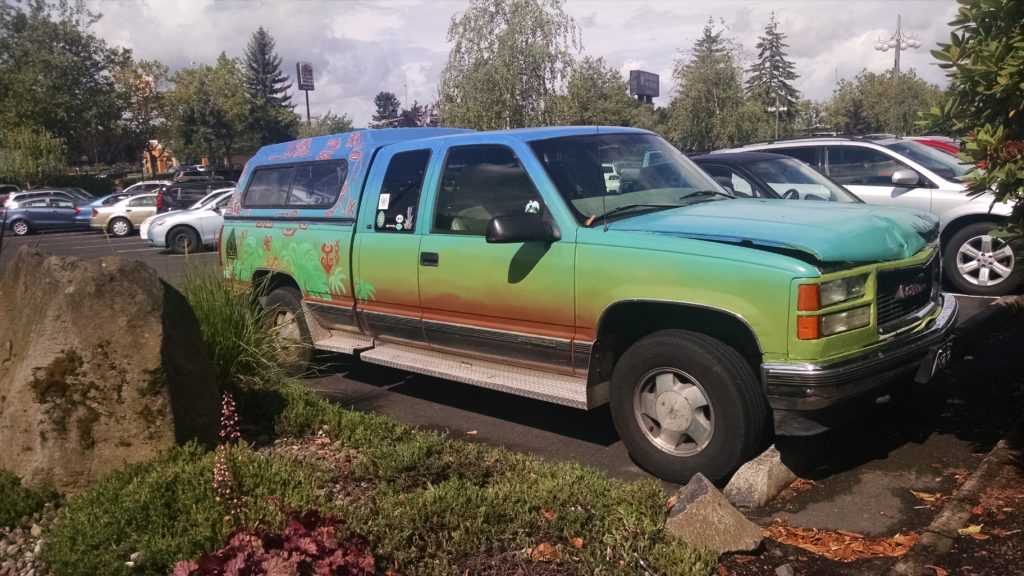 I walked into the lobby of the Red Lion and followed the sounds of surf rock coming from downstairs. As you enter Tiki Kon, you receive a cool passport that you have stamped for each event you take part in.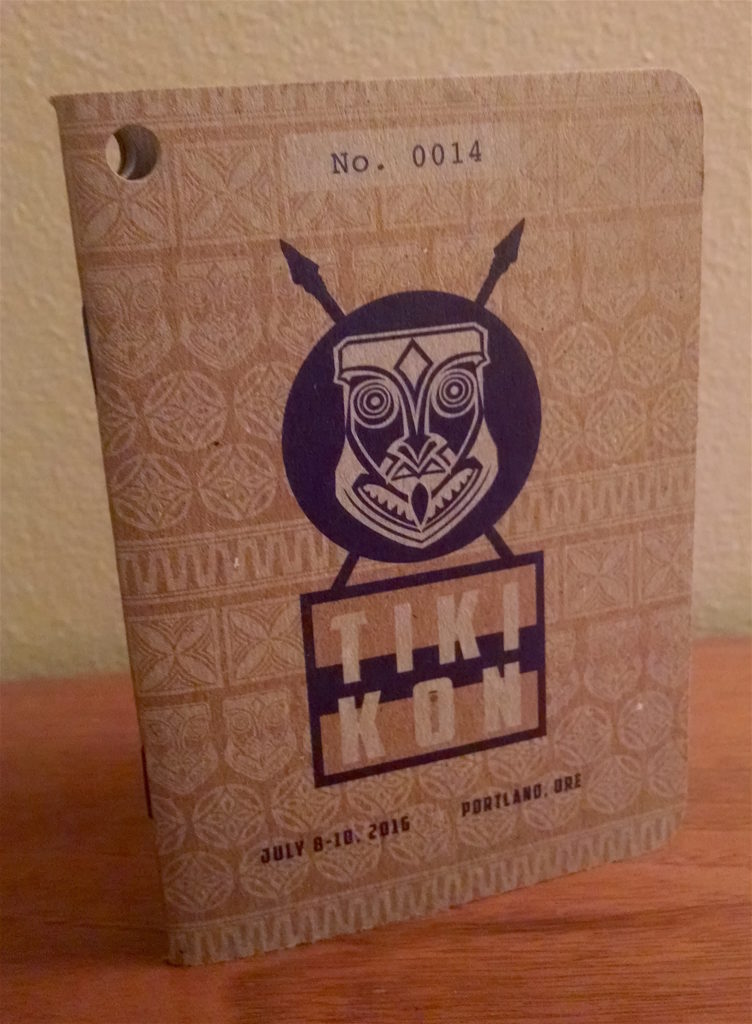 It also has the schedule of all the activities and even a map of the hotel to show you where to go…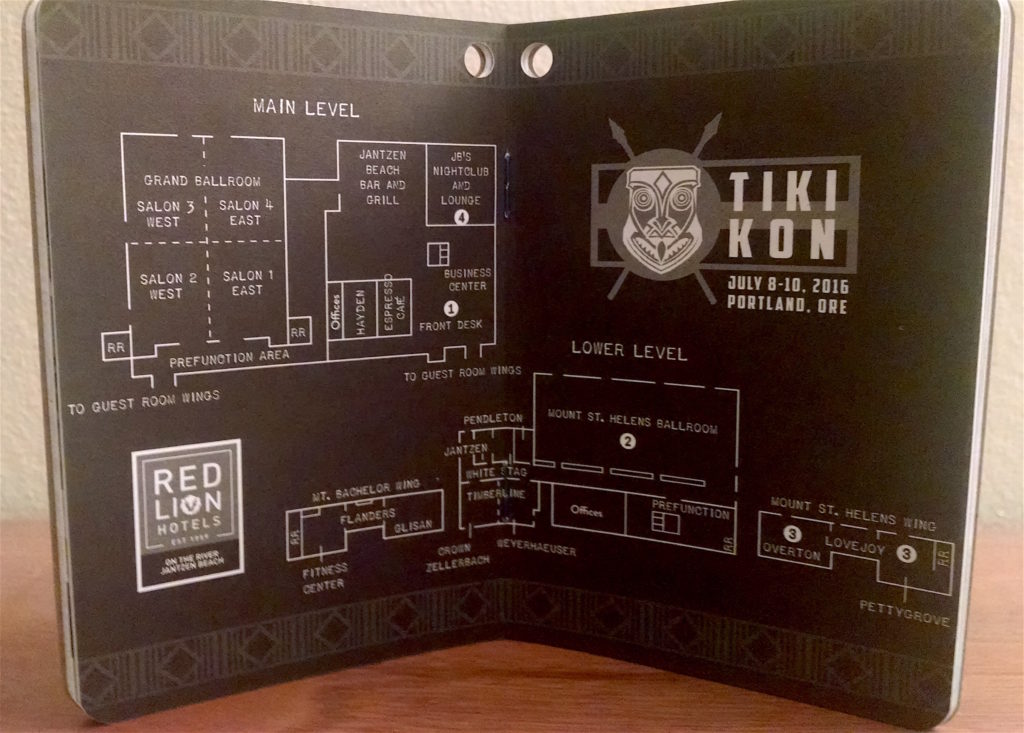 Just as he said, Rich and his wife Helen were seated front and center.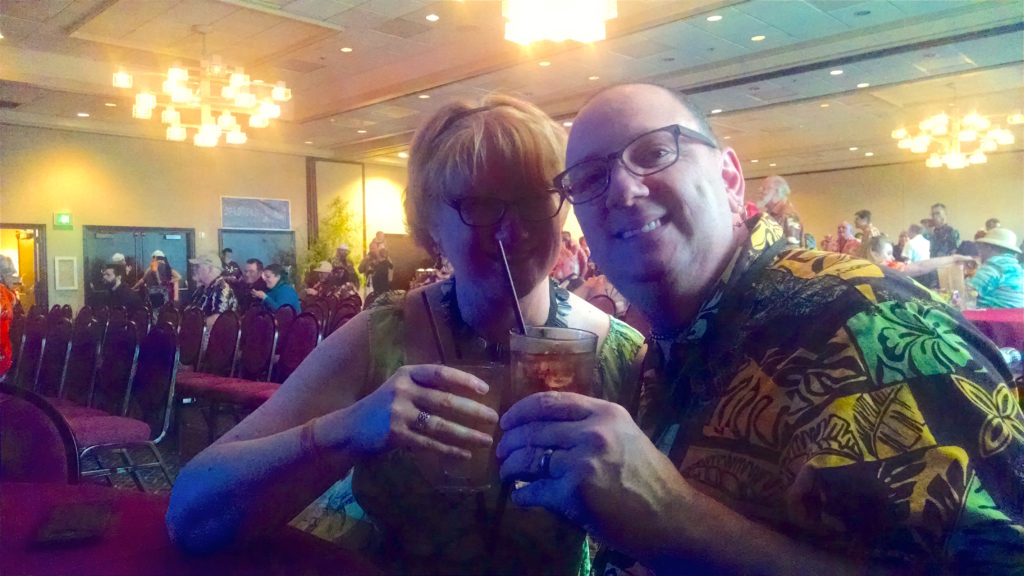 I grabbed a chair, sat down, and enjoyed the surf sounds of the first band of the night:The Evanstones…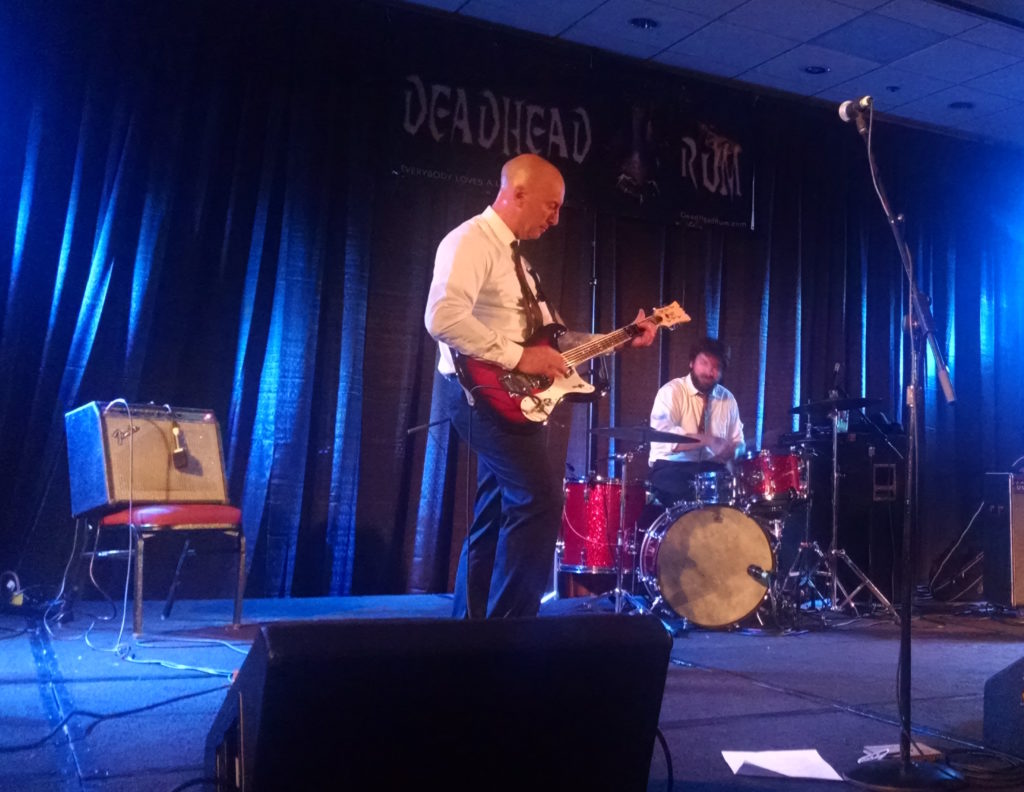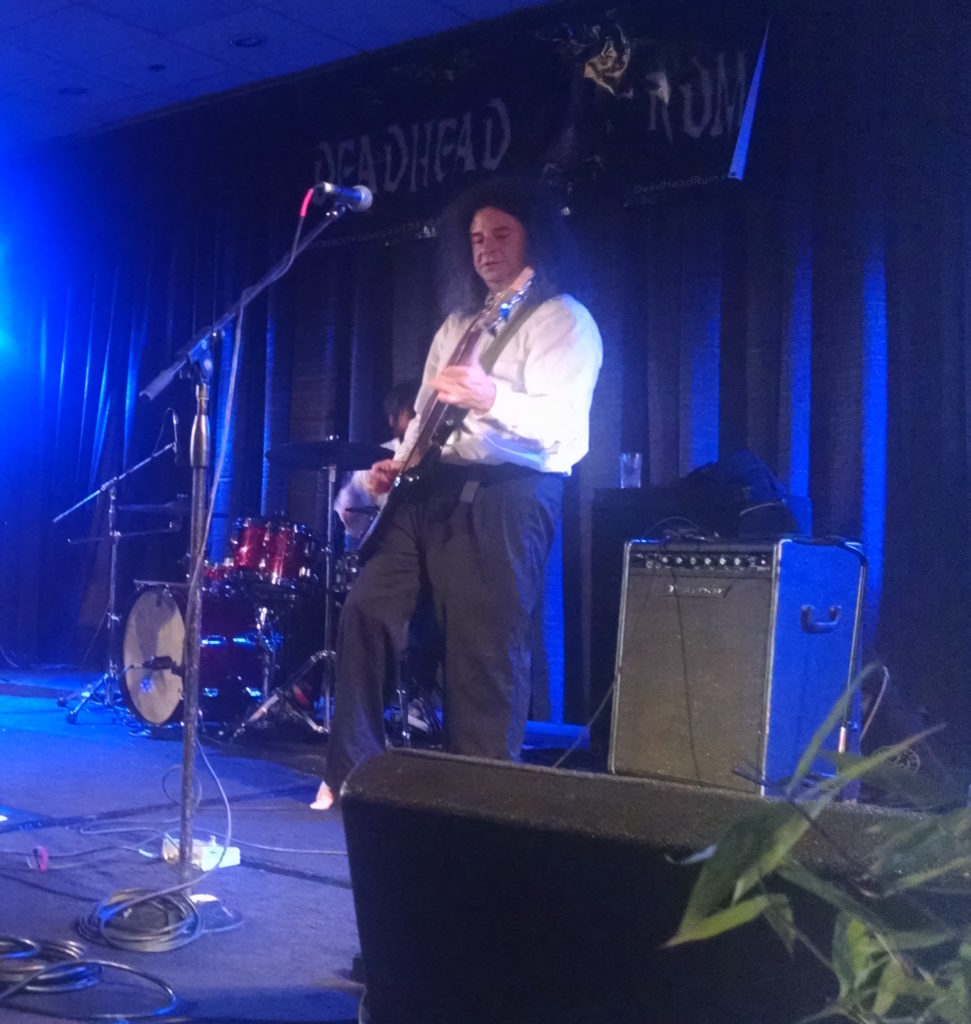 WaveSauce, the second band of the night, kept the surf tunes coming…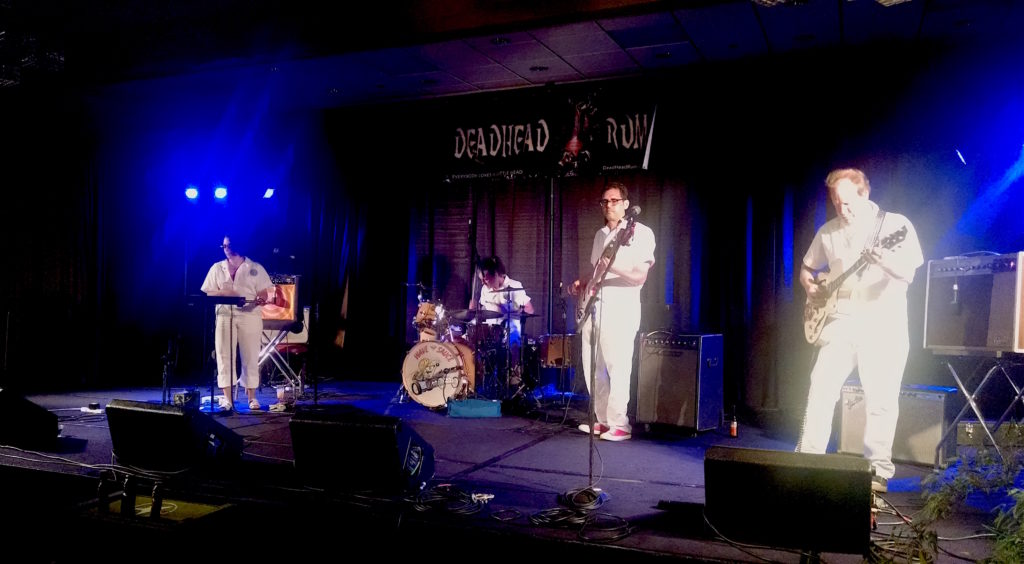 What made WaveSauce really stand out was their Theremin player. She wasn't just making noises. She was actually playing her Theremin just like any other instrument a band would use!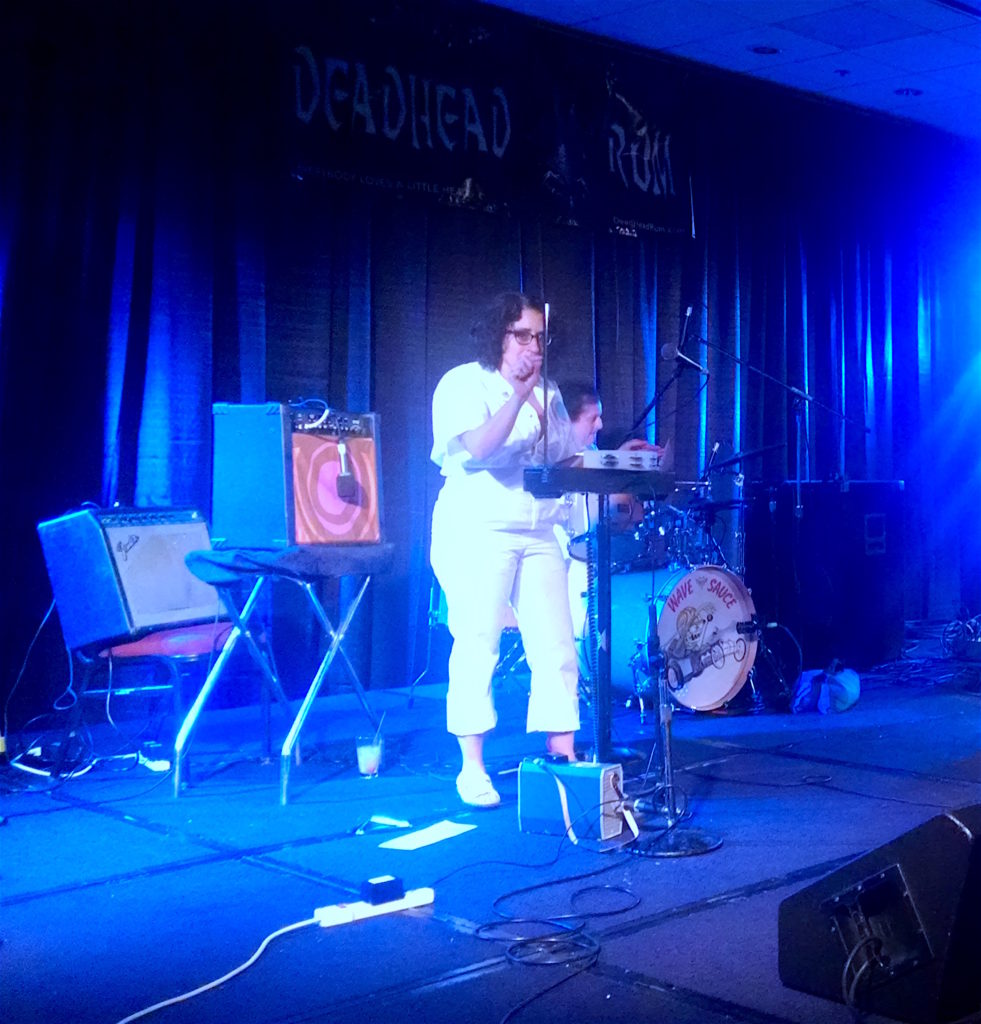 The next and the final band of the night was the Hang-Ten Hangmen. These guys came all the way down from Vancouver, BC and they brought a "special someone" with them. With black masks wrapped around their heads, the Hang-Ten Hangmen busted through some great surf tunes…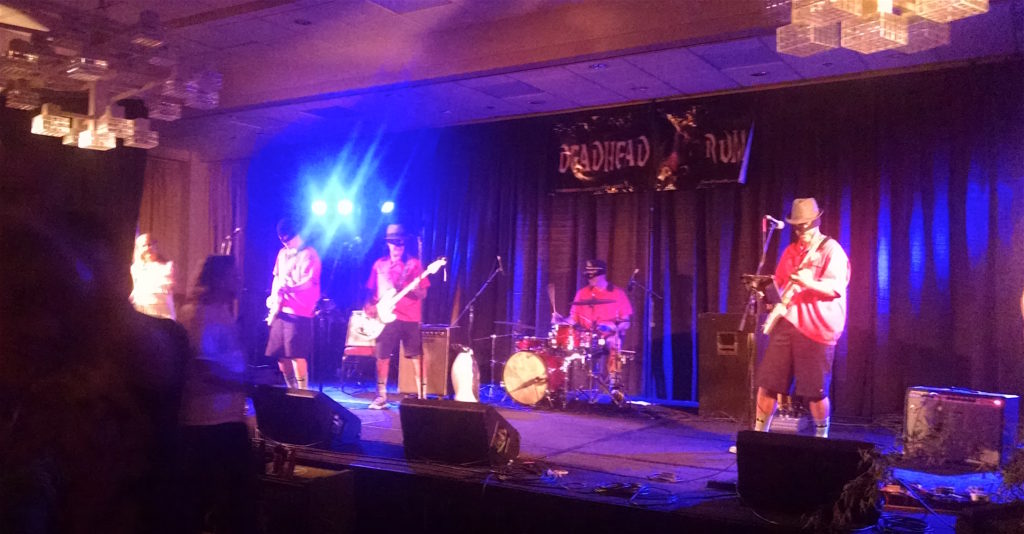 Then "Elvis" took the stage…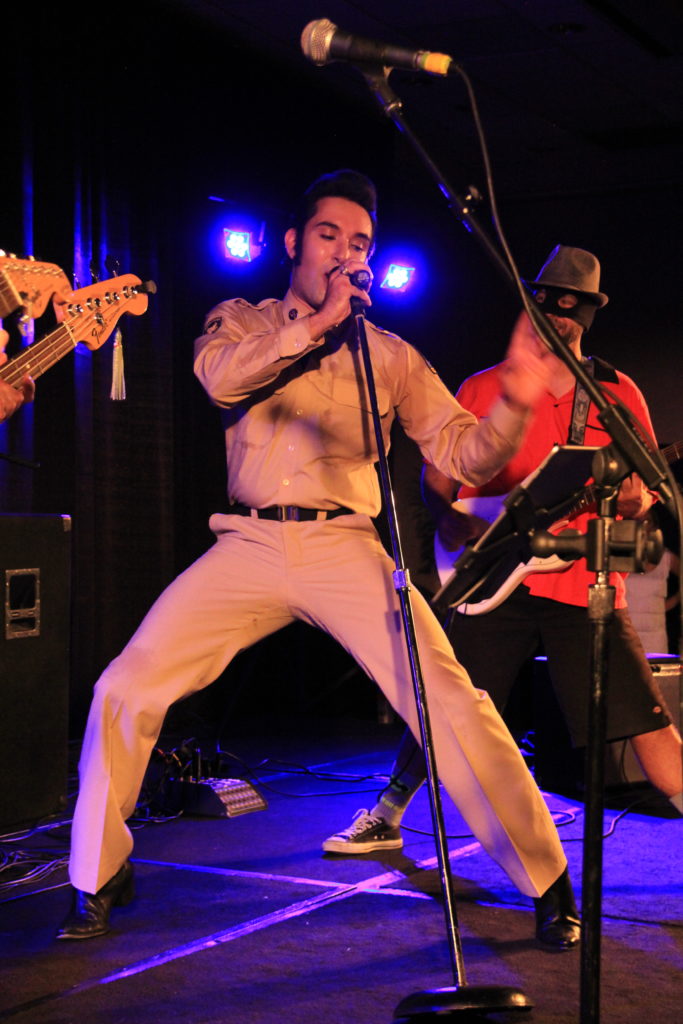 "Elvis" came out dressed in a full army uniform. The crowd went nuts!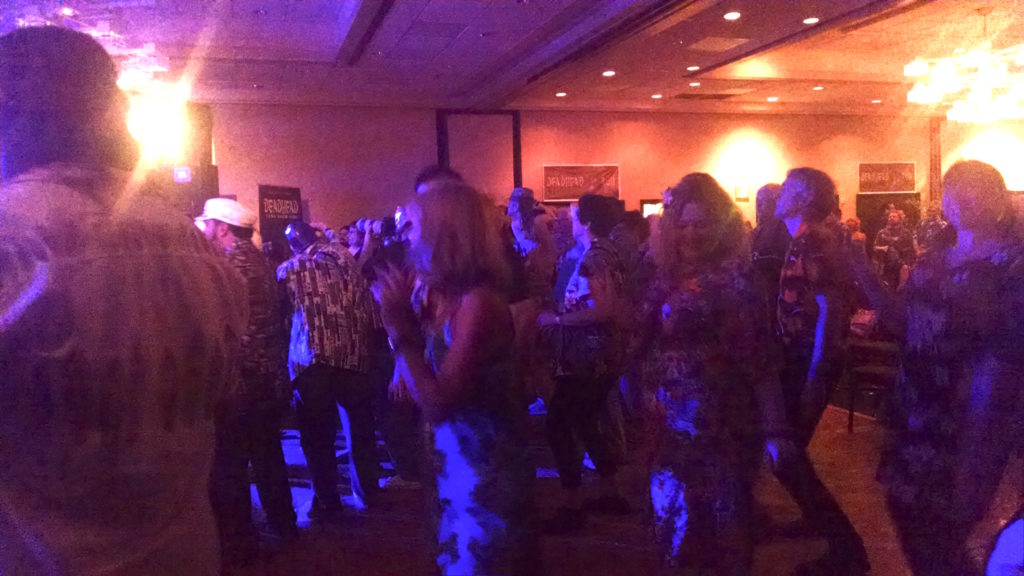 "Elvis" and the band busted into "G.I. Blues."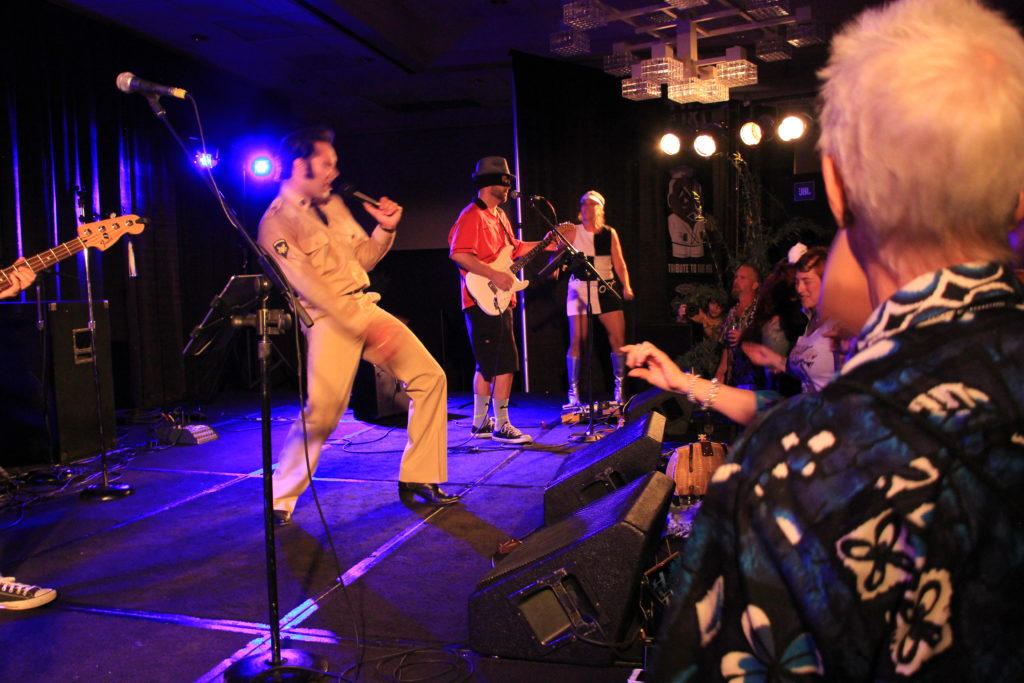 That was cool, but it got even better. They played "Frankfort Special," which is another tune from G.I. Blues…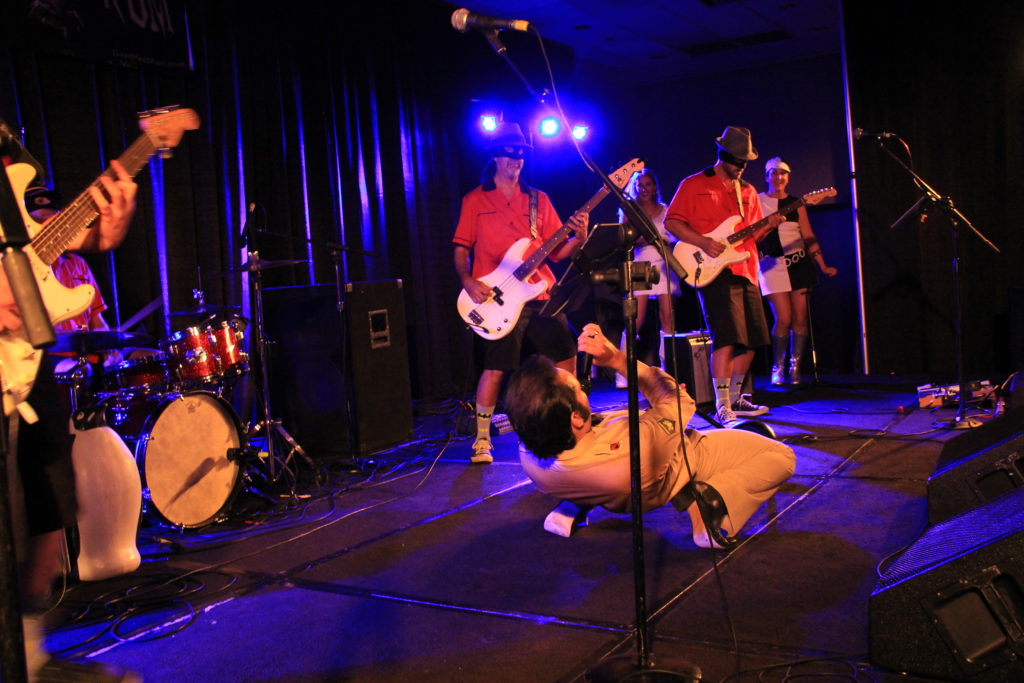 "Elvis" and the Hang-Ten Hangmen kept the tunes rolling with my favorite Elvis song: "A Big Hunk Of Love." I thought "Elvis" was only going to do a couple songs, but the rest of the set was filled with tons of Elvis classics! What a way to end Day One of Tiki Kon 2016!
I would like to thank Dieter Weber for letting me us his photographs for this post. Here's a picture of Dieter with "The King"…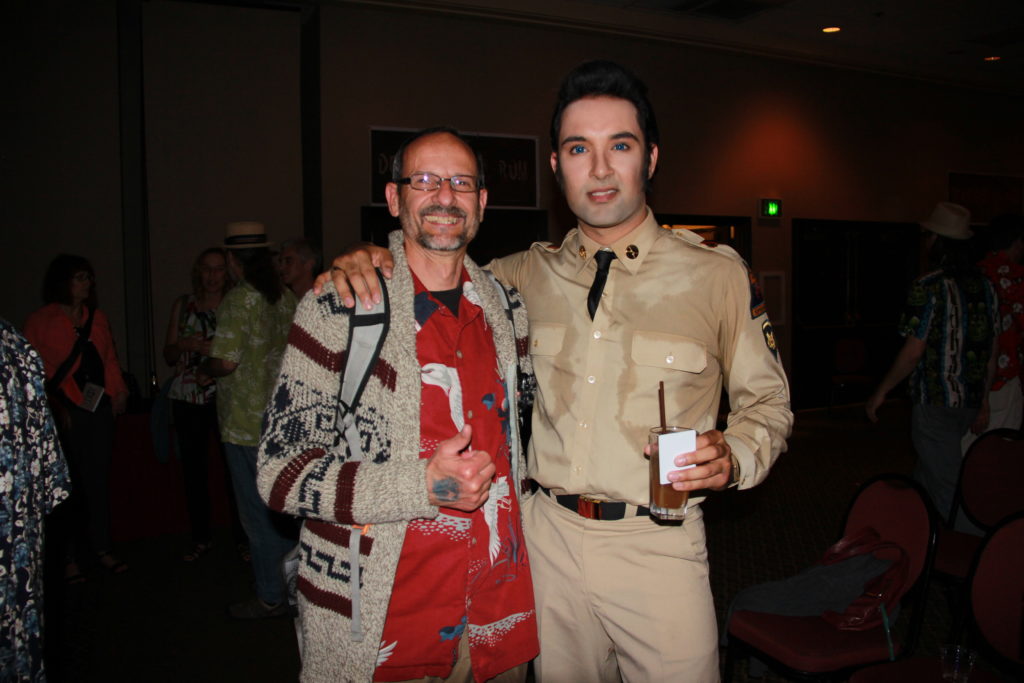 My write up of Day Two of Tiki Kon 2016 is coming up next!
Here is the Tiki Kon 2016 website.
And Facebook page.
Here is The Evanstone's Bandcamp page.
And Facebook page.
Here is WaveSauce's website.
And Facebook page.
This is The Hang-Ten Hangmen's Facebook page.