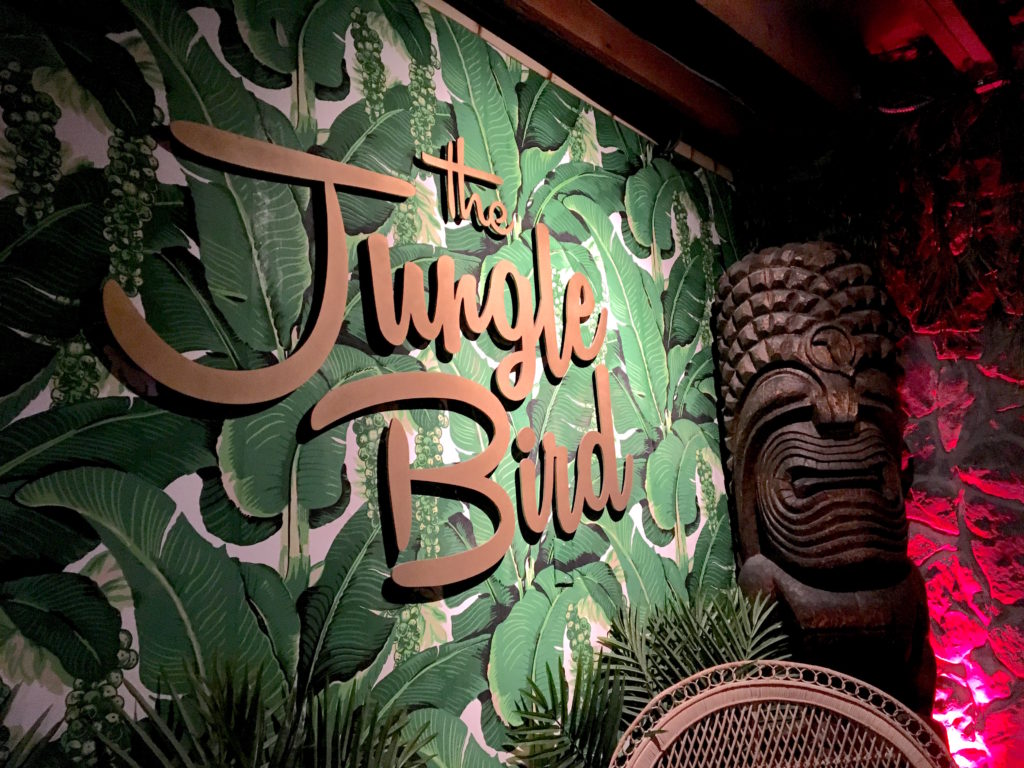 When I arrived at the Jungle Bird in downtown Sacramento, I didn't know if I was at the right place…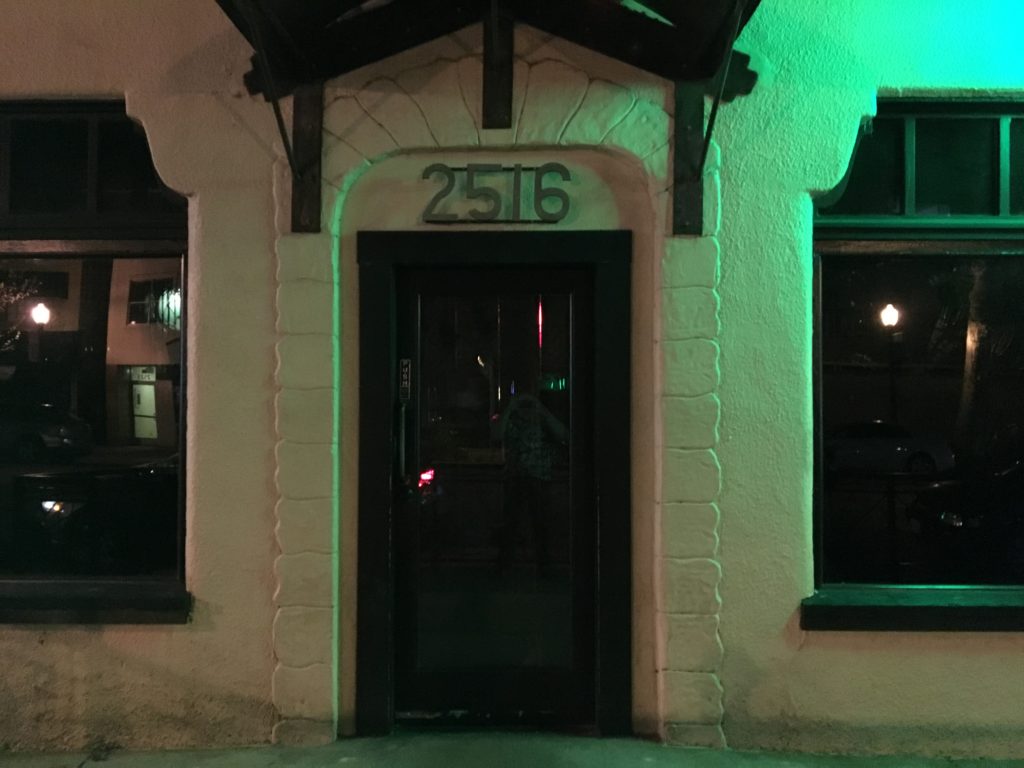 I checked and re-checked the address: 2516 J Street. Yes, the address was correct, but where was the Tiki bar? I could hear that something was going on behind the door. People were inside. I could hear talking and laughing. Then I heard the theme song to Gilligan's Island. Yes indeed, I had arrived at the Jungle Bird…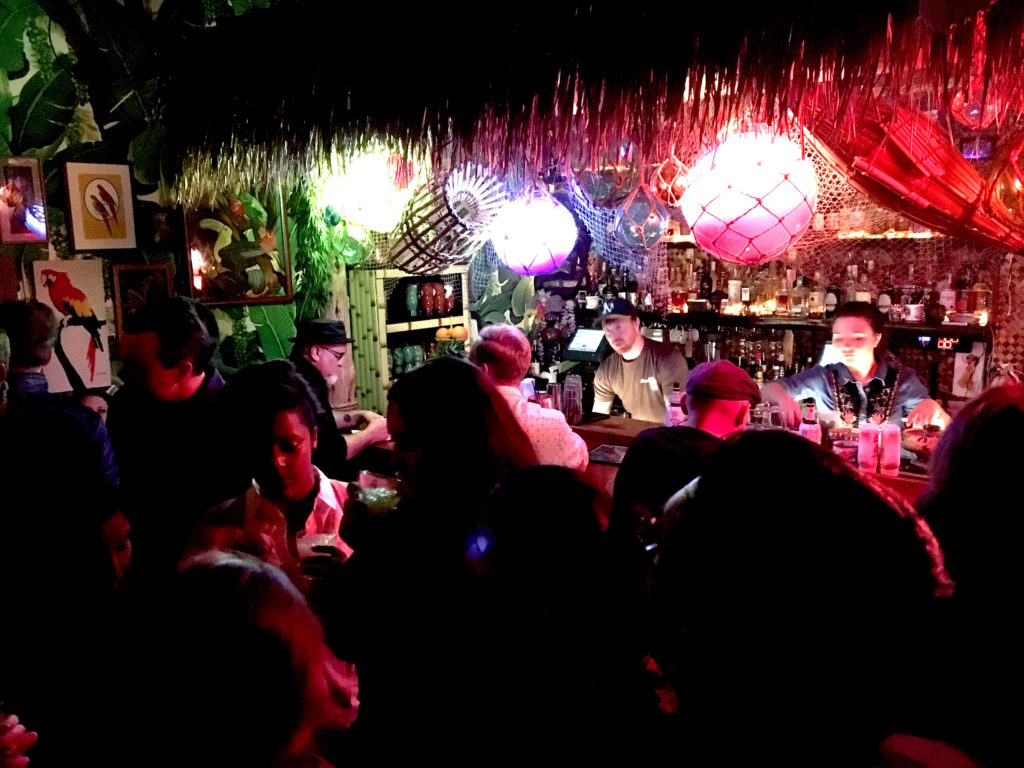 The Jungle Bird opened up October of 2016 and the place already has a reputation, a great one! People travel to Sacramento from the Bay Area just to visit the Jungle Bird. I flew down from Seattle!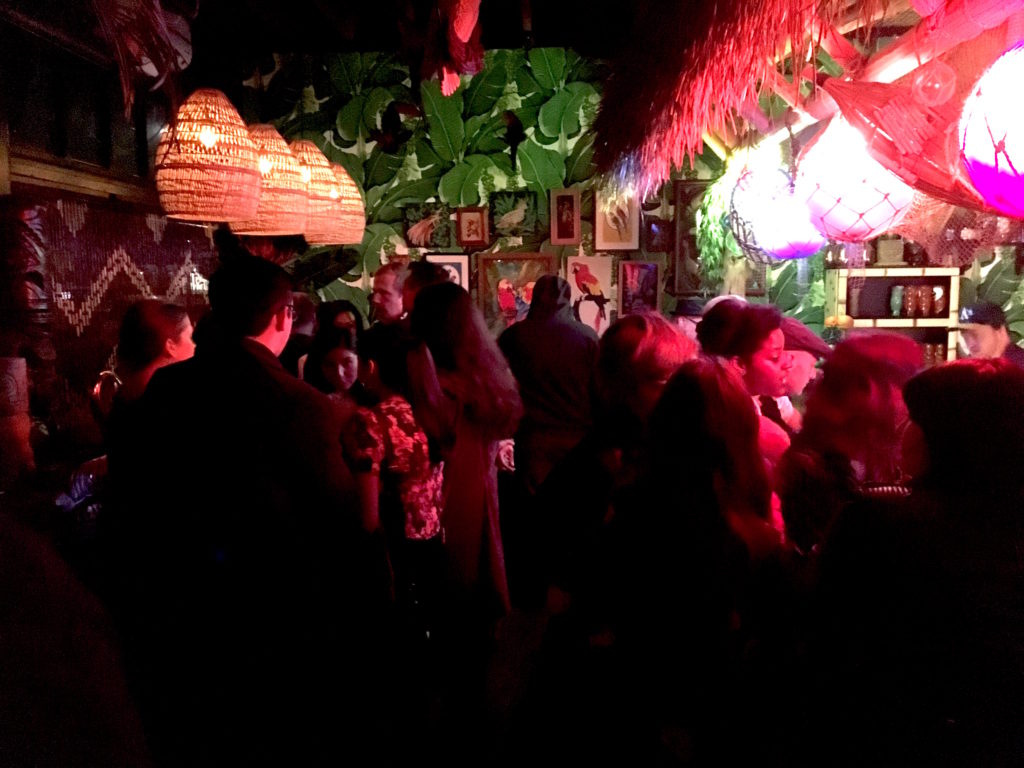 The man behind the Jungle Bird is Buddy Newby…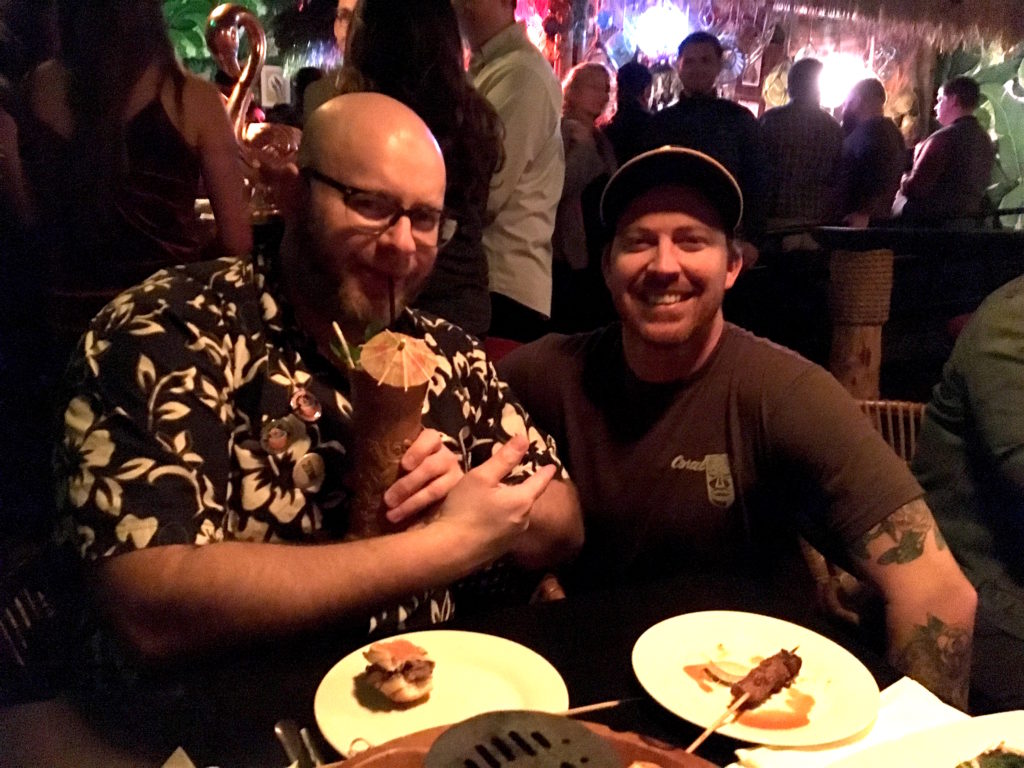 Buddy is a smart man. When he started building the Jungle Bird, Buddy asked people in the Sacramento Tiki scene for suggestions and he listened.
The décor is spot on…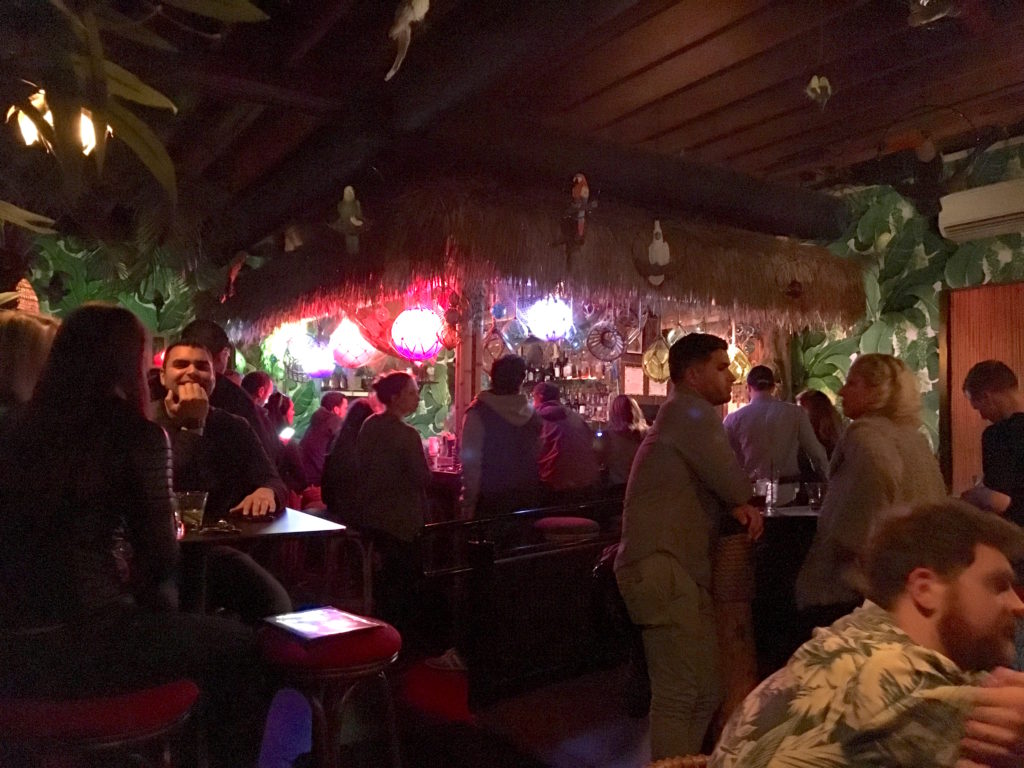 Everywhere you look, you have thatch…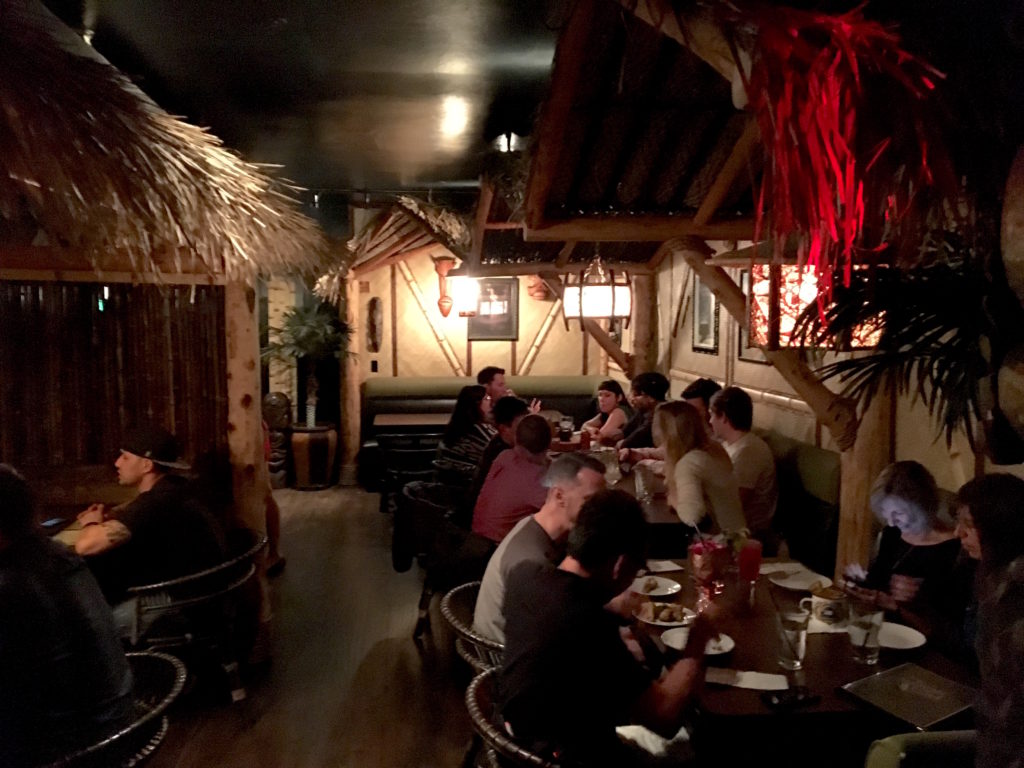 Bamboo…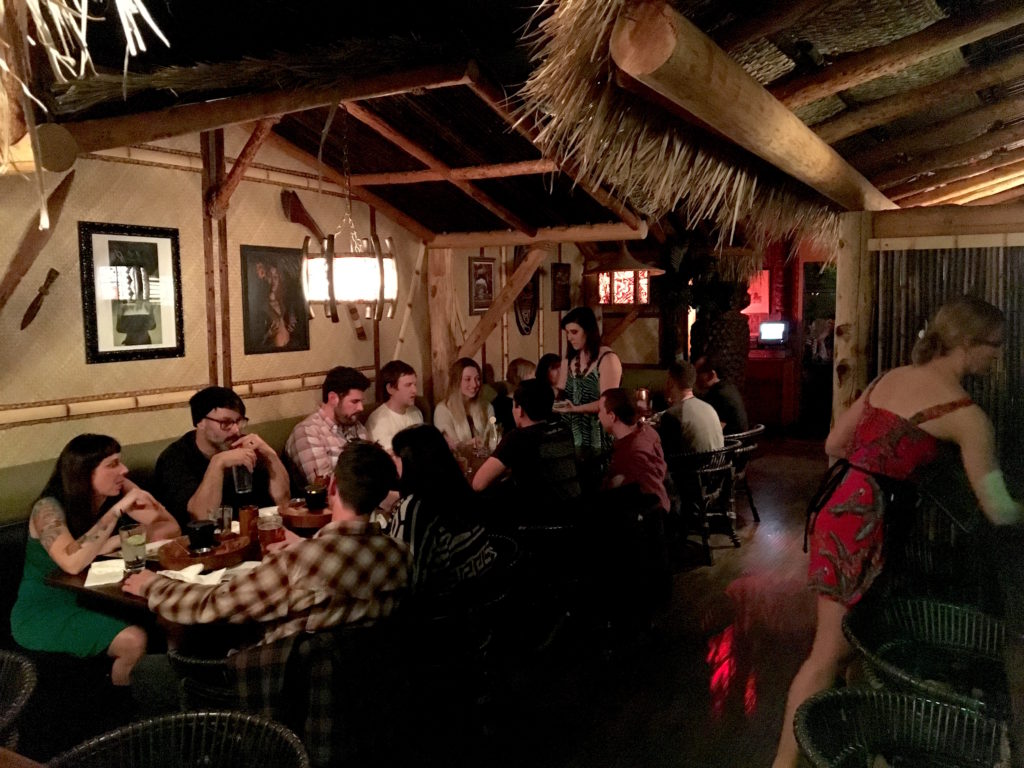 And Tikis…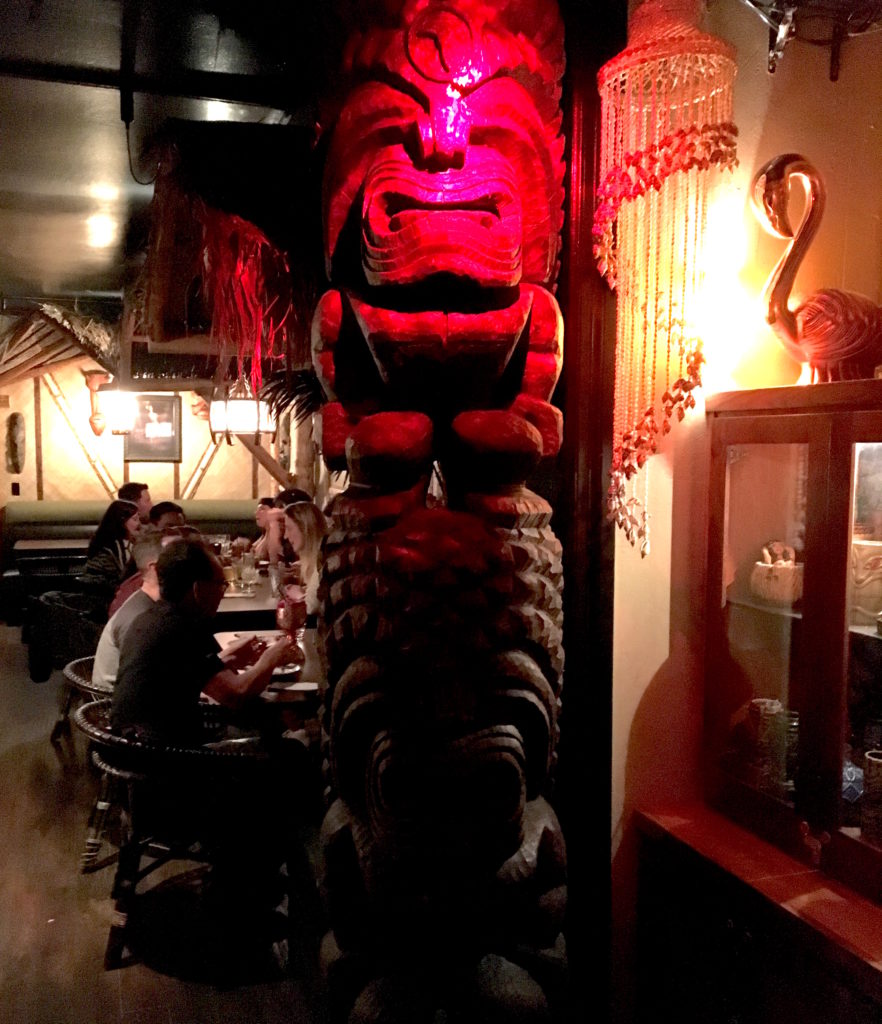 What I love the most is the main room. It has a very Mid-Century Modern feel. Not only am I in a Tiki bar, but I feel like I'm in a Tiki bar from the early '60s!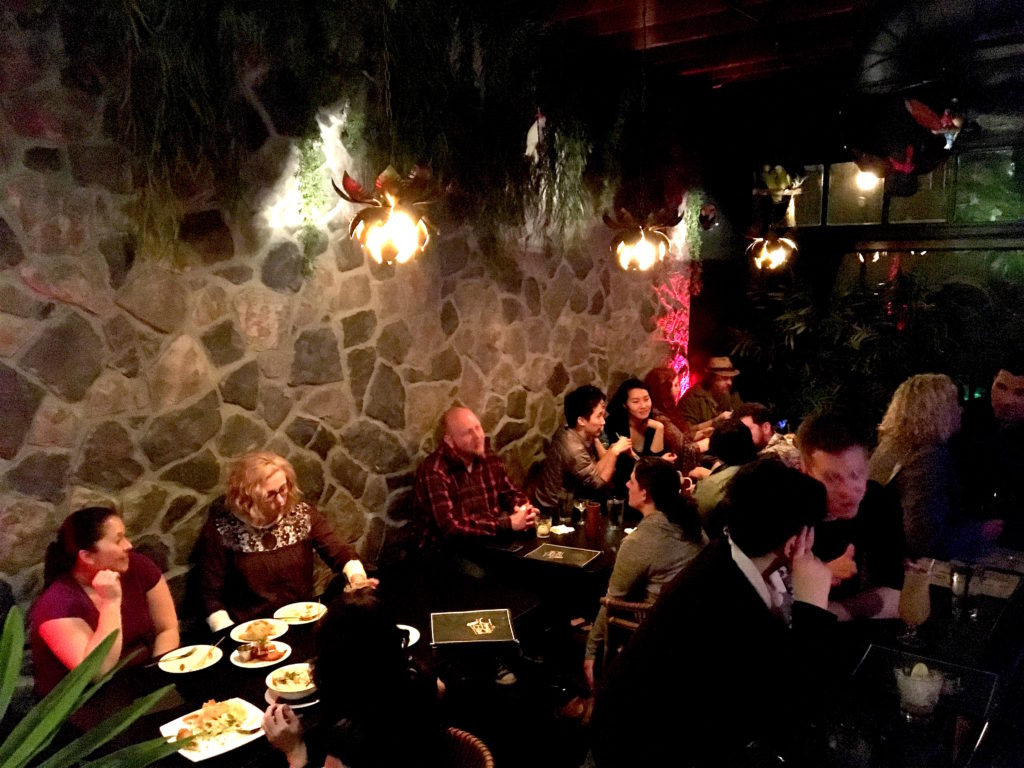 I had some friends join me. Say hello to Eva and Dave…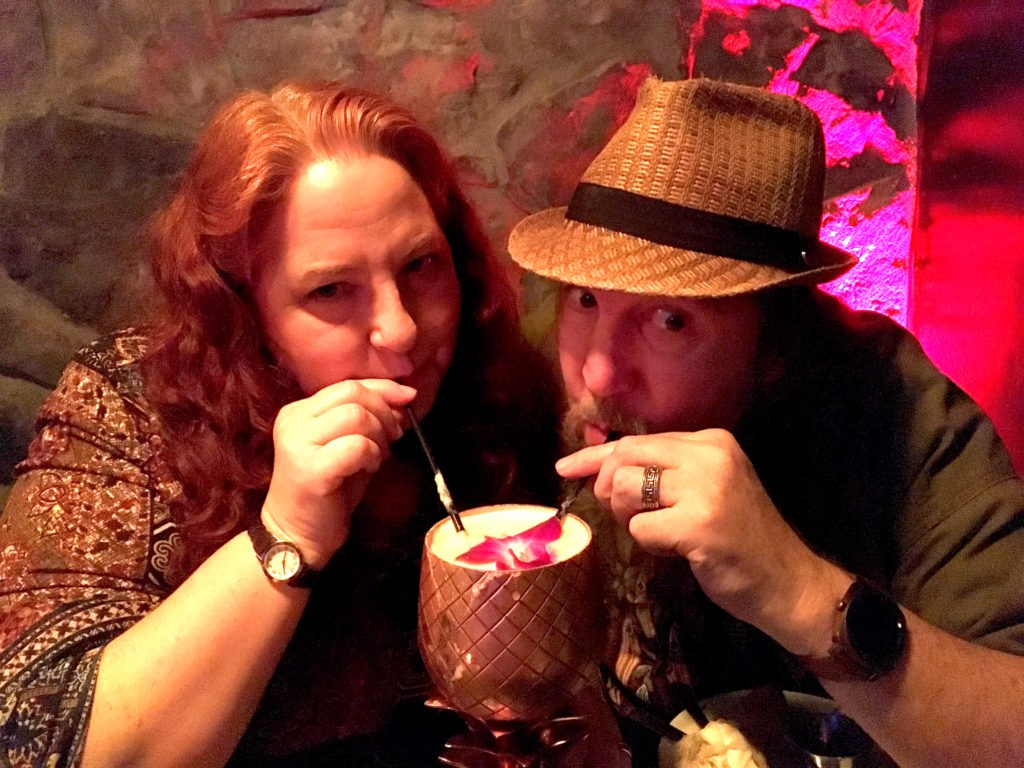 Eva and Dave have their own Tiki bar. Scratch that: they have there own Tiki home! It's called The Headhunter's Hideaway and Voodoo Lounge…
While Eva and Dave were enjoying a Macadamia Nut Chi Chi, Buddy brought me over a Planter's Punch…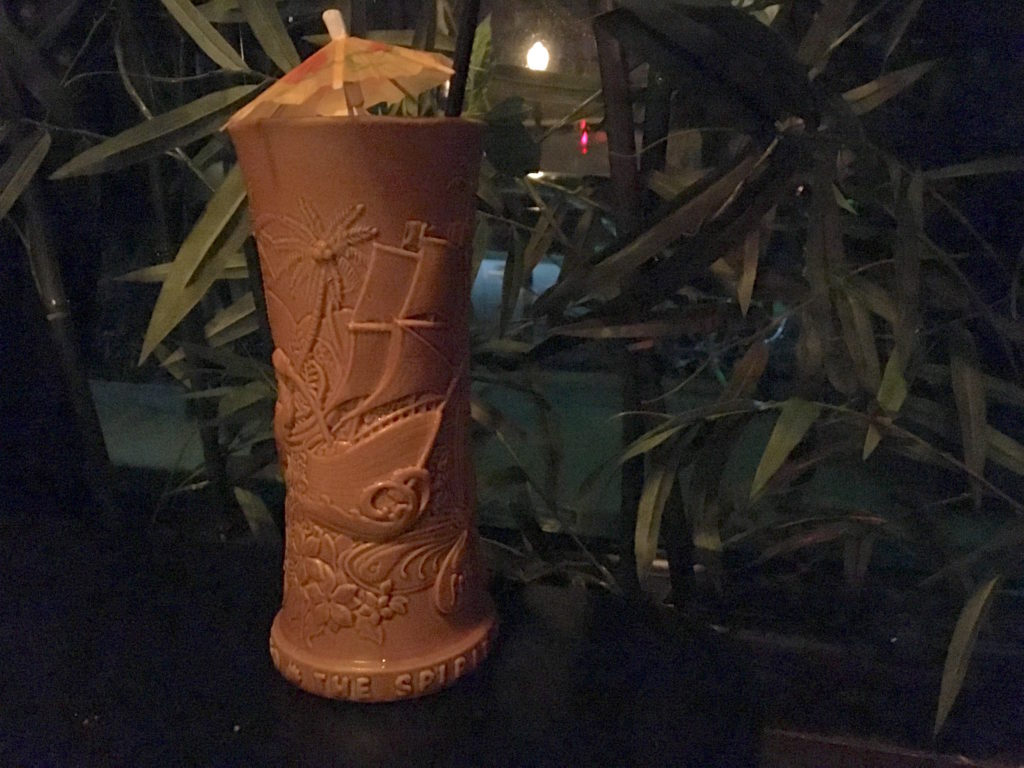 It was perfect, on-point and it went down very fast. I quickly ordered a second drink, which was the Navy Grog…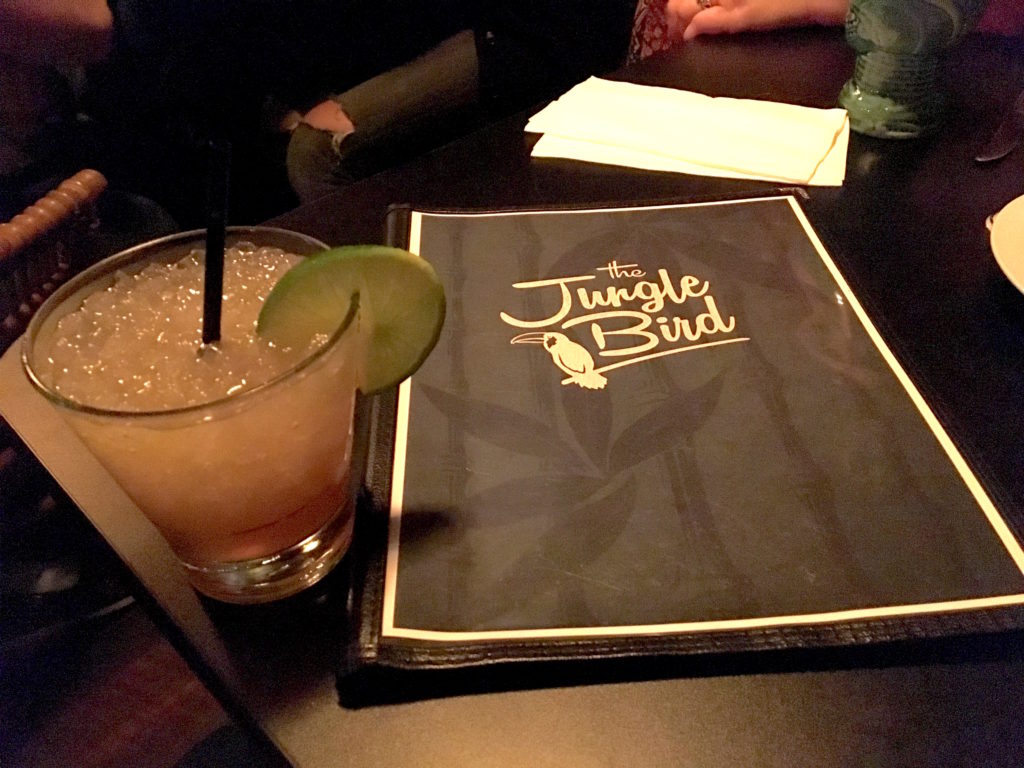 This drink packed a punch! As it should, this drink has three shots of rum!
As I was chatting it up with my Sacramento pals, the Gilligan's Island theme started playing again. I could see a bunch of people gathering around the end of the bar, phones out and ready to record something. I had to see what was going on.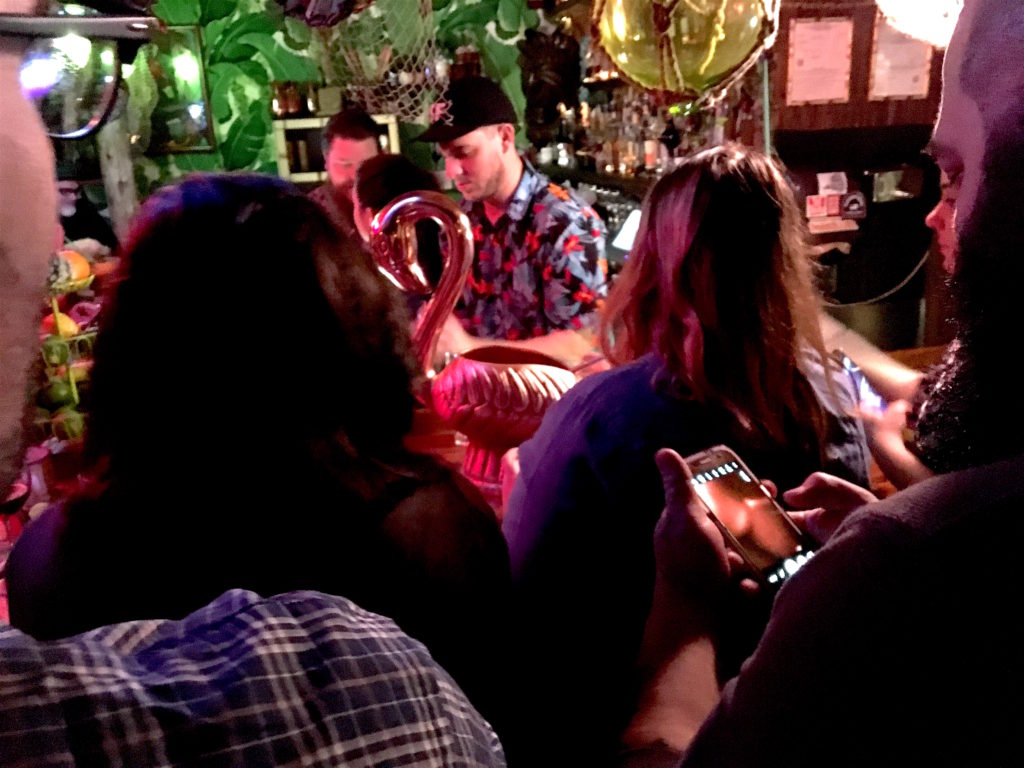 For a hundred bucks, you and your friends can order the Three Hour Tour…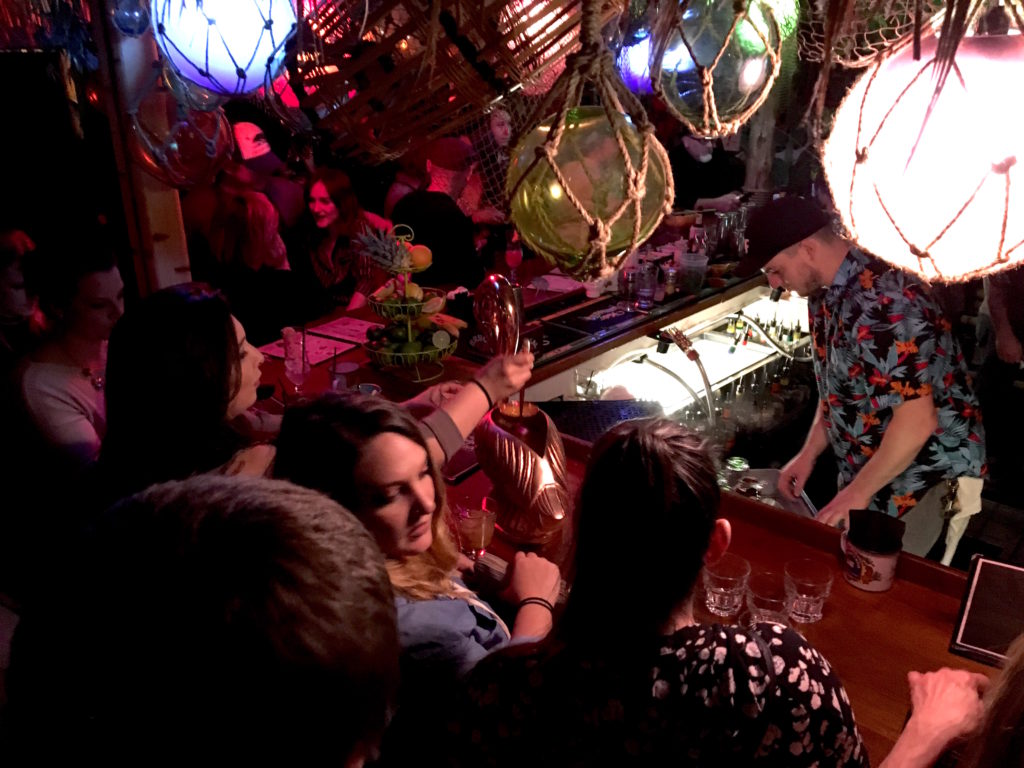 Why drink out of a volcano bowl when you can drink out of large copper swan?
The Three Hour Tour has vodka, rum, even more rum, and champagne! This is a serious drink. Speaking of drinks, here's the drink menu…
The Jungle Bird's drink menu sticks mostly to the classics and that's totally cool with me. The Jungle Bird is a classy place!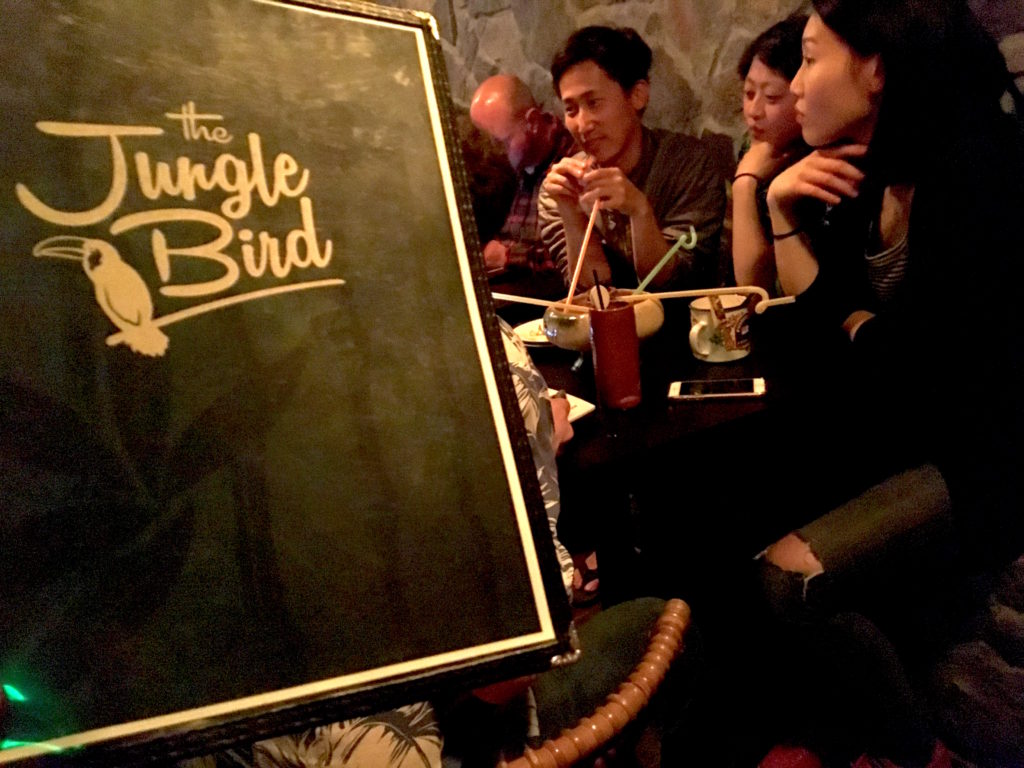 Here is The Jungle Bird's website.
And Facebook page.