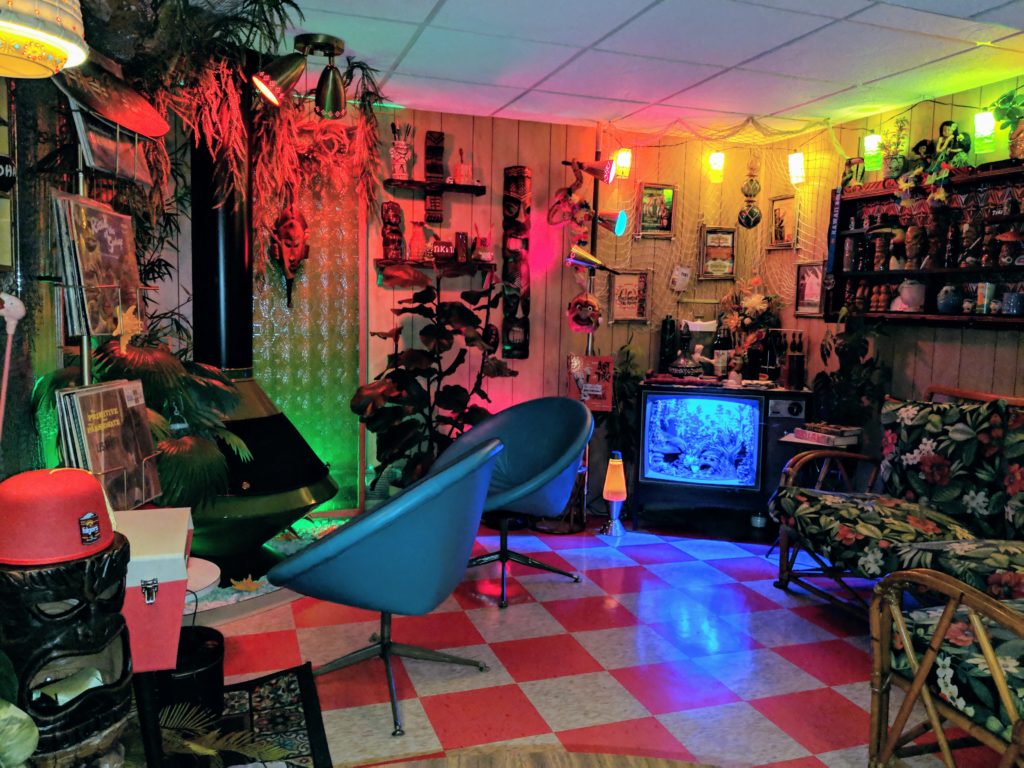 I like my tiki escapism with a little bit of time travel thrown in …
When you enter Dawn and Bill's tiki bar, you're not only walking into a tiki bar, you're walking back in time. Tiki Lanes and the Lava Lounge was designed like a home tiki bar that would have been built back in the sixties. You got wood paneling covering the walls, a checkerboard tiled floor … and did I mention a bowling score table?
What is the tiki scene like where you live?
The tiki scene in Wichita, Kansas is pretty much non-existent. There are reports though that a tiki bar will be opening here sometime this year. We are hopeful that we'll have someplace else cool to hang out and meet more tiki people and really, it's so much easier to have someone to make tropical drinks for you!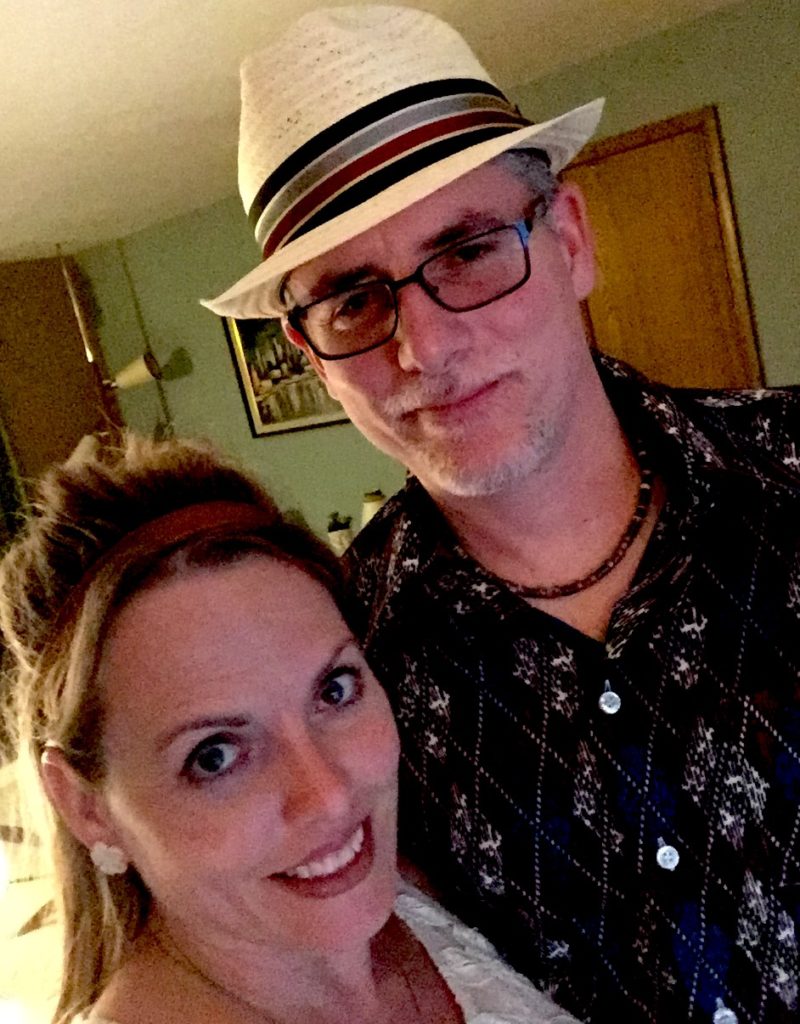 What brought you into the 'Tiki lifestyle" and how long has it been part of your life?
We stumbled across exotica music and it drew us into tiki a few years ago, the album covers alone are amazing! The music has a great rhythm and is the perfect background during get-togethers with friends …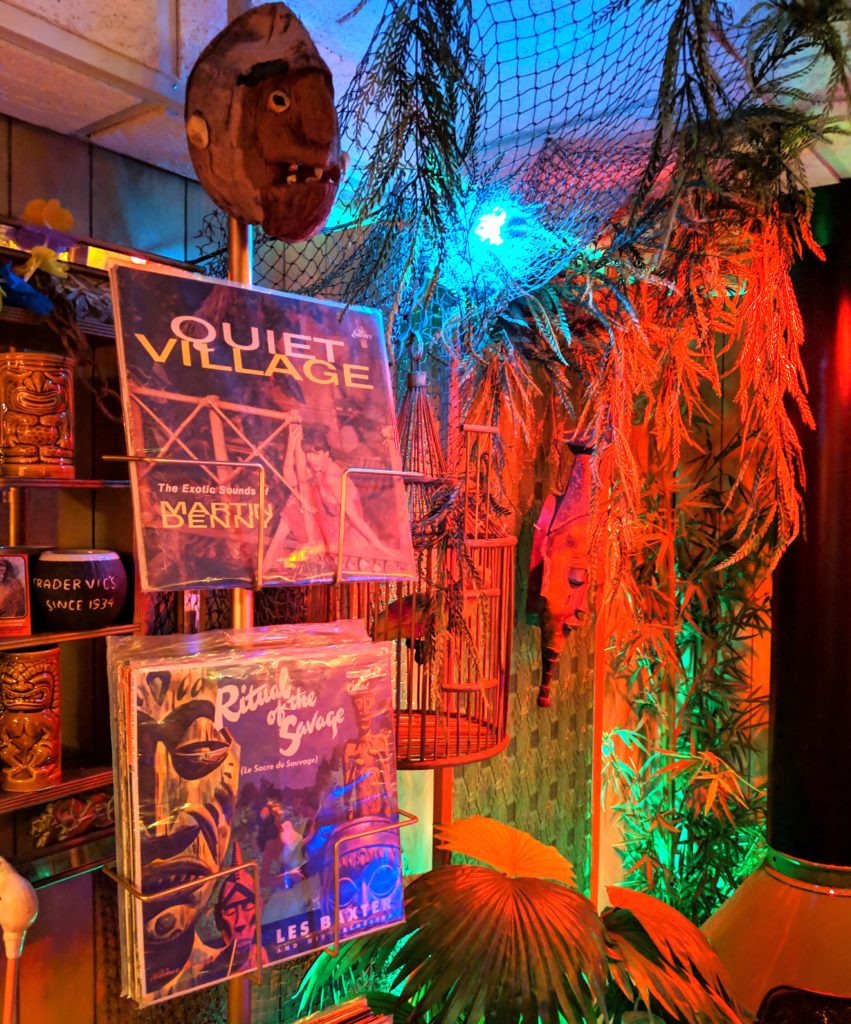 A few vintage tiki mugs, shelves, and Facebook groups and we were hooked!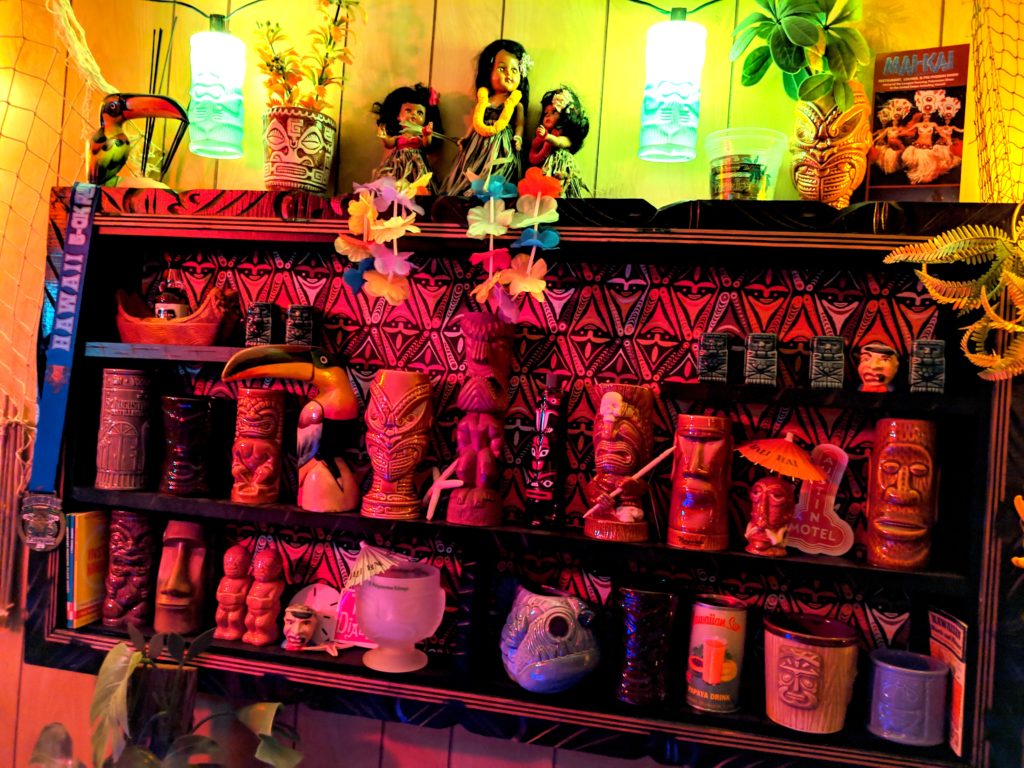 Can you give a little history of how it all came together?
Our original plan started as a small tiki area in our basement next to a couple of arcade games …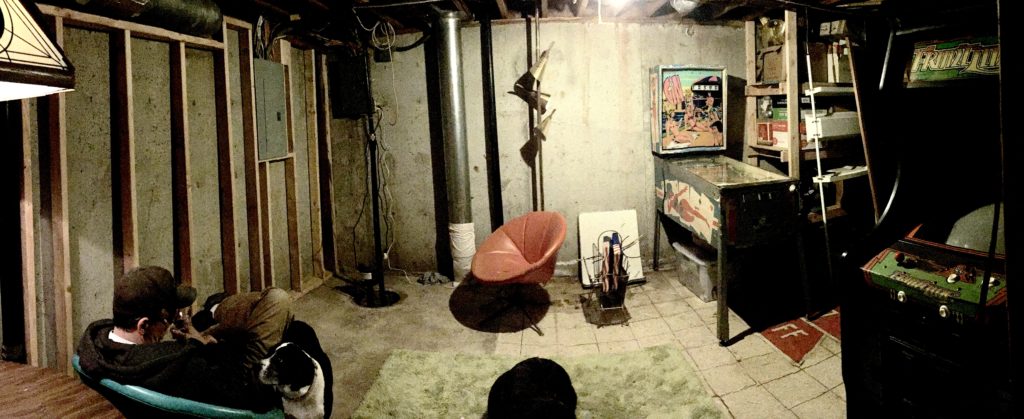 After a few months of slowly working on planning, acquiring items and thinking about it, games got moved out and the corner became a tiki room.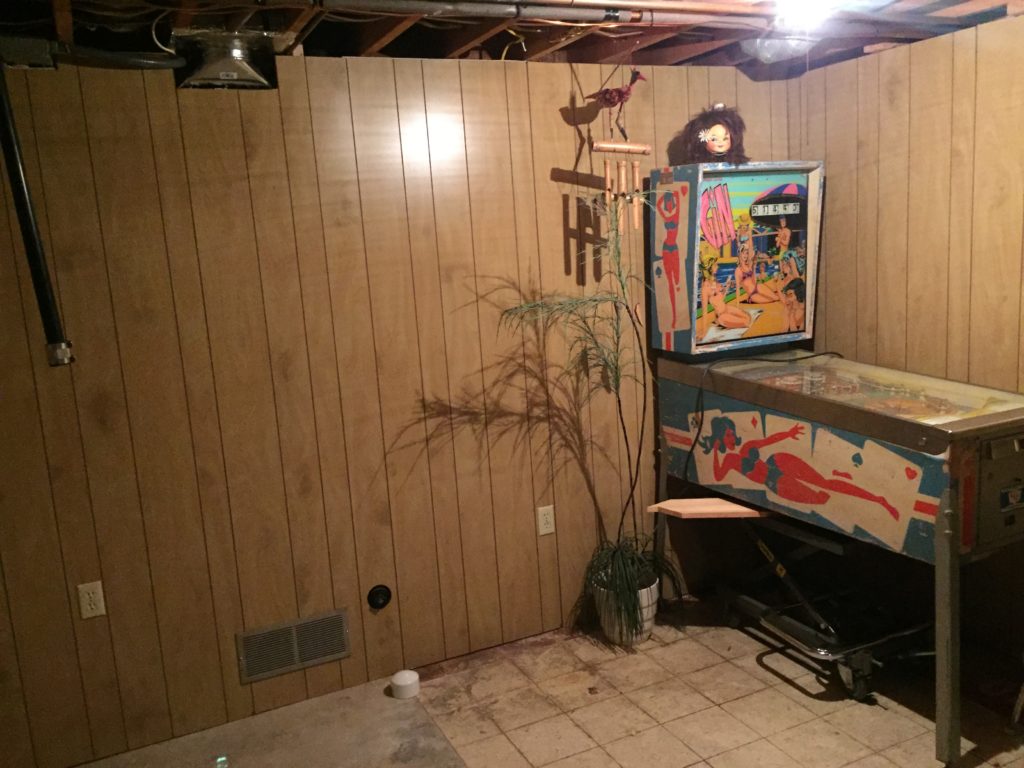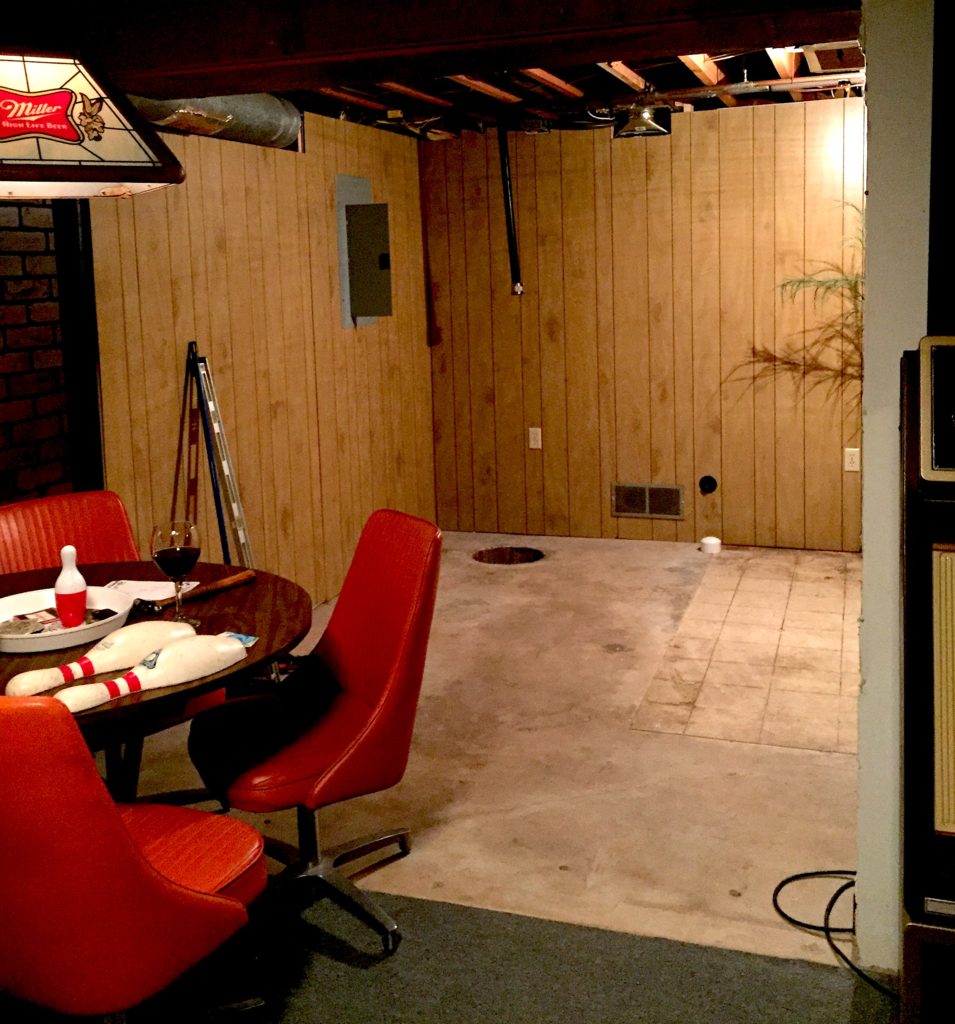 We are trying to keep our entire house as 1960's as we can, so we wanted our tiki room to look like an over the top tiki room someone would have had in their basement at that time.  Hence, paneling instead of bamboo and matting …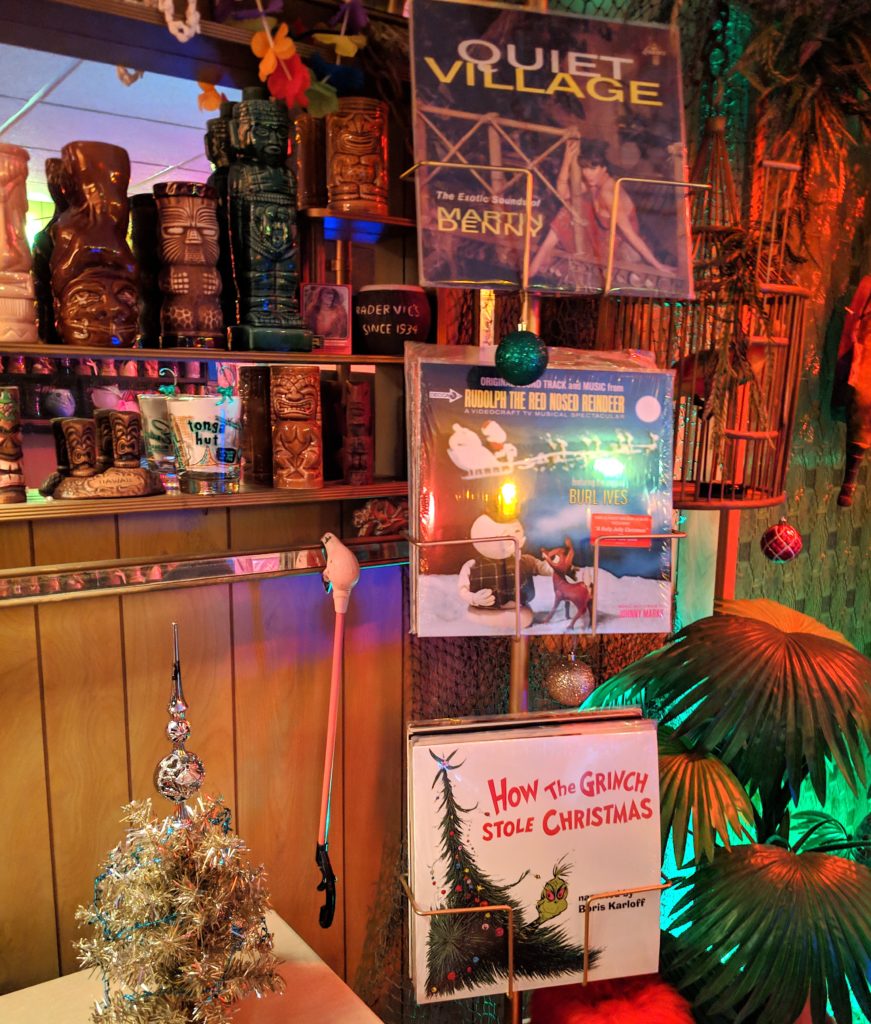 Checkerboard floor …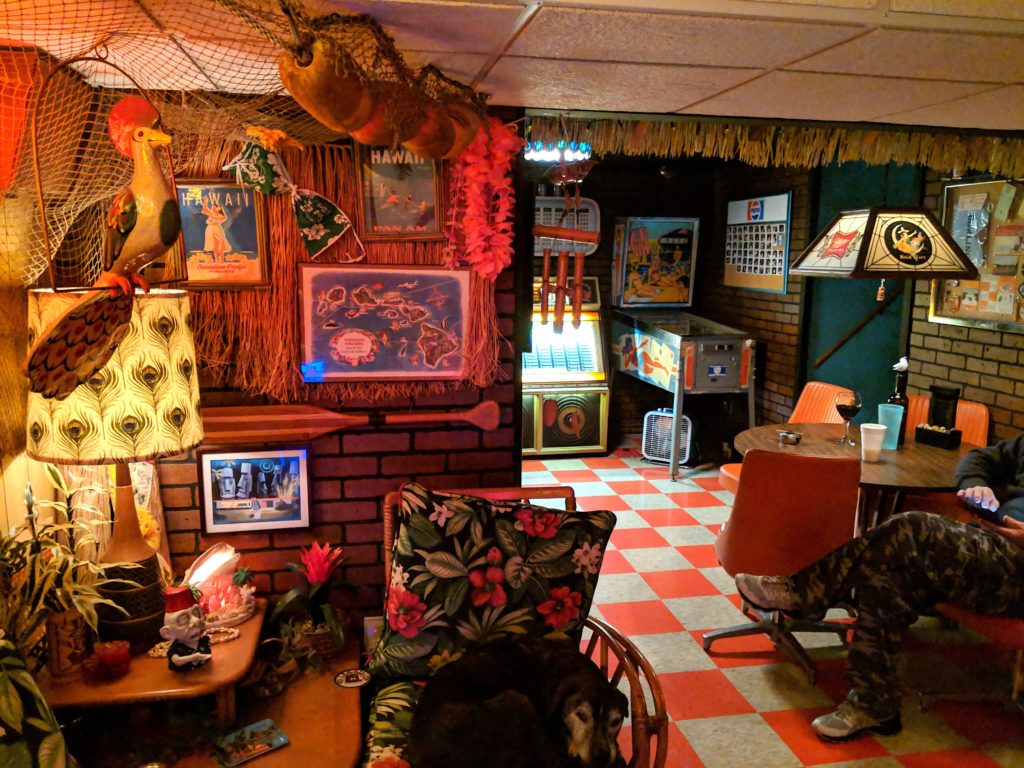 Pole lamps …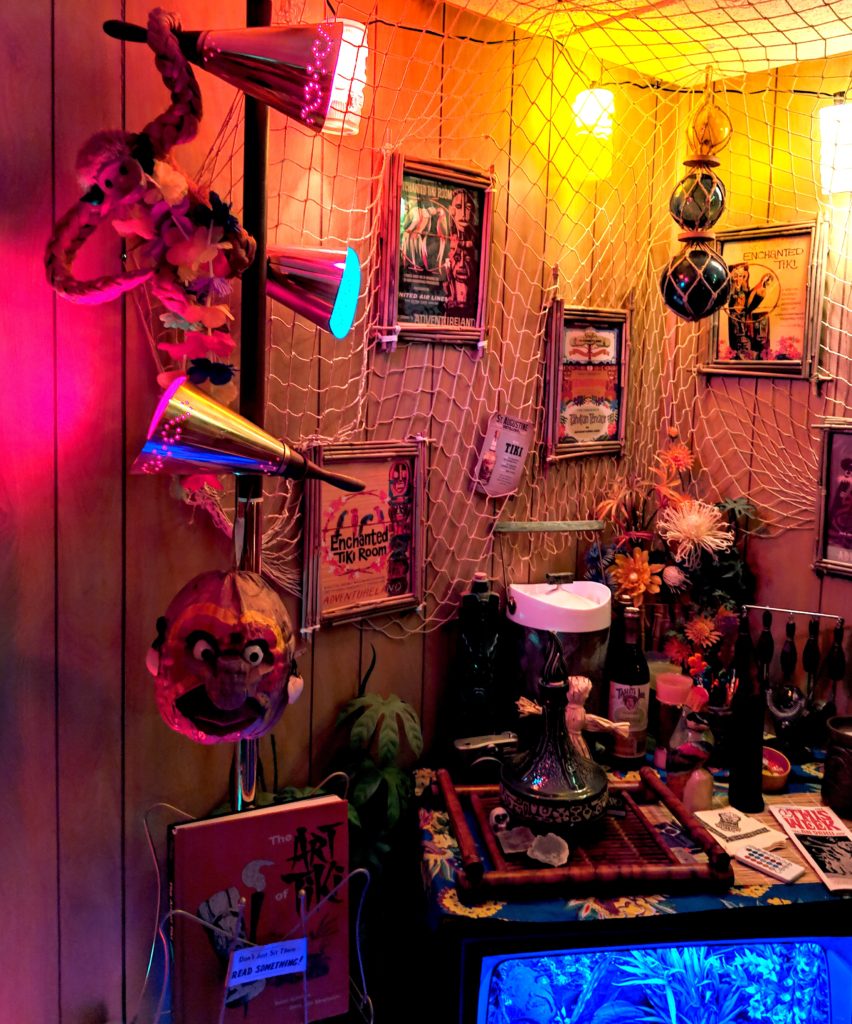 And the Majestic fireplace …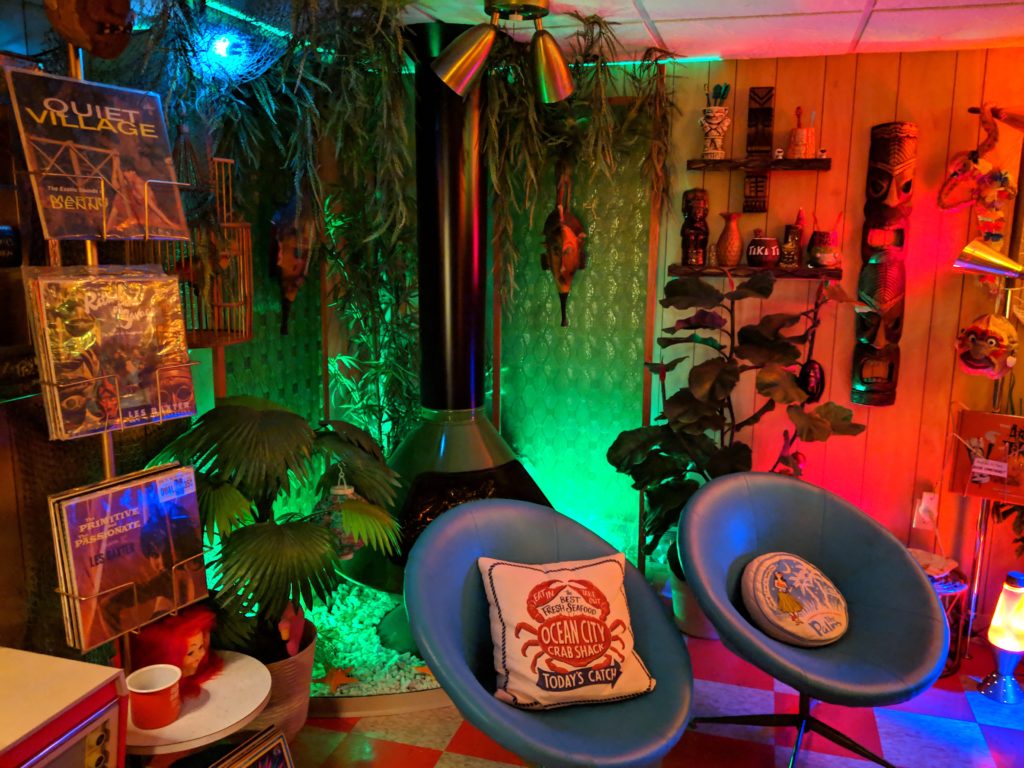 We love to focus on details and we LOVE The Big Lebowski!  We found the old bowling score table in Nebraska during a treasure hunting trip …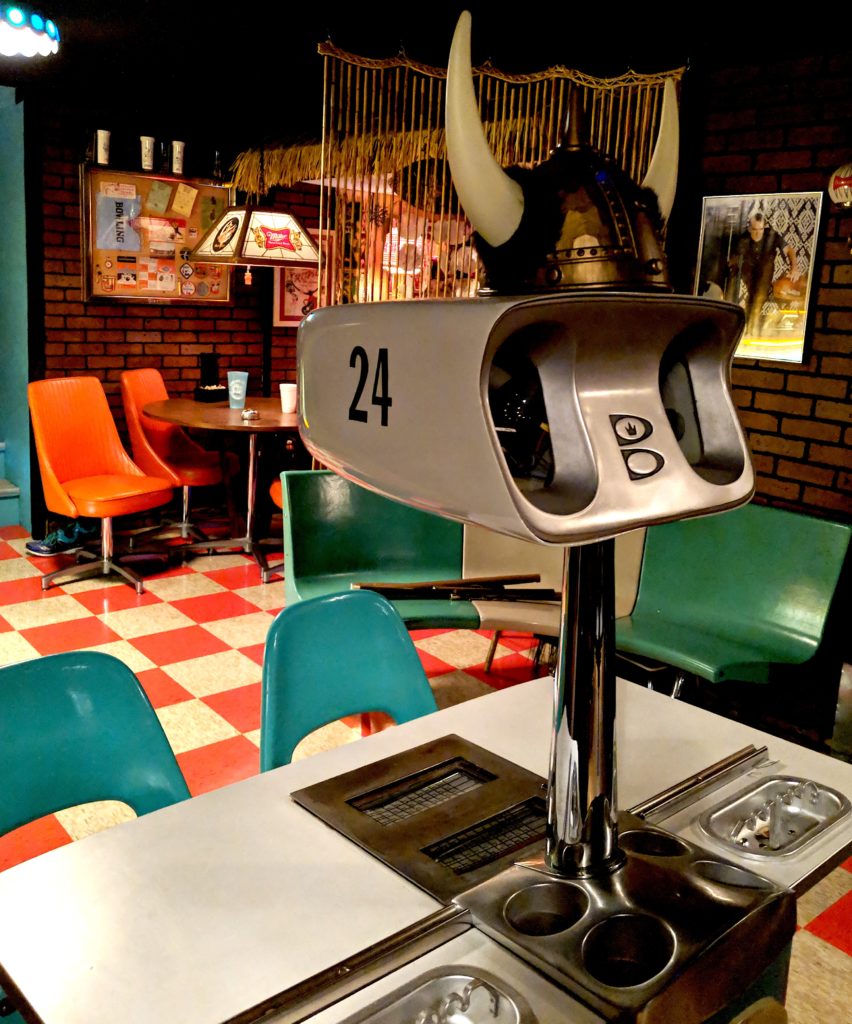 We even looked into putting an actual lane in the basement but it wouldn't fit … so Wii bowling it is! We have a ways to go with the tiki part of Tiki Lanes, but our basement is ever-evolving (and we're almost out of wall room in the Lava Lounge). We had our first guests to our tiki room in August 2016!!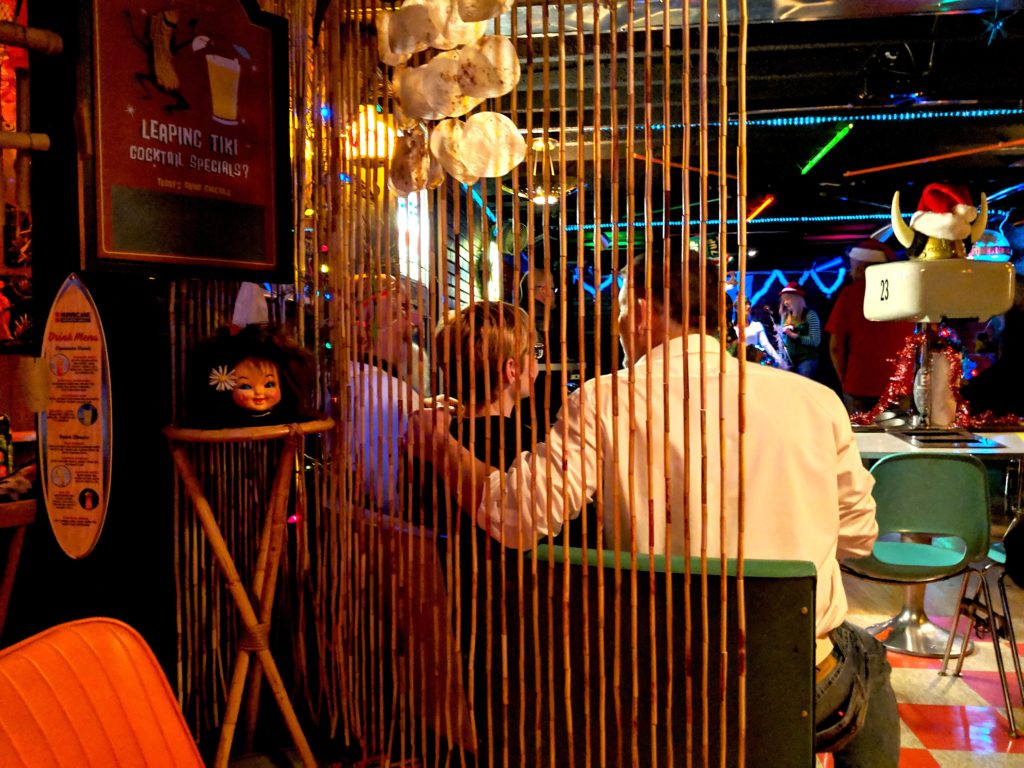 Any story behind the name of your bar?
We first came up with the Tiki Lanes part. We looked at and sketched lots of sign ideas for our tiki room/bowling alley and kicked around several names and settled on Lava Lounge because of the vintage lava lamp we have in there.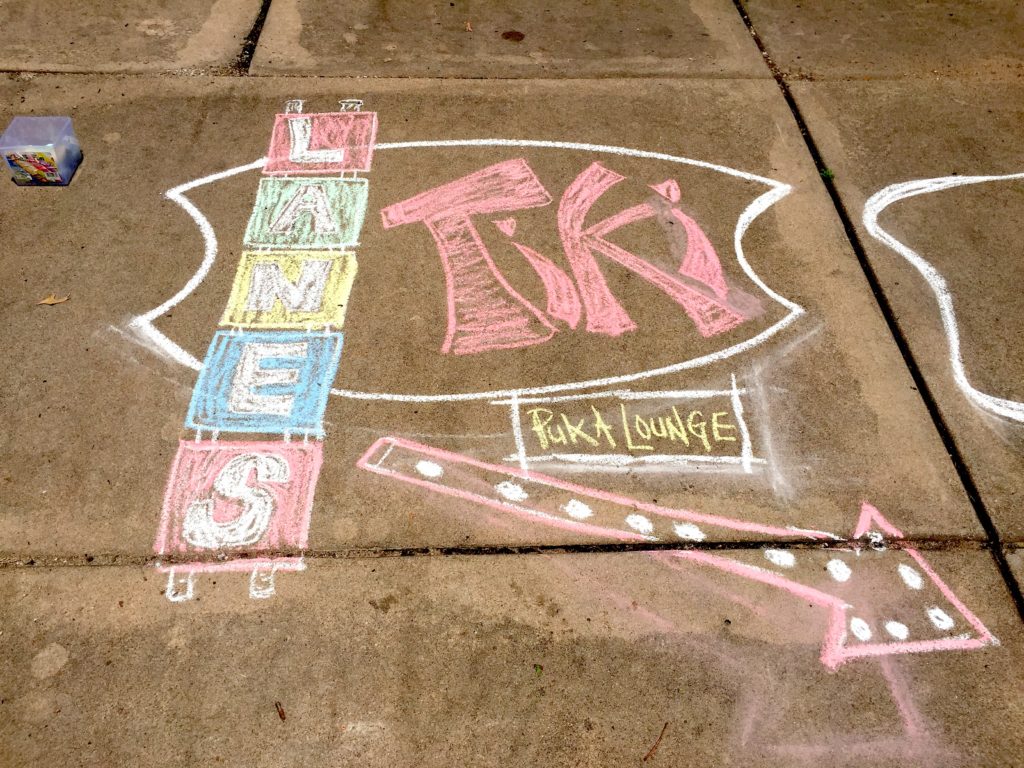 I must have painted Lava Lounge a half-dozen times on canvas and boards with different fonts…then Bill came up with idea of ceiling tile, bubbles make it look lava-like and the addition of the tiki guy torches was perfect!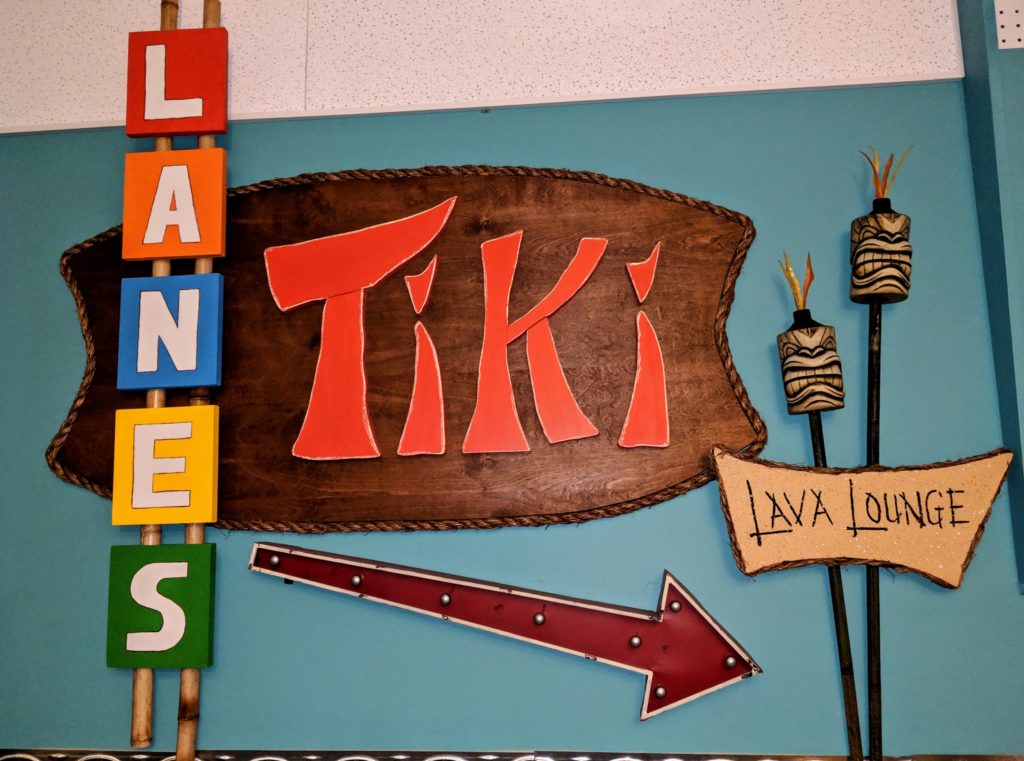 What is your favorite Tiki bar? Not including your own! 
Our first tiki bar experience was Tiki Ti in Los Angeles during a vacation. Our favorite tiki bar is TikiCat in Kansas City. It's close to home, has delicious drinks and amazing atmosphere. You could sit there all night and still notice something new.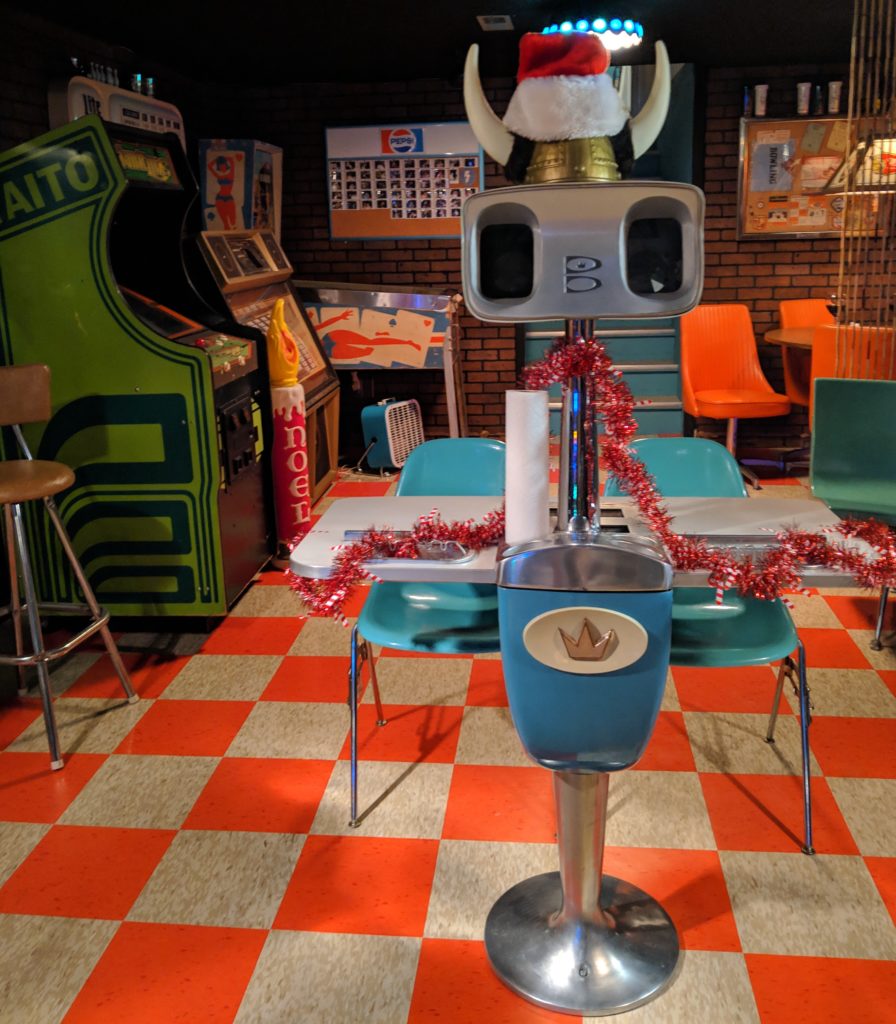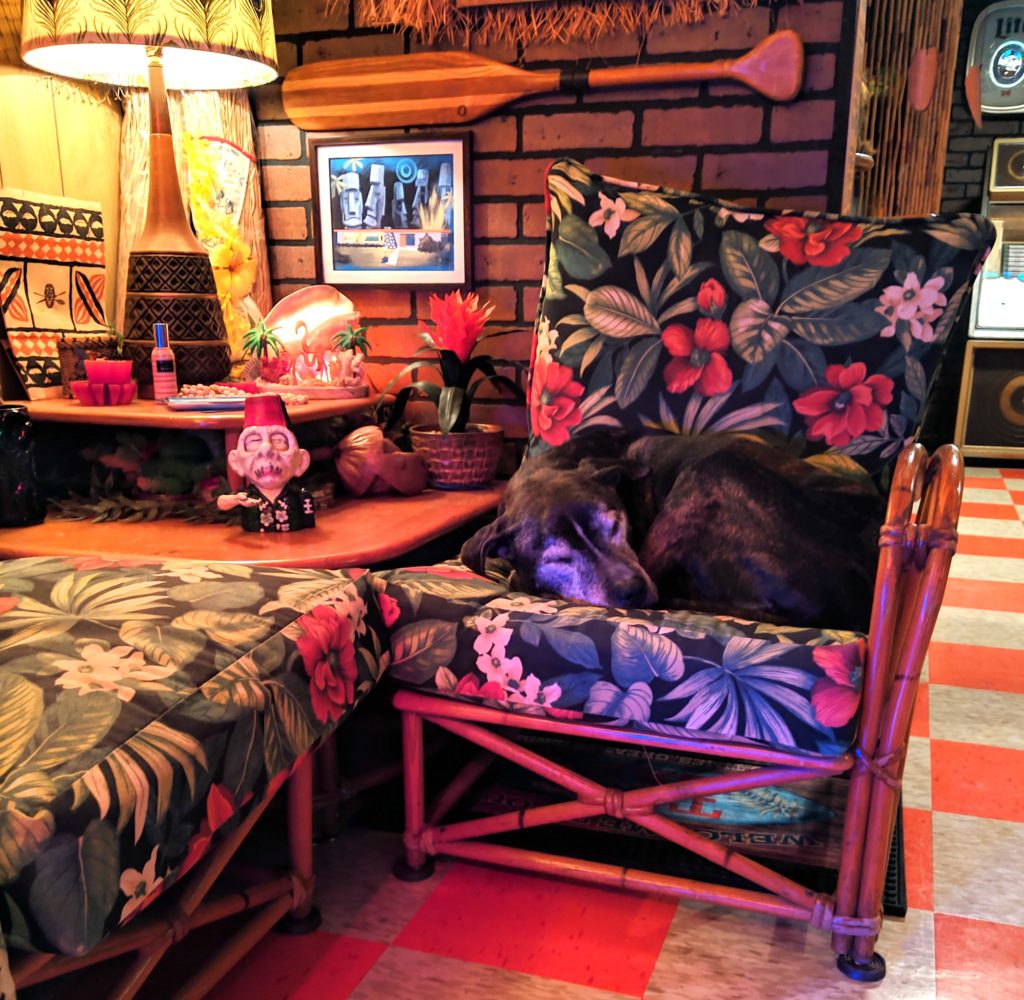 What is your favorite Tiki drink?
At home, White Russians are the go-to mixed drink because they are uncomplicated to mix up (and Lebowski).  The hands down favorite drink is Grog Right Meow from TikiCat … THAT ICE!!! AMAZING!!!!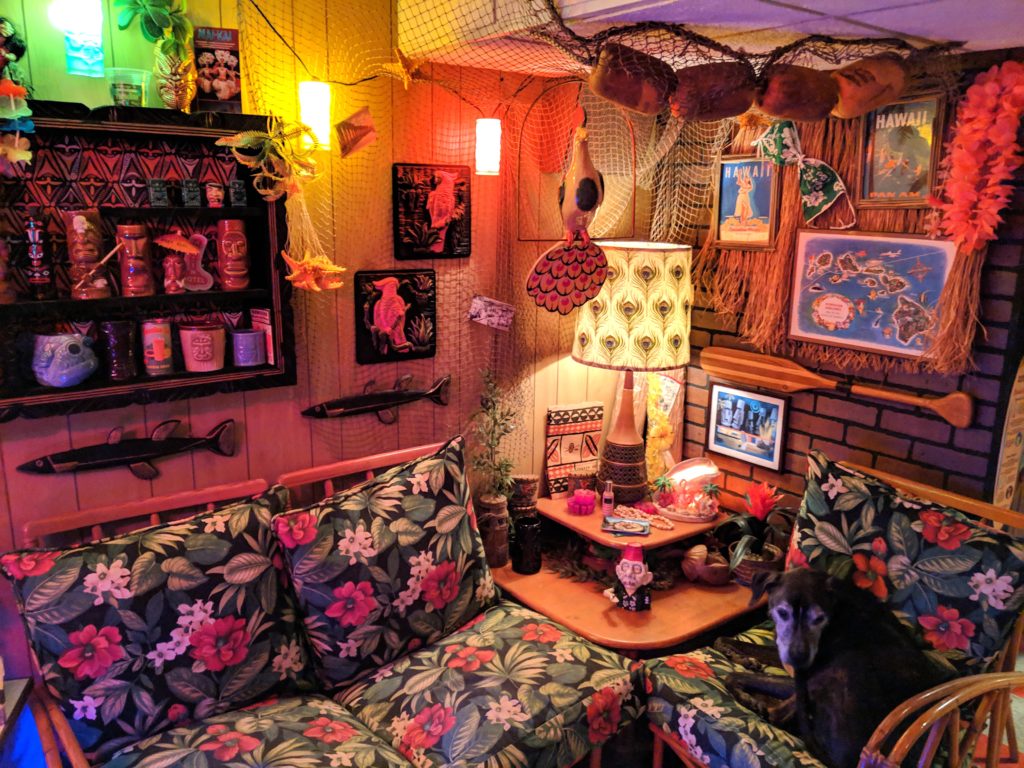 Tiki is the ultimate kitsch and escape!!! Tiki needs to be an escape from the everyday. We go into ours either the two of us (and dogs) or with friends, and suddenly hours have passed. Same experience in the best tiki bars, time flies!!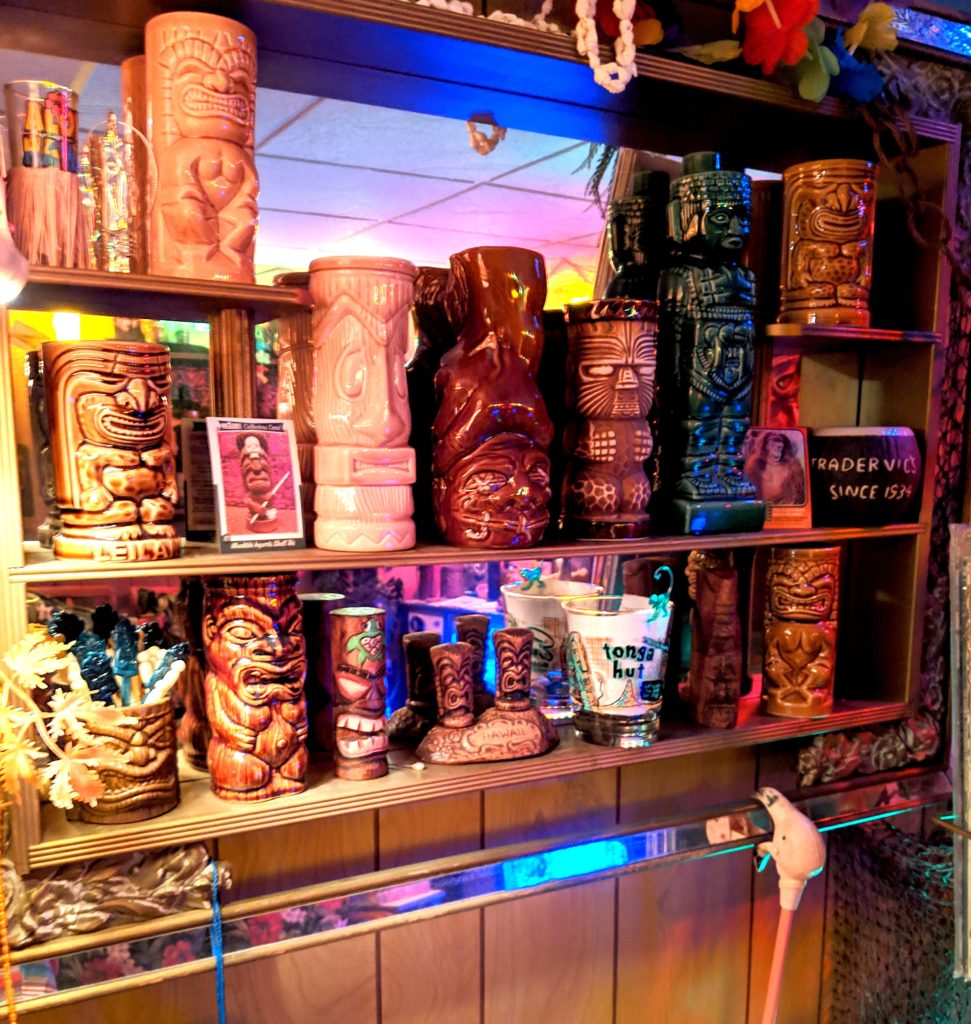 Outside of great drinks, what do you think are essential elements in creating the perfect Tiki environment?
Lighting, is a huge part of creating the tiki atmosphere! Tiki is also the ultimate opportunity for kitsch: flamingos, shrunken heads and crazy mugs! The perfect tiki environment provides an escape from the ordinary and the everyday. Sometimes, we will go into our tiki world and hours pass quickly …
What? The sun is rising??