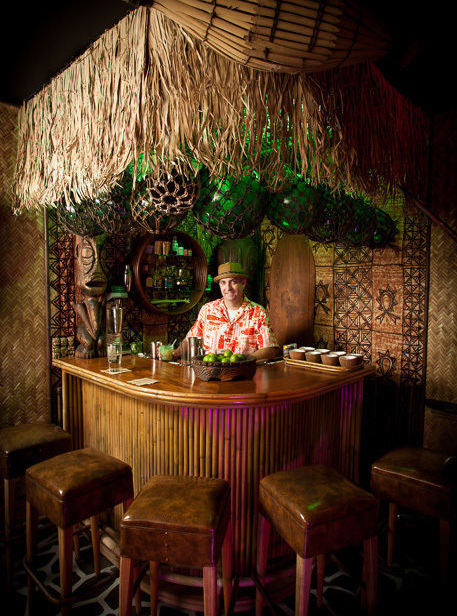 It can be hard sometimes to come up with a cool name for your home tiki bar…
Or you could just use your last name. Well, that's what Bill Straw did. There isn't any straw in the Straw Hut but there's tons of thatch. Close enough! Here is a look at this incredible home tiki bar…
What's the tiki scene like where you live?
Bill-We have a vibrant tiki scene here in the Bay Area, both classic locations (Trader Vic's, Tonga Room, Trad'r Sam's) and trail-blazing revival bars (Forbidden Island, Smuggler's Cove, Pagan Idol and Kon-Tiki). We also have quite a few home bars, we recently had our first ever Back Bay Tiki Crawl in September and I was one of four hosts. Since I have two small children I don't make it out to the bars quite as much as I'd like but I am able to hit most major events.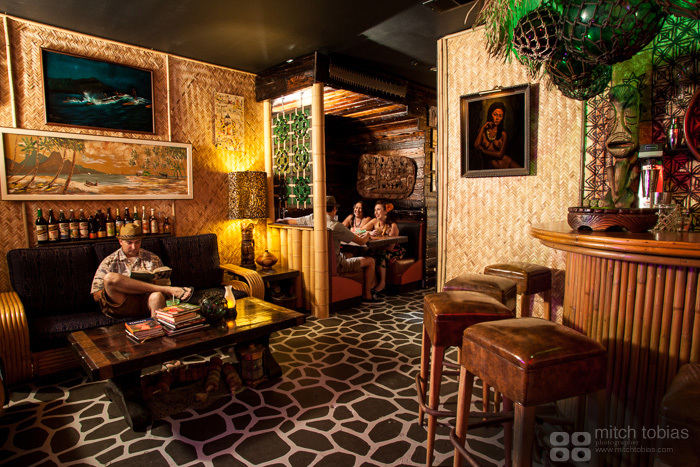 What brought you into the 'Tiki lifestyle' and how long has it been part of your life?
Bill-When I was very young, in the late 70's, my family and I lived on Lanai for a short time while my father was in medical residency. I even have a picture of my 2 year-old self standing next to a carved tiki. This, as well as subsequent family trips back to the islands cemented my love of Hawaii. After a trip to Maui in 2005, I wanted to create a little slice of Hawaii at home and got the idea to build a tiki bar on my covered patio in the SF Bay Area. After some Googling, I came across a Bachelor Pad magazine article outlining some basics for building a bar and throwing a tiki party.  I soon realized there was this whole other scene separate from traditional Hawaiiana and I was hooked! I soon became a regular on Tiki Central (Trad'r Bill), dove into my local tiki history and was basically hooked on tiki from there on.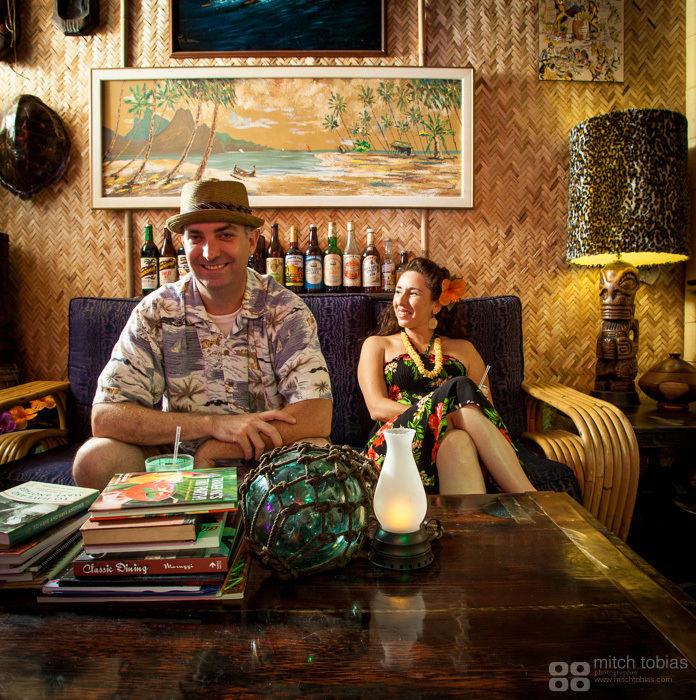 What made you decide to build your own Tiki bar? Any story behind the name?
Bill-Ever since I built my first home bar out on a patio, I dreamed of the day I could build an indoor bar. Many of my collectables were not suitable for displaying outdoors so I collected (hoarded?) items for many years until my wife and I moved into our current home, this time equipped with a bonus room on the ground floor. The name "Straw Hut" just made too much sense, as our last name is Straw!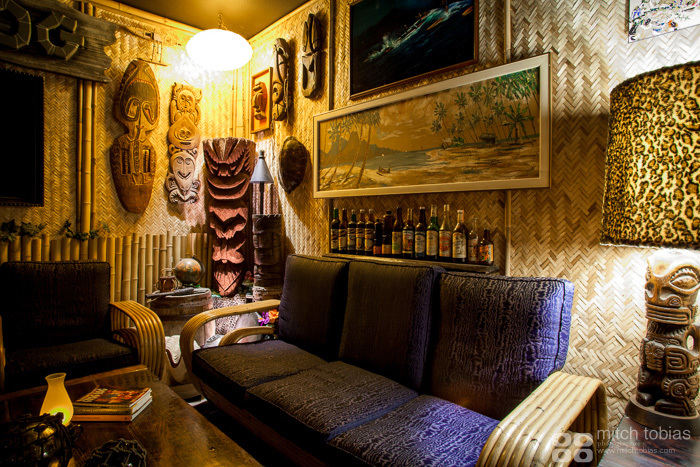 Can you give a little history of how your bar all came together?
Bill-As a hard-core collector, I had amassed many items from defunct tiki haunts, including the original Trader Vic's in Oakland, Trader Vic's in Osaka, Trader Vic's in Berlin, Trader Vic's in St. Louis, Trader Vic's in Seattle, The Lanai in San Mateo, Kahiki Supper Club in Columbus, Chin Tiki in Detroit, Luau Room in Louisville, The Islander in Stockton, and Tiki Bob's in San Francisco. Although I had all the materials all ready, our first child was just 2 weeks old when we moved into our current home, so it took a few months to get the build-out rolling. I did all the work myself, flying by the seat of my pants (with Google's help, of course).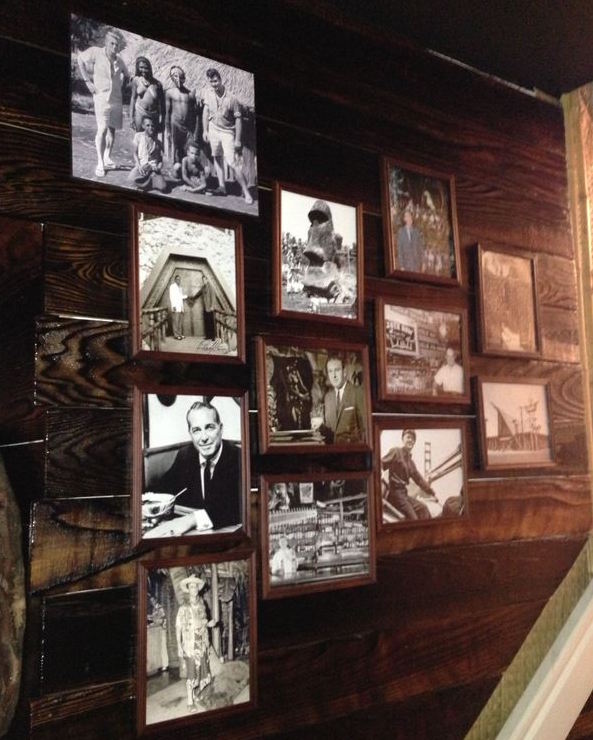 What is your favorite Tiki drink? Why? 
Bill-Definitely a Trader Vic's style Navy Grog… the subtle spice from the pimento dram, and kick from the three types of rum really gets me in the tiki mood.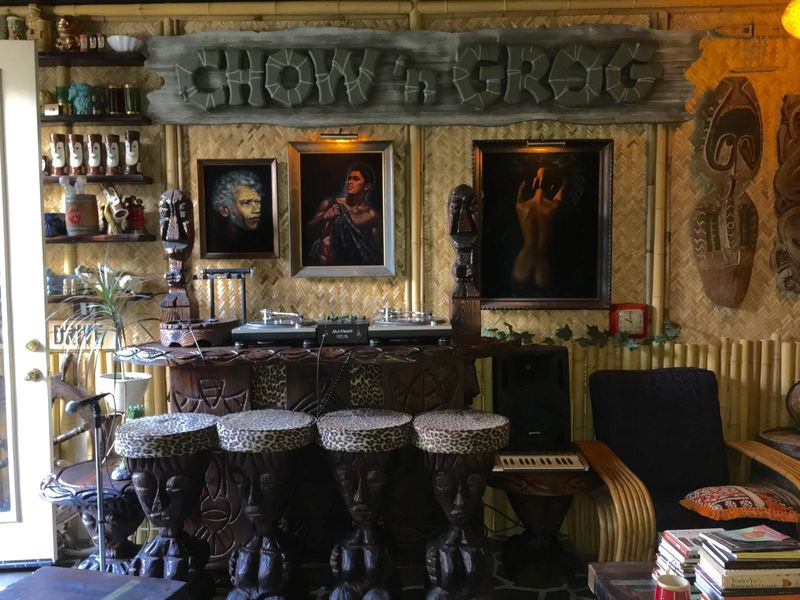 What is your favorite Tiki bar? Not including your own! 
Bill-Hard to choose for sure but I have to go with Trader Vic's in Emeryville.  The history alone transports me back to the mid-century, to tiki's heyday. For many years I worked in Emeryville so I became somewhat of a regular. The staff is top-notch and really make me feel at home.
Outside of great drinks, what do you think are essential elements in creating the perfect Tiki environment?
Bill-For one, darkness!  I covered the two windows in my tiki room, to create more of a basement-bar feel, which really adds to the overall effect. I also feel that vintage collectables/artifacts give an air of authenticity to a modern space. Lastly, it should go without saying, but carved tikis are a must for a legit tiki space.  Those can often be the most expensive elements, but one of the most important.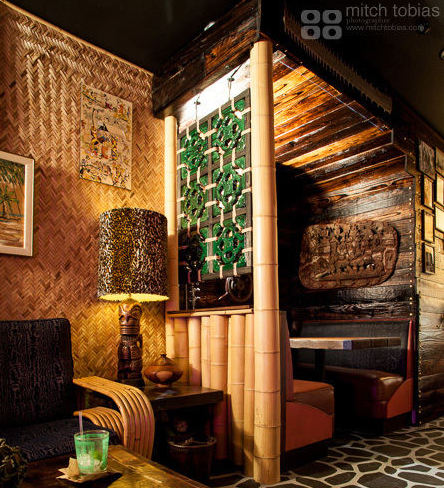 Do you feel that music has an important role in creating a great Tiki experience? What would be some of your favorite artists and albums? 
Bill-I do feel music is an important element in the tiki experience.  Although I enjoy the dark, exotica sounds of Martin Denny and the like, I prefer a slightly more upbeat selection, from the likes of Cal Tjader, Waitiki, Kahulanui, íxtahuele, and Alika Lyman.  Check out my Spotify playlist "Trad'r Bill's Tiki Party"
What does the future hold for you and The Straw Hut?
Bill-I have many collectables that need framing, (menus, pictures, paintings) so I'm slowly working my way through my stack.  I've also been bitten by the rum collecting bug so my collection of about 100 rums is always growing… need to find more space for those bottles.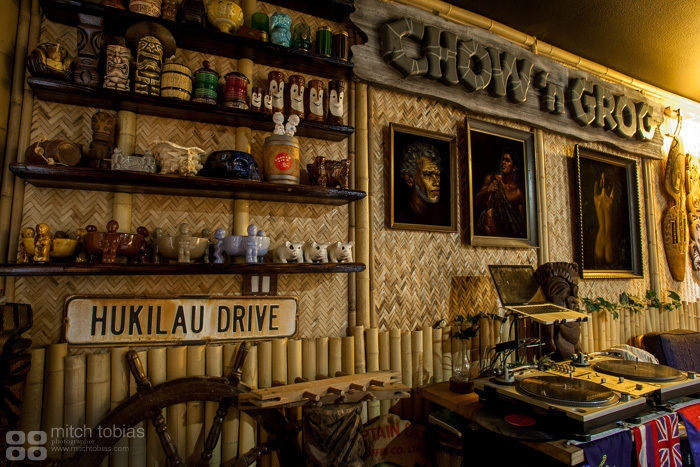 Anything else you would like to add?
Bill-Look for me every year at the Forbidden Island Parking Lot Sale – I usually have some hard-to-find vintage collectables for sale ~ Cheers!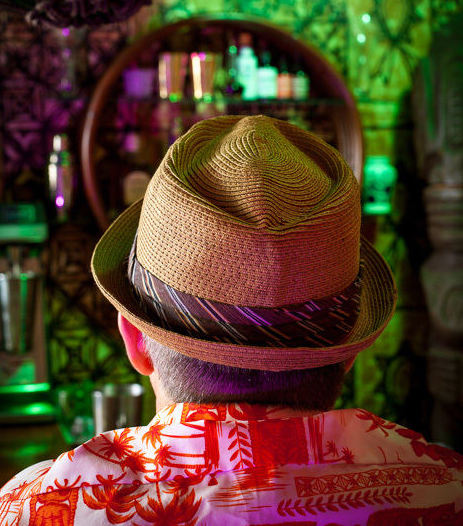 Thank you Mitch Tobias for all the pictures used in this post!