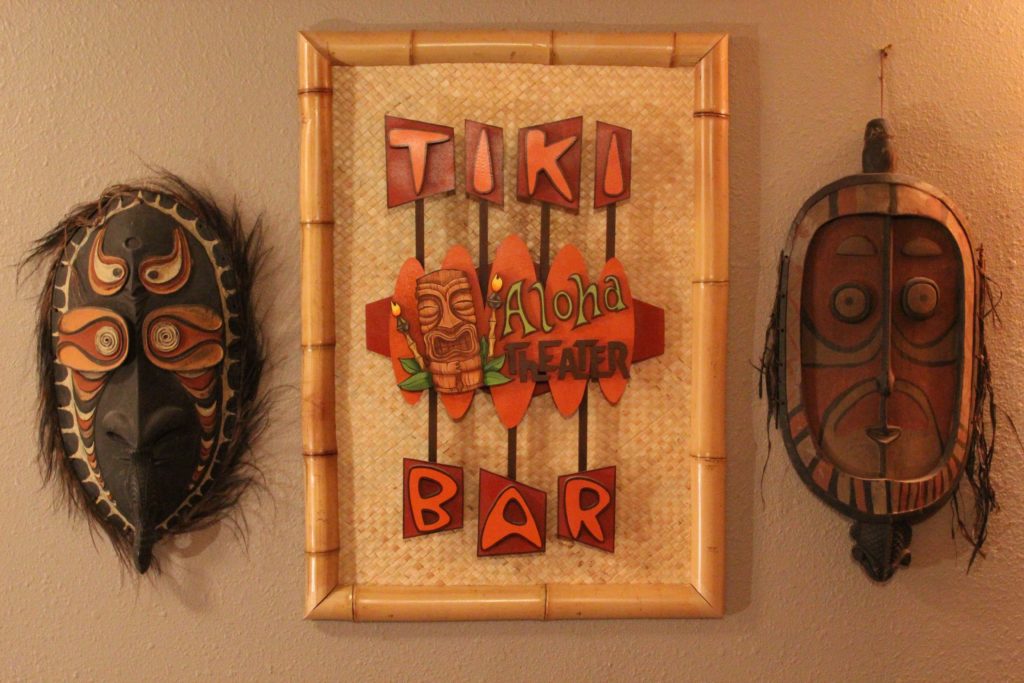 It all started with some fake palm trees on sale…
John Mumford has been into the Tiki since he was in middle school. His parents actually let him build his own Tiki bar in the furnace room. Those are some cool parents! Fast-forward to 2009. John found some fake palm trees on sale for $50 at a hardware store tent sale and he couldn't pass up them up! The rest they say is history. Here is John's story…
What's the Tiki scene like in Denver?
 John- In the Denver area we have two commercial Tiki bars and several bars that serve Tiki drinks. The two Tiki bars are Adrift and the Hidden Idol. The non-Tiki bars often have Tiki nights and serve Tiki drinks. There's a Denver group on Facebook, which so far has organized two home Tiki bar tours. Denver also has a Modernism show and they usually open a Tiki bar for the event.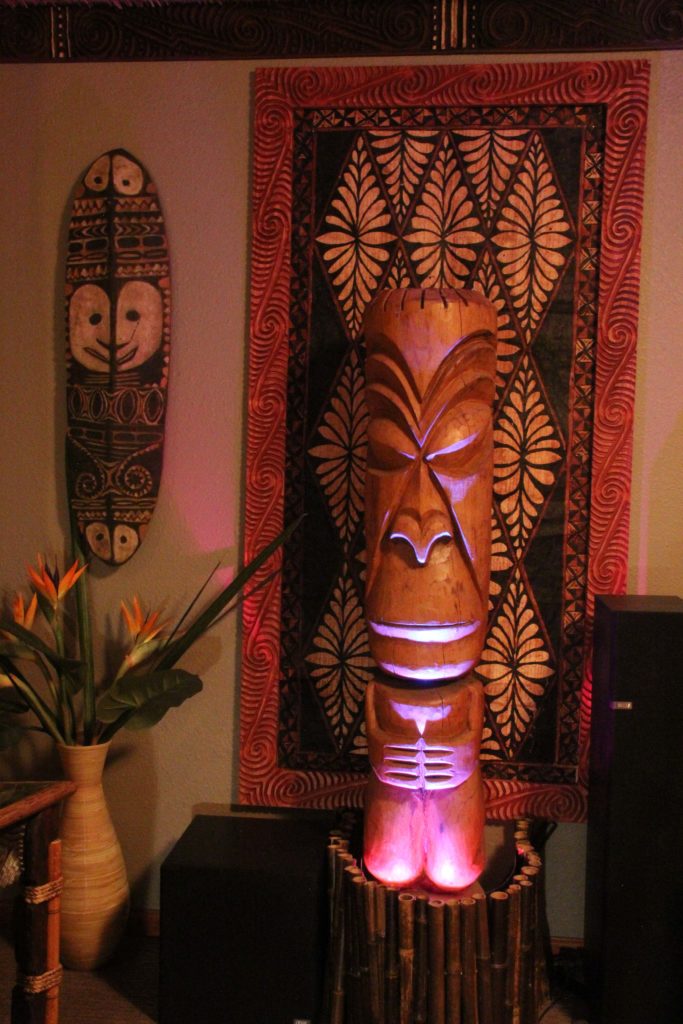 What brought you into the "Tiki lifestyle" and how long has it been part of your life?
John- My interest in the Tiki culture and Polynesian culture began when I was in middle school. That was in the '60s and Tiki was just about everywhere. At the time, I lived in Southern California and my parents let me use the furnace room to build my own Tiki bar. I had sea grass mats on the floor with a fish net hanging from the ceiling. I also built my own Tiki bar in wood shop at school. It was a solid black walnut top with a 2X2 wood frame structure, trimmed in luahala and bamboo. I strung a hammock from the ceiling and suspended a TV with chains from the ceiling. I listened to Martin Denny and Arthur Lyman. Today with podcasts such as DigiTiki and Exotic Tiki Island, I'm more aware of the diversity of music and artists associated with the Tiki culture.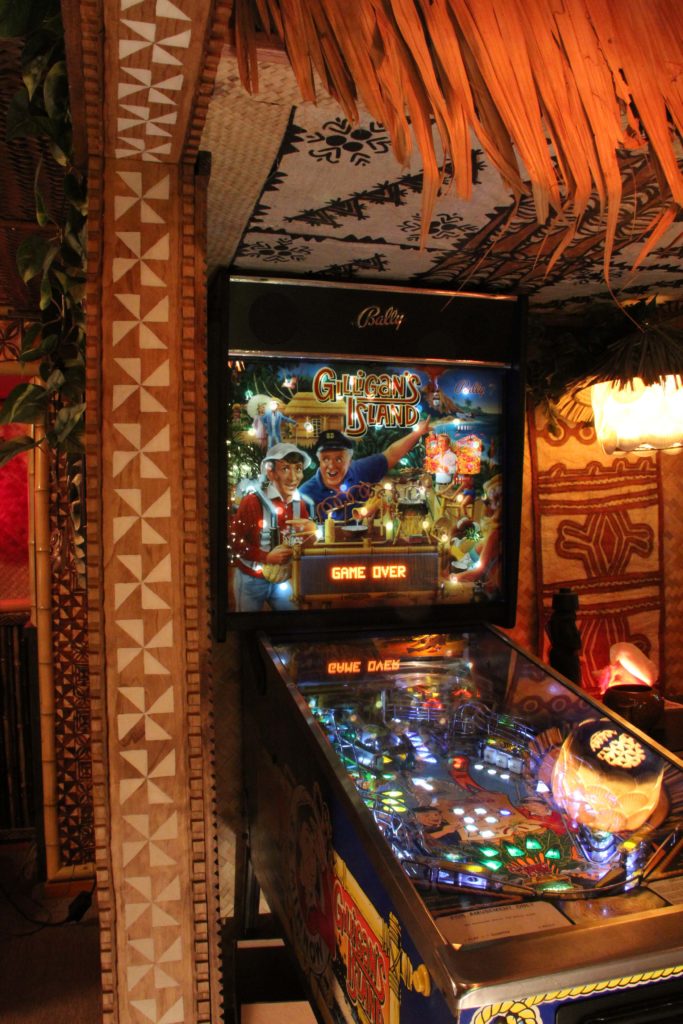 To me, there is a dividing line between the Polynesian culture and the Tiki culture. The Tiki culture gives the illusion of being in some far off place. It borrows from the South Seas. It has its cocktails, music, and a Mid-Century Modern look with its clothing. The Polynesian culture takes nothing from the Tiki culture. I try to keep the two separate. I'm a musician and I play Hawaiian steel guitar and ukulele. The group I play with sings songs from the Hawaiian culture. I've made it a point to learn about the cultures of Polynesia, Micronesia, and Melanesia. I've incorporated primitive art into my Tiki bar and home theater.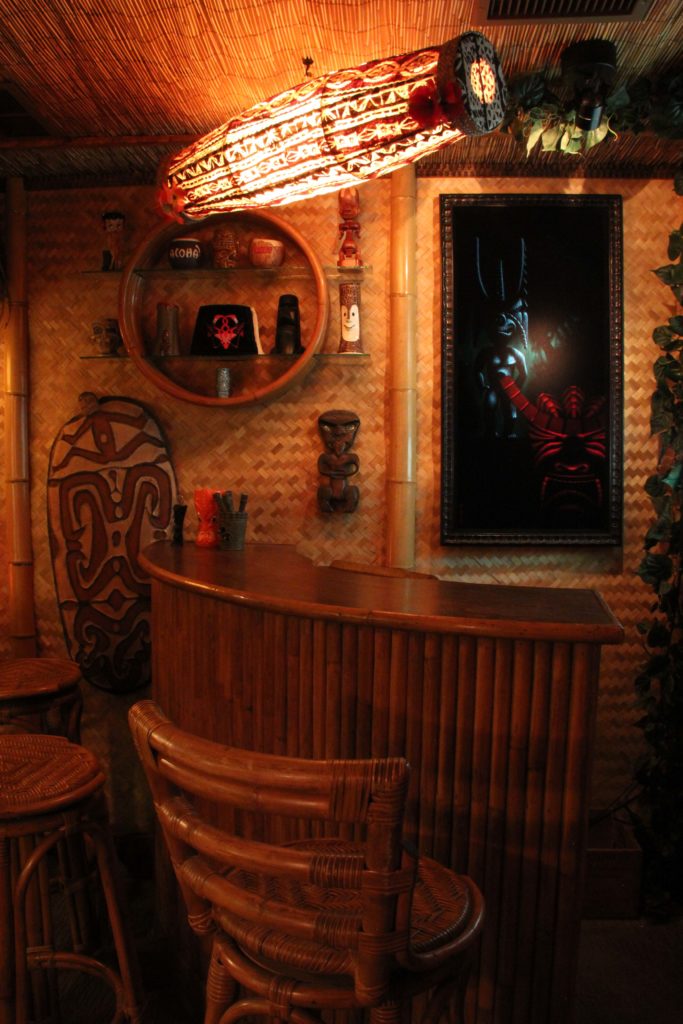 What made you decide to build your own Tiki bar? Any story behind the name?
John– The current Tiki bar build came by accident. During the summer of 2009, I was at a hardware store and they were having a clearance sale in a tent. The hardware store was also a nursery. In the tent was an artificial palm tree with three trunks. It was marked down from $350 to $50. I looked at my wife and said, "I need to buy this. I don't know what I'm going to do with it, but it's too good of a deal to pass up." For two years, it sat in the basement and then Carol and I decided that we should remodel the walk out basement. The kids had used it as their play area and it looked worn out. We wanted to build a home theater, but from a previous house we had owned we knew that unless we made it very desirable we would probably not walk down the stairs to watch TV.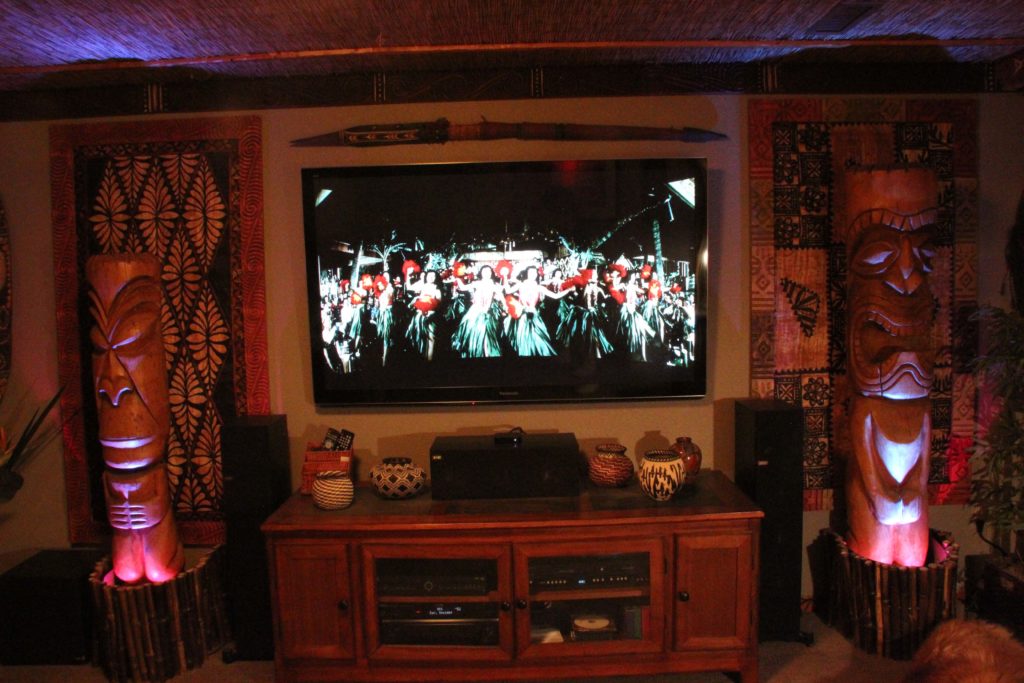 It was while we were looking for a couch for the theater that we discovered a vintage 1960s Tiki bar. It was at a consignment store. It was originally priced at $850 and marked down to its final price of $225. It was made of rattan with an oak top and oak cabinets. There was a brass rail with three rattan swivel stools. This was the catalyst that started the Tiki bar. We decided to decorate the home theater in Oceanic art and have the room next to the theater be the Tiki bar.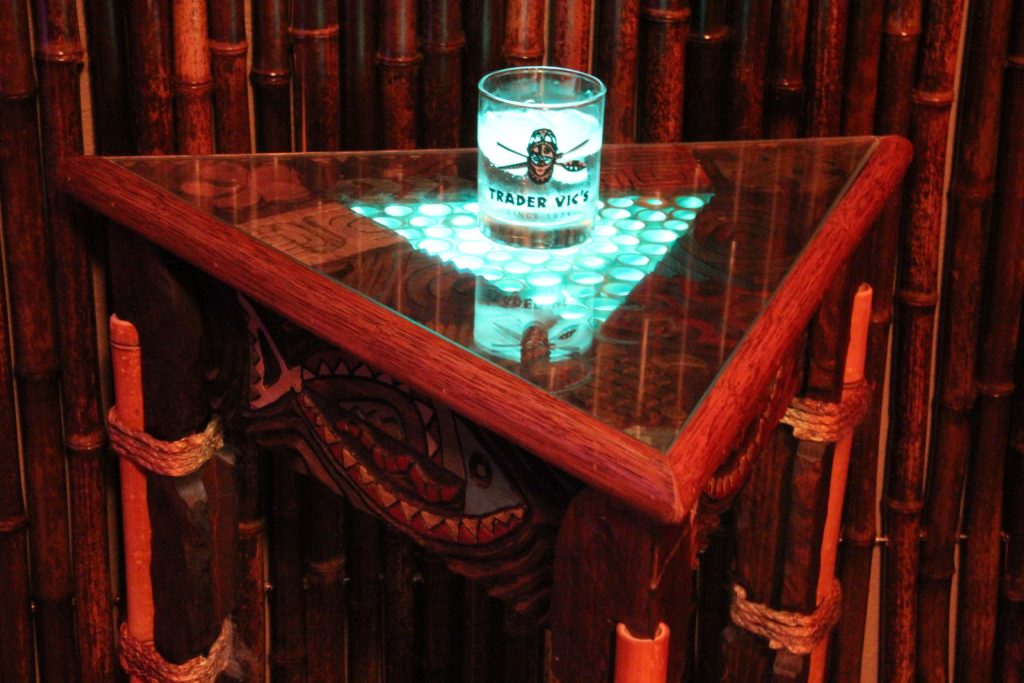 Just about every Tiki bar has a name, so I started to look for where I could get a sign with our Tiki bar name. A custom sign company in Washington State had a Tiki sign that said "Tiki Bar" and between the words "Tiki" and "Bar" it had the words "Aloha Room." I asked if they could change the middle words to "Aloha Theater." They said yes and that's how the Aloha Theater and Tiki Bar name came about.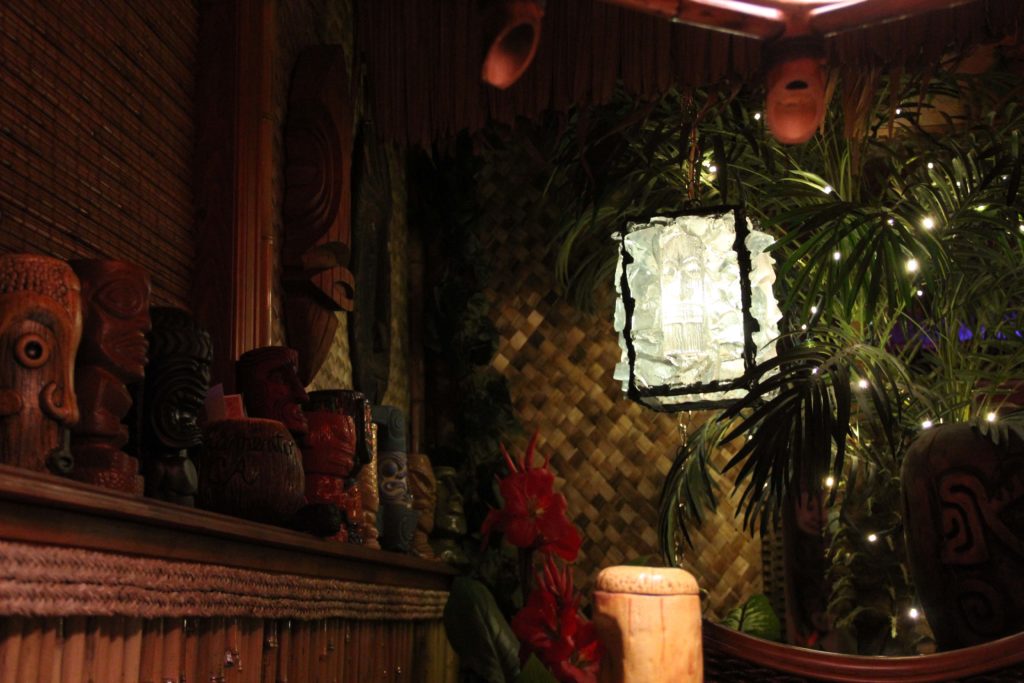 Can you give a little history of how your bar all came together?
John- Once I decided I was going to build the bar, I started to do a lot of research on the internet. I quickly discovered the website Tiki Central. What a source of information that site has been. I read through all the home bar threads and studied to see how others put their bars together. I was on a trip to California and stopped at Oceanic Arts. I asked Bob and Leroy a lot of questions. I purchased a war canoe, wall mask, a piece of tapa cloth, and ordered carved wood trim to put along the ceiling. This is when I realized that what Oceanic Arts was selling was nice, but it wasn't the real thing. I felt the pieces they made were more for commercial businesses and therefore making their art more durable. I began a search for real oceanic art and not reproductions. I discovered a store in South Dakota called the Jungle Outpost. It's a store inside the large gift shop at the Reptile Gardens near Mount Rushmore. They specialize in the art and artifacts of Papua New Guinea. It's about a six hour drive to get there from my home, so I decided to make an overnight trip to see the store. I was so amazed with their collection that I loaded up my car with purchases and headed home with new art for the walls.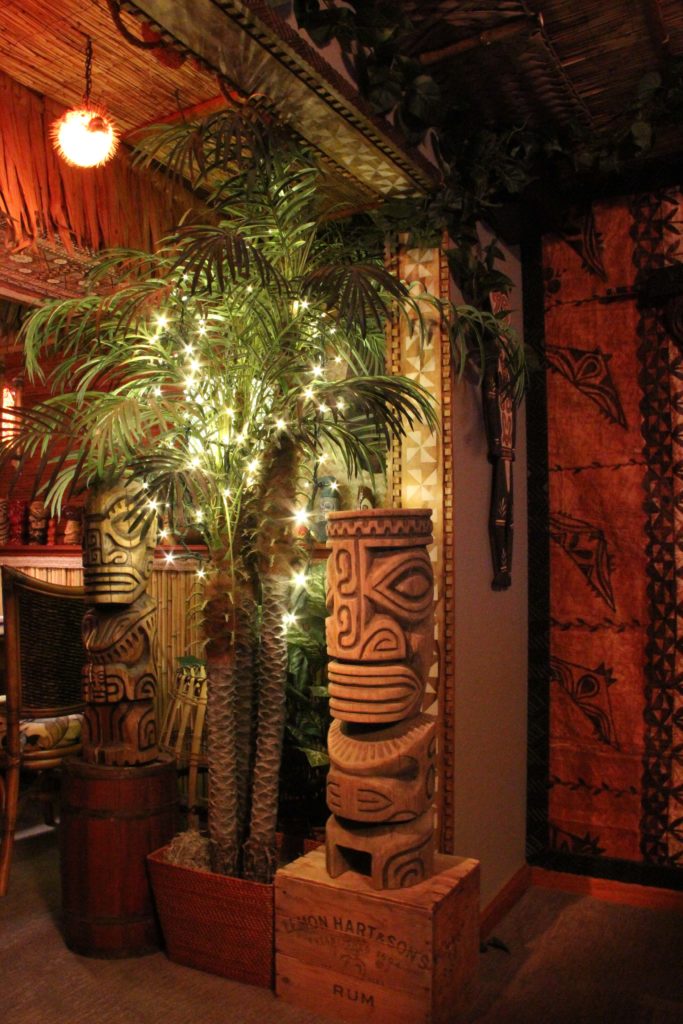 The next major event that helped build the bar was attending a class in Southern California. Derek Weaver (a.k.a Monkeyman on Tiki Central) had advertised a class at his house on how to use a router and how to make a sign. I previously had taken a router class, but it was only a class on how to safely use a router. Derek is a master carver and decorator. His Tiki bar is called the South Pacific Room and it is an amazing work of art. I made the trip to California and by attending that workshop it has allowed me to use my creative talents to create all types of woodcarvings. Finding two large wood Tikis on eBay was a great find as well as purchasing two beautifully carved Tikis from Bill Collins.
I'm assuming most people start building their Tiki bar by covering the walls and ceilings first. I did just the opposite. I hung everything that was going on the walls first and hung the lamps from the ceiling. This allowed me to determine how the electrical wiring would go and how to hide it. This process occurred over several years, so the first couple of years the walls were not covered with any matting.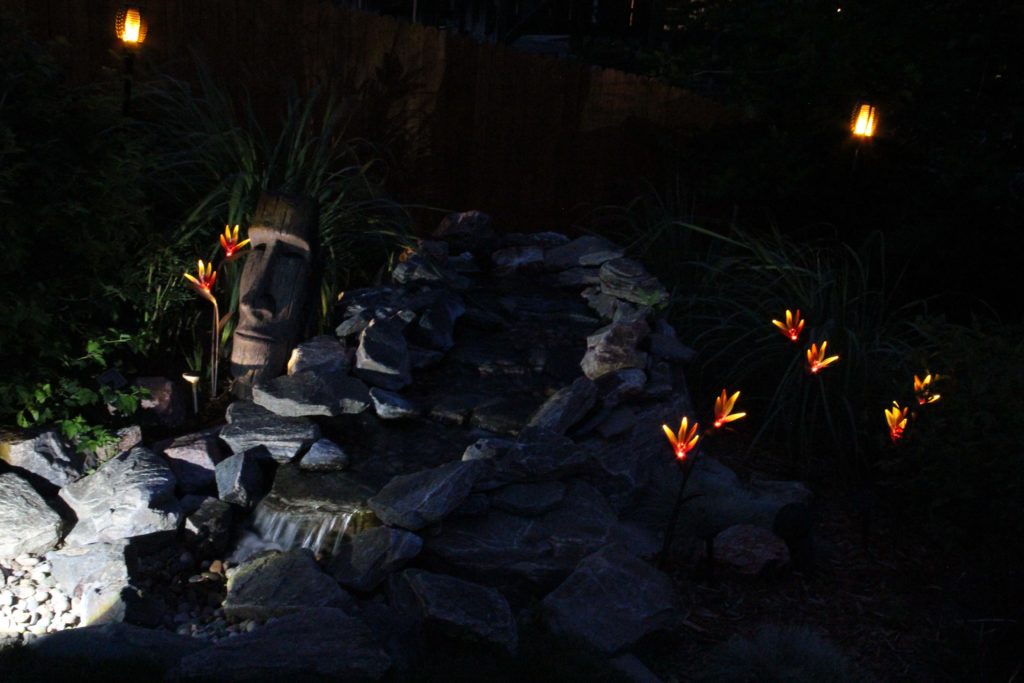 What is your favorite Tiki drink? Why?
 John- Overall, I would have to say it's the Mai Tai, but made a certain way. There are so many variations that you really don't know what you'll get when you order one at a bar. I make mine based on the recipe from Frankie's Tiki Room with a few modifications. I use Lemon Hart Red Label 151, Blackwell "Black Gold" dark rum, Pierre Ferrand Dry Curacao, and B.G. Reynolds Orgeat. The taste of a good Mai Tai is very unique.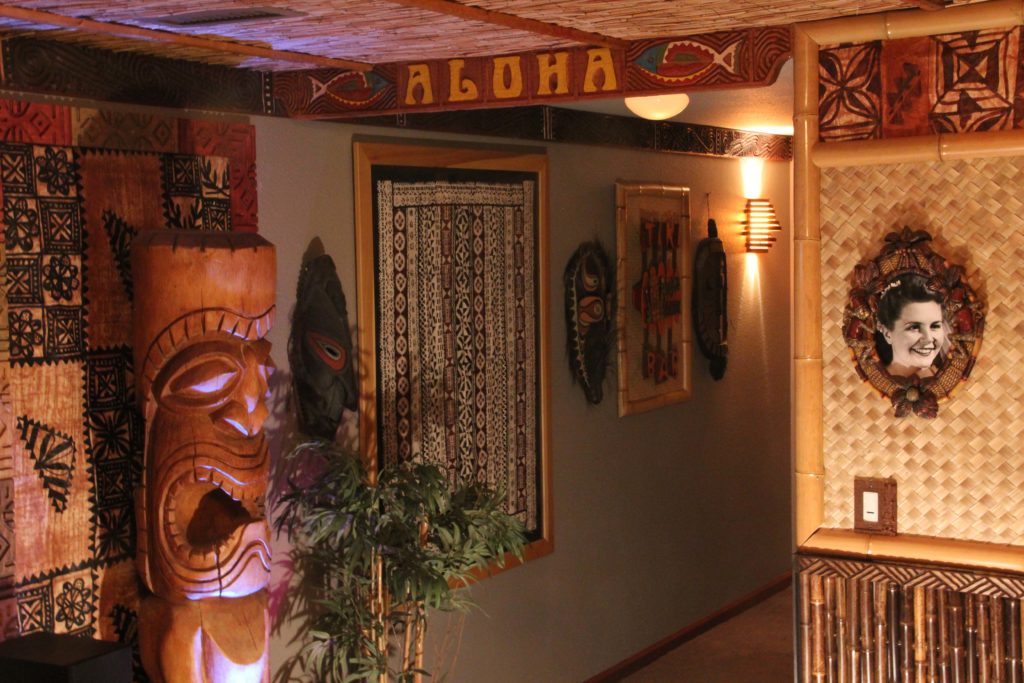 There is also a second drink I call my favorite and that's the Hawaiian Eye. The recipe I use came from Kevin Kidney, who does a lot of work for the Disney corporation. Kevin passed on the recipe from Jeff "Beachbum" Berry and the recipe can be found on the Total Tiki app. What makes the drink a favorite of mine is the taste of the citrus and falernum.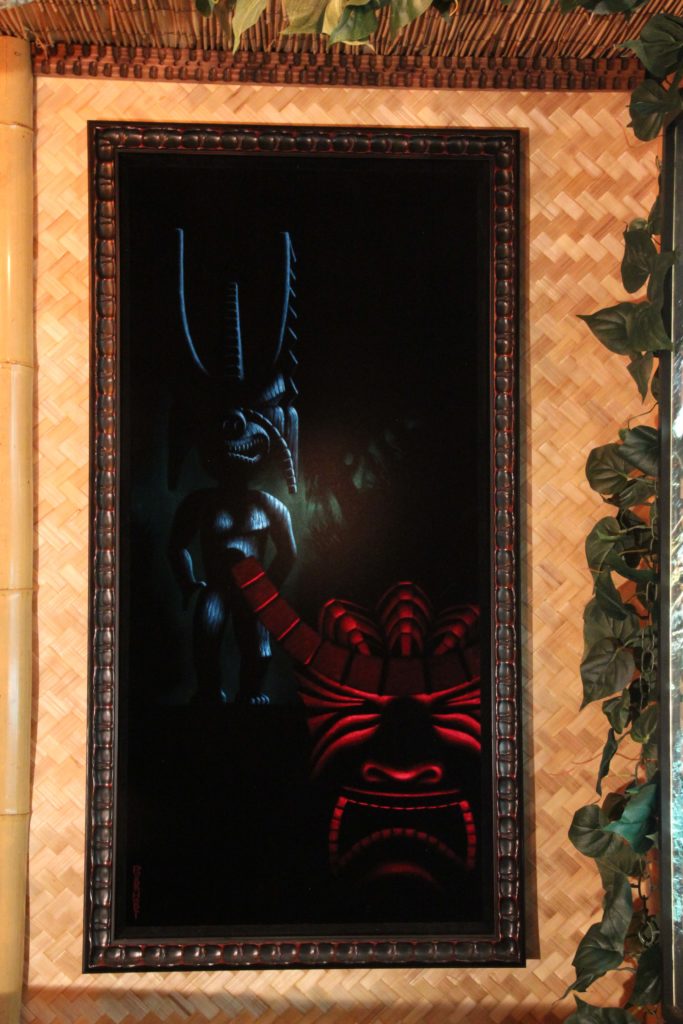 What is your favorite Tiki bar, not including your own?
John- That's a tough question to answer. There are so many great places. The Mai Kai is the ultimate destination to visit, but to me it's too big to be a place to relax. The Tiki Ti makes amazing drinks, but it's too small and usually very crowed. Smuggler's Cove makes fantastic drinks as well, but the three floors doesn't give me the feeling I'm looking for. Over the years, I've seen Thatch in Portland change into Hale Pale. I visited Hale Pale this summer and was very impressed with the new changes they've made by making the windows dark and adding special effects when certain drinks are ordered. It's a neighborhood bar with the feeling of being at Trader Sam's. If it were closer to where I lived, I would definitely spend more time there.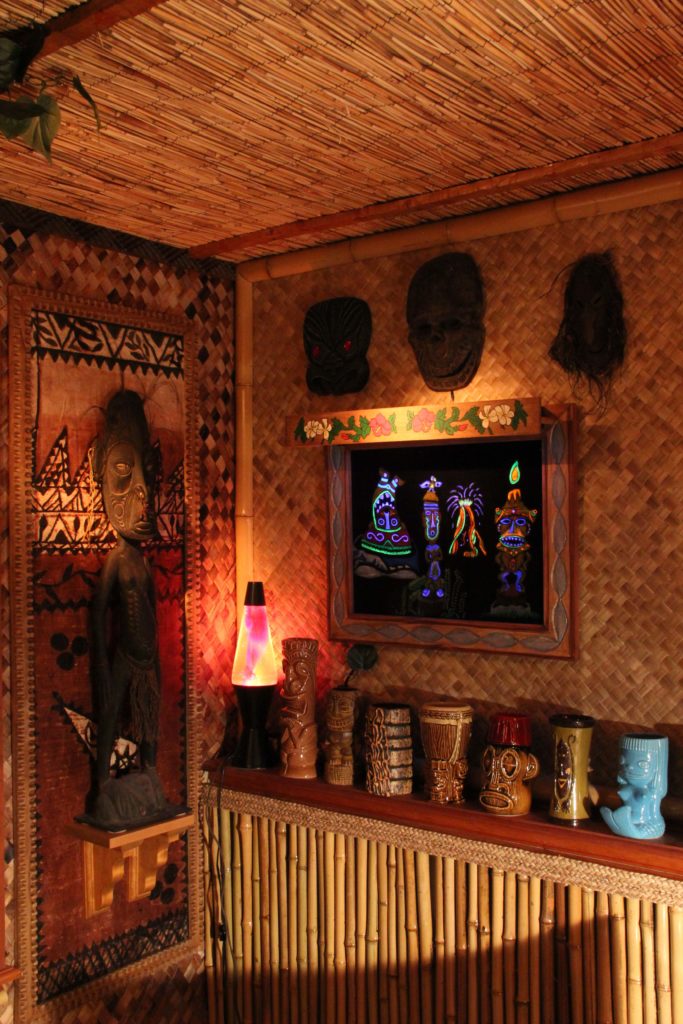 Outside of great drinks, what do you think are essential elements in creating the perfect Tiki environment?
 John- Tiki has always been defined first as escapism. The visual element is very important to me, but you can have friends over, be outside on the deck with everyone wearing aloha shirts or dresses, and drinking a nice Tiki cocktail. That's as much the perfect Tiki experience to me as well as having Bamboo Ben create the ultimate décor. The addition of Mid-Century Modern into the mix is something I'm still trying to get used to, as well as wearing Fez hats. When I was a kid, we used to have luau's in the back yard and we would take the legs off of the ping-pong table and eat sitting at ground level. I don't see that happening anymore, but that was a wonderful Tiki or Hawaiian experience.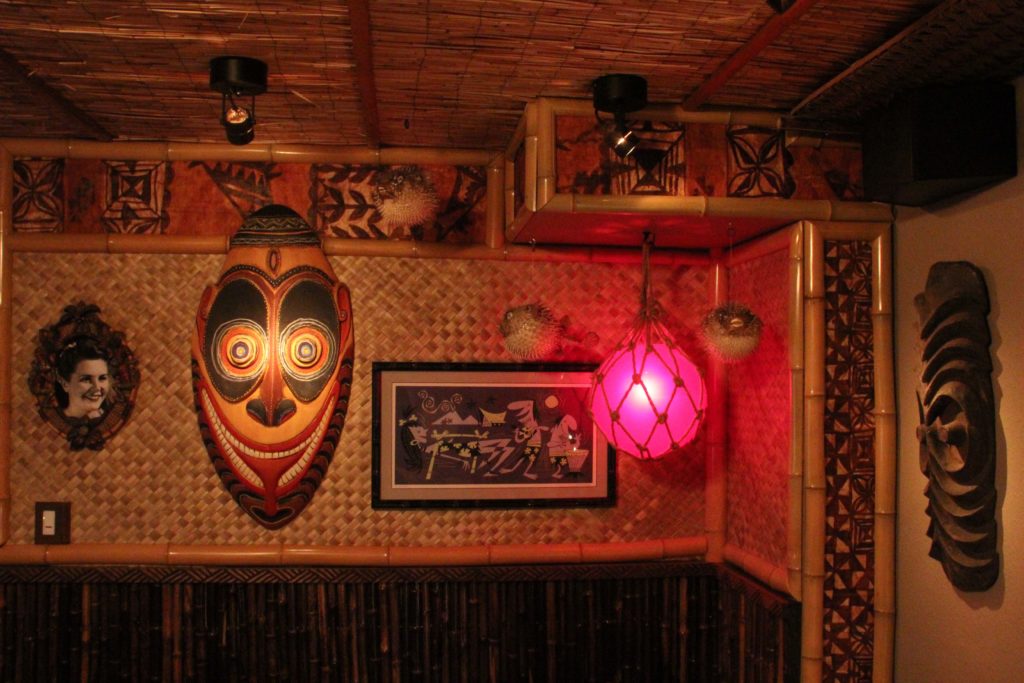 Disneyland has the Enchanted Tiki Room, but the experience that I thought was a better one was the Tahitian Terrace. Even though they didn't serve alcohol, it was a wonderful feeling. You would be in an environment that made you feel you were somewhere else. The Jungle Cruise Boats would pass by and there was a waterfall next to the stage. The waterfall would separate and out would come the Tahitian dancers with musicians beating out the rhythms. The show even included a fire dancer. When the show was over, the dancers would leave walking back through the waterfall.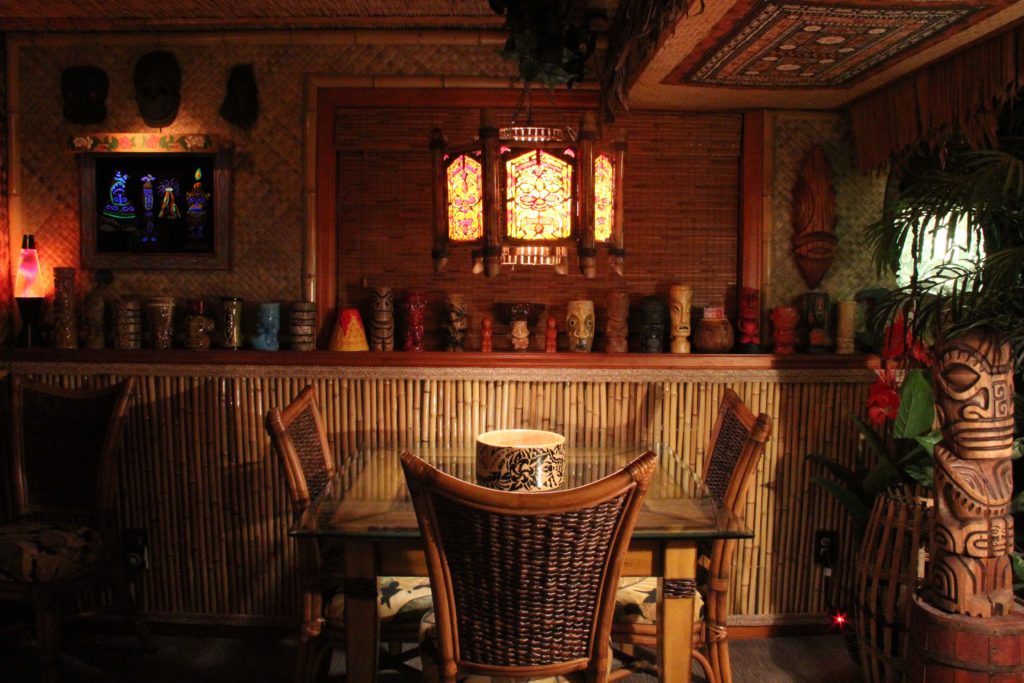 Do you feel that music has an important role in creating a great Tiki experience? What would be some of your favorite artists and albums?

John- If you are in a crowded room, the music is insignificant. If it's quiet, then music is very important to enhance the mood. Our home theater is definitely for watching TV or videos. Besides entertaining guests, I use the Tiki bar a lot for working on art projects. I'll mix a cocktail and listen to both Hapa Haole and Exotica music. I also find that I can be anywhere and get in a Tiki mood by listening to Tiki music. When I go skiing, I'll listen to the different podcasts from DigiTiki and ExoticTikiIsland. I'll often do the same thing when I'm traveling by airplane.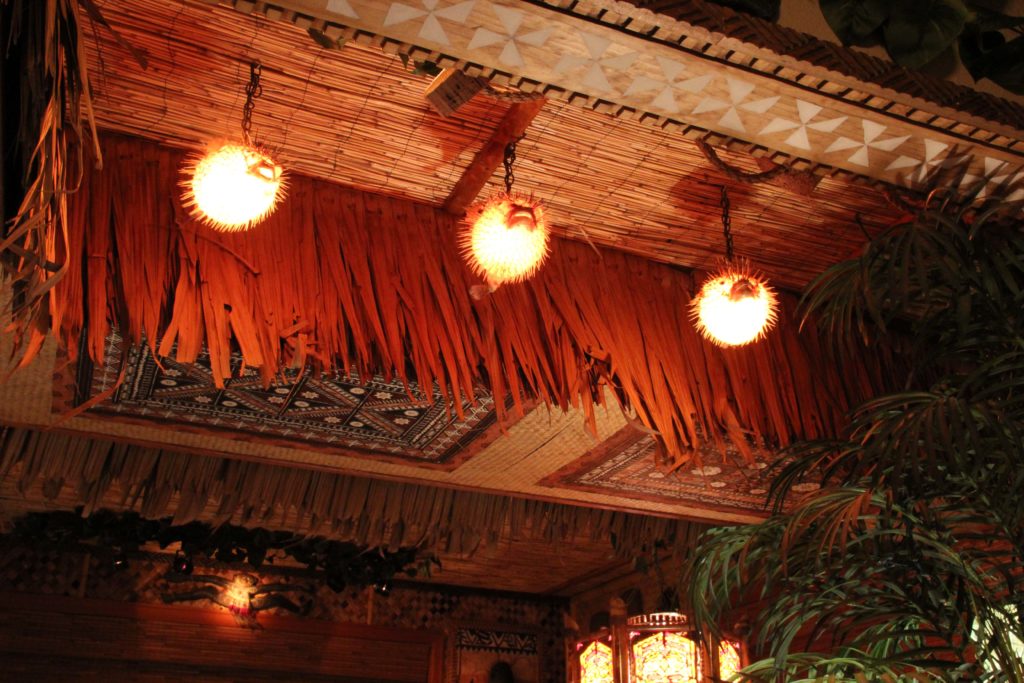 One of my favorite artists is Sol Hoʻopiʻi, a Hawaiian steel guitar player from the 1930s. Martin Denny's The Quite Village was the first Tiki LP I owned, followed by Arthur Lyman's Taboo. The Exotic Moods of Les Baxter is a CD that I play a lot and is the go-to CD when guests are over. By accident, I received an LP album as packing material for another LP I had purchased through the mail. The album is Danny Kaleikini Live at the Kahala Hilton on the Beach at Wai'alae. Since receiving this album, I have enjoyed listening to other "live recorded" music shows from the Hawaiian hotels.
When I was on a home Tiki bar tour in North County San Diego, I won a Jason Lee and the R.I.P. Tides LP. I really like what that group does. I also have to say I'm a fan the Hula Girls.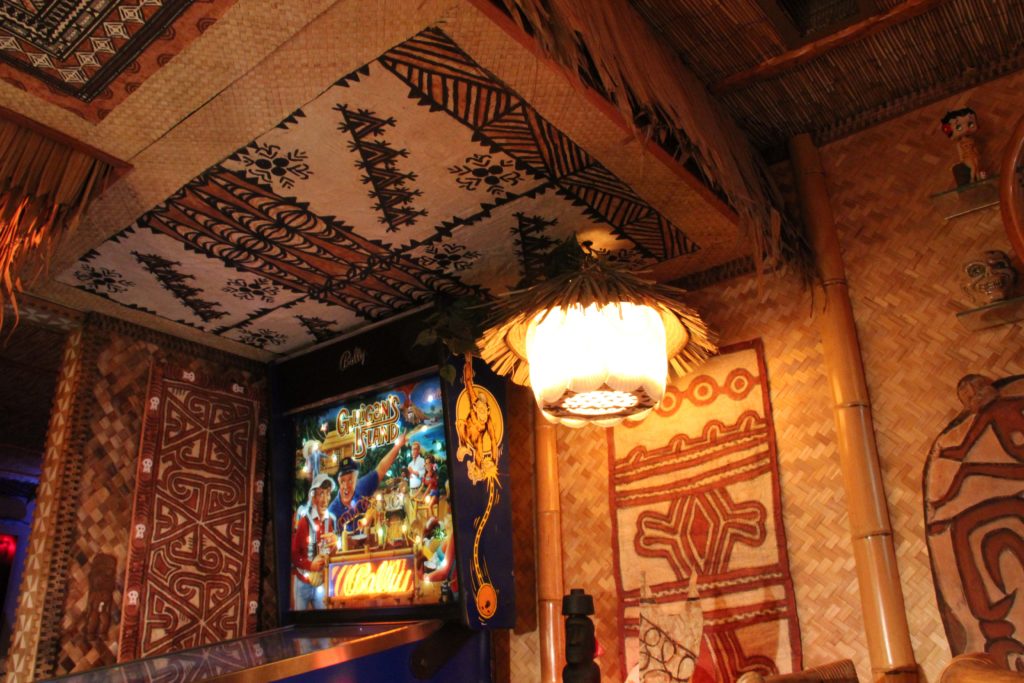 What does the future hold for you and your home Tiki bar?
 John- There's still work to be done to get the bar to where I want it. I'm working on a carved piece to surround the framing between to two rooms. I recently added firefly lights to the ceiling of the bar room and I may add them to the ceiling in the theater room. What's unique about these lights is that they come on randomly like real fireflies and then fade out. Most people don't notice them until I point them out. I also have the same lights in the back yard. Here's a link to a video if you want to see how they work: https://www.youtube.com/watch?v=P0LKlm3dvCc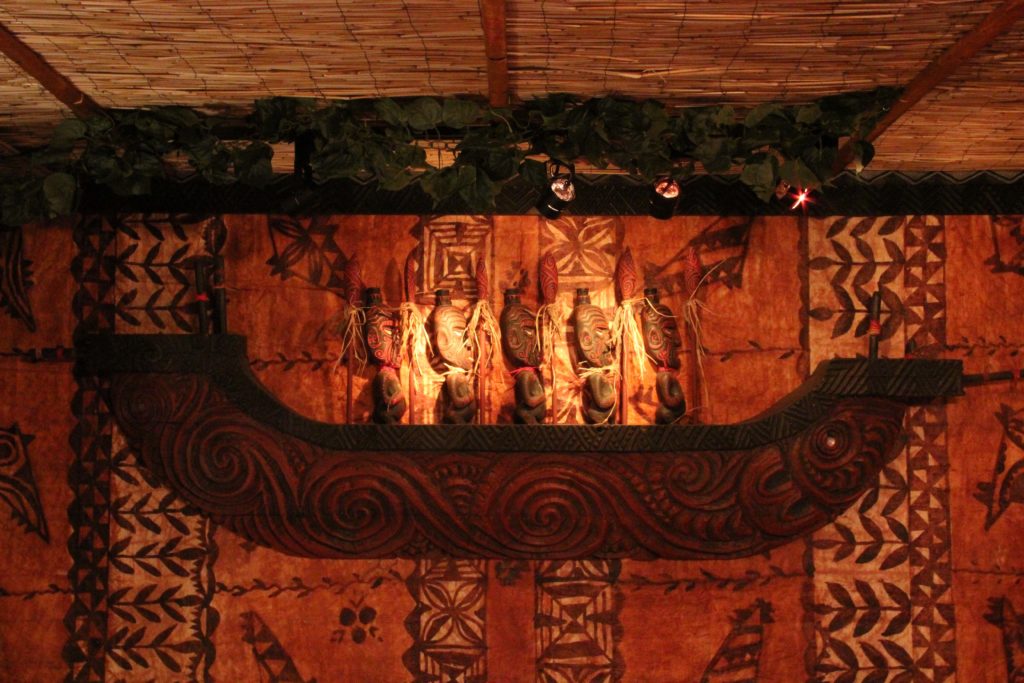 The Tiki theme has now made its way outside. I've enclosed a picture of one of the water features I have in the yard. There are two others and I'm planning on making new concrete Tikis to go with the other two.
When you walk out of the basement, you walk under the deck that attaches to the second floor. I'm sure I'll soon have more Tiki decor in this area.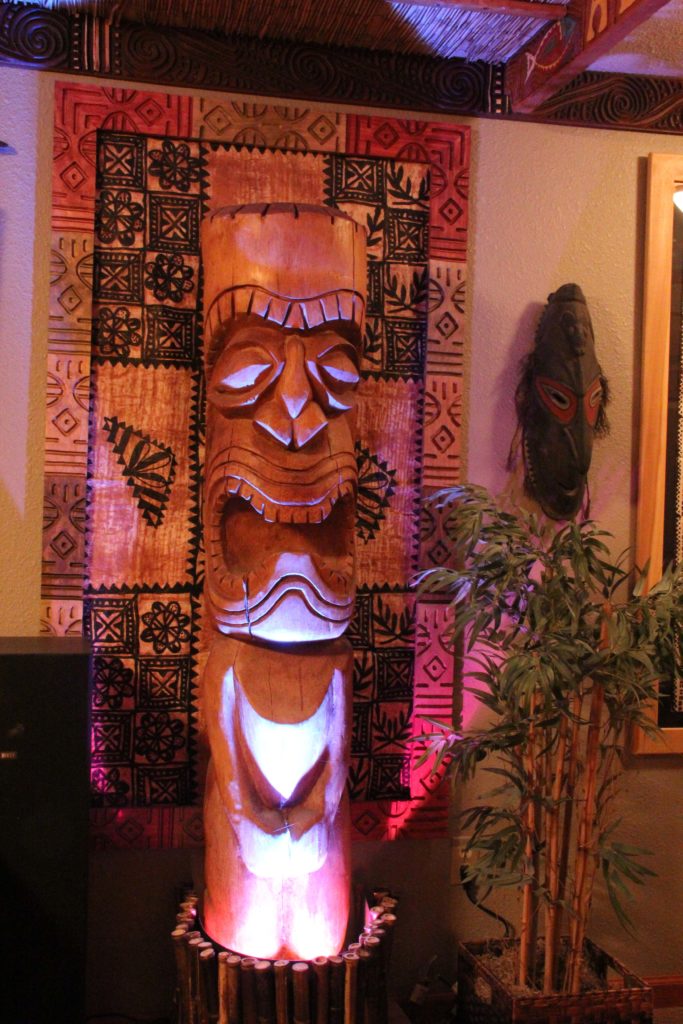 Anything else you would like to add?
John- When I started building the Tiki bar, I didn't realize that I was also learning to be a mixologist at the same time. My intentions were to create an environment with an atmosphere that goes with escapism that's part of Tiki. I didn't know I was a rum drinker until I started to learn how to make the different types of drinks. When my friends come over, now they expect something special. They ask me what's the special this week. I guess what I'm saying is that if you're going to build a Tiki bar, then you need to know how to make the classic cocktails. When I started my bar, I didn't know there was a renaissance going on, but I'm glad there was.