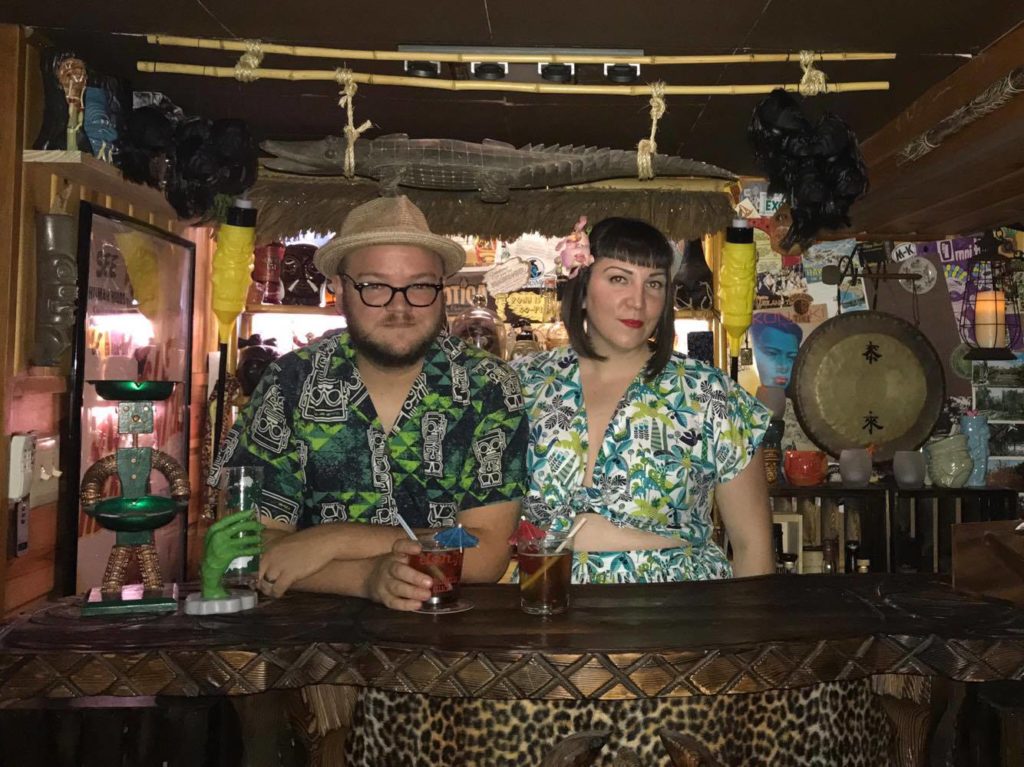 The Creature from the Black Lagoon was always my favorite monster. He's my favorite color (green) and was in 3-D! Katie Monachos and Pete Klockau are on the same page with me. They took the basement of their home in Milwaukee and converted it into a Tiki bar with a nod to the Creature from the Black Lagoon for good measure! Here is their story…
What's the tiki scene like in Milwaukee?
There's lots of great folks here into all things Tiki (and it certainly helps to have an amazing clubhouse like Foundation.) With some killer surf bands based here, like the Exotics, the immensely talented Dave Hansen (Lake Tiki), there's folks here with a real passion for it. But we just moved to Milwaukee from Chicago about two years ago, so we're certainly still meeting new people and discovering new things here.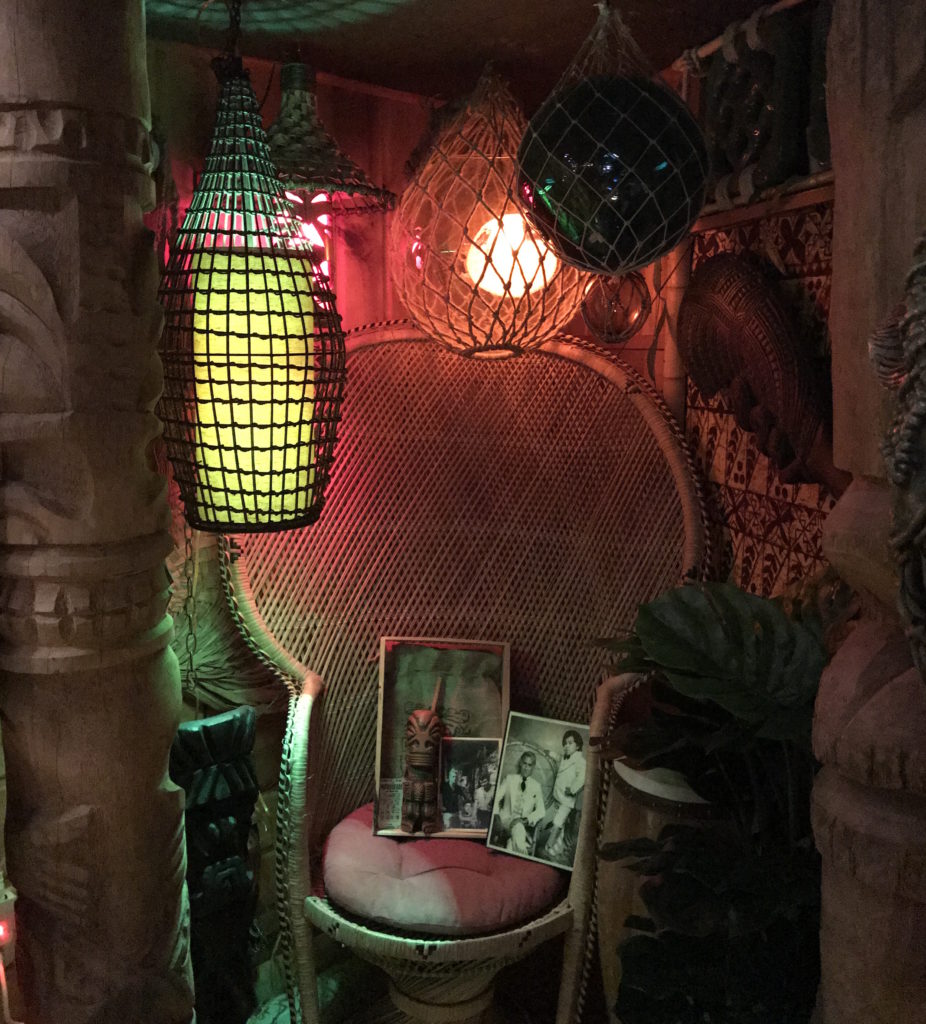 What brought you into the "Tiki lifestyle" and how long has it been part of your life?
We actually both had our first Tiki experience at the tragically closed, classic Palmer House Trader Vic's in Chicago, way back around 2000-2001, independently of each other and years before we knew each other. Fortunately, they did not "card hard" by the end of their long and storied history in Chicago, so we were both able to get in underage.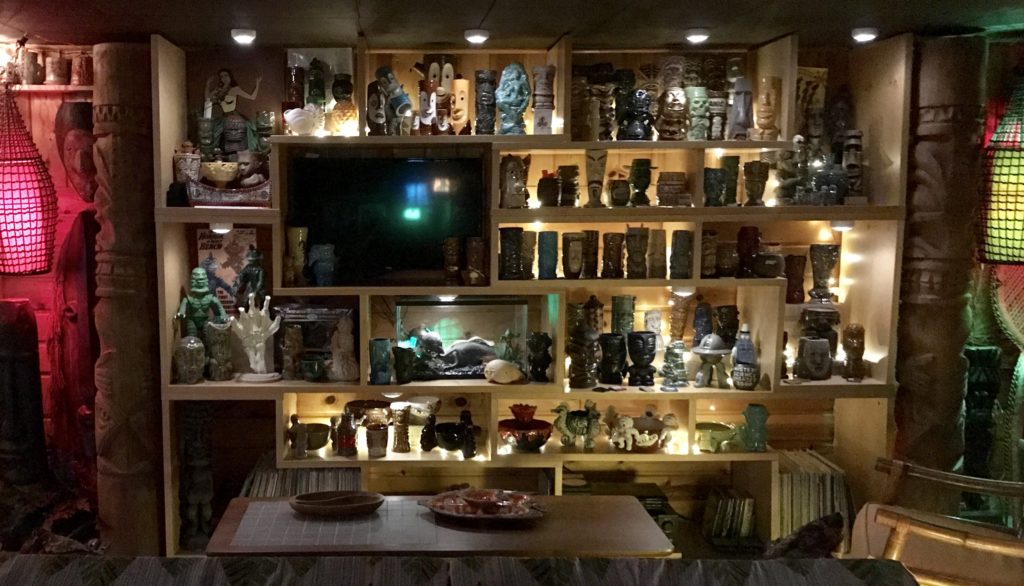 It was a weird, wonderful, and fascinating place to our young sensibilities. I just wish it had stuck around 'til we really got into Tiki more fully. We went to the "new" Vic's a lot when that opened (and that's closed now too), but it was never like the Palmer House.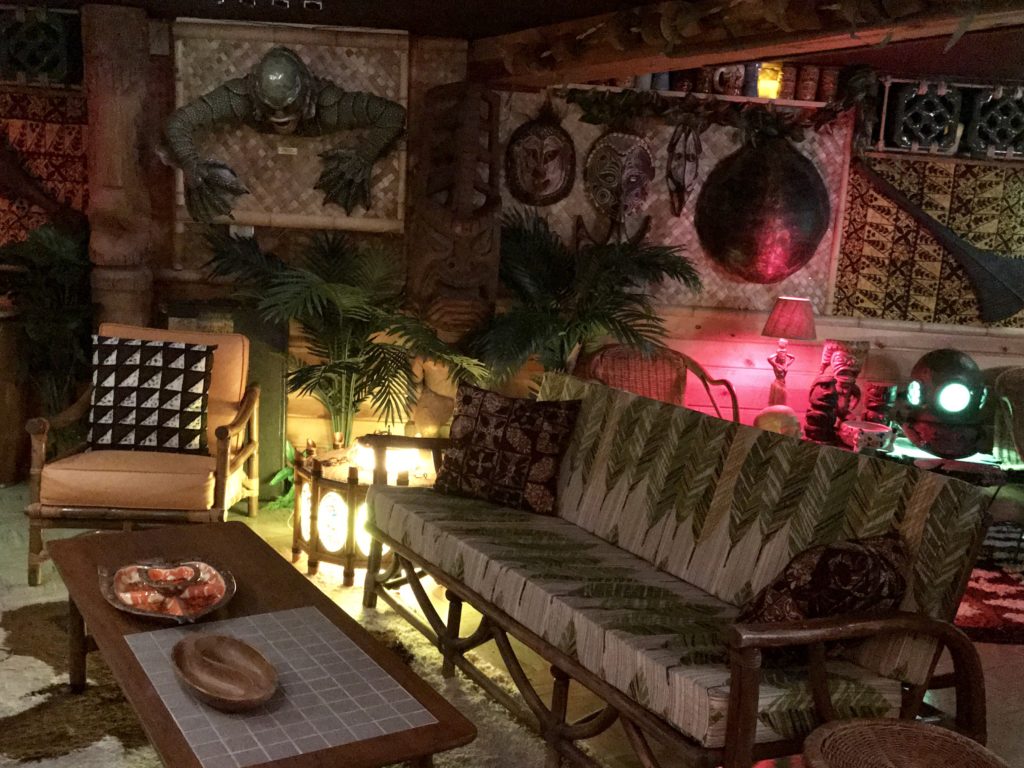 We met in 2005, and after picking up copies of the Book of Tiki, Tiki Quest, Tiki Road Trip, and other necessary research materials through a job at a bookstore, one of our first dates early on was dinner at Chef Shangri-La and cocktails at Hala Kahiki. Stepping into Hala Kahiki, in particular, was an "A-Ha" type of moment: "If this place still exists, still fully in tact, surely there must be others out in the world." We made a lot of friends through the Chef, got to know the whole Tiki community in and around Chicago, and became regulars at both places. We also hunted down any other Tiki place in Tiki Road Trip within striking distance.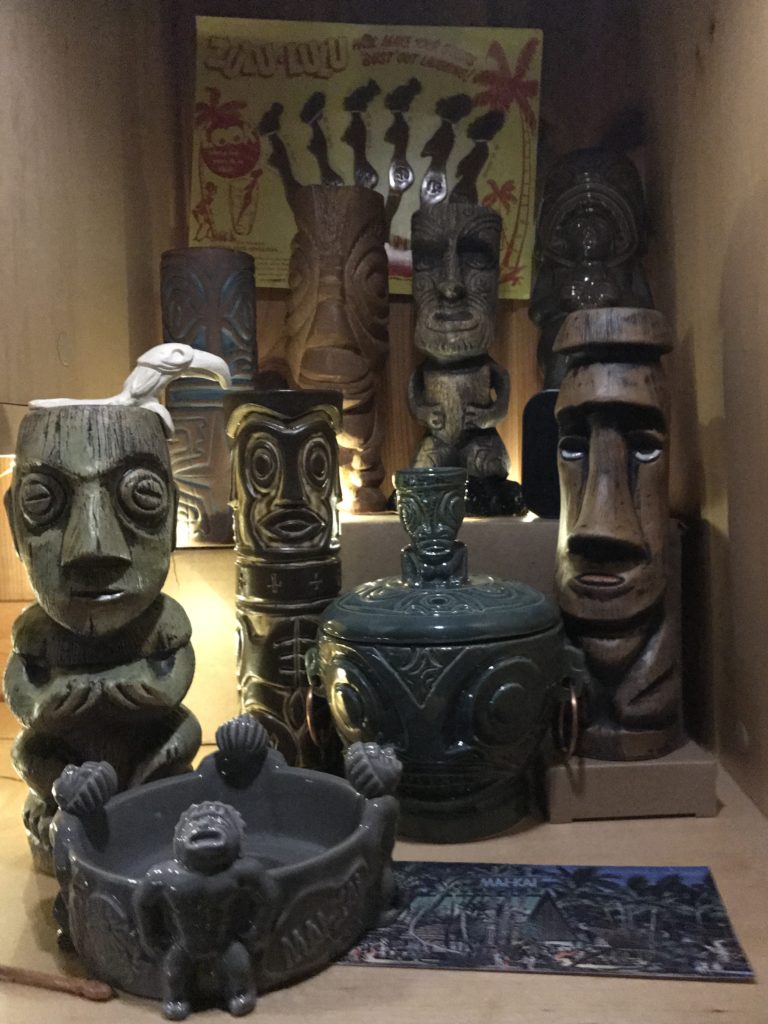 We went to our first official Tiki "event" in 2007 at Exotica in Chicago (the Trashmen and the Neanderthals headlined) and finally made the pilgrimage to Tiki Oasis in 2008.
Since then, pretty much every vacation we've taken for the last decade has revolved around seeking out classic Tiki temples. I'm so glad we got to see some places that aren't around any more (specifically Bahooka and several Trader Vic's locations), but have been to most of the ones that are still kicking, too: the Mai Kai, the Tonga Room, Trader Vic's Atlanta… There's lots of new Tiki places, which is nice, but it's the old ones that still most thoroughly scratch the itch. I believe Kowloon and the Alibi are kind of the last two outliers we haven't visited yet, in terms of classic Tiki joints.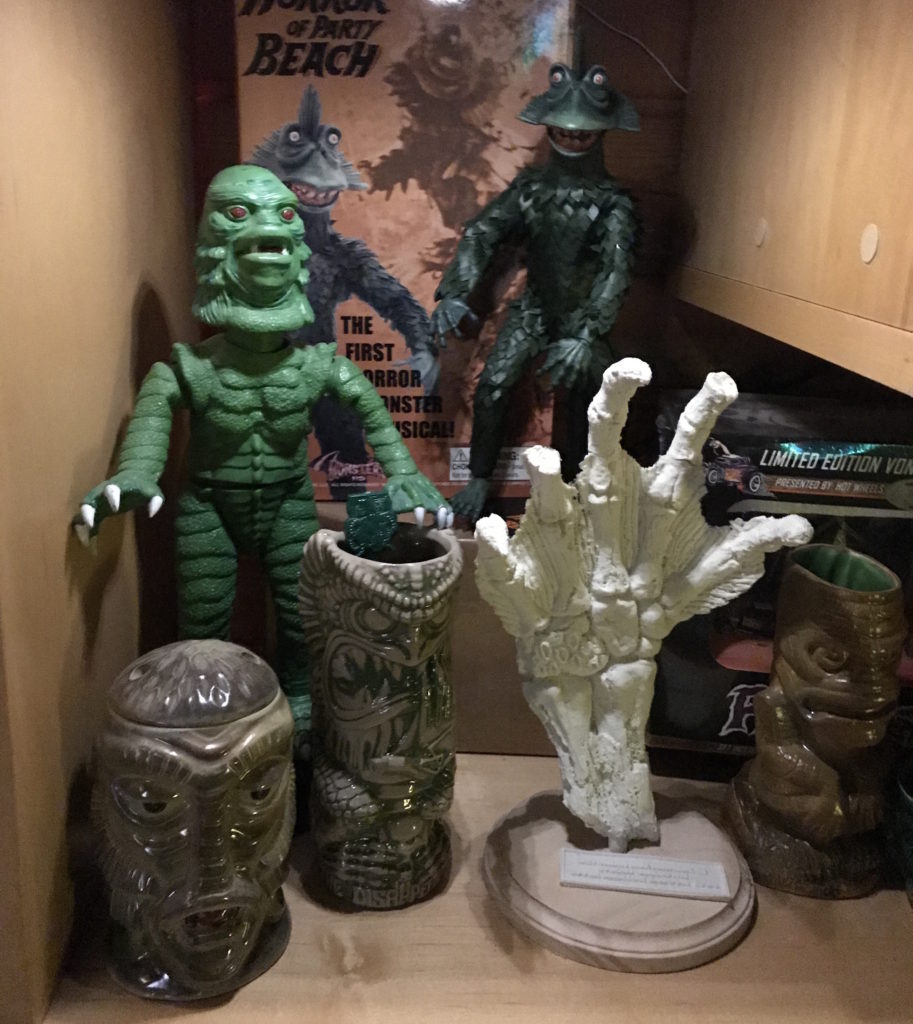 What made you decide to build your own Tiki bar? Any story behind the name? 
We bought a condo together in Chicago when we got married in 2010. Over the course of the next six years, we proceeded to collect a LOT of stuff. I (Pete) have always had a collector's mentality: books, records, toys, and old monster movie stuff. With two of us collecting together, hitting the flea markets, eBay, antique and junk shops, over that handful of years we managed to completely fill the condo. The Chicago Reader did a little piece on our old place with some video. Our plan was always to move into a house with a basement and do a proper bar.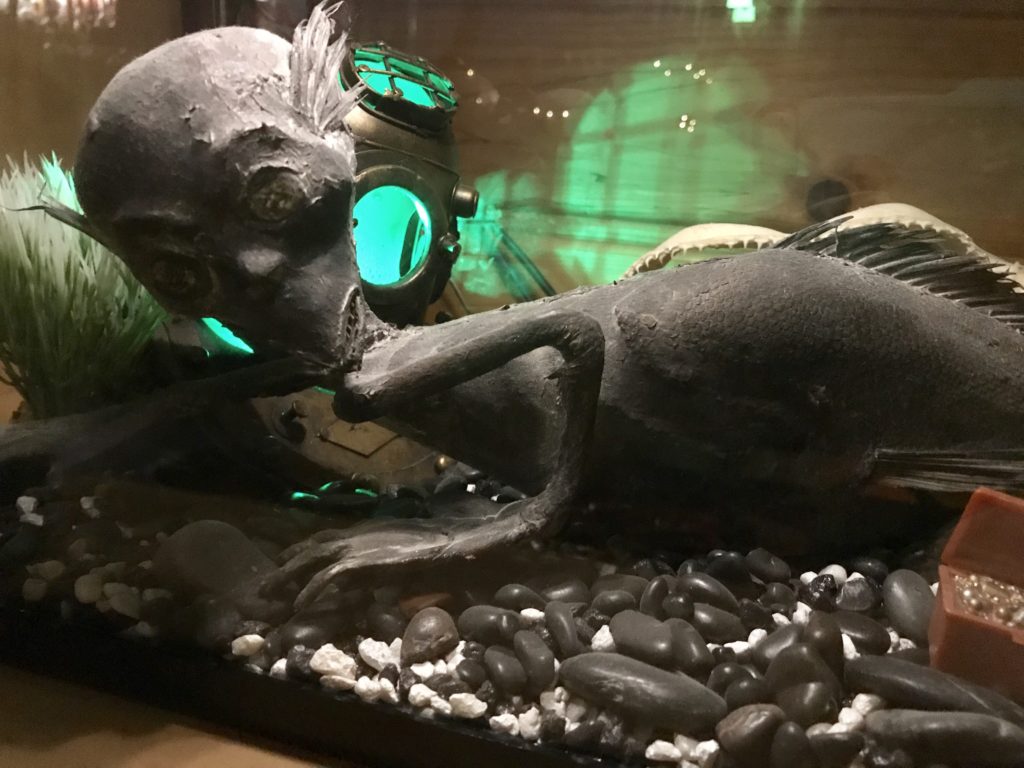 With our move to Milwaukee, we found the absolute perfect house for us: a 1953 split-level designed by Frank Lloyd Wright-acolyte John Randall McDonald. The moment we saw the basement (all Wisconsin knotty pine and '50s VCT tile flooring), we knew that we'd finally have the perfect bar space.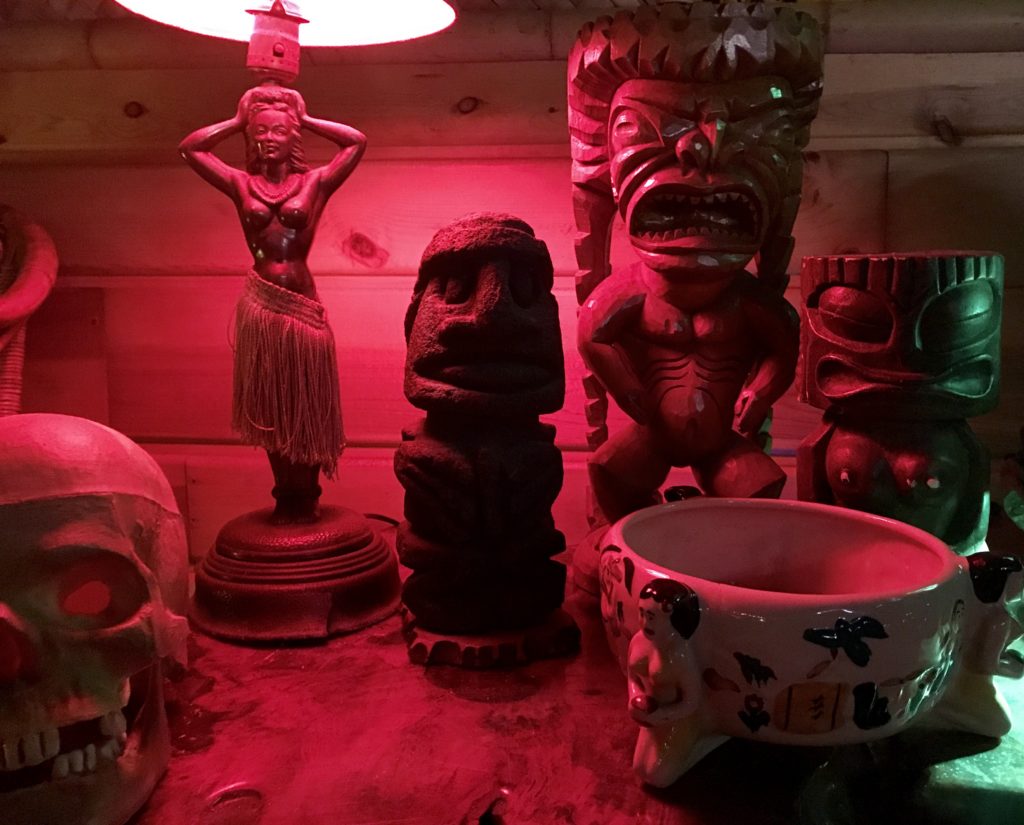 The name was kind of a no-brainer. I've been a lifelong collector of classic horror movie stuff (we also have a "Mid-Century Monster" room filled to the rafters with vintage monster toys, magazines, records, model kits, etc.), so the Black Lagoon Room kind of came out of all that (it also gave us an excuse to a bit of the overflow monster stuff into the bar!).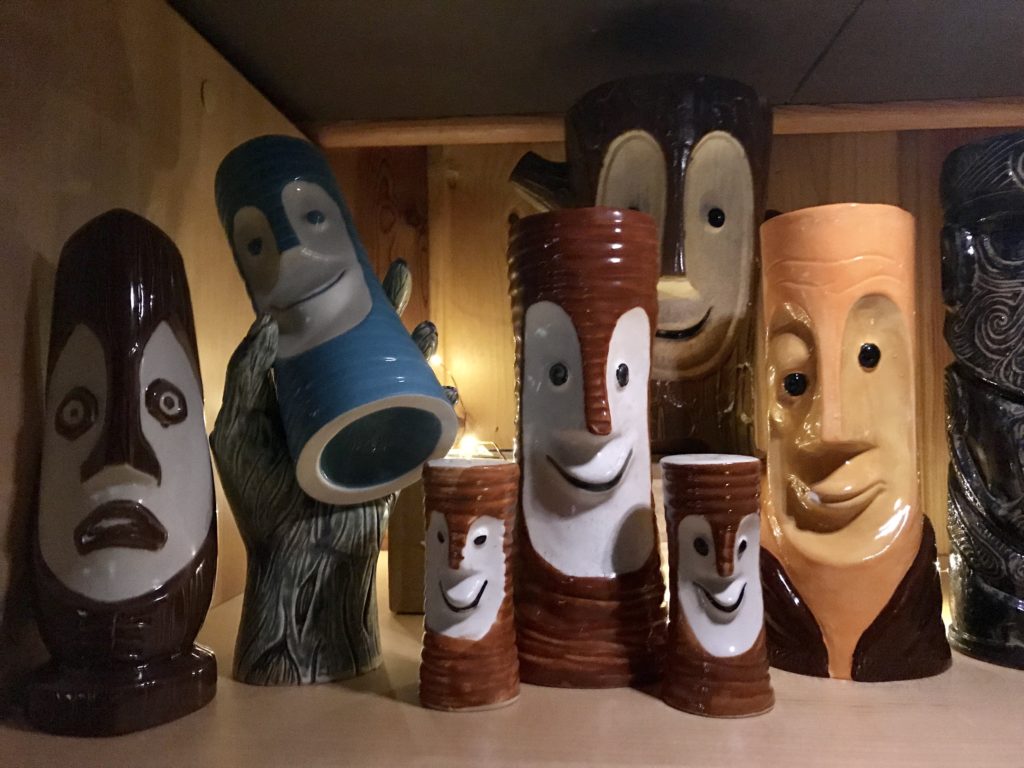 Can you give a little history of how the Black Lagoon Room all came together?
Like I said, we had already kind of amassed a huge amount of stuff when we moved in (and it should be noted, moving was not fun!).
Something I feel is missing from a lot of new Tiki bars (whether in someone's home, or a public space) is that layer of history where a place feels like it's been around forever. We wanted to bring that feeling to the Black Lagoon Room. We also DIDN'T want it to feel like a "here's all my Creature from the Black Lagoon stuff" kind of display room, but more like a place that could've existed in the movie or something. We're in an older house and kept all the bones in place (original tile, original paneling), which helps contribute to the "age factor." It was a little hard to not JUST have it feel like a collection of stuff. We somehow have over 350 Tiki mugs and a few little Creature pieces have worked their way in, but moreover I think it feels "right."
It's taken us a couple years to get it all put together, but after having the "official" unveiling on the 4th of July this year, I think we're pretty darn happy with it.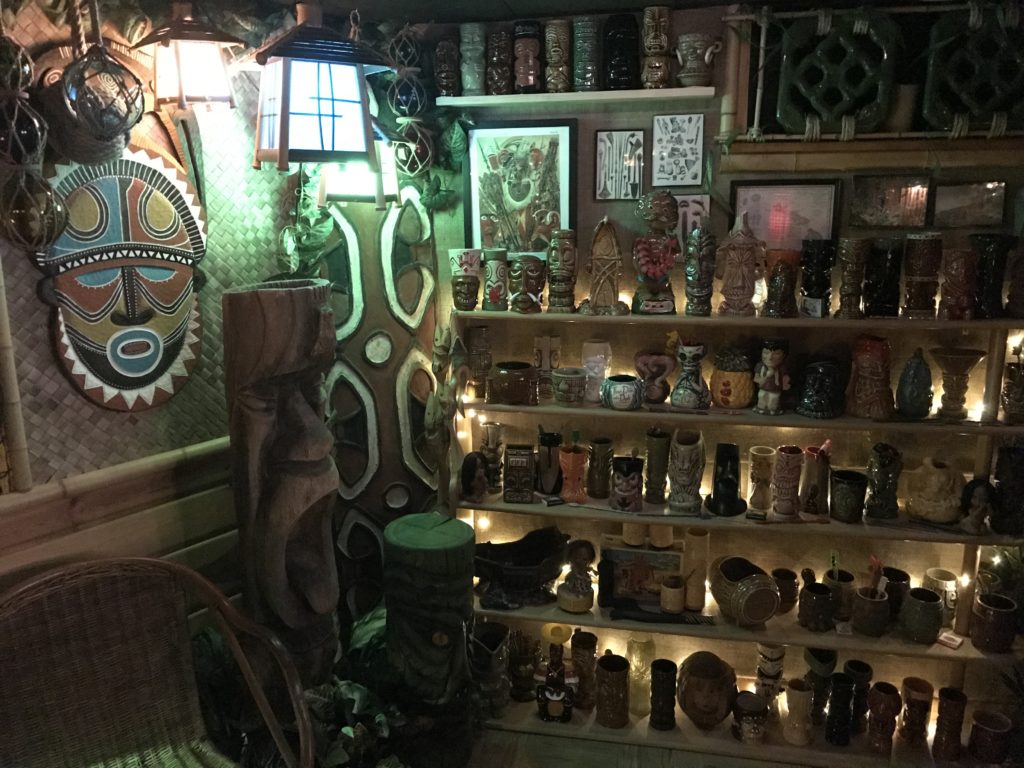 What is your favorite Tiki drink? Why? 
We're both big fans of the Jet Pilot. It's essentially the Zombie's little brother. I love a properly prepared Zombie, but you can't exactly drink those all night.
Also, the Black Magic at the Mai Kai is a favorite and always the first thing we both order as soon as we walk into the Molokai.
At home it kind of depends on what we have. We're both big bourbon drinkers. I often make Suffering Bastards (with Bourbon replacing the original brandy), the Dark & Stormy is an easy, tasty drink, and we make Mai Tais pretty often.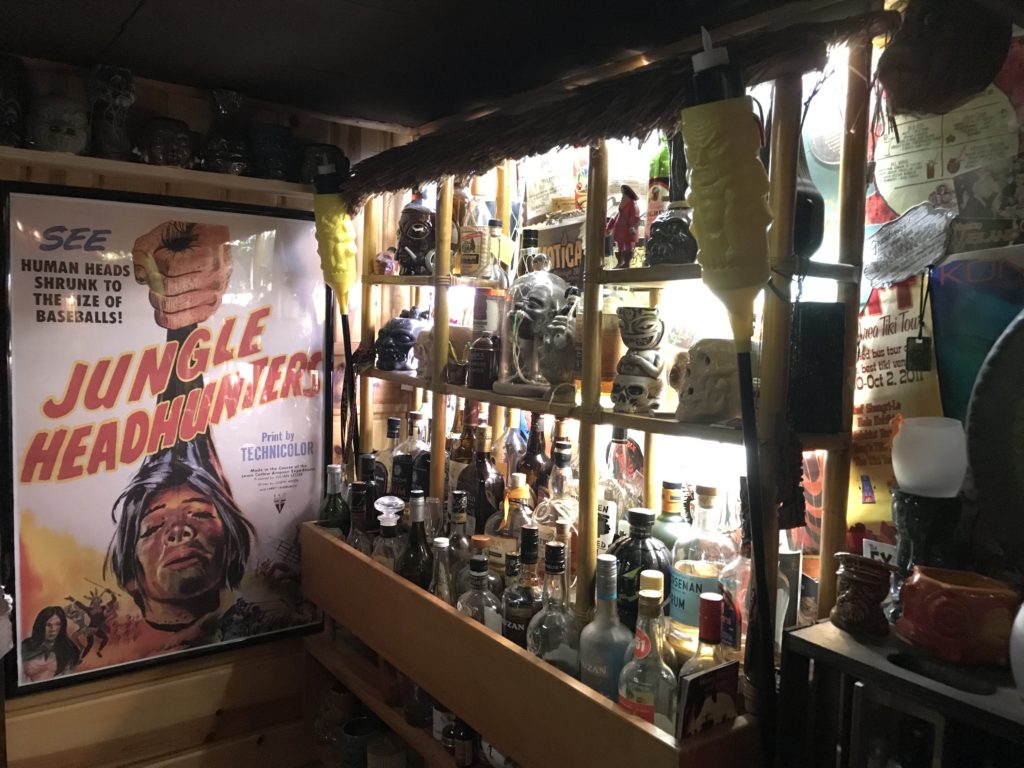 What is your favorite Tiki bar, not including your own?
We're pretty spoiled having Foundation just on the other side of town from us. For years, we would drive up to Milwaukee just to go to the Foundation. It's such a wonderful secret (though, as Tiki has gotten more and more popular the last few years, that secret is becoming less so!). In our time visiting regularly, the drinks have always been wonderful, and it has that perfect balance of being both an exemplary Tiki bar by all standards (drinks, decor, music, service) and also a great neighborhood bar. I love that mix in any place we visit.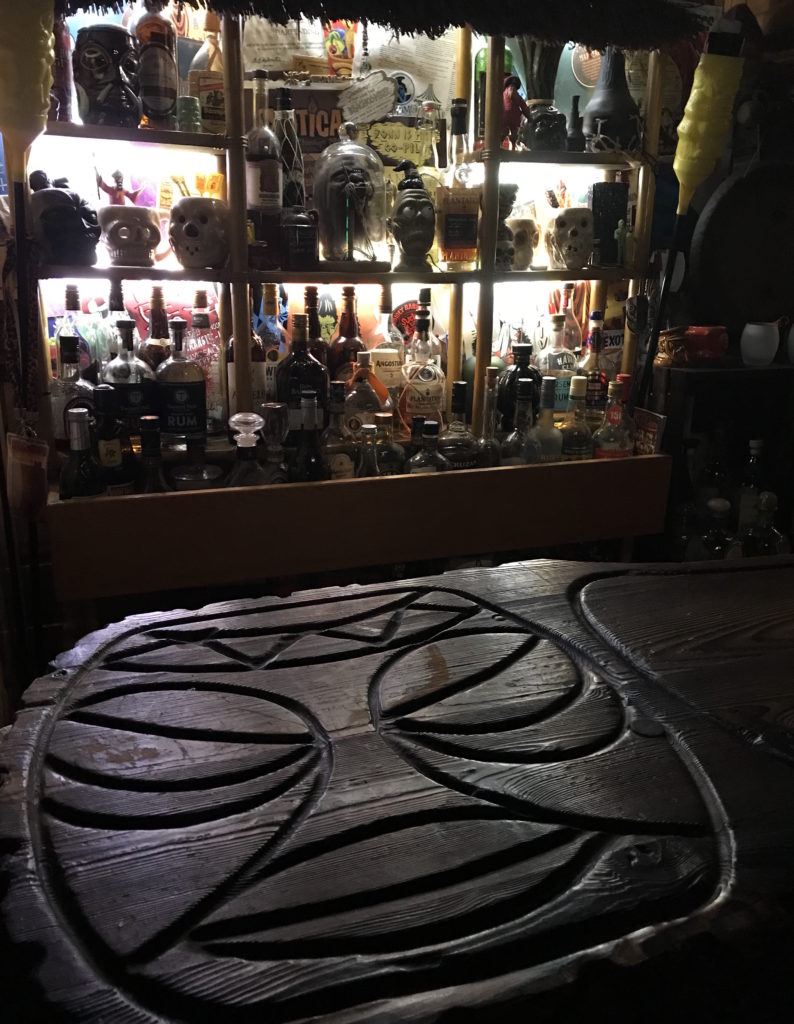 Hala Kahiki, too, will always have a special place in our hearts. We went at least a couple times a month when we lived in Chicago. And they've greatly improved their rum selection and a lot of their cocktails in recent years, which only adds to the experience.
Around the country, the Mai Kai, Tonga Hut in Hollywood, Trader Vic's Atlanta, the Tonga Room, the Bali Hai… We've been fortunate to go to a LOT of great Tiki bars over the years!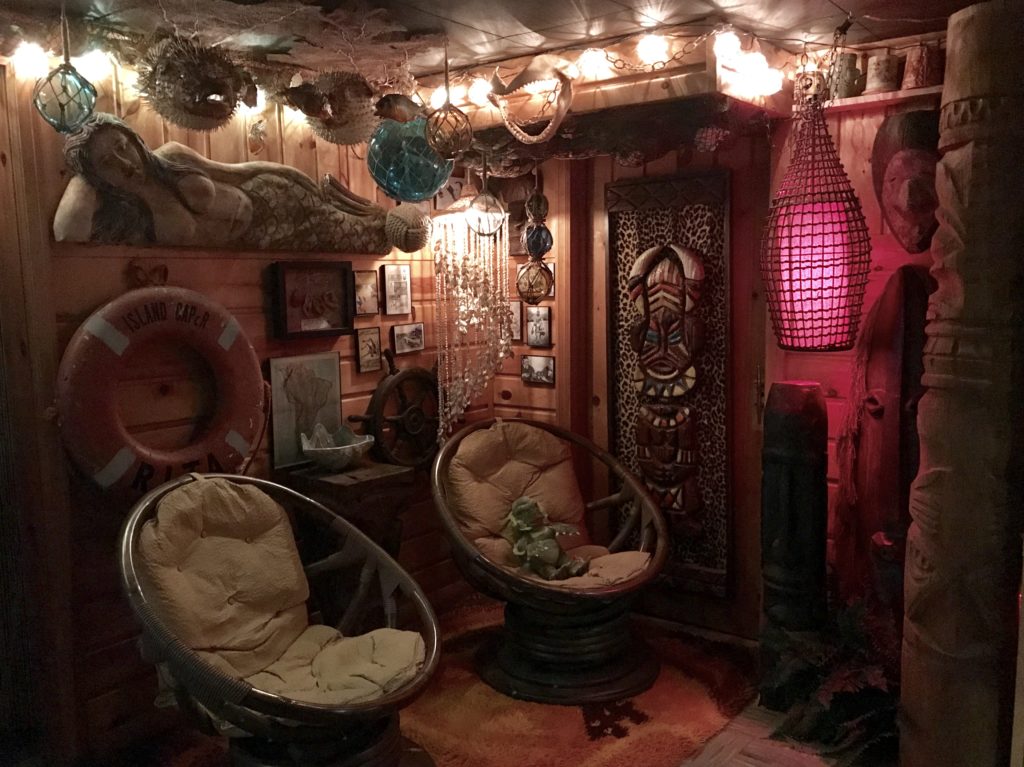 Outside of great drinks, what do you think are essential elements in creating the perfect Tiki environment? 

One trend I find a little unfortunate is the recent rash of new "Tiki lite" bars that focus solely on craft cocktails and have little to no actual ambiance or decor.
In our early days of first starting to get into Tiki, the only bars there were the old vestiges of the past. The classic places still, somehow, surviving in the modern age. You didn't go expecting to be wowed by the drinks or the food. You knew you were signing up for something likely brightly colored, served in a hurricane glass, and some kind of Americanized Chinese food with canned pineapple chunks and neon-red cherries thrown in for good measure. And the service often left a lot to be desired. But it didn't matter. You were going for the experience of discovering this strange time warp, what Sven Kirsten calls "Urban Archaeology." You had this secret weird thing that you found, and all the MSG and bar foam in the world wouldn't keep you away.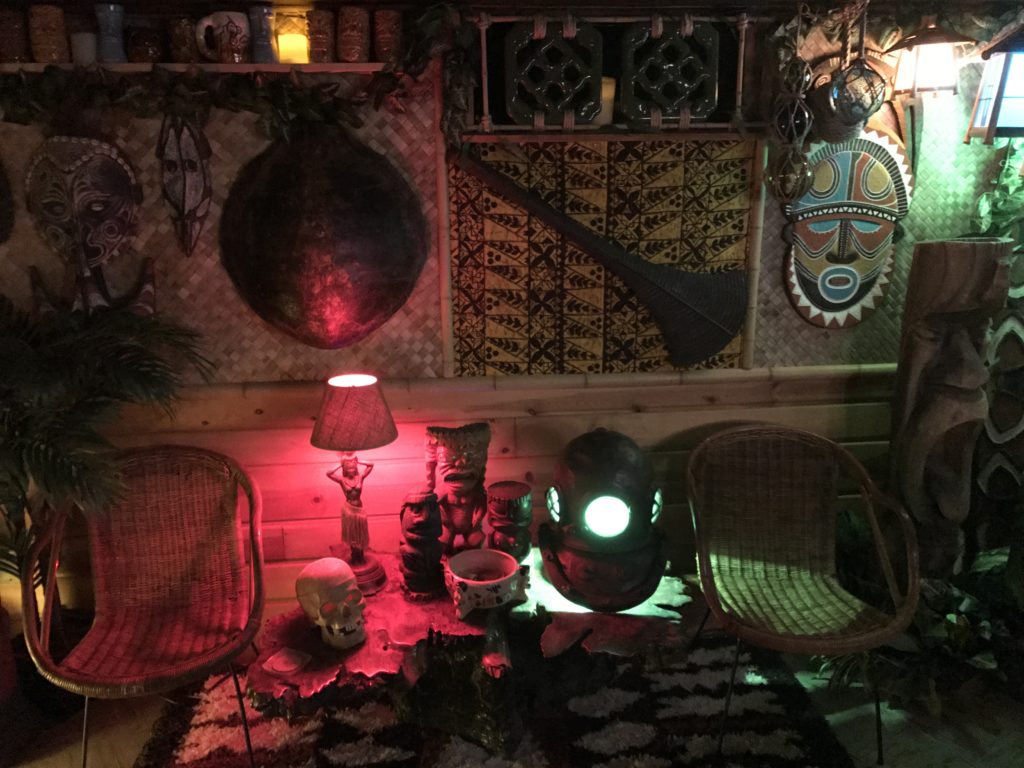 I love a well-made Tiki drink, but to have it in a mostly sterile modern setting with a few pineapples and palm fronds thrown around is not a Tiki experience. It's a craft cocktail experience.
As a home bartender for many years, once you know the right ingredients, the mystique is removed a bit from the cocktail. Give me something to look at. Make me feel like I'm somewhere else. Give me an experience. That deep, dark jungle hideaway feeling is missing in so many new "Tiki" bars. To me, that's the most important. The music, the lighting, the decor, the atmosphere. That's where it's at.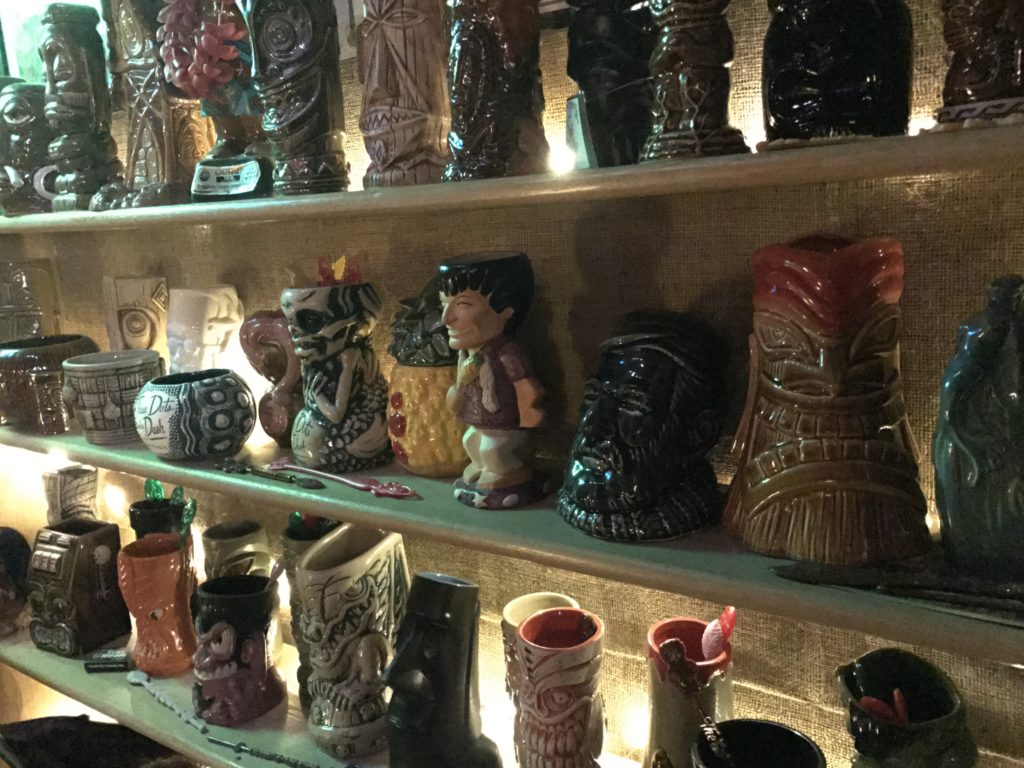 A perfectly prepared Tiki cocktail in a mostly unadorned white room playing modern indie rock or classic rock music is so unappealing (and so not Tiki) to me. I'll gladly take the gloppy, neon colored drinks instead if I can have it in a cool setting.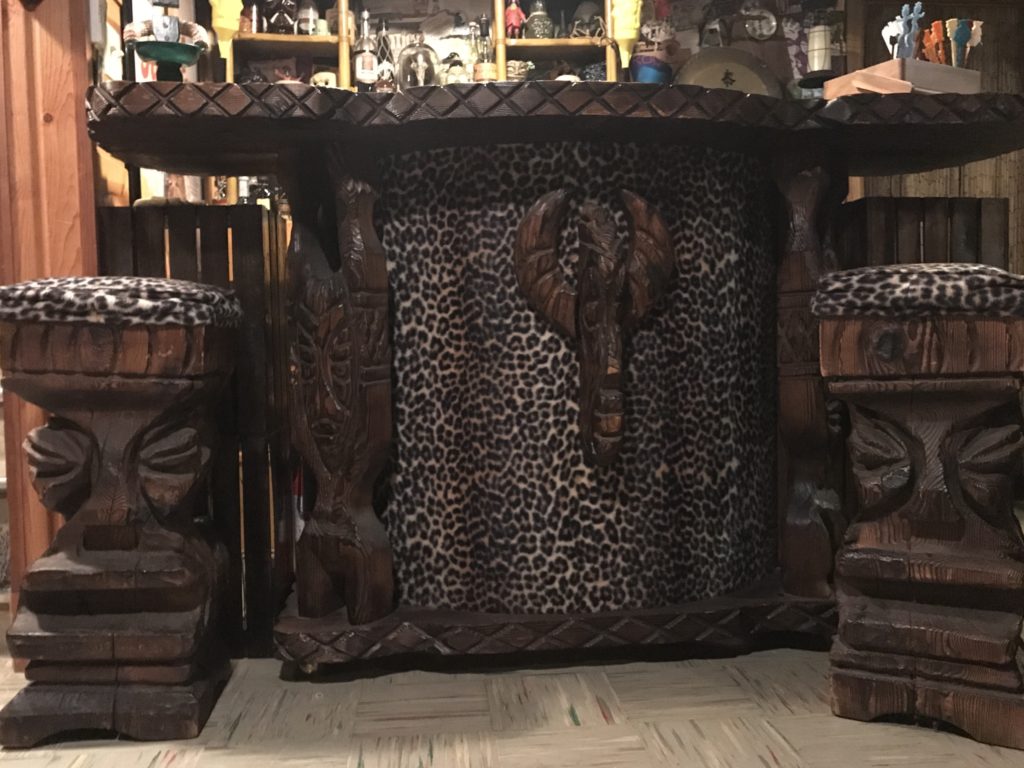 Do you feel that music has an important role in creating a great Tiki experience? What would be some of your favorite artists and albums? 
Absolutely, utterly important. The whole idea and concept of the classic Tiki bar, in a historical context, is to transport you somewhere else and create a totally transformative environment. Hearing classic rock or Top 40 radio in a cool room takes you out of that experience immediately.
There are varying views on surf music and other more modern rock-influenced music and their place in Tiki bars. We both love rockabilly, surf, '50s instrumentals and all other music of that time period, but personally, it's exotica, vintage Hawaiian music, old ethnographic records, and maybe some lounge all the way for me. The idea is to stick with the transportive quality of the Tiki bar, and to relax.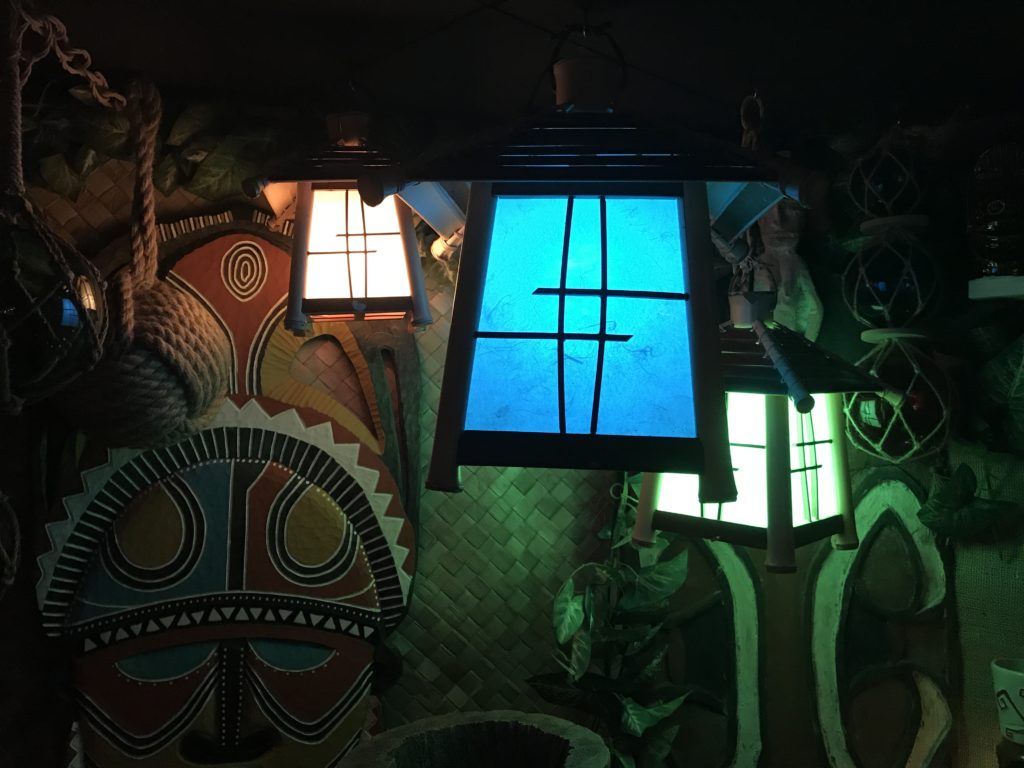 We have probably 200 or more vintage Exotica and Hawaiian LPs, a bunch more on CD, so we've got plenty to pick from. Some personal favorite Exotica records: Tak Shindo's M'ganga!, Robert Drasnin's Voodoo, Don Ralke's Savage & Sensuous Bongos, anything by Gene Rains, and of course anything by the Big Three, Denny, Baxter & Lyman. I love finding weird one-off vintage Exotica records. It seems like everybody had at least one back when that was the hot ticket sound for a minute.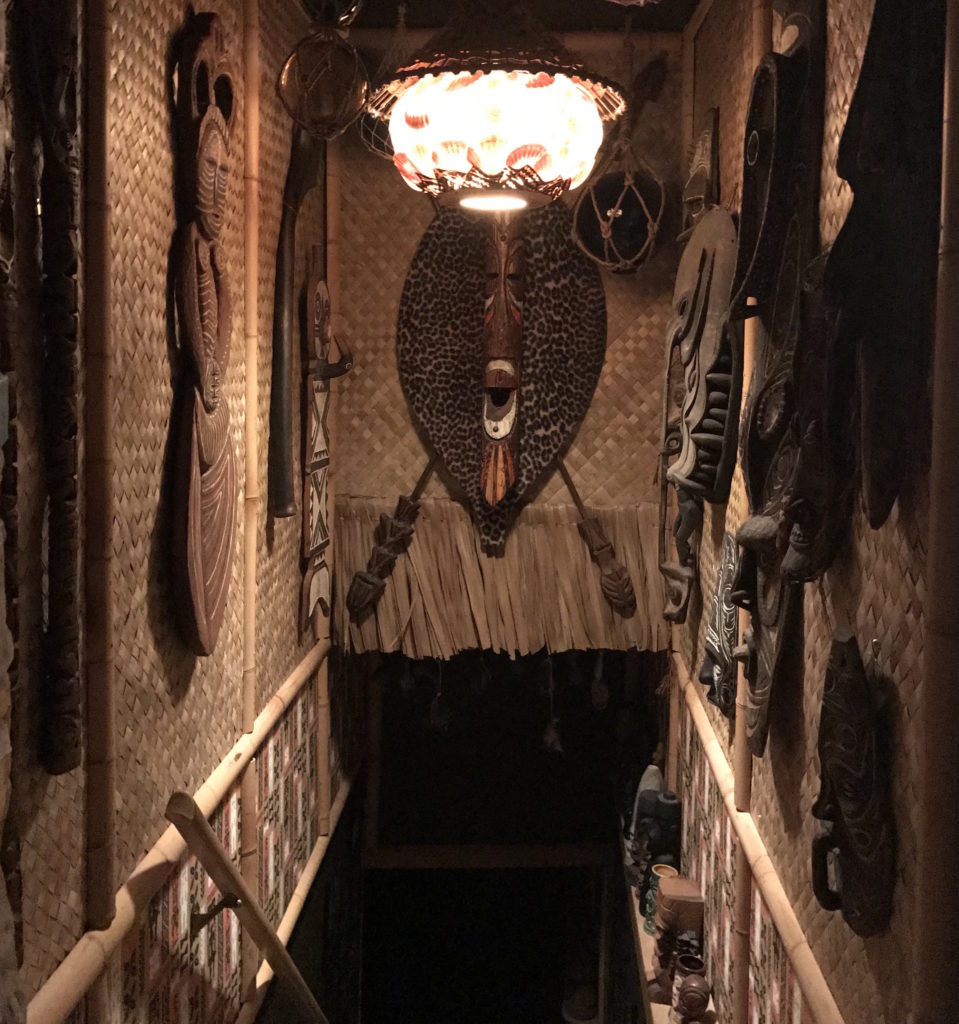 What does the future hold for you and your home Tiki bar?
We're hoping to throw more parties and do more entertaining. We only have a few minor things we want to do to it (namely, getting the behind-the-scenes bar prep area set up and functional.). I wish I could say "continuing to add to it," but honestly we're already filled to the gills (no pun intended!).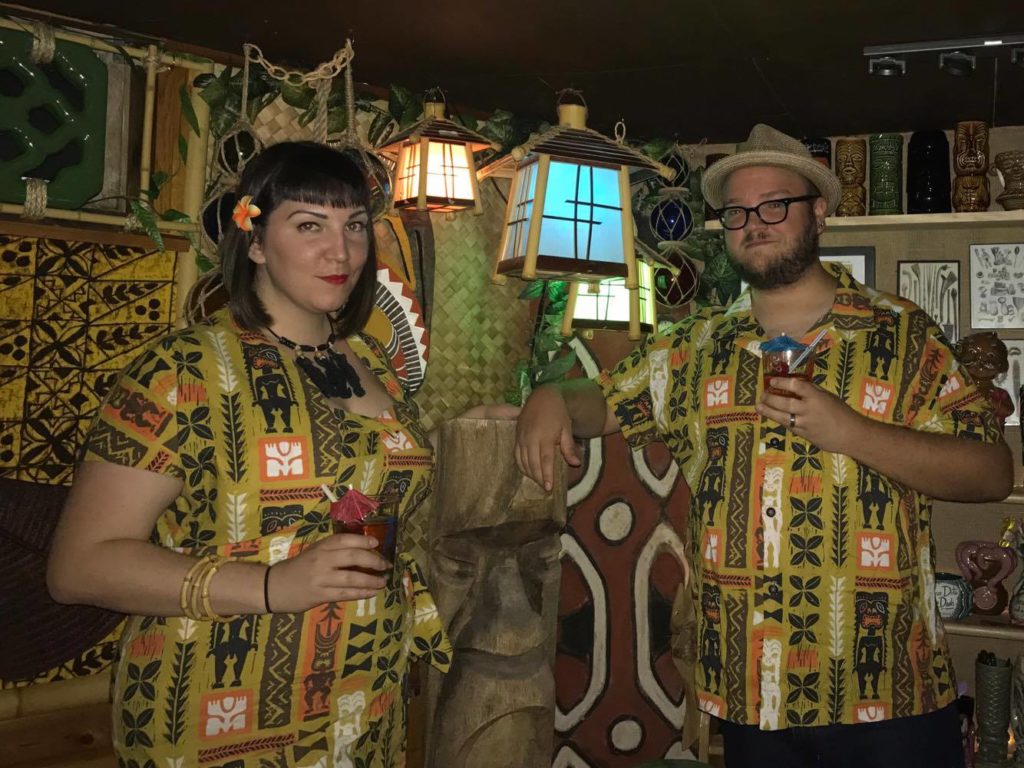 Give the Black Lagoon Room a Like on Facebook!