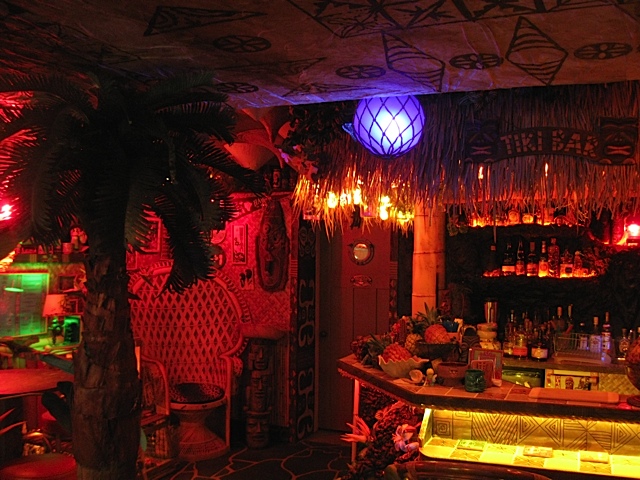 Fun fact: Calgary is known as Cowtown! Even though Calgary is in the heart of Alberta, Canada, it has a cowboy/country feel to it. They even have a rodeo called the Calgary Stampede. You wouldn't expect to see denim, daisy dukes, and cowboy hats in a metropolitan Canadian city. You kniow what else you wouldn't expect to see? An awesome home Tiki bar! It's called the Kanaloa Lounge and the man behind it is Aubrey Hallis. Here is his story…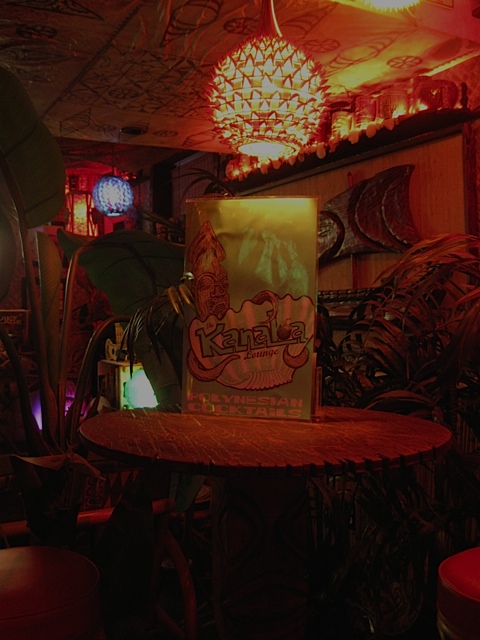 What brought you into the "Tiki lifestyle" and how long has it been part of your life?
I think it all started back in '93 or '94. On a friend's recommendation, I bought a Best of Martin Denny CD with some student loan money. It was the Rhino reissue, which featured some cool little line drawings of Tikis on the cover. I really consider that CD my gateway drug to Tiki.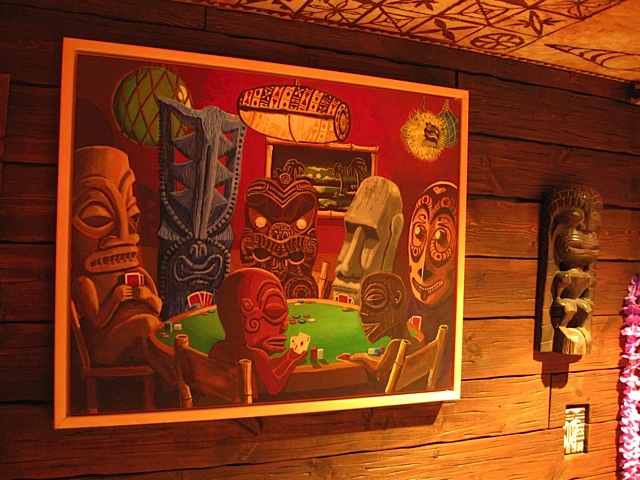 I was attending art school in the mid '90s and I would often paw through Juxtapose magazine. Around that time, their features on artists like SHAG and Mark Ryden often included Tiki imagery, so that definitely fanned the flames of my interest. What finally "sealed the deal" was a visit to Oceanic Arts back in September of 2001 (yes that September 2001). I was visiting family at the time and I can say that Oceanic Arts was a welcome reprieve from the overall atmosphere in Los Angeles during those tragic weeks. It would be about another year before I started to seriously collect Tiki mugs and other ephemera after that visit.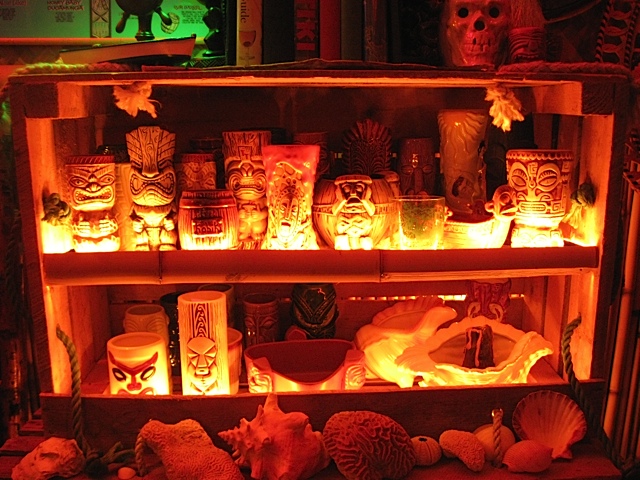 When and what made you decide to build your own Tiki bar? 
Back in 2002, we decided to have a luau-themed party for a summer social event at my work. I remember putting my tiny little Tiki that I purchased at Oceanic Arts on the bar for "extra authenticity." But it was my co-worker friend who made it extra special by bringing along a few surfer girl and coconut Tiki mugsto the party. It ended up being a very fun party. Looking back, I'll bet the tropical drinks we mixed were likely awful, but nobody complained. I had already thought Tiki was cool looking, but now I had the association of fun with Tiki.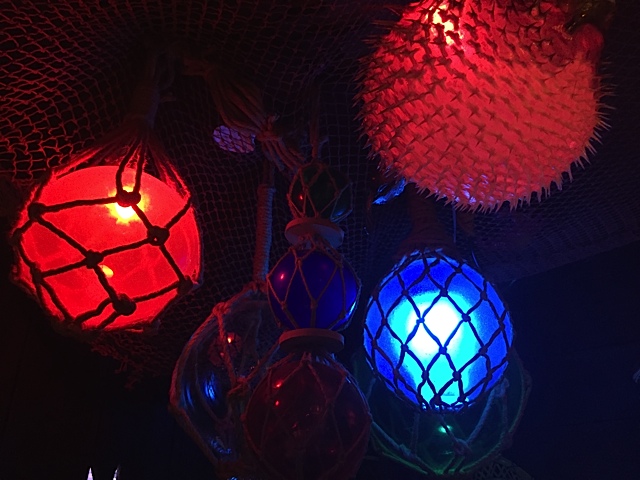 So at this point, I was feeling a strong pull to the Tiki lifestyle and while searching the internet for the Enchanted Tiki Room at Disneyland, I discovered the Tiki Central website. I lurked on that site quite a while before becoming a registered member, but I remember seeing some of the home bars that members were building for themselves. That's when I knew I wanted to build one too. It combined my passion for art, themed restaurants, and drinking! I was renting an apartment at the time and promised myself I would build my own tropical escape once my wife and I had our own place. Even after acquiring a home a few short years afterward in 2004, it took about half a decade to really start on the Kanaloa Lounge.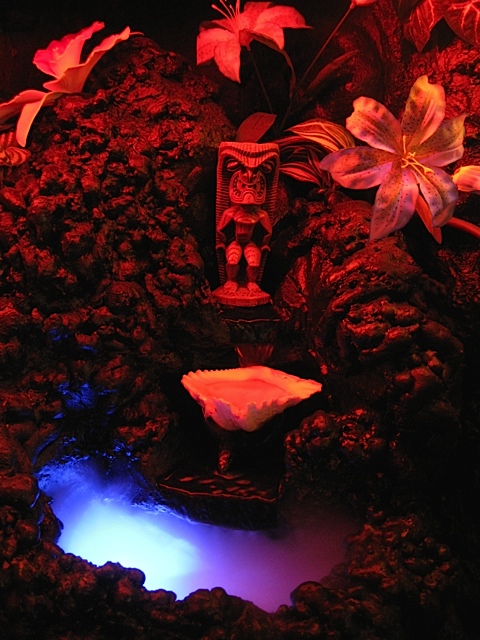 What was the first piece you bought on the path to making your own Tiki escape?
It was probably that little plaster Tiki (based on a Coco Joe's Ku) from Oceanic Arts. I also bought a black plastic Tiki mug that day because I was poor and I didn't want the mug to break in my luggage. A little more than a year later, I found my first ceramic tiki mug in the wild. It was on the shelf of an antique store in Calgary. It was an Orchids of Hawaii R-1 Headhunter mug in green.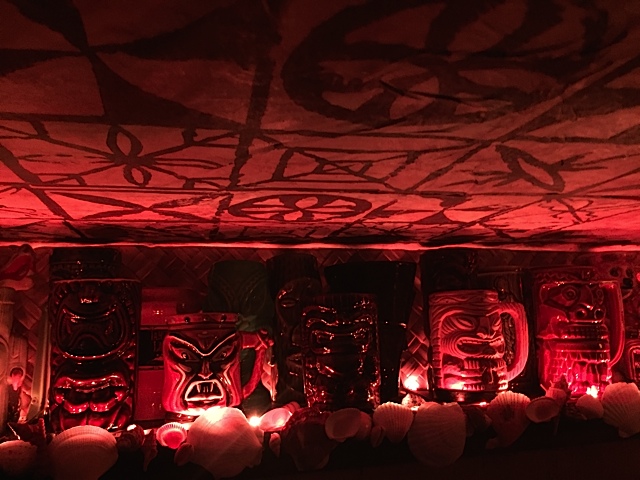 I think I knew instantly that I was hooked on collecting as many of these Tiki mugs as I could find. And from there, it just made sense to want to have a proper way to display the mugs. What could be better than displaying them in a Tiki bar/room/lounge?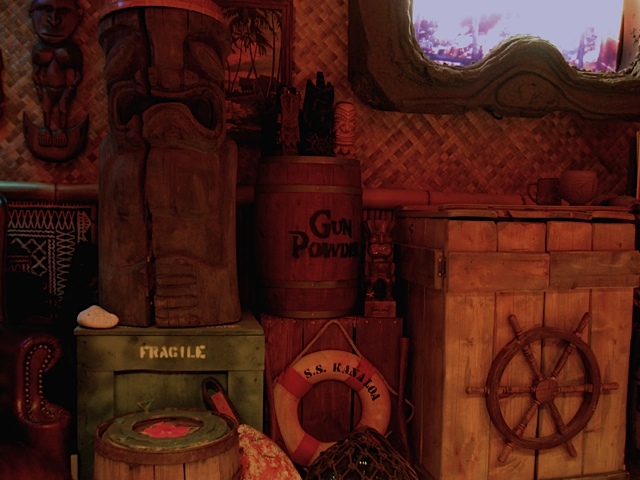 The one piece that I collected, that really felt like it had to be in a Tiki room, was the Witco Outrigger artwork. I bought it long before I had the room built, but I must have confidently known it would hang in my Tiki lounge one day. That was a real pain to bring home in the trunk of a Toyota Corolla.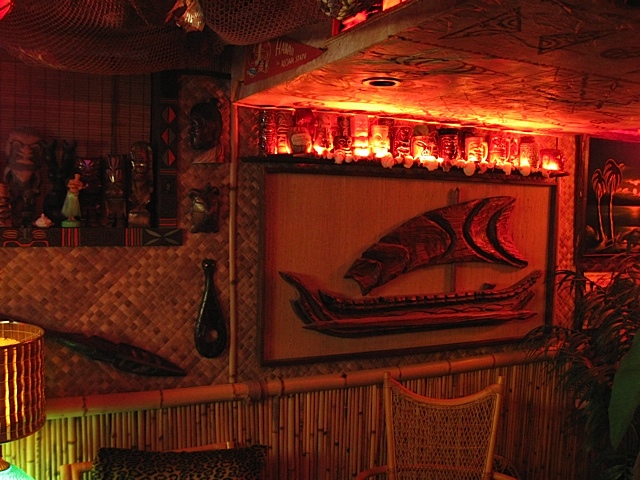 Can you give a little history of how it all came together?
In the spring of 2004, I went on a Tiki tour through southern California with my then fiancé/wahine in tow. My LA cousins were kind enough to host us as we visited some fantastic Tiki temples like Sam's Seafood, Bahooka, Trader Vic's in Beverly Hills, the Bali Hai, the Royal Hawaiian, and some then newer places like the Purple Orchid. It was a kind of pre-wedding honeymoon (well, sort of). At the very least, I think that helped my wife have a stronger sense of what I was intending to do with the basement bar.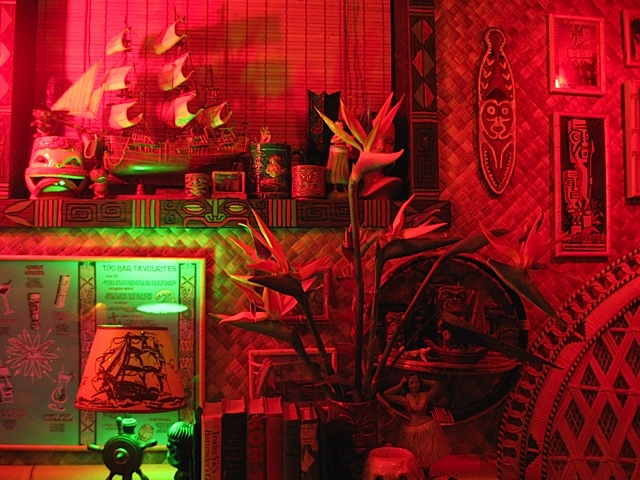 Later that year—and back at home—we were fortunate enough to find an old 1950s house with an essentially untouched/unfinished basement. We moved into the house one week after our wedding. It was basically a hollow concrete shell down there and while that meant we could put our own stamp on it. It also meant I had to wait until the walls, storage shelves, electricity, and plumbing were installed before the real fun could begin.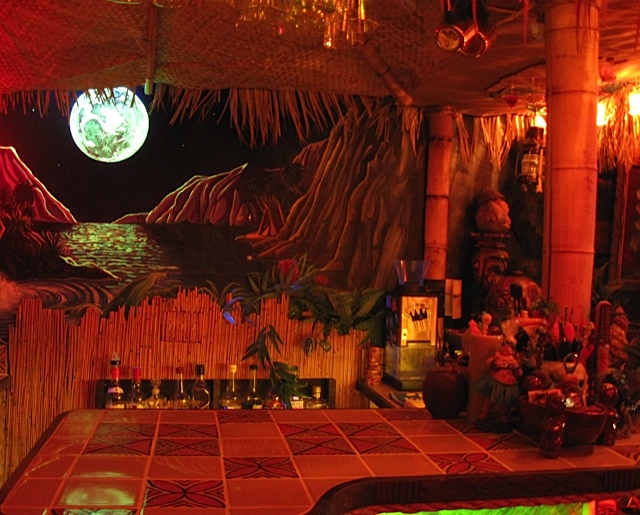 In the meantime, I would constantly sketch concept pictures of the Tiki lounge. I was constantly working and reworking through ideas for the physical space in those sketches. They say, "A Tiki bar is never finished." Well, that's also true for the multitude of drawings I made for my bar. It was a fantastic distraction from the fact that my vision was taking years and years to see to fruition.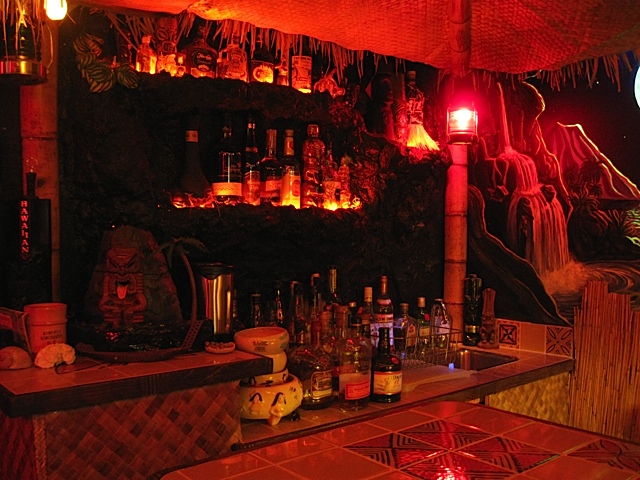 It wasn't until after the birth of our second child that I was able to truly focus on building the bar. Living in a city that doesn't have a tropical Tiki supply warehouse like Oceanic Arts, I had to get creative about materials and where to source most of my supplies. Some materials I serendipitously found in thrift stores. Some I found in garden stores. Other things were from the local hardware stores. However, at one point, I still had to order my lauhala matting and thatch from a far away source, so I happily chose to order it from Oceanic Arts (after all, these were the folks who helped start this obsession for me). You can follow the early progress of my Kanaloa Lounge at Tiki Central.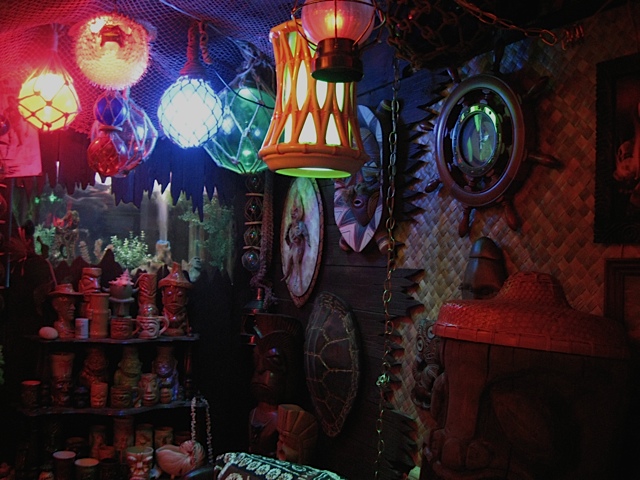 What is your favorite Tiki drink? What do you think makes the perfect cocktail?
I like a little sweetness in my drink, but I appreciate the balance of sweet and bitter in a more complex Tiki drink. I have a tendency to be a lazy mixologist and I usually just order (or make myself) a Mai Tai.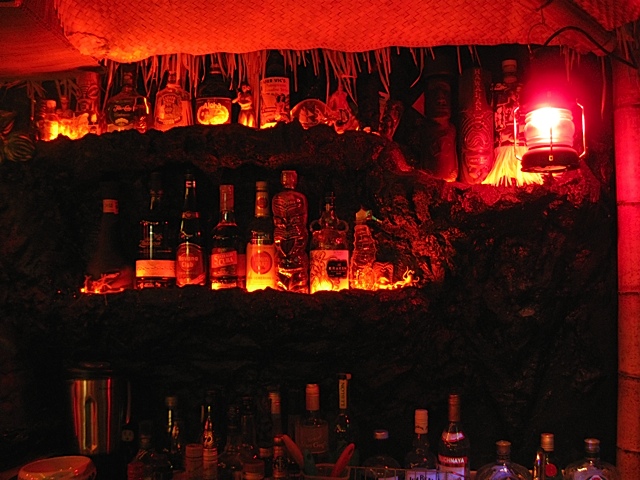 I have to say, I really like Ray's Mistake, but that might be because I get caught up in the mythology of the drink, and the place that serves it (Tiki Ti).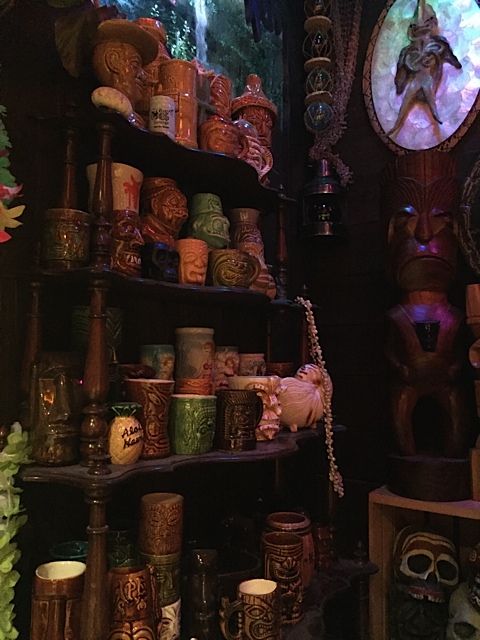 What is your favorite Tiki bar? Not including your own! 
Ha. I would never say my own. I feel like I always have to keep tweaking it. The only advantage it has over others is its location. This is a really hard question. Ear and eye candy are more important to me than the food and drinks, but it's sure nice when the place has the whole package, isn't it?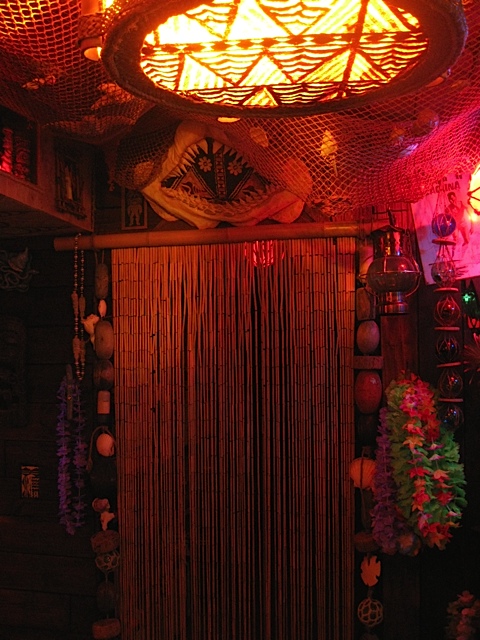 I really loved the eye candy labyrinth that was Bahooka. I'll really miss that place. And I've never been to the Mai Kai, which from all accounts sounds amazing. One day I'll get there!
Recently I was (finally) able to see the Tonga Room, Trader Vic's Emeryville, Pagan Idol, and Smuggler's Cove, all of which were fantastic. The Sip N' Dip in Montana is a sublime experience. Lots of fun to be had there, especially in a social sense.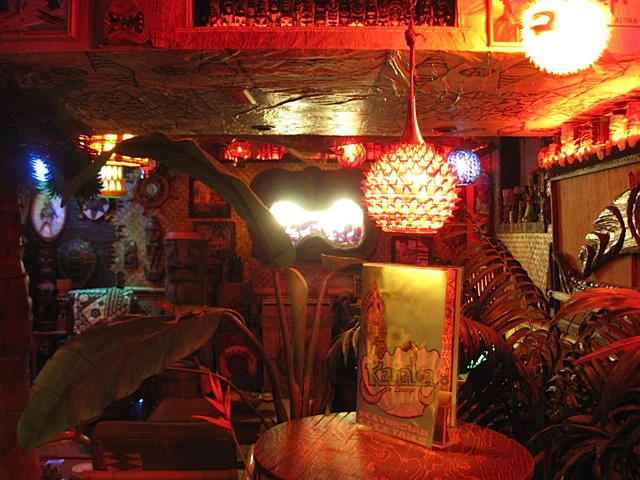 Do you feel that music has an important role in creating a great Tiki experience?
Without a doubt. It helps to transport you to another place. Very important! And just to re-iterate, it was a Martin Denny album that started me on this path. In addition to great exotica on the stereo, I also like to have a faint track of jungle noises piping through the speakers when I have folks over to the lounge.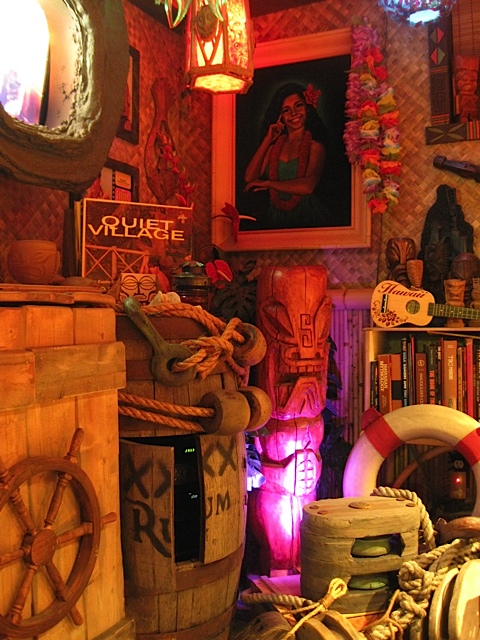 What does the future hold for you and your bar?
You know, I'd love it if some restaurant mogul came over, saw the place, and then wanted me to help them start a decent Tiki bar in Calgary. That likely won't happen as I don't run in those circles, but I've said it anyway.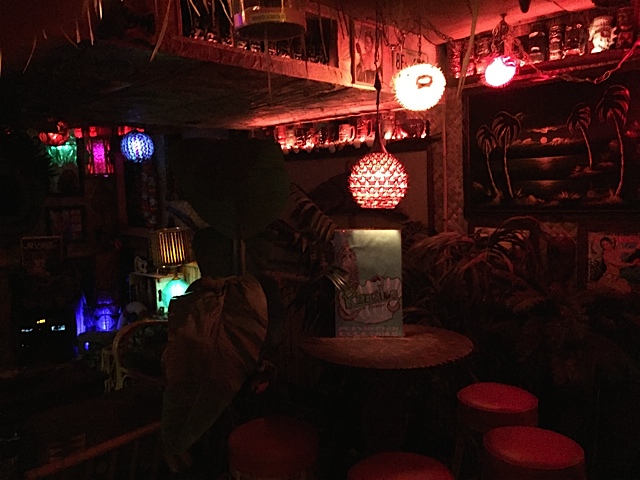 In the coming months, I believe that local rock stalwarts Forbidden Dimension will film a video for their new album (entitled "It's a Morbid, Morbid, Morbid World") in the Kanaloa Lounge. They do a track on the new release called the "Devil Came Down to the Kanaloa."
But overall, I just hope I get more chances to use the lounge for entertaining this coming year. 2016 was definitely a Tiki-hosting famine.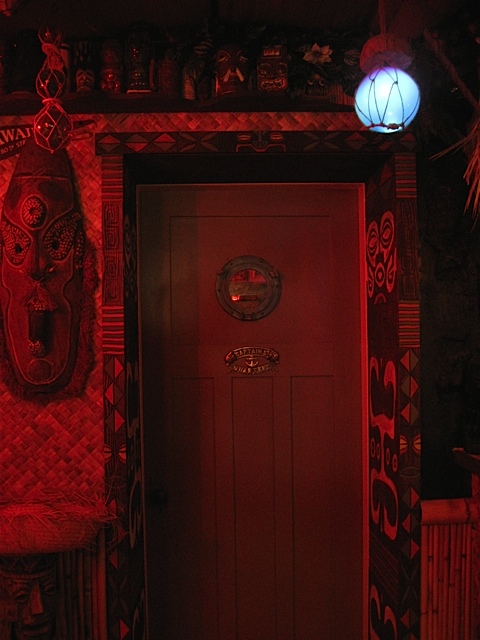 Anything else you would like to add?
If people would check out the Kanaloa Lounge on Facebook and "Like" the page, who am I to argue? If they are interested in purchasing a "Tikis Playing Poker" print, I would be happy to oblige them as well. Only $45 plus shipping. They can reach me through the Kanaloa Facebook page.