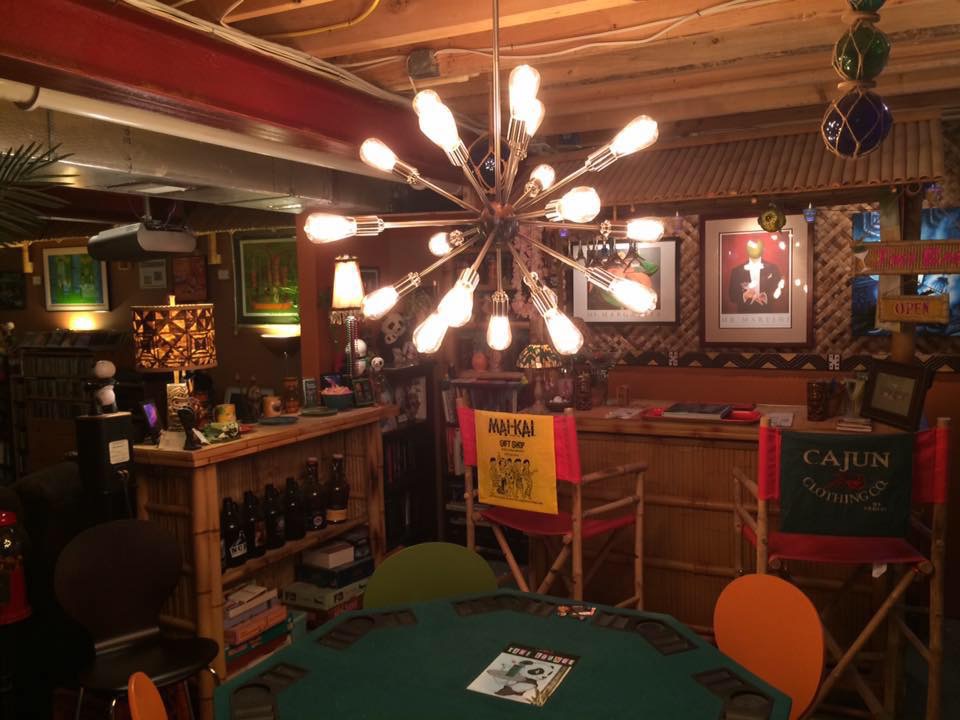 "Oh little town of Bethlehem…"
Bethlehem is one of the cities that make up the Lehigh Valley in eastern PA along with Allentown and Easton. For a long time, steel was Bethlehem's main export, but the days of Bethlehem Steel's reign are long gone. You may not find much steel in Bethlehem nowadays, but what you will find is a Tiki powerhouse in a man named Andy Panda!
Andy Panda has his own Tiki blog, his own Tiki radio station, and his own Tiki podcast. All are incredible. What also is incredible is A. Panda's Tiki Lounge…
What is the Tiki scene like in the Leigh Valley?
Andy Panda- Pretty much non-existent. I have a handful of local friends who have the Tiki spirit, but there are no Tiki bars between here and Philadelphia.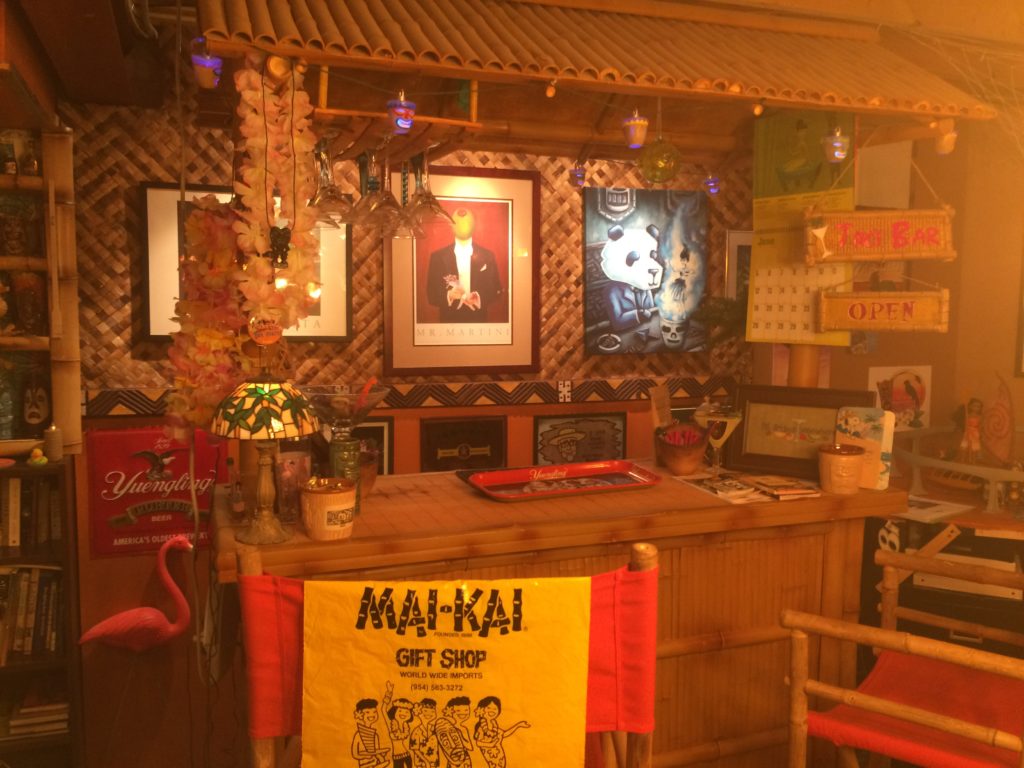 What brought you into the "Tiki lifestyle" and how long has it been
part of your life?
Andy Panda- I get this question a lot, so I wrote a blog post about it. I've only been blogging for about three years, but I've been into Tiki for over ten years.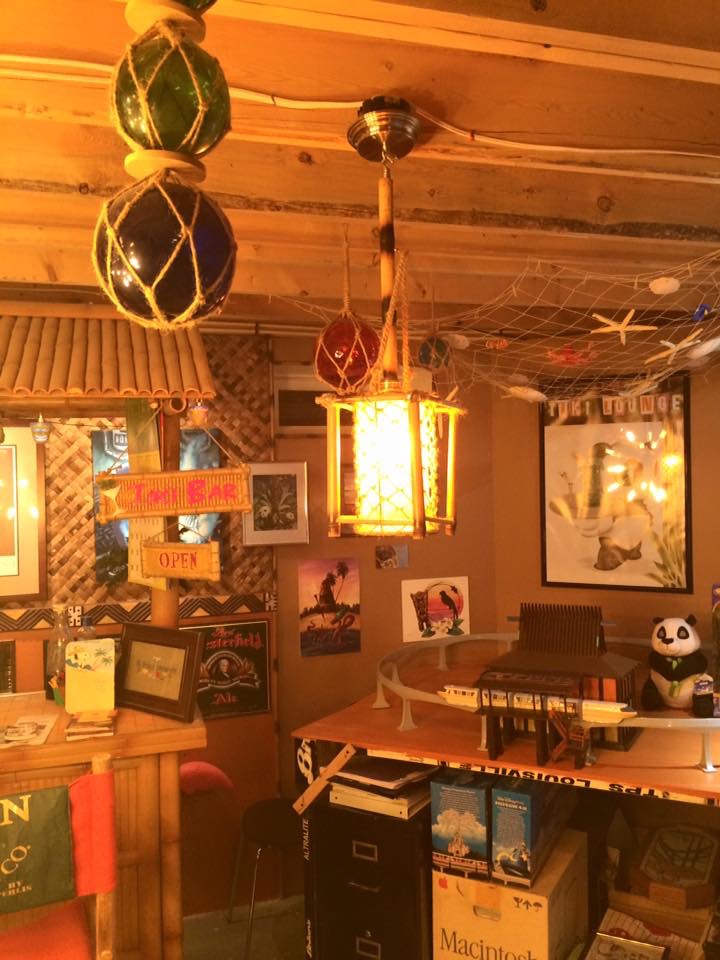 When and what made you decide to build your own Tiki bar?
Andy Panda- When we built our house ten years ago, my wife and I made a deal: she had last say on all decorating decisions above ground, but the basement was all mine! I wanted three things in my basement: a place for my train layout, a home theatre, and a Tiki bar. It was an unfinished basement and I've spent the last ten years slowly building walls to finish and furnish it.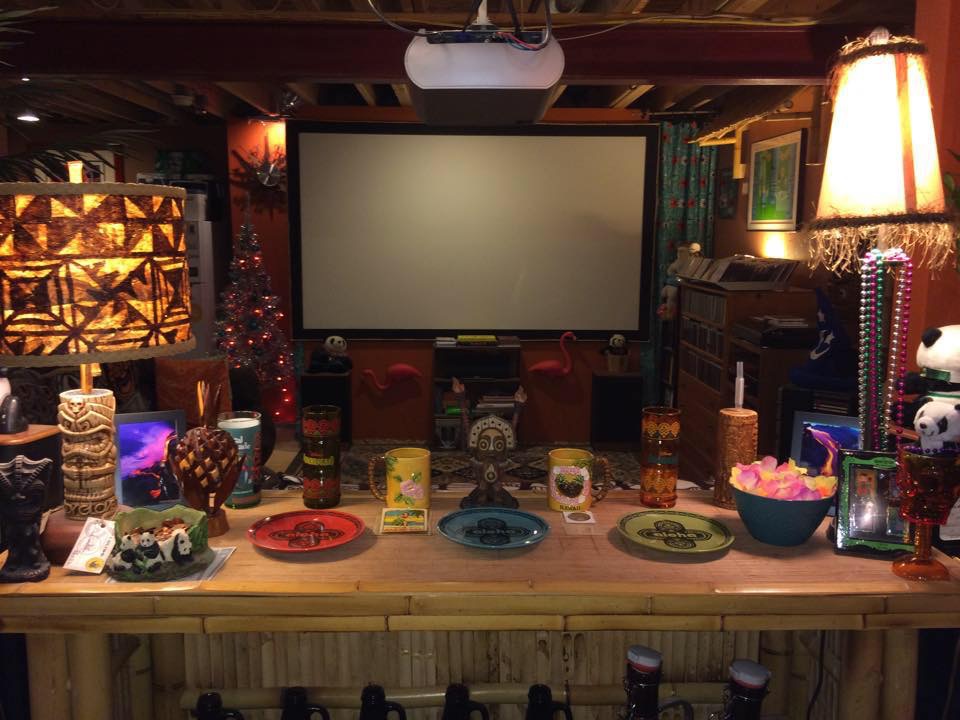 How did you come up with the name of your Tiki bar?
Andy Panda- My nickname, going back to elementary school, is Andy Panda. Do you remember that cartoon from the 1940s? I decided to name my Tiki bar Andy Panda's Tiki Lounge, but by abbreviating my first name to just the initial "A," the name became shorter and a pun. It truly is a Tiki bar owned and operated by a panda!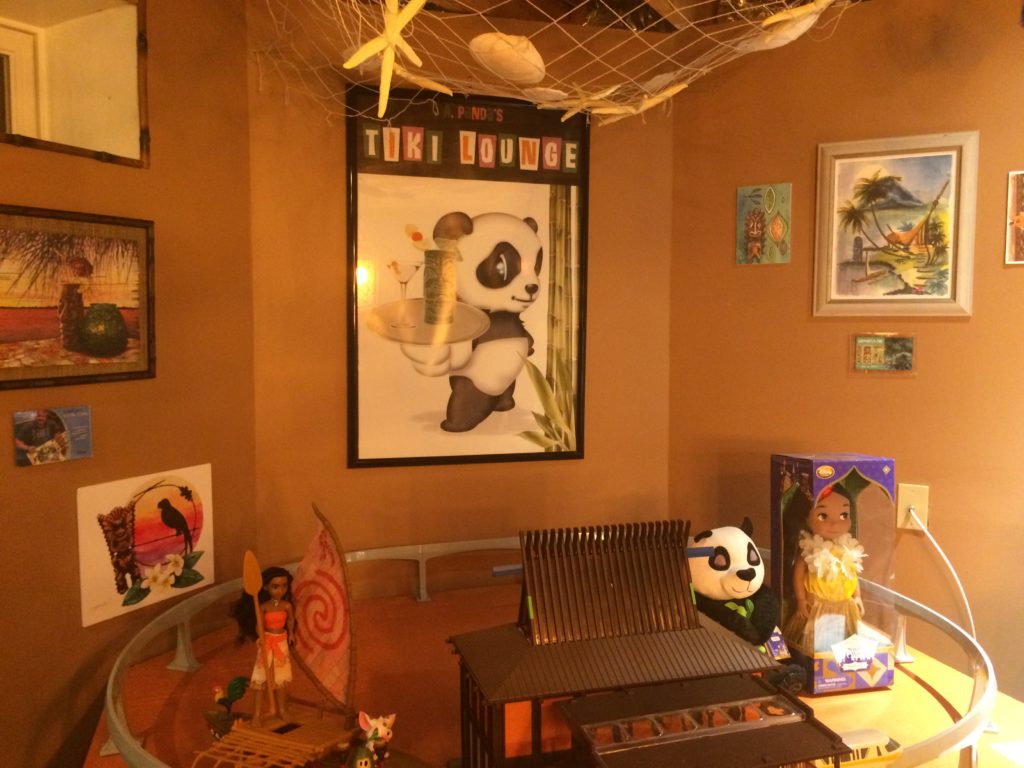 Can you give a little history of how it all came together?
Andy Panda- I've been finishing off our basement a little at a time for ten years. A lot of the work has been driven by necessity, as I collected new Tiki-themed artwork and needed new walls to hang it on. The biggest driver of my Tiki world has been my obsession with art of SHAG!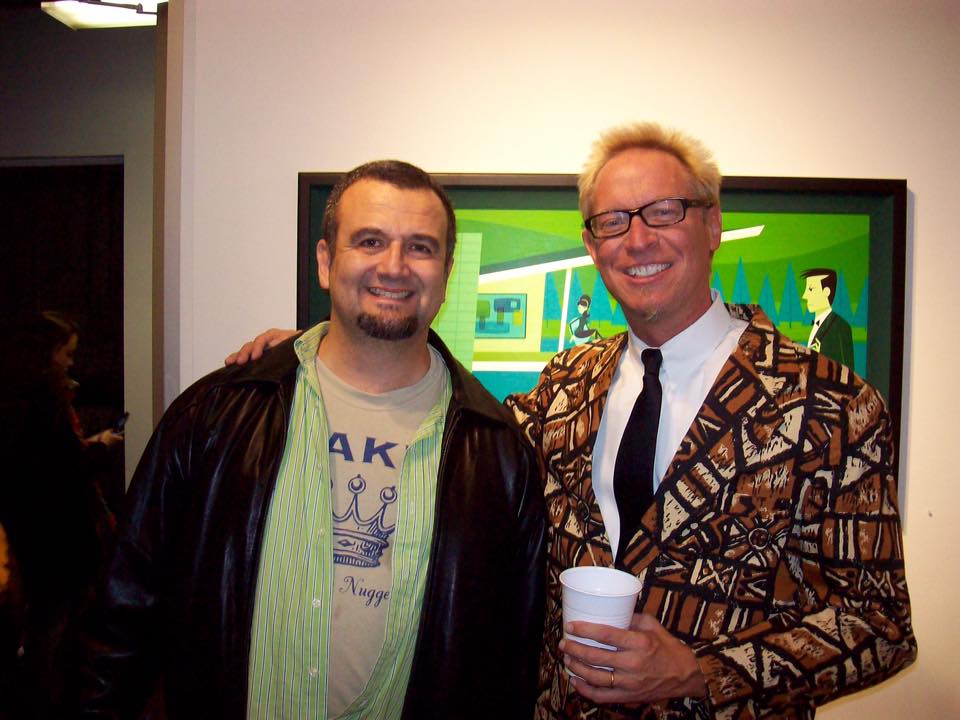 What is your favorite Tiki drink? What do you think makes the perfect cocktail?
Andy Panda- My absolute favorite Tiki drink is the Mai-Tai. I have my own recipe for one, though lately I've been mixing up Trader Vic's original recipe, which is much simpler. The perfect Tiki drink has to be made with a variety of good rums and fresh ingredients, especially freshly squeezed lime juice.
What is your favorite Tiki bar? (Not including your own!)
Andy Panda- The greatest Tiki bar in the history of mankind is the Mai-Kai in Fort Lauderdale, FL. I also have visited and enjoyed Beachbum Berry's Latitude 29 in New Orleans, LA, Paul McGee's (formerly) Three Dots and a Dash in Chicago, IL, and both Trader Sam's in Disneyland and Walt Disney World. I also really like the Tambu Lounge in WDW's Polynesian Village Resort (my happy place!). I have many other Tiki bars I would love to visit, most of them in CA.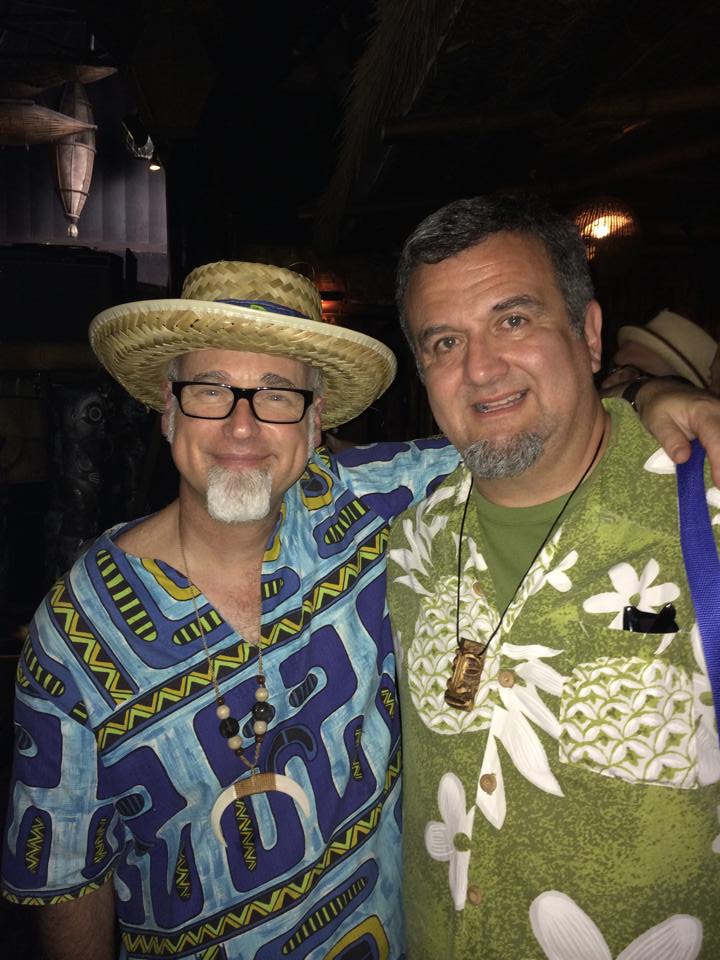 Outside of great drinks, what do you think are essential elements in creating the perfect environment?
Andy Panda- This has been evolving for me. From the start, it was always about artwork: Tikis and pandas. A well-stocked bar and nice selection of drink recipes is essential. I've been adding to my Tiki library over the last couple of years.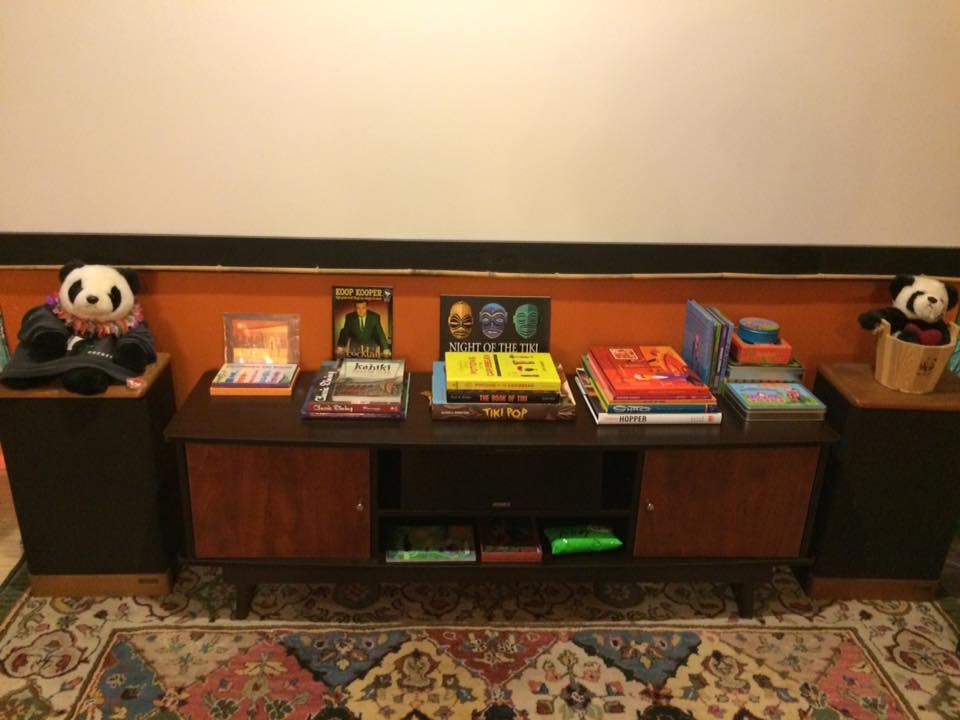 One of the most recent books, Martin and Rebecca Cate's Smuggler's Cove, really gave me a lot of new good ideas, including adding a water element. This led me to put in a small serenity fountain, which really adds a nice touch!
Do you feel that music has an important role in creating a great Tiki experience?
Andy Panda- Absolutely! Music was indirectly the genesis of my Tiki journey and it has become one of its most important elements. I wrote an entire series of blog posts about Tiki music. I also started a podcast a couple of years ago, trying to emulate the work of the Cocktail Nation, but with a Tiki twist. In fact, I interviewed Koop Kooper in my best episode. Finally, I also created an online radio station as a way to share some of my music playlists at the request of a few of my Tiki followers. It was cool to embed links to these 8-track playlists in my blog posts!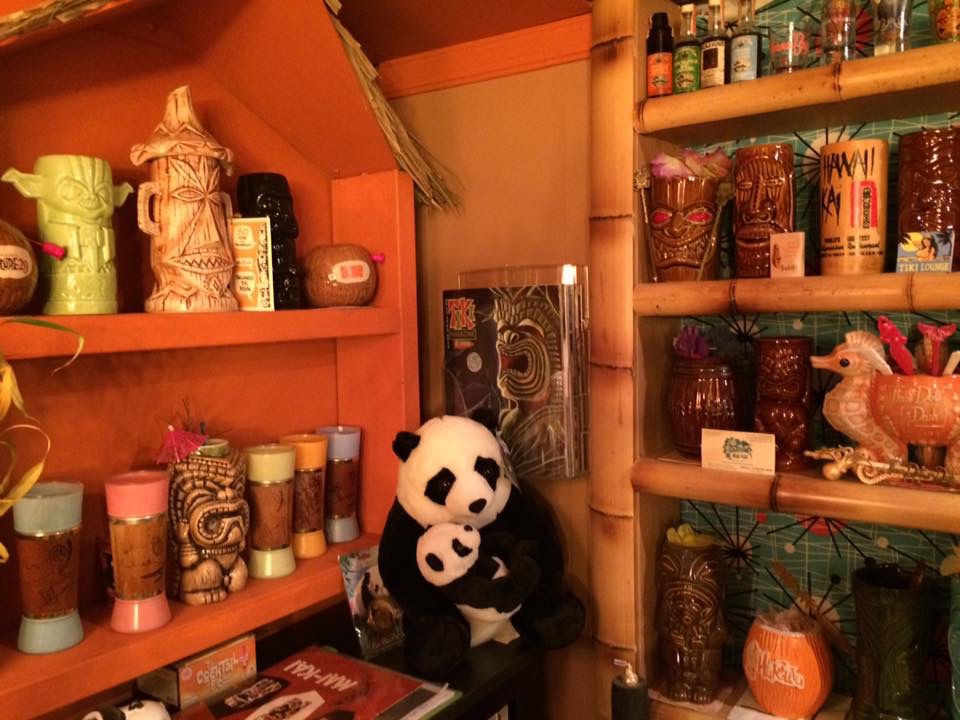 What does the future hold for you and your bar?
Andy Panda- I'm starting to run out of room in my basement Tiki lounge, but I will never run out of ideas! In a perfect world, I would retire from my day job (in energy sales), move to some remote island in the South Pacific, and open my own commercial Tiki bar. Who knows, right? Stay tuned…
Anything else you would like to add?
Andy Panda- As a final thought, I present you with one of my favorite blog posts, which describes the strange odyssey that has been my Tiki journey. A lot of the inspirations for A. Panda's Tiki Lounge come from stories like these.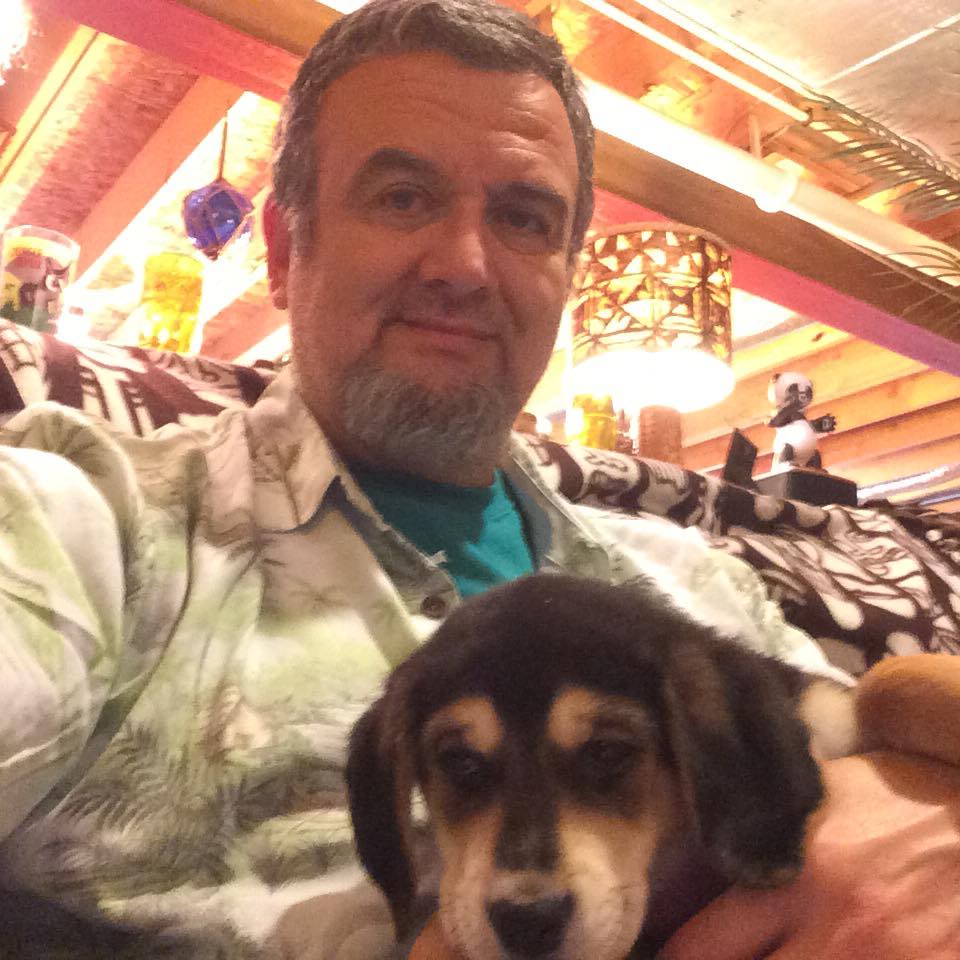 Like A. Panda's Tiki Lounge on Facebook.
Read what Andy Panda has to say about all things Tiki on his blog.
Listen to what Andy Panda has to play on his Tiki podcast.
.