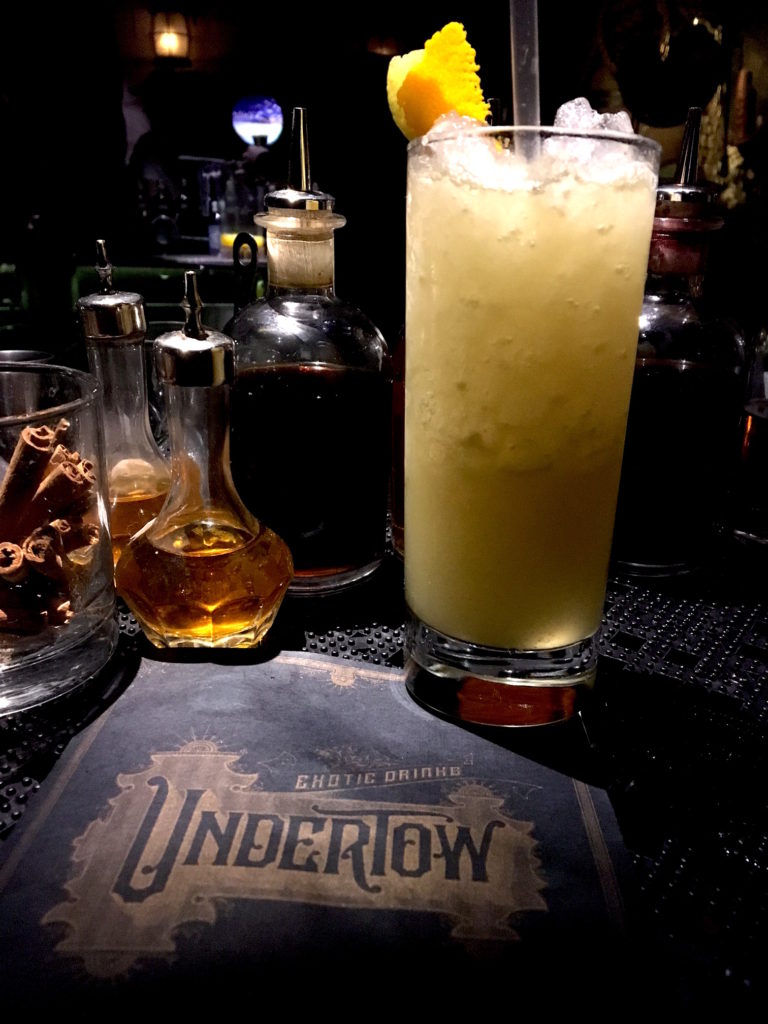 Phoenix Arizona. It's flat and hot with a sprawl that seems to go on forever. This is the perfect place to have a Tiki bar. I've heard nothing but great things about UnderTow and my good friend Caprice was in town so she checked it out. I'll let her take it from here…
Undertow describes itself as a "Hip, subterranean cocktail bar serving Tiki-style drinks in space inspired by an old-world ship."
With this in mind, I was definitely onboard when my friend Eric told me that we would be going here during my stay in Phoenix, AZ.
When our Lyft pulled up to a coffee bar on Indian School Road I wondered if we were going somewhere else on our way to Undertow and were just stopping at Sip Coffee and Beer Garage for a snack first.
As we entered the building, Eric told me to follow him. We ushered past coffee and beer drinking patrons, past the band setting up on the stage and came upon a set of steps leading strait down to a doorman.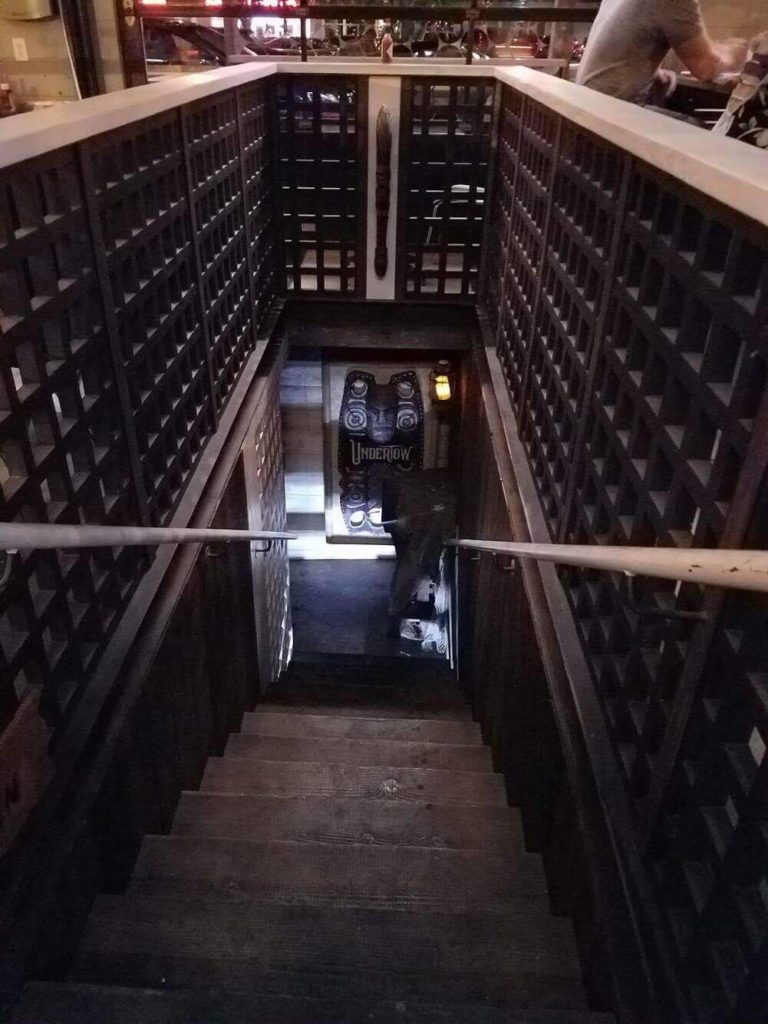 Eric checked in with this fellow, our reservation was confirmed, and we were invited to enter the bar… I had no idea what to expect, but I was told it would be something great.
Once we were inside and our eyes adjusted to the darkness, it felt like I was transported into the hull of a 19th Century clipper ship. Dim lights illuminated the perimeter, which was filled with carved Tiki, ship lamps, carvings, maps, and various curated antiquities'. The focal point of the space was a delightfully decorated tiki bar. There were portholes peeking out of the perimeter of the space providing the illusion of being far away in the tropics. Gorgeous carved Tiki, assorted glass jars filled with garnish and secret concoctions, and the hand-carved grooves on the top of the bar add to the sensory experience.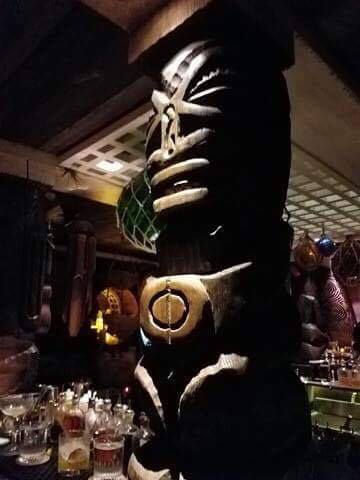 We take our seats and I am hyper-focussed on the drink menu that is handed to me by one of the young ladies behind the bar. My companion has been here a few times and knows his way around the menu. I do not see my favourite, the Painkiller listed (always my measure of a good tiki bar experience). I express my dismay to one of the bartenders, who smiles and says she will make me something even better. I settle on a classic Jet Pilot as my first drink and it does not disappoint.
My counterpart selects the Smoking Cannon—a not-so-subtle and artfully blended drink comprised of bourbon, Barbadian rum, Amontillado sherry, pineapple, bitters, and the best part: cinnamon smoke. Yes that's correct: cinnamon smoke. They make quite a show of it and smoke the cinnamon with this amazing contraption to add as a final touch to this concoction.
I lose track of what Eric orders as I am enjoying the ambiance and watching the ladies prepare the drinks for all the thirsty patrons. There is no slouching behind the bar as order after order pours in and they focus on delivering quality cocktails.
My 2nd drink is the infamous London Sour (circa 1965 Trade Vic's) with a gorgeous blended scotch, curacao, orgeat, lemon, and orange.
3rd drink: Strip and Go Naked. (1963 Dean Short ) Why not? Blend of vodka, gin, lime, orange, grenadine, and lager is the perfect ending to my journey and has left me feeling quite relaxed and appreciative of this visit to this special place.
The couple next to us is delivered a Scorpion Bowl and it is service with the usual flair—and as it is served the lights dim, the sky darkens and there is a lingering storm happening around us onboard the ship!
After our 3-drink journey our time is up and it's time to leave, but not without a set of collector glasses and some stir sticks to keep the memory of this great evening alive at home.
If you go: Reservations are a must and this is becoming quite the hot spot!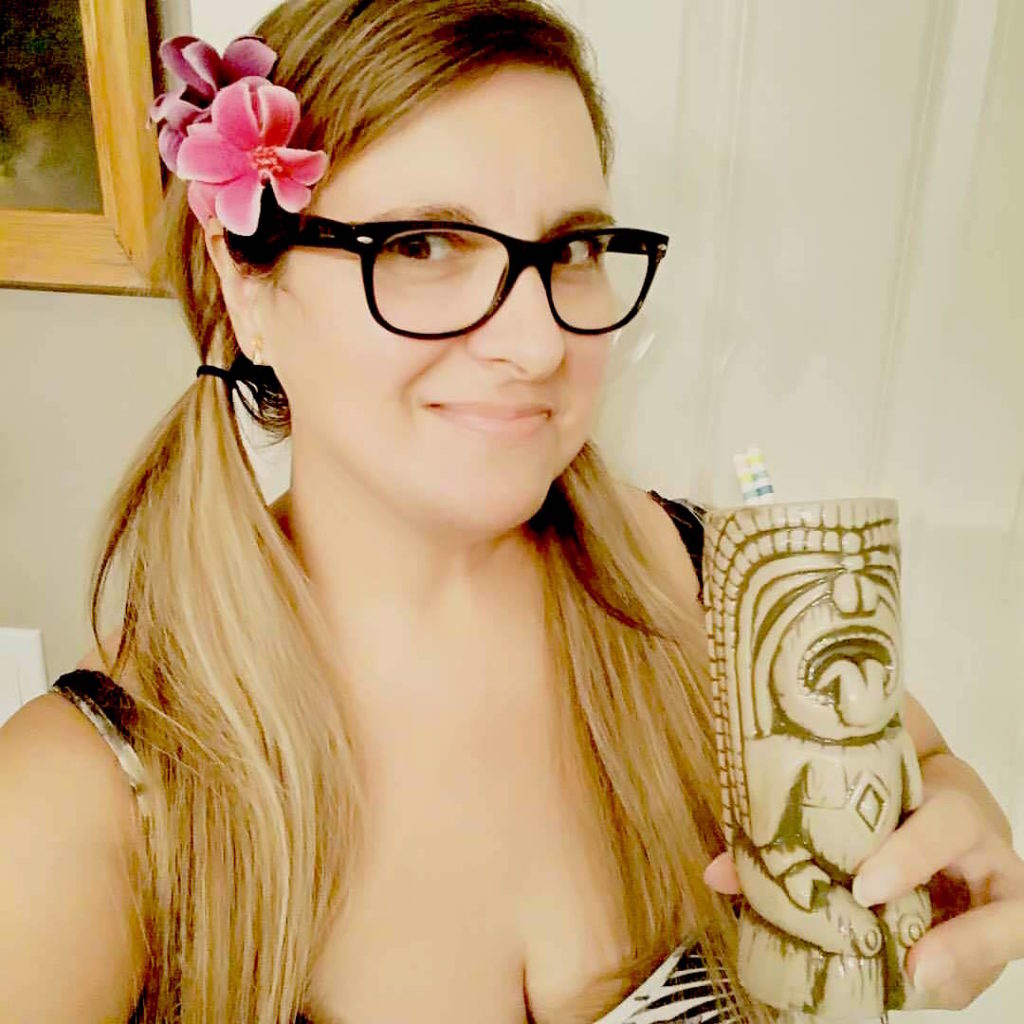 Check out Jet Set Imagery: Caprice's photography website.
And give Jet Set Imagery a like on Facebook.
Here is UnderTow's website
And Facebook Page.