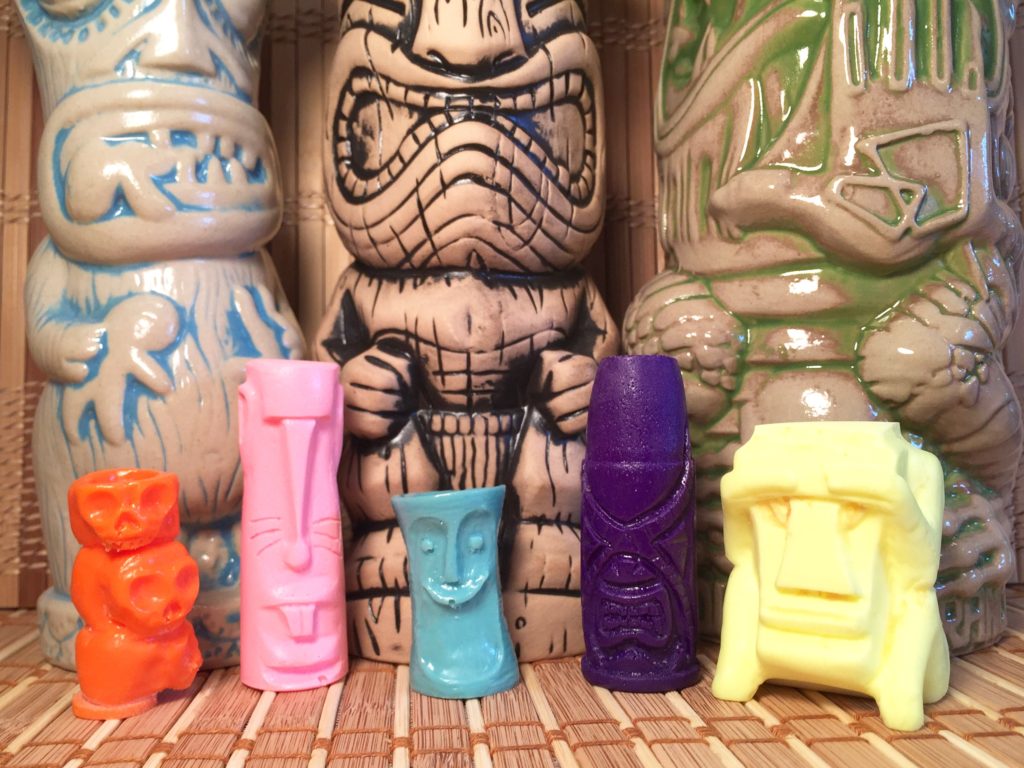 Collecting Tiki mugs can be fun, but they can take up a lot of room. Imagine if you could shrink those Tiki mugs down, like to the size of a quarter! This is exactly what Vermin Tiki does. The mugs aren't shrunken down; they are carved that way! Here is what Vermin Tiki is all about…
What's the Tiki scene like up in Calgary?
The Tiki scene in Calgary is a little strange. In the '70s and early '80s, we had the Tiki Tiki Polynesian Room, which was a favorite of my parents for a night out. I run into Tikiphiles who come into my scooter shop and see the Tikis we have on display or the Tiki magazines in the bathroom. I was stoked to see your blog post on Aubrey Hallis's Kanaloa Lounge Home Bar. It gives me hope for Tiki culture in Calgary. Calgary has a thriving low- brow culture and Tiki fits well into that, so I am sure it will grow. But mostly I talk Tiki with one of my oldest friends, Kendall Clint, who is a Mid Century Modern nut and Tiki collector.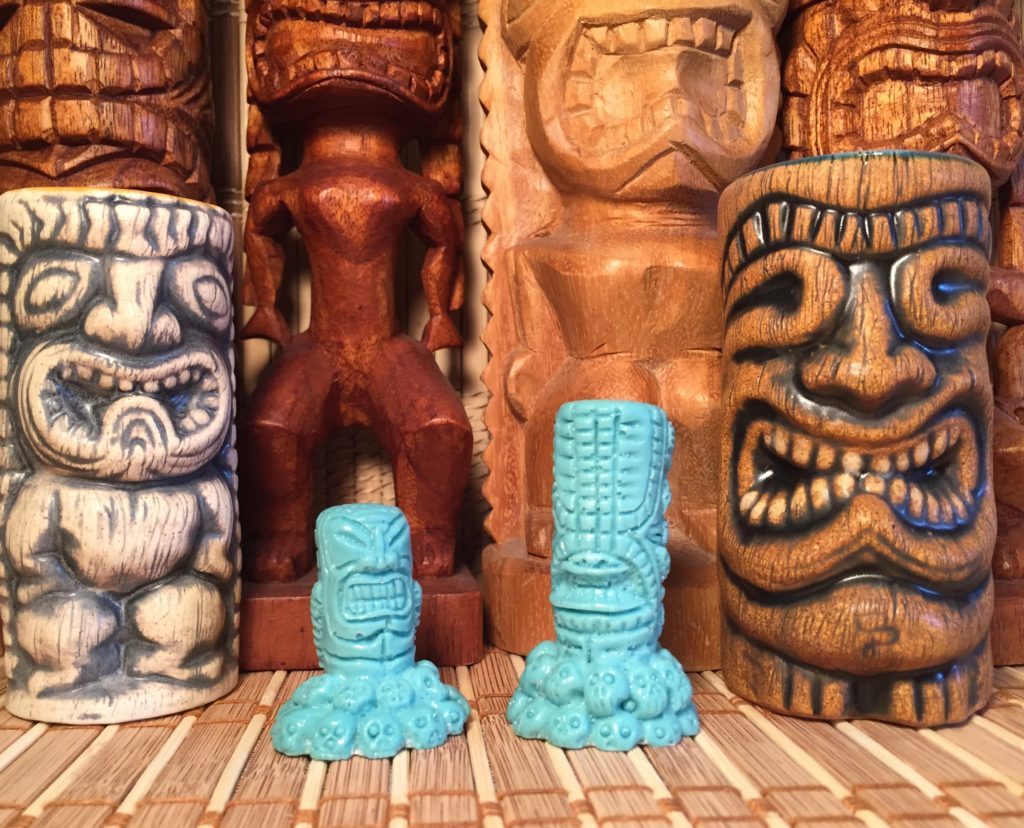 What brought you into the "Tiki lifestyle" and how long has it been part of your life?
Our family moved to Canada in the '70s from South Africa, so we had lots of tribal trinkets and masks around the house. And of course, Tiki Pop was entering a cool phase at the time. The Brady Bunch, Hawaii 50, and Magnum PI were staples on TV and I loved the Polynesian imagery and artwork. Then I got my first carved stone Tiki that I loved, but promptly lost at the beach. We went to Maui in 1984 and I was hooked. When I discovered Tiki mugs ten years ago, I began to collect them and irritate my long suffering wife. Fortunately, my son Liam is also a Tiki nut, so the collection keeps growing and spreading in our house.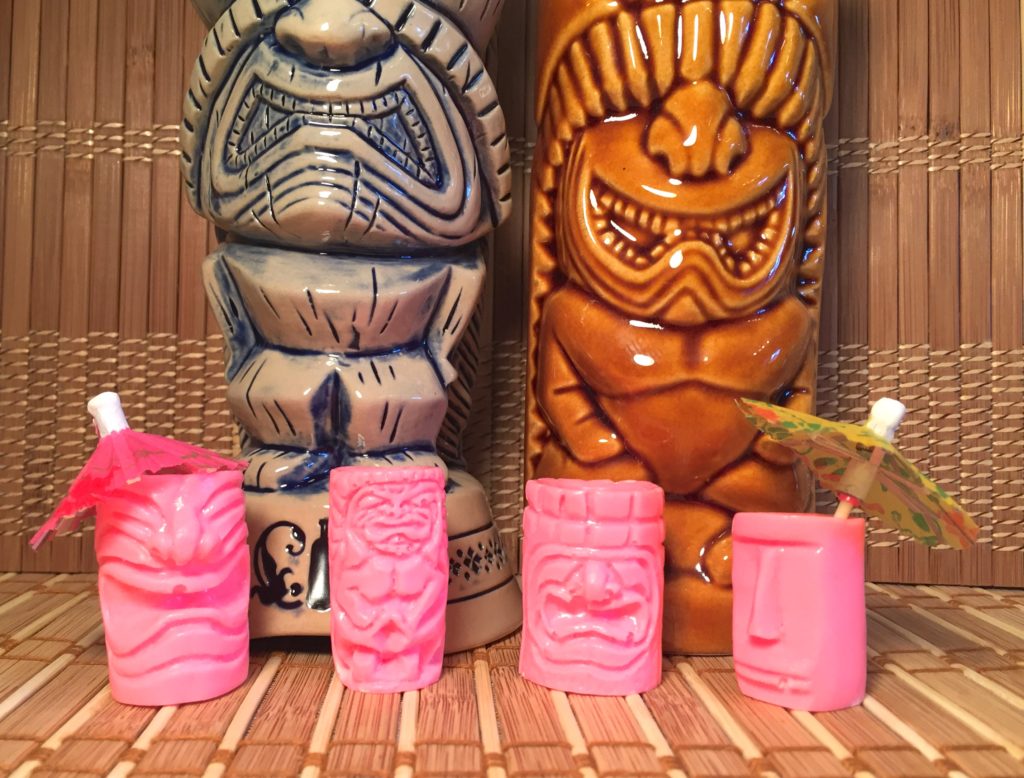 When and what made you start creating miniature Tiki mugs?
I own a seasonal business, Vermin Scooter Shop, so we are really slow in the winter after the Christmas rush. I try new stuff to keep from going crazy. I was an amateur potter and threw pots for years and have always loved working with clay. I tried my hand at carving Tikis a few years back, so I was familiar with carving. This year I bought a high speed carver and began carving miniature Tikis from wood. I love tiny artwork like Japanese Netsuke and Ojimi with their incredible detail and pocket-size awesomeness. As soon as I finished my first piece—a miniature Suffering Bastard homage—I purchased some resin casing materials, including stuff for making molds. After a lot of trial and error (mostly error), I was able to cast some resin copies of my original model. A little success was all it took. I began carving more models and making molds and casting. Then my machine died! I was seriously bummed as it interrupted the creative flow. At this point, I watched a few sculpting videos and saw the incredible detail one can get from polymer clays. Off to the craft store I went and that day began sculpting tiny Tiki mugs and statues. Every time I finished a model, I already had ideas for another, so it was a busy few months and I loved every minute. I really like all the potential colors I can use while casting and it's so cool seeing the finished product displayed with full-size mugs and statues or in the Vermin Tiki Bar.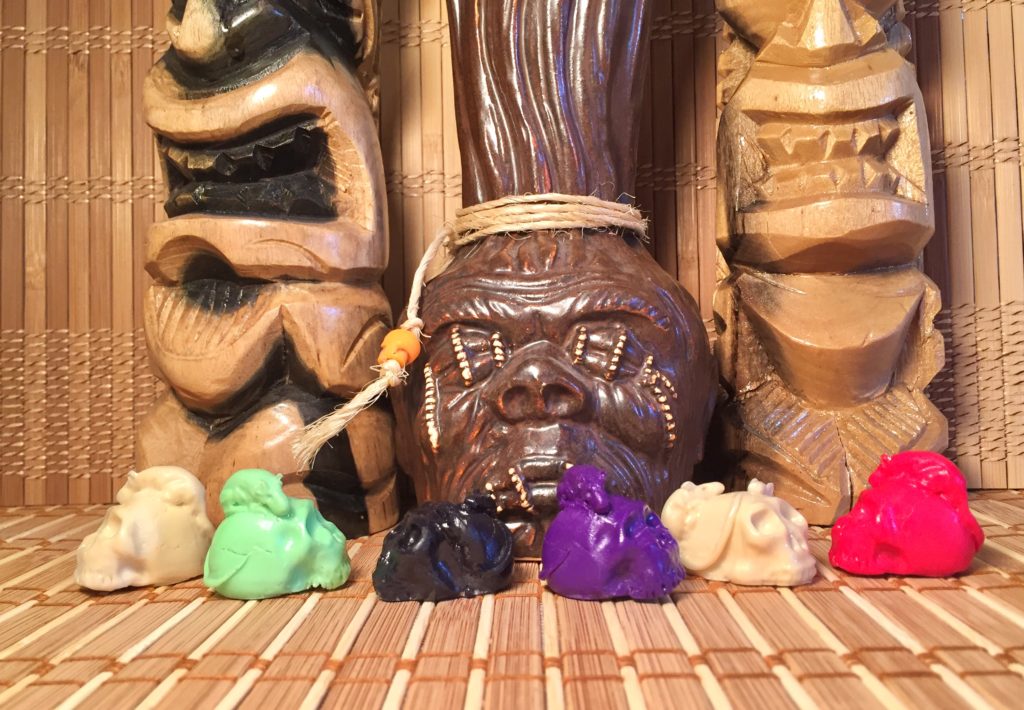 Can you talk about Vermin Tiki?
Vermin Tiki came about through a desire to display my work on Instagram. Our scooter company has a good-size following on IG and we love the customer interaction opportunities it provides. Vermin Tiki IG was born! We began posting and getting a few followers and in turn got a chance to view what others in the Tiki world were doing. This further inspired my work. Since I have cast way too many mugs and statues, I needed to try and get rid of some, so I opened an Etsy store under the Vermin Tiki banner.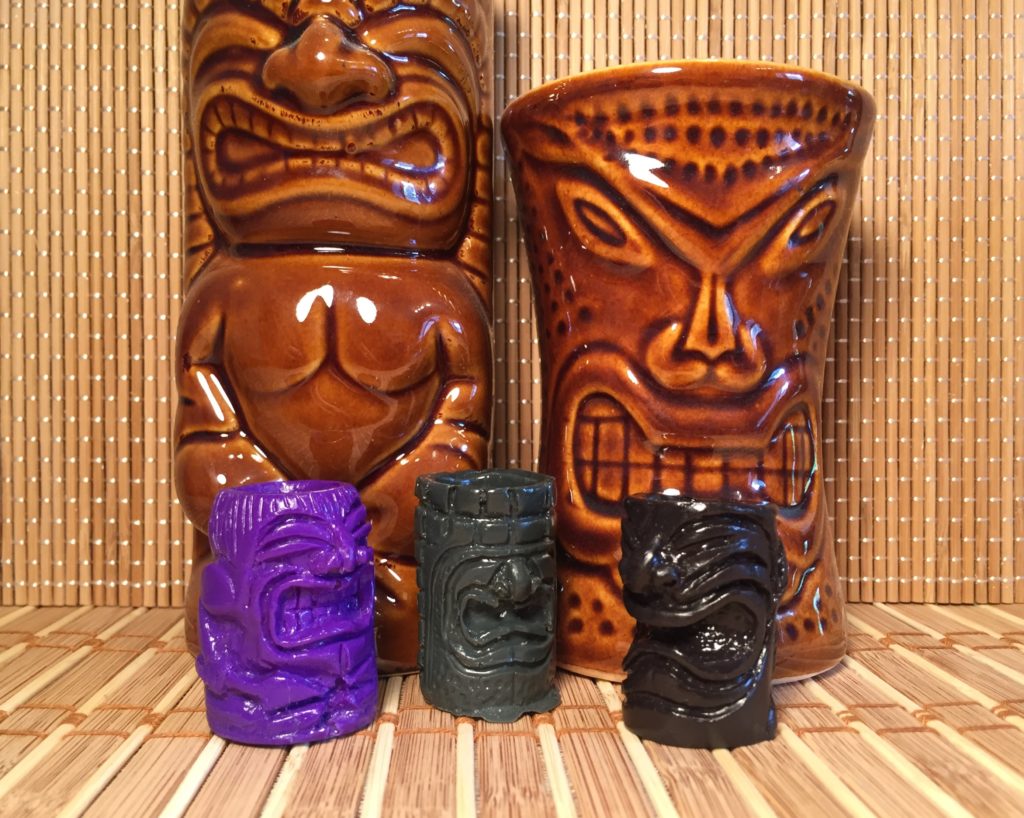 What does the future hold for you and Vermin Tiki?
Who really knows? Whether or not I am making Tiki objects, I will always collect and display Tiki in its many awesome forms. As of April, our regular business is going crazy and I will be super busy for the rest of the year, but then January will hit and three months of peace and creative freedom will be here. We have already planned our bi-yearly trip to Maui for 2018 and I can't wait. Hawaii is incredibly important to me as a creative inspiration and of course Beach Bumz in Kihei is at the top of our visitor list so I can bring back more mugs!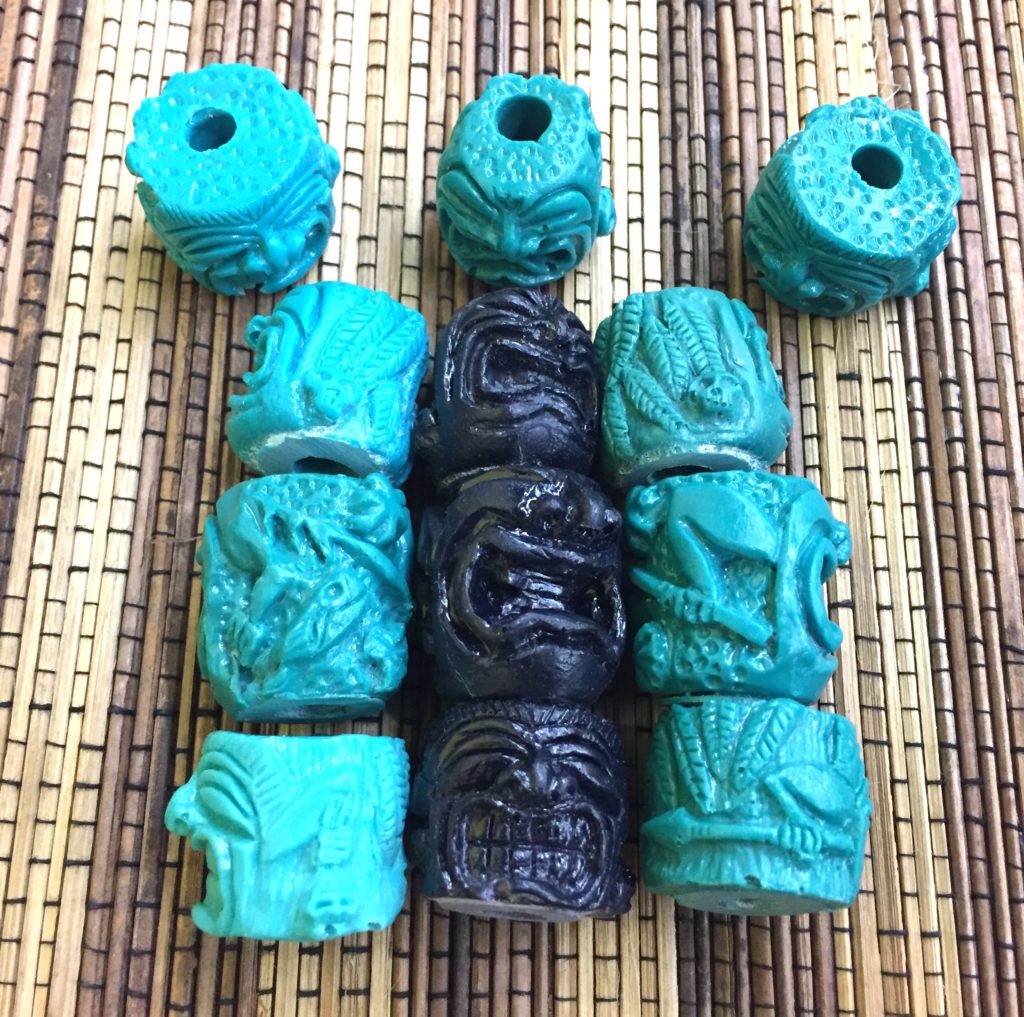 Anything else you would like to add?
I am ever so grateful to all the Tiki artists out there: the mug makers, Tiki carvers, painters, graphic artists, etc. They inspire me everyday and their work brightens my day whether on Facebook, Instagram, in a gallery or bar, or on my own shelf. They and the other collectors make me feel part of a very cool community. The fact is Tiki culture is here to stay and will grow! I can't wait to meet more aficionados and collect and make more Tiki!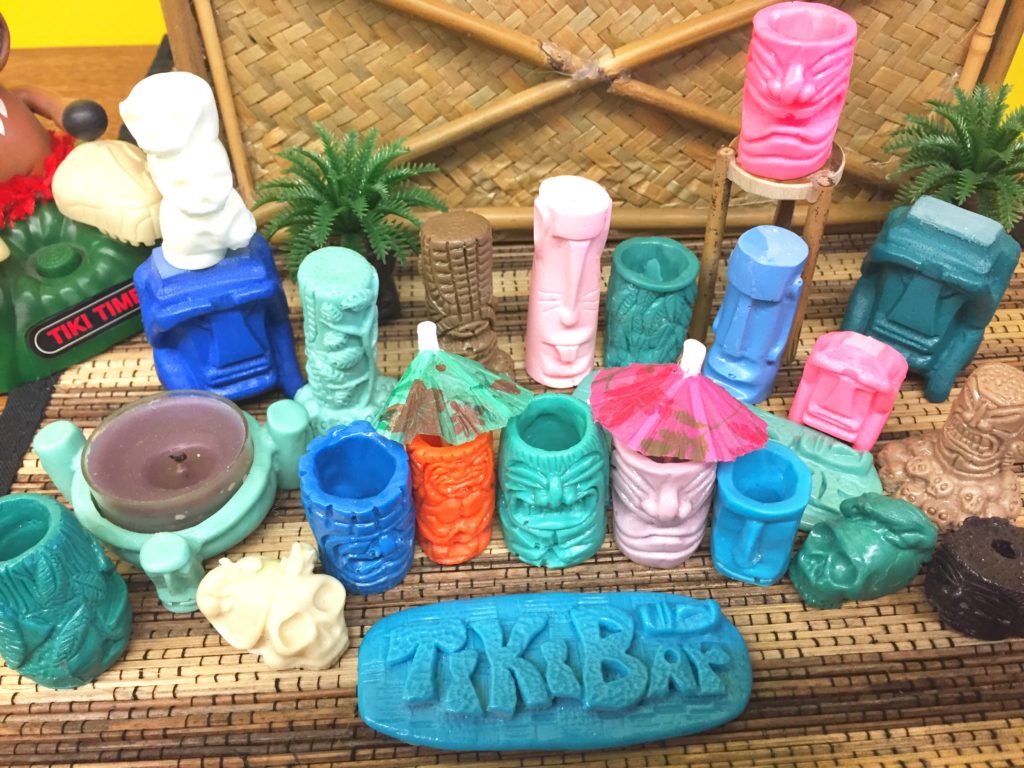 Start your own mini-Tiki mug collection here.