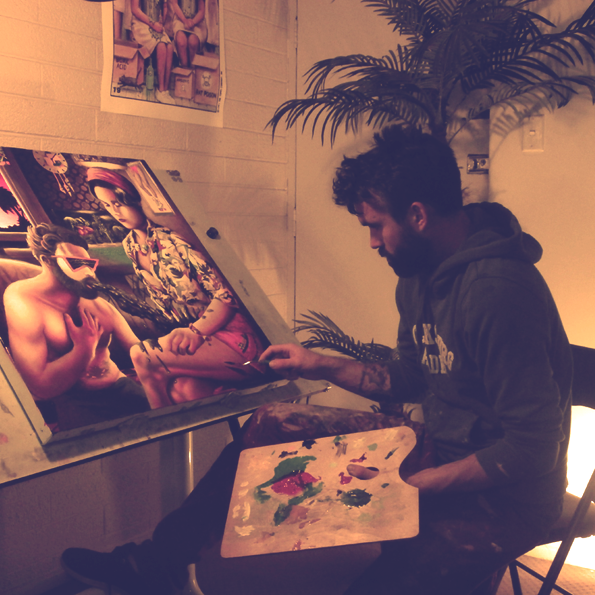 It's all in the details…
When I first saw Joshua Head's work, I couldn't believe the detail. Everything is fine lined and the more you look into his work, the more you see. Joshua is located in Melbourne, Australia where sadly at this point, there isn't much of a Tiki scene going on. With the help of Joshua's Tiki art, that might change! Here is Joshua Head's story…
What's the Tiki scene like down in Melbourne, Australia?
It's alive and well, but it took me a while to find it. When I first moved here, I had no idea how to become a part of the Tiki sub-scene. There's plenty of contemporary themes happening in the Melbourne art world, but Tiki isn't what this city is known for. You have to find your cliques and when you don't know a soul in Melbourne, it can be hard to be introduced to the right folk. I didn't really know what Tiki fans liked, but I knew that I was a Tiki fan and that I liked anything kind of counter culture and lowbrow, so I started showing my face at Pop Surrealism exhibitions and rockabilly BBQ's hoping to meet somebody. I worried that the scene was nonexistent for a while, but when I began to create my first Tiki pieces and put them out there, I started meeting the crowd and hearing about the places to be.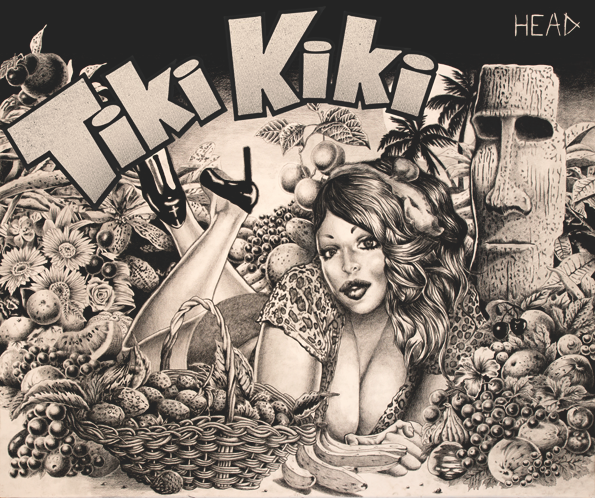 What brought you into the "Tiki lifestyle" and how long has it been part of your life?
Polynesian themes are beautiful to me. They've been in my family since my British ancestors were sent to the penal colonies on Norfolk Island and I was surrounded by New Zealand Maori artifacts growing up. Aged 5 or 6, I became fascinated in particular by a hula girl statue my Nan had in her ornament collection that I would stare at endlessly. It was really the first sensual or sexual memory I ever recorded, perplexed by that brown wooden carving of a topless woman wearing a Hessian skirt. When I moved out of home, I became a regular customer at a store in Fortitude Valley called Honolulu which sold classic gems such as '50s tin toys, Hawaiian snow globes, and wobbling hula girl dolls. But it wasn't really until I first saw the work of Japanese artist Rockin' Jelly Bean in a 2005 Juxtapoz Magazine that I started to appreciated good Tiki art. Jelly Bean has a couple of Tiki-themed doozies in his portfolio and years later in 2015 I decided to try my hand at the style too.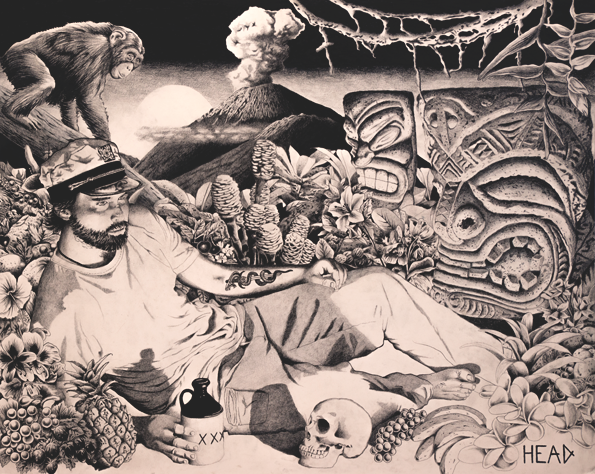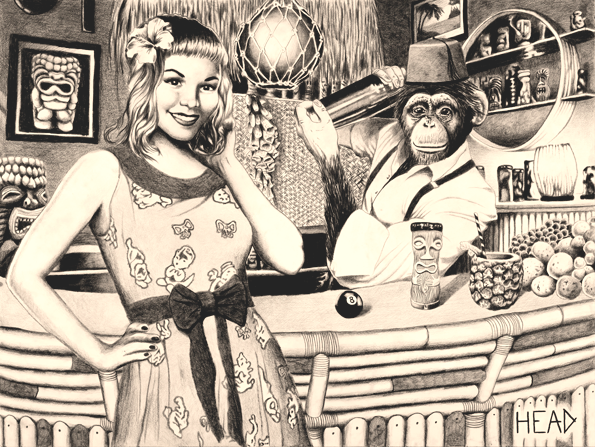 When and what made you decide to start drawing and painting?
My mother is an artist and she encouraged me from a young age to draw. It's really the only thing I was competent at in school, too. I started getting interested in Mad Magazine around age 8 and wanted to be a cartoonist. Most of my early drawing was brutally gory with a lot of bloodshed, teenagers vomiting, and eating their own snot—that kind of boyish charm art. I refined my tastes a little more in high school. At 17, I left home and didn't really pick up a pencil for ten years. I drew a couple of portraits of people for their birthdays, but that was it. Then approaching age 30, I decided to give being an artist another go. It seems to have stuck this time.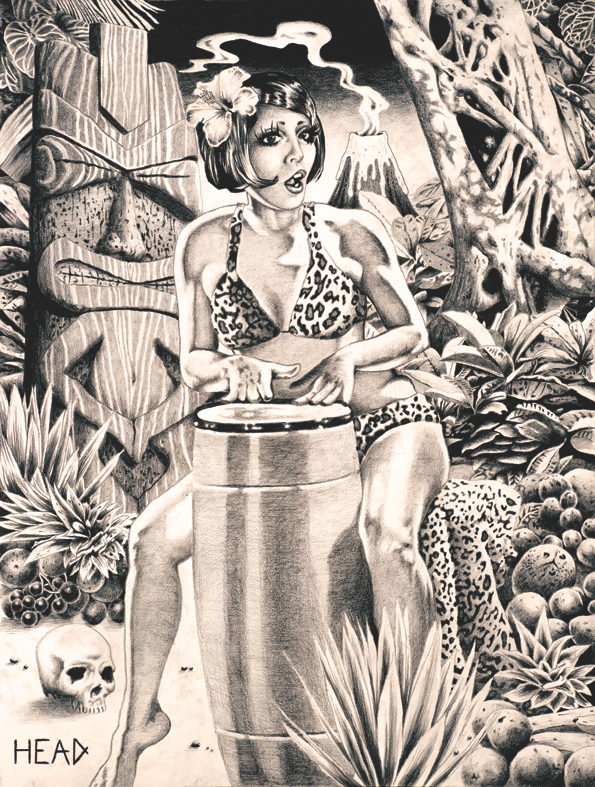 Who or what would you consider your influences to be?
My main influences were my school mates in childhood. Every two years, my family would move towns so I was in and out of a lot of public schools. Each time it was hard for me to make friends until the students saw that I could draw cool gladiators and laser guns in class. Basically, most of my upbringing consisted of me begging for acceptance from peers and I guess drawing became a means of getting that. Even today when I'm working on a new piece, I'm constantly asking myself if my friends would approve of this one. As for influential artists, I've always liked Dan DeCarlo's cartoons. His women were perfect. Norman Lindsay's work was an influence, too. He's another untouchably great illustrator. There's some modern artists like Casey Weldon and Femke Hiemstra that I follow and I find Robert Crumb to be a virtuoso. He's probably influenced me the most. I also own a couple of Richey Fahey's fabulous painted photography prints.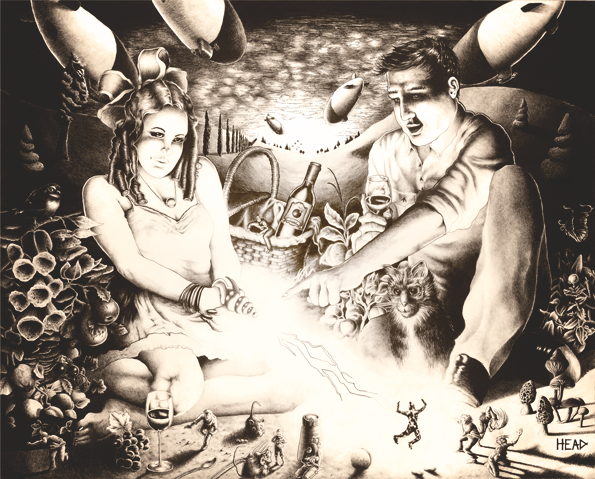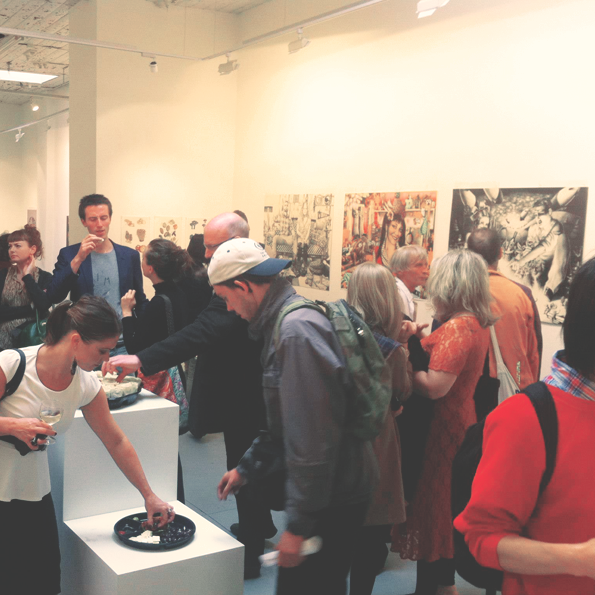 Your work is incredibly detailed. Can you talk about it?
I'm not addicted to detail, I've just developed a detailed style for some reason. I still value more the idea of the drawing over how refined it gets aesthetically. I don't hire a studio, I draw in my room, so it gets messy at times. I work from photo reference, so there's a lot that goes into each piece and it's really all the preparation that takes time. Despite the details in each artwork, I'd say the actual process of drawing is the quickest part, maybe a week or so. I start with a basic idea sketched on a napkin or whatever is around when it comes, then a better sketch before sourcing props like fez hats, Tiki mugs, and banana bunches, hiring models to act out the scene, etc. There's a lot of screwing around before I finally sit down and draw with the black pencils.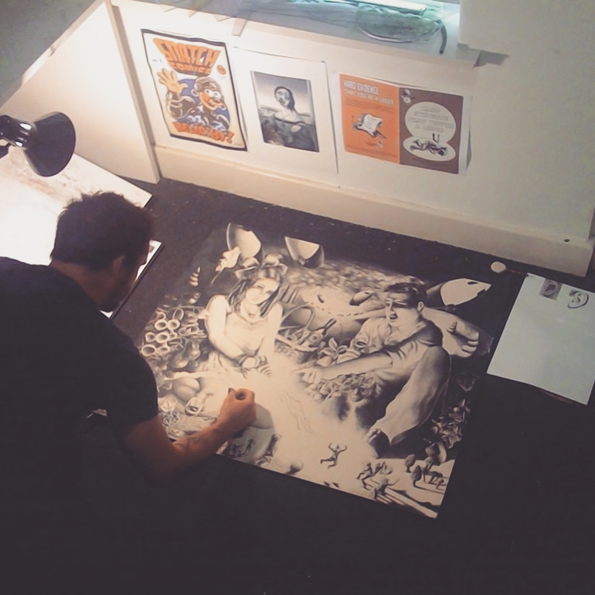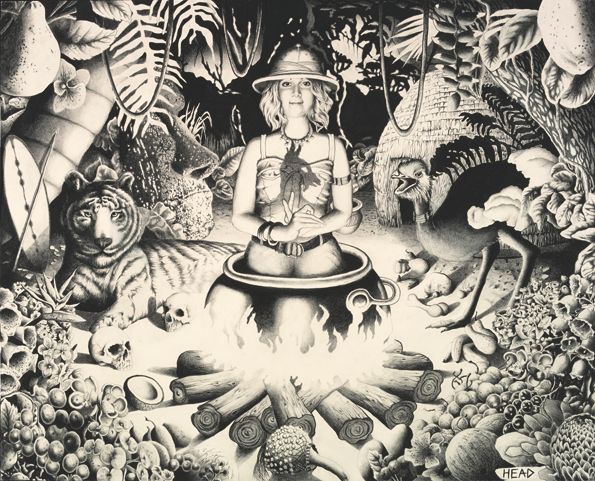 What is your favorite Tiki drink?
Plantation Pineapple rum, neat, in a short glass.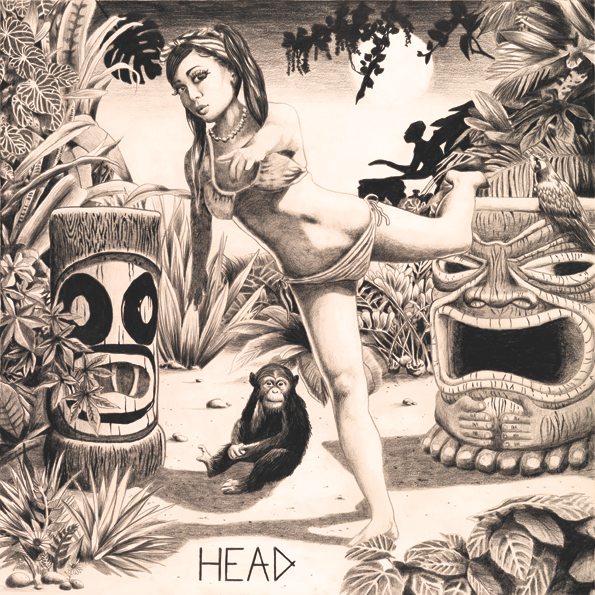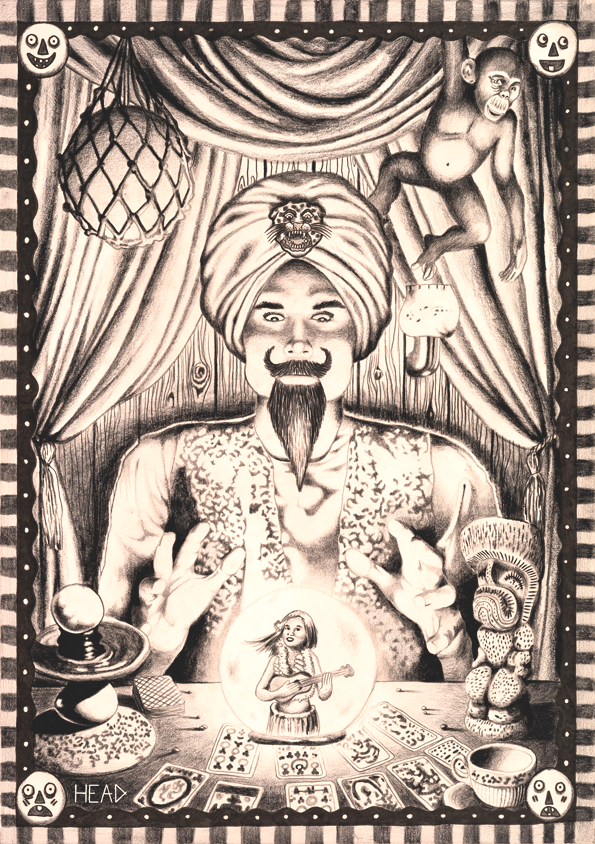 What is your favorite Tiki bar? Why?
Melbourne's famous LuWow Bar was a hell of a place to have a swig and you would meet some interesting characters there. But alas, it has closed down. The only other one I've found here is a nice little cabana bar inside a Tiki/hot rod art space called Kustom Lane Gallery. They serve drinks there on opening nights of any exhibition they put on. It's nice to have a little cocktail there amongst art by guys like Doug Horne, Big Toe, Brad Parker, and the amazing Tiki mugs of Danielle Mann.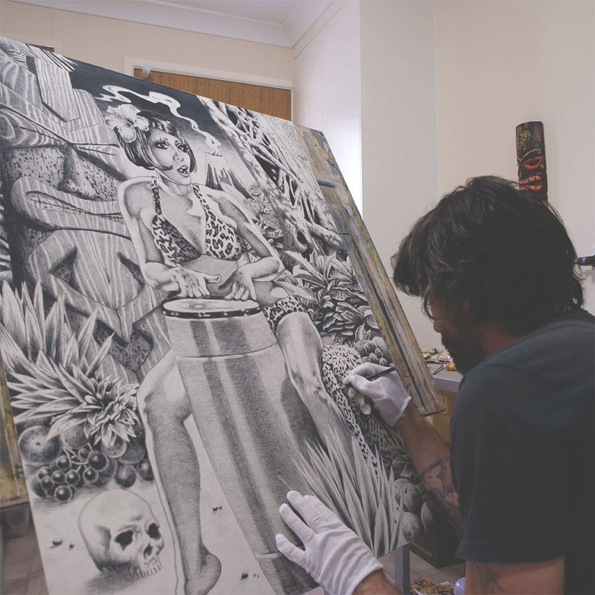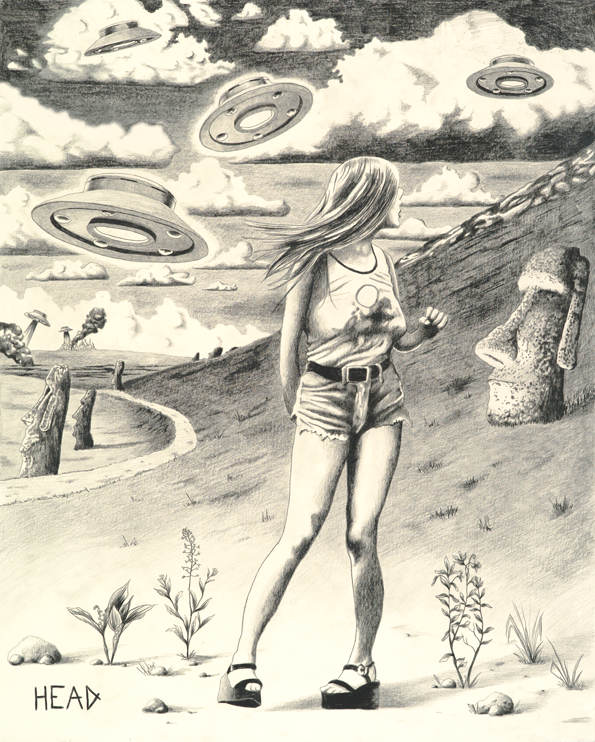 What does the future hold for you and your artwork?
I'd like to see the artwork grow with me. I'm not afraid to take it to different places and stray from what is traditionally accepted as good Tiki art. Some can call my work cultural appropriation, but it's truly just a celebration of Polynesian locales. I don't do it to document a culture, but simply as a commendation to the Islands and what these images meant to me growing up. I like making the art fun, but if I feel inclined in future to bring more meaning into the pieces, I'll be interested to see where that takes them.
Cheers!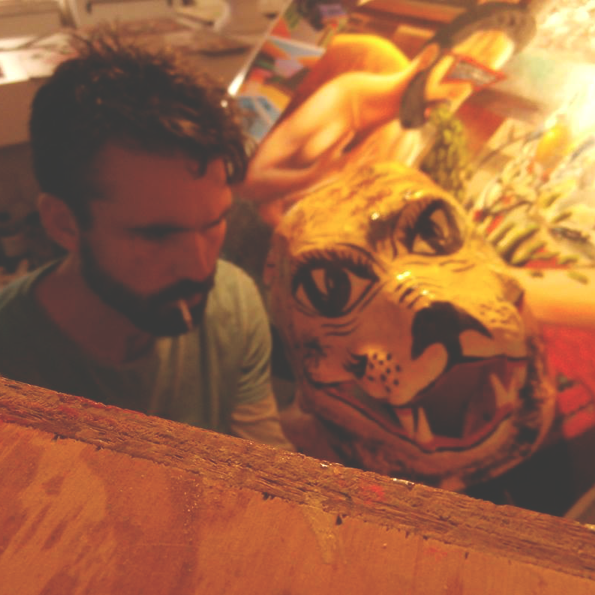 Check out Joshua's website.
And give his Facebook page a like!