---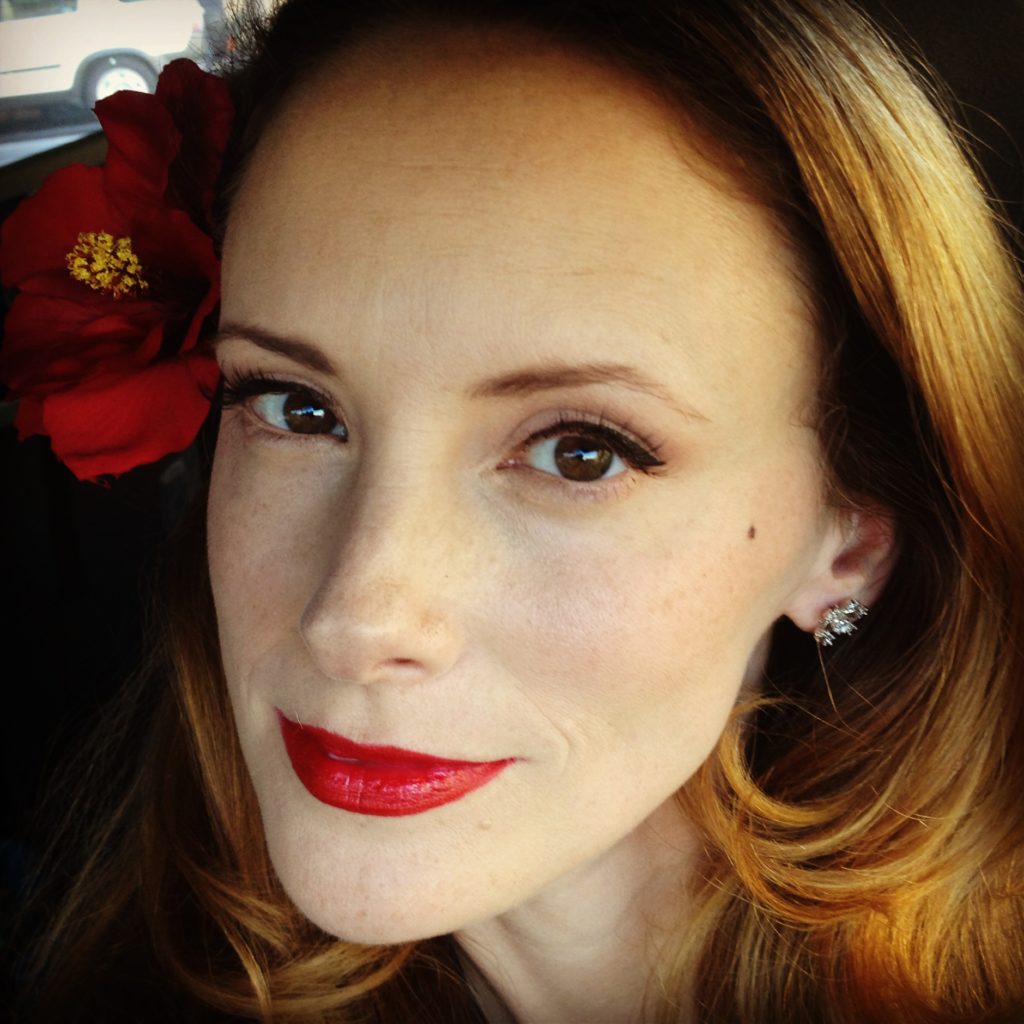 I do a fair amount of traveling for my blog. If I'm flying into a city, I want to know if there are any Tiki bars and I want to know if they are worth checking out. Doing a Google search or reading Yelp reviews isn't going to tell me what I need to know. Does a place serve good Tiki drinks? How is the décor? What is the crowd like? Luckily there is Critiki. Critiki is a website dedicated to reviewing Tiki bars by Tikiphiles like myself. If a bar hasn't been reviewed on Critiki, it's probably not worth visiting. The woman behind Critiki is Humuhumu and she knows her Tiki! I got a chance to ask Humuhumu some questions…
What brought you into the "Tiki lifestyle" and how long has it been part of your life?
Humuhumu- A lot of little things in my life ultimately led me to Tiki. We lived in Hawaii when I was 5 and 6, which left me with a forever connection to all things Hawaiian. In the '90s, I spent my fair share of time in thrift stores, leading to a general attraction to the aesthetics of the '50s and '60s—especially anything fancy or glamorous. When I started building my first home bar back in 2000, I decided to go with a Hawaiian theme. In doing research into my décor options, I found this different, Mid-Century, darker, invented version of Polynesia that I found absolutely enchanting. I was snared.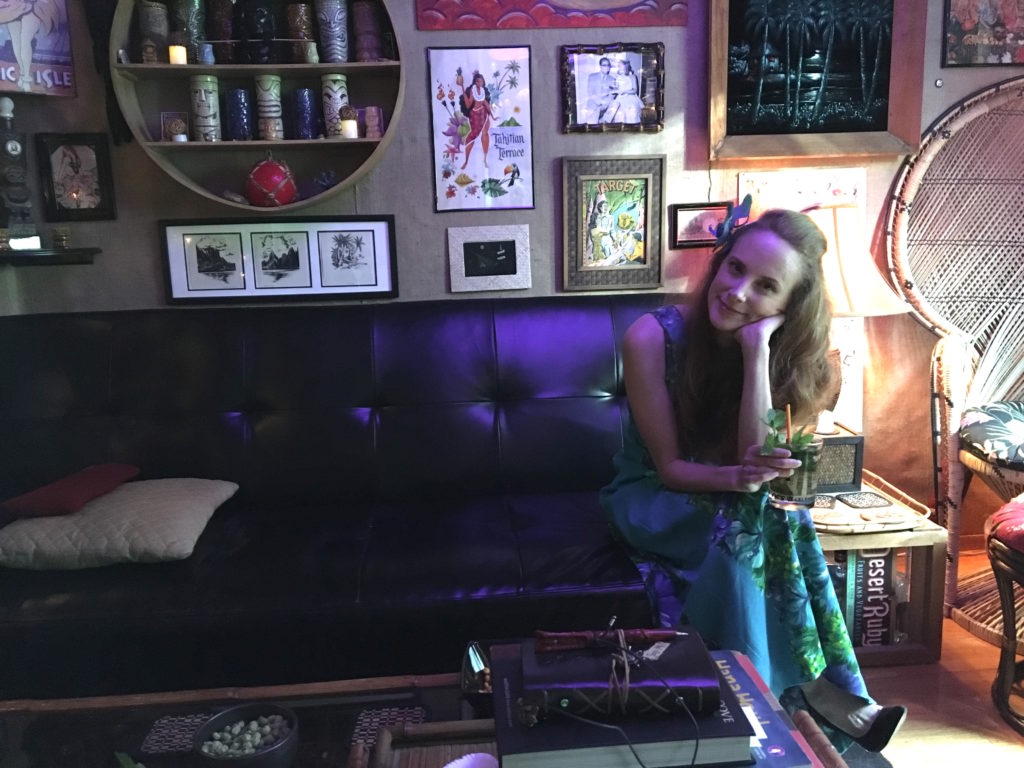 You're originally from Seattle. What was the Tiki scene like back then?
Humuhumu- I moved away from Seattle in 2003, so it was pretty early into my Tiki life. Before I moved away, I got to spend some quality time with a few folks, but Seattle had no Tiki bar we could naturally gather at, Without a "clubhouse," the gatherings were small and scattered. I met more Seattle folks at events in San Francisco or Palm Springs than I did while I was actually at home. Every Tuesday, Rob Nyberg (Selector Lopaka) deejayed a wonderful Exotica night at a bar called Fu Kun Wu in Ballard. It was themed like a Chinese apothecary and it was about as close to Tiki as we could get. I loved those nights. They were beautiful and relaxing. I still remember the wonderful conversations I had in that room.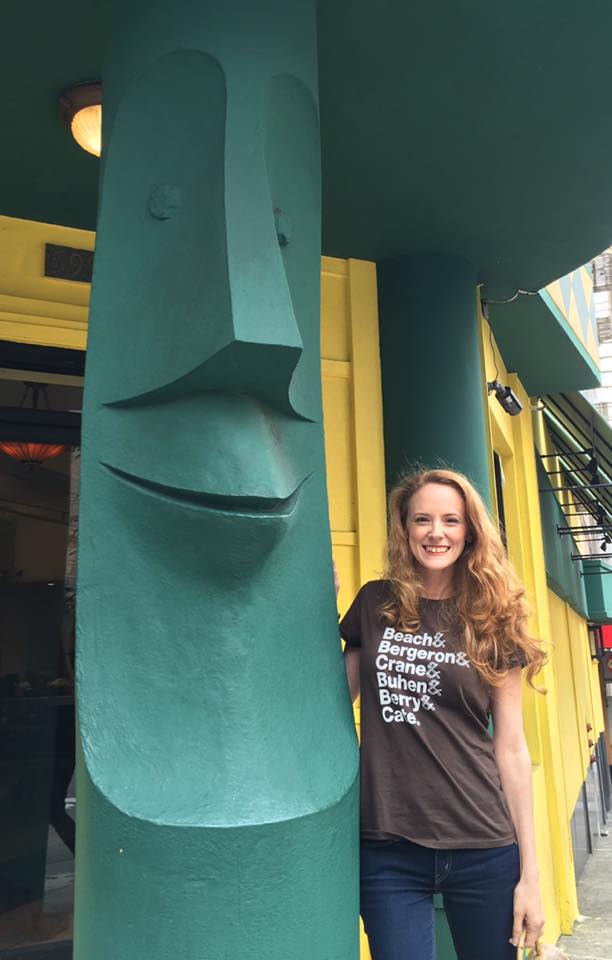 Can you talk about your website, Critiki? 
Critiki is a guide to Tiki locations all over the world. It has listings for over 900 locations and has over 8,500 images. It's mostly Tiki bars and Polynesian restaurants, but it also includes home Tiki bars, hotels, theme parks, stores, bowling alleys…anything with a latitude and longitude.
If you're planning to travel, you can use Critiki to find out which Tiki spots you'll be near, and better yet, get a sense of what to expect (as in which ones are worth your time). Thousands of Tikiphiles have contributed to Critiki over the years, rating locations, sharing their experiences and their pictures, and thanks to their contributions, Critiki does a pretty darned good job of helping you find the good stuff.
It's also a fun place to learn about the history of Tiki and do a bit of time travel. I especially love looking through beautiful images of Polynesian restaurants from decades past.
In addition to Critiki's primary role as a location guide and historic archive about these places, there is a sister site, Critiki News. That's where I write longer articles about Tiki: a combination of news, analysis, and general how-to lifestyle stuff.
I started building Critiki in 2002 and launched it to the public in 2003. I'm a software developer. I've been building database-driven applications since the early '90s, so building Critiki was something that just naturally happened. I love programming and building things as much as I love Tiki and it's been a lot of fun to work on the site over the years. I've been adding new features to Critiki to make it easier to meet up with fellow Tikiphiles at Tiki bars at home or on the road. I'm particularly excited about the potential there.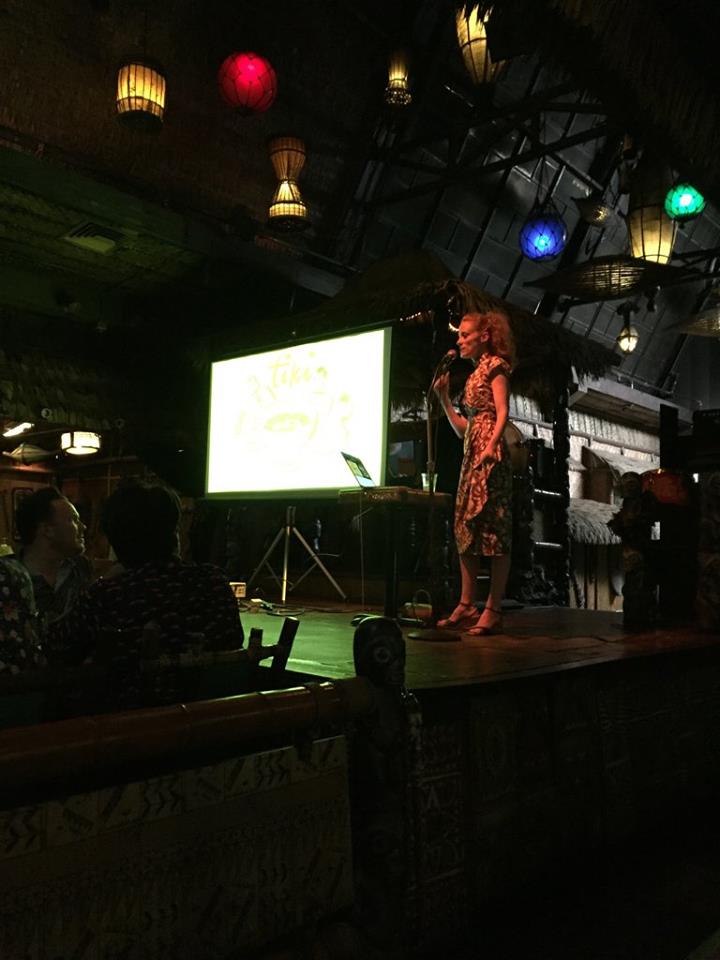 Along with the website, you also host Critiki symposiums. Care to talk about that? 
Humuhumu- At my home Tiki bar in San Francisco, Balhi Ha'i, I give a very special talk called "Tiki: A Story for Bartenders." I realized a couple years ago that the bartenders working in these newer Tiki bars often didn't have a way to get up-to-speed on the history of Tiki, and I'm in a unique position to help them with a history crash course. Often these folks are younger and it's fun to help them step back into time, to understand the context Tiki was born into, and to help them understand why it was such a big deal back in the '40s, '50s, and '60s. It's not a how-to: it would be absurd for me to tell someone how to run a bar, or tell a bartender how to make drinks. It's a powerful storytelling session and it's so fun to see how energized and excited the bartenders are when they learn where Tiki came from. They start to feel a responsibility in carrying that history forward as Tiki continues to evolve. Bartenders are some of the most intellectually curious people I've met and I'm always jazzed to get to dive into geeky questions with them. It's been one of the most rewarding experiences of my life, I love these talks. I've also given the talk on the road, including at the Mai-Kai during the Hukilau in 2016 and at Hale Pele in Portland as part of the Bar Institute during Portland Cocktail Week in 2015.
I also have other talks targeted to a general Tikiphile audience, but those don't happen in my teeny home bar, they happen at bigger Tiki events. I've spoken at Tiki Kon in Portland and at the Hukilau.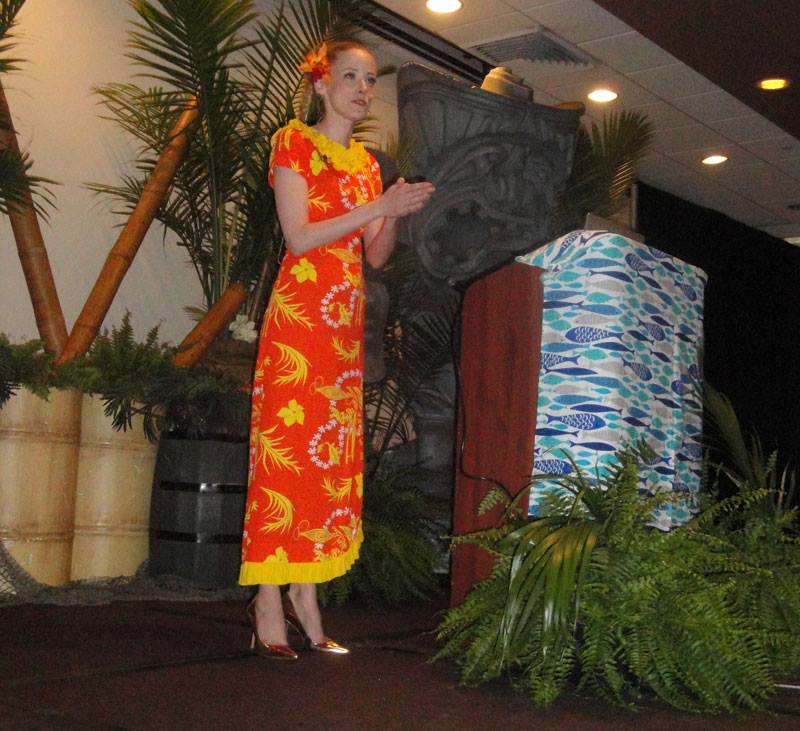 What is your favorite Tiki drink? What do you think makes the perfect cocktail?
Humuhumu- My favorite Tiki drink for a long time has been the Black Magic at the Mai-Kai, but as I noted in a Critiki News article a short while ago, I recently adored a drink from Jeff Cleveland called Ohana Joe. But for me it's not just about what's going on inside of a glass, I live for the entire experience.
My favorite Tiki drink experience happened a few years ago at the Alibi in Portland. The Alibi is one of the few Tiki bars that's been around forever; a completely gorgeous time warp of a place. Their drink menu has famously been mediocre at best, for about as long as anyone can remember. They'd recently upped their drink menu and I was surprised and delighted to see a daiquiri on the menu. Not just any daiquiri, but a "classic" daiquiri. Sure enough, the description on the menu was talking about a for-really-reals daiquiri: served up, just lime, rum, and simple. The very idea: drinking a real daiquiri at the Alibi! I was so excited to order it. And then it arrived: a blended, blue-green drink, in a hurricane glass, topped with whipped cream and a clown nose of a cherry. Completely ridiculous—and completely not what the menu promised. It was so wrong and it was so the Alibi. It was much more perfect than if I'd actually been given a proper classic daiquiri. I was thrilled. I'm not being cute here, that drink genuinely made me very happy.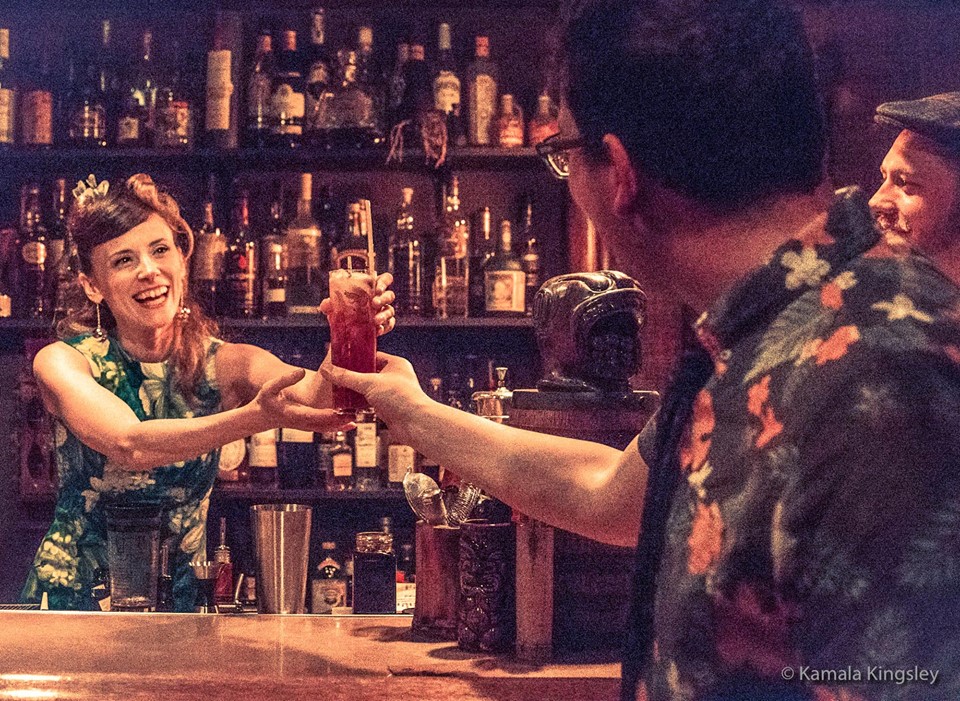 What is your favorite Tiki bar? Outside of great drinks, what do you think are essential elements in creating the perfect environment?
Humuhumu- My favorite Tiki bars are the usual contenders: the Mai-Kai in Fort Lauderdale and Tiki-Ti in Hollywood. I think great drinks are great, but not any more essential than a host of other components: the lighting, the décor, the music. What I'm into is a whole experience. The core of that experience is always the people I'm sharing the space with: old friends, new friends, and strangers alike. What a Tiki bar is uniquely able to add is a sense of discovery and the feeling that we're all in an otherworldly place. Anything that contributes to that feeling is ideal. A push and pull between frighteningly disorienting and friendly and welcoming. Dim lights, dark corners, warm tones, rich layering in the décor, all set it up so you feel rewarded as your eyes slowly adjust and start to notice little details around the room. All of that leads to bonding and conversation with the other humans around you. Bingo! That's a magic night in a Tiki bar.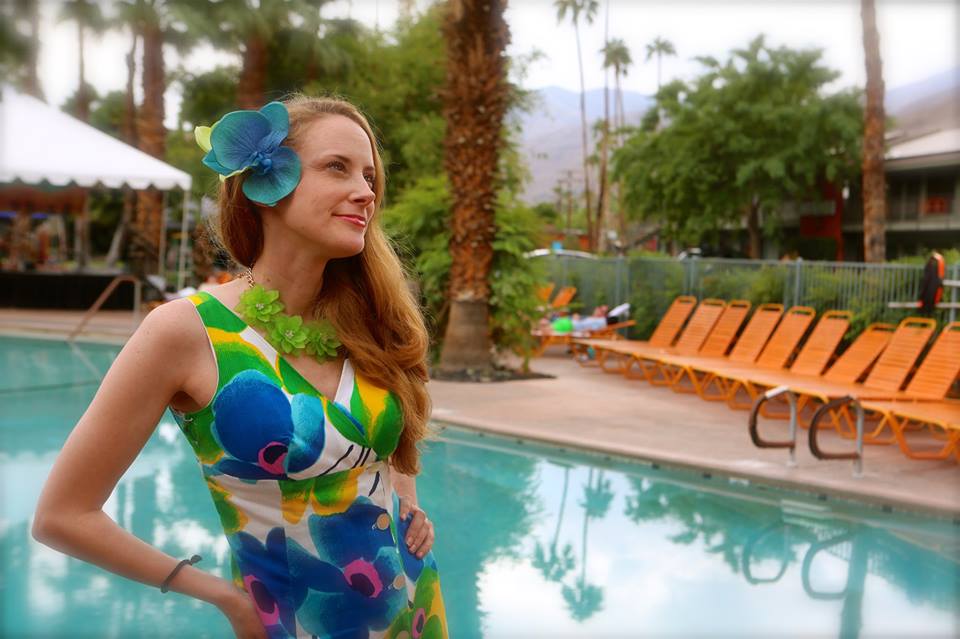 Anything else you would like to add? 
Humuhumu- My biggest advice to those seeking to do some Tiki bar exploring: let a place give you the experience it's trying to give you, even if it doesn't line up with your ideal Tiki bar. The folks running that bar are living their dream and they're inviting you to experience it. They want you to have fun. Go for that ride with them, even if it includes reggae and surf boards and Jimmy Buffett. Of course, go home and let your fellow Tikiphiles know your truth on Critiki, let folks understand what they're in for—but don't let that ideal Tiki bar get in the way of a good time someone is trying to give you.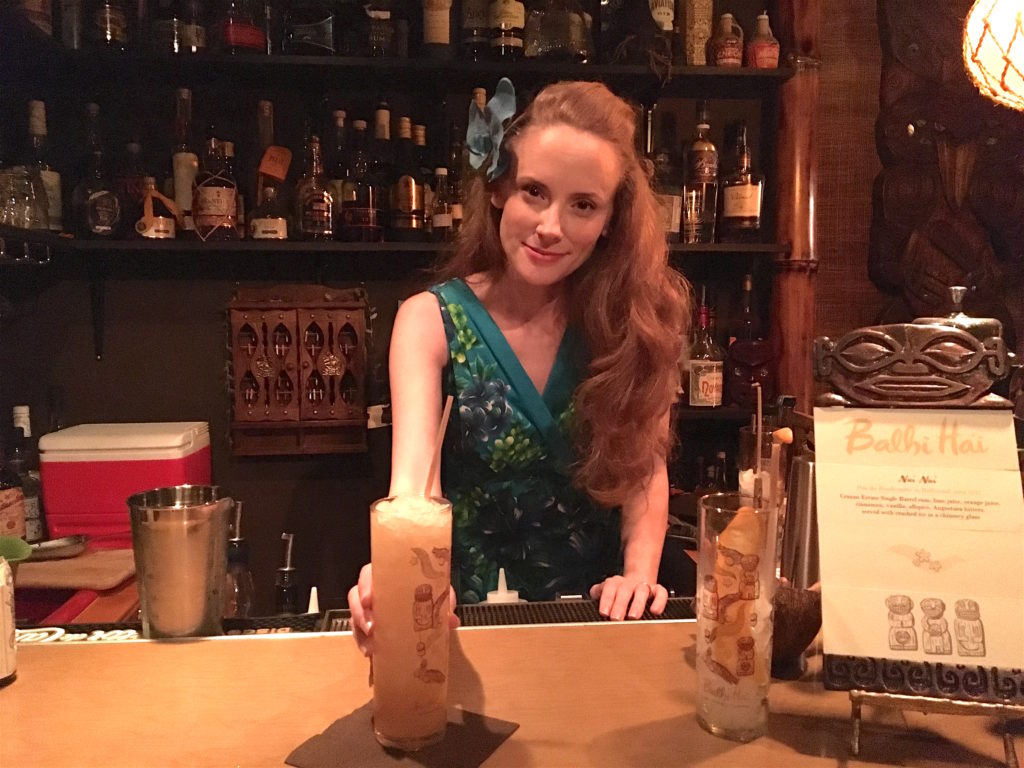 I would like to thank James McDonald, the Atomic Grog, Kamala Kingsley, and Kari Hendler for letting me use their photographs for Humuhumu's post.
Here is the Critiki website.