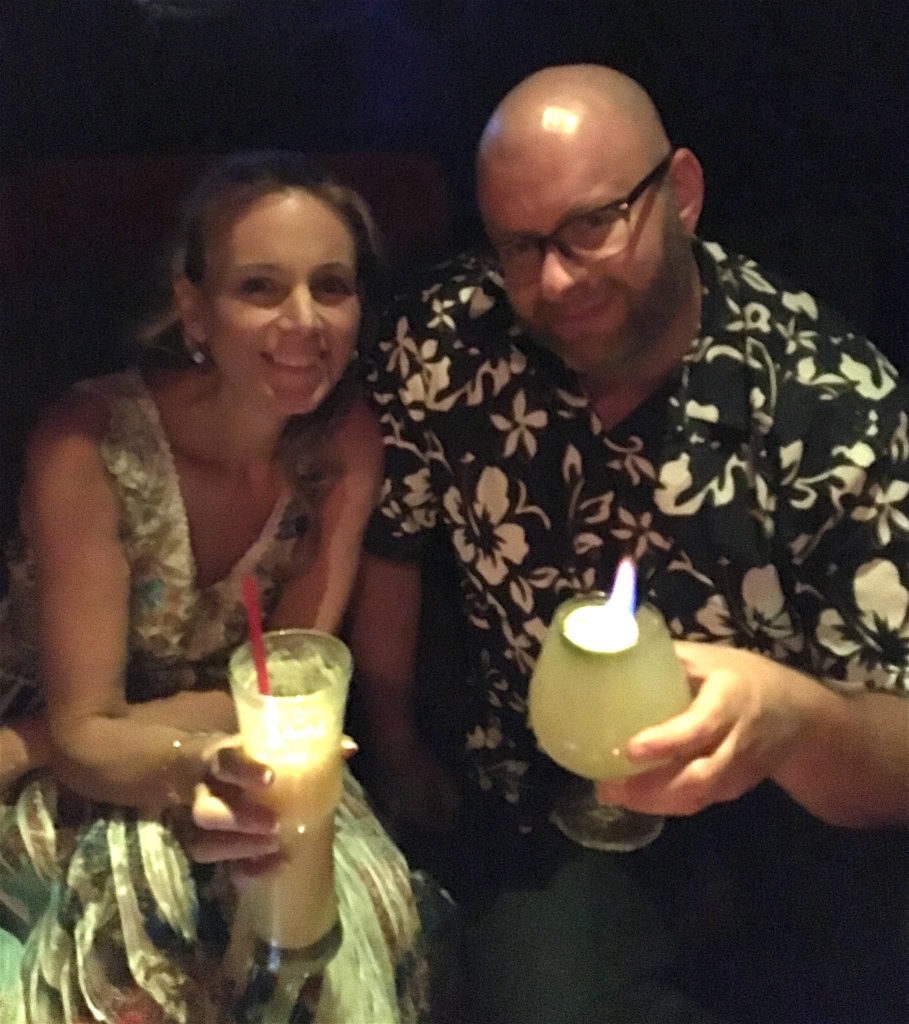 I have to admit: I've been avoiding social media sites like Facebook for as long as I can. I'm a little older and I never saw the point of posting what I had for dinner for the world to see. Facebook just seemed to be a place for people to show off and to get attention. When I started my Tiki blog, I knew I was going to need to get on Facebook to promote. I begrudgingly created my Facebook account and started posting Tiki stuff for my friends to see.
Facebook has been an excellent tool and without it, I wouldn't have even a quarter of the readers I have today. I'm not posting pictures of my dinner, but I am posting pictures of Tiki drinks, so I guess I can't criticize my foodie friends.
Speaking of friends, one of the coolest things about Facebook is the ability to reconnect with old pals and acquaintances. It's really cool to catch up with people I never thought I'd see or hear from again. One of those people is my friend Tonia.
Tonia grew up in small town that is five minutes away from where I grew up. We grew up in the Coal Region of Pennsylvania. The Coal Region is made up of small mining towns. Locals call these towns "patches." Most of these patch towns are very small with only a couple rows of homes. Most don't even have a store. If my mom wanted to buy groceries, she had to drive twenty minutes away.
I was born in the '70s and by that time, coal mining industry had already been in decline. There aren't many job opportunities, or even much to do in the Coal Region. If you're smart, you move away as soon as you can. That is what Tonia and I did.
Tonia and I both graduated from Penn State. It took a couple years, but I eventually moved to NYC and then Seattle, which is where I live now. Tonia moved to Las Vegas and has never looked back. She has her own business and has been very successful. She is happy and loves Vegas!
A couple months ago, I got a message from Tonia. She said that if I ever come down to Vegas, she'd take me out for Tiki drinks. This was an offer I couldn't refuse. I had a couple days off and I booked my flight to Sin City. I hadn't seen Tonia since the '80s. I couldn't wait!
I flew down to Las Vegas from Seattle and took shuttle bus up to the Golden Nugget. Tonia was nice enough to hook me up with a room at the Golden Nugget and we met up in the hotel lobby. It was so cool to see someone that I hadn't seen in such a long time! Tonia saw me, smiled and after a long hug, it was time to get something to eat. Tonia asked me if I was up for Thai food. There are almost as many Thai places in Seattle as there are Starbucks so I was totally down!
We went to Tonia's favorite place, which is located in Las Vegas's Chinatown. We filled up on Thai food and now it was time to hit a Tiki bar. Looking at a map, I realized that the Golden Tiki was right across the street from us! The Golden Tiki is in the middle of a shopping plaza and from the outside, you wouldn't think a really cool Tiki bar was right in front of you…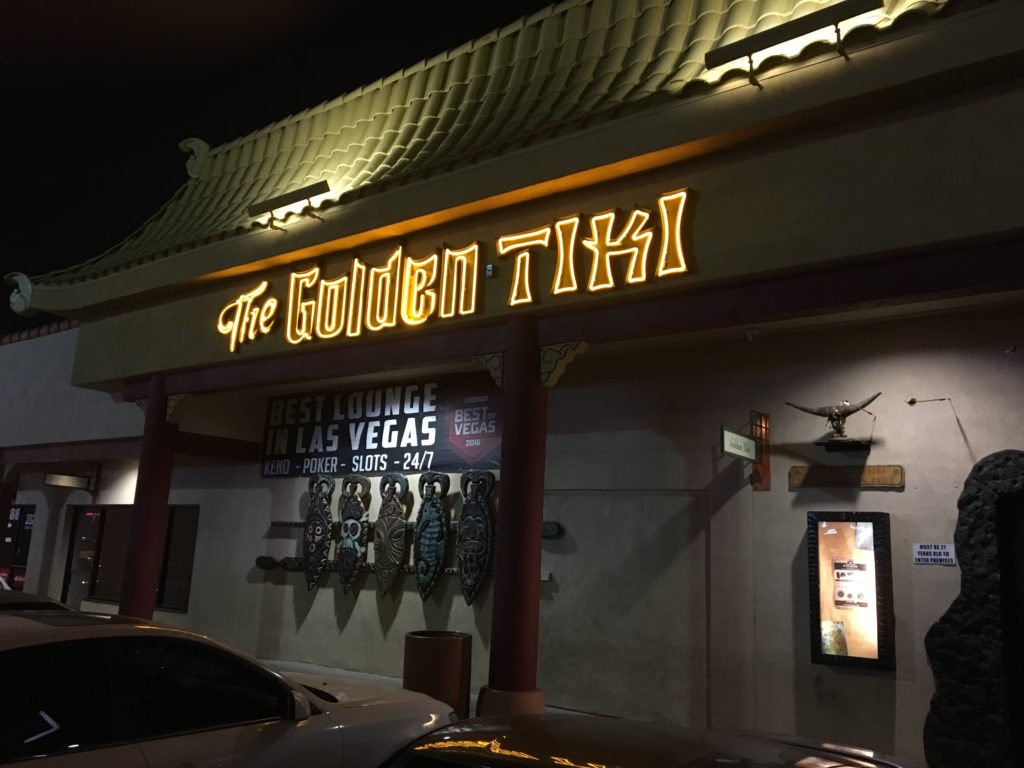 Like a good Tiki bar, there are no windows. This was going to be good…
We walked though the first door…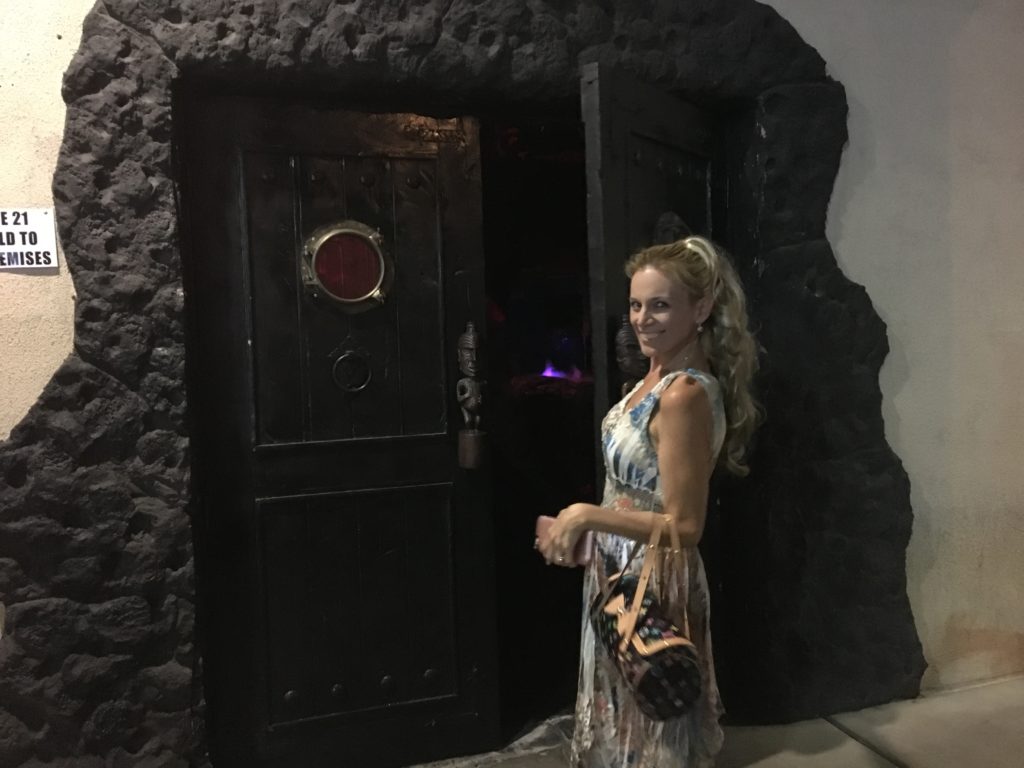 which led to yet another door…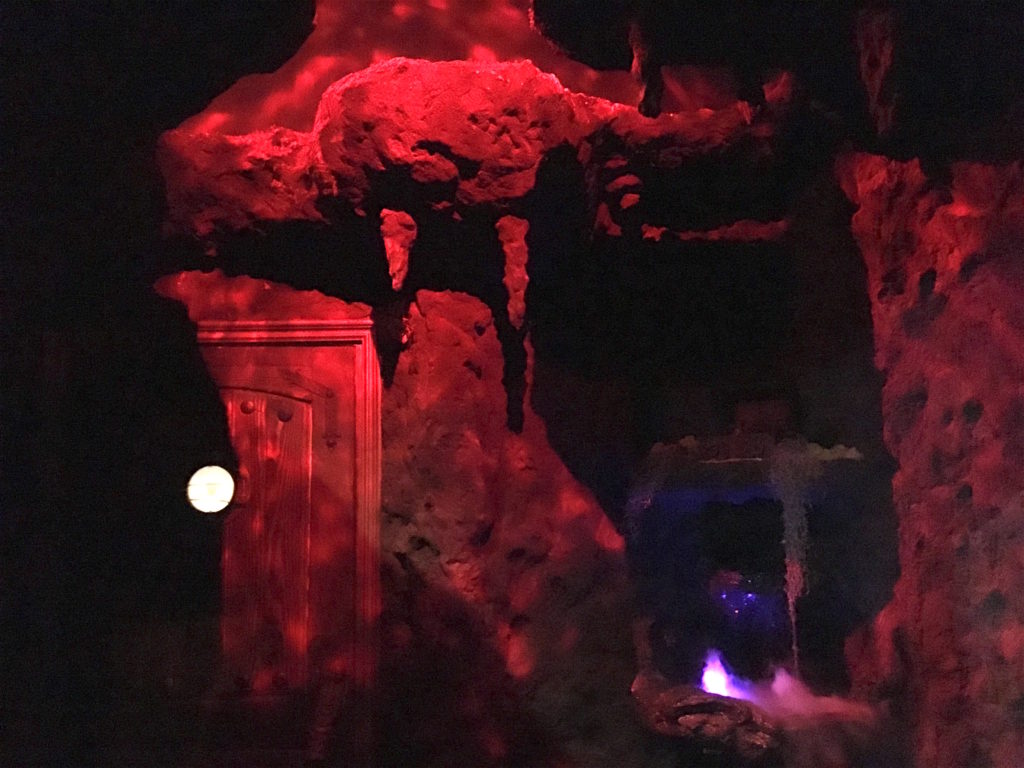 The entrance is perfect for keeping to outside world from peeking in. We stepped inside and were immediately impressed. The Golden Tiki looked great!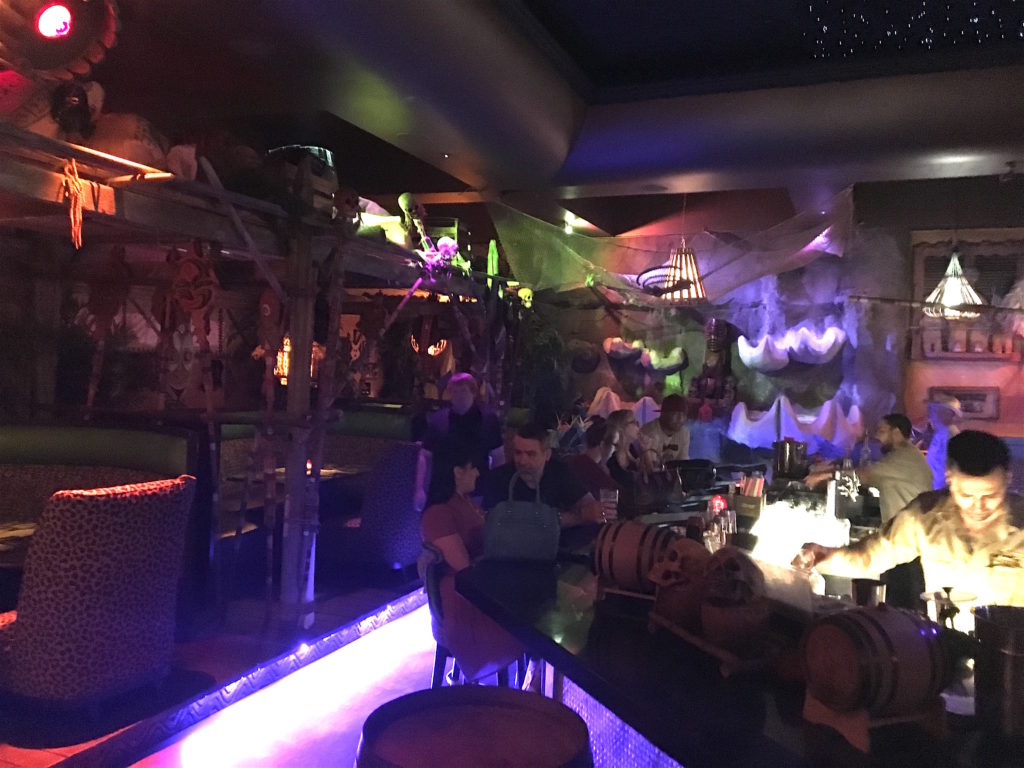 It was pretty busy, so we made our way to the back…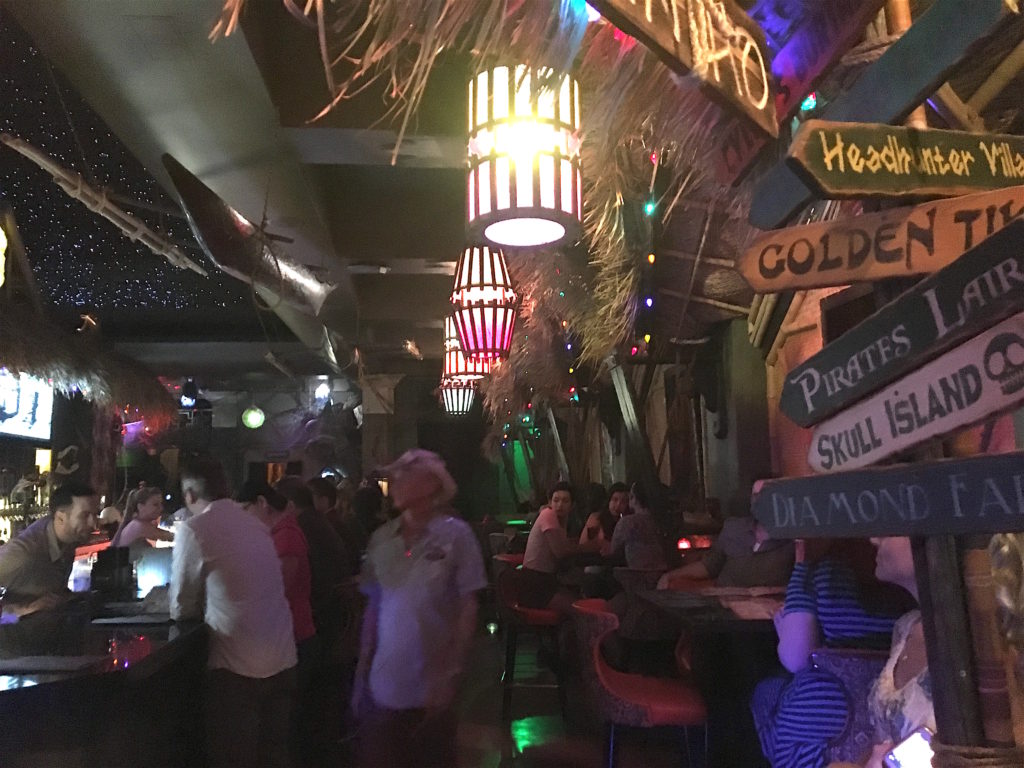 The bar opens up to large room that has a skeleton sitting in the middle…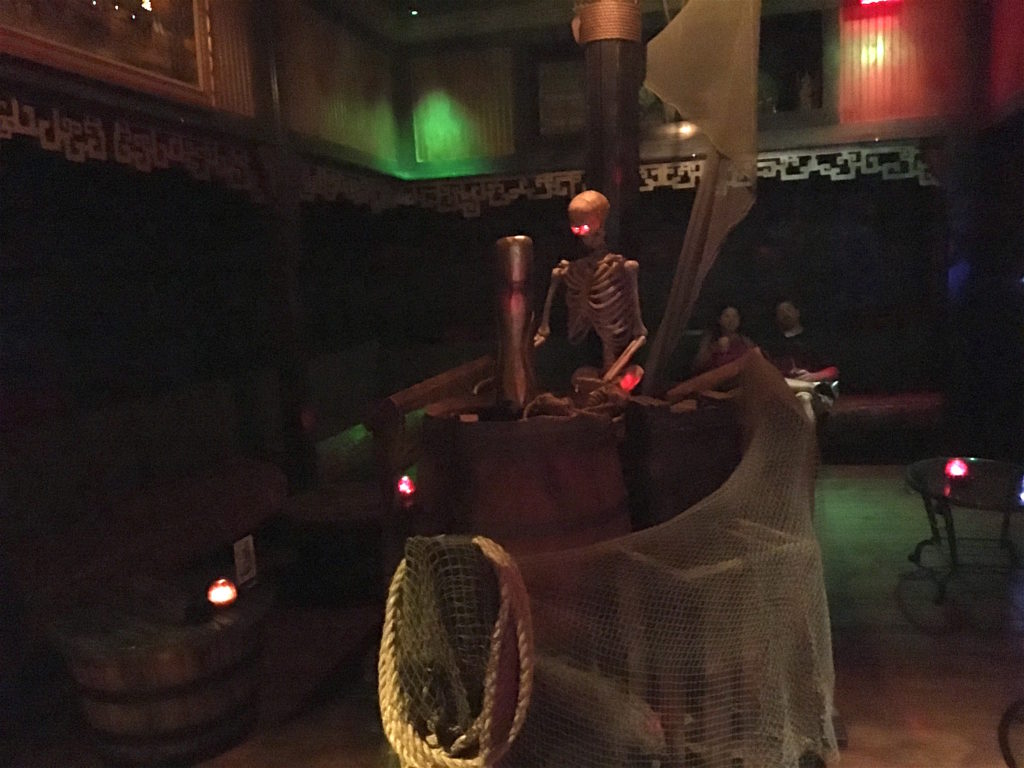 If you get too close to the bony guy, he starts talking to you! He startled me and I found out that he scared everyone else sitting around. We all kept quiet and waited for the skeleton's next victim.
Round One
Tonia and I got a table and started looking over the menu…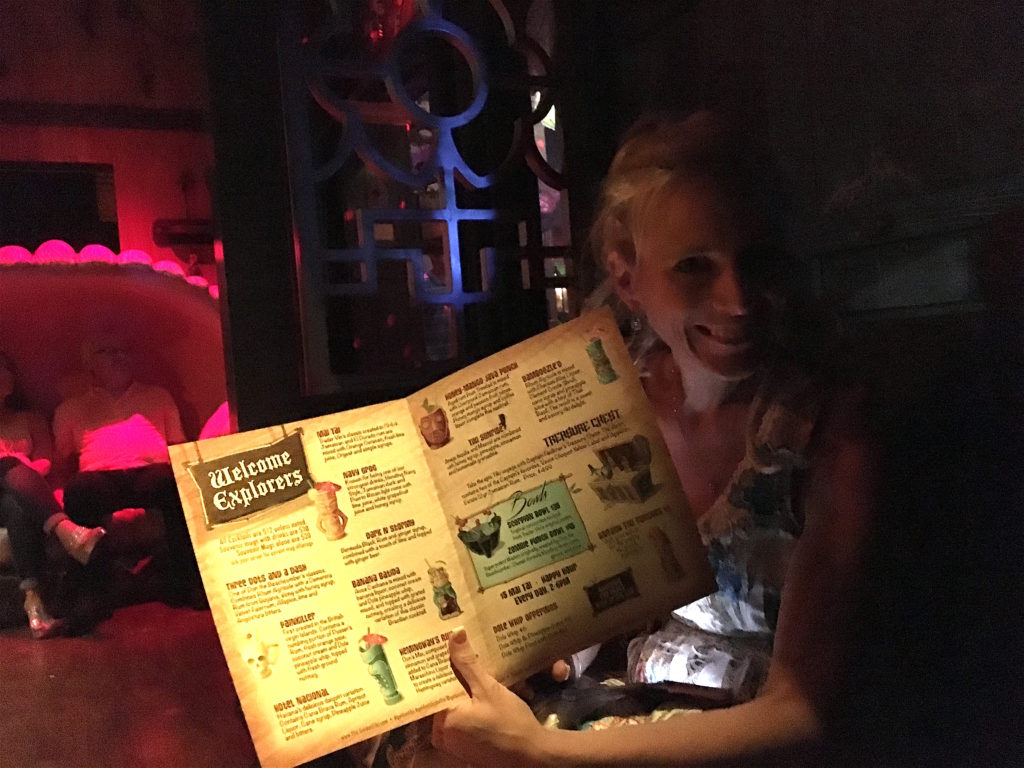 It was filled with all the classic Tiki drinks and some Golden Tiki originals. At the bottom of the menu, I noticed that you could order Dole Whip! Dole Whip is a treat that you can only get at Disney. It's pineapple-flavored soft serve ice cream and it tastes amazing! Tonia ordered a Banana Batida, which actually has Dole Whip in it! Seemed like a logical choice!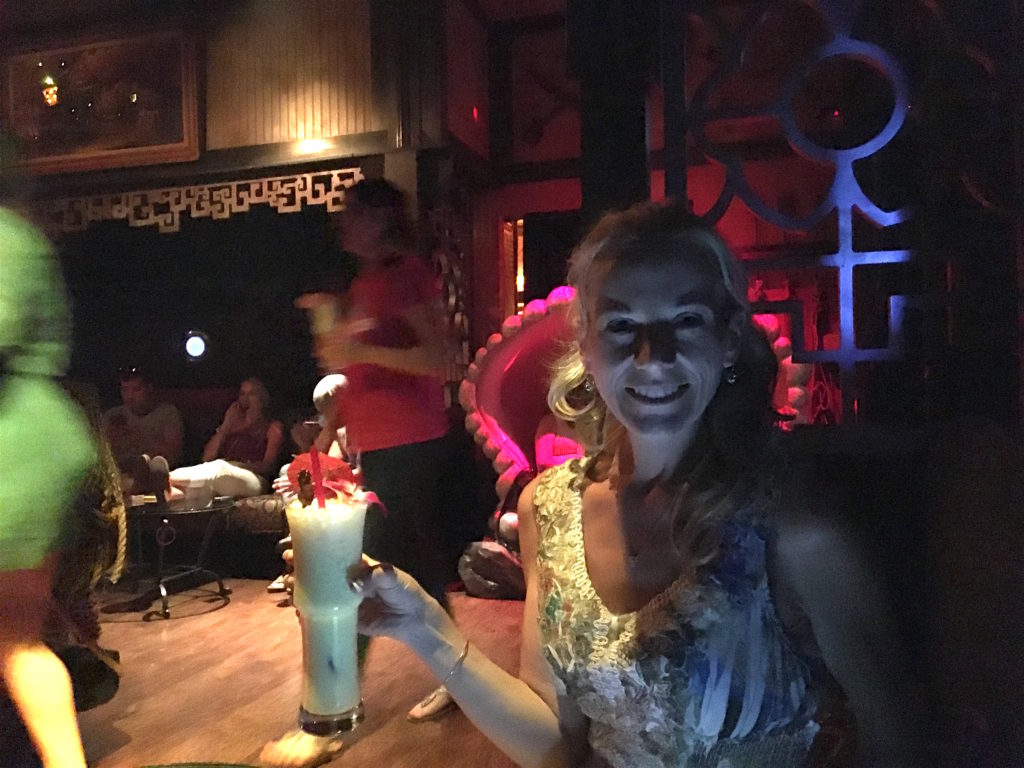 I kept things old school with a 3 Dots and a Dash, but I had to get some of that Dole Whip. I got an order of that as well! What happens in Vegas, stays in Vegas…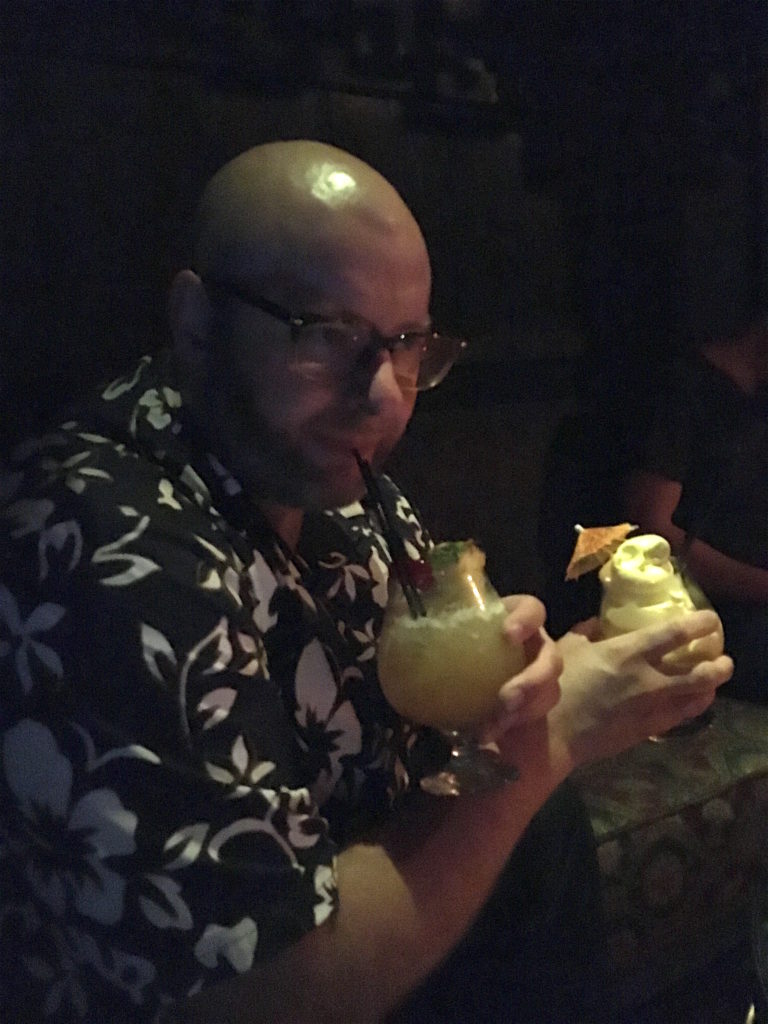 Taking care of us was the charming Tori….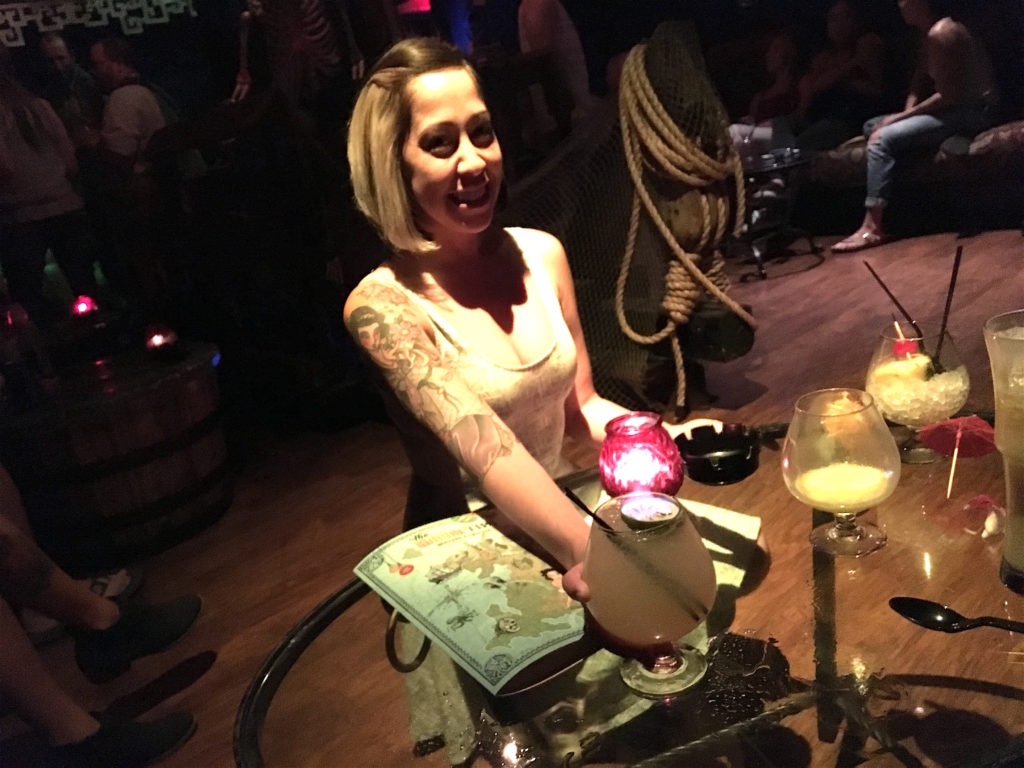 She got Tonia and I started on our Tiki journey quickly by bringing us our drinks lightning fast!
As we were enjoying our Dole Whip and rum creations, we noticed a giant clam to the right of us. There was a couple that wanted to get a picture taken inside the clam's mouth. They asked Tonia if she could snap a picture for them…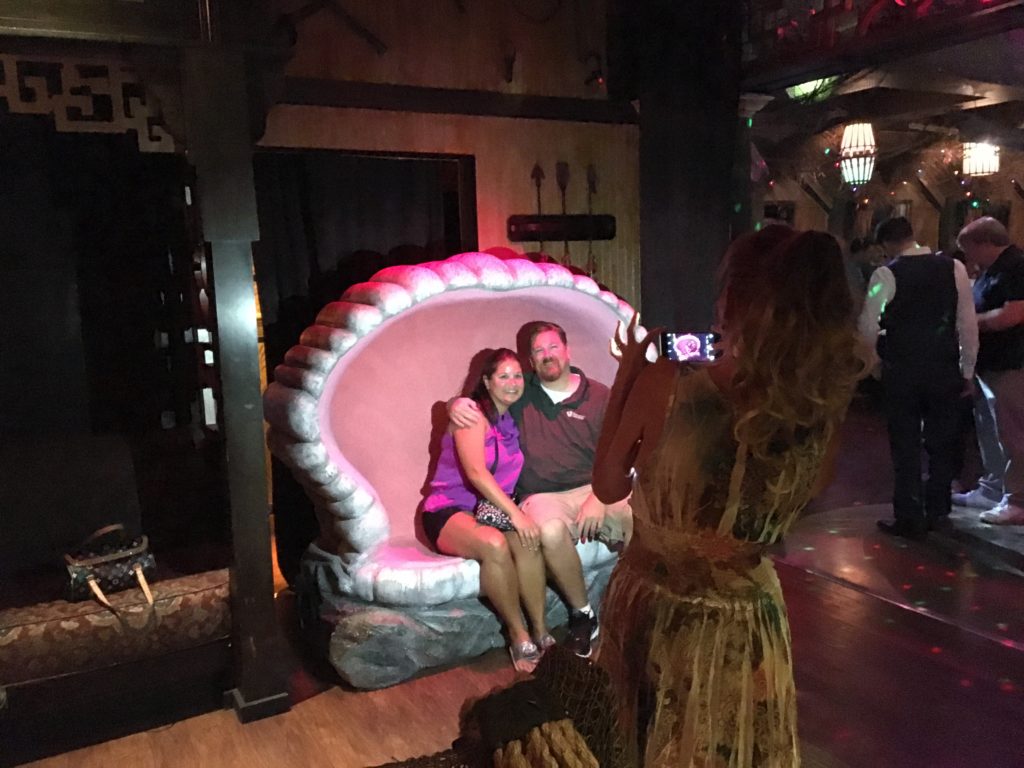 She was happy to oblige and then we all switched places. Here are Tonia and I getting our Kodak moment…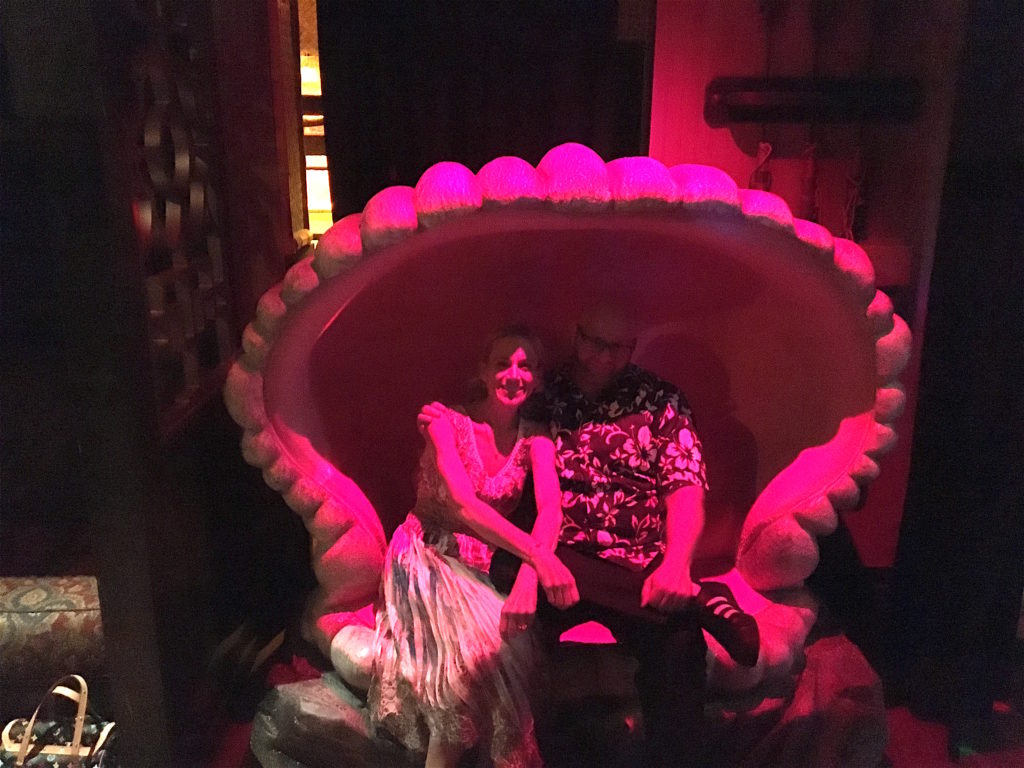 Round Two
We all started chatting and we invited the couple to our table. All the way in from Chicago were Stephanie and Doug Turner…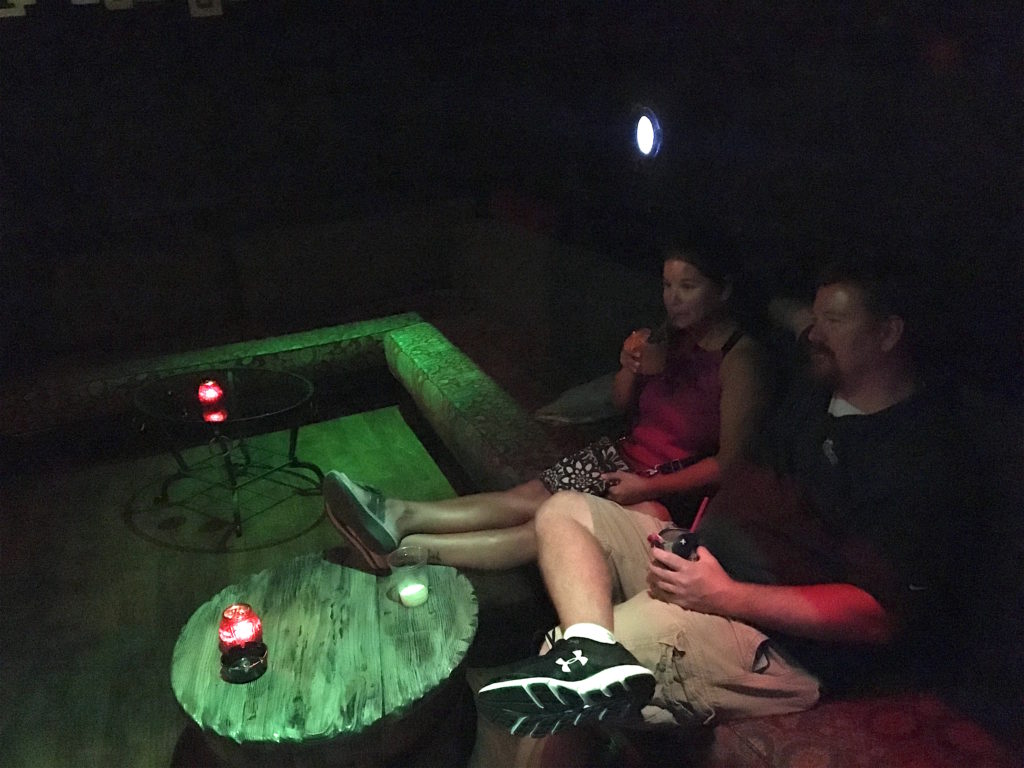 They flew down to Las Vegas for a few days to have some fun and hit up the Golden Tiki. Tori came around to get a next round of drinks going.
Tonia was still working on her first drink, so she was set. Stephanie ordered a Mai Tai..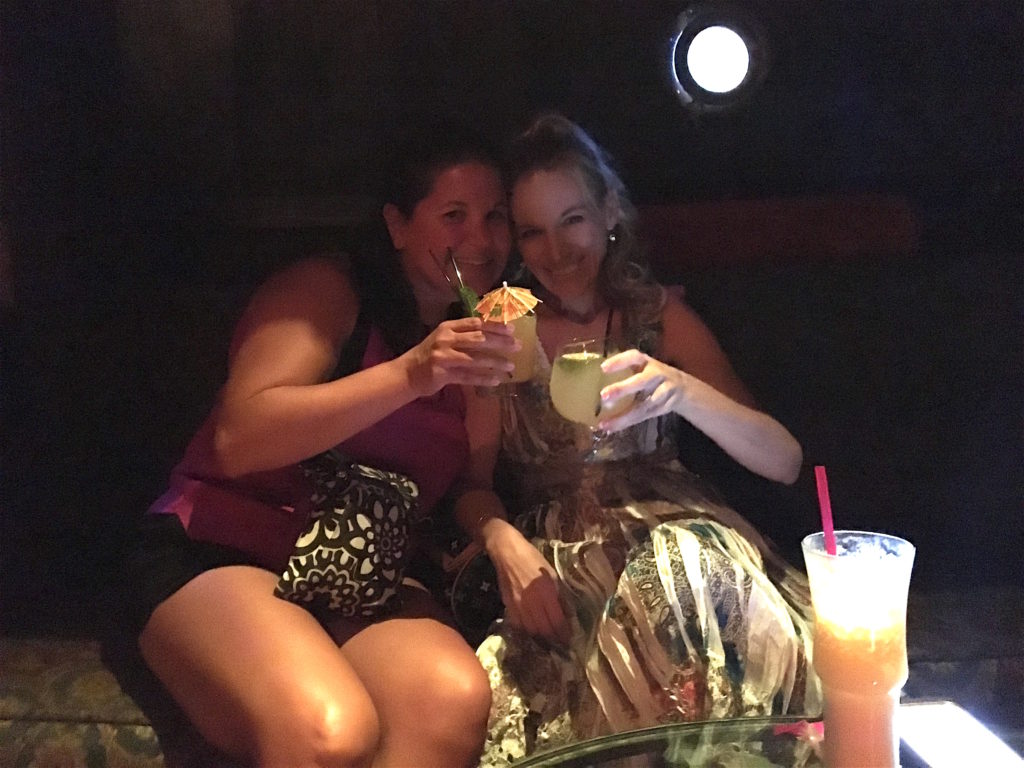 Doug saw Tonia's Banana Batida and decided he wanted one as well…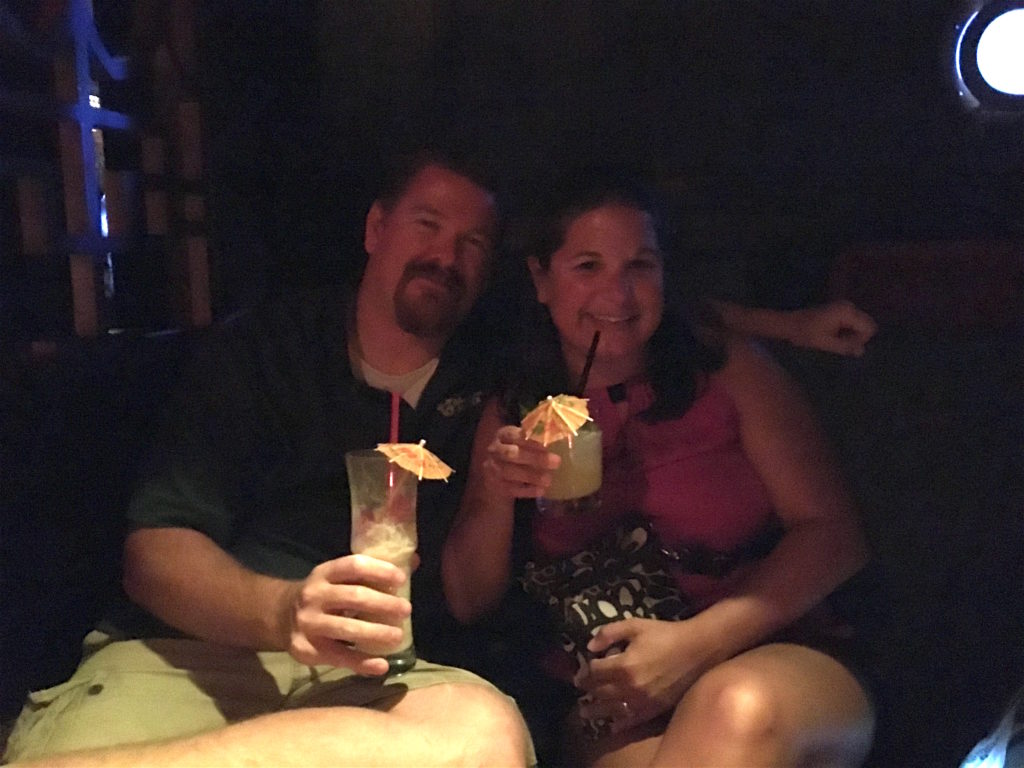 I kept it strong and old school with a Navy Grog…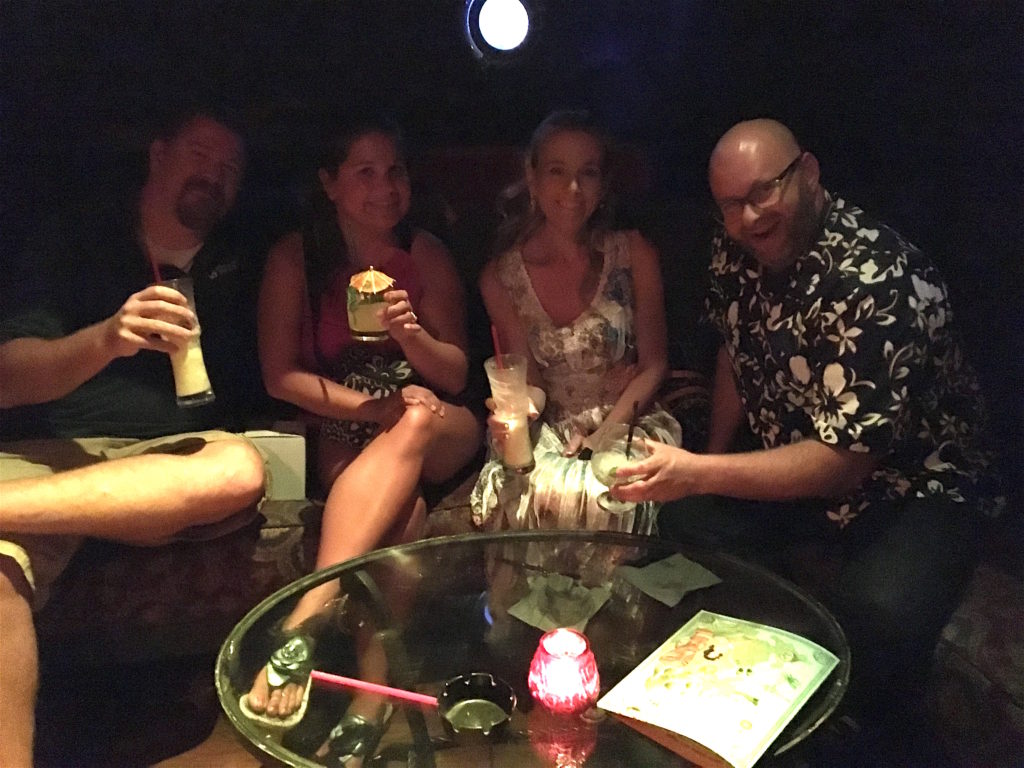 We chilled out and talked about life for a while, got drunk, and watched unsuspecting people jump when they got too close to the skeleton…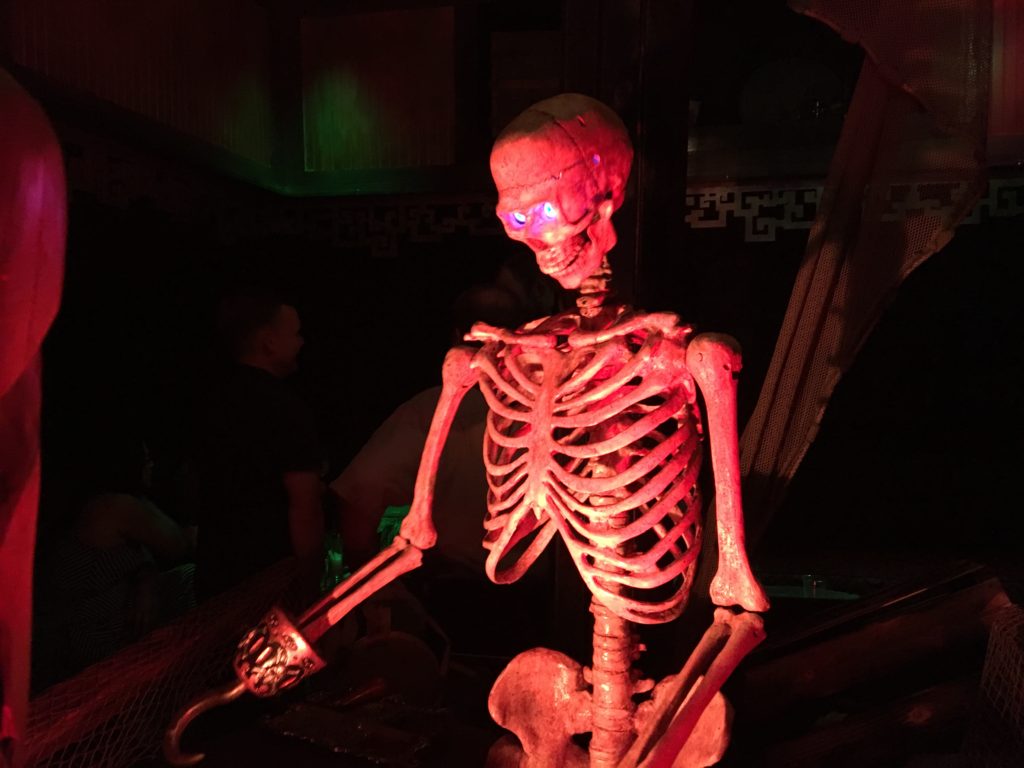 We got even more drunk and laughed even harder when new people jumped from the skeleton talking to them…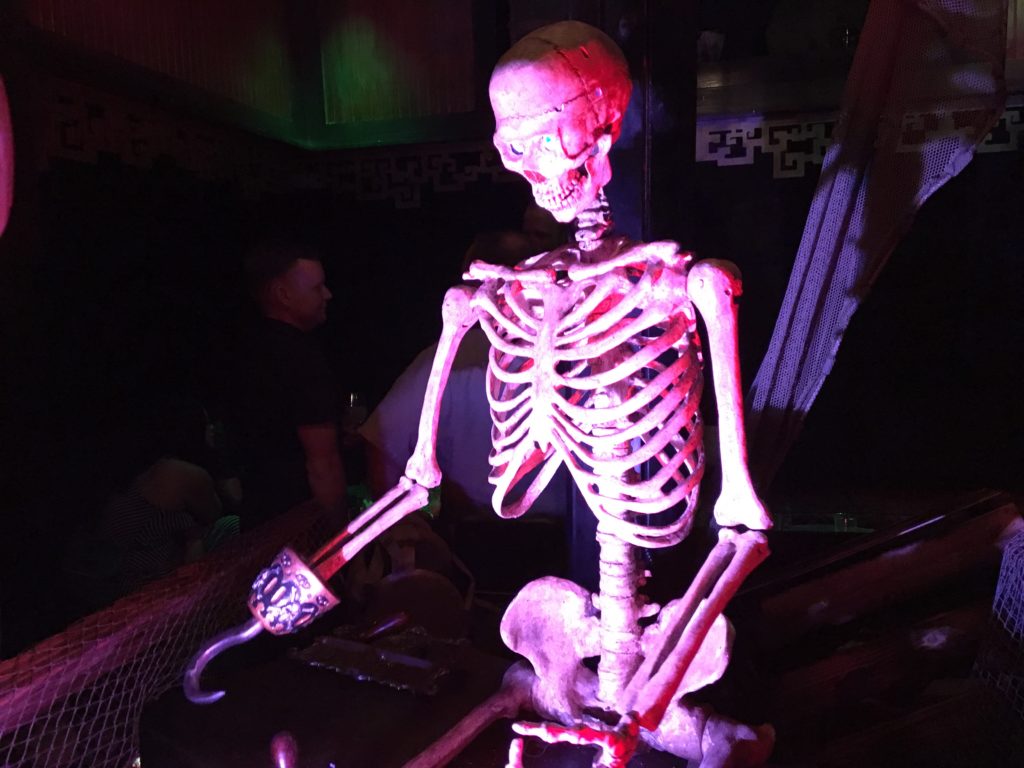 Finally, it was time to do one last thing: go to In-N-Out Burger!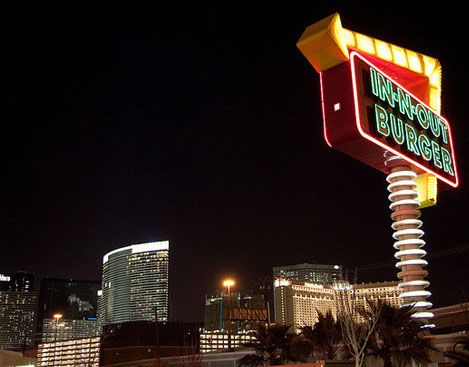 After we filled up on Double Double and Animal Style burgers, it was time to call it a night. It was great to see an old friend from high school and it made me happy to see that her life is going great in Las Vegas. The coolest thing about tonight was that I had a blast and I didn't even gamble a dime! That means more money for Tiki drinks!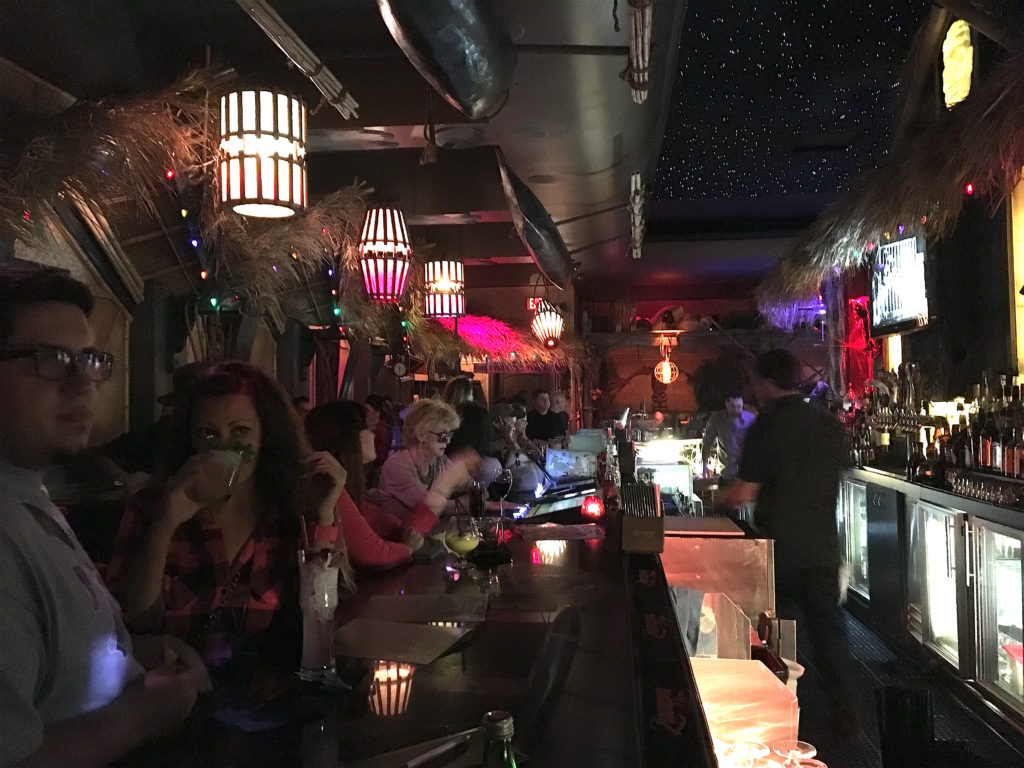 Summary:
The Golden Tiki 8/11/16
Who was there: Tonia, Stephanie, Doug, and Ray
What was ordered:
Tonia – Banana Batida
Ray- 3 Dots And A Dash, Navy Grog, and Dole Whip
Stephanie- Mai Tai
Doug- Banana Batida
Want to learn more about the Golden Tiki? Here is my official write up.
Here is the Golden Tiki's website.
And Facebook page.