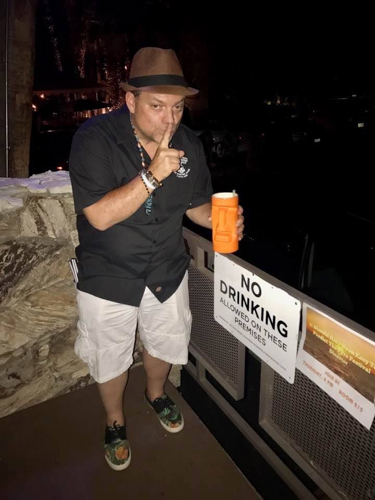 Living in Southern California, Jeff Ballard is at the epicenter of Tiki. There are tons of great Tiki bars all within a short drive of each other and Jeff makes a point to visit them as often as possible. Jeff also has a job that requires some traveling. When Jeff is on the road, or should I say "Tiki Trail," he writes about his adventures on his blog aptly called the TikiTrail…
What is the Tiki scene like where you are located?
Jeff- I live in Southern California, the undeniable home of what we call Tiki or Polynesian Pop. And being in Orange County, we are fortunate  to have Don the Beachcombers, the Royal Hawaiian, and of course Disney's Trade Sam—and their Enchanted Tiki Room! And then just to the south is San Diego with several bars, including the Bali Hai. And to the North we have LA with all that rich history: Tiki Ti, Tonga Hut, Tiki No, Pacific Seas at Clifton's, and so many more!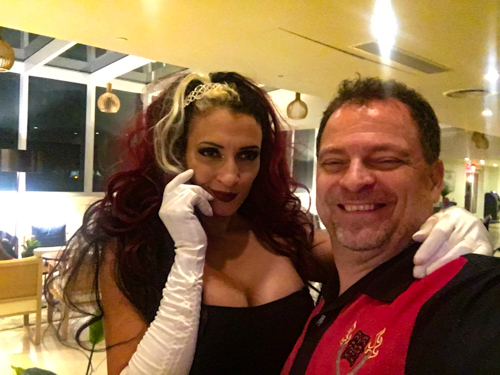 What brought you into the "Tiki lifestyle" and how long has it been part of your life?
Jeff- Always been a fan of the tropical island escape, but it really came in to a greater significance for me when we redesigned our garage to be a Tiki-themed party room around 2012. I profiled the tale of how this became the theme in a Valentine's Day post on my site. After the initial decorating, a friend mentioned that I'd like this thing in San Diego called Tiki Oasis. Once I was finally able to get to one (in 2015), I was immediately in full-bore!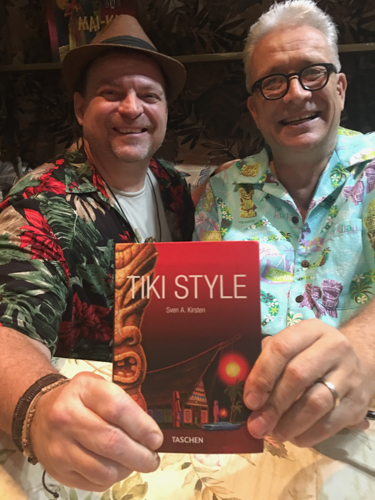 When and what made you decide to start blogging about Tiki?
Jeff- I have had some blogs here and there over the years. As Tiki became more of a thing in my life—and people started asking me questions about it—it became more obvious to me that I needed to write about my experiences. I am very fortunate in my real job that I am able to travel and visit so many of the Tiki bars around the country and living in Orange County we have Tiki semi-monthly marketplaces. I started thinking of that poor Tiki while in Des Moines, Iowa or other places that are not as immersed in Tiki culture as we are. Where do they get their Tiki fix? And so the ideas started to flow. Today there is a blog and Facebook page where I write and share photos and videos. As for tomorrow? Well, we will see what comes next!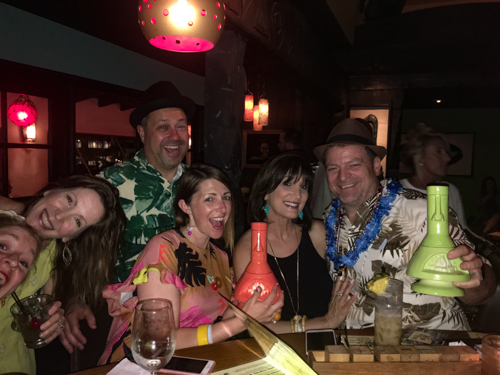 What is your favorite Tiki drink? What do you think makes the perfect cocktail?
Jeff- I am really all about exploration. I like to try the special of the house or by the bartender at whatever Tiki bar I am visiting. But for comparison, I go to the Mai Tai to see how each bar does their specific version. So maybe that one is my favorite, just because there are so many ways to do it and there is great debate about its origins. Aside from the Mai Tai, I'd probably go Navy Grog. Love the taste and fun to make.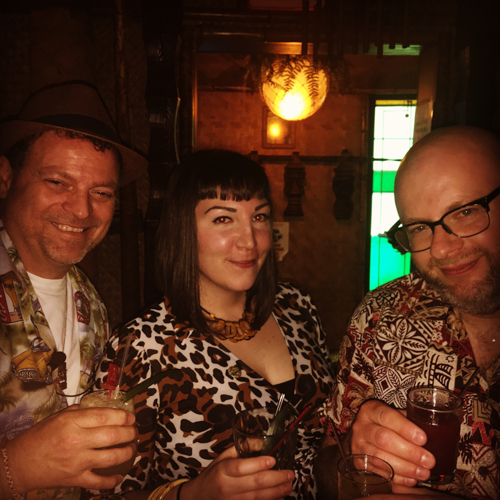 As for a perfect cocktail, that is so squarely in the eye—or in this case, the mouth —of the beholder. I tend to lean to the sweet-but-not-too-sweet type of drinks. And if I am making it, then the perfect cocktail is quick and easy (LOL)! If someone else is making it, I like the whole show, complex unique flavor, and a great mug always helps!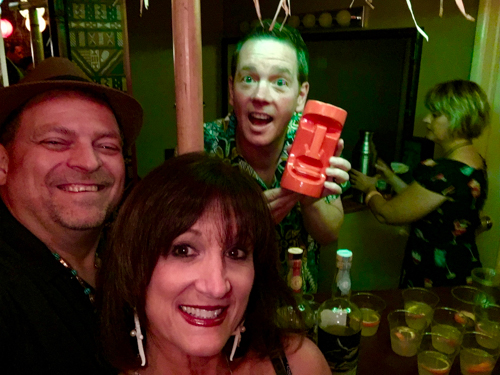 What is your favorite Tiki bar? Why?
Jeff- I get to travel to many of the Tiki bars around the country, so I have quite a few to choose from! At this point, I would have to go with the Lei Low in Houston. It's nothing to look at from the outside, but this is truly a case where looks are deceiving. When I go to the Tiki bars, I tend to look at five things: drinks, decor, music, food, and swag. Then I also consider the overall aloha vibe. The Lei Low scores high marks in all categories, especially in the aloha vibe. They have a very friendly staff that are great to talk to. The aloha vibe is probably the biggest factor for me. The drinks can be great, but if the staff has attitude or is aloof, then it ruins the whole experience.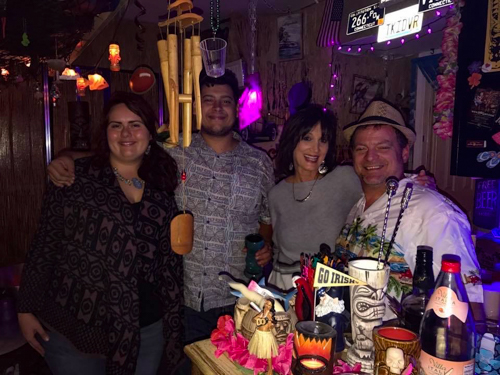 A rising challenger for my favorite bar is the Forbidden Island in Alameda. I have only been there once and it felt immediately to me like it would be "my bar" if I was to create one. From the drinks to the swag to the decor to music/entertainment and more, I think this one will soon supplant the Lei Low. But for now, I still have the Lei Low in the top spot.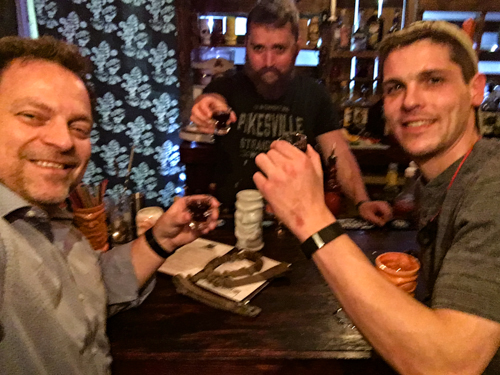 Outside of great drinks, what do you think are essential elements in creating the perfect Tiki environment?
 Jeff- Decor, food, music, swag, and aloha vibe. I was at a phenomenally decorated Tiki bar in Barcelona. The drinks were great. They had high marks on everything—except the aloha vibe. It was a very cold and indifferent staff that just seemed to be working at a Tiki bar and not really into the culture. We would not necessarily go back. You have to have a good mix of at least some of the elements, and as long as one is aloha vibe, it will be a great bar.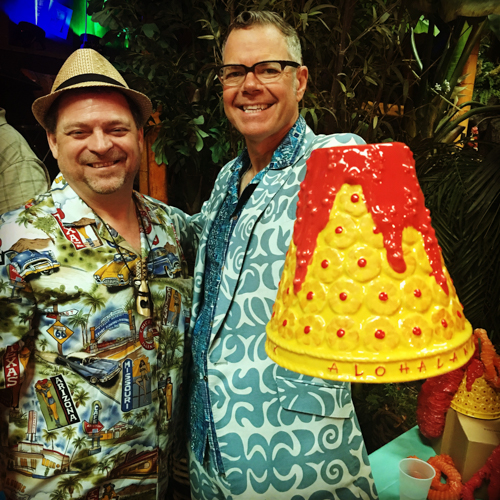 Do you feel that music has an important role in creating a great Tiki experience? What would be some of your favorite artists and albums?
Jeff- I like a wide variety of music in the Tiki setting. I love contemporary Hawaiian (Bruddah Iz!), Exotica, and reggae (Marley and island reggae). I have started getting into rockabilly (Hula Girls, Rocker Covers, et al.), and all kinds of other music we come across on the scene, including the Ding Dong Devils. They are my favorites! And I have NO idea of how to classify them.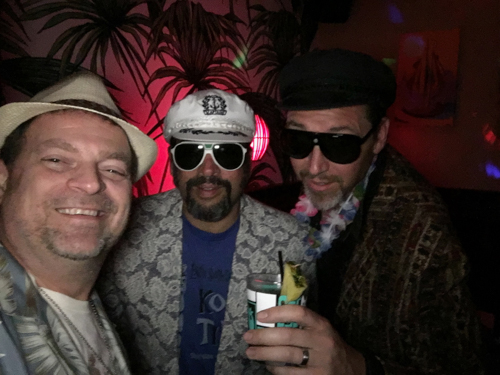 What does the future hold for you and the TikiTrail?
 Jeff- As I said, there is a plan and I am hoping to be revealing a whole lot more in the next few months!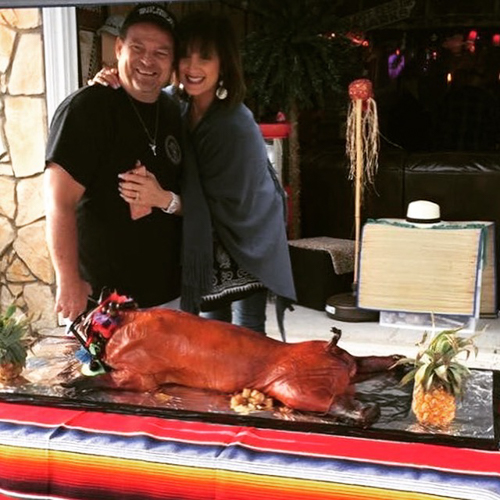 Anything else you would like to add?
Jeff- Let me know when you are down here! You have a standing invitation to the Taki Tiki!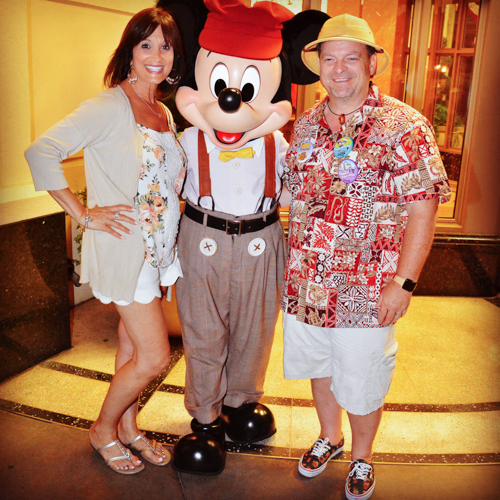 Here is TikiTrail's website.
And Facebook Page.