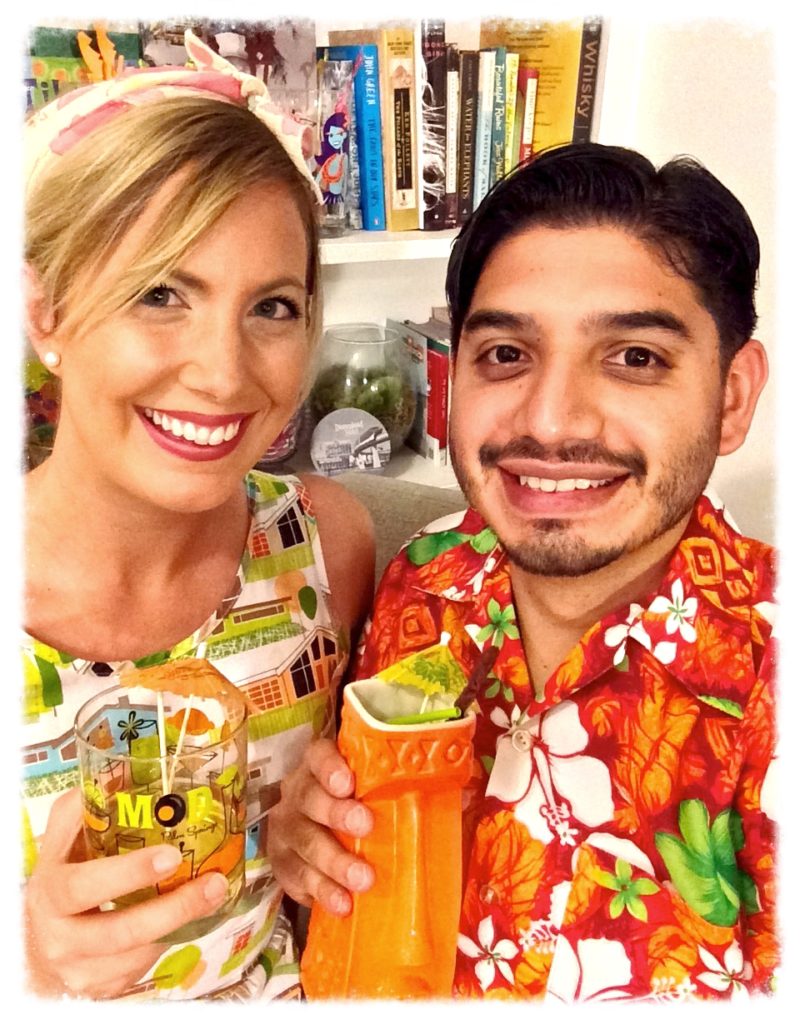 Tiki 101…
Say you're new to the Tiki lifestyle and you want to learn more. Where are the good Tiki bars? What do I need to start making Tiki drinks at home? Why is a Mai-Tai called a Mai-Tai? How do I plan a Tiki-themed wedding? Look no further! Modern Tiki Lounge has you covered…
Modern Tiki Lounge is the power team of Kelsi and Greg. Their book: Home Tiki Bar 101 is everything you need to start your on path to living the Tiki lifestyle.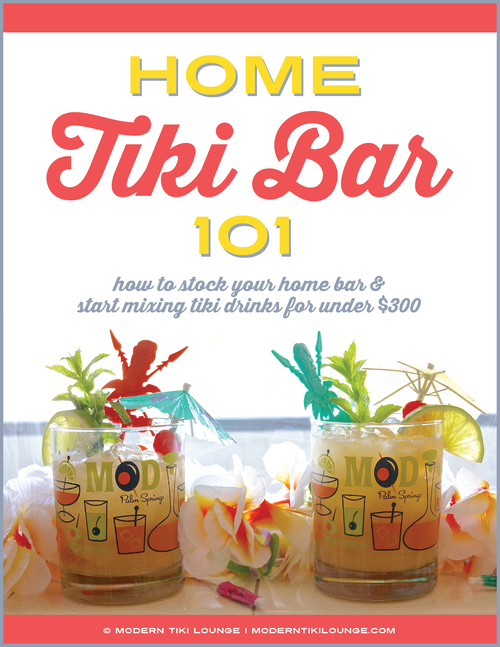 What is the Tiki scene like where you are located?
Kelsi- We live in Los Angeles and right now, it kind of feels like the epicenter of the Tiki scene. California has been experiencing a Tiki boom with (what seems like) new bars opening up all the time in addition to the many high-quality pre-existing locations. Beyond all of the great options in our city, we're not far from the Tiki scenes in Orange County, San Diego, Palm Springs, and the Bay Area, as well as the individual locations that have sprung up in Bakersfield, Santa Barbara, and Sacramento…did I get them all? It's an exciting time to be living in Southern California and the Tiki community seems to be growing exponentially!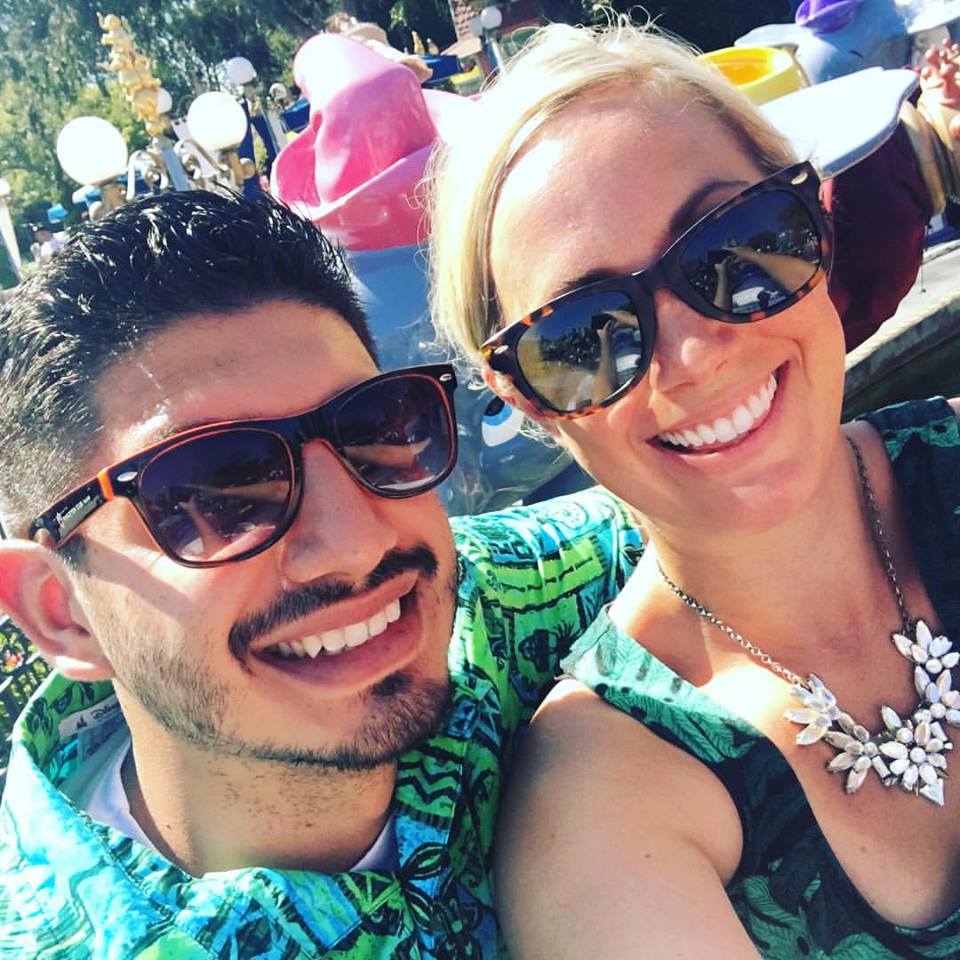 What brought you into the "Tiki lifestyle" and how long has it been part of your life?
Kelsi- Compared to most Tiki enthusiasts, Greg and I are still fairly new to the scene. It all really started back in 2013. As with most people, I don't think there was any one factor that attracted me to the Tiki lifestyle. It was more a perfect storm of interests that I realized all overlapped in one place! Here's the combination of things that got me hooked:
Theming and the Disney connection: Quite honestly, I think the seed was planted back when my parents brought me to Disney World for my 5th birthday and we stayed at the Polynesian.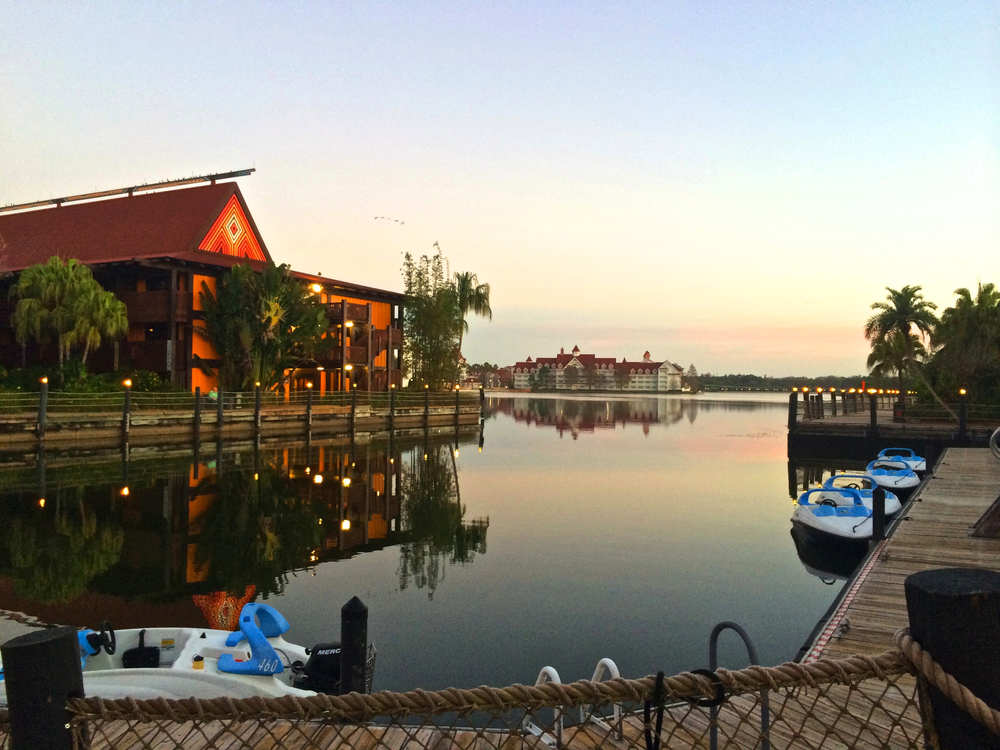 I loved the tropical environment of that resort and on that first trip, my favorite attraction was the Enchanted Tiki Room.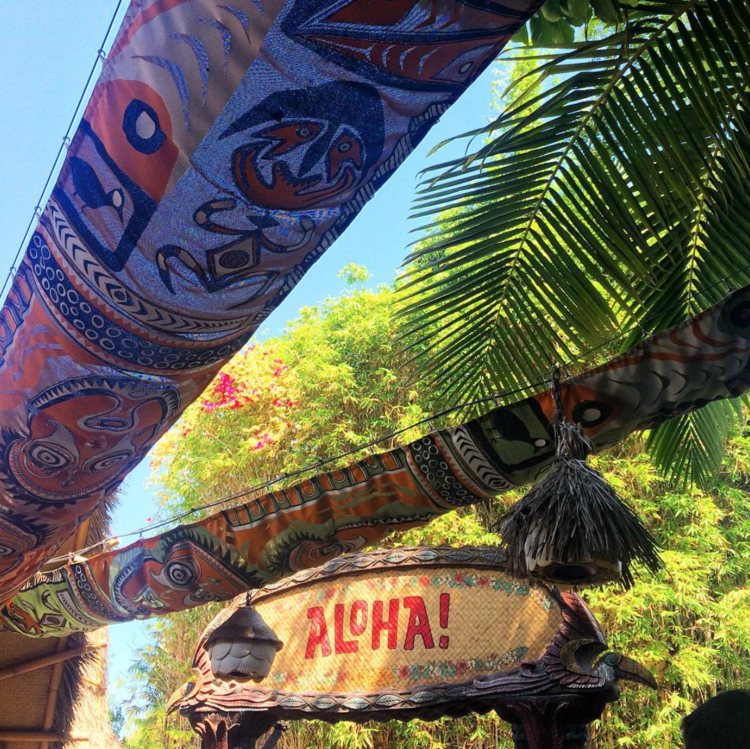 I've always admired the highly themed environments that Disney's Imagineers are able to create and I really like that Tiki bars offer a very similar escape from reality. It should be no surprise that the first Tiki bar Greg and I visited was Trader Sam's. It was our "gateway" Tiki bar and we've been hooked ever since.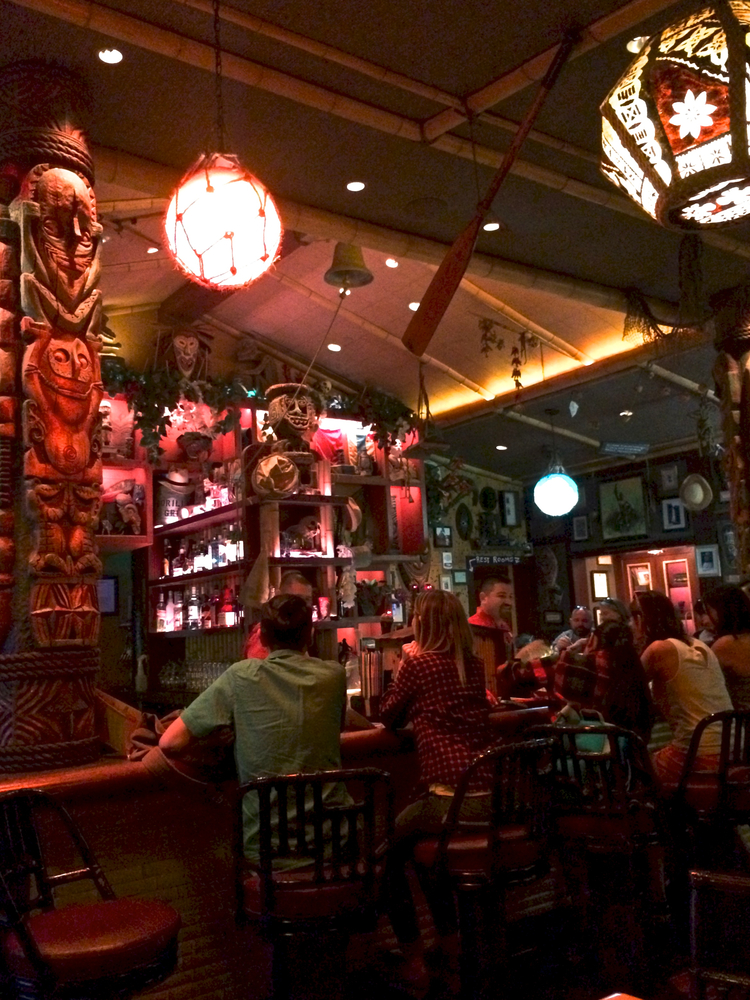 The great drinks: For the longest time, a Gin and Tonic was my go -o drink. Once we started exploring Tiki bars, I quickly realized that there were so many exciting options and that drink exploration could be endless. Each location has different offerings and the experience of trying them along the way is really fun. I love the complexity that goes into most Tiki drinks as well as learning about the rums and the other ingredients that are required to make them!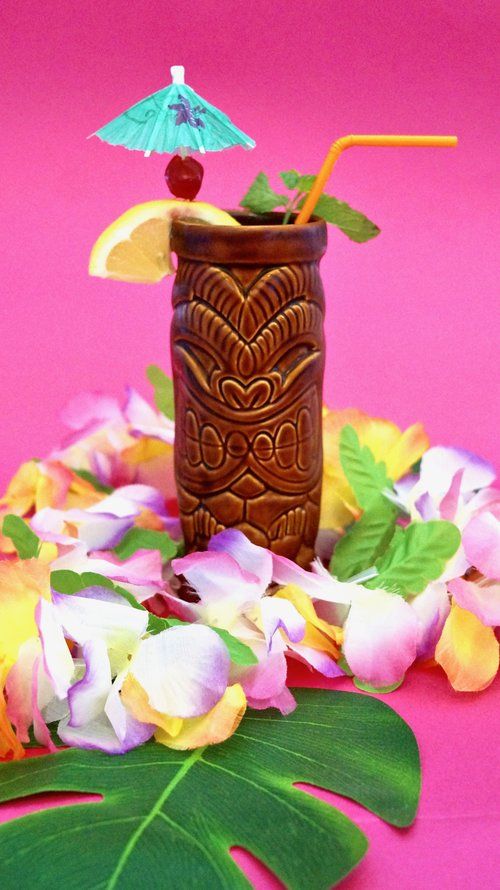 Mid-Century Modern design: Mid-Century Modern design is my favorite and I love that Tiki bars often serve as time capsules preserving a bit of the Atomic Era. It's easy to feel transported to another time or place when you're fully immersed with the Tiki crowd or at a great location.
The community: We didn't realize that there was a whole Tiki community until a chance experience that happened in Palm Springs. Back in 2013, we decided to grab dinner at King's Highway at the Ace. While we were eating, there were quite a few people dressed up for Tiki Caliente and I was super curious about what was going on! I realized then that there was a whole Tiki community that existed and that certainly sparked my interest to learn more.
That fall, we made sure to attend Mod Palm Springs (which Shag, one of our favorite artists, hosts) and we were instantly hooked. It was amazing to be surrounded by like-minded people in love with tropical drinks, Mid-Century Modern design, and Tiki culture. Everyone was so inviting and friendly and that's still something that we love about the Tiki scene today.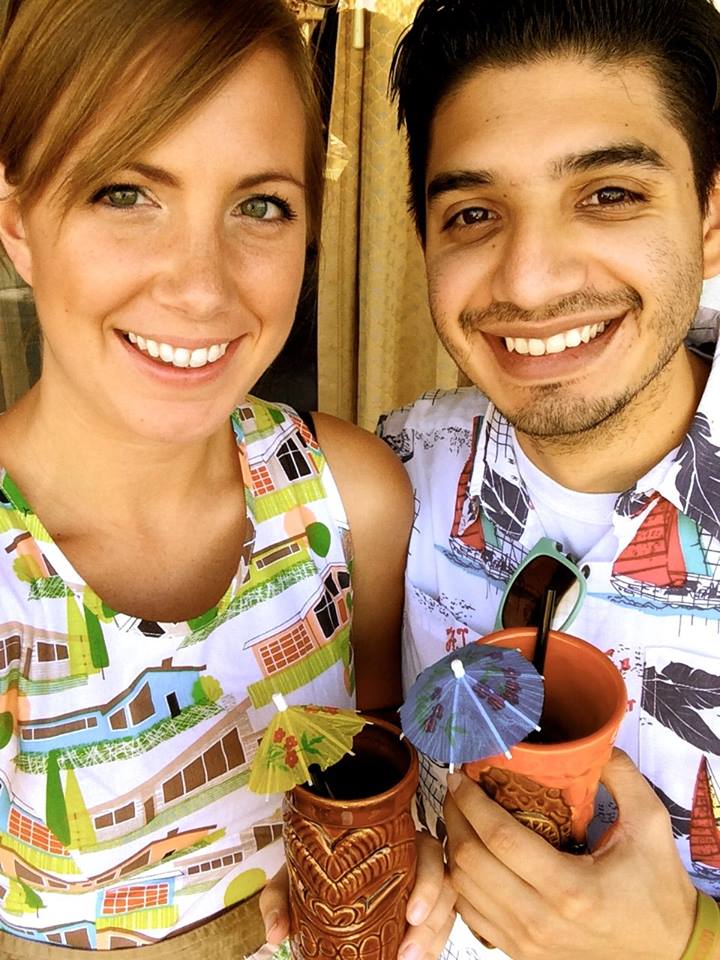 When and what made you decide to start blogging about Tiki?
Kelsi- For years, I had been following quite a few creative and lifestyle blogs and I wanted to start one of my own to share our findings and adventures along the way. I finally took the leap and started Modern Tiki Lounge in February of 2015 (one week after I left my 9-5 to start freelancing). The goal has always been to try to stick with topics that are related to the Tiki lifestyle and Mid-Century Modern design while having fun writing about whatever interests us.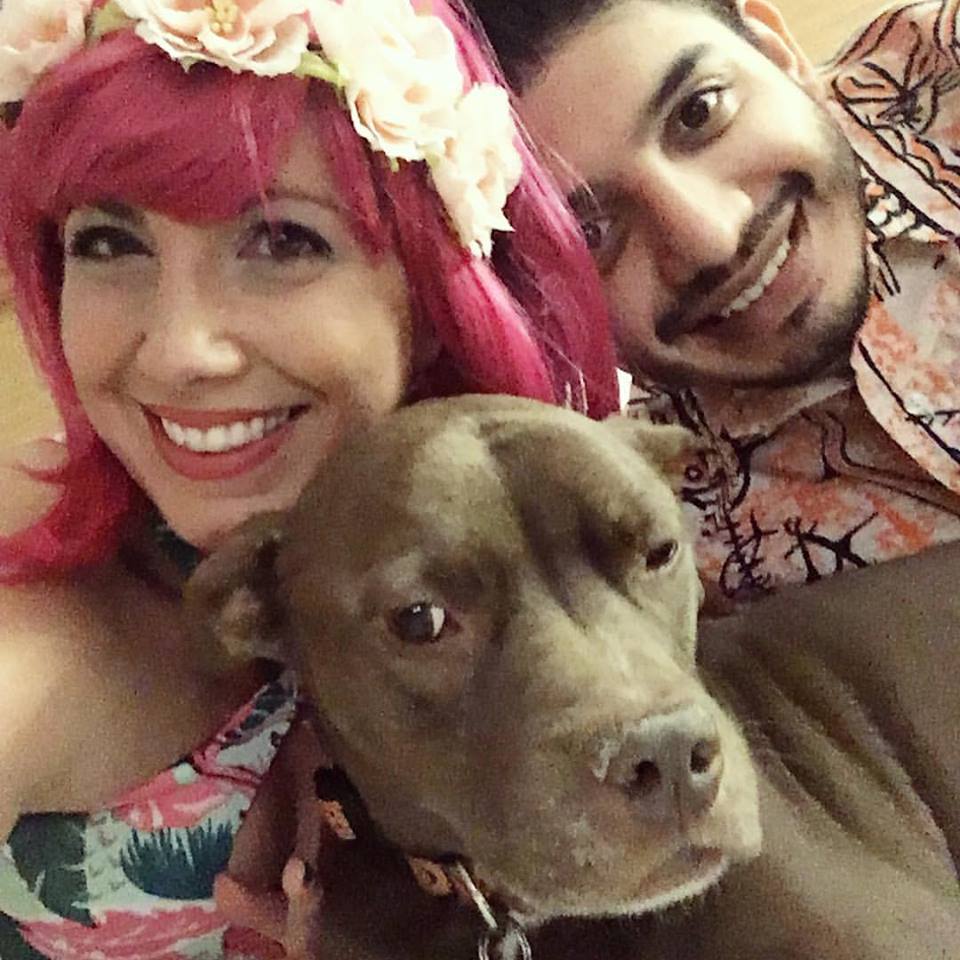 What is your favorite Tiki drink? What do you think makes the perfect cocktail?
Kelsi- I get asked this a lot and I blank every time because I don't have just one favorite go-to. The options are so diverse and endless! My favorite Tiki drinks offer a well-balanced (not too sweet) mix of rum and fruit juice with a nice hint of an exotic flavor or spice. My top choices are usually the more unique menu items that you can't get at most Tiki bars. Some that come to mind are Syd's Tiki Masala at the Tonga Hut (a great combination of creamy and spicy) as well as the Pod Thai served at Bootlegger Tiki, which features cardamom-lemongrass syrup and Thai basil. For the more popular classics, I generally gravitate toward Painkillers, Navy Grogs, and 151 Swizzles.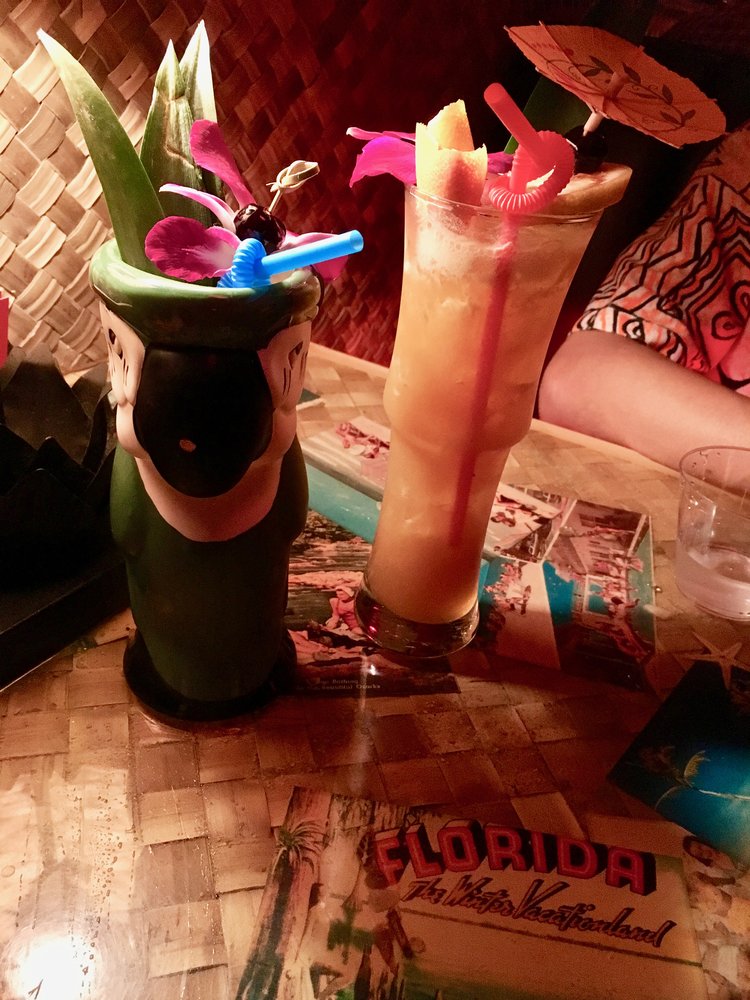 What is your favorite Tiki bar? Why?
Kelsi- This is another tough question for me to answer because there are so many great Tiki bars we've visited that are strong contenders for different reasons!
In terms of total Tiki experience, I would say that False Idol stands out as the best. The drinks are great, the menu is extensive and offers excellent variety, the environment is perfect for the escapist (no windows to the outside world), the music is right, the decor is whimsical and does a great job of mixing "old" Tiki with some more modern stylings, and there's a "secret" entrance through a freezer door. It's the full package and we're lucky to live just two hours away (mental note: plan another trip soon).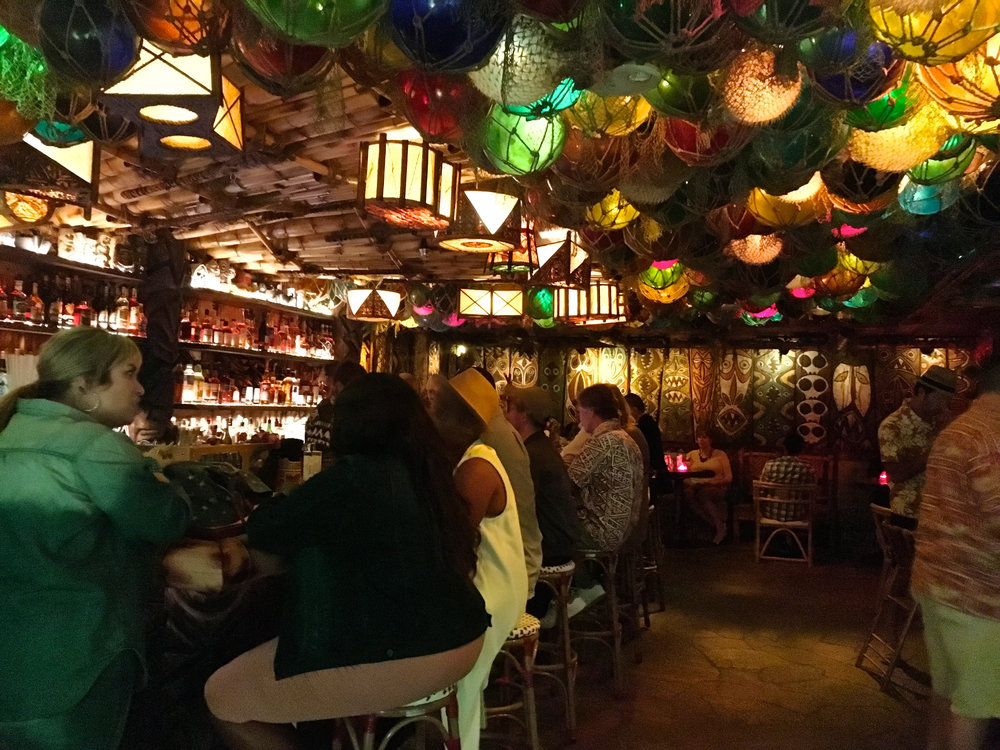 All that being said, after finishing the Grog Log at the Tonga Hut in North Hollywood, that place kind of feels like home to us. We know the bartenders, we're always running into fellow Tiki enthusiasts, we love the Mid-Century lounge vibe it has, the tacos out back are great…it's really become our comfortable, go-to local bar. We also really appreciate how the Tonga Hut does a great job of fostering the Tiki community.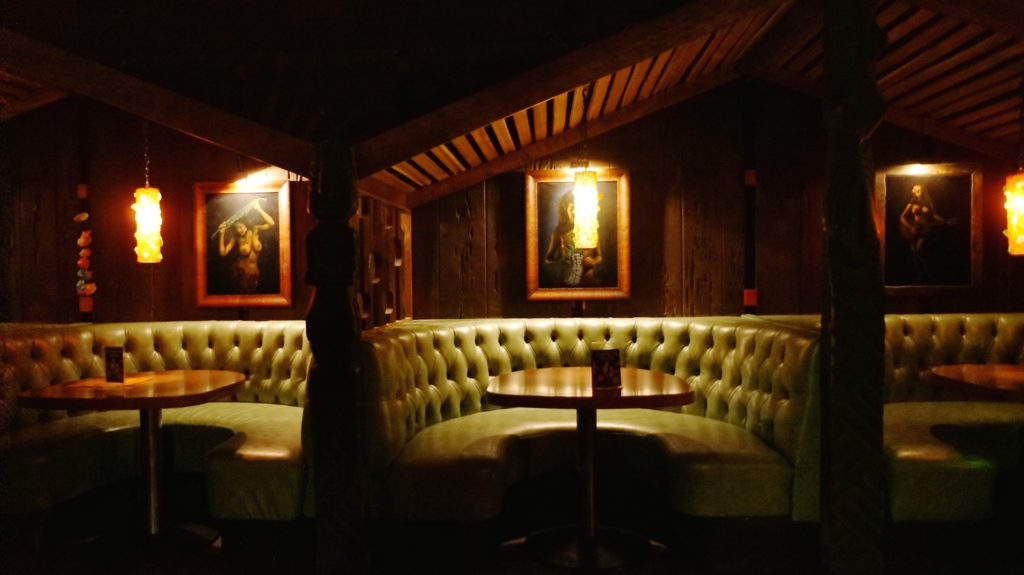 They hold several special events each year, they host the Rum Rhum Club each month, they're home to the Loyal Order of the Drooling Bastard (based on Beachbum Berry's Grog Log), and their DJed Sundays always draw a large Tiki crowd.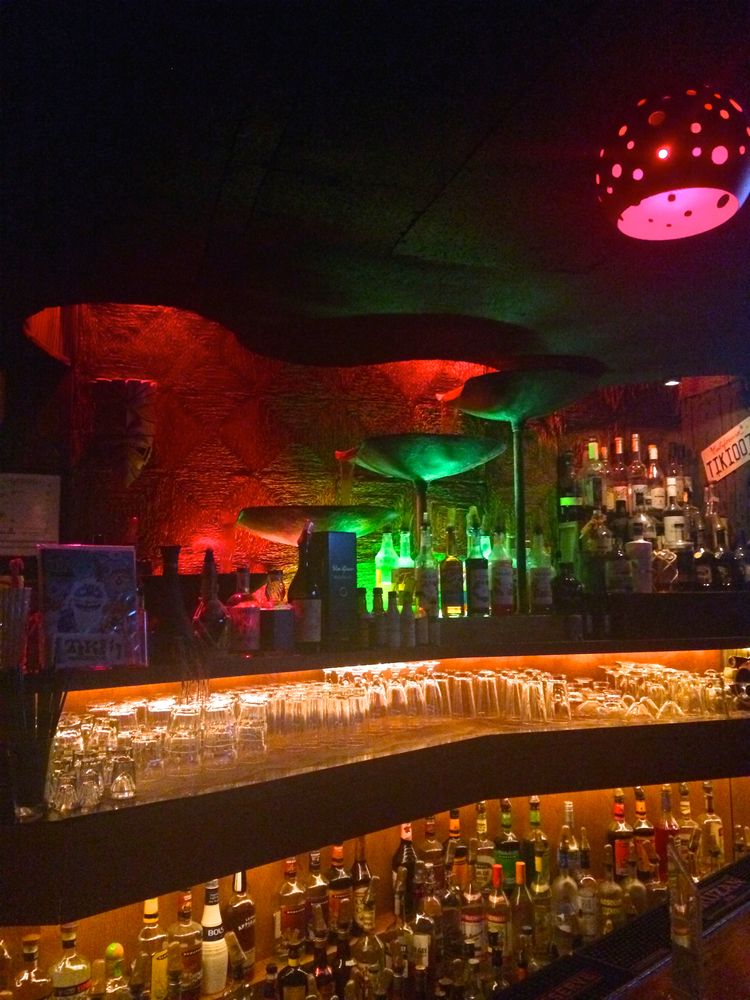 Outside of great drinks, what do you think are essential elements in creating the perfect Tiki environment?
Kelsi- My favorite Tiki environments are windowless to offer a true "escapist" vibe. They're dimly lit with colored mood lighting and have great music playing to match the theme. They're also cluttered with interesting objects and artifacts—more is more in my opinion on this one! And while this one can't really be controlled, I also think it's really fun when the crowd in a Tiki bar is dressed to fit the part and has a thorough appreciation of Tiki drinks and culture!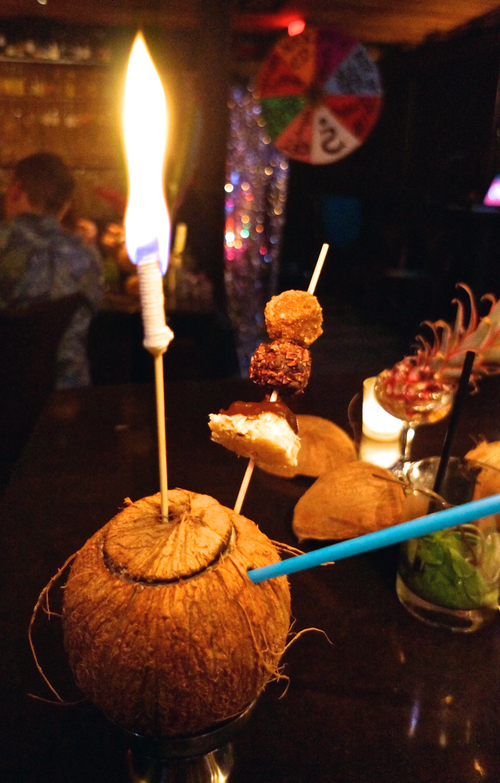 Do you feel that music has an important role in creating a great Tiki experience? What would be some of your favorite artists and albums?
Kelsi- Definitely! There's a bar we love for their drinks but we were disappointed on our last visit when they weren't playing Tiki music or retro music. It really makes the atmosphere and when it's missing from the equation you don't get the full Tiki experience. We have a few Tiki playlists we'll play around the house and there are always songs that I associate with different Tiki bars because I've heard them at certain locations enough (most of the time, it's stuff I've heard at Trader Sam's).
Our Tiki-themed wedding last August was a whirlwind day, but there was one moment that I'll never forget. At some point during cocktail hour, I paused and looked around and, while I had visited the SmogShoppe many times before, our venue was completely transformed into some place new—because of the music. Amidst all that was going on, those tropical and retro tunes added some peaceful melodies that really set the tone for the event. While we weren't able to transport our guests to a true Tiki bar, we were able to get them halfway there and the music played a huge part. For anyone interested, our cocktail hour playlist is located here: https://play.spotify.com /user/12144715699/playlist/1oJ dnLHXpyg1rGzqoxz59k
My favorite Tiki artists are the Tikiyaki Orchestra and the Martini Kings.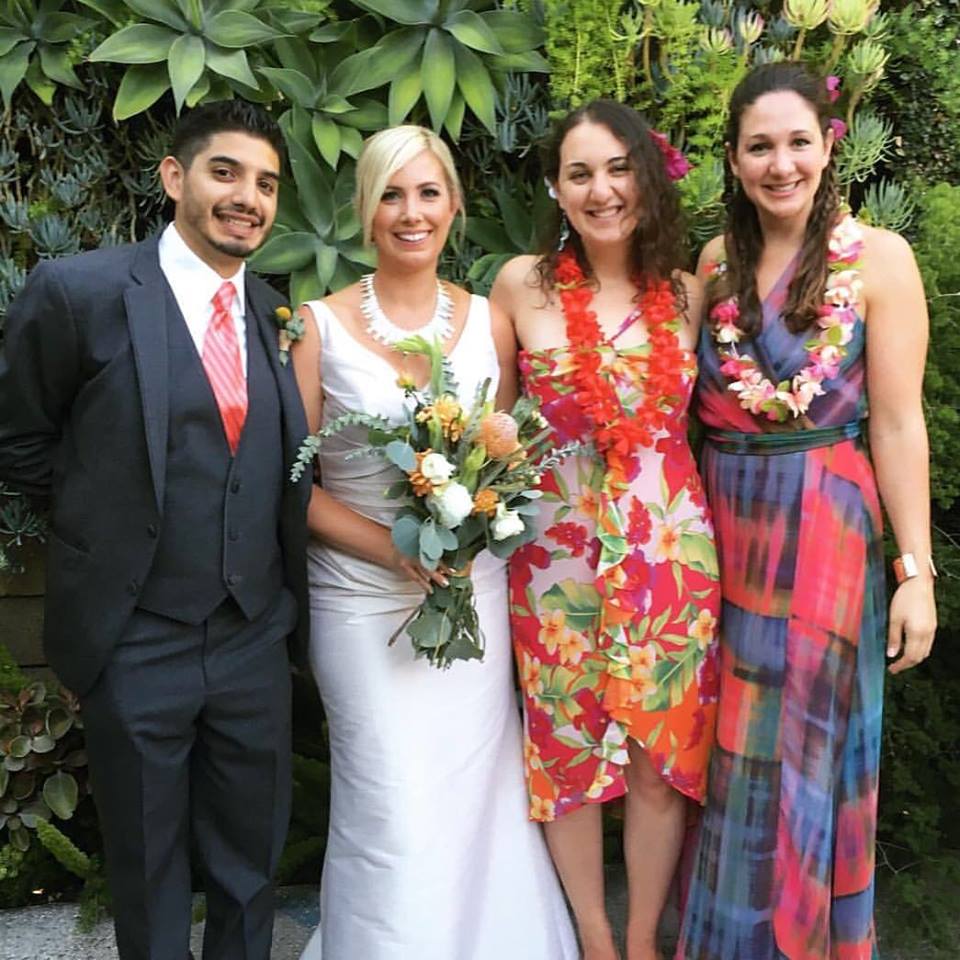 What does the future hold for you and your blog?
 Kelsi- Since I started the blog, it's been a huge goal of mine to launch Tiki-themed products as a way for me to channel my creativity into something new. Many, many years ago I was an avid artist in my free time. It's a shame that I've let that hobby slip away, so I'd really like to get back to it through Modern Tiki Lounge!
If we're able to, Greg and I would like to visit some new Tiki locations this year in order to get some new content for our blog posts (and for the experiences of course!). We've been meaning to plan a Tiki road trip up to the Bay Area as well as a visit to the Mai Kai. Oh, and can't forget about our delayed Hawaiian honeymoon! Hopefully we can make at least one of those trips happen soon!
Another goal of mine is to start exploring mocktails and Tiki food recipes. I've admired your "Straight Edge Tiki" posts and I think that I'd like to give folks who don't drink an opportunity to enjoy TIki culture as well. There are many people in my life who fall into that category and I really like the idea of showing that Tiki doesn't always have to be about the rum!
Beyond those things, I always aspire to find ways to consistently post to the blog but it's still a struggle! Both Greg and I work as freelance architectural designers, so our work comes in waves. Sometimes our plates are completely overloaded (right now we're swamped!) and sometimes we have ample time to dedicate ourselves to the blog.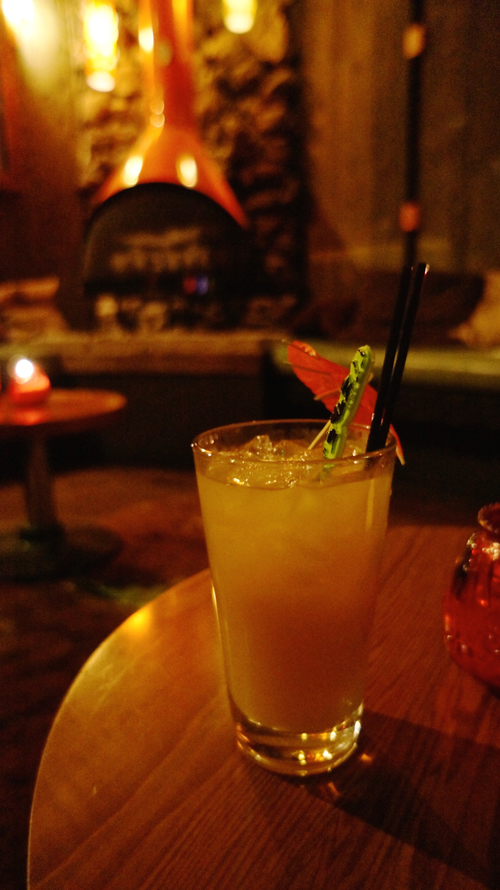 Anything else you would like to add?
Kelsi- When I started blogging, I had no sense of the sort of community that might come with it! The past couple of years have been so fulfilling to have readers engage with my content and to meet people out at Tiki bars and events who have read the blog. Whenever I write, it feels like I'm doing it in somewhat of a vacuum, so it's always been an added bonus to find out that people actually read some of the stuff I post. The Tiki community is awesome and it certainly inspires me to keep writing!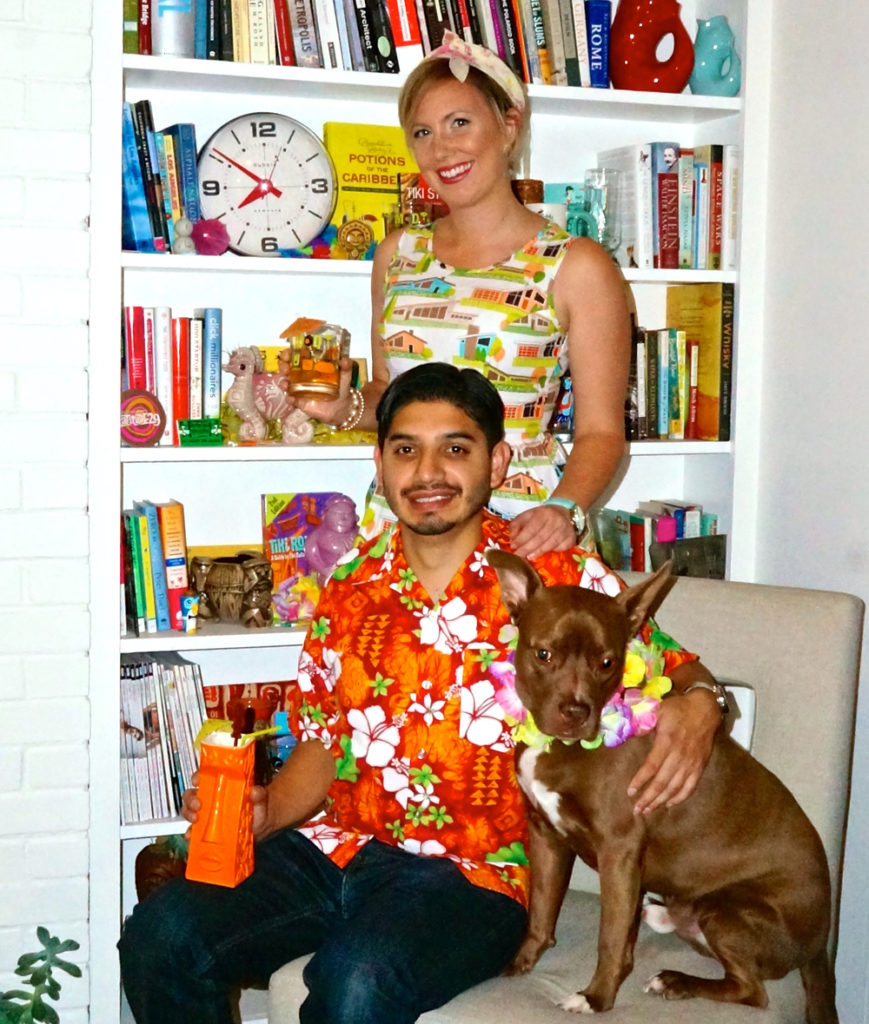 Here the Modern Tiki Lounge website.
And Facebook page.