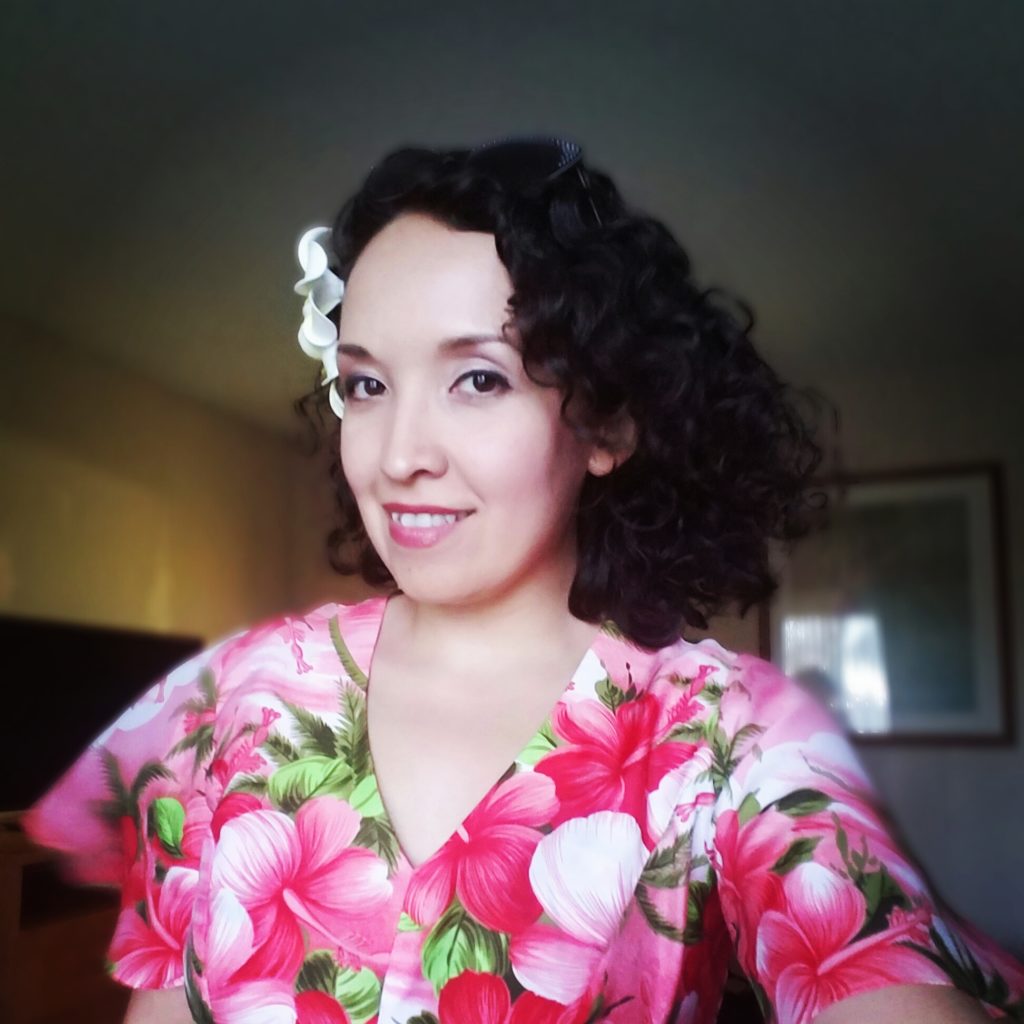 Texas is big—really BIG!
There's more to the Lone Star State than oil drills and cowboys. There's also Tiki! You just have to know where to look. Luckily, we have Angelica Navarro. If anything Tiki is going on in Texas, she's going to know! Angelica lives deep in the heart of Dallas and she writes about her Tiki adventures in her blog appropriately called…
Adventures In Tiki!
What is the Tiki scene like where you are located?
Angelica– There's sadly no Tiki scene to be found. There are a couple of places that do Tiki nights, but no Tiki bars, unfortunately. We do have some Tikiphiles here who would love a scene to call our own!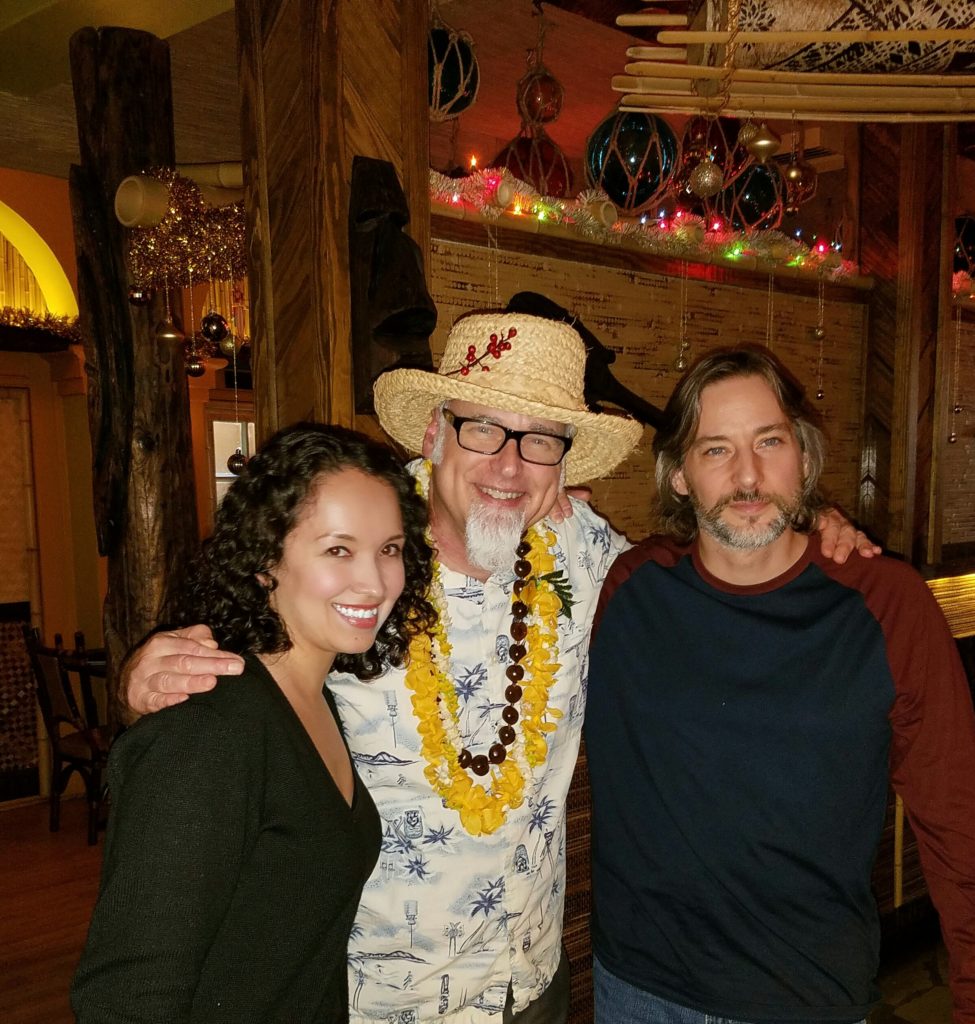 What brought you into the "Tiki lifestyle" and how long has it been part of your life?
Angelica– My first venture into Tiki was when I visited Trader Vic's here in Dallas, way back when it was still around. I was seeing someone at the time who really liked it and we had many a happy hour drink in their bar. I remember loving the flavors of all the drinks they served and loving the feel of the place even more. It was so far removed from Dallas. It was like stepping into a whole other world. Needless to say, when they closed their doors for good, I was heartbroken.
When and what made you decide to start blogging about Tiki?
Angelica– I decided to start a blog because I wanted to share my experiences with others. Given that there is no scene here, I needed an outlet. I am still very new to it, but I love cultivating my writing skills and talking about Tiki all at the same time. Sometimes I go a while between posts, but that's because I want to make each one kind of like a story, something you can sit down and read over a cocktail.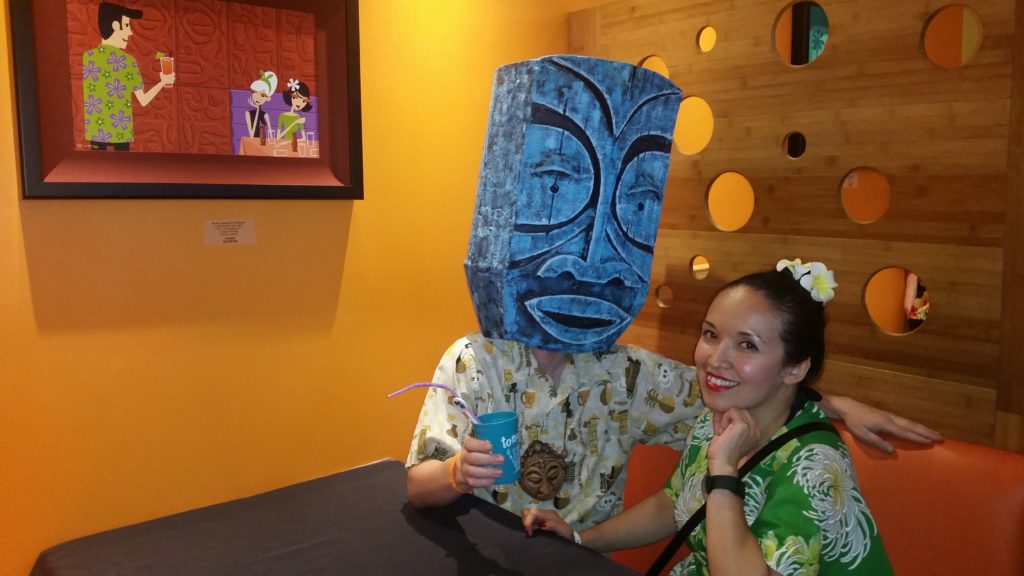 What is your favorite Tiki drink? What do you think makes the perfect cocktail?
Angelica– My favorite Tiki drink….that's a hard one! I would have to say this one would be a tie. I am nuts about the Pod Thai (Bootlegger Tiki makes the best) and the Latitude 29 (the signature cocktail from Beachbum Berry's bar of the same name). For me, the perfect Tiki drink is one that is well-balanced and not super rummy. If I am going out for drinks, I prefer ones that aren't very strong, because I can drink a little more. With very strong drinks, I am out after about two. When you're usually the designated driver, you have to strategize!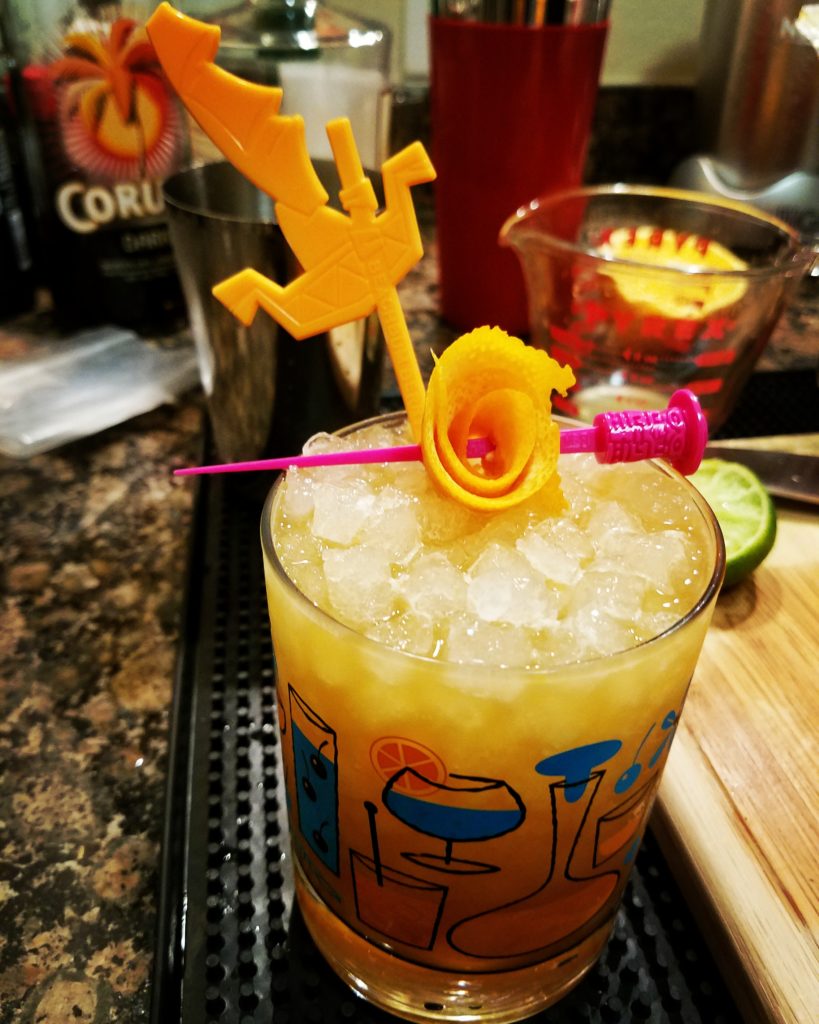 What is your favorite Tiki bar? Why?
Angelica– The Tonga Hut holds a special place in my heart, because that is where my love of Tiki sort of got "re-awakened." I'd taken a mental health trip to L.A. back in 2015 and I made a spur-of-the-moment drive to Palm Springs. I noticed the bar while driving through downtown and decided to try it out. Best decision I ever made. The appetizers were yummy and so were my drinks. The bar staff is always super nice and I know I can always go there and have a great time. Recently, however, I have begun a love affair with the Lei Low in Houston. Their staff can make any bad day better for me with their drinks, chatter, and general upbeat attitude. Plus, they also make some slammin' drinks, both on or off the menu.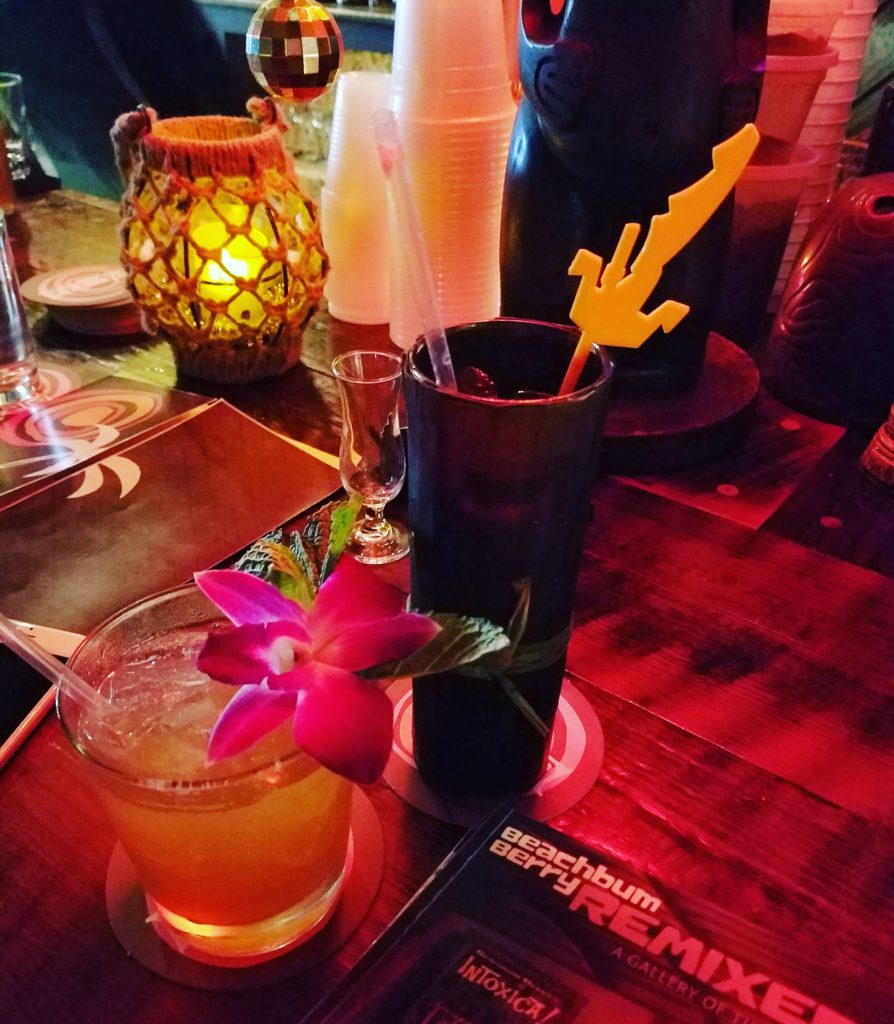 Outside of great drinks, what do you think are essential elements in creating the perfect Tiki environment?
Angelica– Without a doubt, the most important thing to me in a "perfect" Tiki environment is a welcoming vibe. Tiki should be something everyone can enjoy. I didn't really realize that until I visited Pilikia in Dallas and experienced everything that was the opposite of this. True Tiki environments are inclusive. Ever heard the saying, "A stranger is just a friend you haven't met?" I remember going to Tiki Caliente last year and knowing absolutely NO ONE. I left with quite a few new friends by the time I was done and I was only there for a little more than twenty-four hours! Drinks are important, yes, and so is the setting, but nothing is more important than the vibe.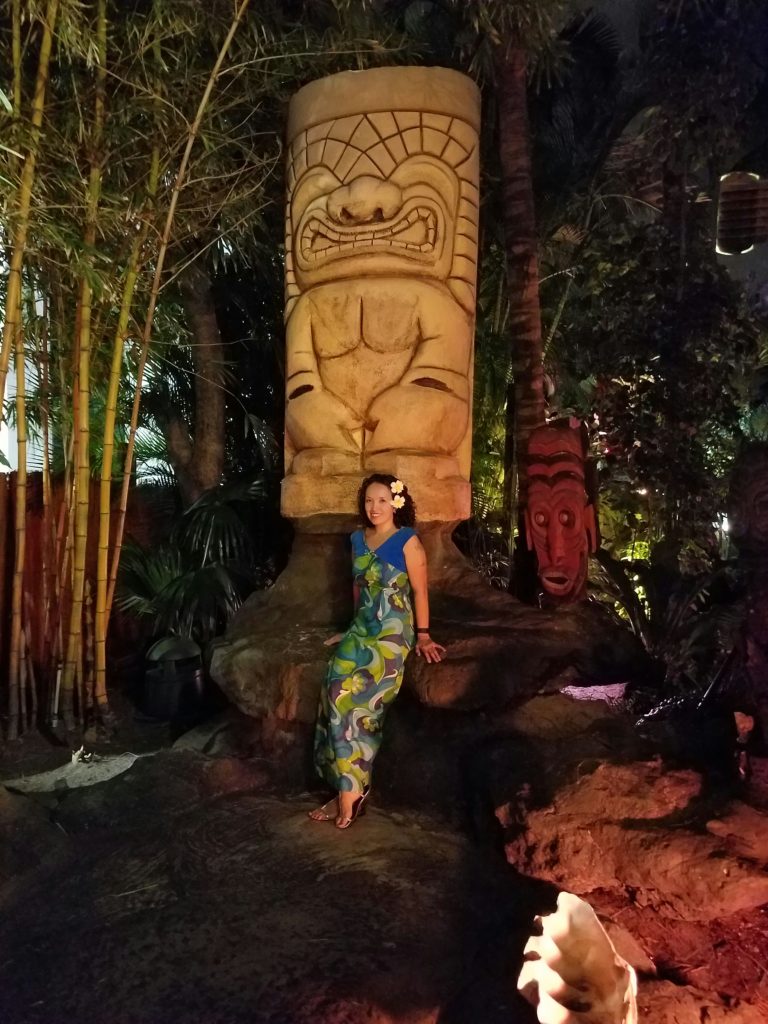 Do you feel that music has an important role in creating a great Tiki experience? What would be some of your favorite artists and albums?
Angelica– Music is definitely important. I do love going to a Tiki bar and hearing some good exotica, jazz, or lounge. However, if anyone strays from this, it's not the end of the world, when you do it right. For example, Bootlegger Tiki in Palm Springs doesn't subscribe to the typical Tiki music. However, one night that I went they were playing selections from "The Chronic" by Dr. Dre. Most people would say, "Rap in a Tiki bar? That's absurd!" But I rather enjoyed it. It was different and it got me moving in my seat a bit. As long as I can still hold a conversation and the music is chill, it's okay. But I do draw the line at stuff like dance, house, and dubstep. That stuff belongs at a nightclub, not a Tiki bar.
As far as my favorite artists, I love Les Baxter, Korla Pandit, and Martin Denny. These are the old school guy and in a way, they set the standard. Each has something totally different to bring to the table. For new school stuff, I love the Tikiyaki Orchestra and Ixtahuele. Tikiyaki has lots of lounge and surf elements, while Ixtahuele follows a more traditional exotica approach.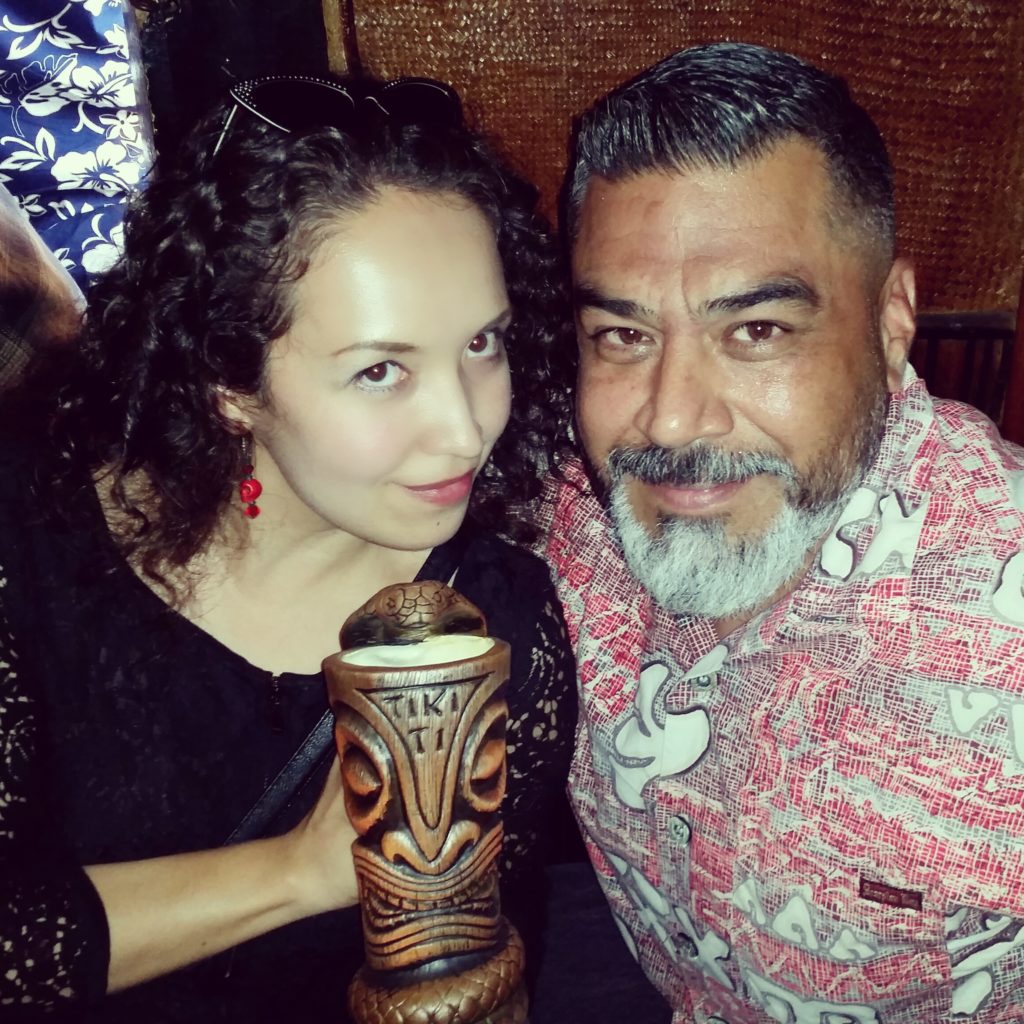 What does the future hold for you and your blog?
Angelica– I would love to grow it. I work in marketing and I would love to expand my web dev skills so I can create a more attractive page for it. I'm no Humuhumu, but I think their needs to be more women in Tiki who can talk about it and do great things for the Tiki community. I want to use my blog as a vessel to get my love of Tiki out there and encourage people to visit more places, meet more people, and learn something new. There's a lot more to Tiki than the "umbrella drinks."
Anything else you would like to add?
Angelica– All you East and West Coast Tikiphiles: come visit me in Texas! We can meet up in Houston and we'll have a Tiki-tastic time. That means you, Ray. 😀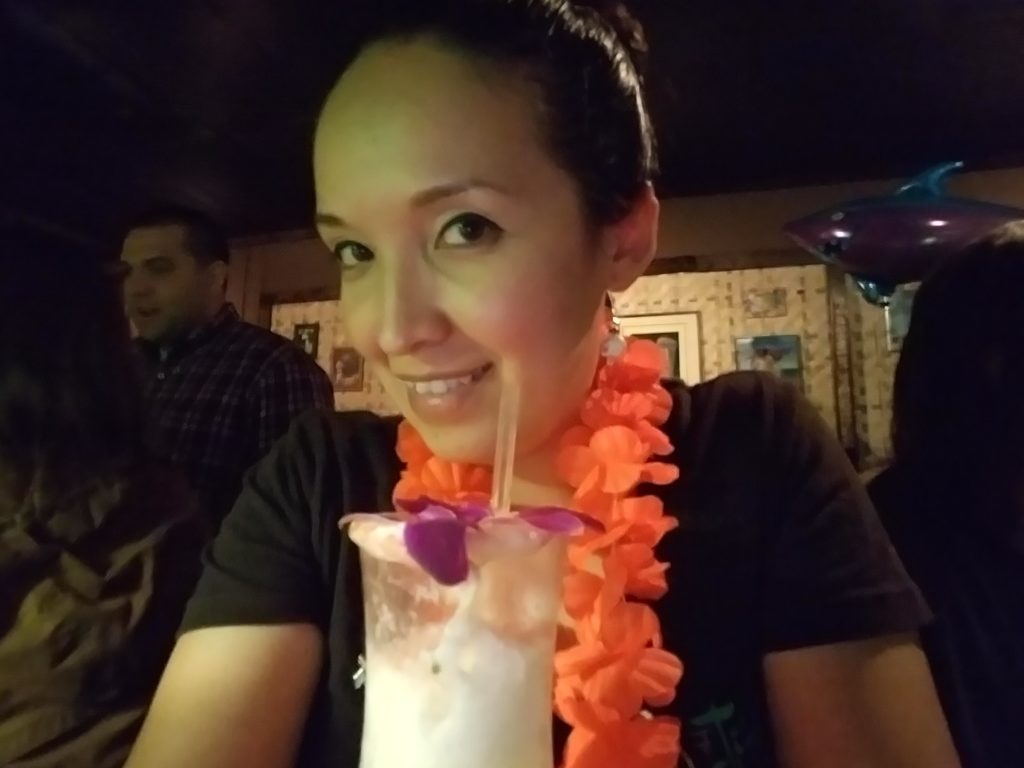 Here is the Adventures In Tiki website
And Facebook Page.