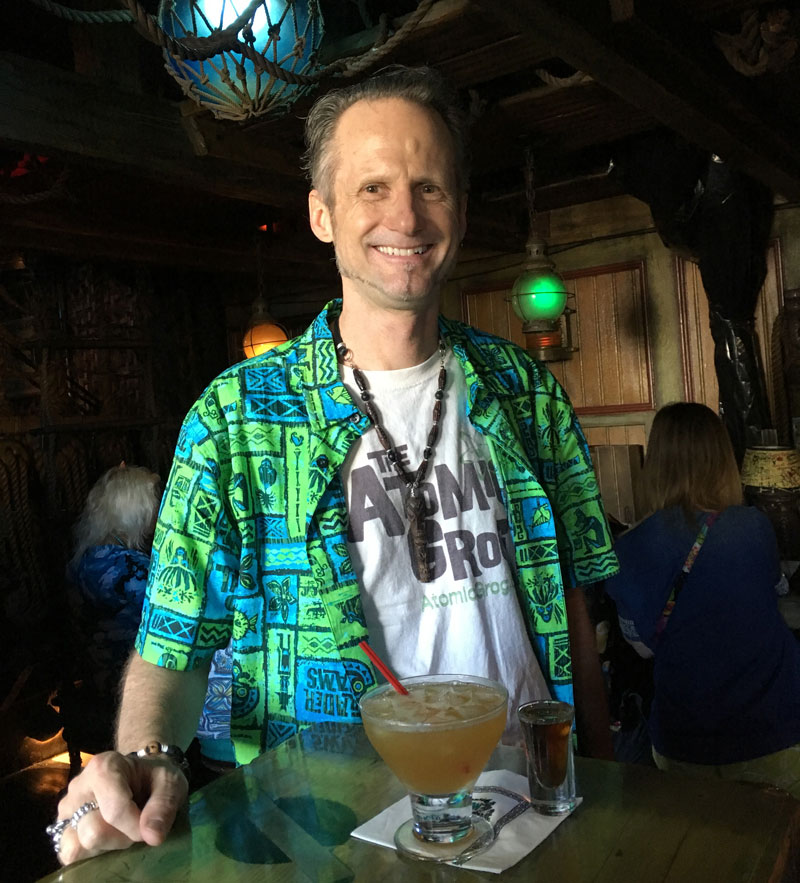 Jim "Hurricane" Hayward enjoys one of the Mai-Kai's "lost cocktails" in the Molokai Bar during a book release party for Tim "Swanky" Glazner's Mai-Kai: History and Mystery of The Iconic Tiki Restaurant in September. (Photo by Susan Hayward)
You're located in Florida. So what's it like having the Mai-Kai as your local Tiki bar?
I'm currently just 16 miles from the Mai-Kai (not that I'm counting). It's a both a blessing and a curse, I suppose. The Mai-Kai has really shaped almost my entire view of Tiki since I've lived in South Florida more than 40 years. But throughout my entire journalism career, I've worked mostly nights, so I don't get to enjoy it nearly as much as I'd like. But I guess that makes the time I do spend there even more special. I definitely don't take it for granted. It's still thrilling to walk through those doors. The tension and worries of the daily grind just melt away, and you're swept into another world. It's what every Tiki bar strives to do, but perhaps none can do as well. And those cocktails! I'm obviously a little obsessed with the drinks (see The Mai-Kai Cocktail Guide on The Atomic Grog), and I'm still discovering secret ingredients and new flavors that keep things interesting. I guess it's sort of like a Disney fan living a few miles from the theme park. And no, it doesn't make it any less magical.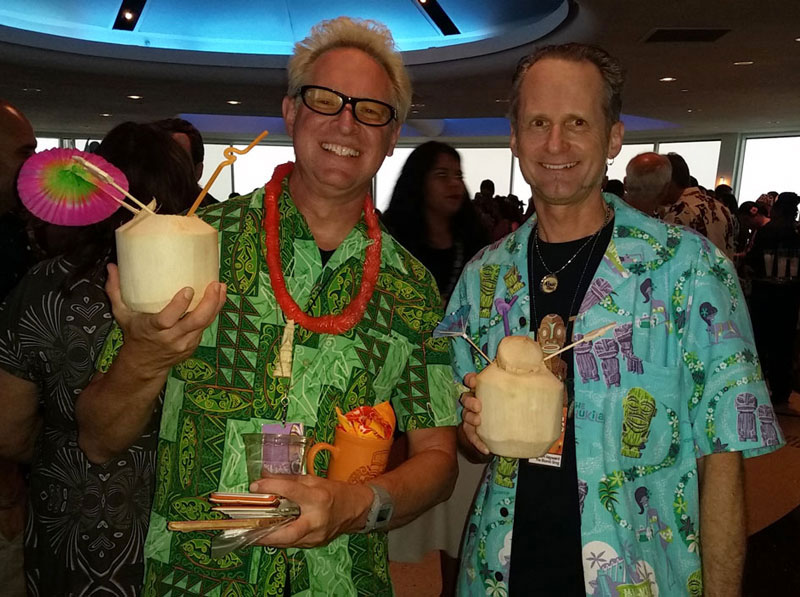 The artist Shag and Hurricane Hayward at The Hukilau 2016 in Fort Lauderdale. (Atomic Grog photo)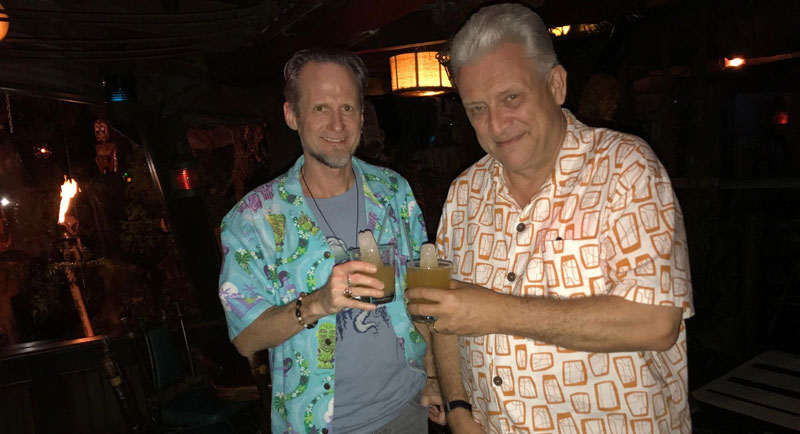 Hurricane Hayward welcomes The Book of Tiki author Sven Kirsten to the Mai-Kai on New Year's Eve to ring in 2017. (Atomic Grog photo)
What brought you into the "Tiki lifestyle" and how long has it been part of your life?
I've always been an East Coast guy, growing up in New Jersey and Florida, and there wasn't much Tiki to speak of when I was young. By the time I came of age, the Polynesian Pop craze had already hit its low ebb. But I remember as a kid in the '70s going to Polynesian restaurants with my parents, and Disney World was always an influence. So I had a vague recollection of where Tiki came from. I didn't become aware of the Tiki revival until I discovered The Hukilau and the books of Jeff "Beachbum" Berry and Sven Kirsten, which combined to become a revelation. It brought together all my pop culture interests in one giant, rum-filled barrel of fun. I joined the Hukilau team in 2008 and haven't looked back.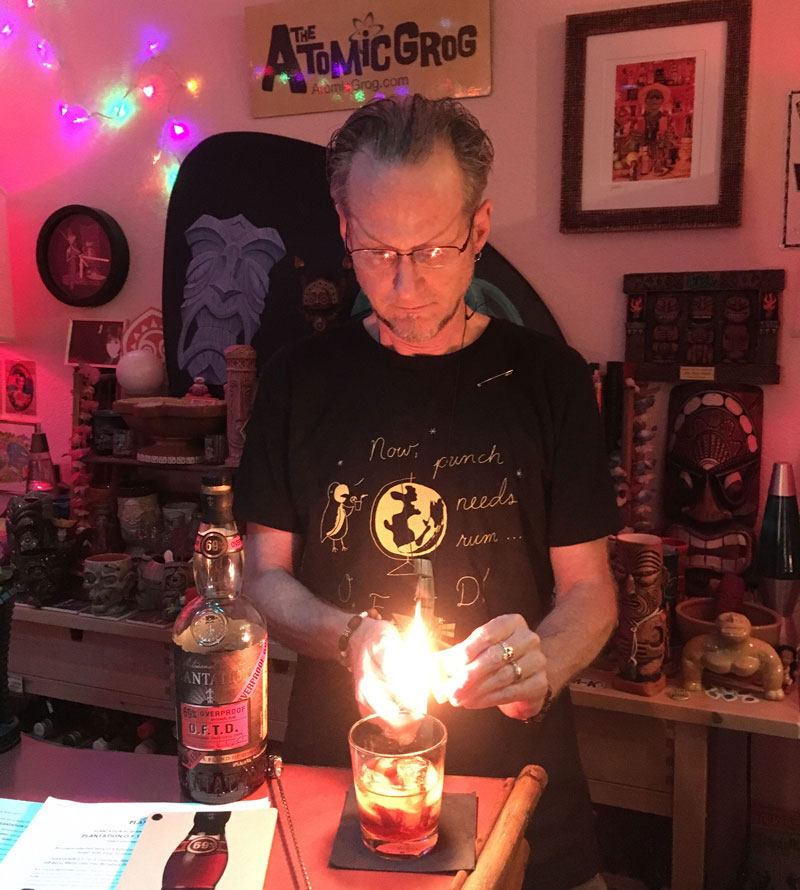 Hurricane Hayward mixes up a cocktail with Plantation O.F.T.D. rum for an upcoming special feature on The Atomic Grog. (Photo by Susan Hayward)
When and what made you decide to start the Atomic Grog blog?
I don't think I've shared this story with a wide audience outside my close friends. The Atomic Grog was supposed to be a full-blown Tiki bar, and I suppose it still could be some day. I had a location picked out, plans drawn up, lots of cocktail recipes and friends in the industry to help out, but then the Great Recession hit. I had to put the plans on hold. This was before Martin Cate made the move from Forbidden Island to Smuggler's Cove, and there weren't a ton of Tiki bars opening everywhere like there are now. So I always wonder how it would have evolved, but c'est la vie. In the meantime, I got married and priorities changed. Not that my wife isn't fully supportive of what I do. Our wedding was in 2010 at the Mai-Kai, after all. But I needed an outlet for my Tiki passion beyond the Hukilau, so I figured the best way was to fall back on my only two true talents: writing and mixing Tiki cocktails.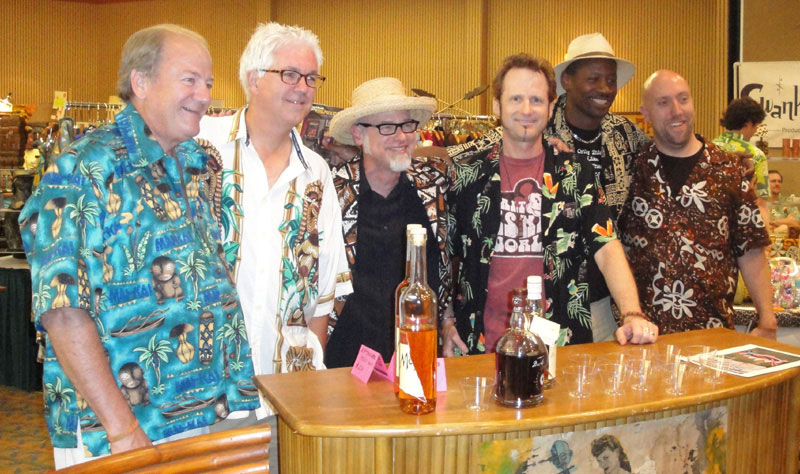 Hurricane Hayward with rum and Tiki VIPs (from left) Stephen Remsberg, Wayne Curtis, Jeff "Beachbum" Berry, Ian Burrell, and Martin Cate at The Hukilau 2011. (Photo by Susan Hayward)
Can you tell me what the Atomic Grog is all about?
It all started in April 2011. I already had a website and promotion company that had been a longtime side interest of mine. I was a punk and rock concert promoter for many years, starting in the early 1990s (here's a long list of my concerts). This was pretty much a hobby since my career has always been in newspaper and online journalism as an editor and web producer. I've been with The Palm Beach Post for 30 years, and I also worked at The Miami Herald. Writing was something I did for 40 hours a week and I never had any interest in doing that as a hobby until I discovered Tiki. There was so much to write about, it inspired me. So I created the blog and launched it on my concert website Slammie.com. That's why you'll see that domain in the URL when you click on Atomic Grog stories. The blog's over-arching theme is "events, music, art, cocktails and culture." Those are the big topics I like to cover. As the years have gone by, my writing has skewed more toward events and cocktails, but I still love the entire scope of what makes the Tiki revival so interesting. I don't even think it should be called a revival any more. It's our new reality. As a culmination of five years of blogging about Tiki, I was honored last June at the Hukilau to be the moderator of the historic "Raiders of the Lost Tiki Culture" roundtable discussion featuring Jeff "Beachbum" Berry, Otto von Stroheim, Sven Kirsten, Humuhumu, Martin Cate, Shag, Crazy Al Evans, and Christie "Tiki Kiliki" White, plus Sven Kirsten via Skype.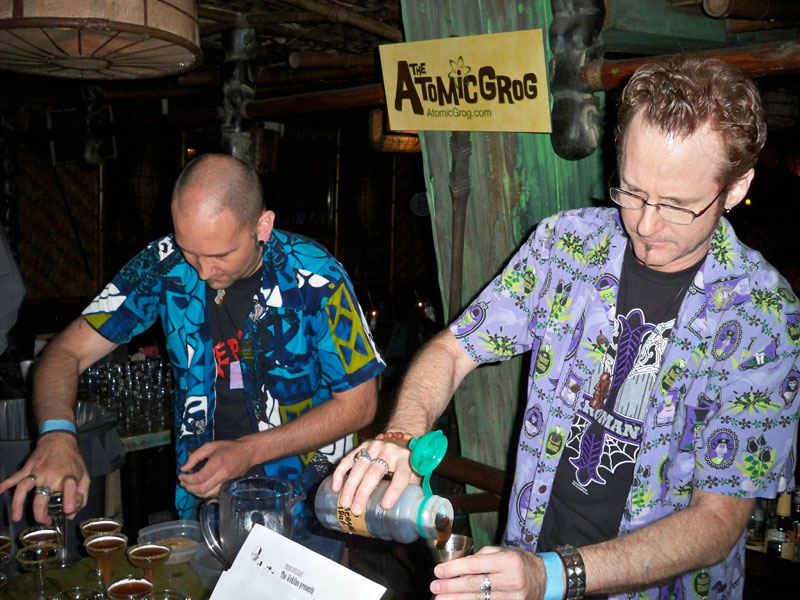 Hurricane Hayward (right), with assistance from artist Nik Satterfield, mixes his Atomic Zombie Cocktail during the Zombie Jamboree at the Mai-Kai in April 2011. (Photo by Susan Hayward)
What is your favorite Tiki drink? What do you think makes the perfect cocktail?
No doubt about this one: the Zombie. It's got everything you'd ever want in a Tiki drink: mysterious flavors, lots of rum, an element of danger, a fascinating backstory. It's my favorite cocktail at the Mai-Kai, where they still use Don the Beachcomber's secret recipes from the 1930s and '40s. The Mai-Kai's version is a little sweeter and more accessible than Don's original, but I enjoy them all. I've posted several of my own Zombie recipes (see links below) and never get tired of coming up with a new twist. One of my biggest thrills was competing in the Zombie Jamboree mixology competition at the Mai-Kai (as part of the Miami Rum Festival) the same month I started the blog. I was just happy to be there, but I didn't realize until later that also competing were some pretty big names in the rum and cocktail world. I didn't win, but it was a blast. As for the hypothetical "perfect" cocktail, like the Zombie it needs to be mysterious and alluring. Something that makes you want to keep coming back to it because of its layers of flavor, its perfect balance, and of course a creative and eye-catching presentation.
Atomic Zombie recipe | Altered State Zombie recipe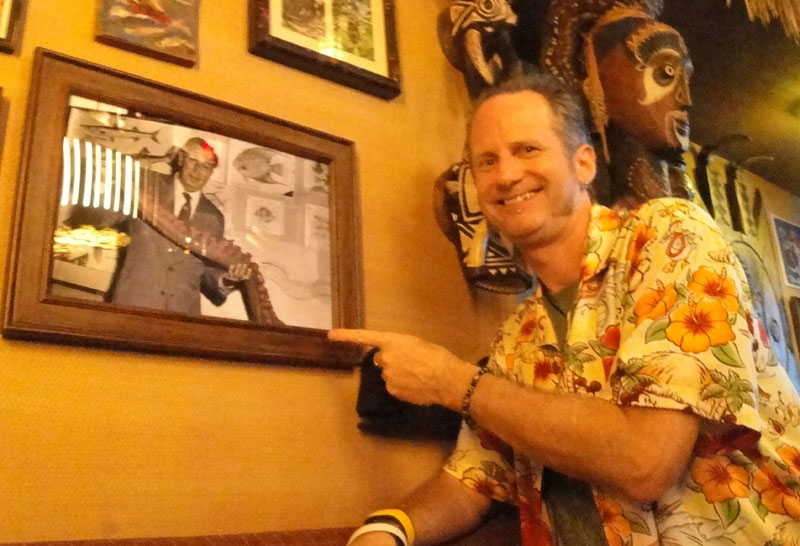 Hurricane Hayward at Trader Sam's Grog Grotto at Disney World, May 2015. (Photo by Susan Hayward)
If you couldn't pick the Mai-Kai, what would be your second favorite Tiki bar? Why?
This might be controversial, but I'd have to say Trader Sam's at Disney World and Disneyland. No offense to all the other great bars out there that aren't in a theme park, but it would hard to pick one. The Mai-Kai offers everything I'd ever want in a "real deal" Tiki bar. As a change of pace, I enjoy the totally immersive fantasy world that Disney's Imagineers have created. It doesn't hurt that my wife Susan and I love to get away to Disney World on a regular basis, and the Polynesian Village Resort is one of our favorite places. It's the perfect escape from the real world for us since it's just a half-day drive and not halfway around the world. If I were able to get the Atomic Grog back on the drawing board as a bar, I would love to create a mash-up of the Mai-Kai and Trader Sam's.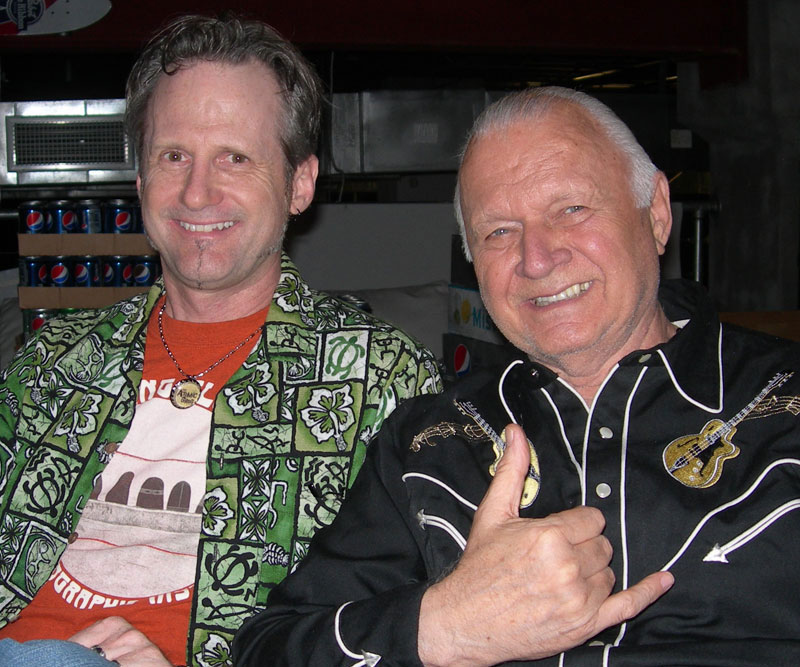 Hurricane Hayward with Dick Dale after his concert in Miami in 2013. (Atomic Grog photo)
Do you feel that music has an important role in creating a great Tiki experience? What would be some of your favorite artists?
It's crucial and this is something I don't think some of the newer Tiki bars understand completely. One of my favorite things about events like Tiki Oasis and the Hukilau is the bands and performers. I've been turned on to so many great artists through these events, as well as podcasts and streaming radio stations devoted to Tiki and surf music. If I had to be stranded on a South Pacific island with a playlist, it would definitely include exotica greats of the past (Martin Denny, Arthur Lyman, Les Baxter, Gene Rains) and present (Ixtahuele, Tikiyaki Orchestra, Alika Lyman, Stolen Idols). I also like stuff that drifts into Tiki territory but doesn't so easily fit into a category, such as Kava Kon, Tipsy and Stereophonic Space Sound Unlimited. And for me (as an aging rocker), I can't get enough instrumental surf. You can't beat the classics (Dick Dale, The Ventures, The Surfaris, The Chantays), but there are tons of more recent artists that fill my playlists (Los Straitjackets, Satan's Pilgrims, The Bambi Molesters, Man or Astro-Man?). I should also mention the great surf bands of today that call Florida home, including The Intoxicators, Skinny Jimmy Stingray, and Gold Dust Lounge. And I can't wait to see The Surfrajettes from Canada for the first time at The Hukilau this year.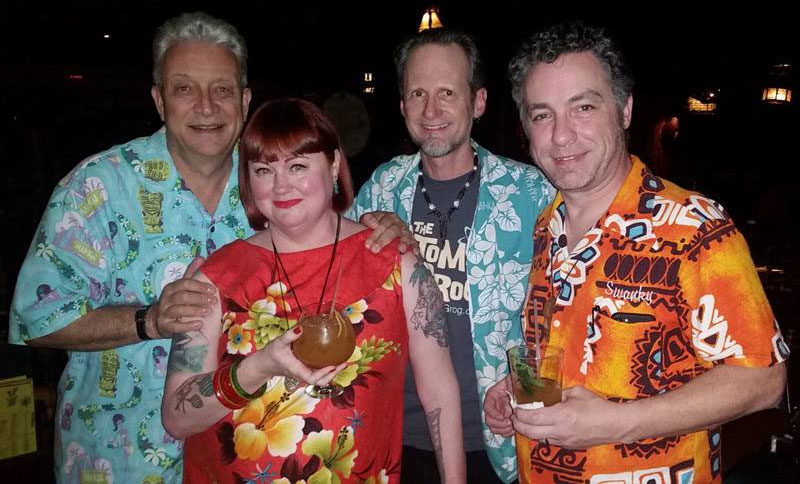 At the Mai-Kai's 60th Anniversary Symposia Series & Customer Celebration Party in December 2016: Sven Kirsten, Christie "Tiki Kiliki" White, Jim "Hurricane" Hayward, and Tim "Swanky" Glazner. (Atomic Grog photo)
What does the future hold for you and the Atomic Grog?
I have lots of ambitious plans for the blog, time permitting. That's the trick when you have a full-time career outside of Tiki. But anything could happen. More tangibly, look for a comprehensive list of all the cocktail recipes that have been published on the blog. I have all The Mai-Kai recipes listed, but you have to hunt for the rest. There are probably several hundred total. I plan to expand "The Tiki Times" news and events guide to include a full list of upcoming Tiki happenings for the entire year, plus monthly news updates. There are lots of cool features in the works for The Maki-Kai Cocktail Guide, which is probably the most popular and enduring feature on the blog. I'm humbled that many readers have taken a liking to my tribute recipes, and several have been served at bars across the country, including Trader Vic's, Hale Pele, Hidden Harbor. I'll be doing a special presentation on The Mai-Kai's "lost cocktails" at the Hukilau this year as part of the June 11 finale. Look for more details to be announced soon. Long-term, who knows? If I get bored, I could always dust off that old Tiki bar plan.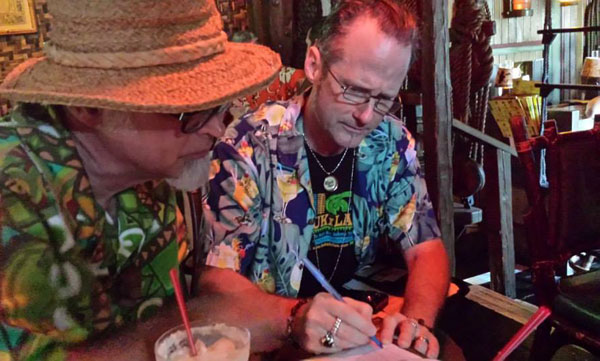 Hurricane Hayward and Beachbum Berry study cocktails in the Molokai bar at the Mai-Kai during The Hukilau 2015. (Photo by Rebecca Cate)
Anything else you would like to add?
I'd like to give a special shout-out to several people who welcomed me with open arms in the Tiki scene and were instrumental in not only piquing my interest but inspiring me to love Tiki culture and cocktails as much as they do: Christie "Tiki Kiliki" White, co-creator, co-founder, producer and organizer of The Hukilau for its first 15 years, who brought me onto her her team with no questions asked and trusted me to help promote her creation for eight years. And Jeff "Beachbum" Berry, who inspired me to combine my profession and my passion in a way that brings me endless fun and satisfaction (and I hope the same for my readers). Jeff proved to me that there's nothing wrong with pairing journalism with vintage tropical drink recipes. It makes perfect sense to me. And my deepest mahalo to the owners and staff (especially Dave Levy, Pia Dahlquist and Kern Mattei) at my little local Tiki bar, the Mai-Kai. They treat me like 'ohana and have been incredibly welcoming to me, despite my endless curiosity (and pesky questions) about their wonderful establishment. Okole maluna!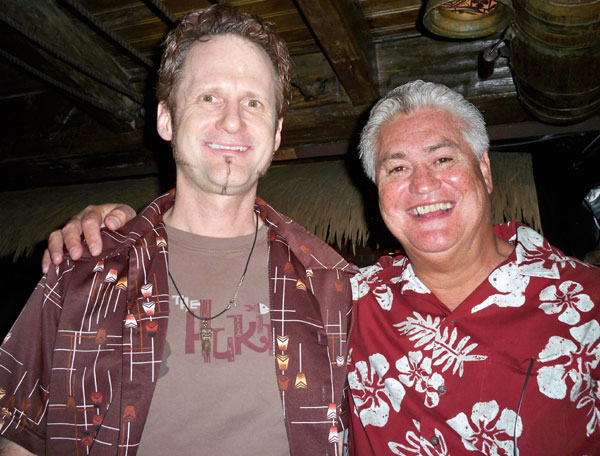 Hurricane Hayward with Mai-Kai owner Dave Levy in April 2011. (Photo by Susan Hayward)
You can find Hurricane Hayward and the Atomic Grog at TheAtomicGrog.com
and  Facebook.
He's also a moderator of the new Friends of The Mai-Kai group.