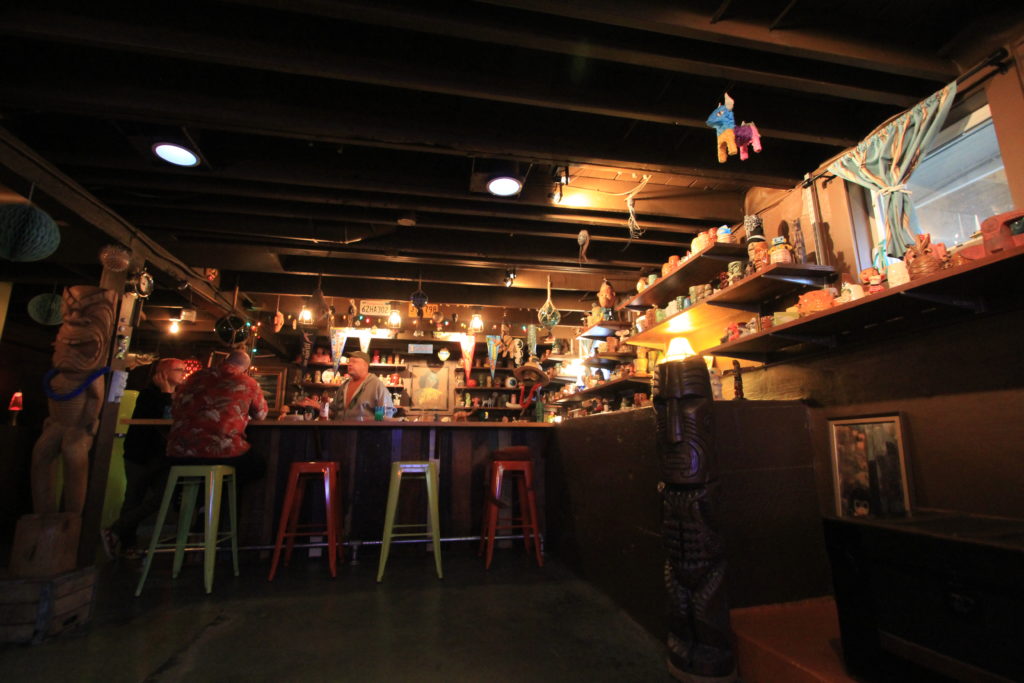 When you start collecting Tiki mugs, one turns into two, then two turns into three, and pretty soon you have an army of Tiki mugs trying to take over your house! What can you do? You build a home Tiki bar to display them! Rhonda and Bill Reedy did just that. They converted their basement into the Porthole and Tiki mugs are proudly displayed on shelf after shelf that spans its length. Here is Rhonda and Bill's story…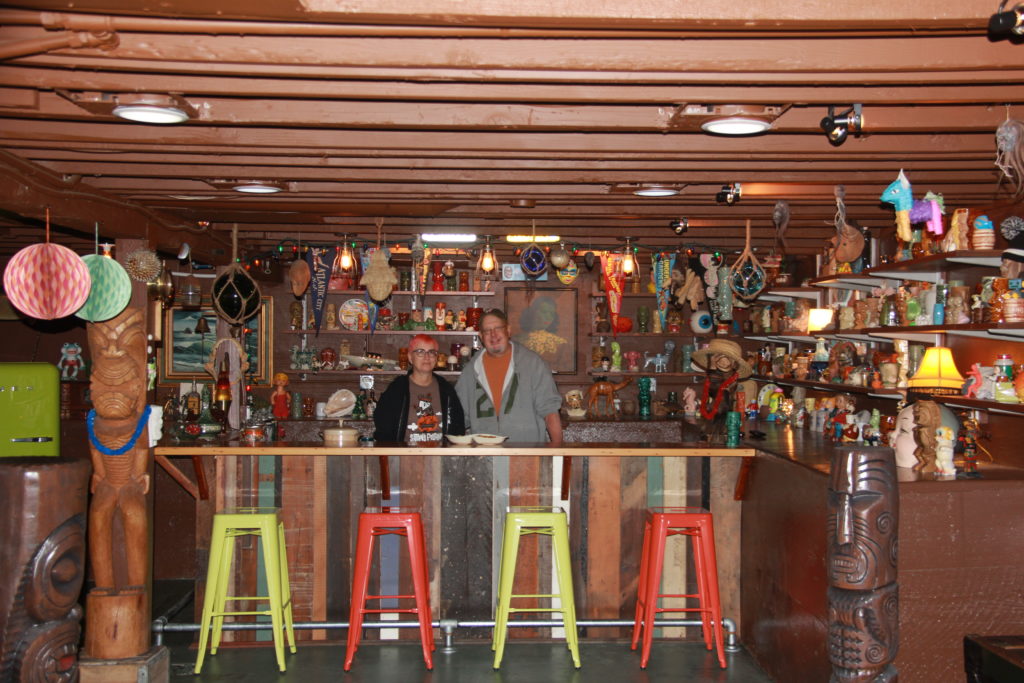 What brought you into the "Tiki lifestyle" and how long has it been
part of your life?
BILL: When I was 10 years old, my parents took me to Trader Vic's in
Beverly Hills and it made a big impression on me. Growing up in
Southern California, I had a lot of exposure to Polynesian-themed
restaurants and places like Pacific Ocean Park and Disneyland. And my
parents had a Tiki bar called the Rumpus Room.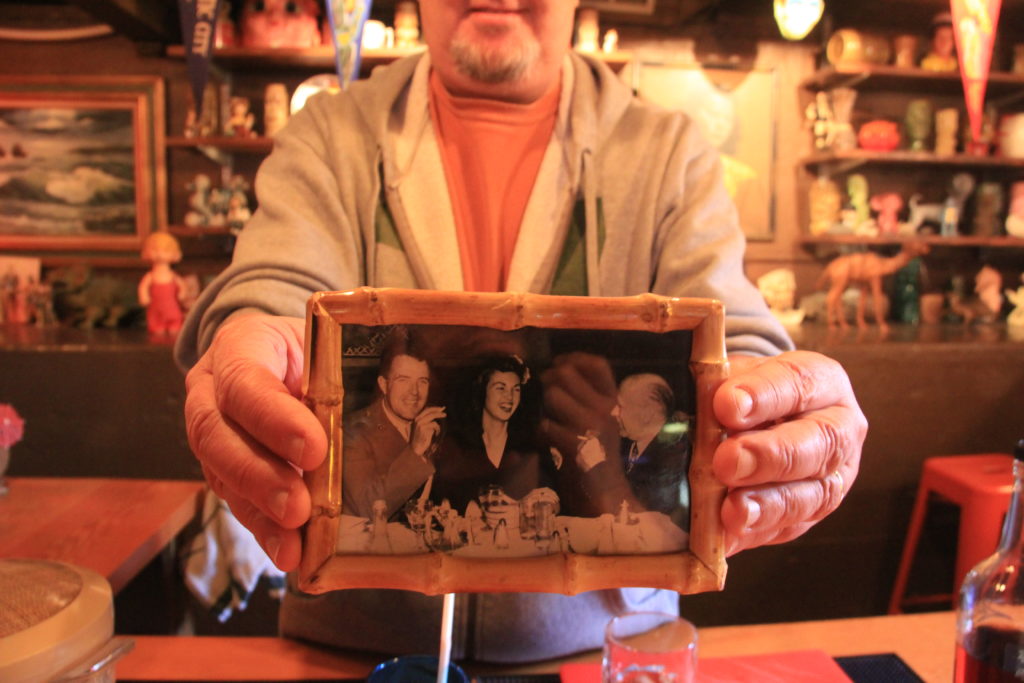 RHONDA: Growing up in the Midwest, my only exposure was a local
restaurant called the Breakers, which served tropical drinks and
featured many classic Tiki elements (dim lighting, glass floats, blow
fish lamps, etc.).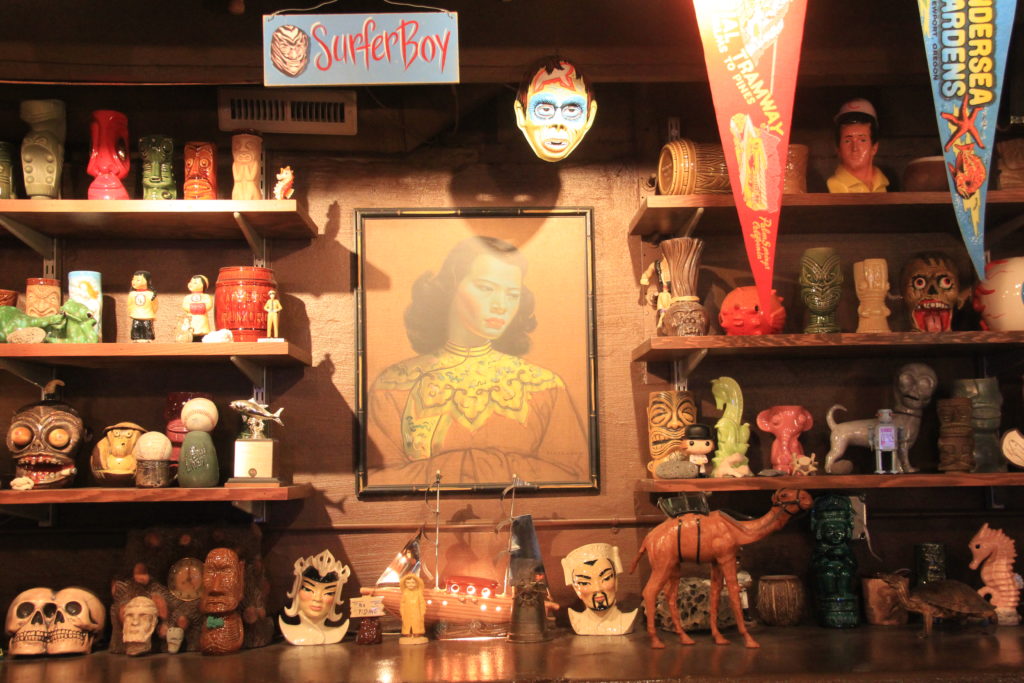 When and what made you decide to build your own Tiki bar?
BILL: Initially, I started collecting mugs around 20+ years ago and
with that came the notion that when I retired and we had a house, I'd
like my own Tiki bar as an escape and a place to display the
collection.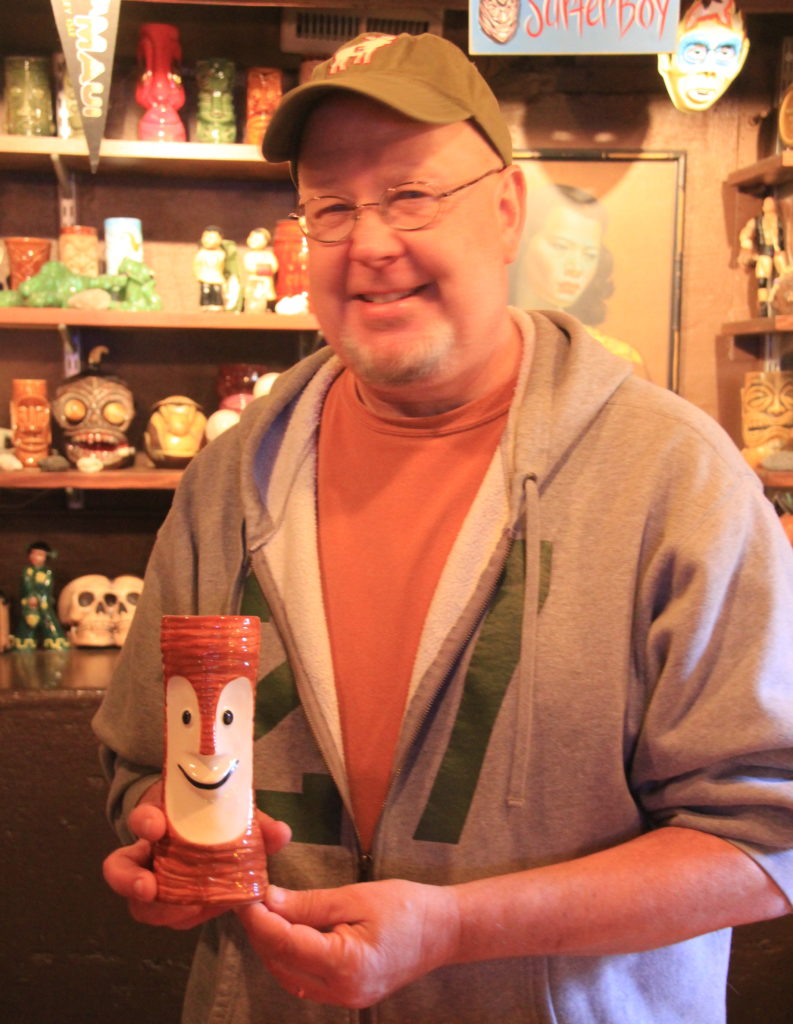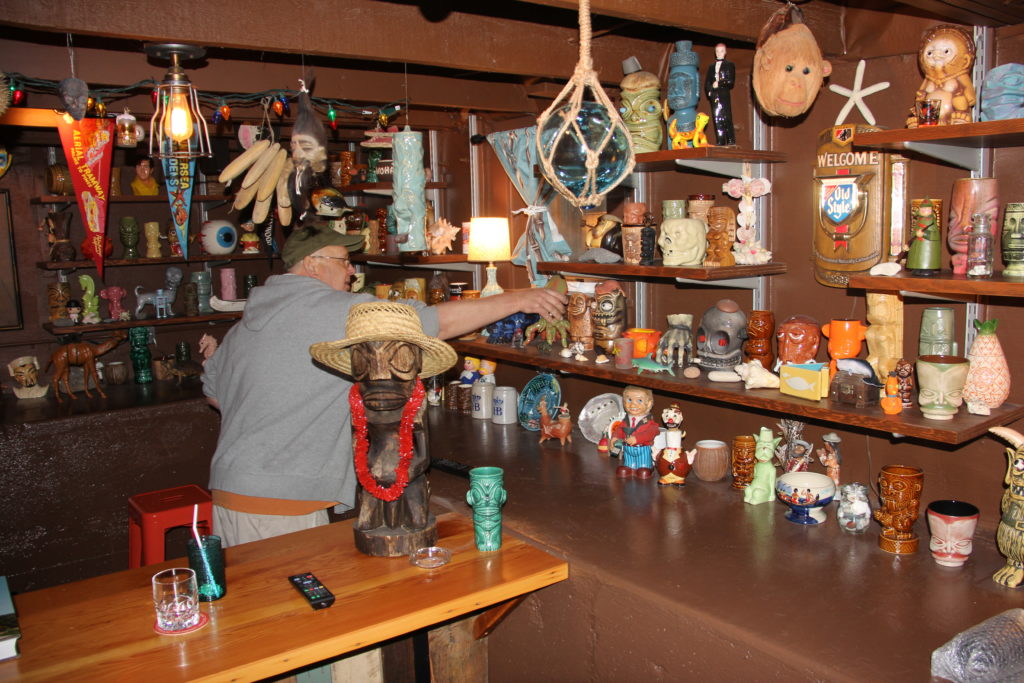 RHONDA: Of course, my thoughts were: "Do we really need this?" and "How
much will it cost?!"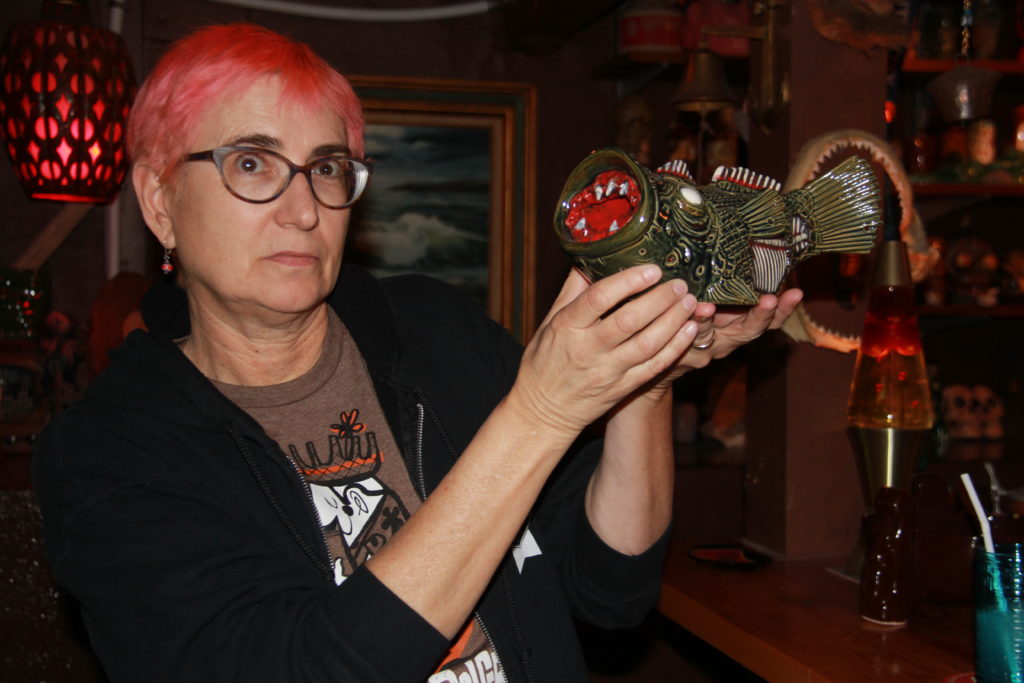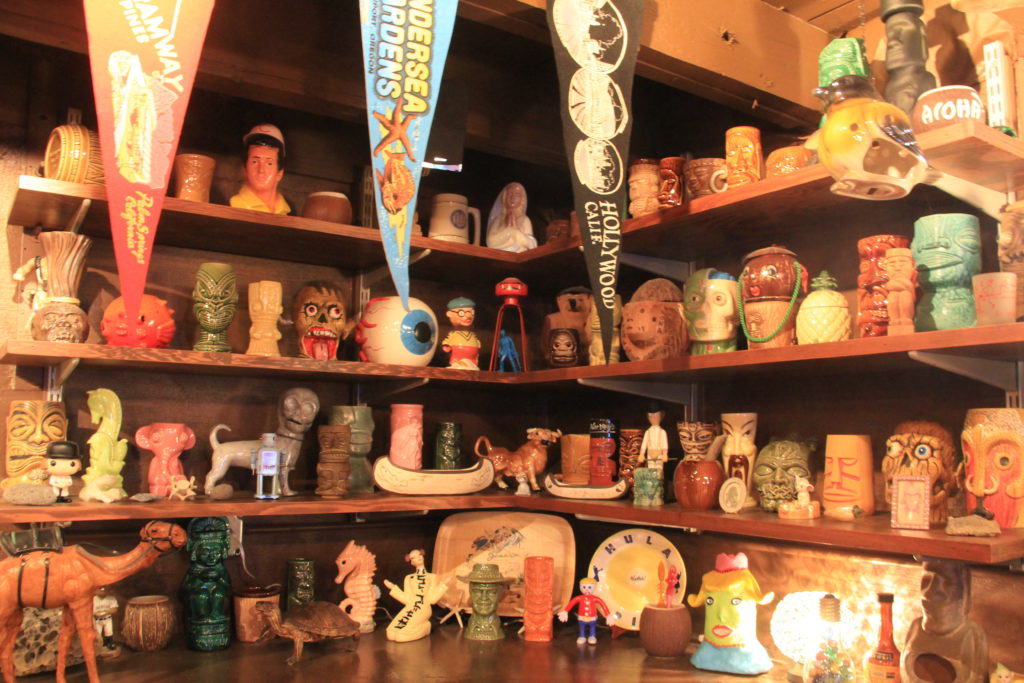 Can you give a little history of how it all came together?
BILL: When we retired and moved to Portland, our house was completely
finished except for the basement, which was the blank canvas for our
bar (the Porthole).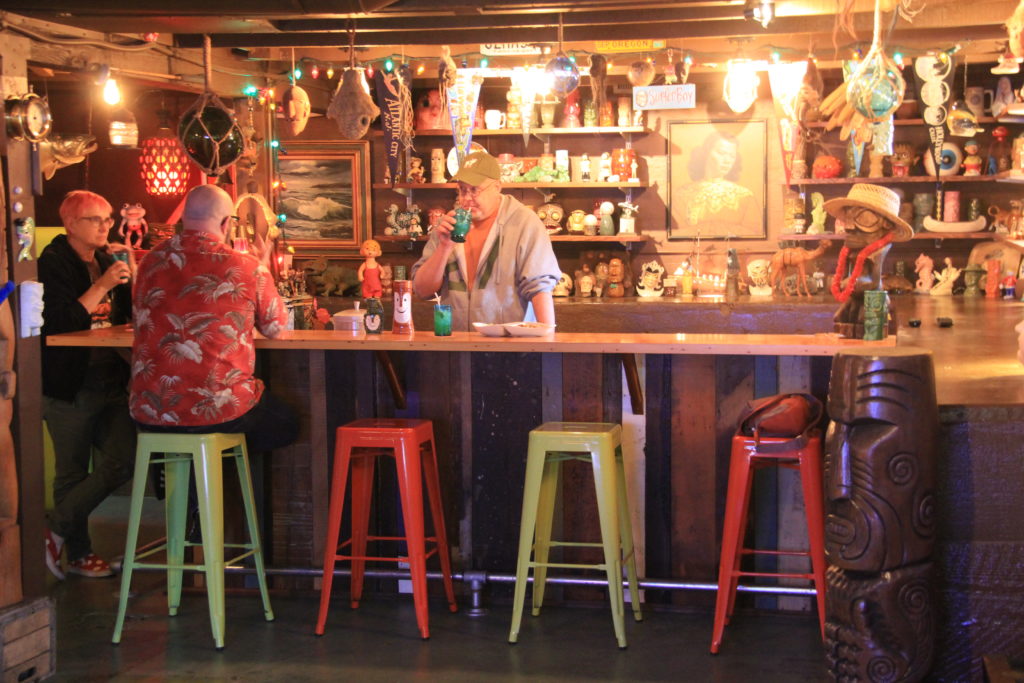 RHONDA: Our contractor did a great job of transforming what was
basically a concrete bunker into a warm and inviting hangout.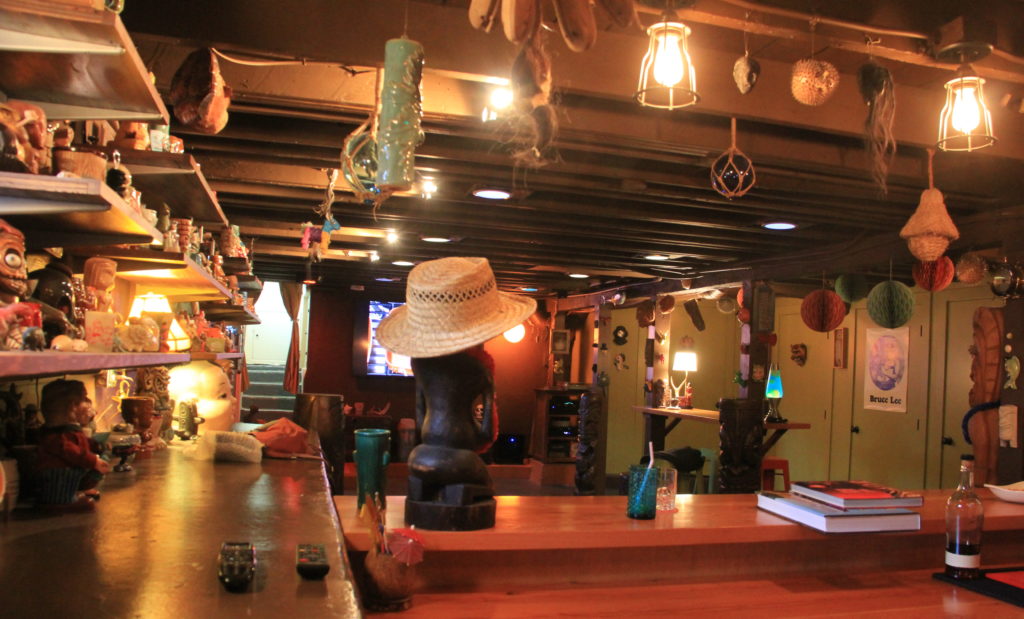 What is your favorite Tiki drink? What do you think makes the perfect cocktail?
BILL: The Fogcutter is my favorite. I actually think there's too much
attention paid to cocktail craftsmanship. What's most important to me
is the overall experience of escape.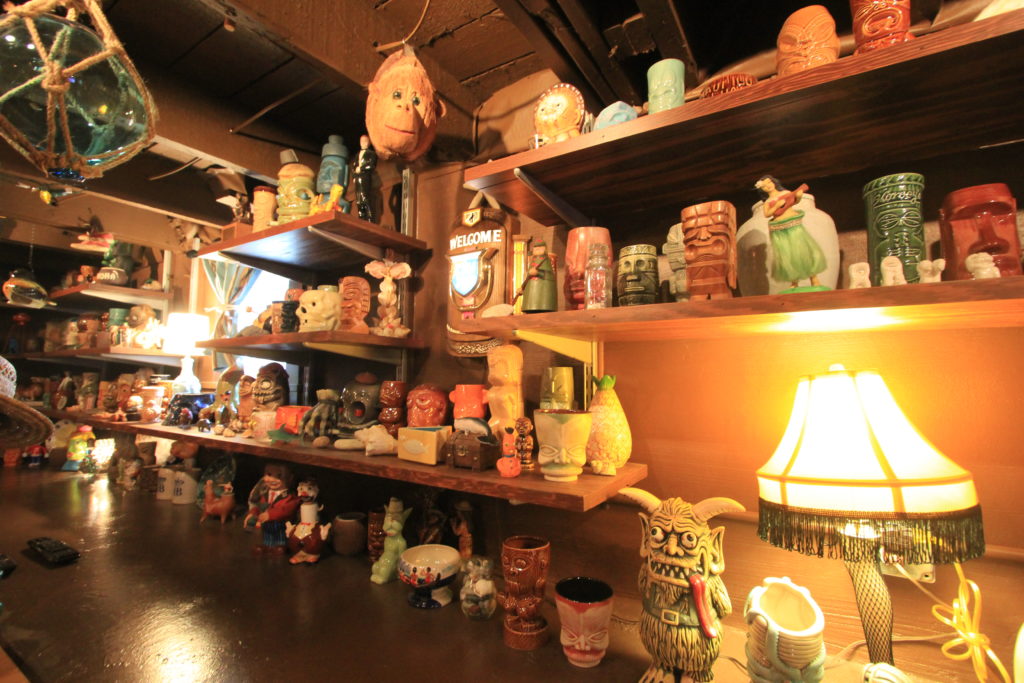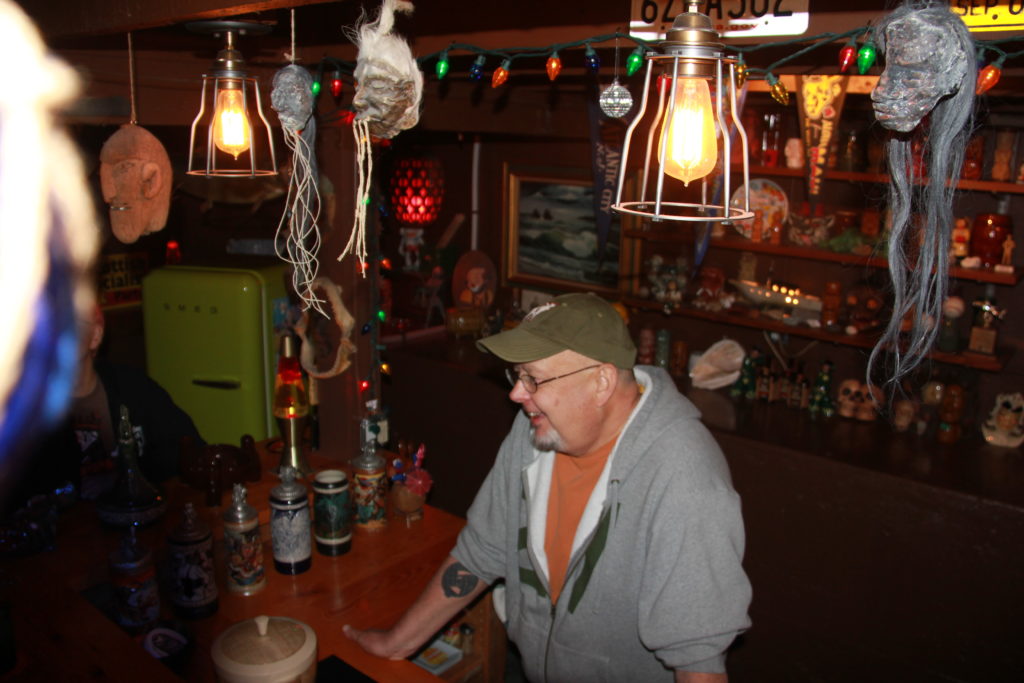 RHONDA: The best Fogcutter I've ever had was at House of Lee in
Pacific Palisades (now gone). Their bar was called the Wing Ding Room!
I love the Zombie at the Secret Society in Portland and this past
summer, we had an amazing Mai Tai at the Stone Cliff Inn in Oregon
City. But honestly, we're not sophisticated mixologists ourselves.
There's a lot of beer and Chardonnay consumed in the Porthole. And our
cocktail of choice is a lovely gin and tonic.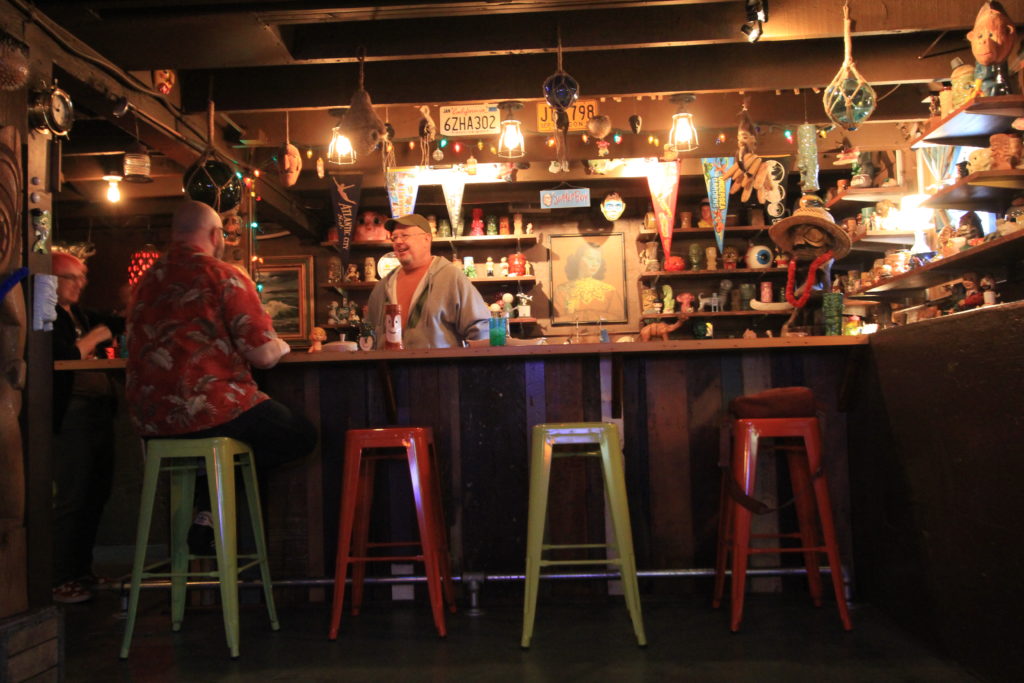 What is your favorite Tiki bar? Not including your own!
BILL: It's a tie between Three Dots and a Dash in Chicago and Tahiti
Nui in Hanalei.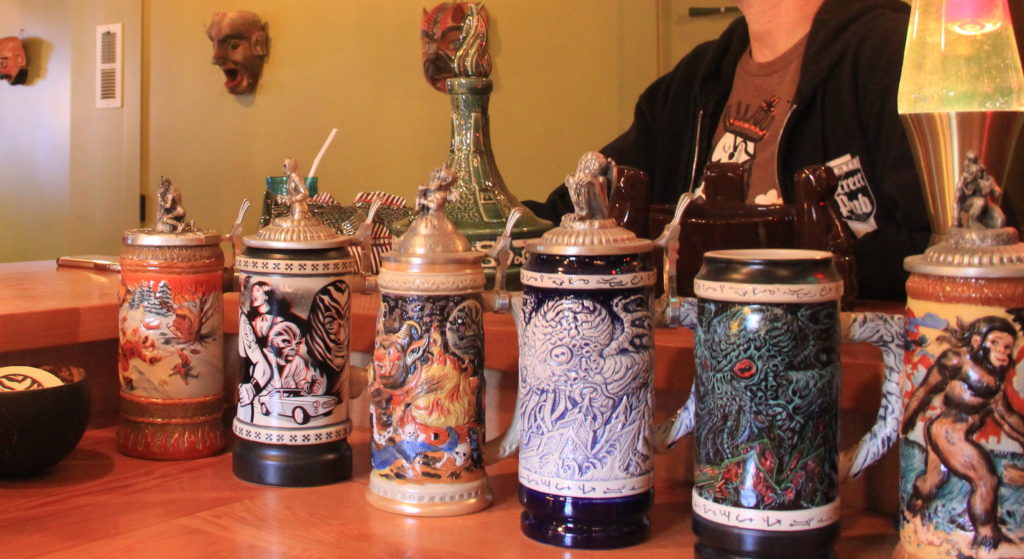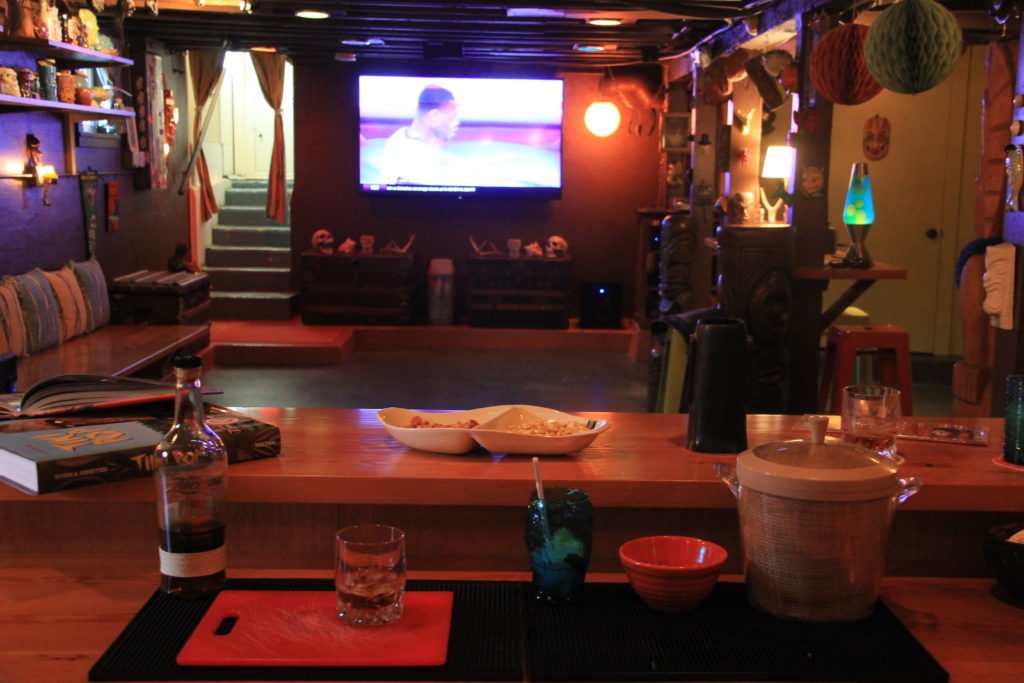 RHONDA:  Forbidden Island is my favorite and I also love Trader Sam's
at Disneyland. There's something wonderful about escaping the crowds
and the kids in that dark, adults-only environment!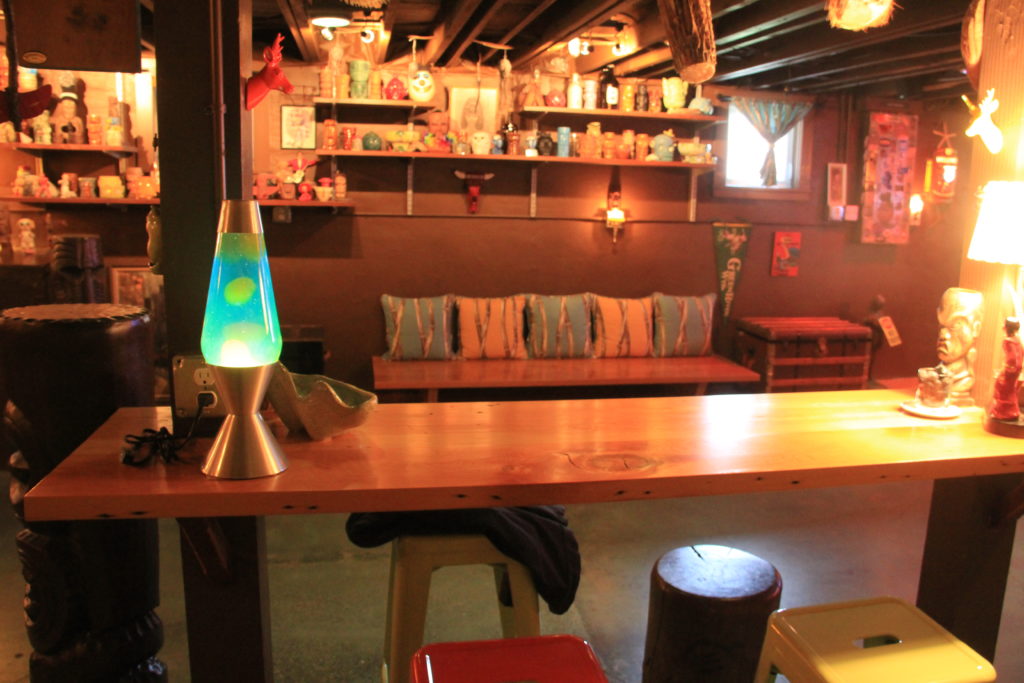 Do you feel that music has an important role in creating a great Tiki
experience?
BILL: Absolutely! Not only do I enjoy the classic Tiki/lounge style of
music of people like Martin Denny and Arthur Lyman, but I really love
surf music—not just vintage, but all the surf bands that are out
now. Two of my favorite modern surf bands are Satan's Pilgrims and the
Bomboras.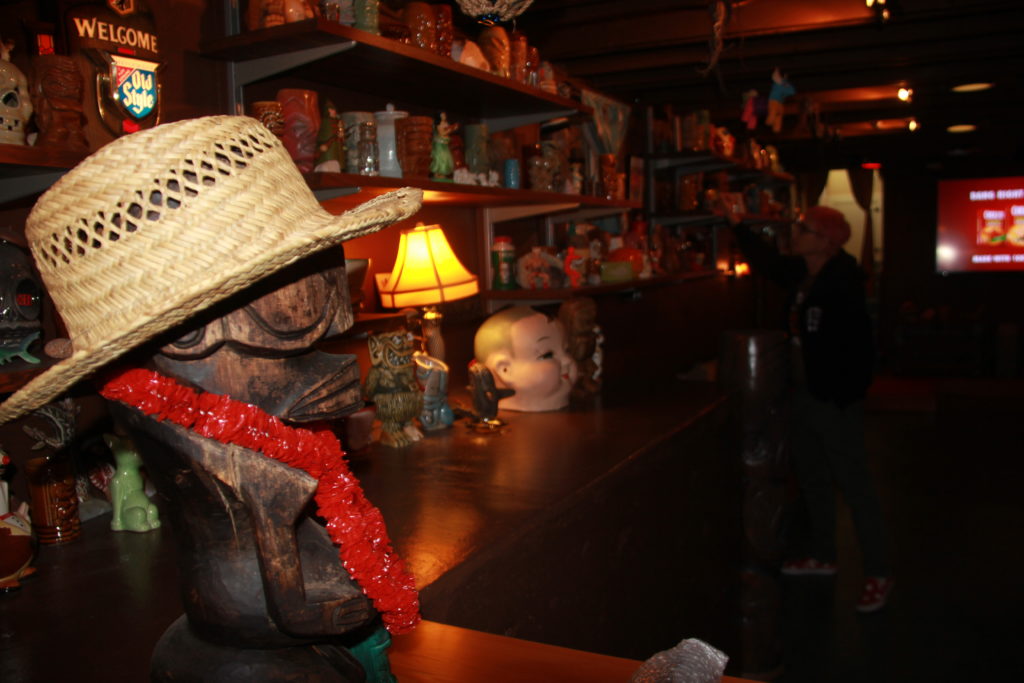 RHONDA: I can put up with the TV down there, but only if the sound is
off and there's music playing—everything from honky tonk to
seventies soul to classic punk. I like an eclectic mix of music.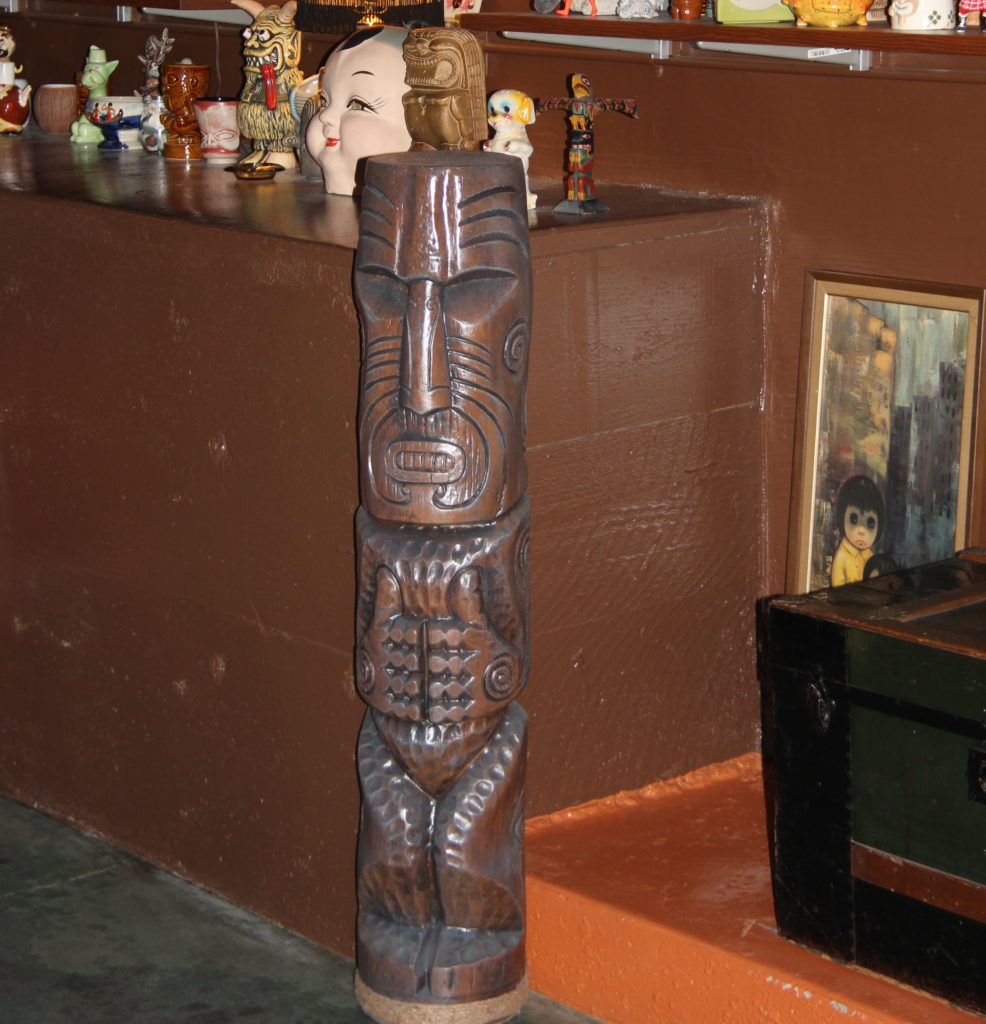 What does the future hold for you and your bar?
BILL: The key to our bar is that it's strictly our hideout. We don't
plan many big parties there—it's mostly for us. And we continue to
collect things and add to it.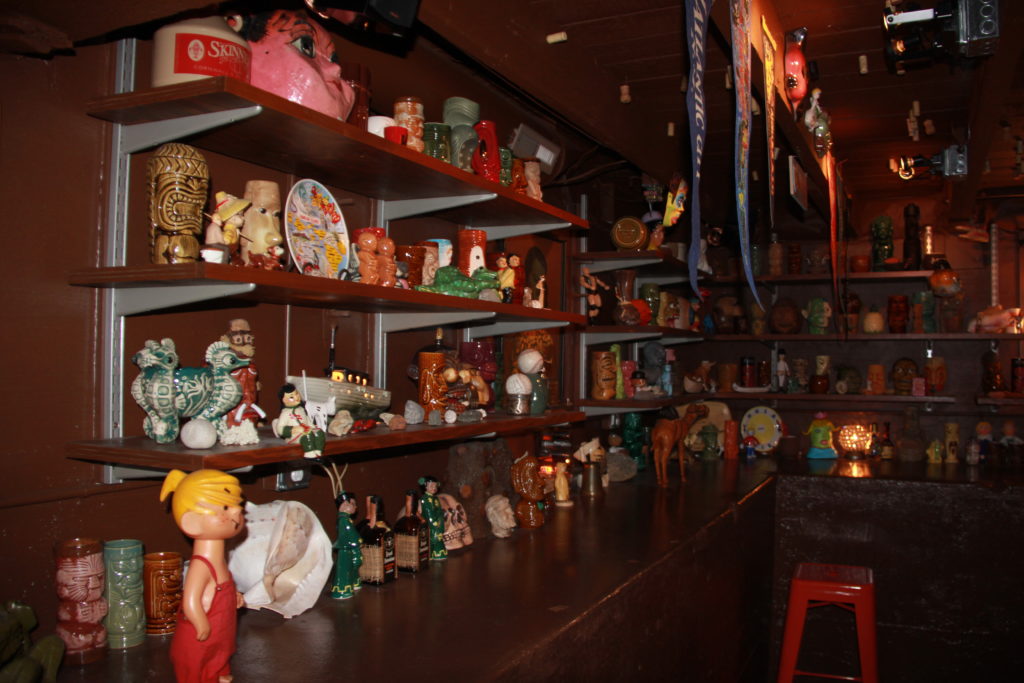 RHONDA: It's a challenge to find places to display things. Some people
have suggested we put some things away and rotate what's displayed,
but we're not a museum. I like to see it all out there. And we do
break things occasionally (dusting is a challenge), so that opens up
some space!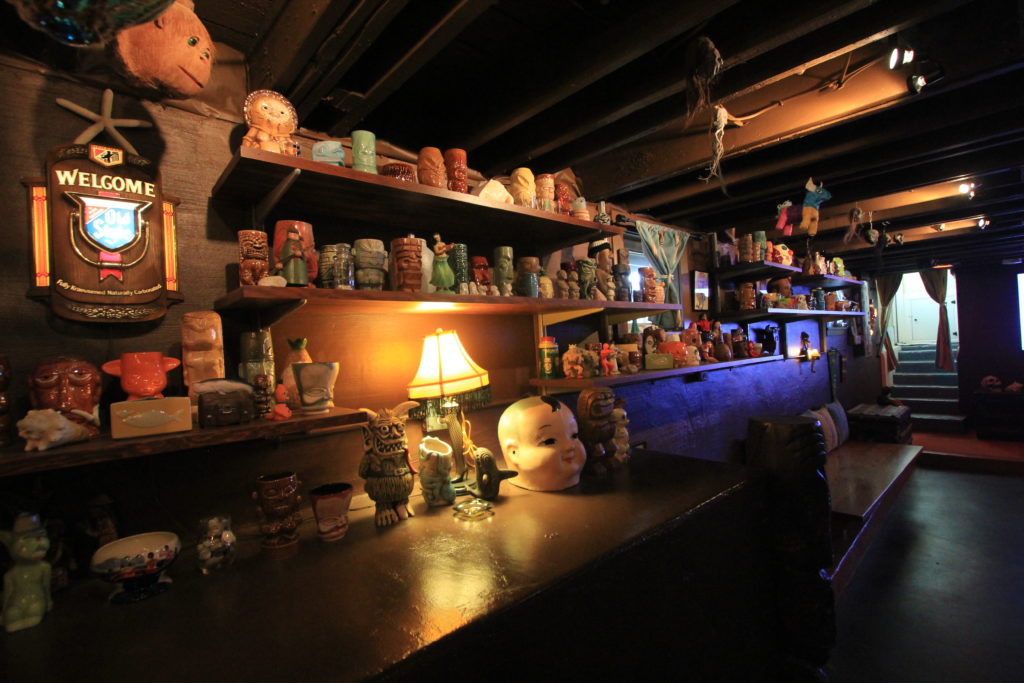 Anything else you would like to add?
BILL: Another key to our bar is that it's not a traditional classic
Tiki bar. Being in the Northwest, it was our intention to combine
influences from this area (taverns, dive bars). We're not strictly
Tiki.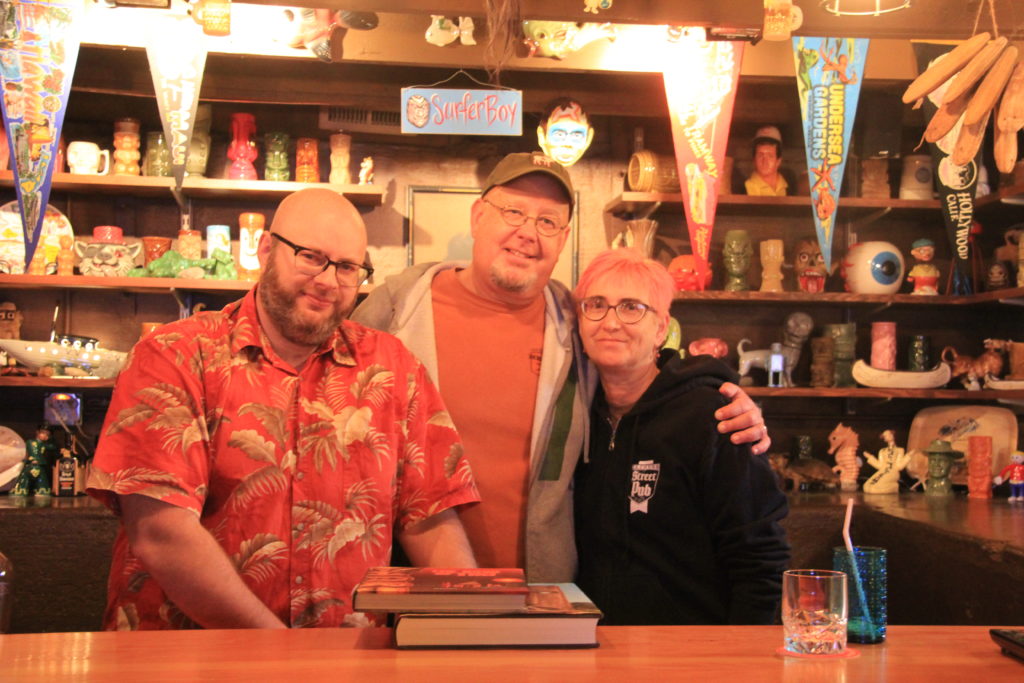 RHONDA: We love Tiki stuff, but also love to mix it with lots of other
elements, so we'll have a classic Tiki mug next to a plastic Mr. T.
bank. We're not Tiki purists. I hope that's okay!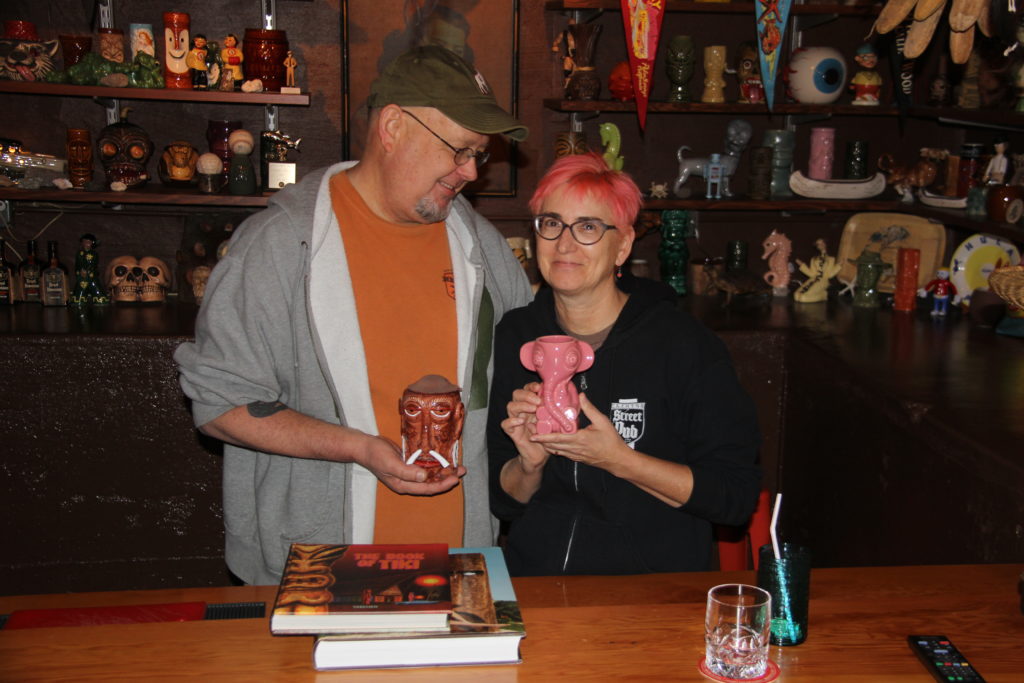 I would like to thank Dieter Weber for his incredible photographs used for this post!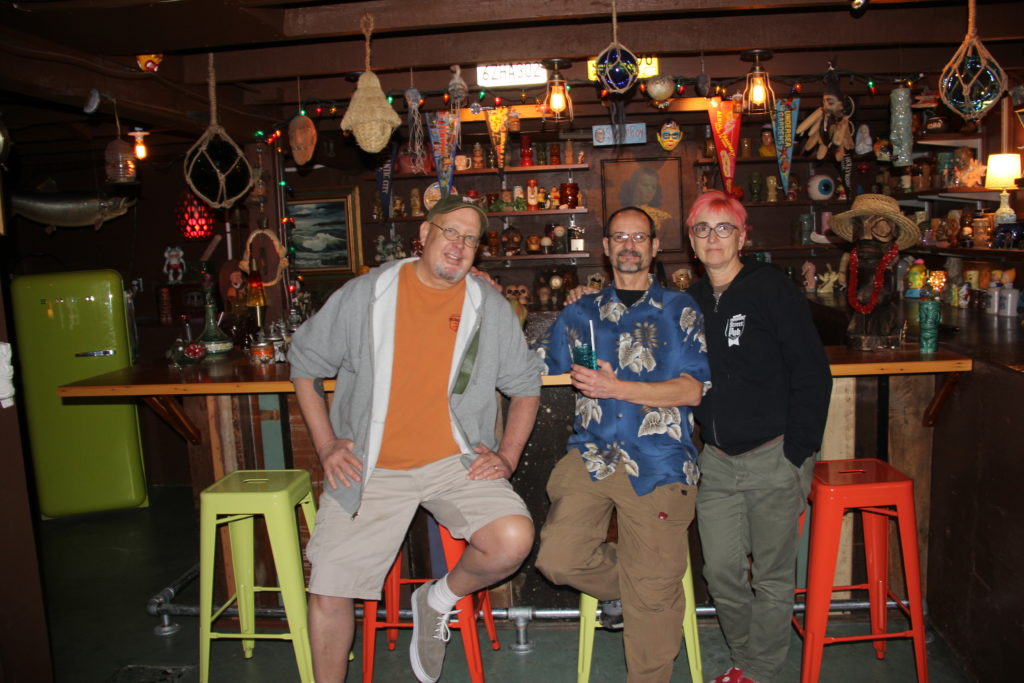 Check out this awesome video spotlight of the Porthole over at Houzz.