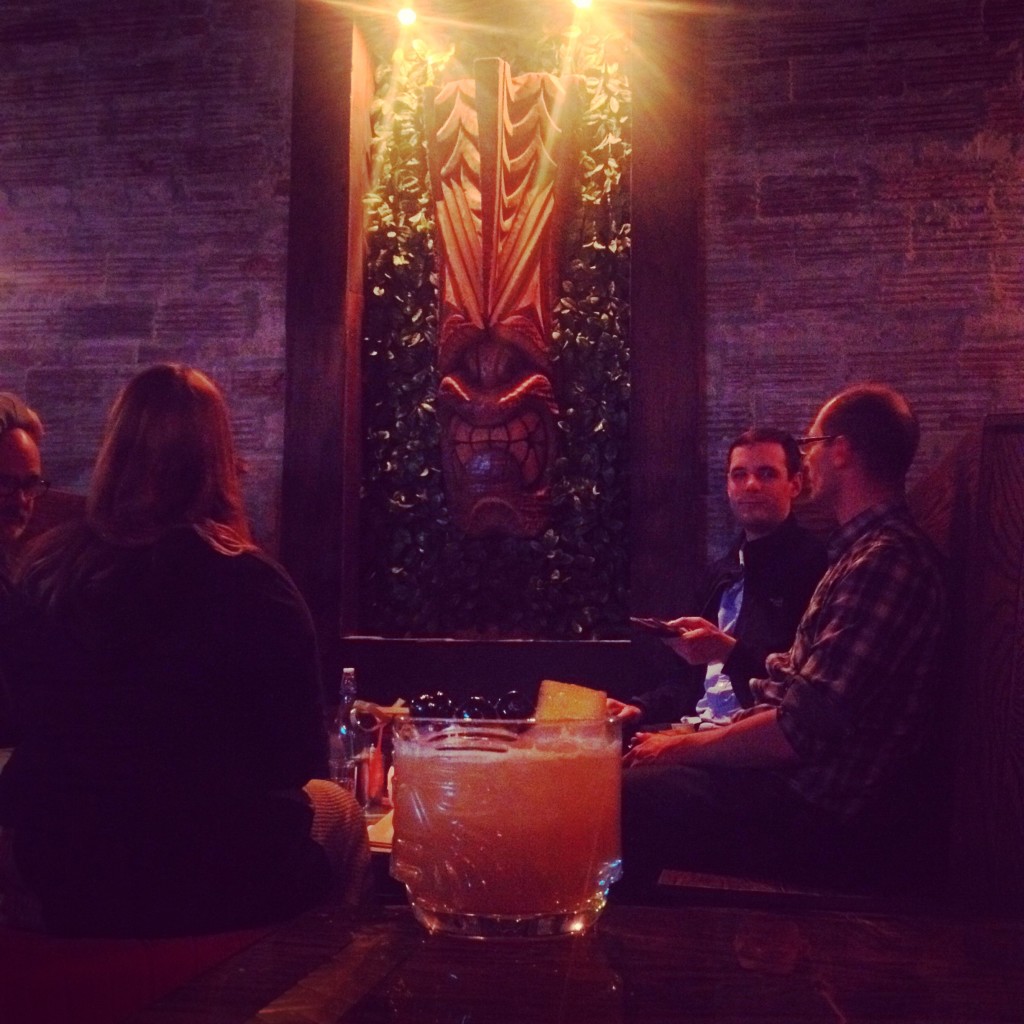 Old school, new school. We've all heard the terms, haven't we? Can this pertain to Tiki as well? When I think of a Tiki bar, I think of the normal décor: thatch, bamboo, tiki statues, and a very dark environment which I like to call old school. But can there be a "new school" Tiki bar? These are the things I'm thinking about as I am enjoying my cocktail at Hidden Harbor in Pittsburgh, PA.
For the longest time, there had been only one Tiki bar in Pittsburgh, that being the Tiki Lounge. The Tiki Lounge totally falls into the old school category. It looks like a Tiki bar that would have existed back in the '50s or '60s. I found out only a month or two ago that a new Tiki bar had opened in Pittsburgh, which would be Hidden Harbor. I was going to be in Pittsburgh soon, so I was excited to check it out.
Hidden Harbor is located in Squirrel Hill, which is east of Downtown Pittsburgh. Squirrel Hill has really cool places to eat and there are more than enough bars for a great night on the town. The vibe on Squirrel Hill is a little more chill and laid back compared to Carson Street on the South Side, which is where the Tiki Lounge is located.
The first thing I noticed when I approached Hidden Harbor was their bright neon sign…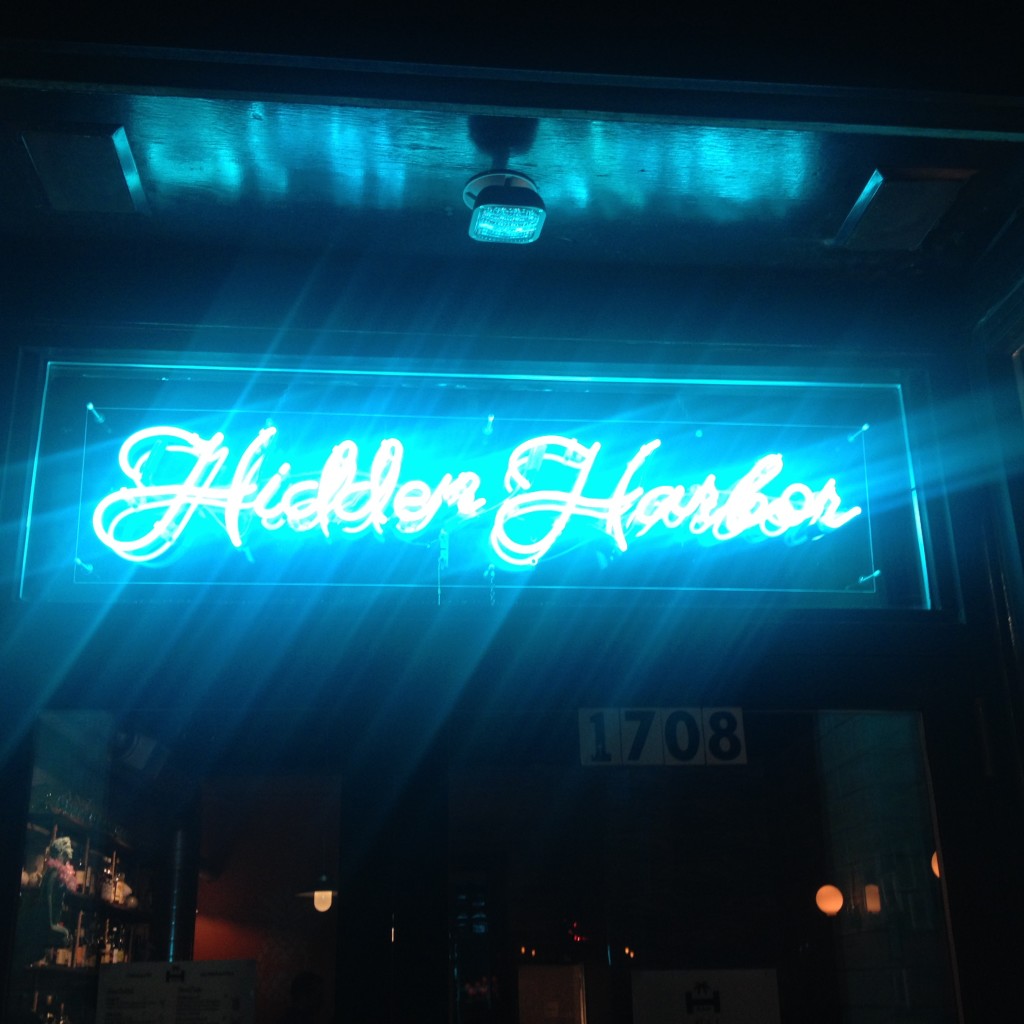 I walked into the bar and I noticed two things immediately. It didn't look like a Tiki bar in an old school way and it was brighter than a Tiki bar normally is…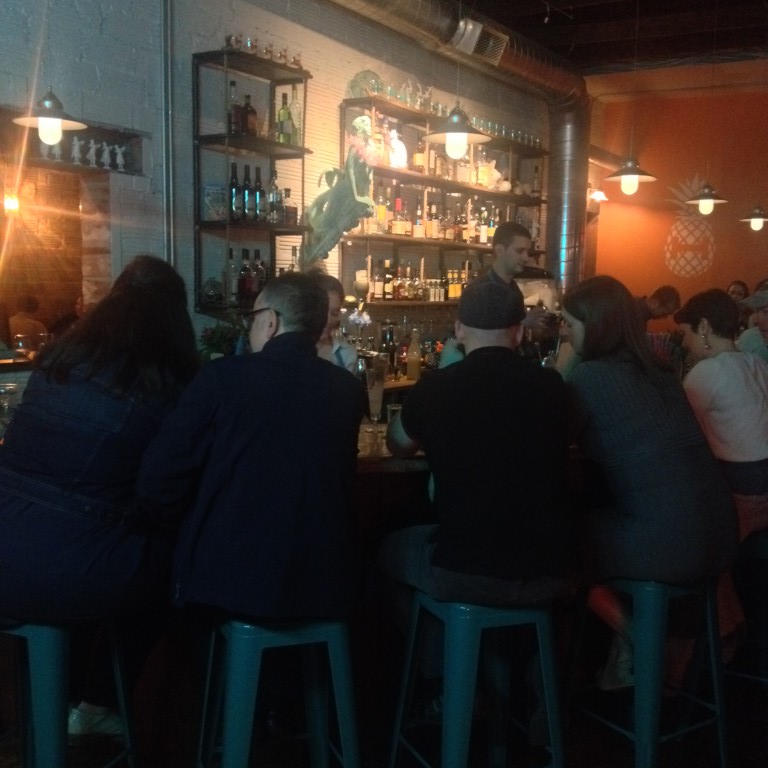 The bar was pretty packed so I got a table in the side room. After I got situated, my server came over showed me the menu…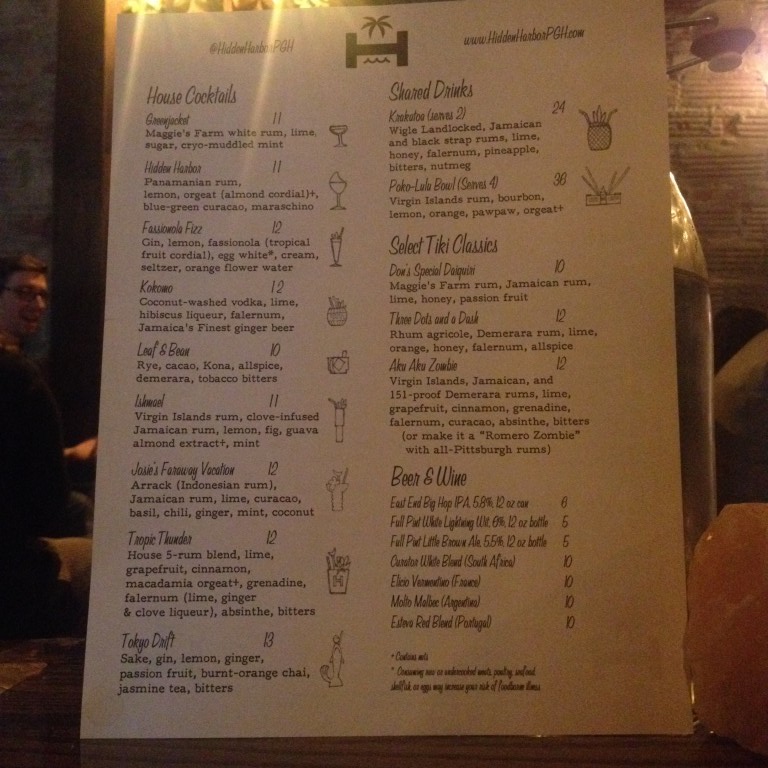 Really quickly I noticed some old school cocktails, so I ordered the 3 Dots and a Dash…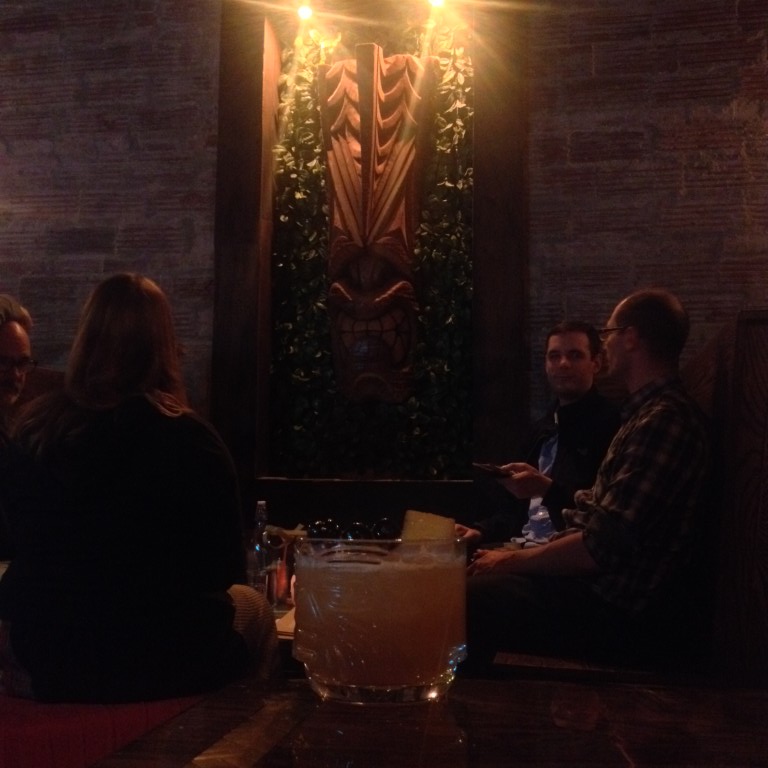 The drink has 2 shots of rum mixed with honey, orange, lime, and falernum. It's subtly sweet, yet spicy at the same time. I tasted my drink and was blown away. It was so good; easily the best 3 Dots and A Dash I ever had! I started to look around…
I noticed Tiki statues in between all the booths…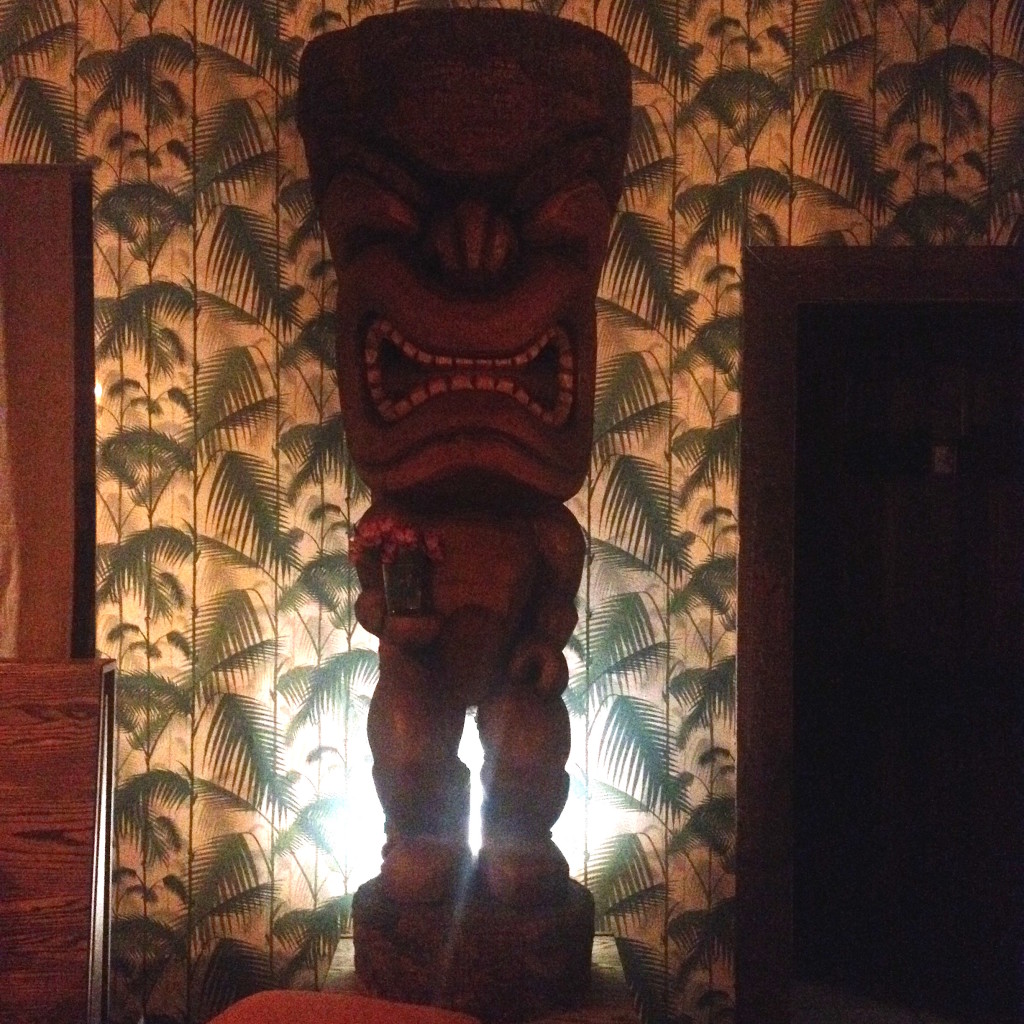 And a really big one in the back!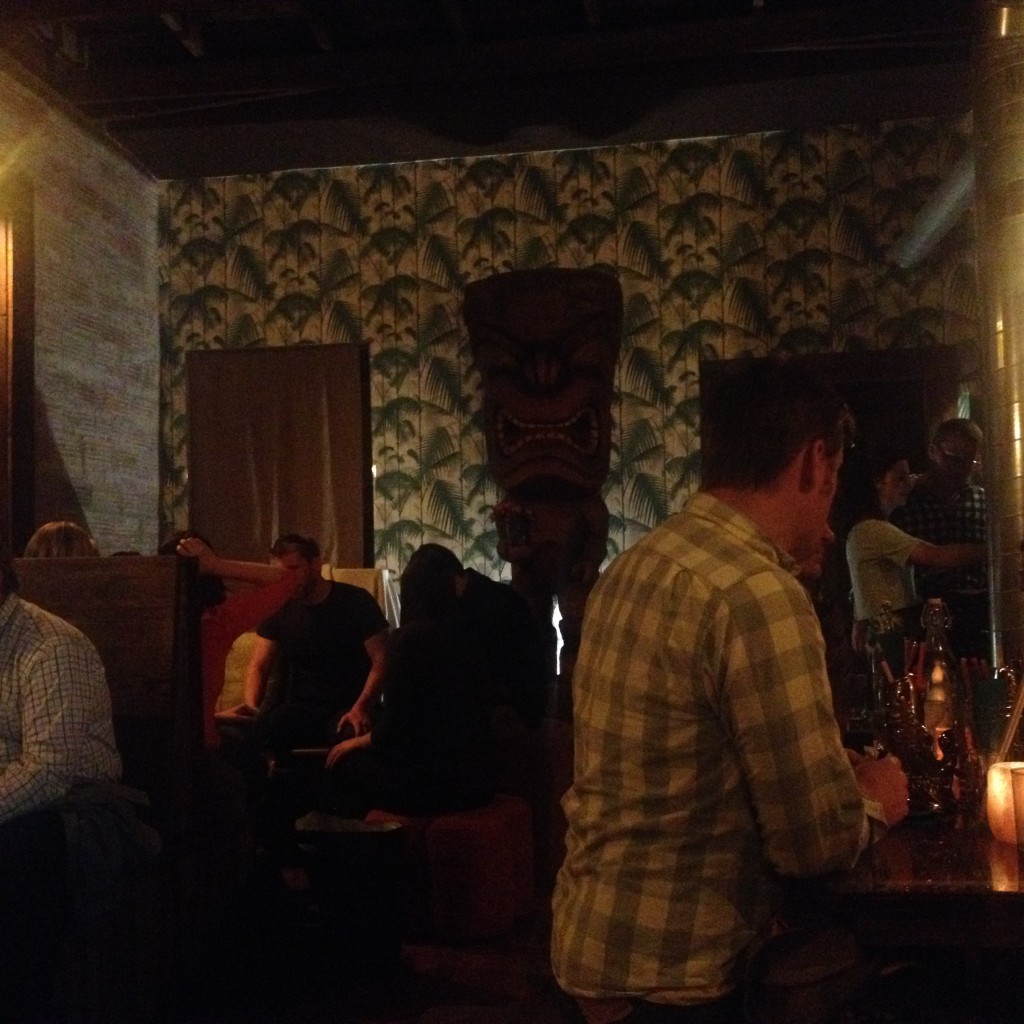 I also noticed that the wallpaper was a print of palm trees…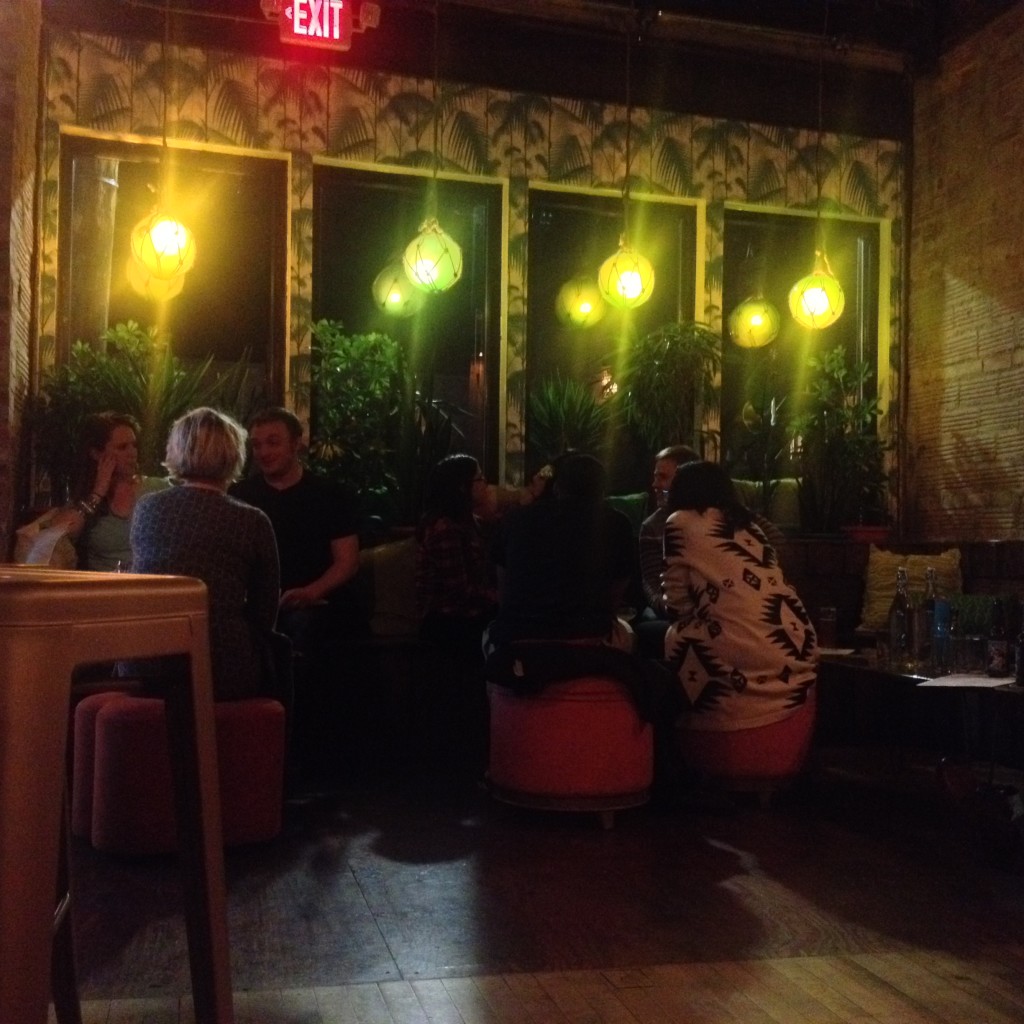 It was all coming together. This was totally a Tiki bar!  All the Tiki was subtle and not as in-your-face as in an old school Tiki bar. I'm totally getting the idea of a new school Tiki bar and I'm starting to love it!
The 3 Dots and a Dash was so good that I wanted to order another drink. This time I went with the signature drink: the Hidden Harbor…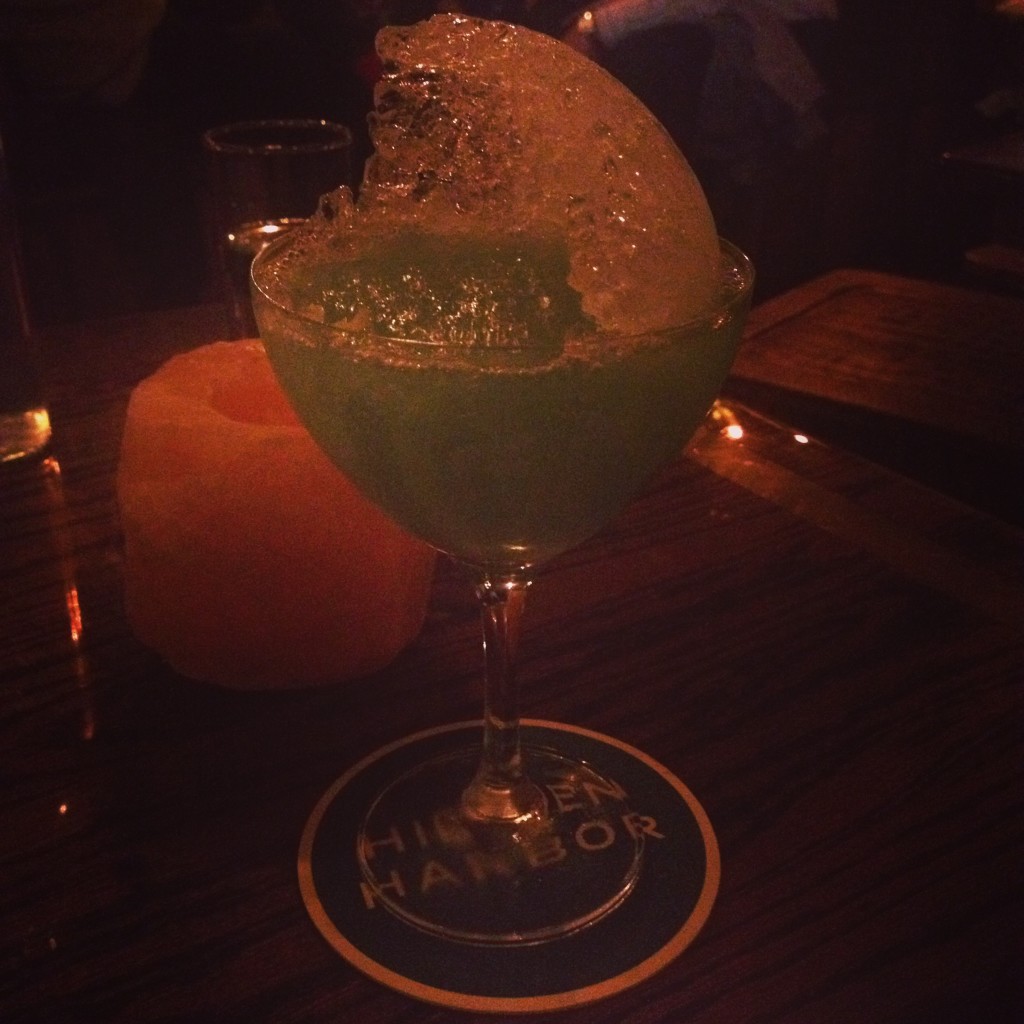 The drink came out and I was floored by the presentation. It's served in a martini glass, but the drink is surrounded by a giant ball of ice! I had to take my glasses off to drink the thing! It was great of course.
I was really taken by Hidden Harbor. I have to admit that I was skeptical when I first walked in because it didn't look like an old school Tiki bar, but sometimes new school can be just as cool, or maybe even better! Hidden Harbor: my new favorite new school Tiki bar! Go check it out!
Here is the link to Hidden Harbor's website.
And here is their Facebook page.