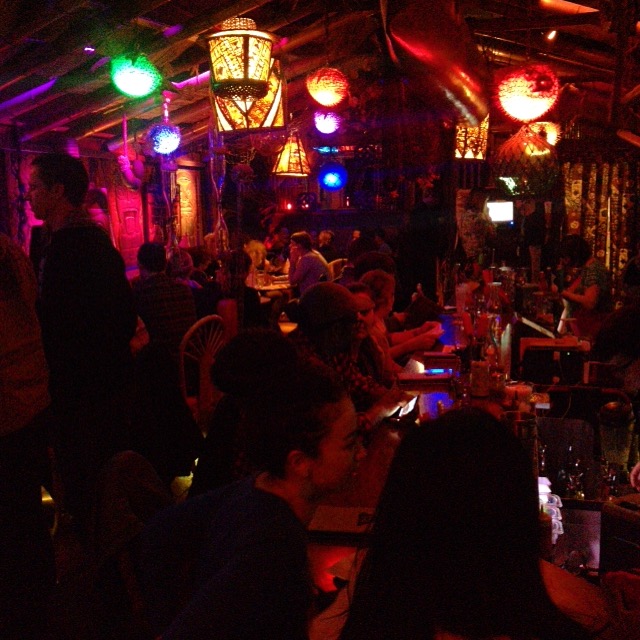 The TV show Portlandia has made the city of Portland famous. It's a really funny show that pokes fun at some of stereotypes about Portland's residents. The parodies are pretty much spot on. Portland has a very big cycling scene, cute little shops selling bric-a-brac, punk rockers, hippies, punk rock hippies, and more organic food shops that anyone could ask for. But when I think of Portland, I think of one thing: Tiki bars! Portland has not one, but three! It has the Alibi, Trader Vic's, and last but not least, Hale Pele.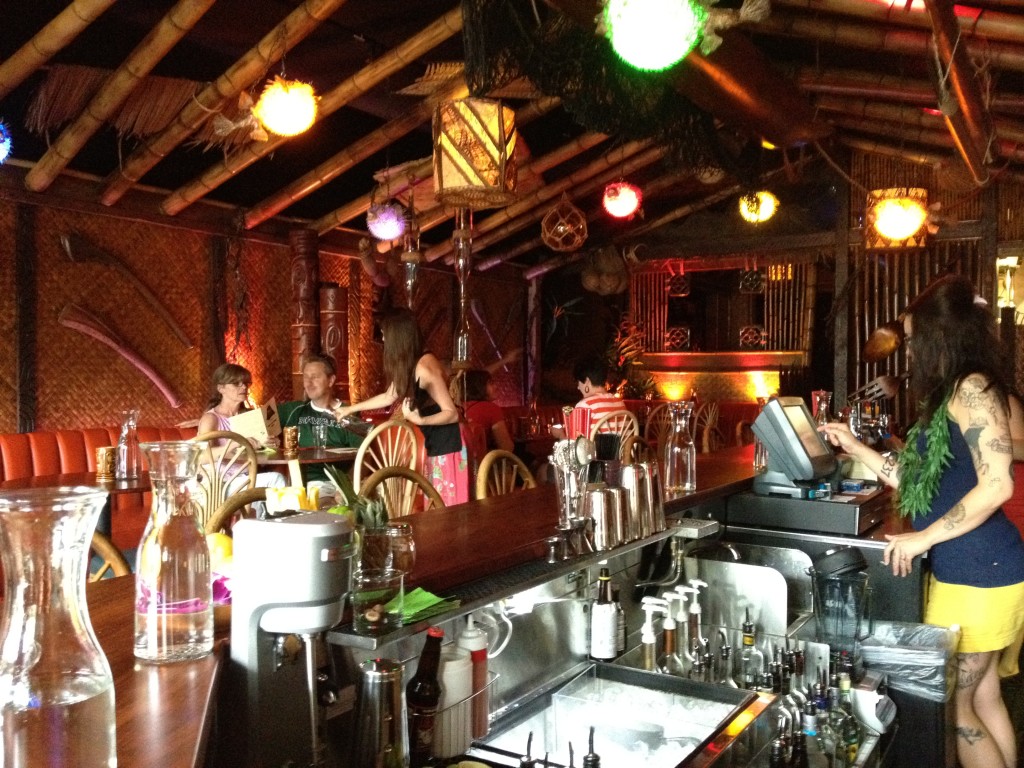 Hale Pele is at the top of my list of favorite Tiki bars. It has all the elements needed for a great Tiki bar experience, including the ultimate décor and layout. Once you cross over a little bridge from the outside into the bar, you can't see the outside. The bar is designed to make you feel that you are in a tropical hut made of bamboo and thatch. Oh, by the way, the original name of the bar was Thatch.
Here's a picture of the first time I went to Thatch. My good friends Laura and Rob took me there. This would have been January 2011.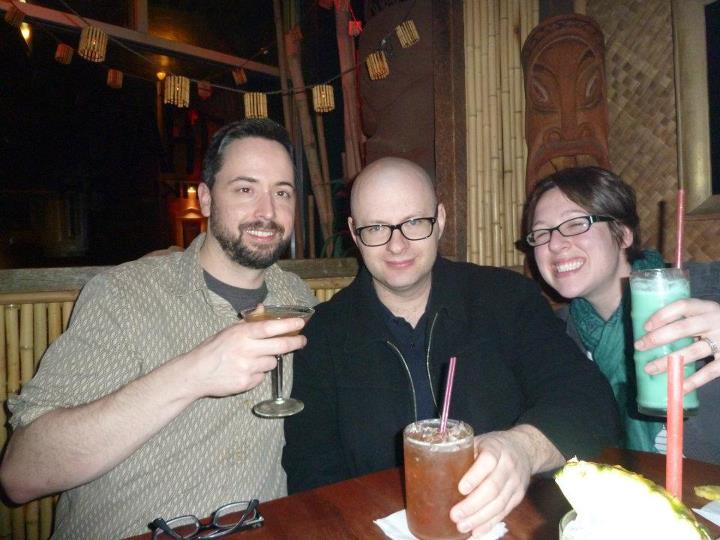 Thatch opened in 2007 and shut down in the spring of 2012. Thatch was then bought by new owners and reopened later that year as Hale Pele. The new owners kept the bar pretty much the same as it was. They also kept on some of the bartenders who worked there when it was Thatch, so it was a pretty seamless transition. I remember still calling Hale Pele Thatch for almost a year after the fact!
Hale Pele isn't really a large bar. It's very cozy and I like the intimacy that it creates. It's very dark and the sounds of exotica play through the air. In fact, I believe this is the first place I ever heard Martin Denny before! As you spend time at Hale Pele, it will start to thunder and volcanos erupt. The lights start to flicker and the sounds almost shake the entire bar. The light and sound show usually scares at least someone.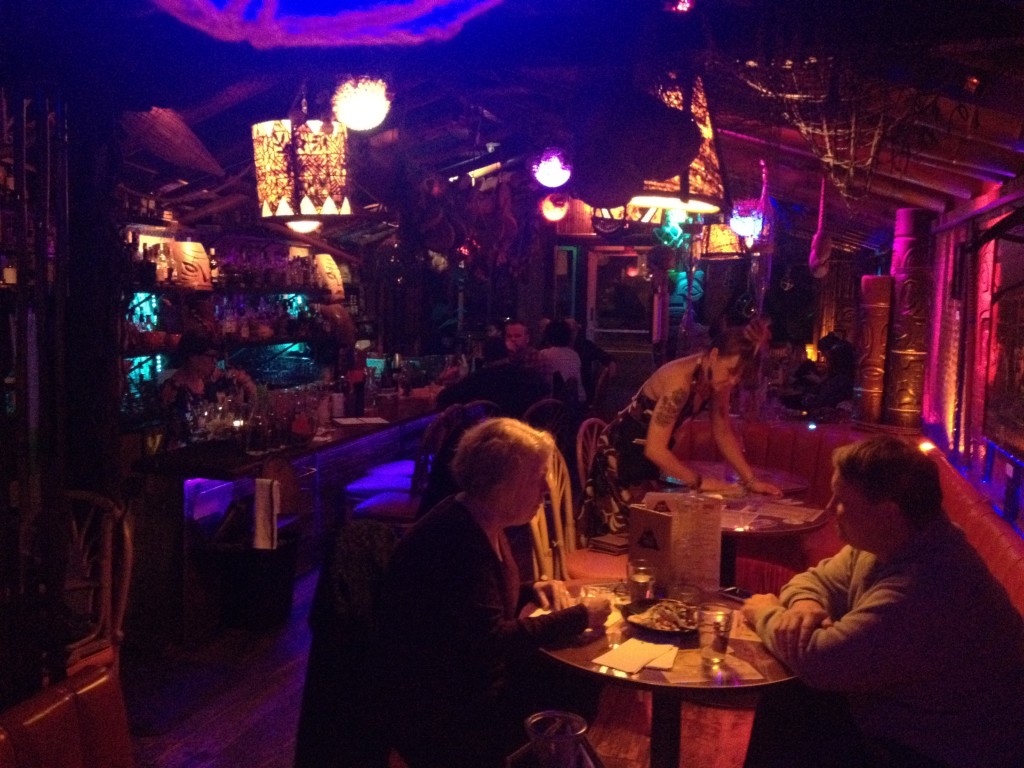 Sitting down at the bar, you will have Hale Pele's menu to look through. This is a pretty much a book! It's hard covered and has page after page of Tiki drinks you can choose from. Each cocktail has a little picture drawn of what the drink looks like, a detailed description of what ingredients are used, and even a ranking system to let you know how strong each drink is.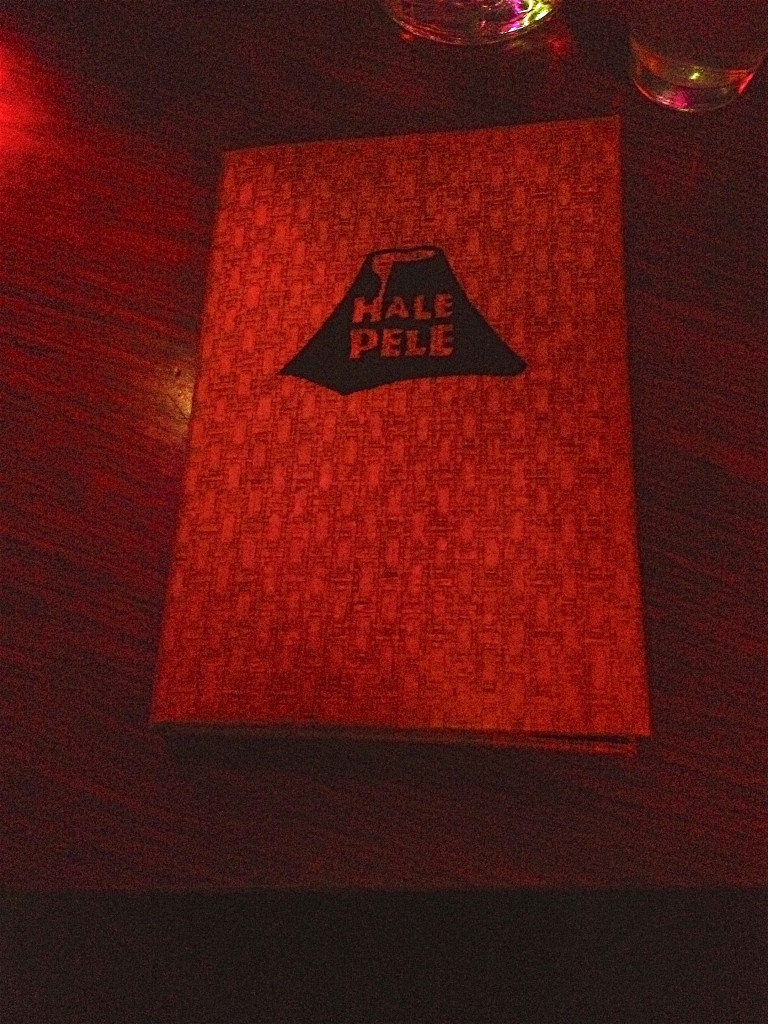 They say, "Go big or go home!" so I ordered the 151 Swizzle. Let me explain what the 151 Swizzle is. The only alcohol used is 151 proof rum. A shot and a half of it to be exact! If you tried to drink the rum straight, it would burn your mouth. How the drink works though is the alcohol and mixers are poured over crushed ice, sort of like a snow cone. The drink is made to be sipped slowly. The ice gradually melts and mixes with the rum and mixers. The drink is incredible. You have to try one, but be warned: it's really powerful.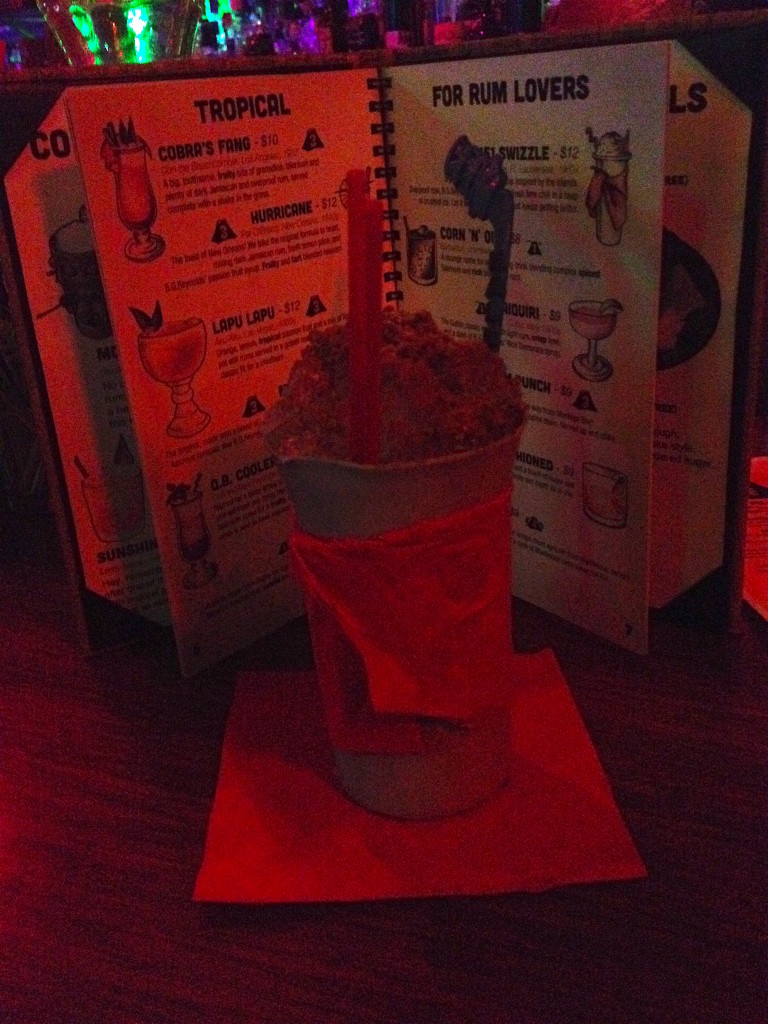 Making drinks for me was Sierra…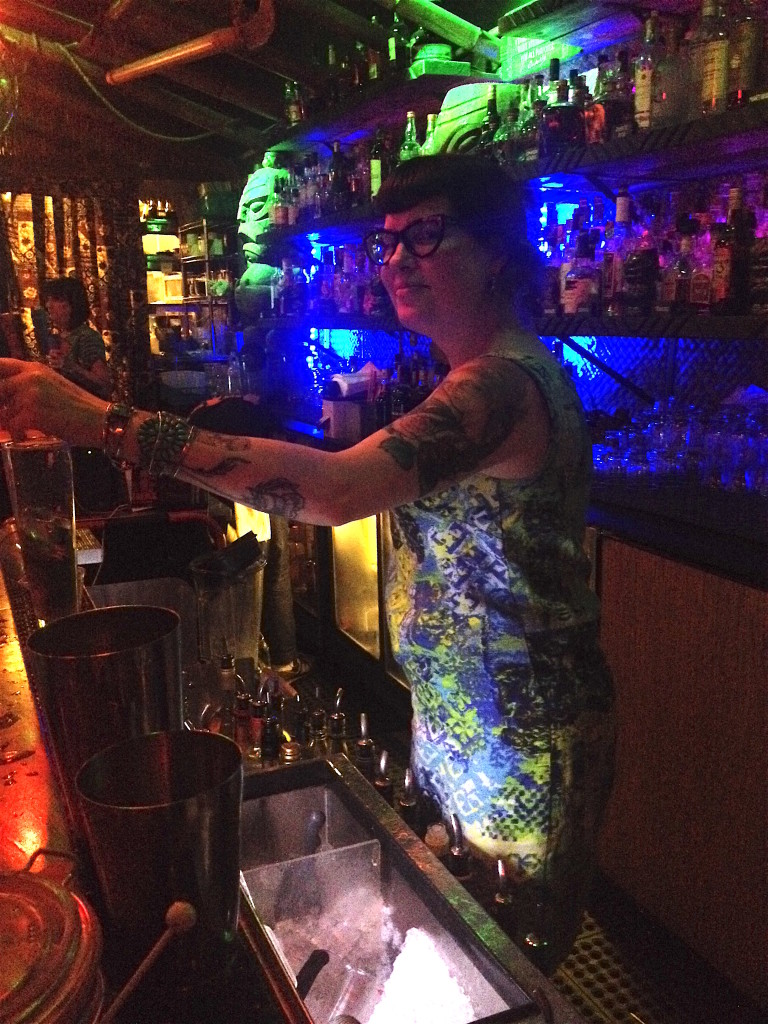 Her skills were unbelievable. She was making several drinks at the same time, all with many ingredients. I couldn't believe how fast she was able to bust these drinks out! I know mine were delicious. Here is a video of Sierra doing her thing!
I noticed that Hale Pele was packed the night I stopped in. I asked Sierra if business was always this good. She stated that if you Google "best bar to have a birthday party" Hale Pele is the first bar to come up. I looked around the tables and sure enough, Sierra was right. I think I counted three parties going on. It's bittersweet. I'm glad that people are coming out to Hale Pele, but I don't want Tiki bars to be considered a novelty. My hope is that maybe a party may get someone through the door and that someone may have a fun time, realize how great the drinks are, and come back again.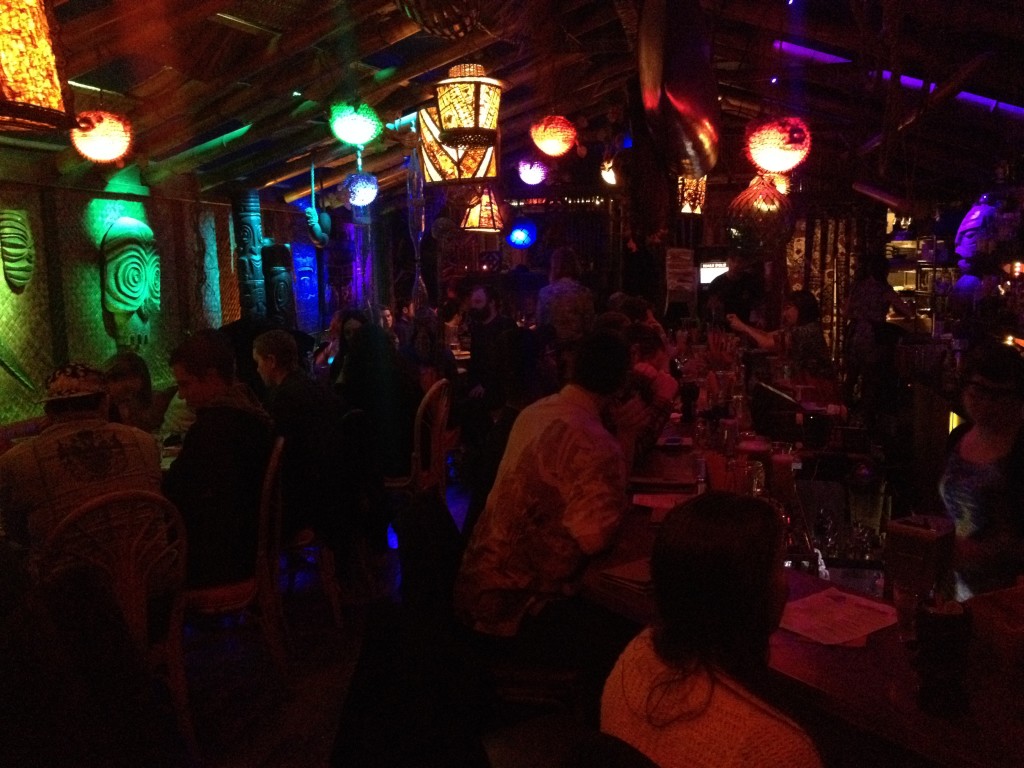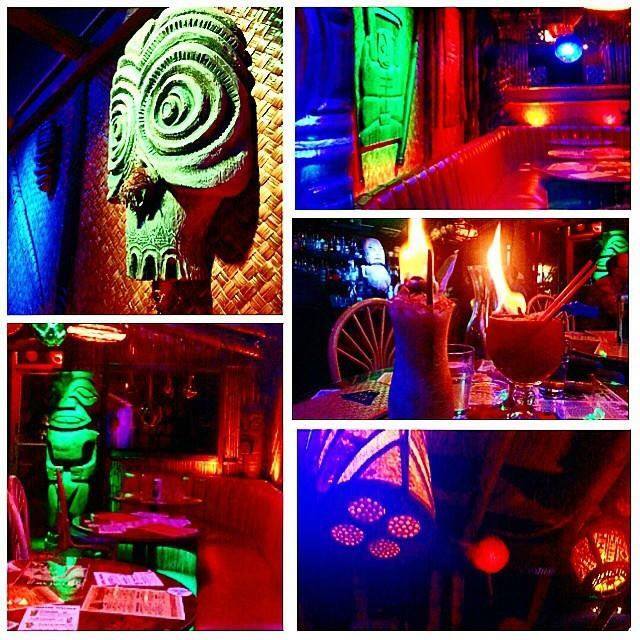 I truly love Hale Pele. I live in Seattle and I plan weekend trips down to Portland just to go there. I can think of many words when I think of Hale Pele, but only one is needed: perfection!
Check out Hale Pele's website here.
And here is Hale Pele's Facebook Page.