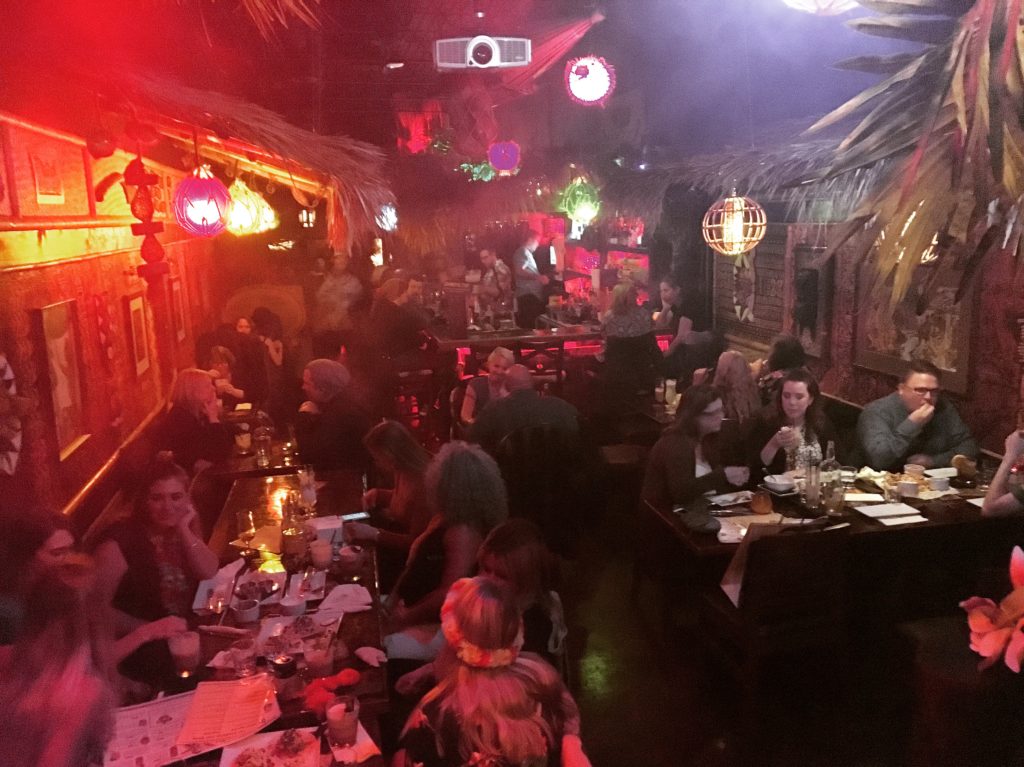 Okay, I'm just going to say it: The Shameful Tiki Room is the best Tiki bar in Canada!
Or maybe a truer statement would be, "One of the best Tiki bars on the continent!" That's a quote from Tacoma Cabana's own Jason Alexander.
I think I might have to agree with Jason. Yes folks, the Shameful Tiki Room in Vancouver BC is that good. The man behind this awesome bar is Rod Moore…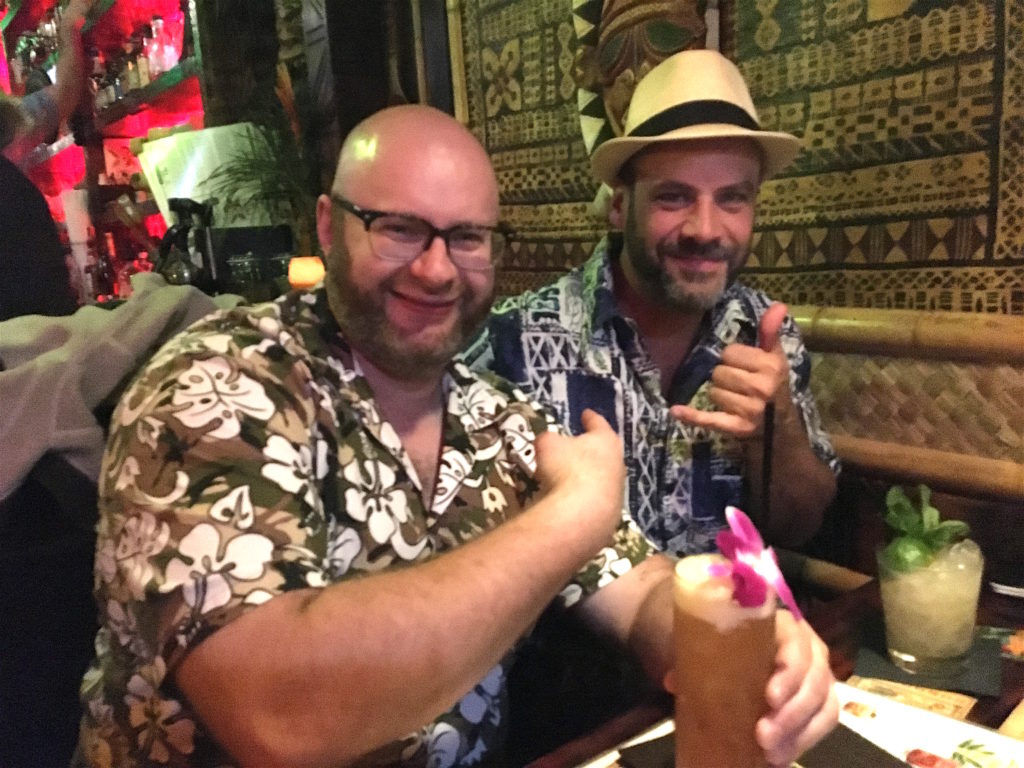 Rod knows his Tiki and it shows in his bar. He pretty much built the Shameful Tiki up from ground zero and as I say, you can't get better than perfect…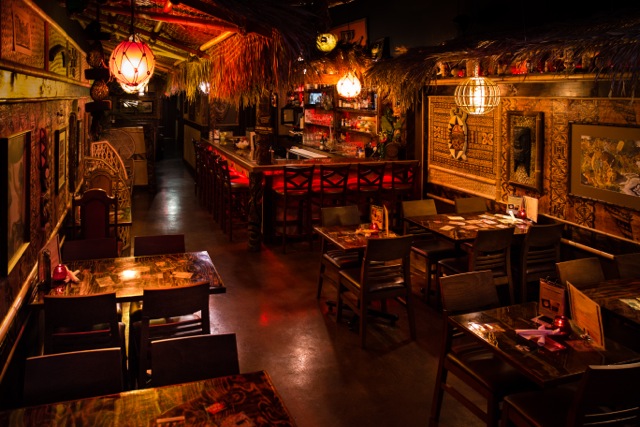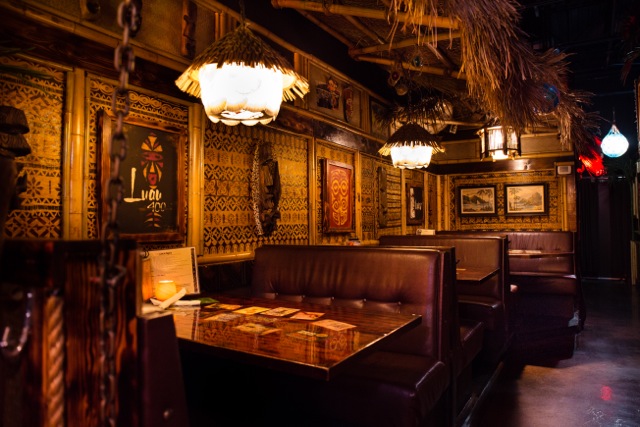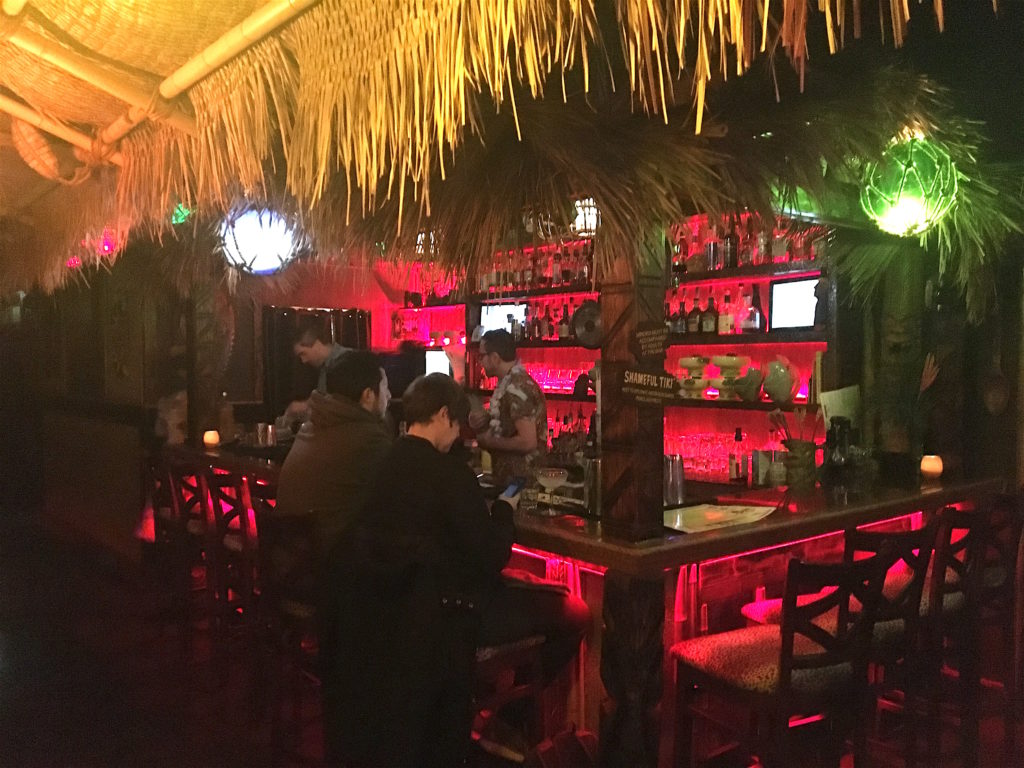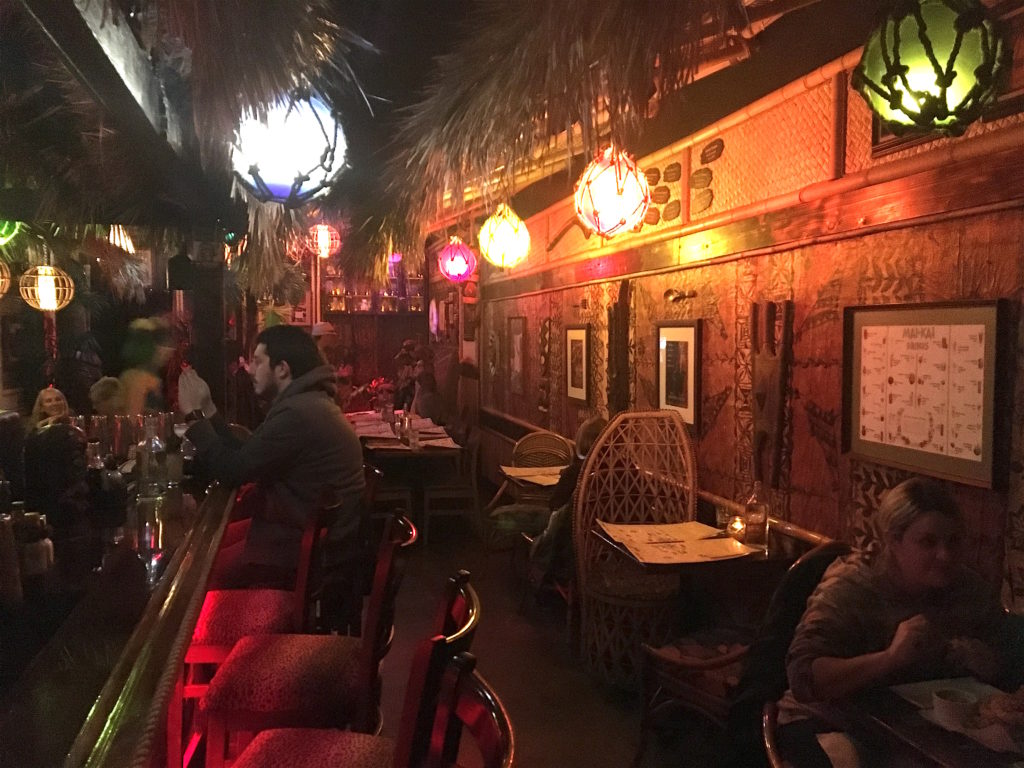 The first time I came to the Shameful Tiki Room, I thought the place was still under construction. All the windows were covered up…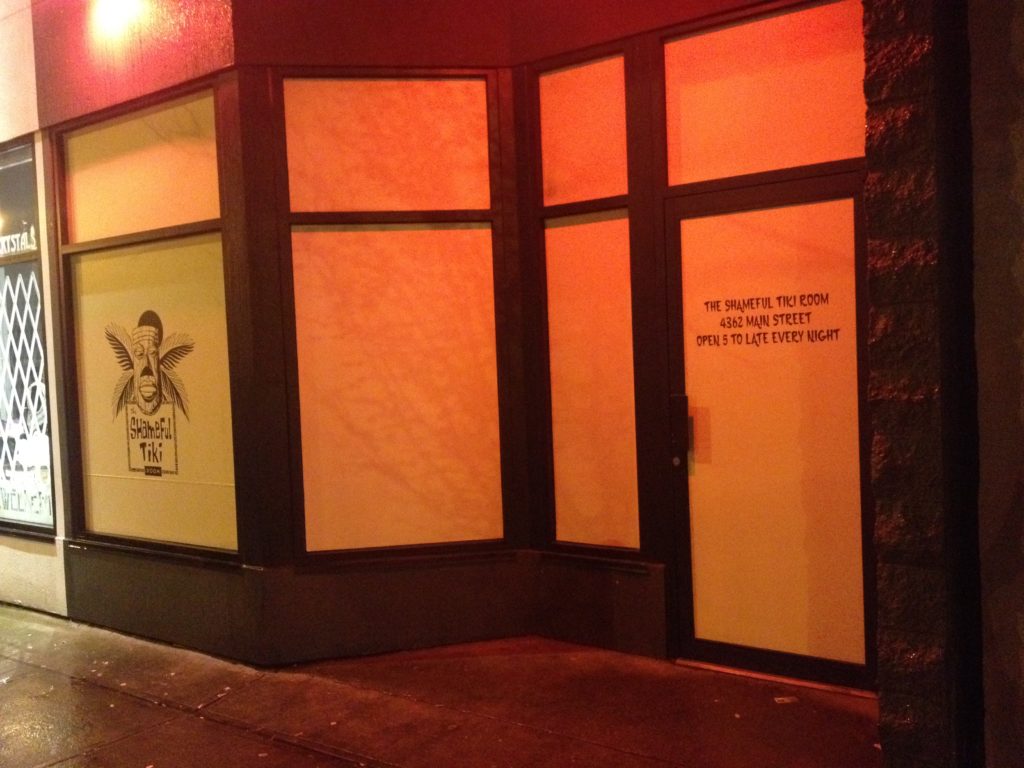 Why were the windows covered? To keep out the real world! And to keeps things nice and dark inside. This is a picture I took the very first time I visited the Shameful Tiki Room. It's that dark…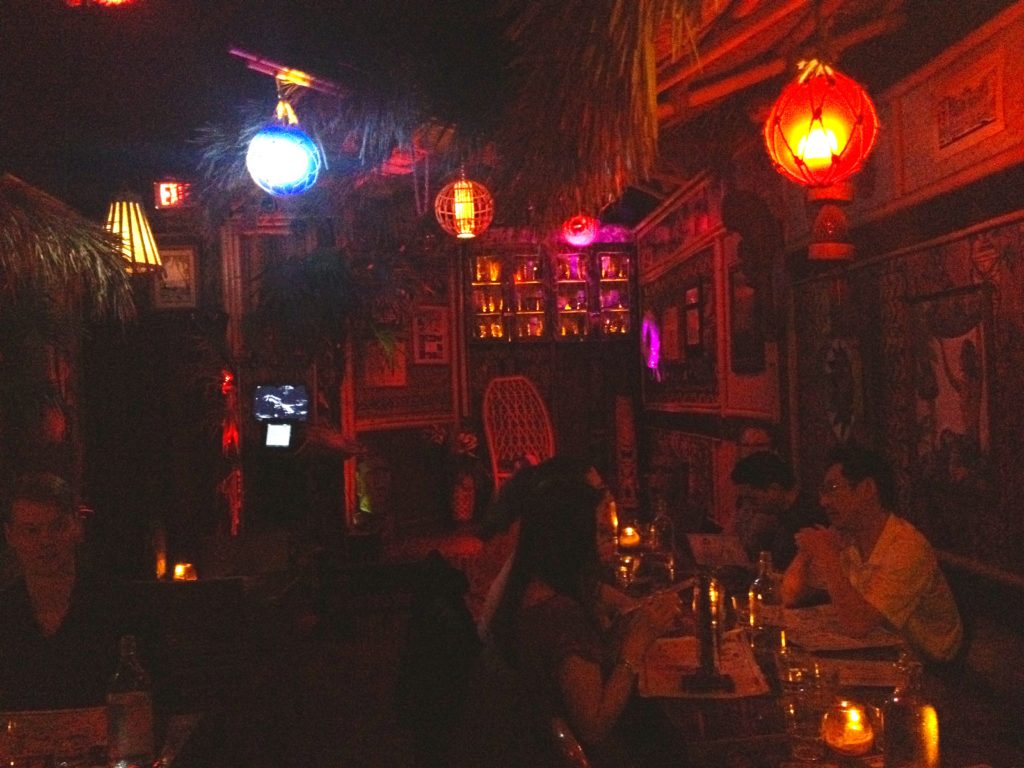 The bar is actually not that big and I like that. It makes things cozy. I was talking to Rod and he made a good point. If a space is larger, that means more people and the relaxing feeling of Tiki escapism is gone.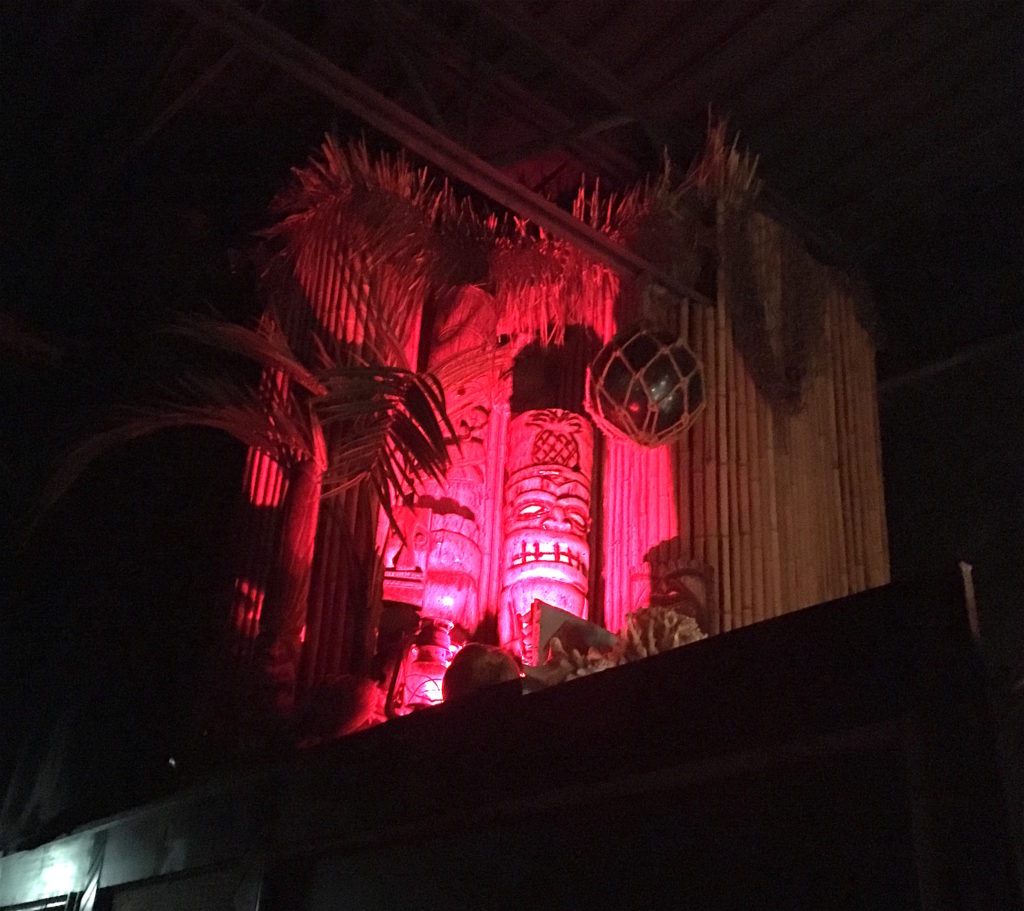 If you have tons of people in a bar, that means you're going to hear more talking and less of something more important: the music!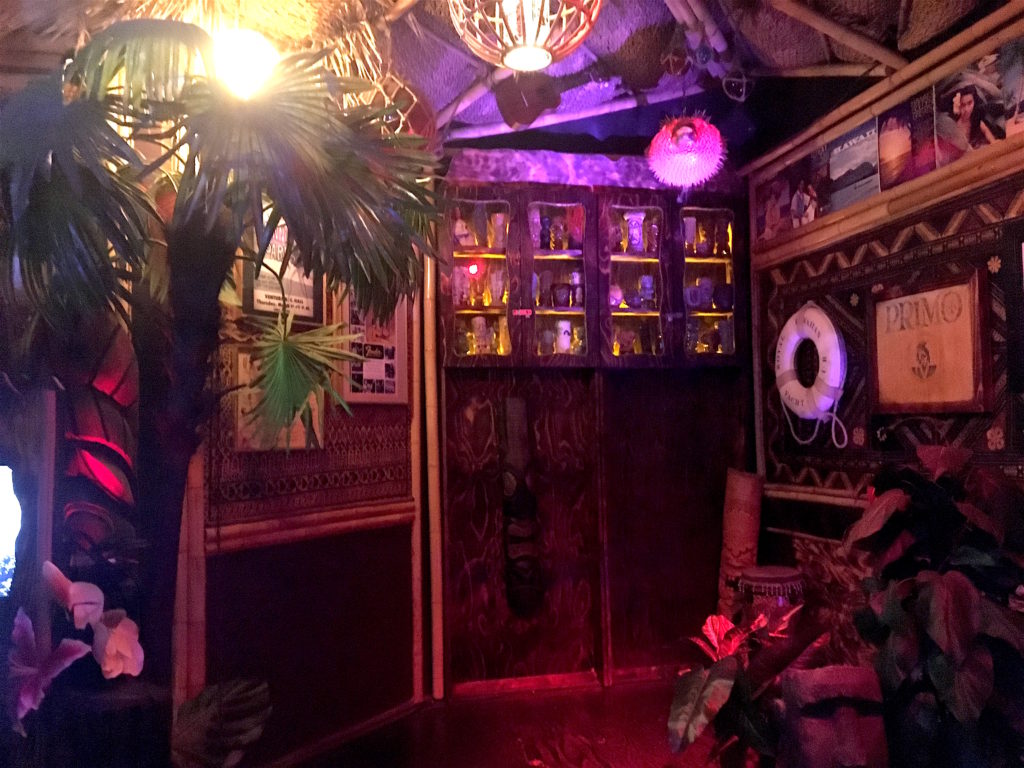 Look up in the right side corner. See those albums? That's what's playing non-stop at the Shameful Tiki Room: exotica, surf, and Hawaiian music. No jukebox, thank God!
By the way, that's a picture of the stage, which means live entertainment! Everything from exotic dancers to live bands perform at the Shameful Tiki Room. Check the Facebook page to see who's coming next!
During my visit to the Shameful Tiki Room, I got to hang out with Rod and his pals…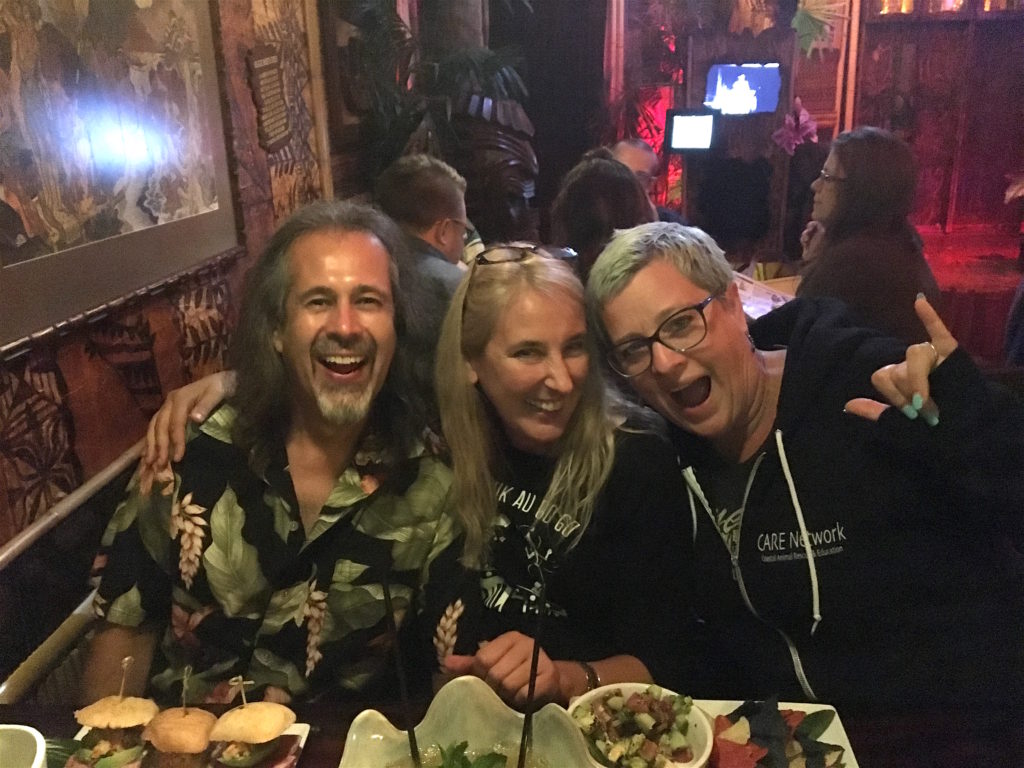 Say hello to Brian, Bernie, and Rod's wife Monica! Cool people, very cool people.
It was time for Tiki drinks, so I asked Rod for a suggestion…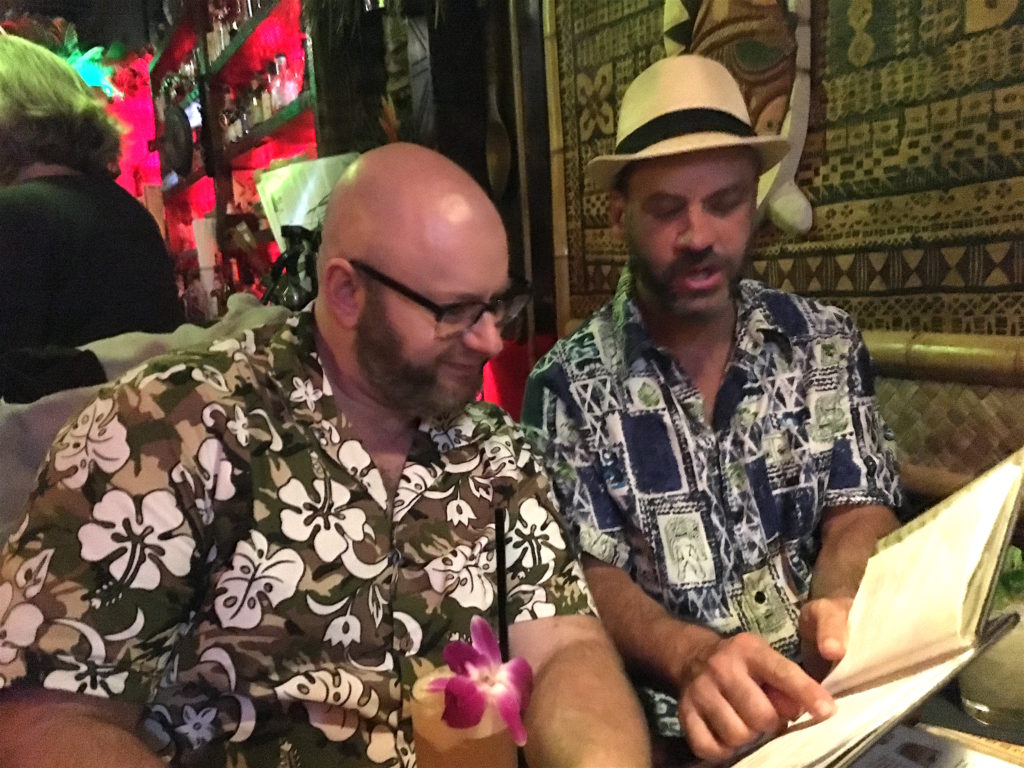 I said I wanted a Shameful Tiki original, so Rod ordered me a Day Of The Dead…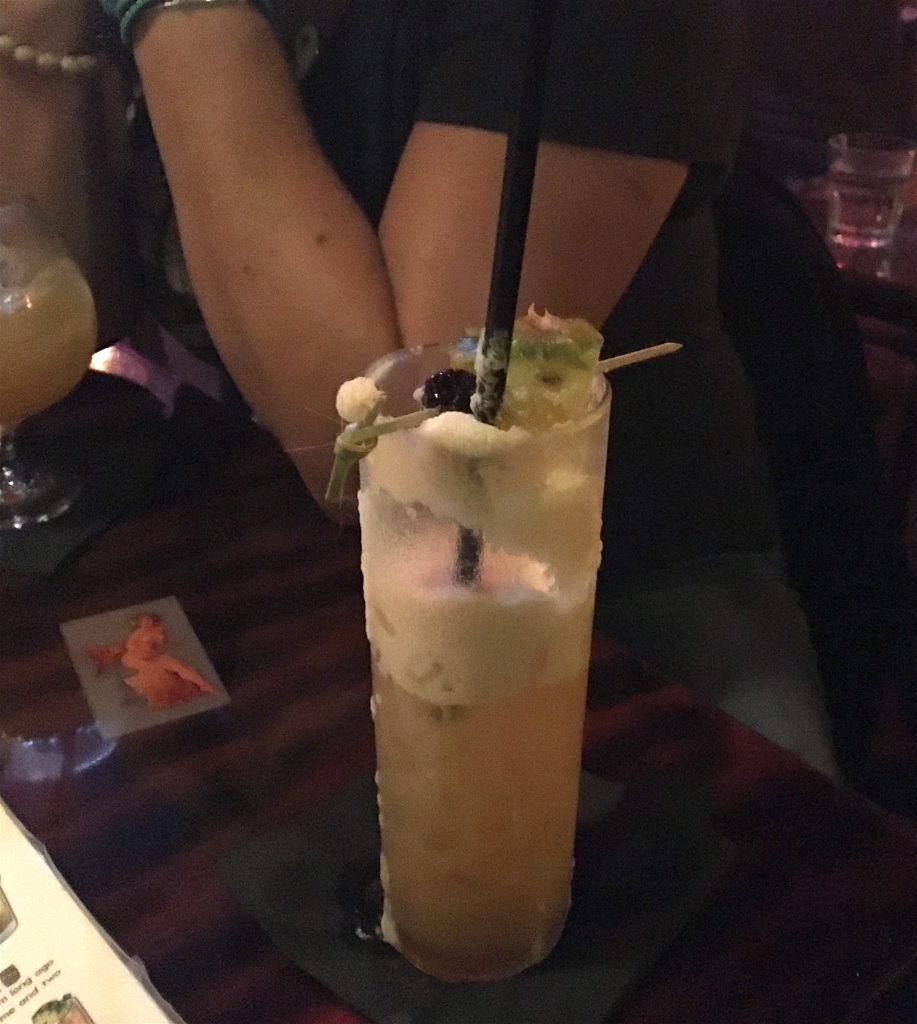 Wow, this drink is good, like Tiki Ti good! The Day Of The Dead was so tasty that I finished half of it before I could take a picture!
As I was taking pictures of the bar, one of the customers thought I was an employee. The same thing happened when I visited Don The Beachcomber! That's what happens when you wear Aloha shirts all the time! We both laughed. I stopped by the table to see how things were going every once and a while just to be funny. This is Nancy and Suzanne enjoying their Painkillers…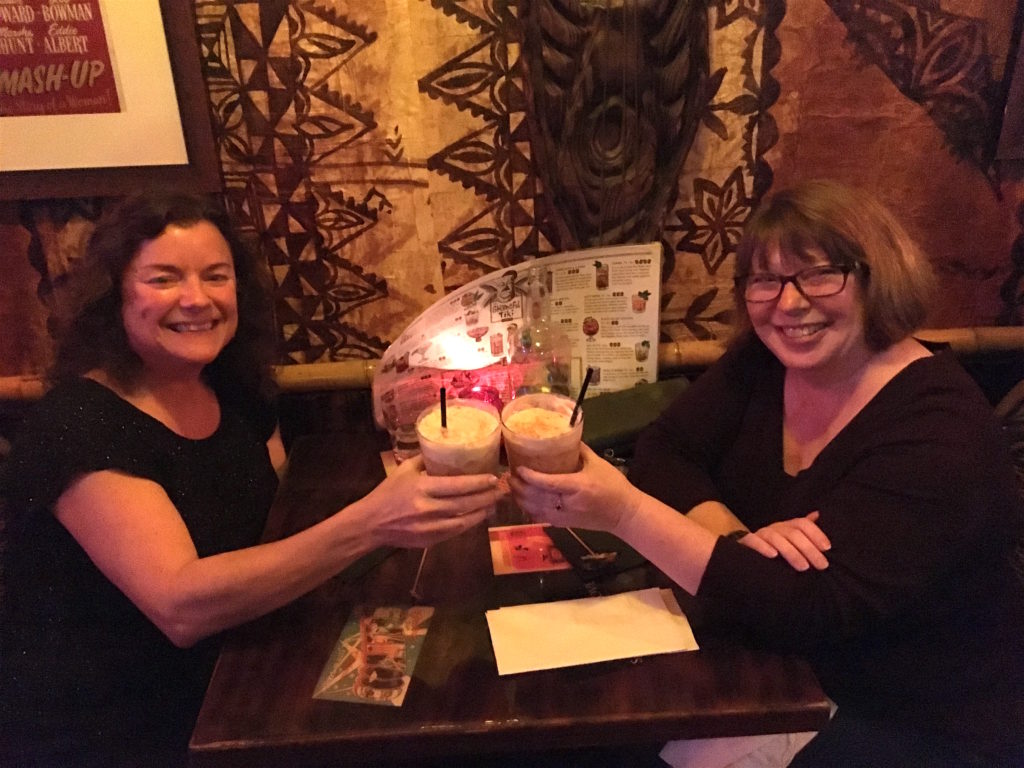 Nancy and Suzanne both said their Painkillers were incredible. Speaking of drinks, it was time for another round…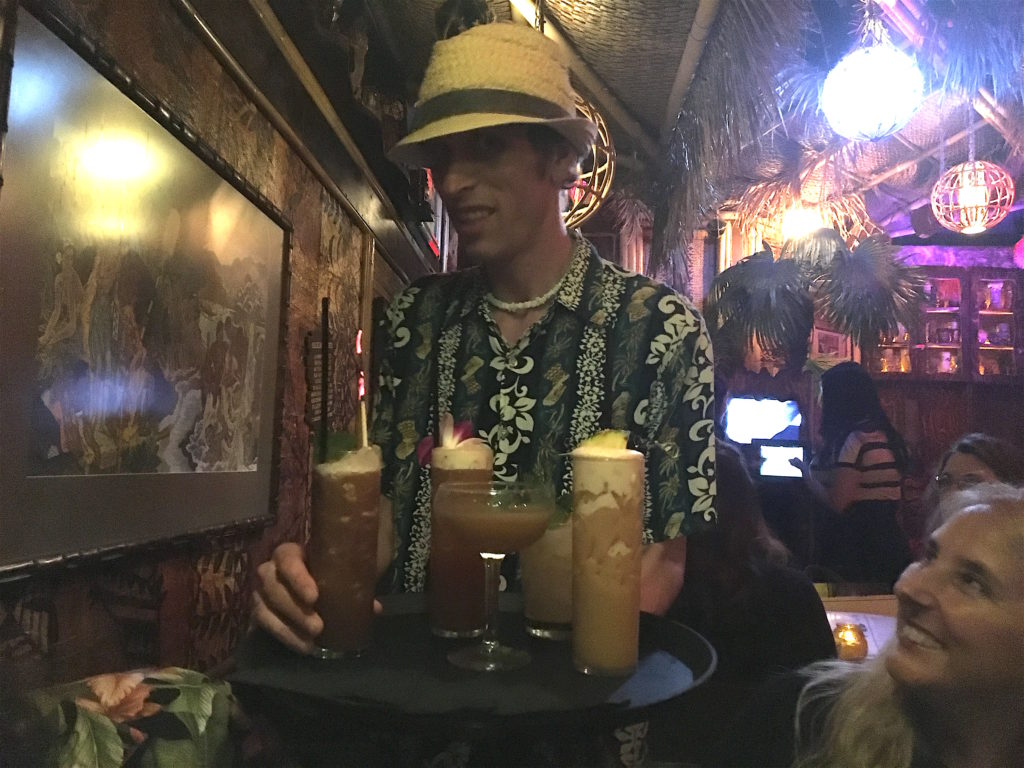 For my second drink, I went with another house original called the Hart Of Gold…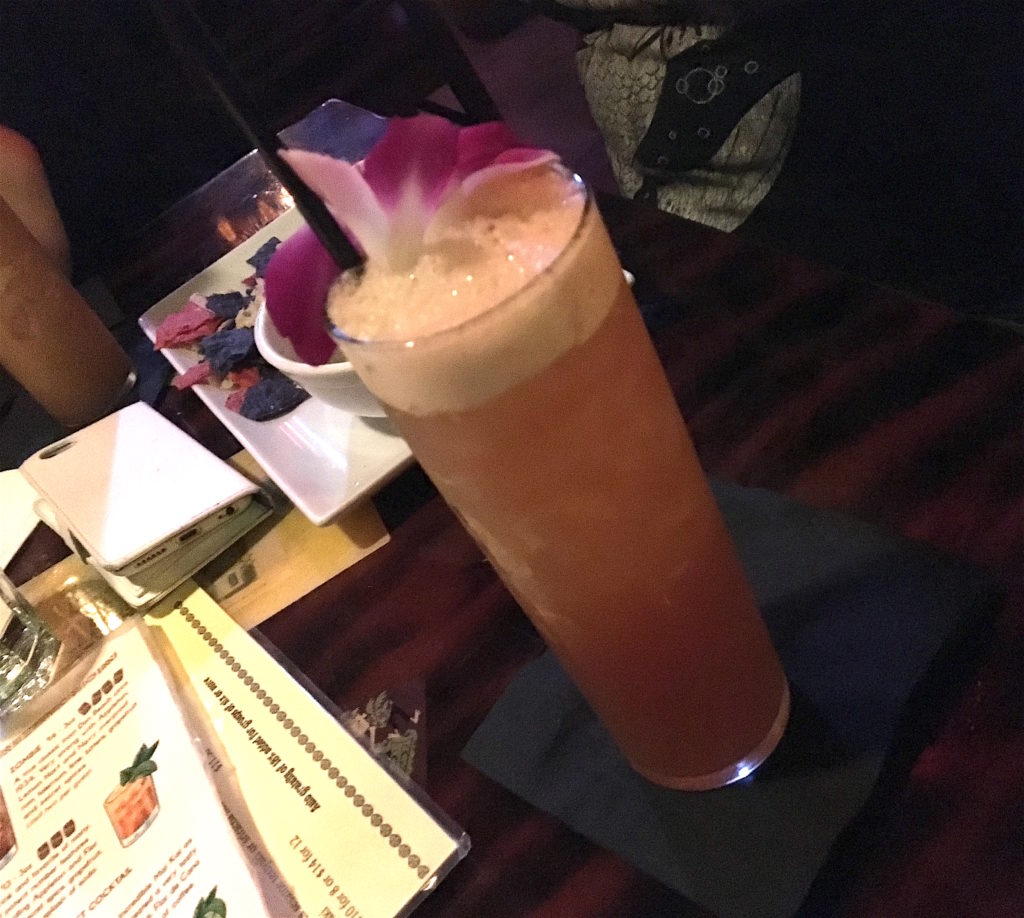 Again, The Shameful Tiki Room knocked it out the park! Like the Day Of The Dead, the Hart of Gold totally is totally unique.
Let's talk about the drinks for a moment. We all know that it's important for a Tiki bar to make great drinks. The classics should be represented, like the Mai Tai, the Zombie, the Navy Grog, etc., but having an incredible Tiki drink that you can't get anywhere else takes things to a higher level. The best Tiki bars create a Tiki experience that can't be duplicated. The Shameful Tiki Room is one of these bars. If you don't have a passport, get one and start planning your trip to Vancouver. The Shameful Tiki Room is worth it.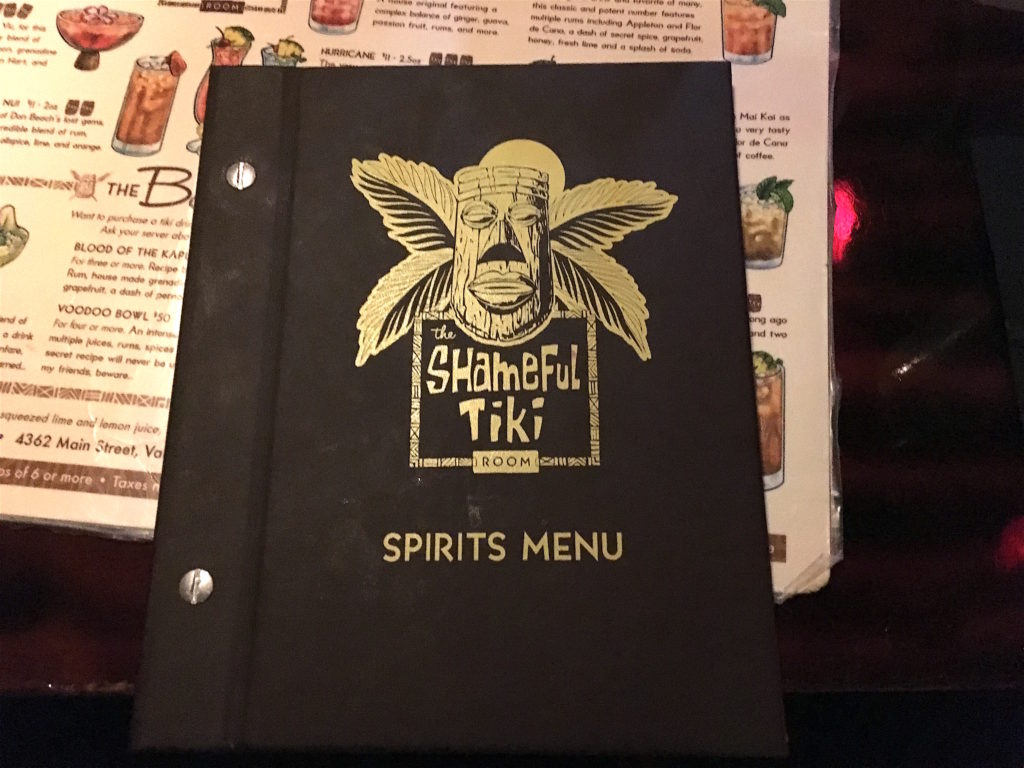 I did a Tiki VIP spotlight on Rod. Click here to check it out!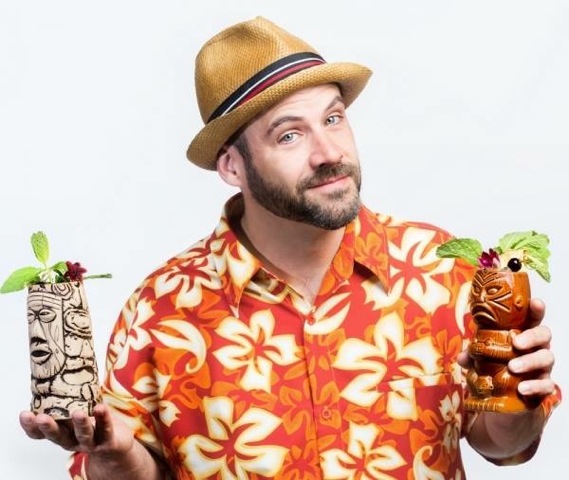 Here is the Shameful Tiki Room's website.
And Facebook page.