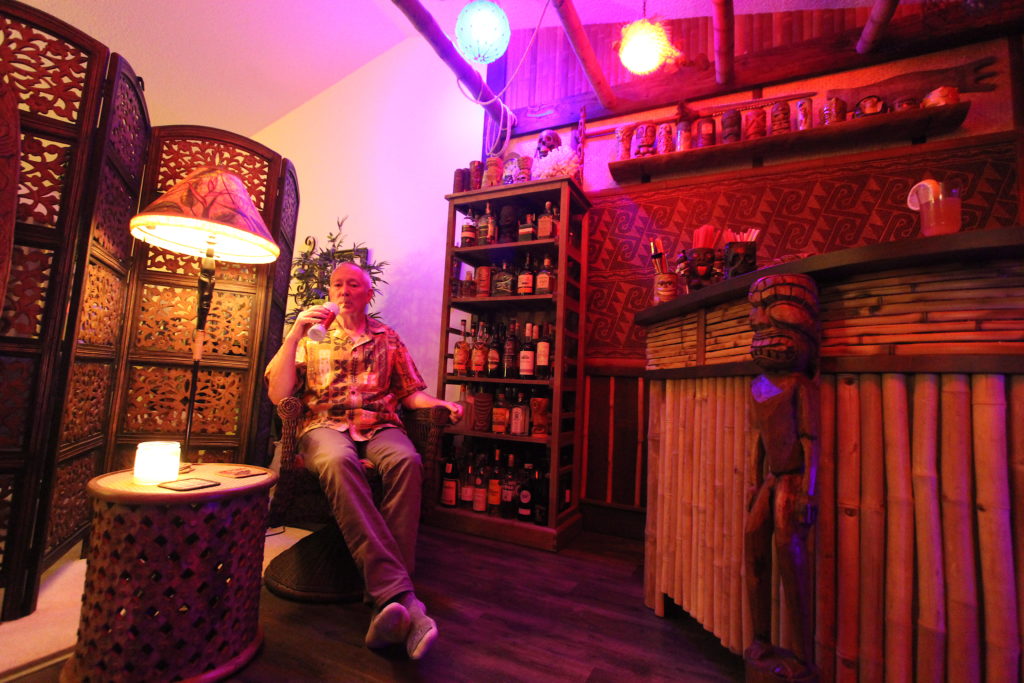 Rick Aronstein loves his tiki drinks …
After enjoying the great tiki drinks at Hale Pele, Rick decided to start making drinks at home. With a copy of Beachbum Berry's Remixed in one hand and a bottle of rum in the other, Rick started to make tiki drinks at home. If you're going to make tiki drinks, it would be nice to do it in a tiki bar. Riptide Ricky's was born! Here is Rick's story …
What's the tiki scene like where you live?
Rick- I think we have a fantastic Tiki scene here in Portland Oregon.  What we do not have in quantity, we make up for in depth and dedication.  There are a lot of home Tiki Bars in the area.  Every one is a unique and varied vision of its creator.  No matter what that vision is, the end result is a place that will put a smile on your face and a drink in your hand.  Yearly, Greg and Justin are responsible for Tiki Kon, far better than any class reunion, where you can catch up with both local and out of town people to share your passion with.  Commercially we have the Alibi, and my favorite place for a drink and friends is Hale Pele.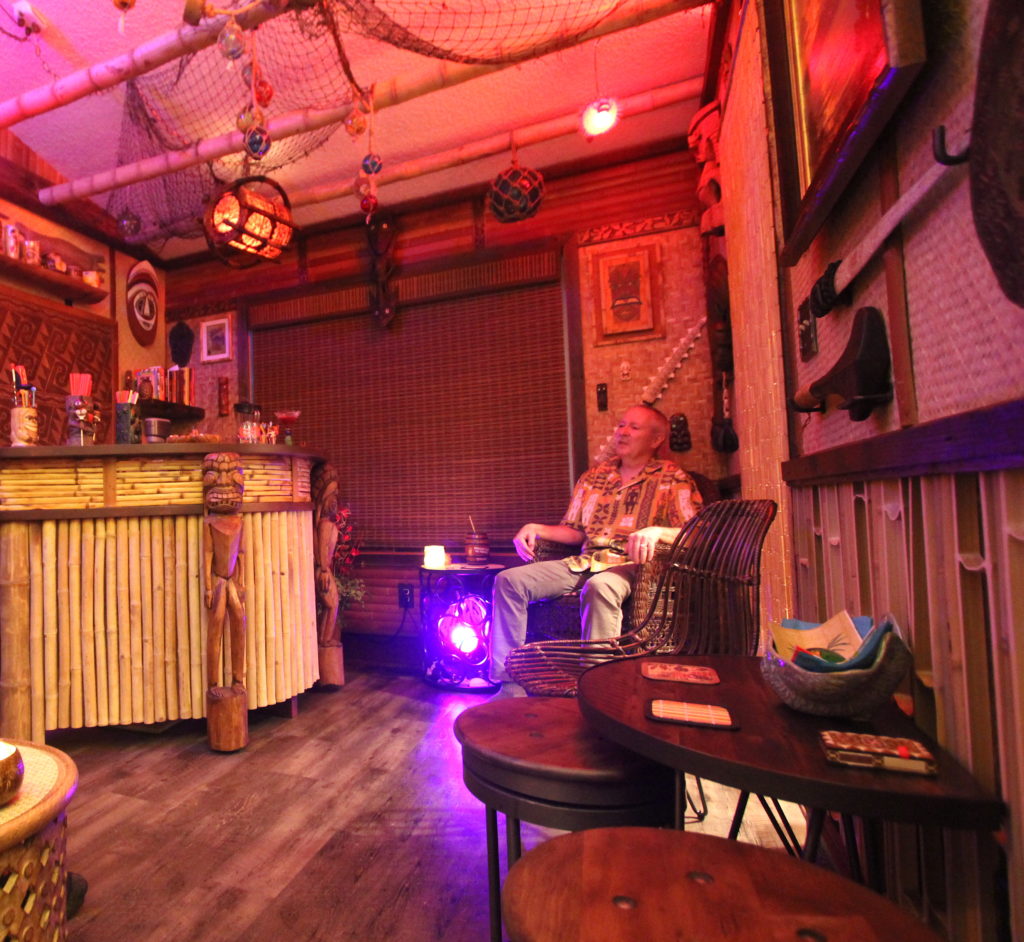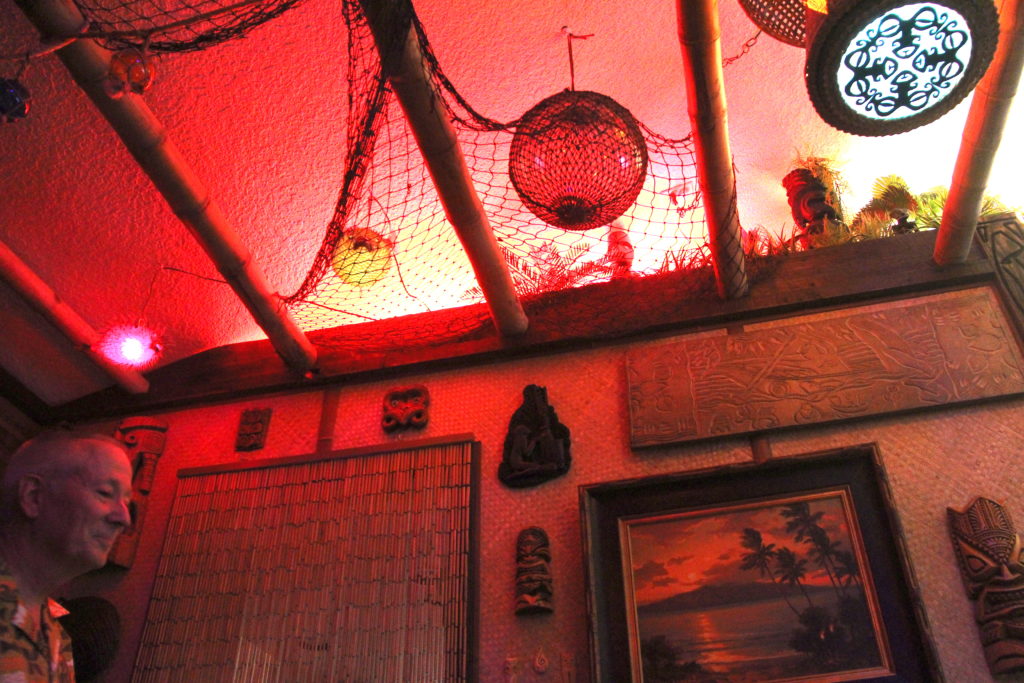 What brought you into the 'Tiki lifestyle' and can you give a little history of how Riptide Ricky's came to be?
Rick- I grew up in the LA area, and as a kid, my parents took the family to Trader Vic's a few times.  I was just enthralled with everything in there.  It was a total escape from the miles of tract housing where we lived.  At this point in my life, I had not done any traveling, and it fit the vision of what and where I needed to someday go visit.  I remember saving up for my senior prom so I could afford to take my date to dinner there.  Rented tux, borrowed Jaguar XKE, off to escape land and an empty wallet.  I was still not old enough to drink, but I loved the presentation on the virgin drinks.  Unfortunately, by the time I was able to drink, Tiki was on the downhill slide to oblivion, with bad ingredients, questionable rum and no resemblance to its beginnings.  A lot of drinks ordered and a lot of why did I do that, when I knew it was going to be bad.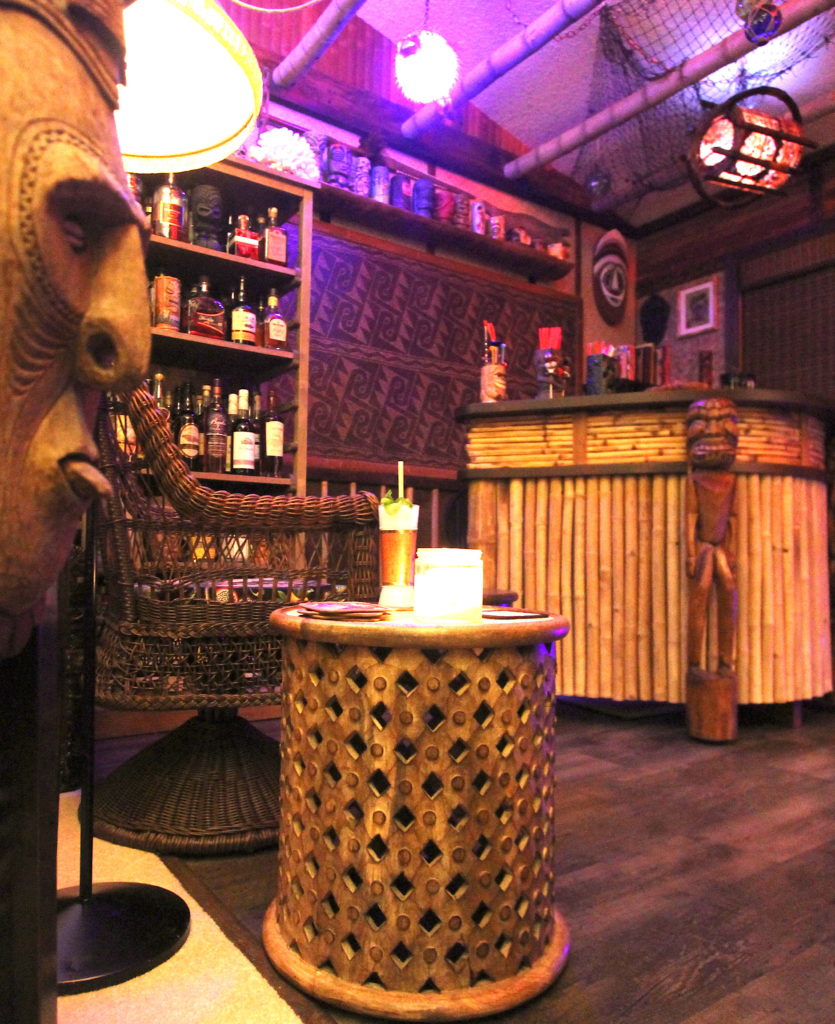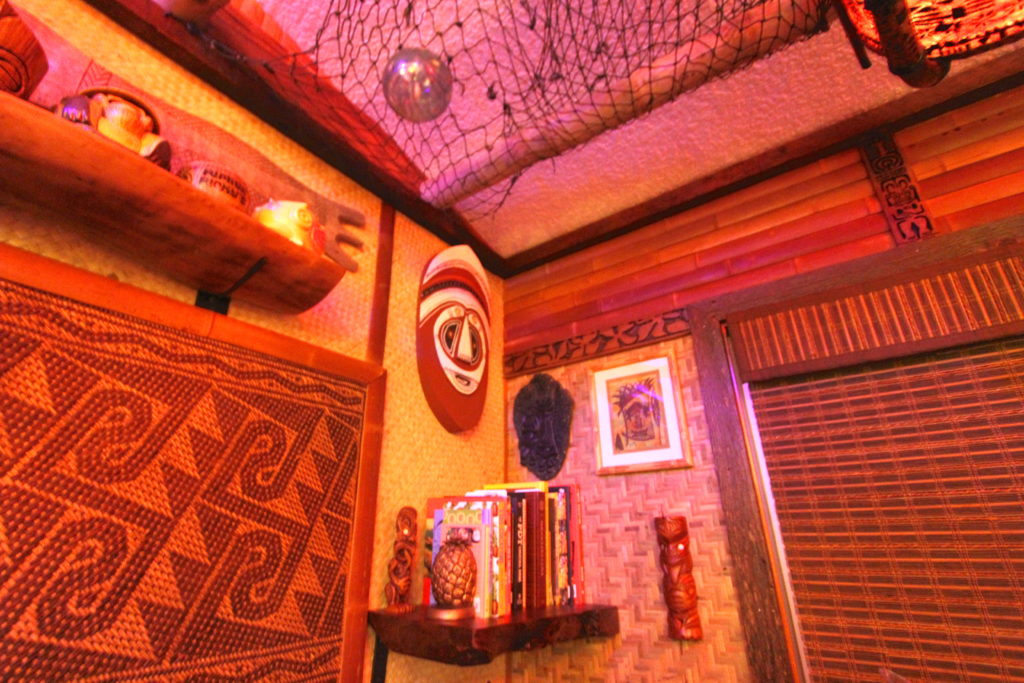 Six or seven years ago, I saw in the paper a small announcement for something called Tiki Kon.  Linda and I love doing new and different things.  We grabbed some friends and went to the Friday night show.  We had no preconceived expectations, but were woefully incorrectly dressed.  We had decent Tiki drinks from the hotel bar, listened to surf guitar music, that I am unfortunately old enough to remember it when it was new, and people-watched a happy crowd.  Next year, we will be part of the crowd was the decision at the table.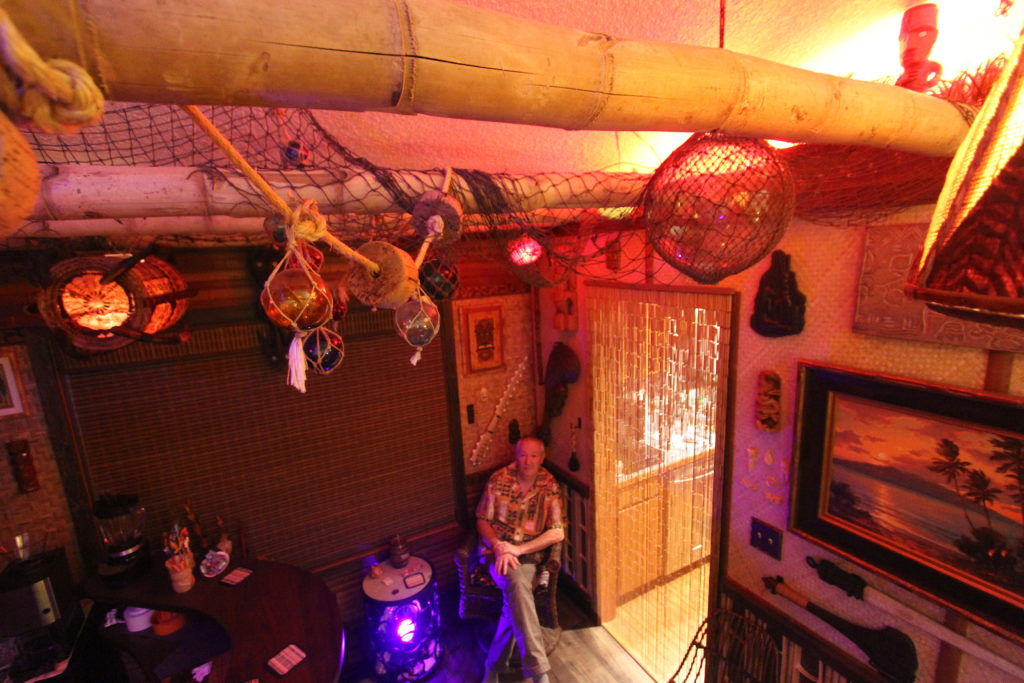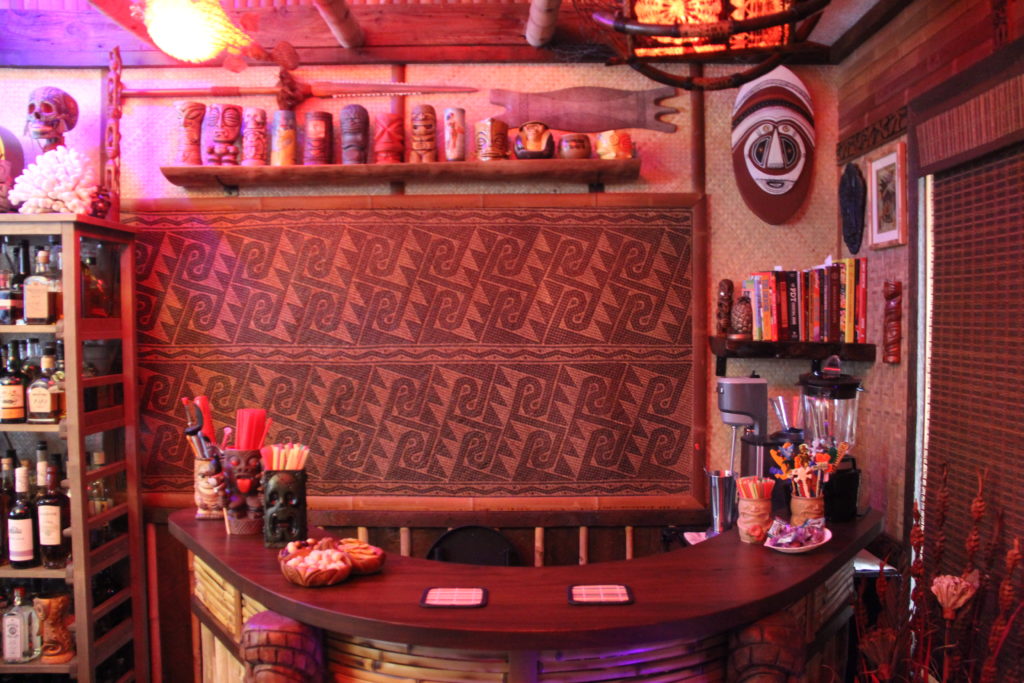 In the meantime, I heard about a new Tiki Bar called Hale Pele.  A few times a month work put me in the area, so I started stopping in for a drink.  Rather than the formal atmosphere at Trader Vic's, I stepped into a welcoming escape for everyone.  Better yet, the drinks were great.  That led to me purchasing a copy of Beachbum Berry's Remixed from the bar.  I loved the history, the pictures, and now I needed rum to experiment with, but which ones?  Back to Hale Pele and start in the The Loyal Order of Fire Drinkers.  At that time, it was on a paper copy that was a map with the different rums marked on the country of origin that they kept in the bar.  Finish 50 pours and earn a medallion. You needed to put a name on the paper.  I did not know if the expectation was your real name or nom de plume, so Riptide Ricky it was!  I would go buy the rums I liked after tasting them.  Now how do I put them to use?  Time for the Ancient Order of Water Bearers.  Finish all the drinks on the menu and a cool neckless is yours.  I had just retired and it is my understanding that old people need goals to achieve so they do not meld with the couch and remote.  I needed that kukui necklace to go with my Hawaiian shirts I would be buying when I completed the task.  The drinks appeal to the mad chemist in me.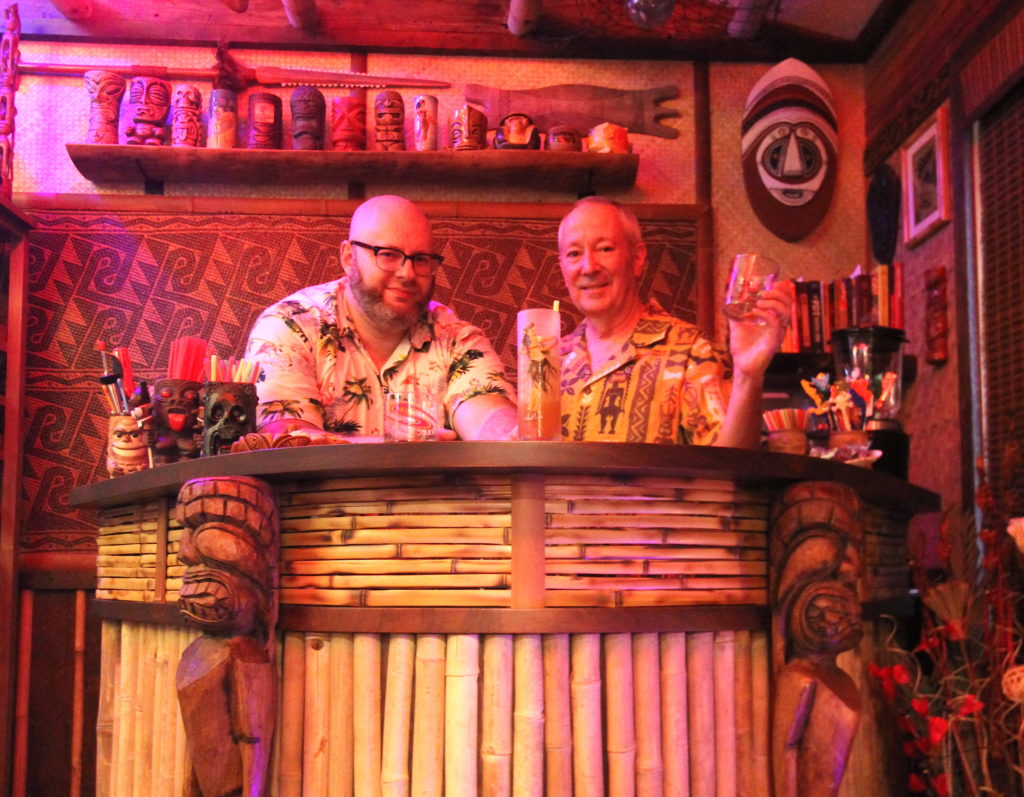 Mis-measurement or use the wrong ingredient and you get the wrong result.  Now armed with some rum and syrups slowly taking over the kitchen fridge, my wife said I should get a small fridge and put it in the formal dining room.  Time goes on and drinks keep getting mixed for friends and family.  Throw in some Tiki parties, and every Christmas is loaded with Tiki drinks for the family to go with stockings.  Finally, Linda suggested it would be a good idea for me to put in a tiki bar in the dining room.  Out with the antiques and in with Riptide Ricky's.  It was now more than a rum fueled fantasy.  Ebay, thrift shops, Oceanic Arts, brought back from Hawaii trips, Bamboo Craftsman, and a lot of graft-paper later since I do not do random well. Riptide Ricky's is now a favorite gathering place for family and friends, especially for the kids and their friends.  The price is right on the drinks!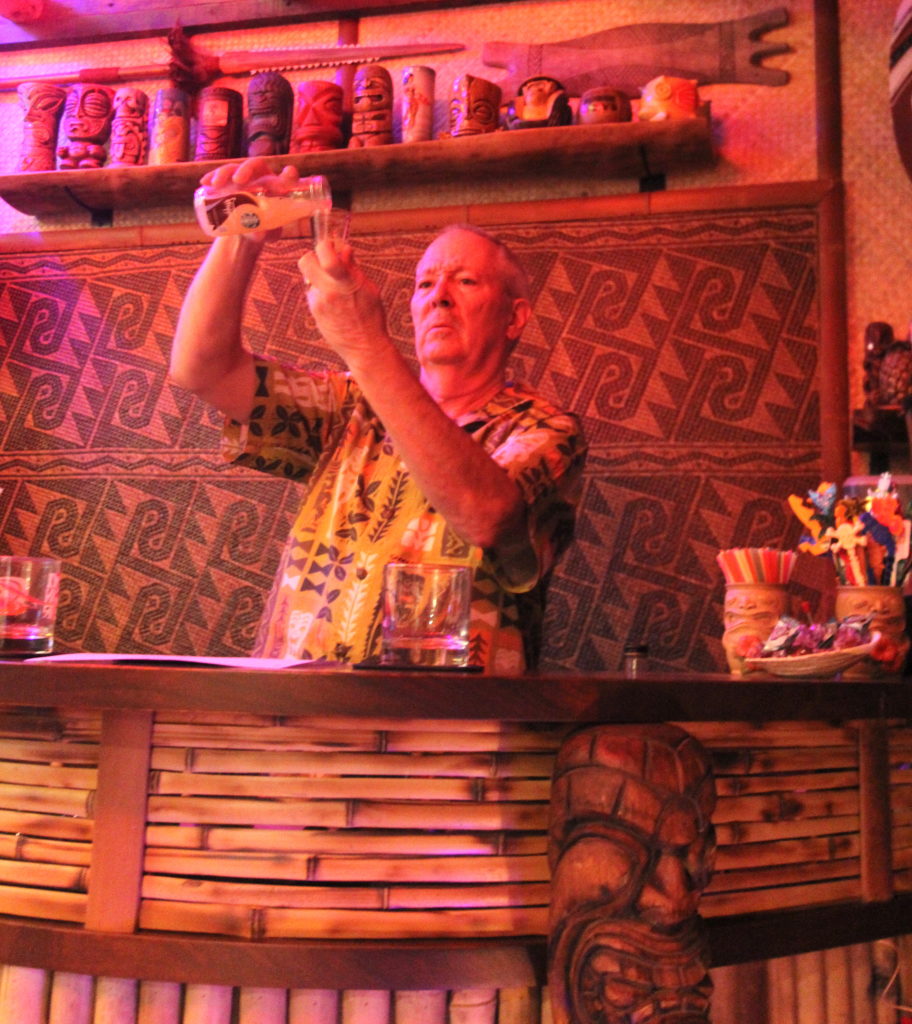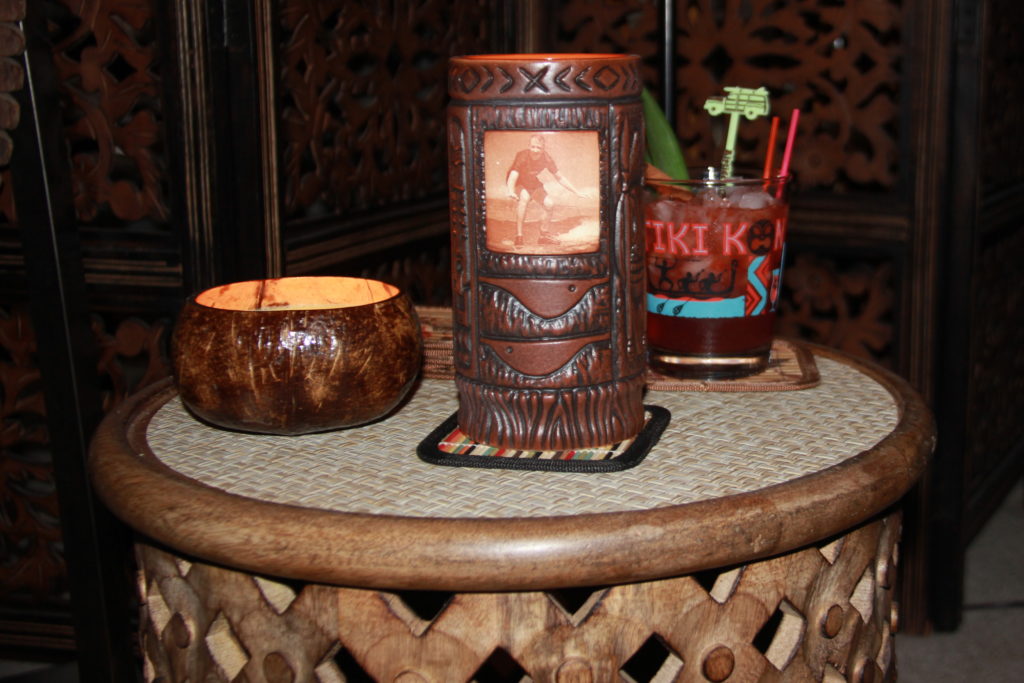 What is your favorite Tiki drink? Why? 
Rick- Favorite drink is a tough one.  Watch me fire dance around this one.  It depends on the season and the mood.  I like well balanced with multiple layers of flavor.  Any bar with Tiki aspirations should be able to make a Mai Tai, or change course.  I am partial to the Trader Vic's 1944 with Clement VSOP and Appleton 12 yr., or a variation from Mountain of Crushed Ice at home.  When people come over who know nothing about Tiki drinks, my go to is the Coronado Luau Special.  It is a great drink while still hitting on the expectations of someone's often misguided expectations.  I do have a fondness for different Jungle Birds and Zombie variations.  For an easy hot day "suck em up" drink, a Passion Fruit Batida has no problems disappearing.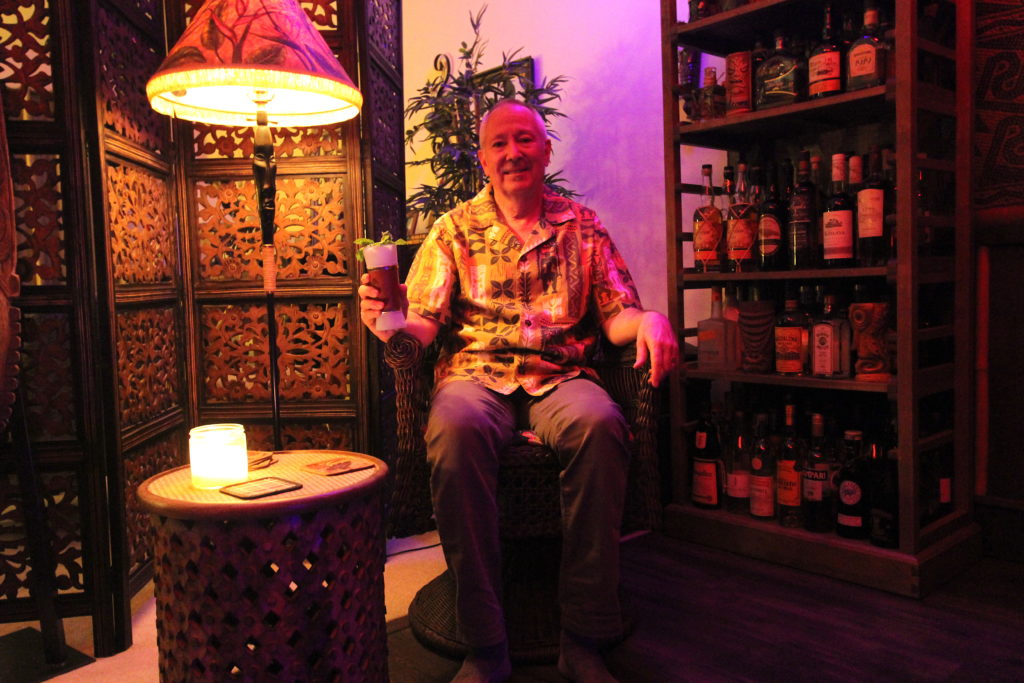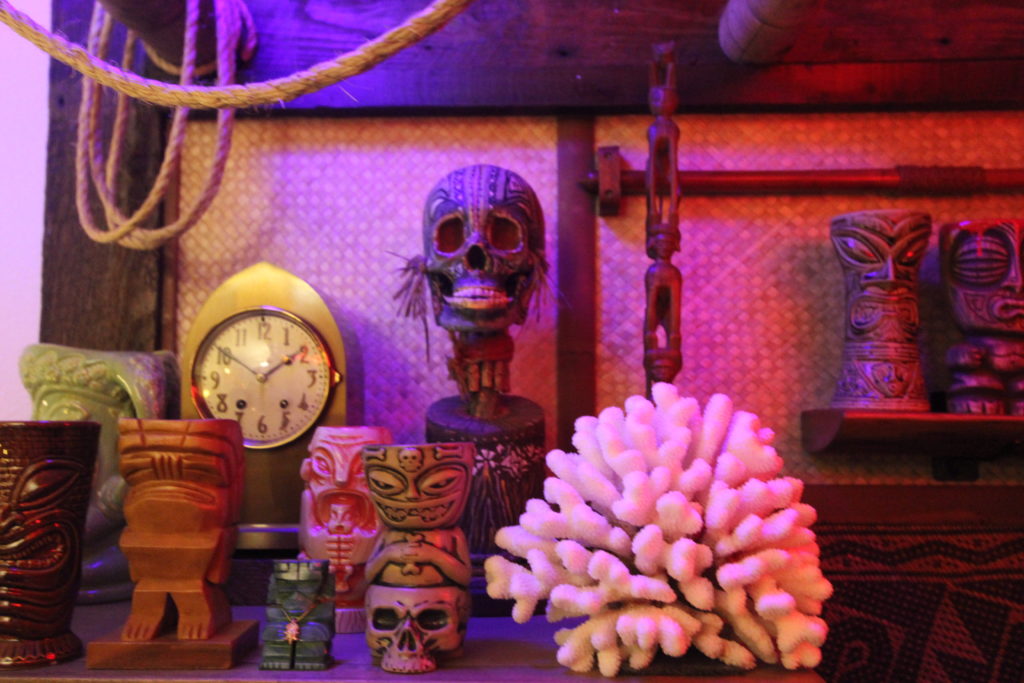 What is your favorite Tiki bar? Not including your own! 
Rick- My favorite Tiki bar is my home town Hale Pele.  It is more than the sum total of the drinks, decor and people both behind and seated at the bar.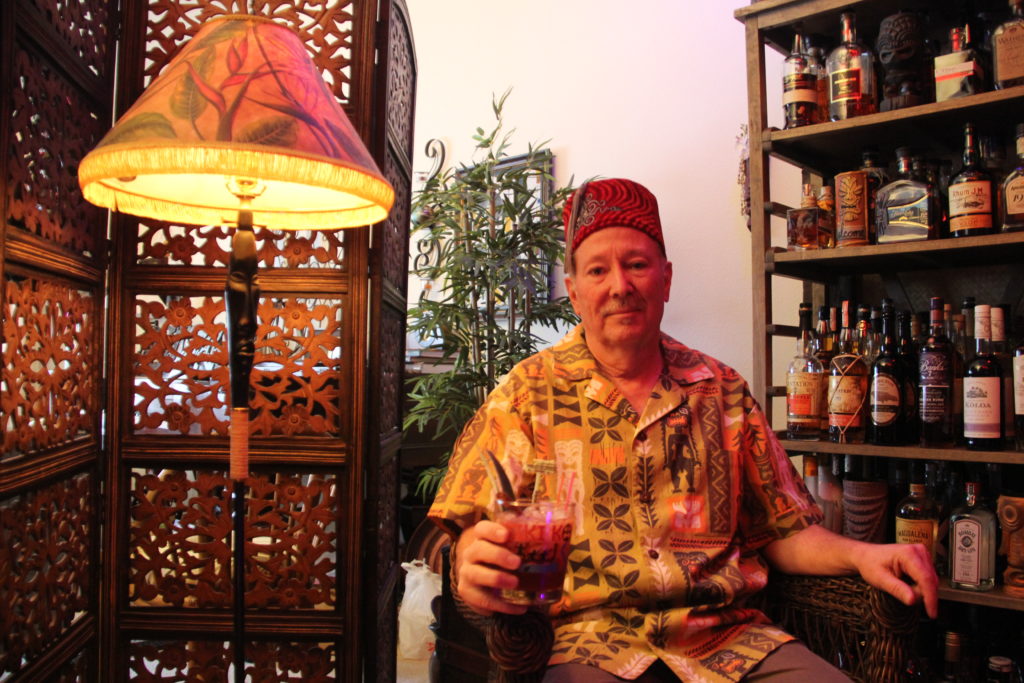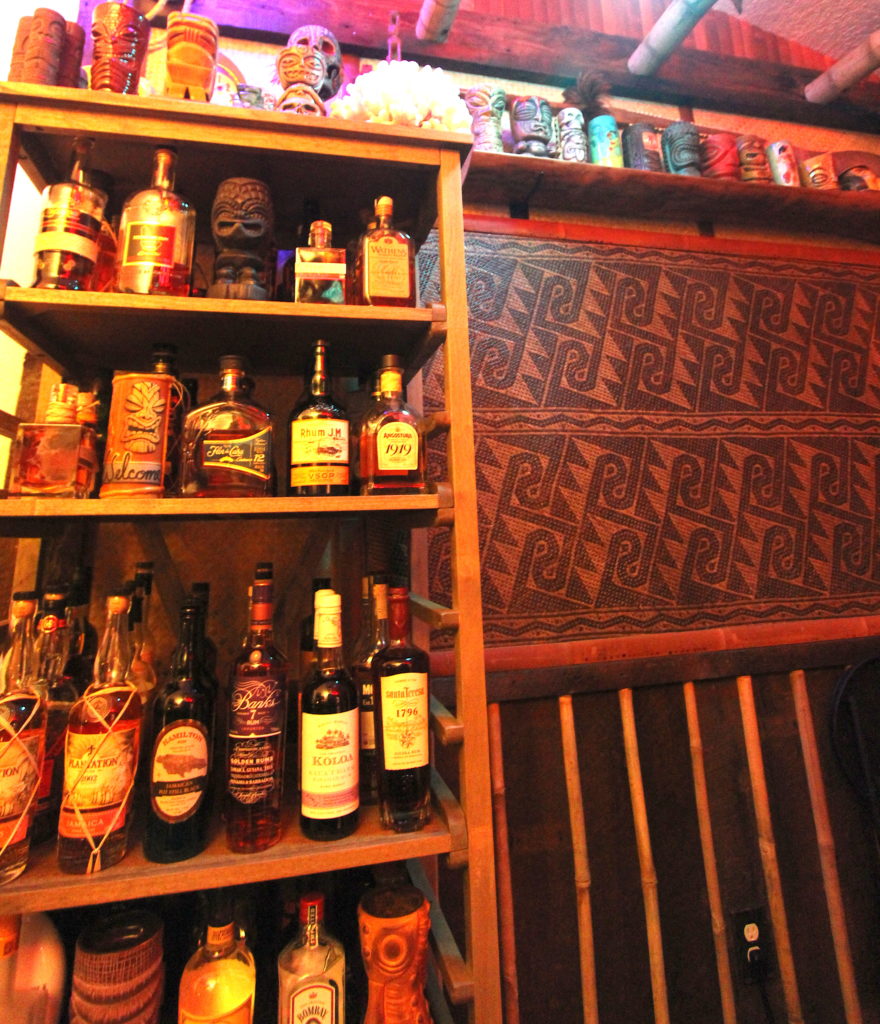 Outside of great drinks, what do you think are essential elements in creating the perfect Tiki environment?
 Rick- Besides drinks, you need a mysterious but welcoming atmosphere.  You should feel like you are someplace a long ways away from your daily grind.  While you sit and sip, different details in the surroundings that you did not notice at first should pop out.  Any space no matter how nicely done, is empty, unless you fill it with your own hospitality.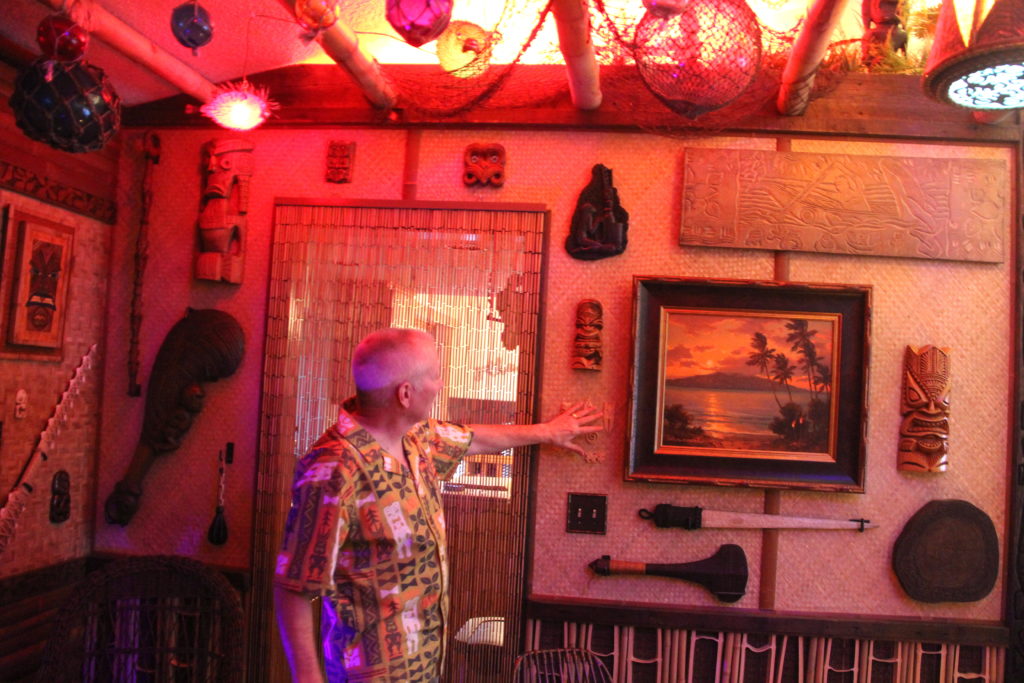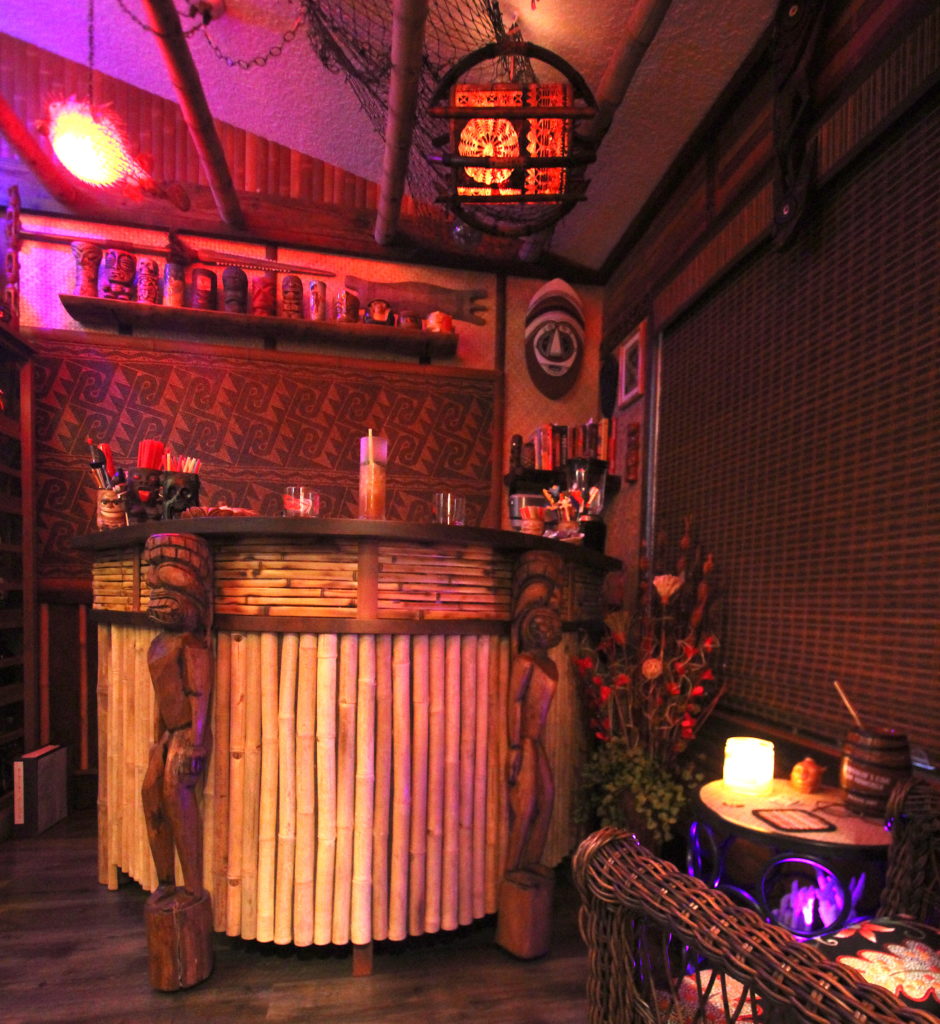 What does the future hold for you and your home tiki bar?
Rick- At some point in time we would like to travel to some of the other tiki gatherings and visit all of the Tiki Bars and sights in that area.  For a while we had family in the Bay area and that was a perfect excuse to visit all of the real and pretenders in the area.  On the home front, I see a lot of use with family and friends who bring along their friends.  Tiki Bars seem to never be done.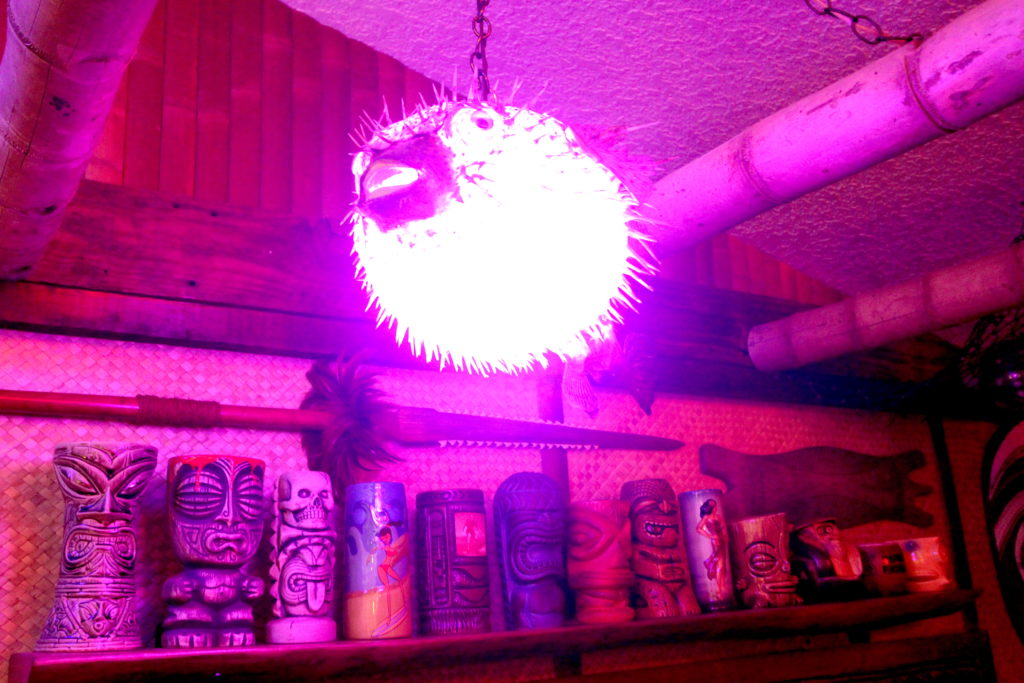 I am sure our travels will find us bringing back some odd bits and pieces.  I love experimenting with new drinks and flavor profiles.  I have lost count but I know I have made over 350 different drinks, but who is counting.  I usually have between 60 and 70 rums on hand at all times, but who is counting that either!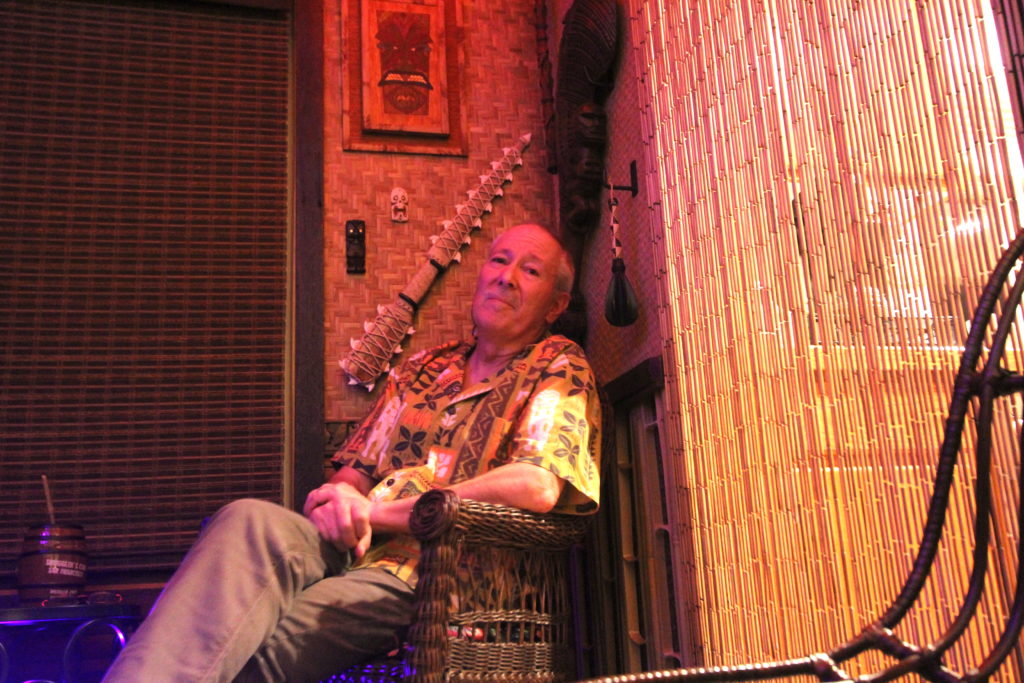 I'd like to thank Dieter Weber for all of his pictures used for this post!