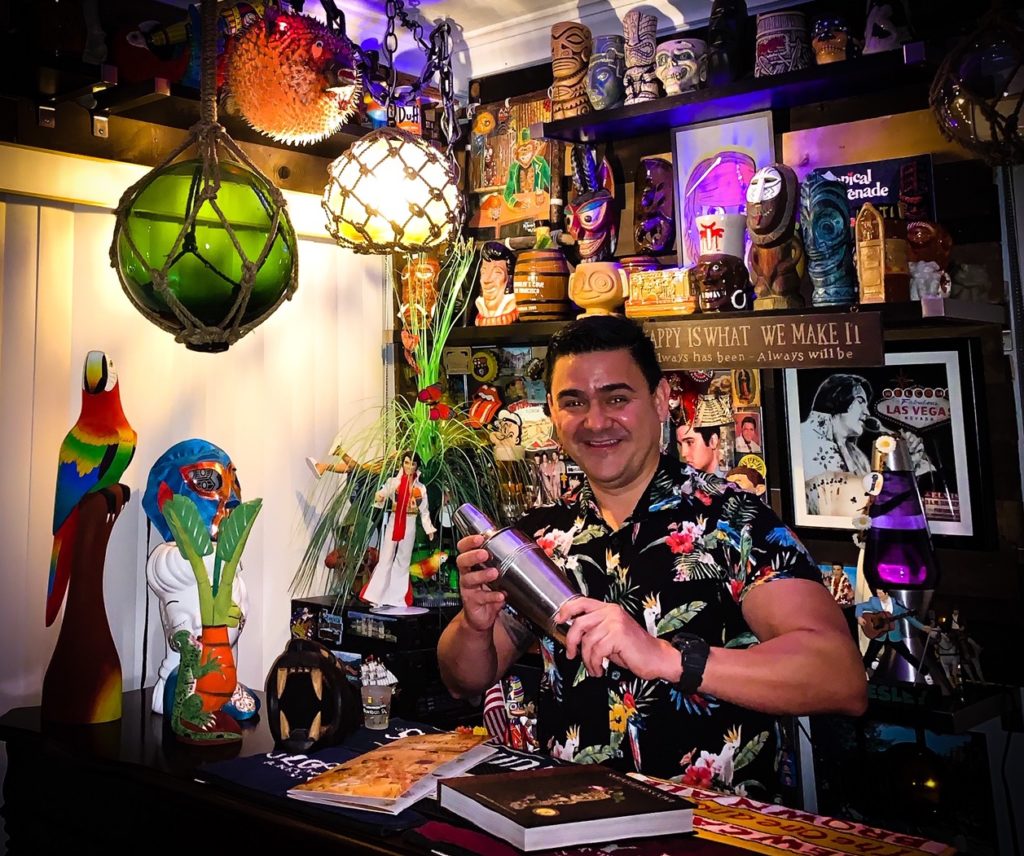 When most people in Florida think of a tiki bar, they think of a thatched bar that's bright and open, not a traditional tiki bar that's dark and mysterious. Cacalito knew what a tiki bar should be and created his own. After traveling the country visiting tiki bars for "research", he got to work transforming his man cave into Cacalito's Tiki Grotto!
What is the Tiki scene like where you live?
Cacalito- I would like to say that tiki is thriving in Florida, but it's misunderstood and misused to what it in fact signifies. What is considered tiki in Florida is essentially a thatch hut bar with TV screens full of sports. South Floridians don't get it and it's primarily because it's not part of their Caribbean culture. When asked they say, "oh that's a west coast thing because they are on the Pacific," and partly they are correct.
Being on the east coast we do enjoy beaches and the tropical feel in which Tiki would fit comfortably, but the culture is considerably different.
Florida has tried to motivate and promote Tiki culture back in the '50s, and 60's with the Mai Kai and Tiki Gardens.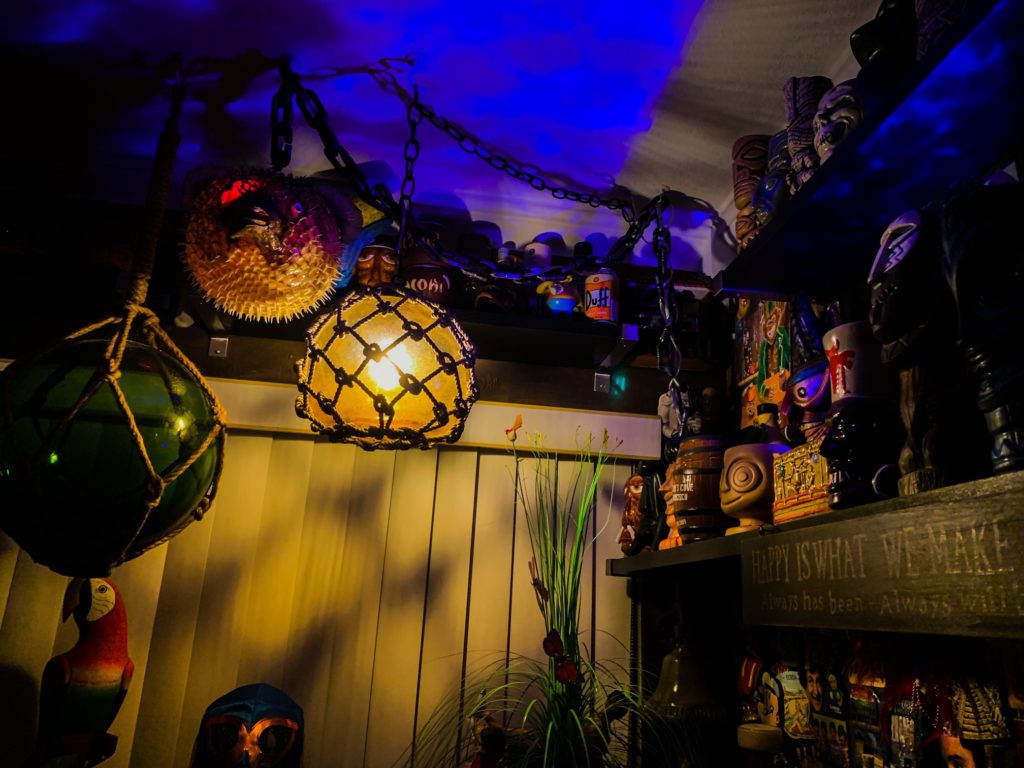 The Mai Kai remains a staple of what tiki could be in Florida. It is the only official Polynesian "Tiki" restaurant that has stood the test of time. Tiki Gardens closed in 1980 and it's a shame because it was a Polynesian fantasy of tiki statues and fawna. If it was alive today, it would definitely make a comeback. Tiki was dying out by the late 70's and was considered (I hate saying it) tacky and overused by most unappreciative folk. So Tiki Gardens was taken away and as the song goes, "They paved paradise and put up a parking lot."
Another frequented location is the Wreck Bar; this location is nestled in a fancy beach hotel. A similar theme to the Tonga Room in the Fairmont Hotel in San Francisco (fancy hotel with a tiki bar). It is a wonder of mermaids swimming and dancing through the portals of a shipwreck themed bar (Who doesn't enjoy that!!). South and central Florida usually call a bar with thatch over it serving beer and sports a Tiki bar. Nothing against sports, but that's how it goes. If you go and ask for a Mai Tai, most likely it's not on the menu. Blasphemy!!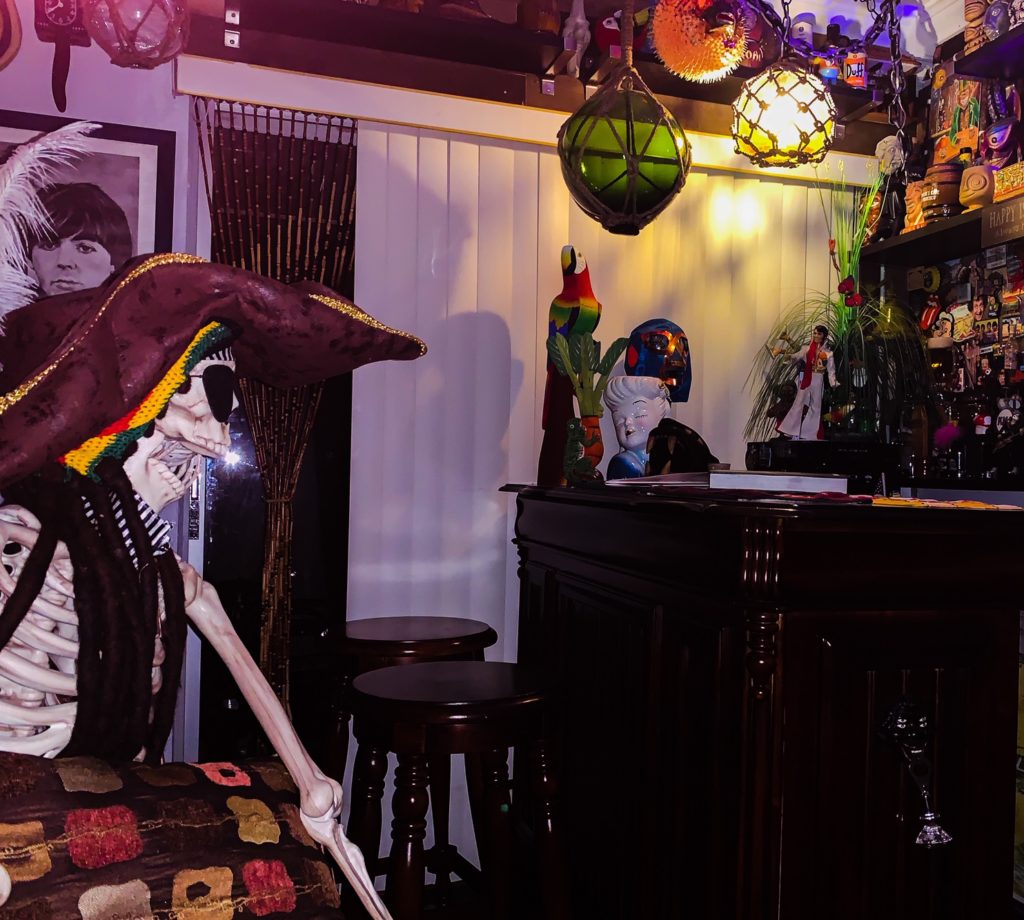 What brought you into the "Tiki lifestyle" and how long has it been part of your life?
Cacalito– Tiki God!! It's going to be a long story. I was under no circumstances into Tiki, not through high school nor college. Living in South Florida, my parents never took me to the Mai Kai. I believe it all started back in 2001 when I took time off to visit my homeland of Ecuador.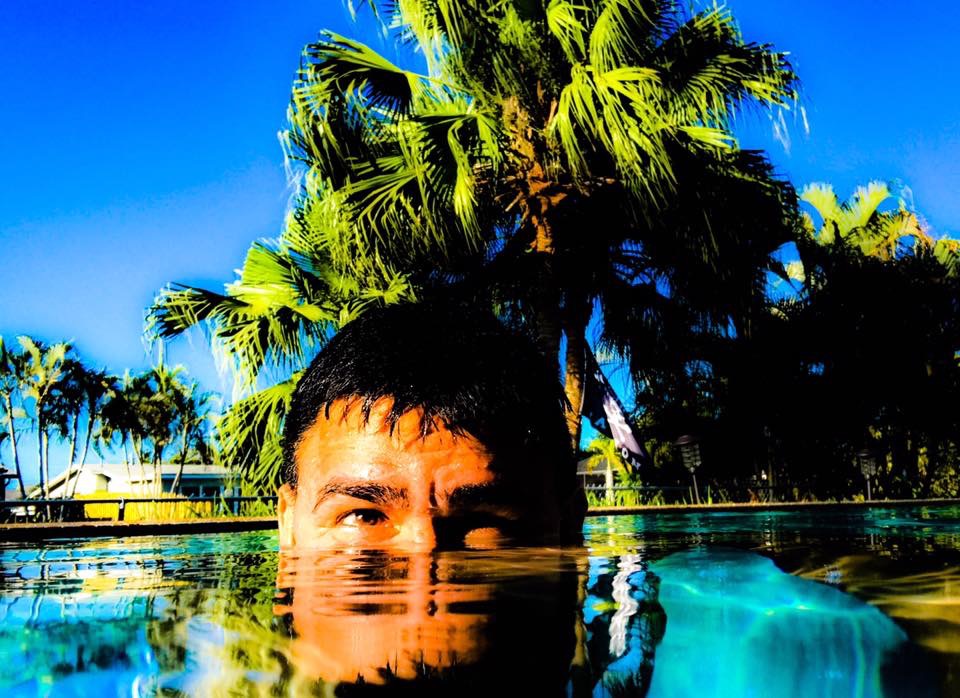 On one of my travels, I spent most of my time in a little beach town called Montañita (little mountain), it was like being a castaway surrounded by homemade little shops and people surfing all over the beach. It was non-commercial back then. The nightlife would involve a fire dance show and worshipping the moon at midnight with drums on the beach. In the night, we would go into these huts with enormous god Tiki's carved out with many faces and it appealed to me. I was like, what is this mystic vibe that makes me so happy?? Next, they served us these huge exotic drinks in a skull-like shape. They called it "levanta muerto", which was equivalent to a Zombie. I was hooked, but I didn't know this was a thing or a practice. I merely thought it was a beach thing, and you would only experience it in Ecuador.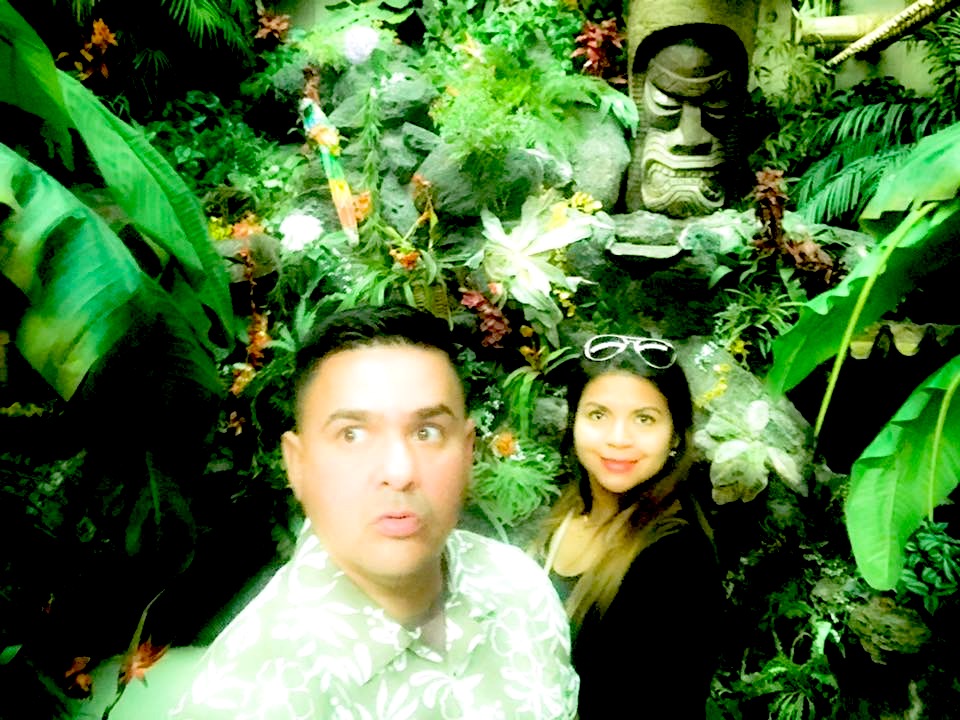 My wife (my girlfriend back then) fell in love with Montañita, the beach and the mysterious tiki statues. In 2004 I wed my wife, and she came to live with me in Florida. She told me she would like to go to this Polynesian restaurant across town called the Mai Kai. I told her ok, I have never been before, but cool let's go. We witnessed the show and walked through the gardens and fifteen years later it became our second home.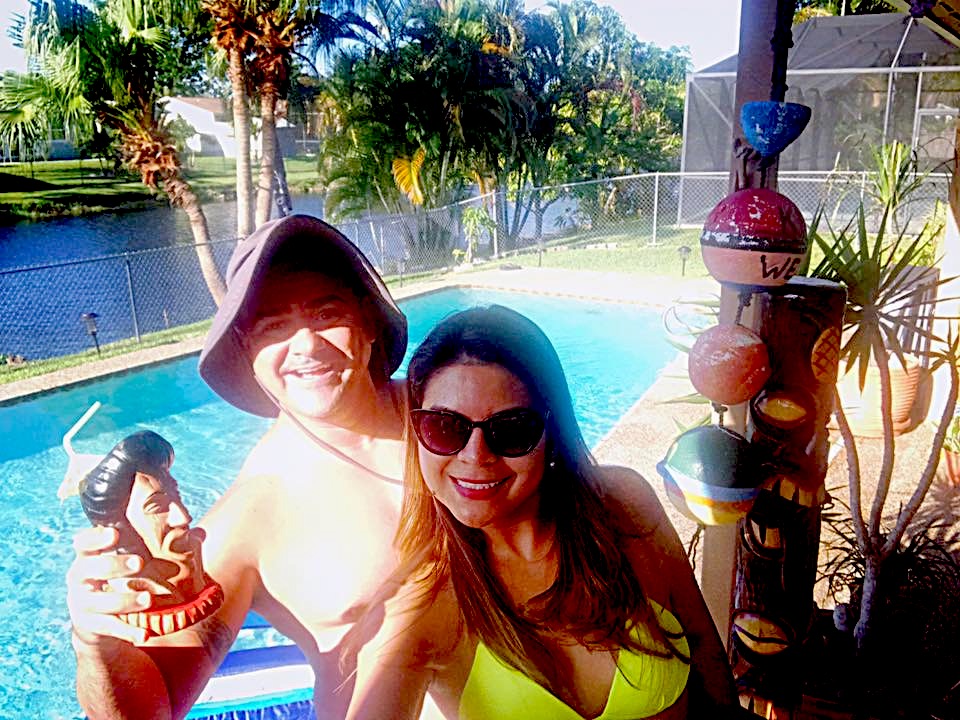 Can you give a little history of how it all came together?
Cacalito- After going to the Mai Kai, we found there weren't many legit tiki locations in South Florida. Therefore, we decided to travel. Let's do an Odyssey of every Tiki bar in America! We started in California hitting False idol, and Bali Hai in San Diego. Royal Hawaiian in Huntington Beach and Tiki Ti in L.A. We traveled to Tonga Hut in LA and the Tonga Room in San Francisco, Smugglers Cove, and Forbidden Island. We took notes and studied the decor in every location to set a tiki bar back home. We explored Frankie's in Las Vegas and Three Dots in Chicago.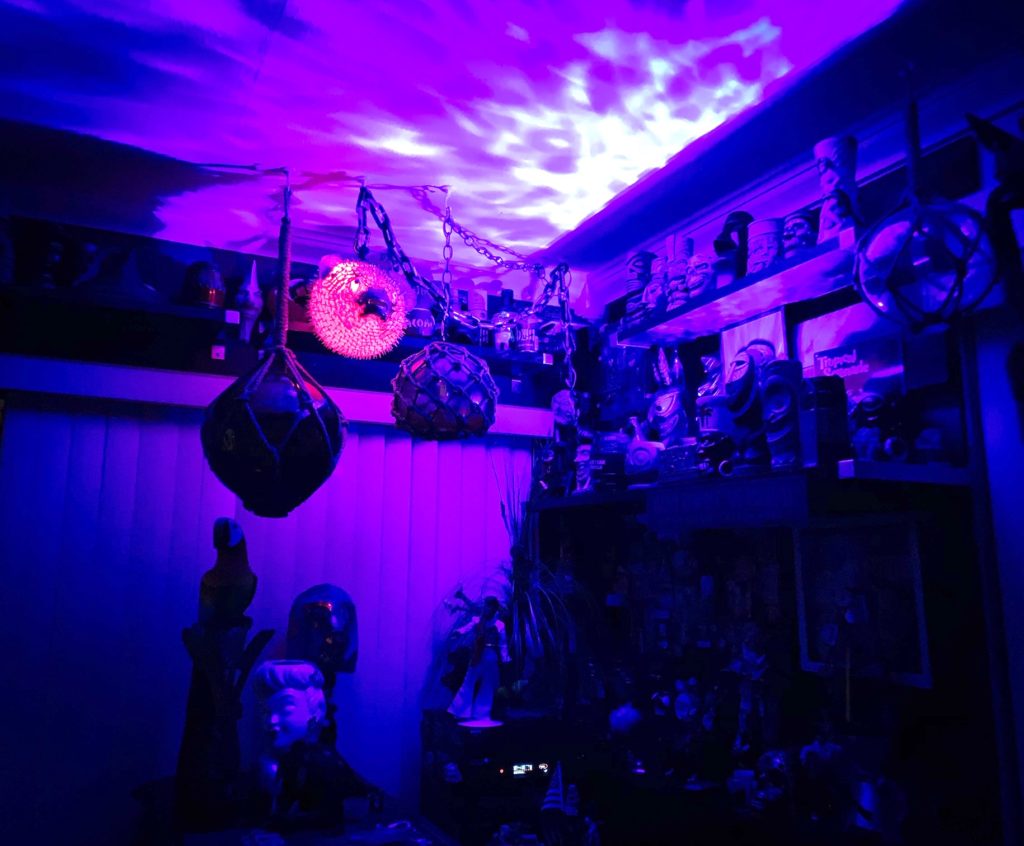 After obtaining enough experience we got the bar rolling. I had a man cave back home in Florida. It was the standard man cave with neon signs and beer signs all over …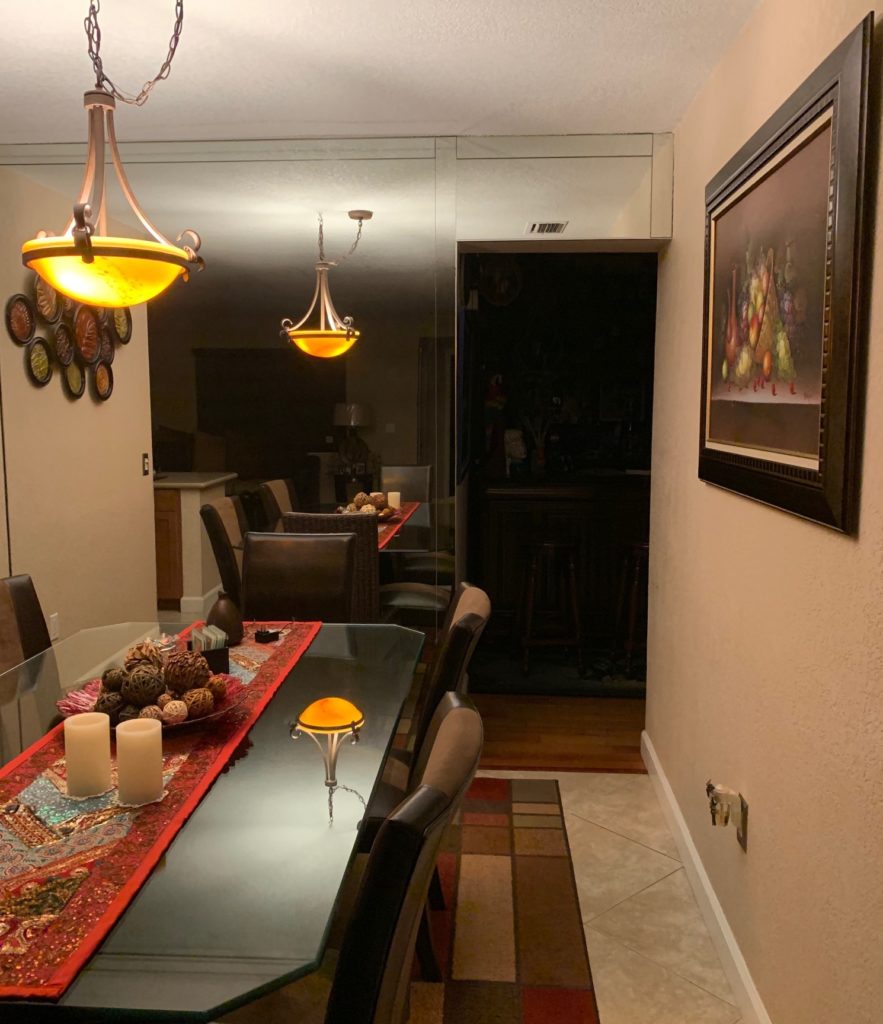 I grew out of this and sold my Miller Light neon sign to get a couple of Japanese glass floats. I stripped my bar and placed wood planks on the walls and set up shelves for my tiki mugs. I completed the bar in 6 months.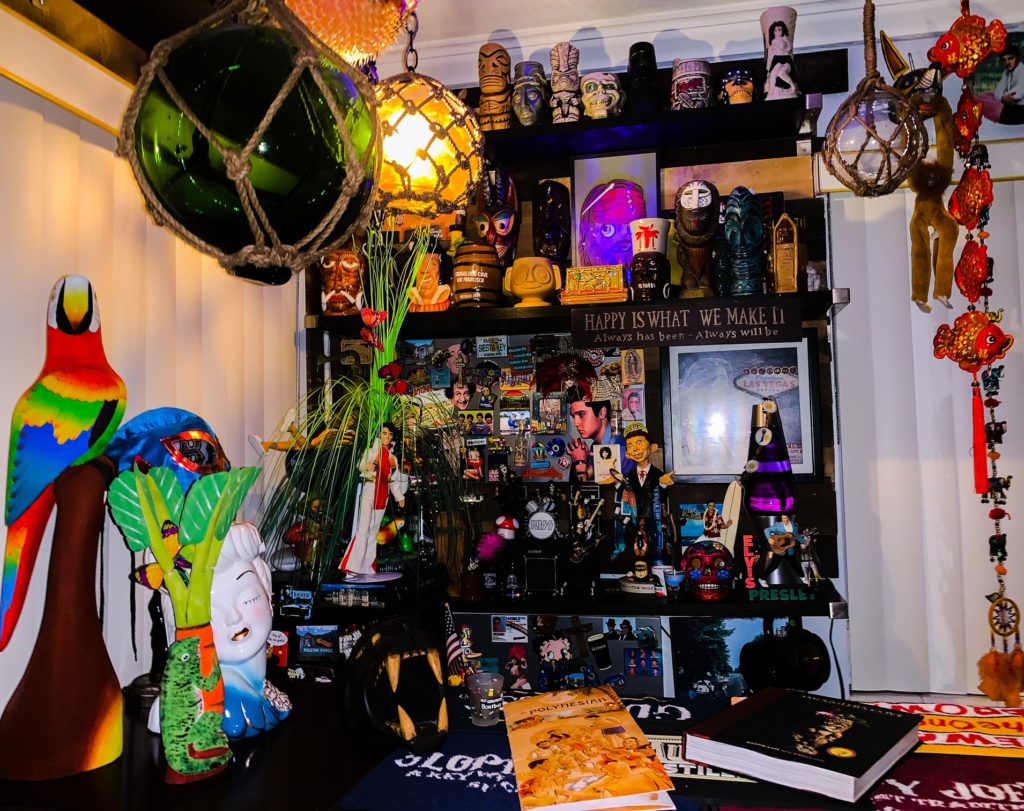 Any story behind the name of your bar?
Cacalito- The bar was always called Cacalito's Bar since I maintained it as a man cave with the standard wood based bar. I wanted it first as a pub bar and with time it took the shape of a ship bar like the Molokai at the Mai Kai.
The name Cacalito, that's just me Carlos.
As a kid, my uncles used to call me Cacalito as Carlitos. The name stayed with me throughout my life so I selected the bar as so. I added "Grotto" because it is compact like one and it's next to the water. Going outside you find an oasis with surrounding palm trees and the pool area. Hence, you have Cacalito's Tiki Grotto.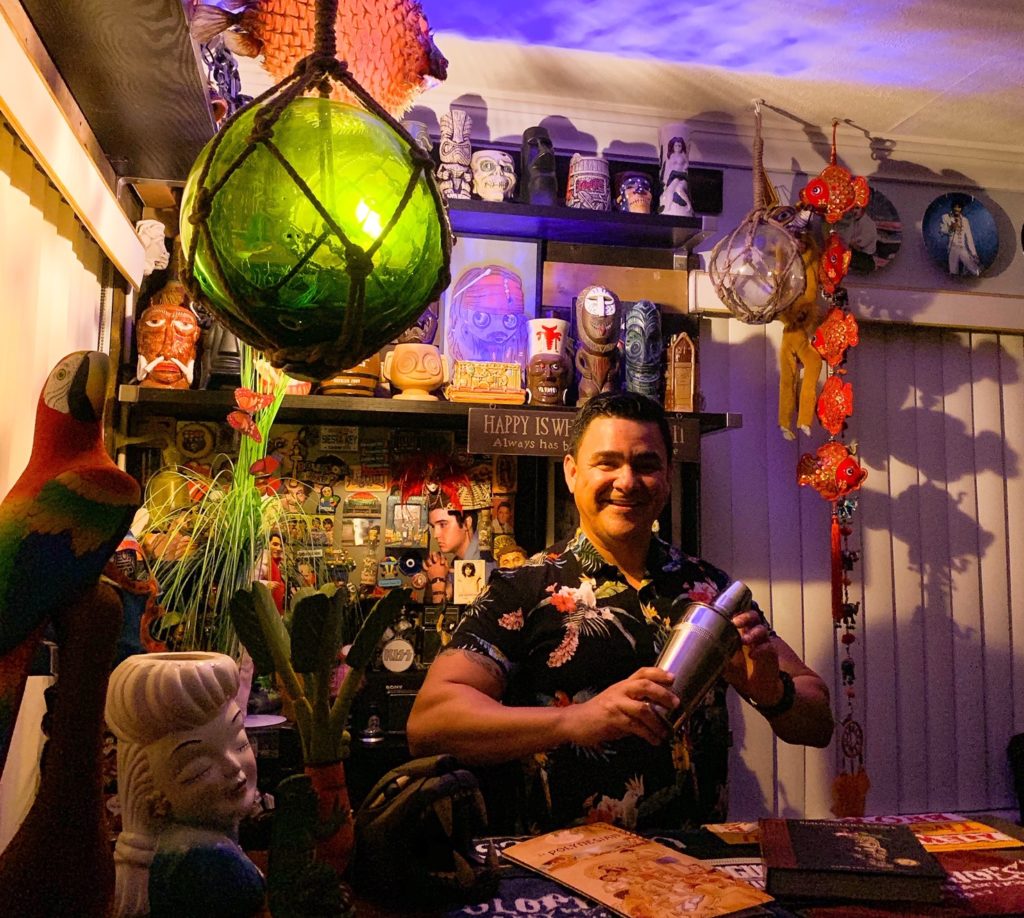 What is your favorite Tiki drink? Why?
Cacalito- I started out loving Zombies, the stronger the better! Any XXX drink really, but I realized the more the alcohol, the more it drowns the taste. I tried all of the menu drinks from Painkillers to Navy Grogs. I cannot shake off the Mai Tai. They are absolutely delicious! I recognize many people say that Mai Tais are overdone and overrated but disagree. Not everybody does the same Mai Tai and they inevitably deliver something new to the classic mix. I have to go with the Mai Tai. I always start with one or end up with one by the end of the night.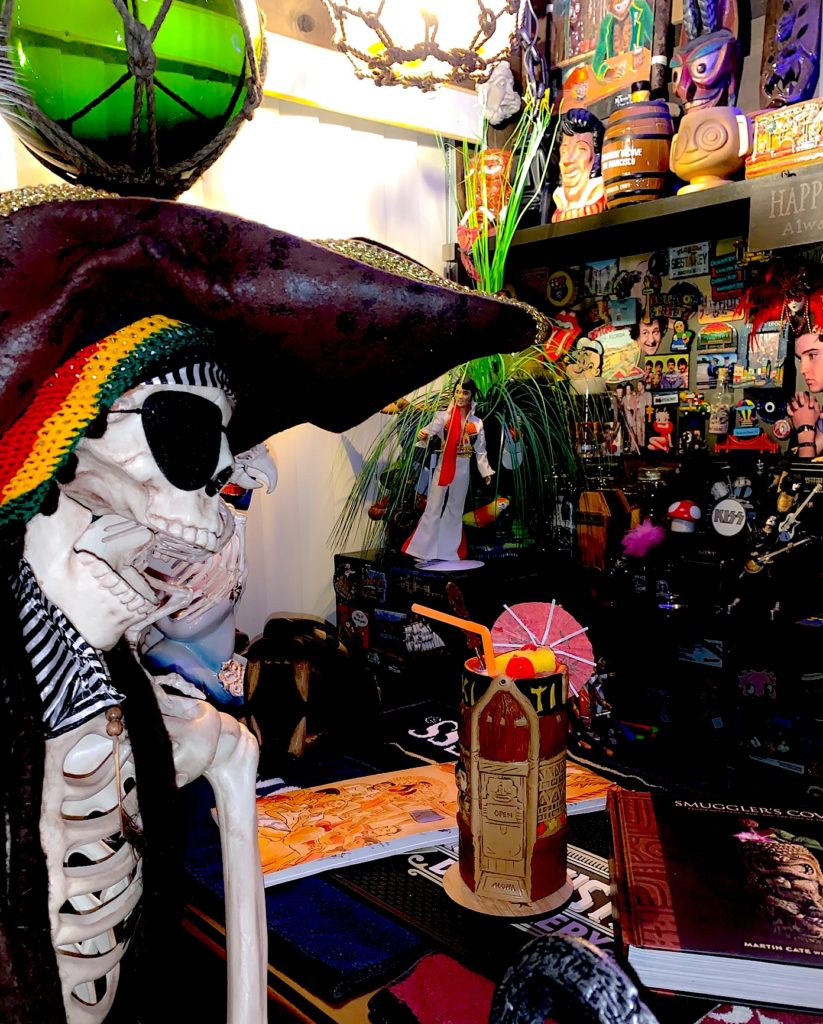 What is your favorite Tiki bar? Not including your own!
Cacalito- I would have to go with the Tiki Ti in Los Angeles. When I went there the first time, I said I have to model my bar the same way. I loved that everything is cramped and filled with objects and fun stuff. In each place, you behold something new. The lava lamps, the hanging foreign décor, the tiki mugs on the shelves. The bar is incredibly small, and that's what I enjoyed about it. It's so personal and so intimate. It's uncommercial, and everything hanging on the wall remains a memory. Tiki Ti is so classic.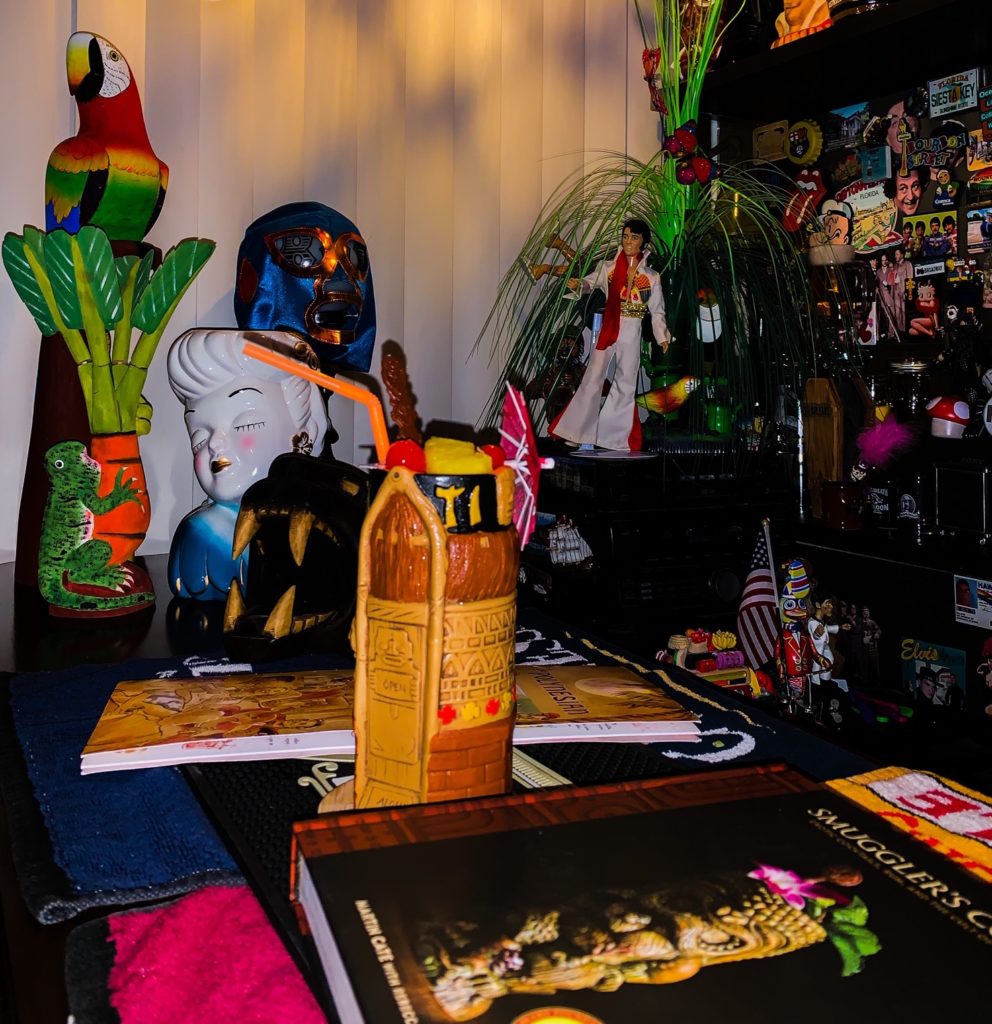 Outside of great drinks, what do you think are essential elements in creating the perfect Tiki environment?
Cacalito- To me, the ideal environment has to be a dark, semi-lit, cramped intimate setting. The closer to your victims, the better! The décor has to be colored with a low light setting reflecting the exotic features. The tiki mugs have to be shown right in front of your face as gods to worship!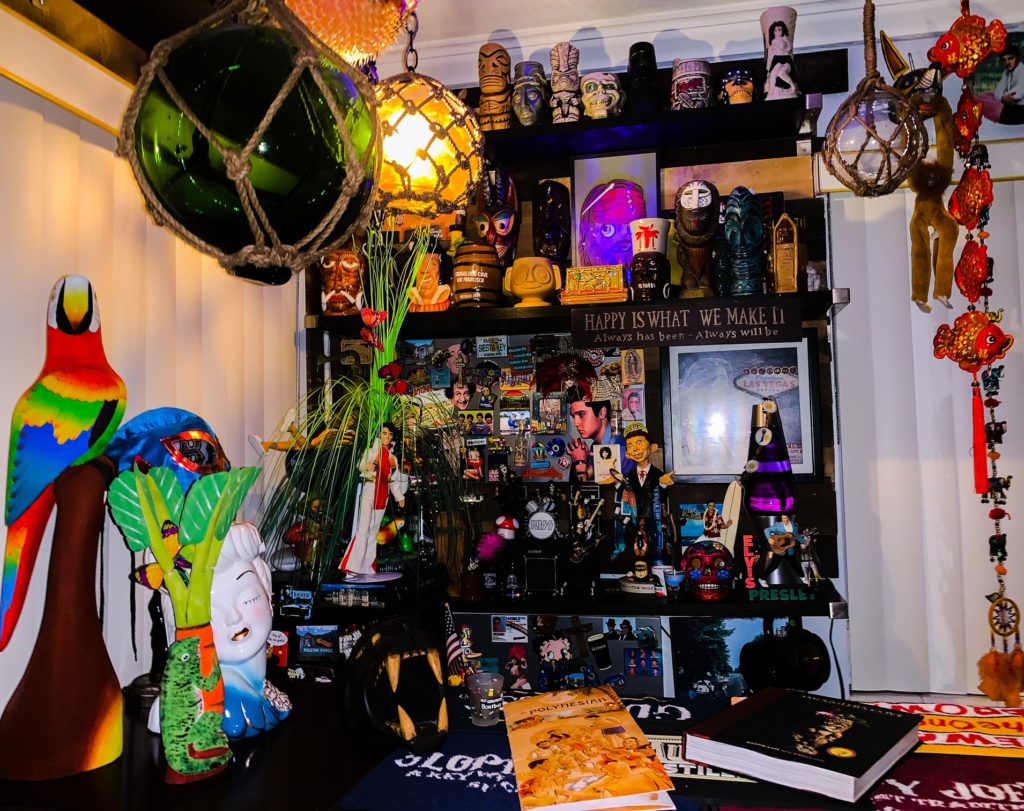 The mugs remain the center of conversation because they support the delicious concoctions. I believe you should surround your guests in that mystic escape. Every tiki bar should be concealed and never seen right away. They should be in a secret room or a concealed door. You should be transported into a tropical hideaway.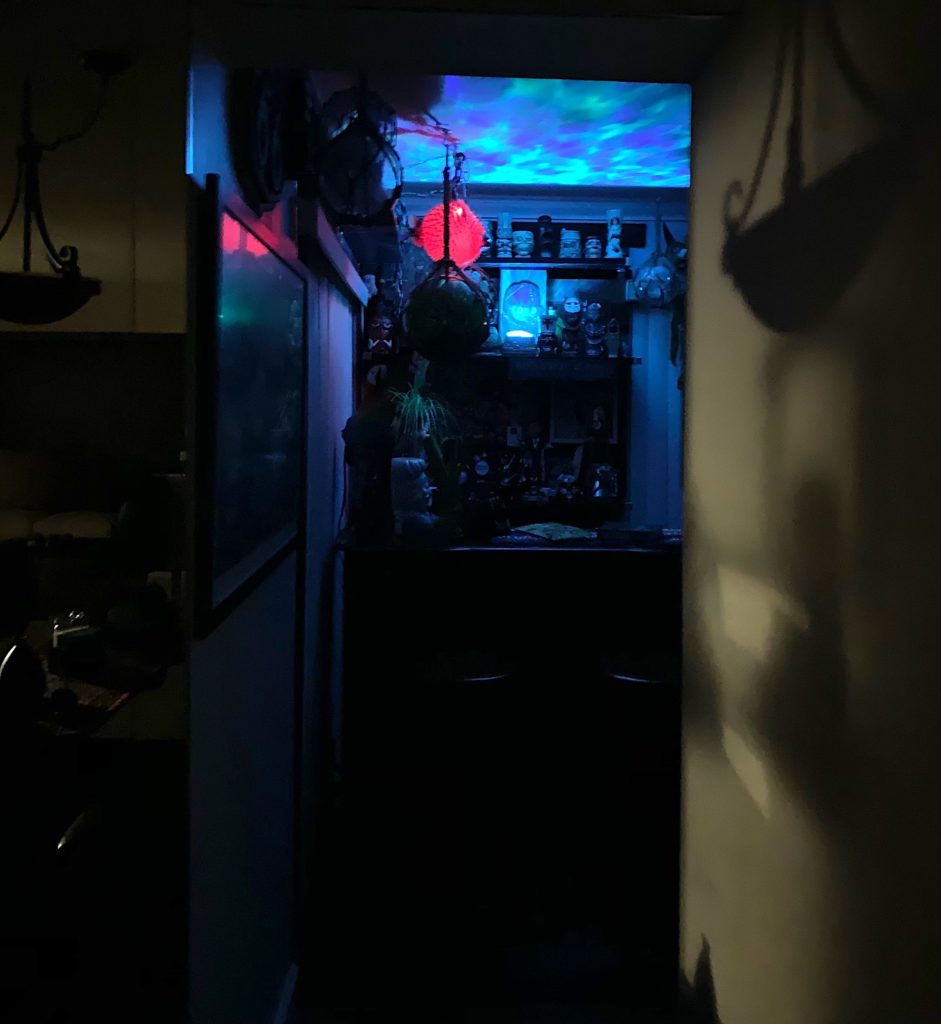 What does the future hold for you and your home tiki bar?
Cacalito- I only just finished the core theme of the Grotto. I think I will never stop updating. It's like it won't stop growing! It claimed a life of its own. I don't think it will take over the whole Florida Room but stay the size of the bar. I will keep adding lamps and floats to hang from the ceiling. I will definitely add new Tiki mugs and display them in their new found glory. I plan to have many people come by and be dazzled by the Grotto and its alluring mystical power!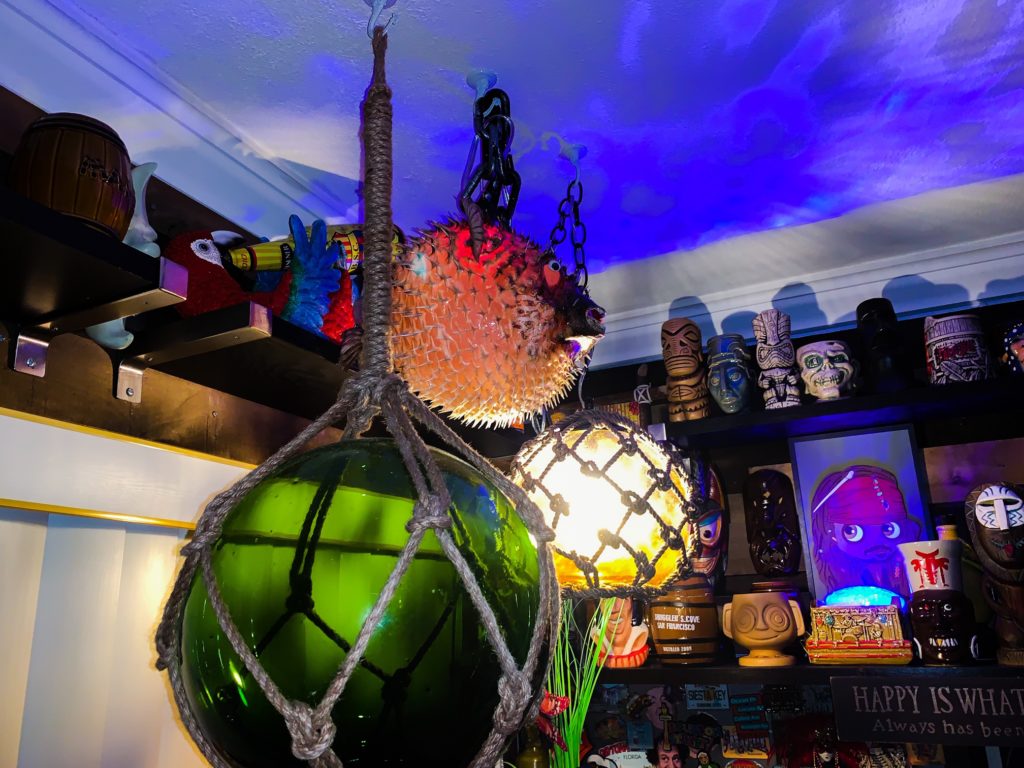 Anything else you would like to add?
Cacalito- I would like to thank all the tikiphiles out there for keeping the scene alive. I'd like Tiki to remain a secret and be unique, but I enjoy how people have their little hideaways in their home. Either a secret behind a room or a Polynesian restaurant, Tiki will never die. It may fade away or take a rest, but an island and its natives are inevitably meant to be discovered. Bless you, Don, and Trader Vic.