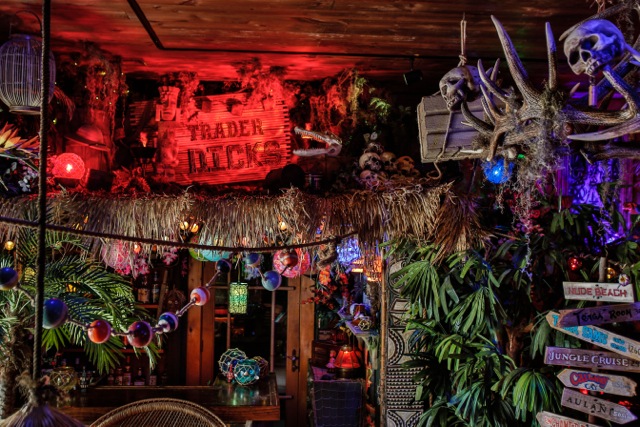 Richard Barnes tells it like it is. The Tiki scene up around Boston is pretty nonexistent. Richard did something about it. He converted his garage into his own Tiki bar called Trader Dick's. This place doesn't look real! Here is Richard's story…
What's the Tiki scene like where you live?
 Richard- Well, nonexistent would be the best way to answer! We are about an hour or so west of Boston in Massachusetts. There really isn't much for Tiki/Polynesian influence up here in the north.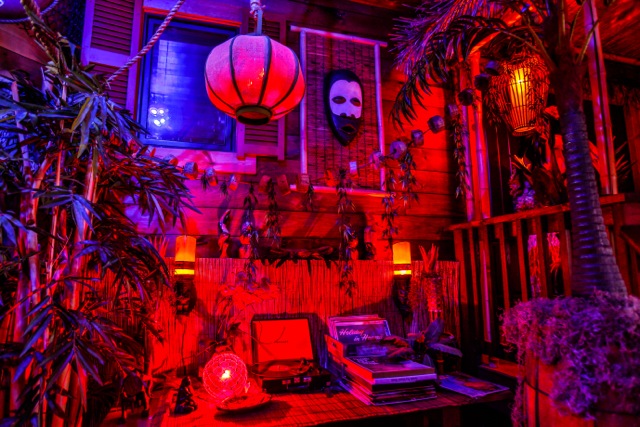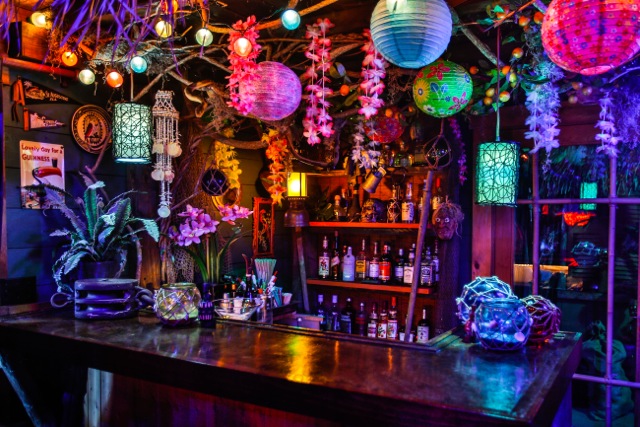 What brought you into the "Tiki lifestyle" and how long has it been part of your life?
Richard- I think it started when I was very young, but I just never realized it. My grandmother had traveled to Hawaii a couple of times and always brought back souvenirs and stories about her trip. As a kid, I loved movies like Tarzan and King Kong—anything that took place in a jungle-like atmosphere. I remember seeing the play South Pacific as a kid and I was captivated by the scenery and location more than the actual story itself.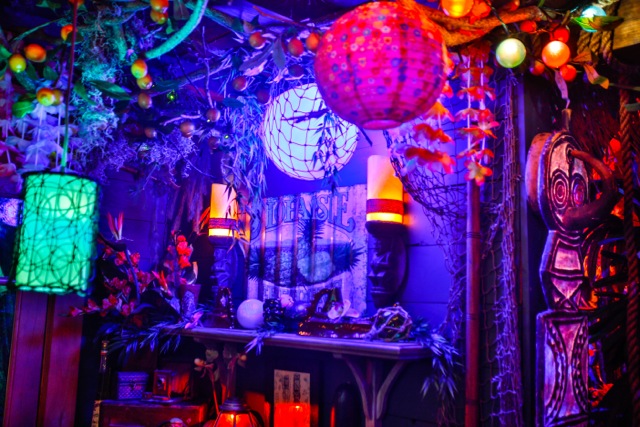 I used to try to grow palm trees in my house when I was young, but I don't seem to remember any great success. A family trip to Disney World somewhere around the 6th grade introduced me to the first Disney attraction I had ever seen, the Enchanted Tiki Room. I was taken by every part of that show, from the animatronic birds and totems to the fake rain out the fake window. Coming from New England, this opened my eyes to a whole new world. After that, it was of course the Jungle Cruise. And like everyone else, I used to dream about living in the Swiss Family Robinson Tree House, because it was kind of between those two attractions.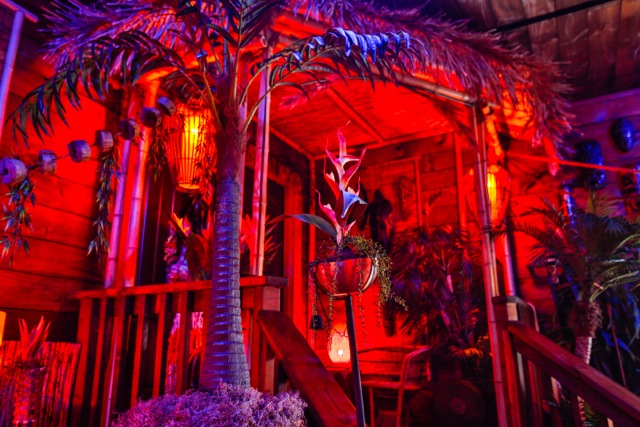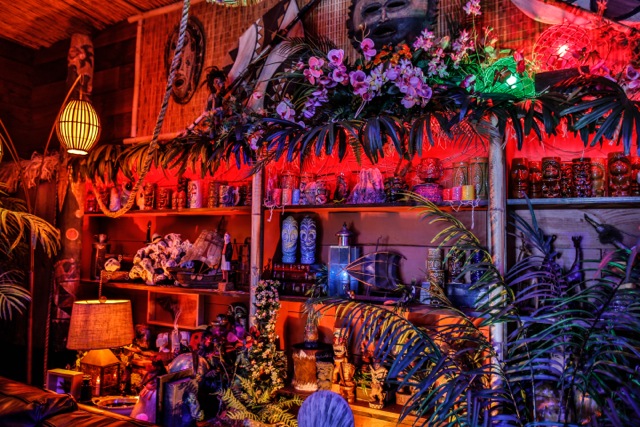 What made you decide to build your own Tiki bar? Any story behind the name?
 Richard- Several years ago, we took a family vacation out to Disneyland and it just happened that Trader Sam's had just opened. I don't think very many people even knew it was there in the beginning as we were the only ones in there for most of our time. I loved it! I could have stayed in there all day. I loved how it combined my favorite attractions with a bar! It doesn't get any better than that!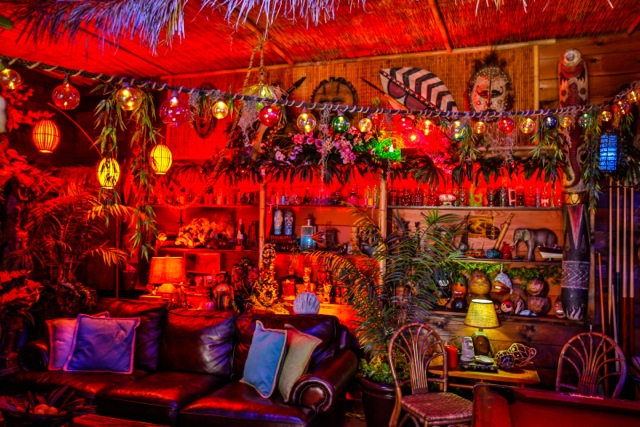 The name of my bar is Trader Dicks. Trader Richard's just didn't have the same ring to it.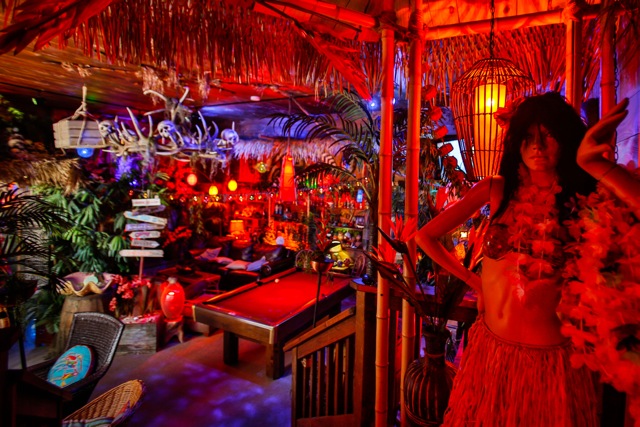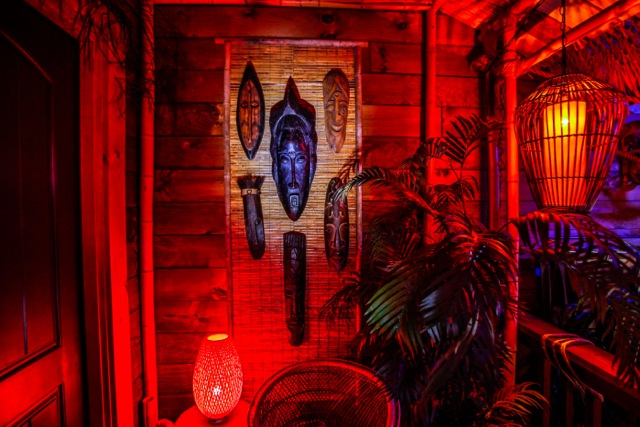 Can you give a little history of how your bar all came together?
Richard- Ten years ago, when we put an addition on the house, we had the bottom floor framed as a garage to park a few cars in. I drove a large SUV at the time, so felt it would be a good idea if we had 12 ft. ceilings, not knowing what might actually end up in the garage. Well, as it was being framed, I started to realize that it was a good size space and instead of building the garage I had planned, the room soon became a ManTown. It wasn't Tiki-themed; it was more like a hunting lodge (even though I don't hunt), thus the reason for the pool table.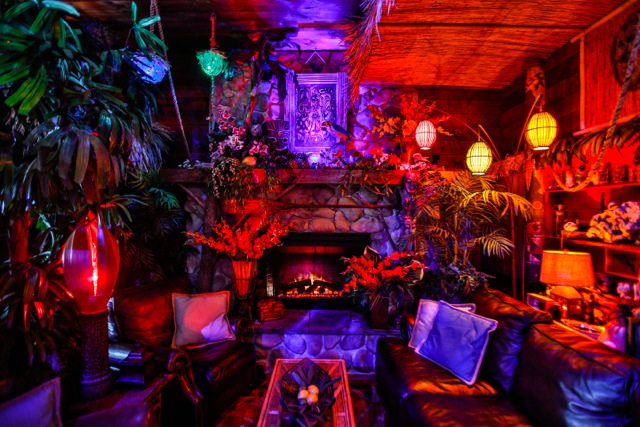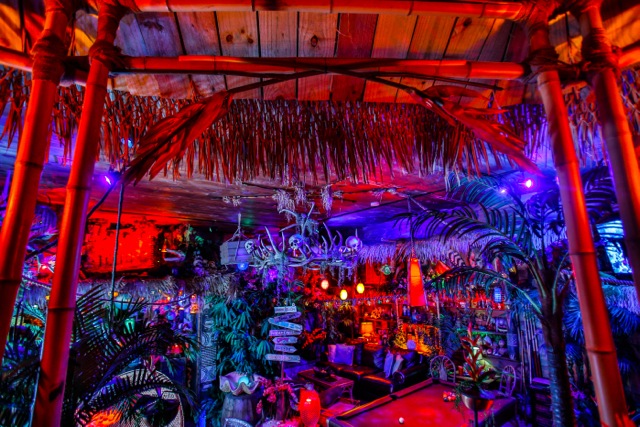 Playing pool in a Tiki bar after a few drinks is really the only way to play pool! So about a year and a half ago while we were getting hit by a blizzard, I just decided one day that I wanted a room I could go to that felt like I was on vacation. (FACT: the winter is a little shorter when you have a Tiki bar in the house.) Little by little, I added things and a year later, here we are. You don't find a lot of Tiki stuff around here, so I have made most of the lighting and stuff and most everything in there came from a flea market. I'm the guy buying the stuff that other people look at weird and ask, "Why would anyone buy that?"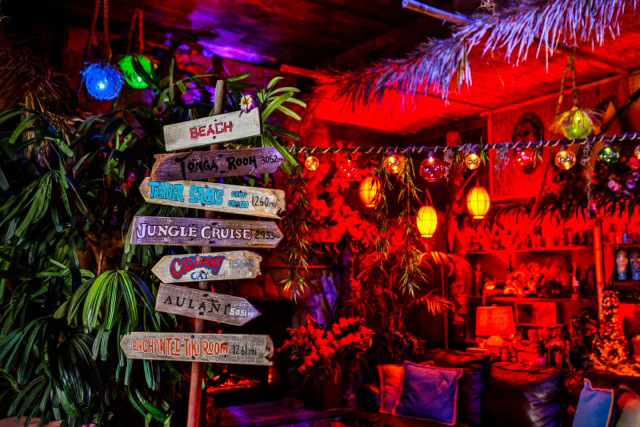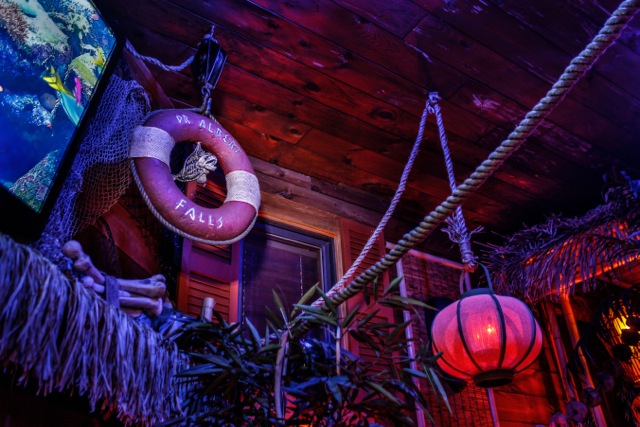 What is your favorite Tiki drink? Why? 
Richard- That's a tough question! It's like asking which one of your kids do you like best. But if I have to choose, tonight it would be the Ancestor Recipe of the Vicious Virgin by Don the Beachcomber. You have to careful with those. They can catch up to you.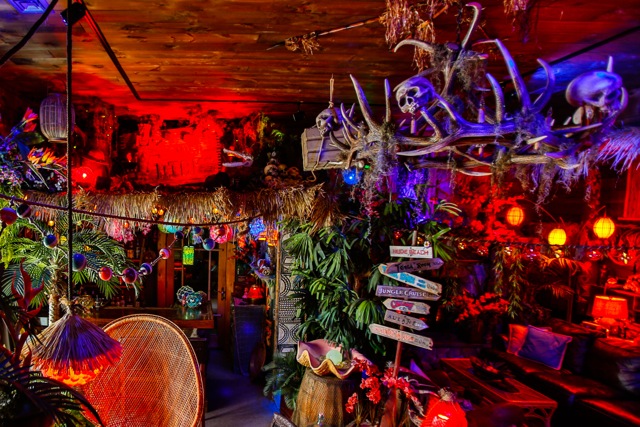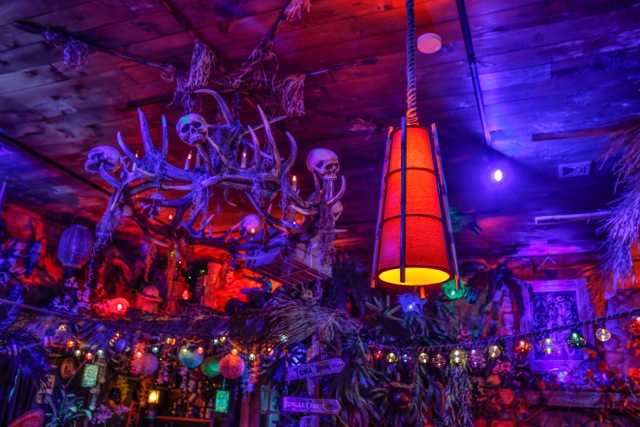 What is your favorite Tiki bar, not including your own?
Richard- It would have to be Trader Sam's Enchanted Tiki Bar. I really haven't been to many others than Trader Sam's Disneyland and Trader Sam's Grog Grotto Walt Disney World. I feel that my hearts in Southern Cal, even though I'm way over here on the other side.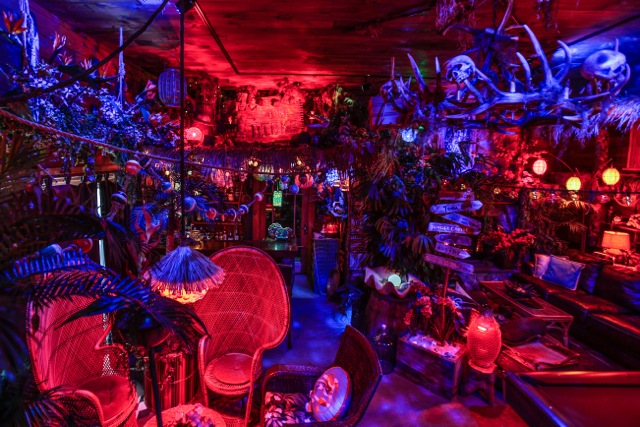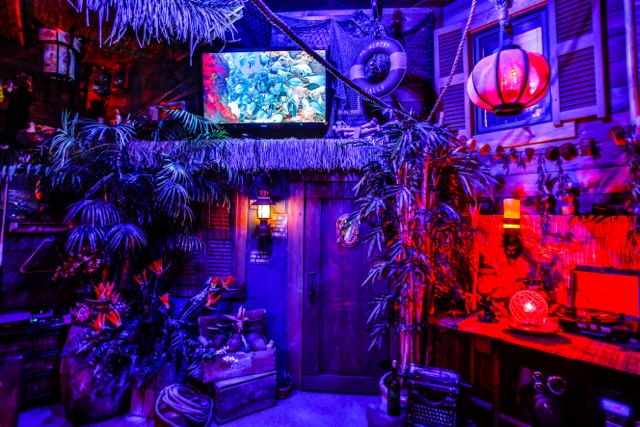 Outside of great drinks, what do you think are essential elements in creating the perfect Tiki environment?
Richard- Environment is the KEY word. I have a pet peeve when the environment doesn't jive. I don't care what the business is. It has to send a message. Eating in an Italian restaurant while some Top 40 radio station plays is such a crime to me. Delivering the full experience is a must. The decor is so important to transport you to another place, but it also needs to be backed up with lighting, sound, smell, and the right music.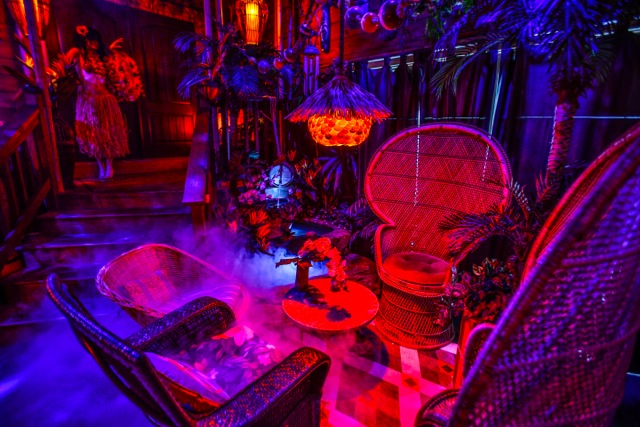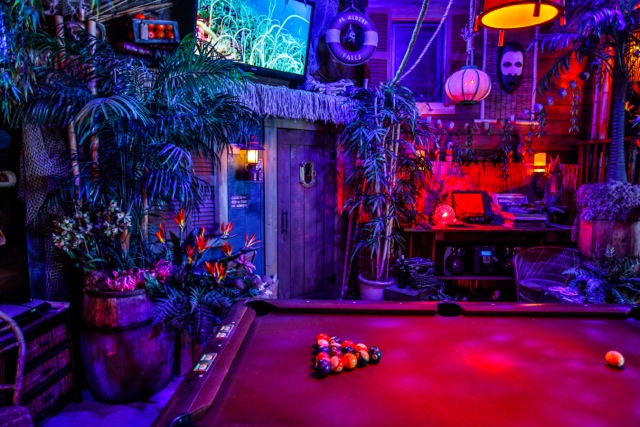 Do you feel that music has an important role in creating a great Tiki experience? What would be some of your favorite artists and albums? 
Richard- Music is everything. The right music sets the mood for what ever type of gathering you want. Martin Denny, Les Baxter, Arthur Lyman, Gene Rains, are some of the standards, but I like to buy vintage Hawaiian and Exotica records as well. I go to flea markets and thrift stores where I have found many. Most are really good, but I have bought a few that I listened to once and probably won't listen to again. In thrift stores around here when you do find them they are only about a dollar, so the loss isn't too great. I'm also liking some vintage surf rock. One of my latest finds is the Hula Girls from southern California. Described as "Hulabilly," it's great stuff.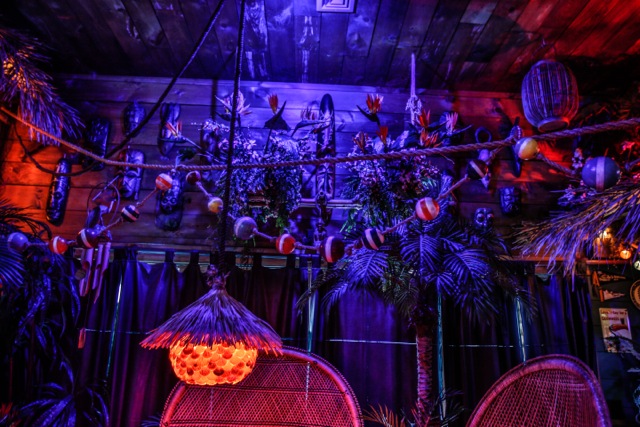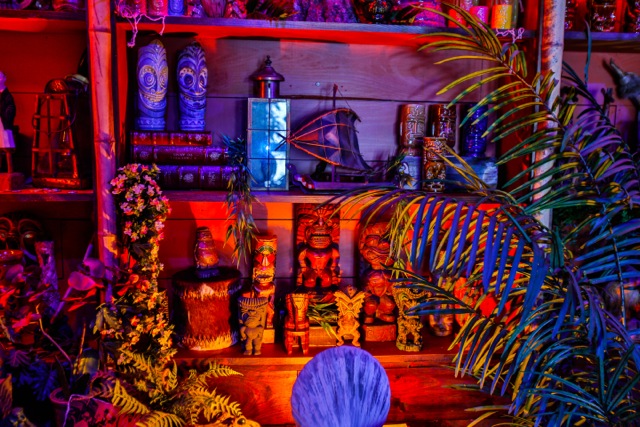 What does the future hold for you and your home Tiki bar?
Richard- As I have told my wife, "The Tiki bar is never finished." I'm always looking for new things and idea. I feel like I need more room. I'm testing the waters on how far out into the rest of the house I can go (no complaints yet!). Behind a curtain in the bar is a large sliding door that goes out to a deck and hot tub. I have been thinking about making an island beach out there, but it will have to with stand our New England winters. I would love to go out to Tiki Oasis. I'm sure I could get some inspiration out there.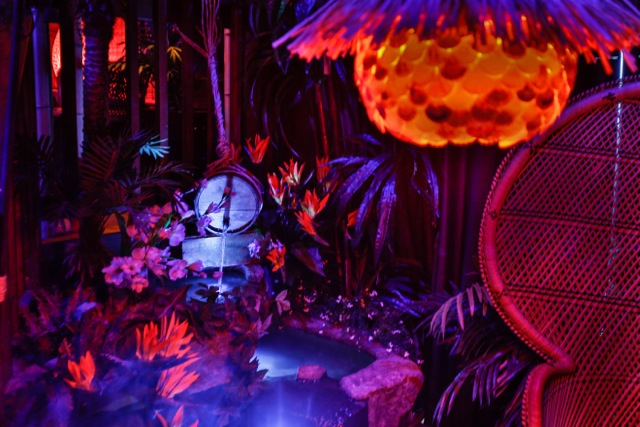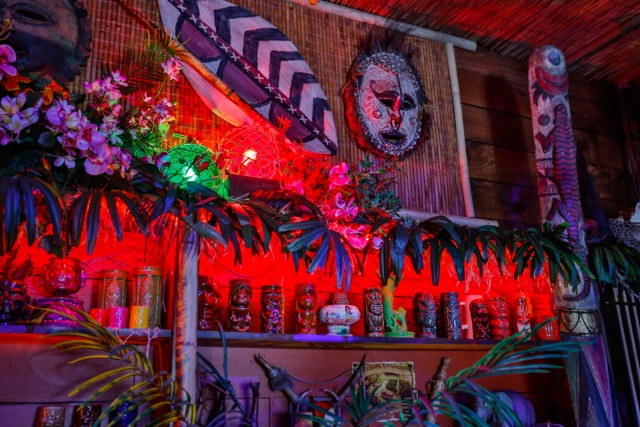 Anything else you would like to add?
Richard- I just want to thank everybody that takes the time to post their ideas on all the social media outlets. It's really the only Tiki fix I get! It's so great to see the amazing talent that's out there.