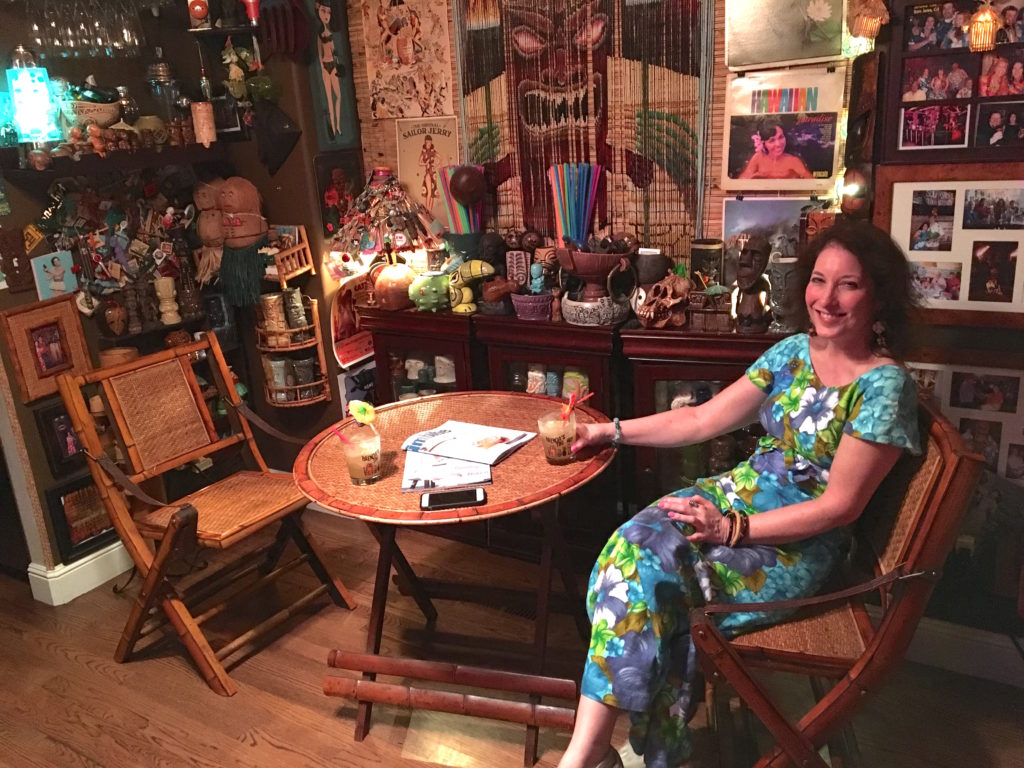 Common places to build a home Tiki bar include the basement or a garage. However, when Brenda Ray decided to build a Tiki bar, she chose to build her bar right in the center of her home! That's dedication and her bar is well-stocked. Brenda's rum collection is larger than some "real" bars I've been to. Let's see how Brenda's Tiki Hut came to be…
What brought you into the "Tiki lifestyle" and how long has it been part of your life?
Brenda– When I was a child, my grandparents would take us grandkids out for lunch at the beginning of each school year. We always went to restaurants on the water, particularly the Oakland Estuary, and Trader Vic's in Emeryville was a choice that changed my life. My grandparents also had converted their garage into a home bar years before I came along and I loved to sit at the bar swapping stories with my grandfather or playing with my cousins and sister. My grandfather had these swizzles with little whistles on them we would blow if we needed a refill when he was off doing other things. And we occasionally took family vacations to Disneyland (what middle class California family didn't?). The kids would be required to physically check-in every couple of hours and that check-in ALWAYS took place at the Enchanted Tiki Room. I think my grandparents spent the entire day rotating through the Enchanted Tiki Room. Lest you think all my Tiki foolishness came from my grandparents, I recently unearthed a photo of my parents and aunt and uncle, both couples pre-marriage, making out on a couch (as separate couples, not a foursome for those dirty minded of you) in another aunt's (I think) apartment with a Tiki on a shelf behind them. All this coming at impressionable little me made me into a Tiki-phile.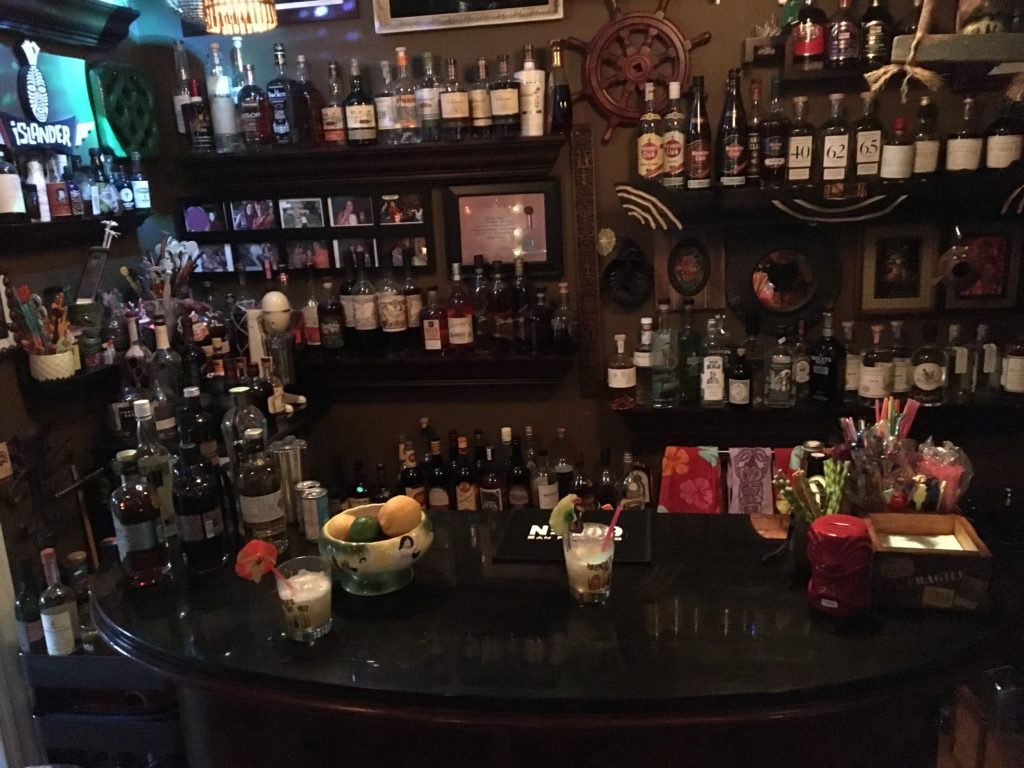 When and what made you decide to build your own Tiki bar?
Brenda– Inevitably, I met and married someone who loves Tiki too. He originally hails from SoCal and had been going to the Tiki Ti for years. Whenever we visited his family, we'd go to the Ti to regain some sanity (except for Thanksgiving week trips when the Tiki Ti was closed L and we trekked to Disneyland for the Enchanted Tiki Room instead). The conversation to set up a Tiki bar at home started early on, but didn't become a reality until we bought a house with a room for a dedicated bar. Luckily, I kept the house in the divorce and the bar is better than ever.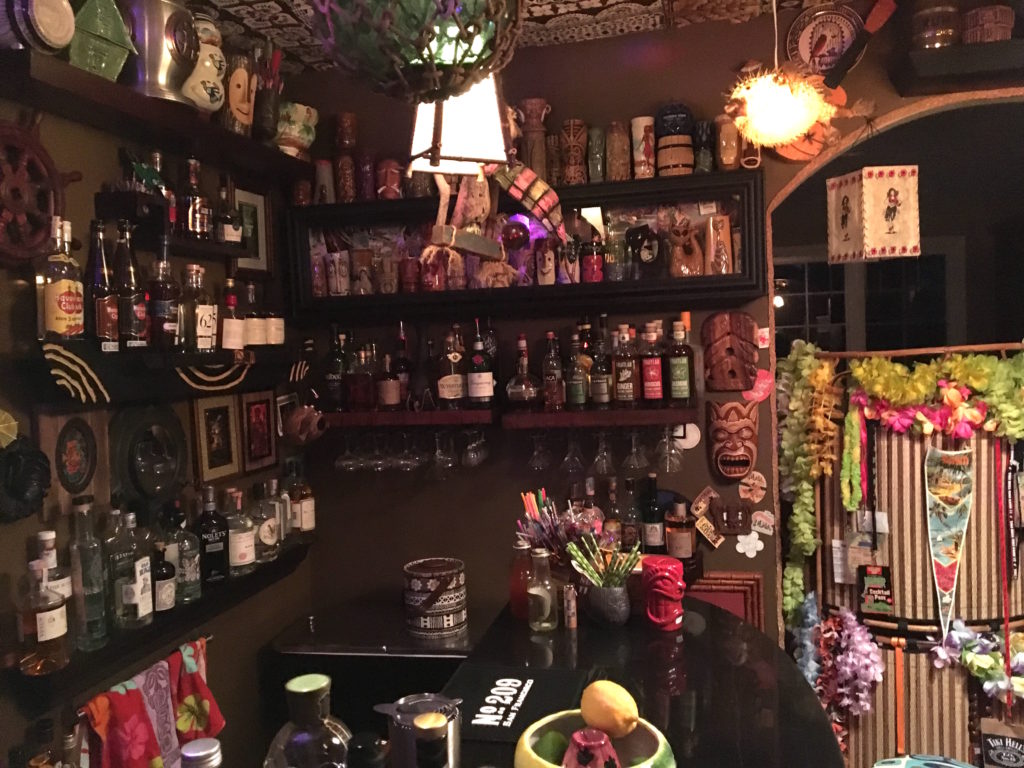 Can you give a little history of how it all came together?
Brenda– It started with off-white walls. Didn't everyone's? And it started with Bacardi and a Tiki mug from Harvey's in South Lake Tahoe I got when we took twice-yearly family vacations to Tahoe. The gathering of items didn't really happen until Tiki Oasis in 2005 when I bought my first contemporary Tiki mug from Tiki Tony. It was so cute with a little wooden Tiki hanging around its neck and I immediately fell in love and had to have it. I didn't even ask the price—I just bought it. Then I had to walk out of the booth and tell my then-husband that I had just spent $100 on a Tiki mug. I had no idea it would cost so much! The Hut now has more mugs than I know what to do with, over 100 different rums in stock, dark brown walls, and a tapa cloth ceiling.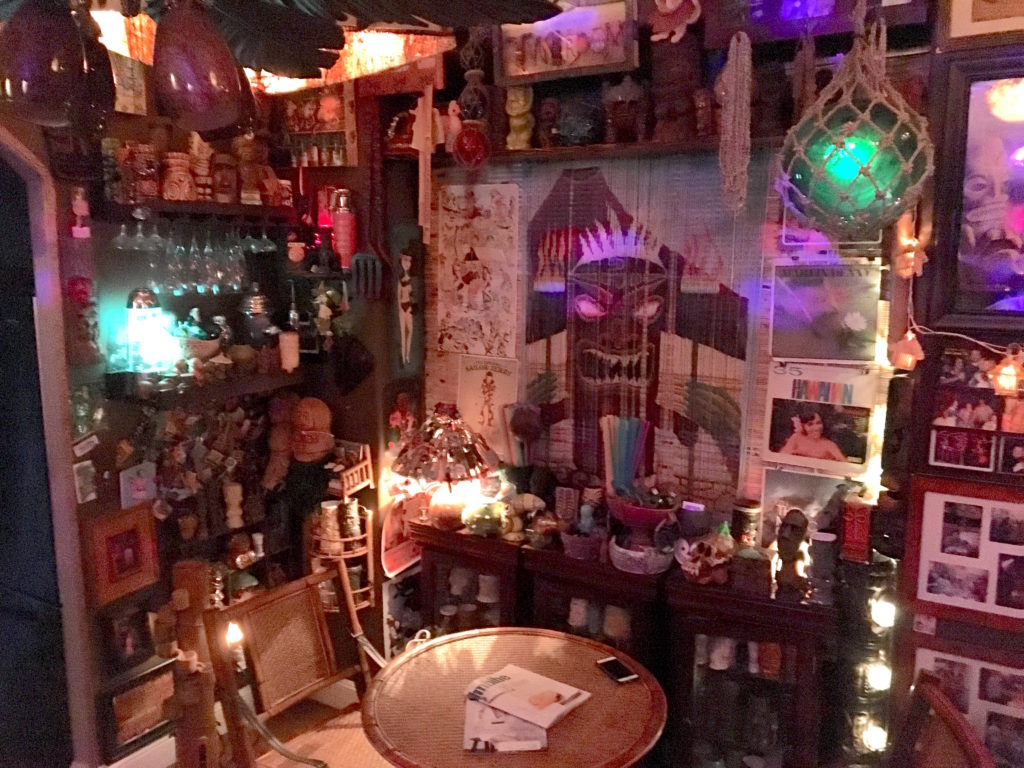 What is your favorite Tiki drink? What do you think makes the perfect cocktail?
Brenda– The Ray's Mistake, of course! I like the balance of sweet, sour, and spicy that comes with a well-engineered and well-made tropical cocktail. I'm not into the cloying sweetness of some tropical cocktails and oftentimes I'll add soda water, more rum, or both to cocktails to suit my taste. That said, give me almost anything with passion fruit and I will drink it happily.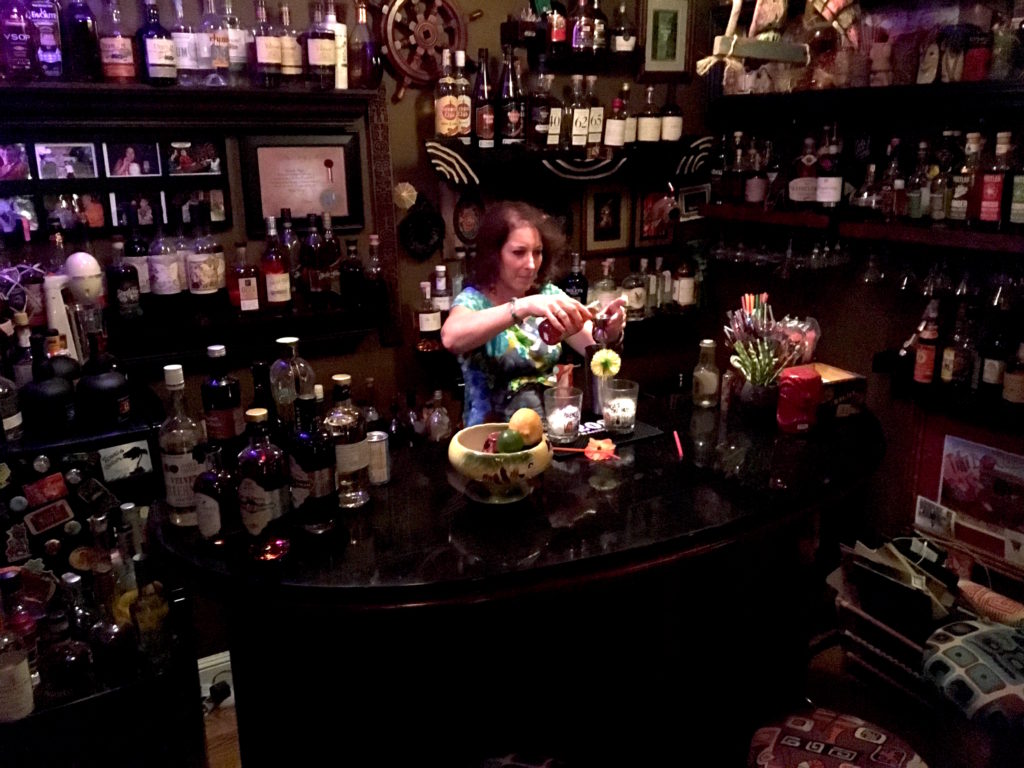 What is your favorite Tiki bar, not including your own?
Brenda– The Jungle Bird in Sacramento, CA. Proximity makes it oh-so convenient: it is roughly halfway between work and home and less than 2 miles from both. I commute by bicycle most months of the year, so it works in perfectly on my ride home in the evening. The owners (disclosure: they were friends of mine even before they had the brilliant idea to open a Tiki bar in town) pulled bar staff from all over town who had been taking an interest in tropical cocktails the last several years, but had no dedicated spot to practice the craft. Just my luck, those were some of my favorite bartenders in town! Everyone who works there is welcoming, from the chorus of "ALOHA!" when you walk in the door to patiently and astutely explaining the cocktails those who have only ever had an Island Mai Tai (or, as I like to call them, Tiki-philes-in-the-making). The atmosphere is warm and transporting like any great Tiki bar. And my housemate and cousin work there, so I get to spend time with Ohana, blood, and Tiki while I'm there.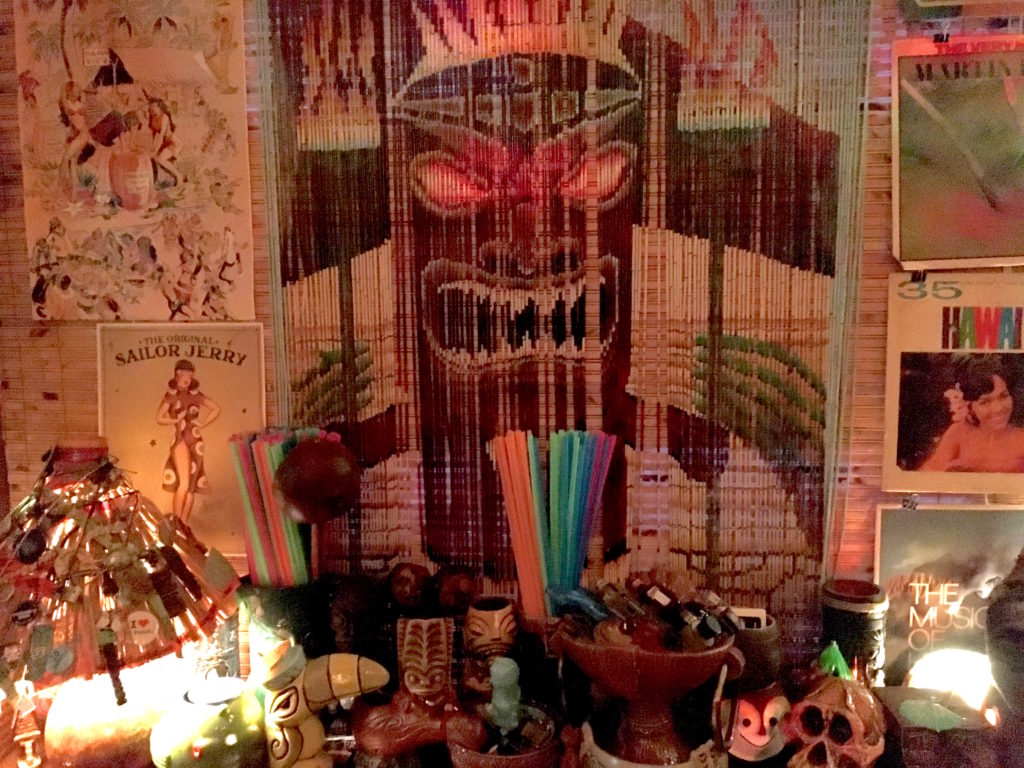 Outside of great drinks, what do you think are essential elements in creating the perfect environment?
Brenda– For a Tiki bar to be successful, it needs to transport you to another place—possibly another time—when you were more innocent, such as me as a kid at Trader Vic's and the Enchanted Tiki Room. My career is stressful and often entails long hours. I cherish my time in my home Tiki bar, the home Tiki bars of friends, and commercial Tiki bars because it is so much easier to shed the ick from the real world when you walk into a space so utterly different from work-a-day, 24-hour news cycle reality. Completely blotting out the outside world is essential to creating that space.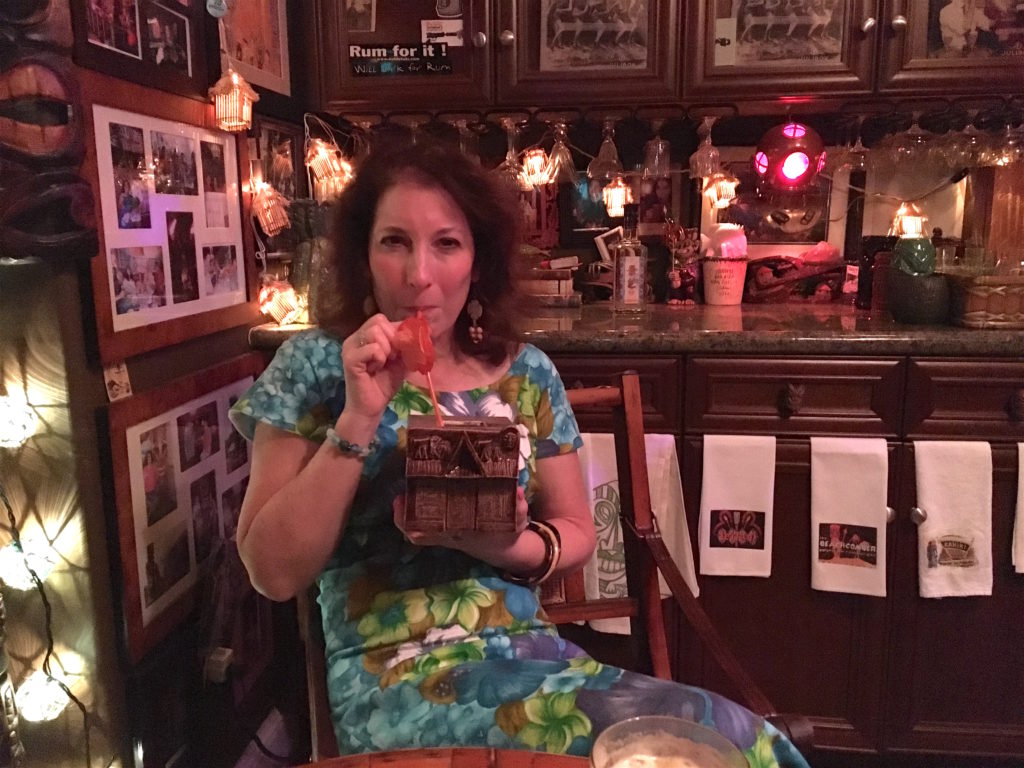 Do you feel that music has an important role in creating a great Tiki experience?
Brenda– YES! The soothing sounds of exotica, with its crazy human-made animal noises, play a major role in transporting me to another place. If I walk into a Tiki bar playing loud surf rock or hip-hop (yes, it has happened), it is jarring rather than relaxing. That said, I have played all sorts of music in my home Tiki bar when I want a different vibe, but still want a cocktail.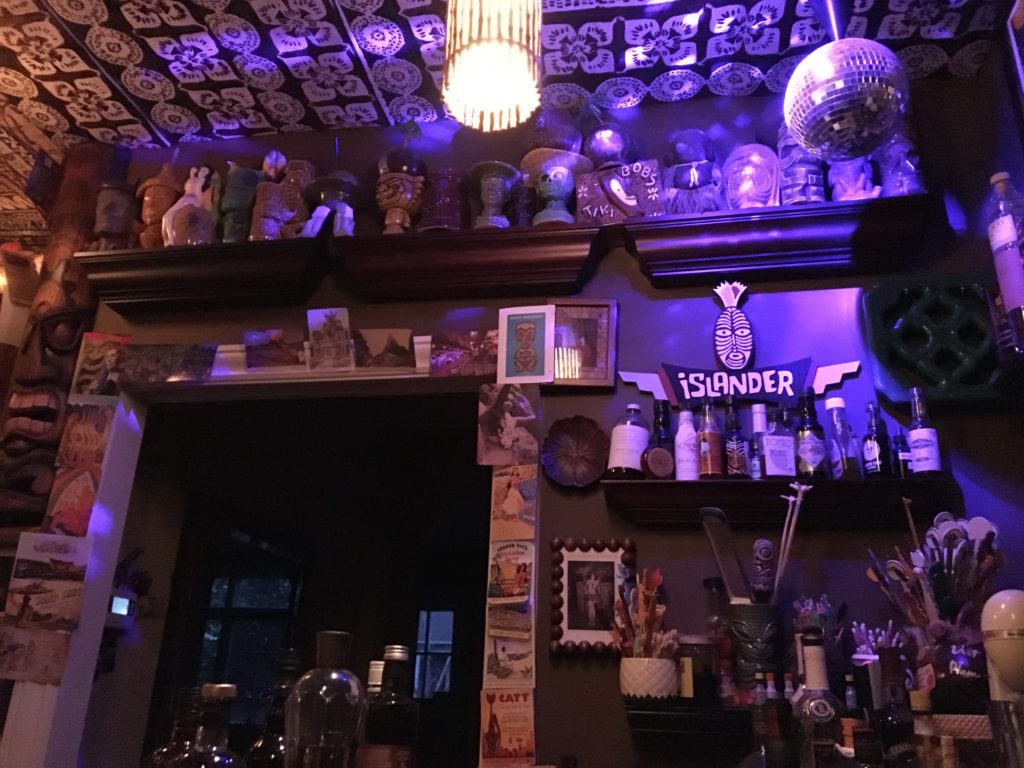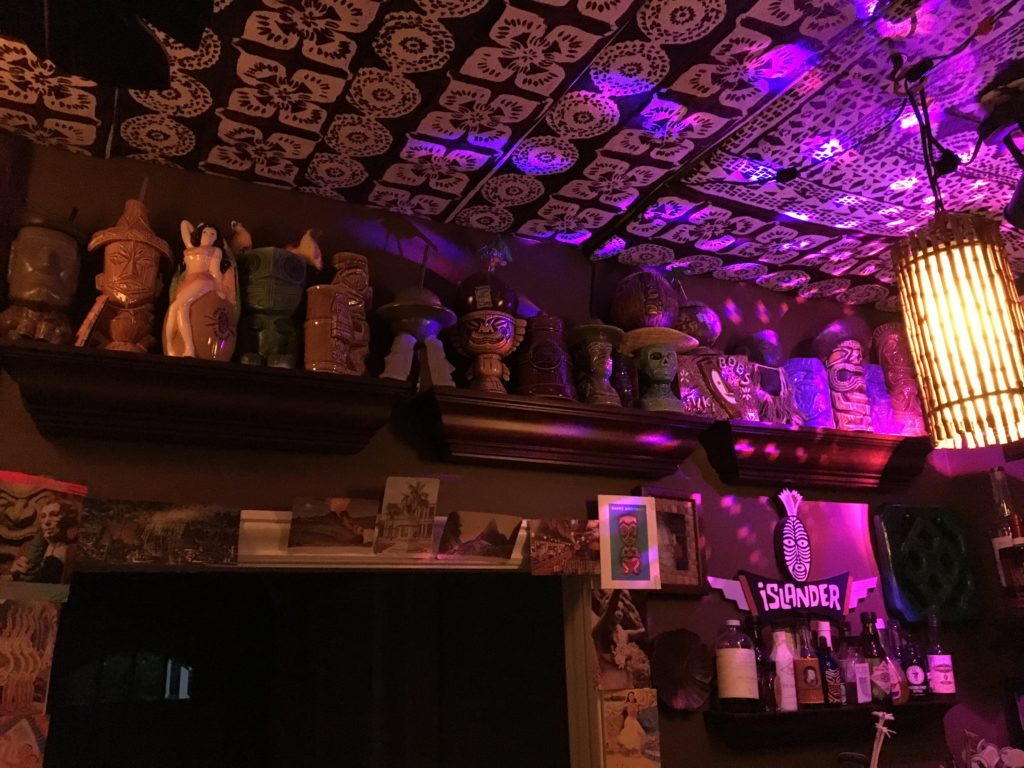 What does the future hold for you?
Brenda– Although the walls are almost completely full, I want to continue editing out pieces I put up early in the creation cycle because the walls were barren and replace them with either vintage pieces from Polynesia or pieces created by my many talented friends creating contemporary Tiki artwork. And I want more rum, always more rum.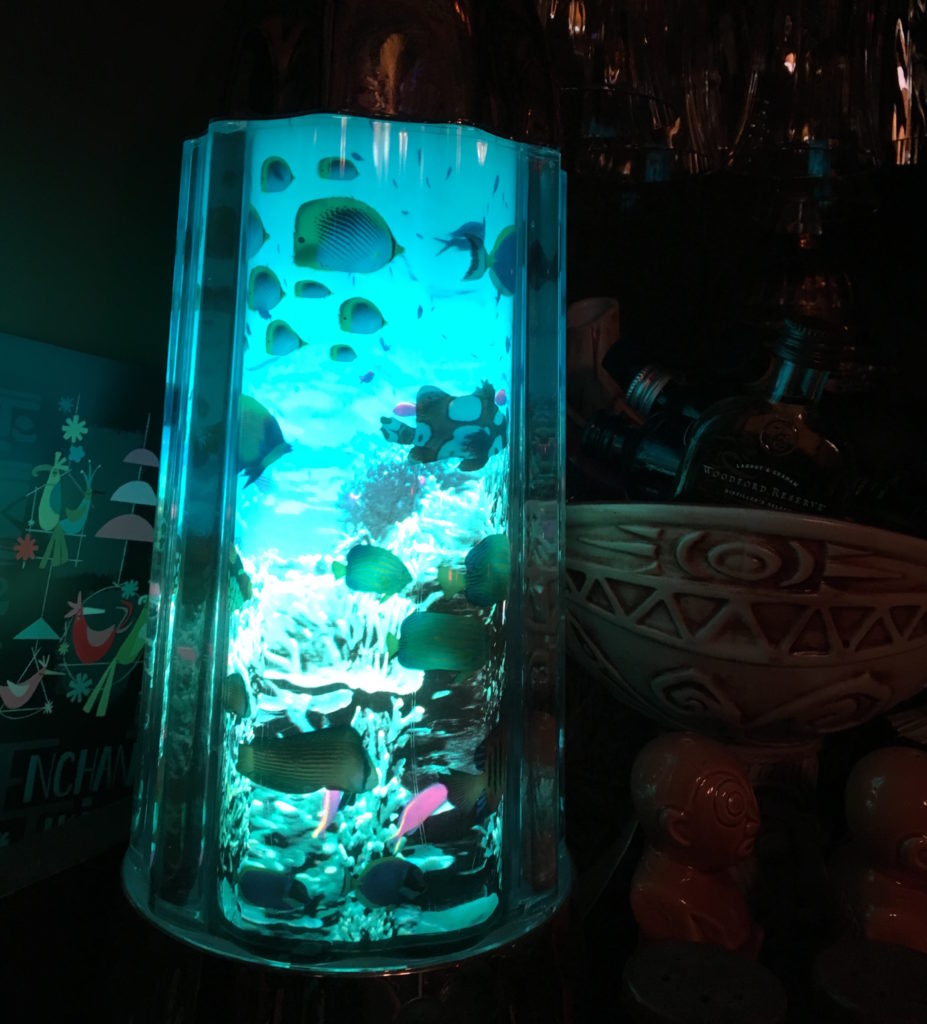 Anything else you would like to add?
Brenda– A big "Mahalo!" to all those like-minded Tiki Ohana I've met through the years. Every single one of you has been warm and generous, always willing to share with me knowledge and, of course, a cocktail. I enjoy our geeky cocktail and Tiki décor and history discussions, your music and art, dancing with you, and relaxing with you in an environment where discussions of what we do for a living rarely surface because we have many better things to do and talk about.