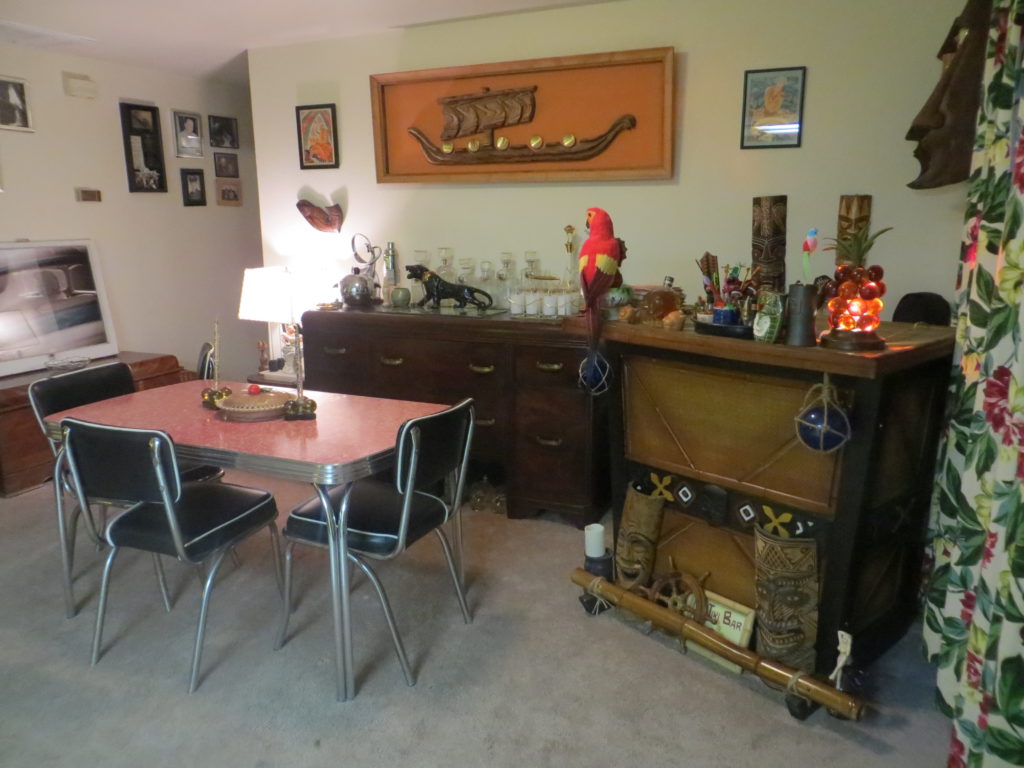 Home Tiki bars: where should you build one?
Most of the time, someone's Tiki escape is down in the basement or maybe in the garage. For Sweetie Suz and her husband Dave, it's in their living room! Why limit your love of Tiki to some spare bedroom when you can show it to everyone who walks through the door? This is the story of the Streamlined Tiki…
What brought you into the "Tiki lifestyle" and how long has it been
part of your life?
Suz- My father's side of the family immigrated to Hawaii in the late 1800s from Madeira Island, which is part of Portugal. They lived and worked on a sugar cane plantation in Maui. In the late 1910s, my great-grandfather lost his job and decided to pick up and move his family to San Francisco, where his mother and father currently resided. My great-grandmother Annie had so many fond memories of her time in Hawaii and she carried these with her throughout her whole life. I have so many memories of hearing about our family living in Hawaii from various relatives. Most of our family reunions were Hawaiian/luau themed. I'd say that my collection started with Hawaiiana collectibles, which were mainly family items given to me by my grandma. It consisted of a few vintage Hawaiian dolls, shells, and framed Frank Mackintosh menus from the Matson cruise liners that belonged to my great-grandparents. I started my collection in junior high and even had a bookcase entirely dedicated to my family's past in Hawaii. I also at that time had a small collection of muumuus that had once belonged to my grandmother on my mom's side.  Flash forward to 2011. I was living in San Diego at the time and attended my very first Tiki Oasis. I call this my 180 as my life was totally flipped around. I felt like I had finally found "my people."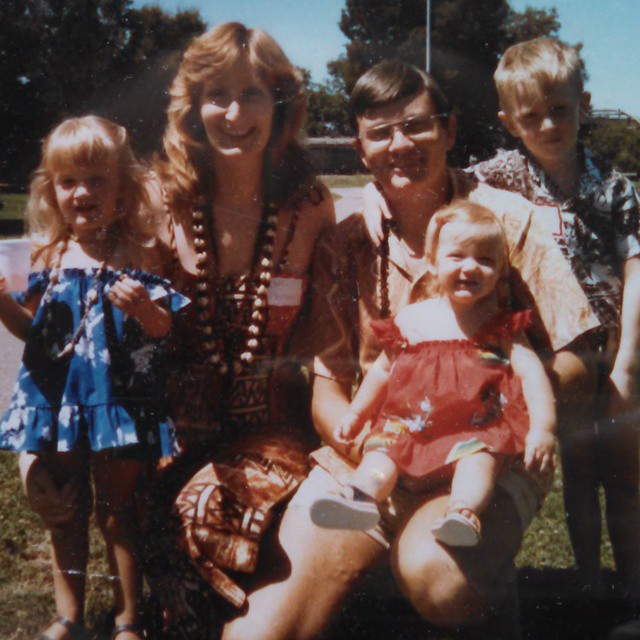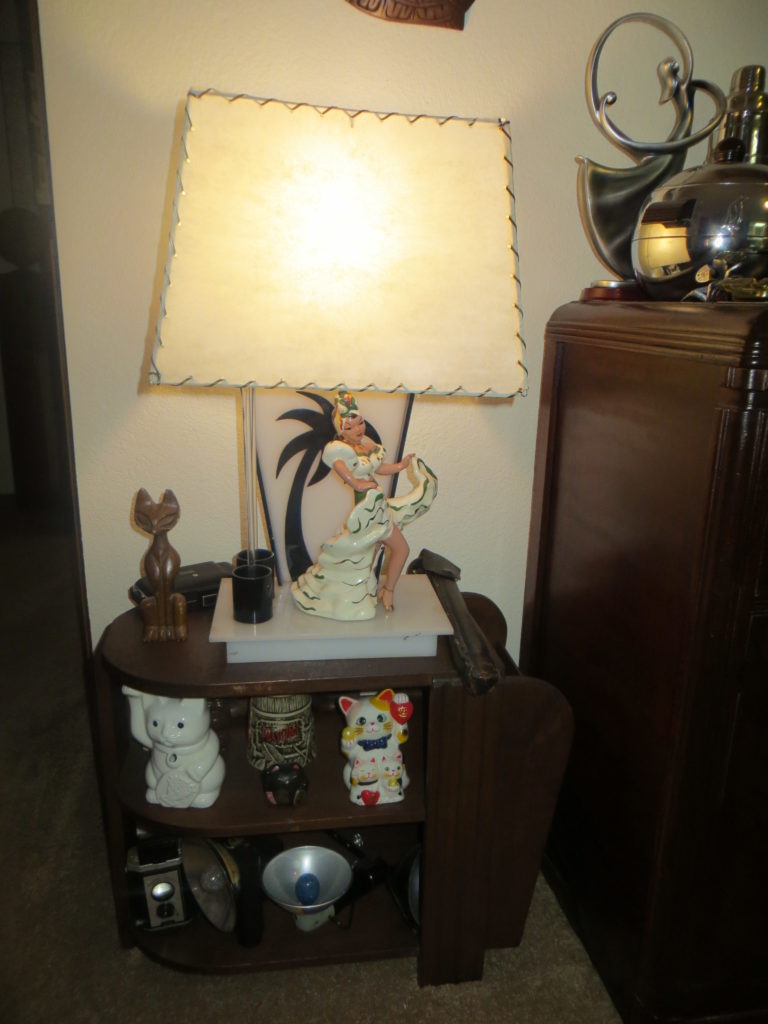 When and what made you decide to build your own Tiki bar?
Suz- I have been hoarding mugs and other Hawaiian items for at least the past twenty years.  Our first bar was actually an Art Deco buffet. My husband is a vintage enthusiast as well, but focuses more on the Art Deco period from the late 1910s through the 1940s. I'm interested in that as well, but have more of a love for the Mid-Century period. Our home is half and half Art Deco and Mid-Century, so I guess our style is more 1930s mixed with 1950s. We are also avid thrift hunters. I'd say 95% of everything we own was either bought at a thrift shop or antiques shop. In fact, we only have five pieces of modern furniture in our home. The rest is 1970 and prior. We are currently on the prowl for another Art Deco dresser and a comfy vintage couch. The bar and collection was definitely built off our love of thrifting. We are currently renters, so we haven't gone all-out on creating a bar. We are hoping to purchase a home this year and I'm hoping one of the rooms of our new home will be strictly dedicated to Tiki!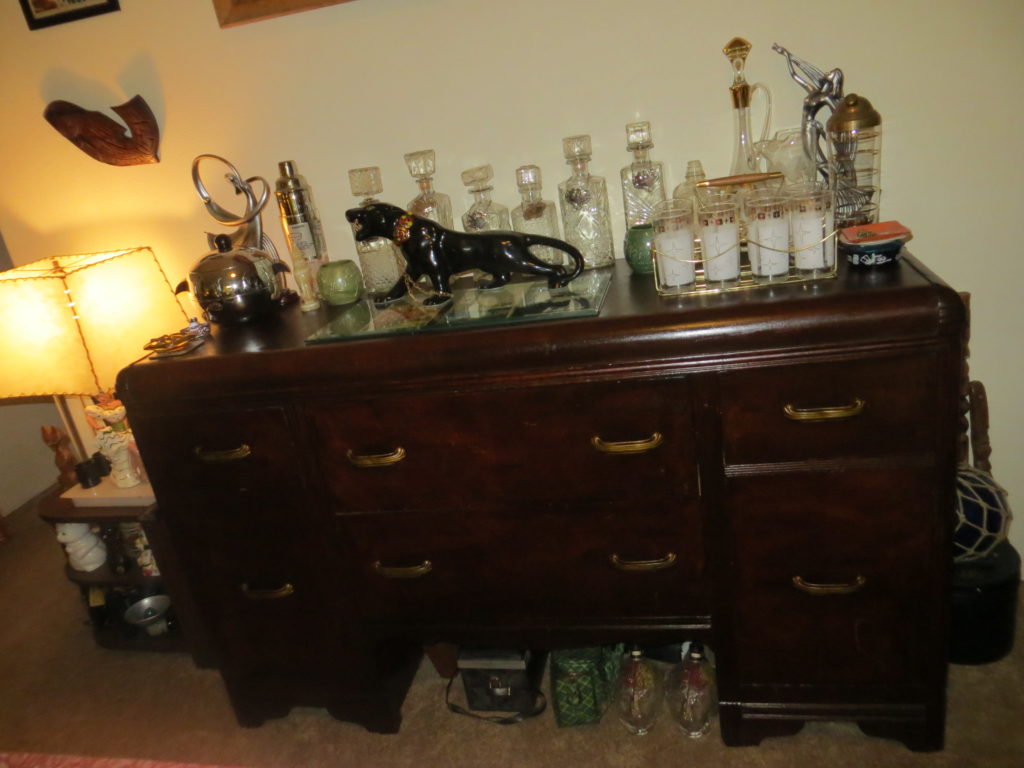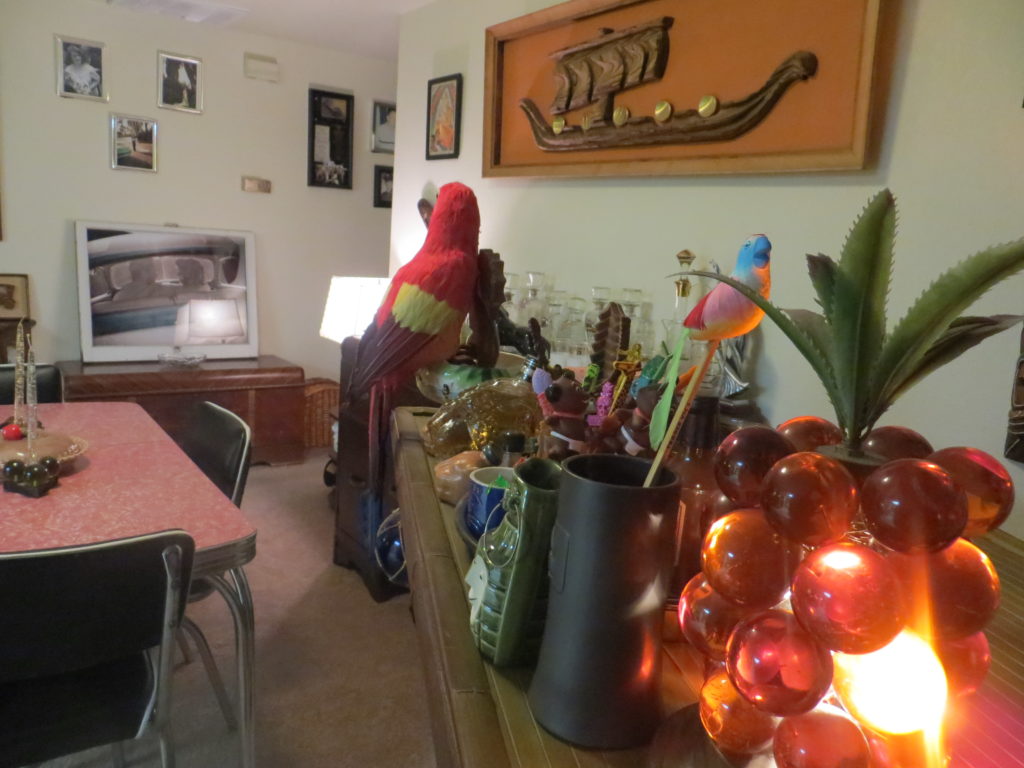 What was the first piece you bought on the path to making your own Tiki escape? 
Suz- My family memento collection started it all! I think my first mug purchase was from Tiki Oasis when I first attended in 2011. My collection is at around 200 currently. I mainly purchase them from bars I visit. Others I come across when thrifting.  I have actually recently been passing up on ones I already own when I see them out thrifting.  We are currently renters and space is minimal. I have actually given several away as gifts to friends who are fellow Tikiphiles.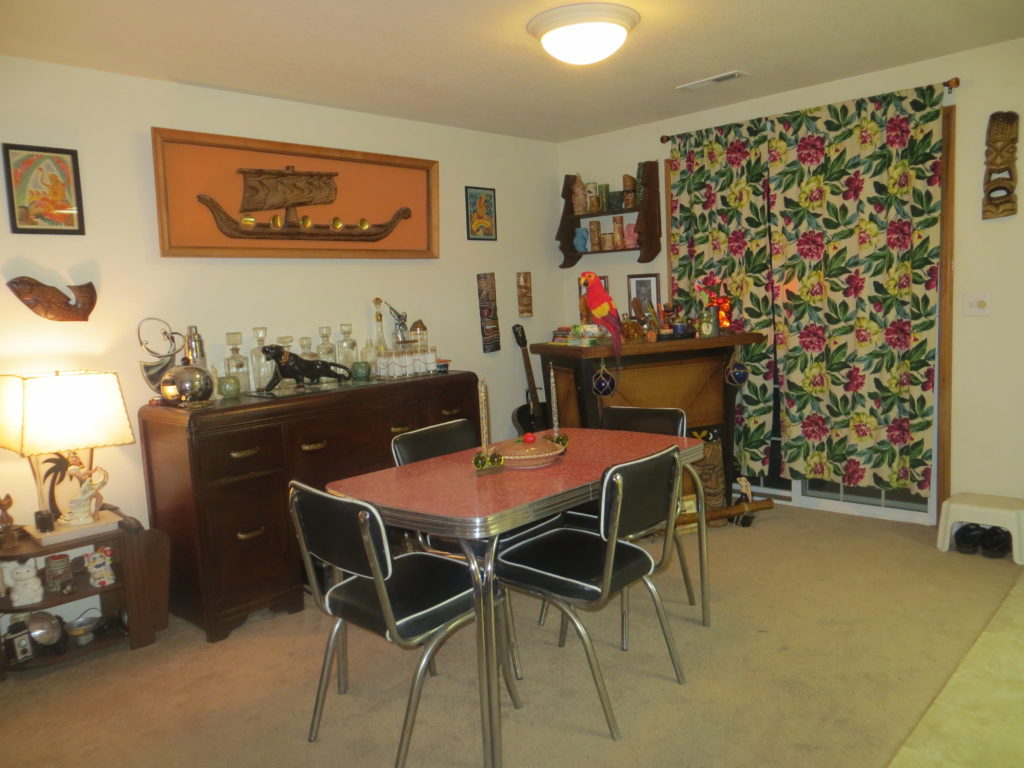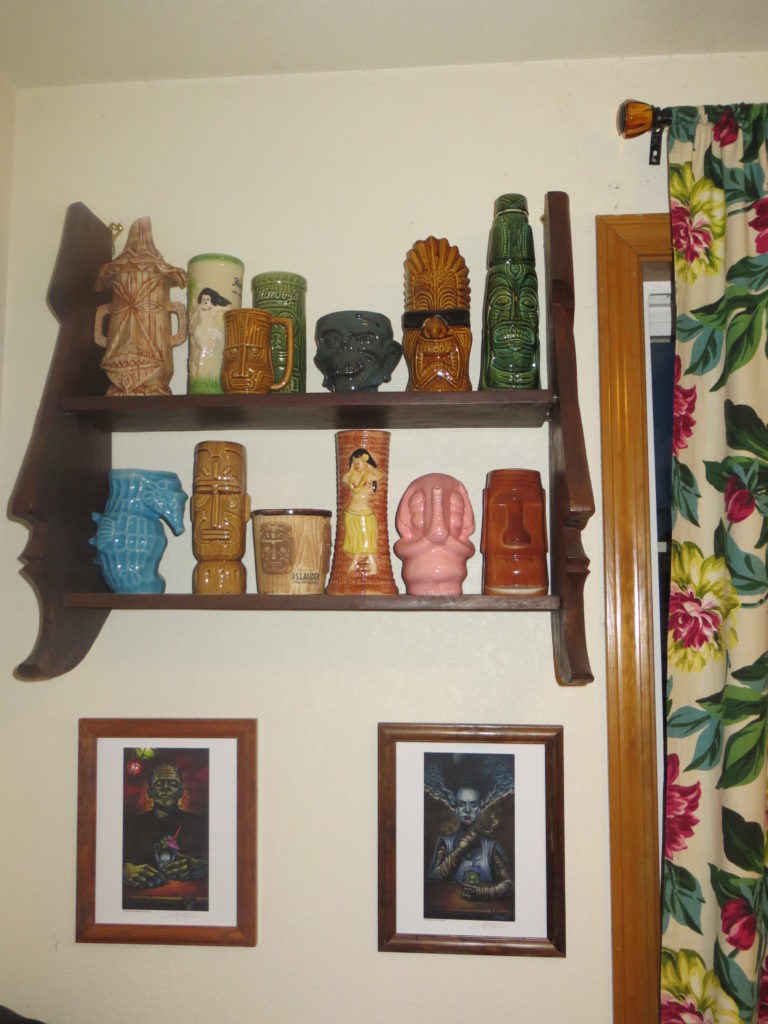 What's the story behind your Tiki Diablo bar?
Suz- Danny had announced his collaboration with Home Depot stores last spring and then the hunt was on. I found out that the bars, Tiki statues, and plant holders would be showing up in early summer as part of the store's tropical flower promotion. I tried contacting my local store to find out exactly when they expected there order and they could only give me a three-week range. So I was determined to visit the store everyday after work until they were delivered. It took seven separate trips to Home Depot until we found our bar! I had read online that the promotion was for 600 stores that were west of the Mississippi, so I was crossing my fingers it included our store in Talent, OR. I had also heard that each store was only getting one bar, so there a high urgency to find one as soon as it arrived at the store. Finally on night seven, we spotted the bar still wrapped up in packing cellophane and in a huge stack of other inventory. Luckily, there was a very nice employee handy who was willing to unwrap it and let us purchase it before it was technically available on the store floor. We are so lucky to have this bar!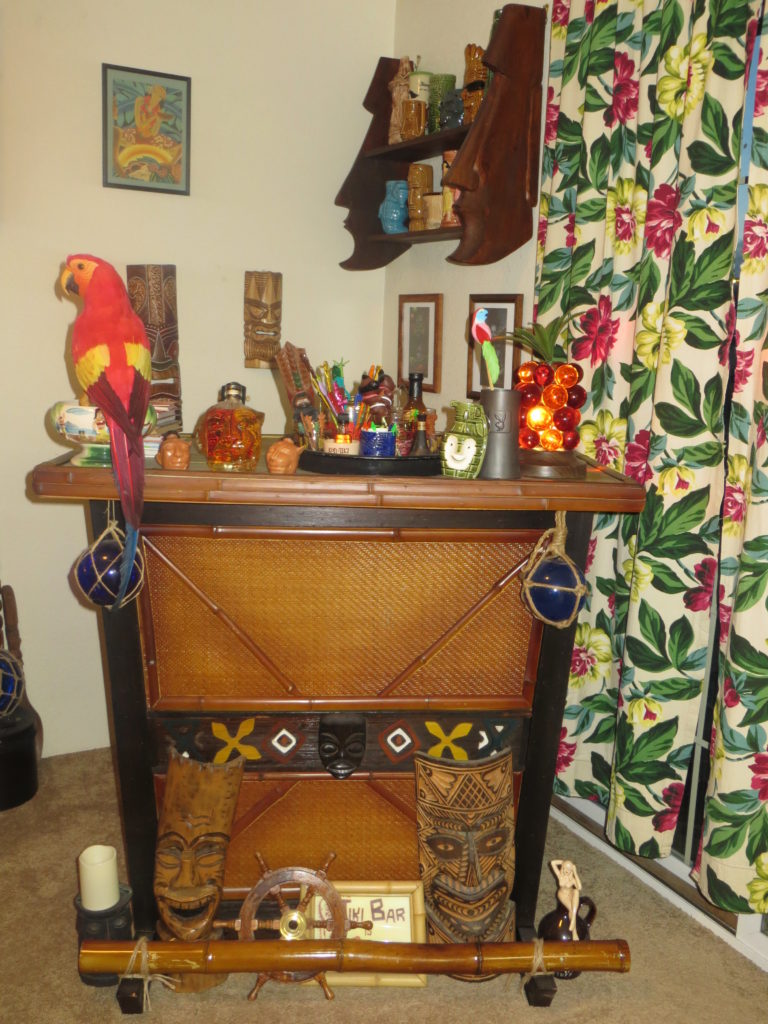 Tell me about Tiki Day at Disneyland.

Suz- I'm a huge Disneyland park enthusiast. I love the history of the park and it really through the years served as my home as I was raised very nomadically being a military brat. My family always made a point to visit Disneyland at least once a year and it became this place for me that was always there, in the same place (unlike my own home). It became my home away from my home.
I first came up with the idea for the Tiki meetup at the park when I attended the meetup Rock around the Park in 2011. I was sitting in Walt Disney's Enchanted Tiki Room when the idea popped into my head. There should be a Tiki meetup for Disneyland. I first told my friend Angie Vasquez about my idea and she brought in our mutual friend Natalie Villegas (who was already a part of the Los Angeles Tiki scene). Our friend Lisa Eglinton joined us as our even photographer and the rest is history. We will be holding our sixth meetup this coming fall.  We will announce our meetup date this coming March, so stay tuned.
The event is open to everyone! In the past, we have started the day off with a group photo in front of the Castle. Throughout the day, we have various meetups on other attractions such as the Jungle Cruise, the Mark Twain Riverboat, the Enchanted Tiki Room, and we end the day with tasty drinks at Trader Sam's Enchanted Tiki Bar, which is located near the Disneyland Hotel. We released our first mug, designed by Tiki Diablo, this last year and hope to release another one in the future.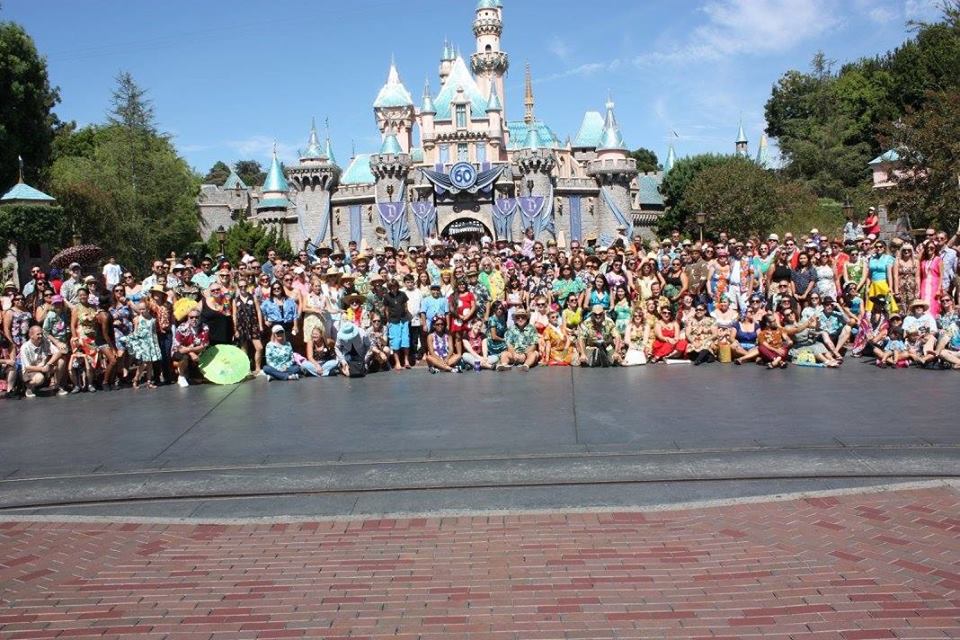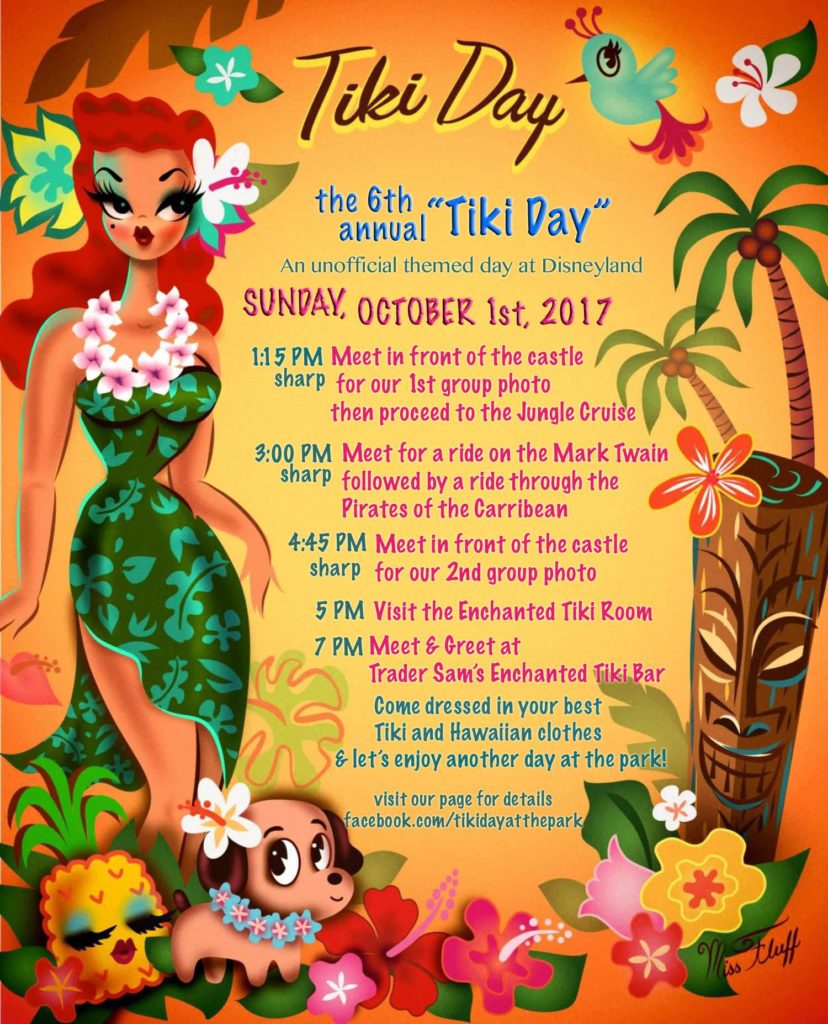 What is your favorite Tiki drink? What do you think makes the perfect cocktail?
Suz- My personal favorite drink is a Dark and Stormy. It's easy to make and hard to mess up. I like drinks that are sweet and tart. I'm also a fan of a good Chi-Chi. My favorite place to order them are at the Crowe Plaza Hotel (located in San Diego and formally known as the Hanelei). I'm also in love with all of the bars that are incorporating Dole Whip into their drink recipes. The Banana Batida at the Golden Tiki, located in Las Vegas, NV, is absolutely delicious!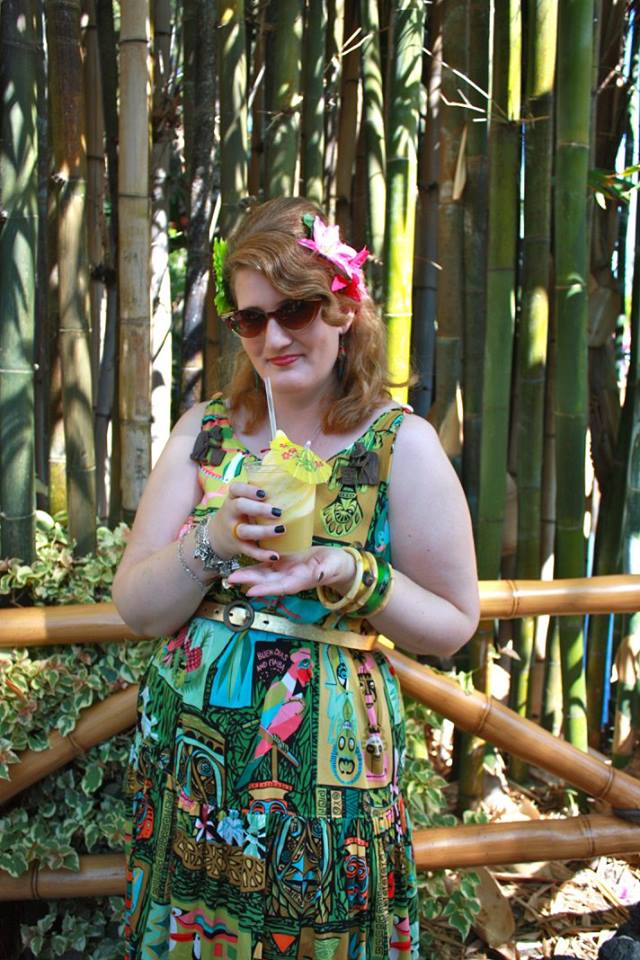 What is your favorite Tiki bar? Not including your own! 
Suz- I feel like I have just scratched the surface of attending Tiki bars in order to make this formulation. I have visited about twenty various spots and I'd have to say my favorite drinks were at Forbidden Island, favorite ambiance is at Tonga Hut in Hollywood, and favorite décor is at Pacific Seas located in Clifton's Cafeteria in downtown Los Angeles.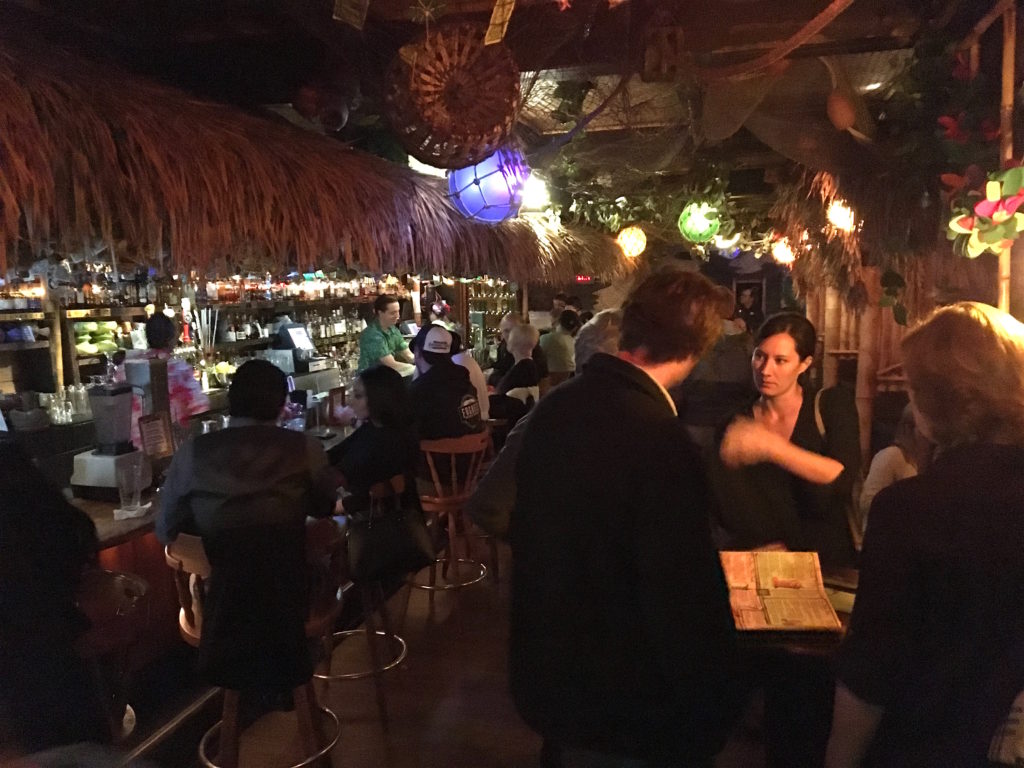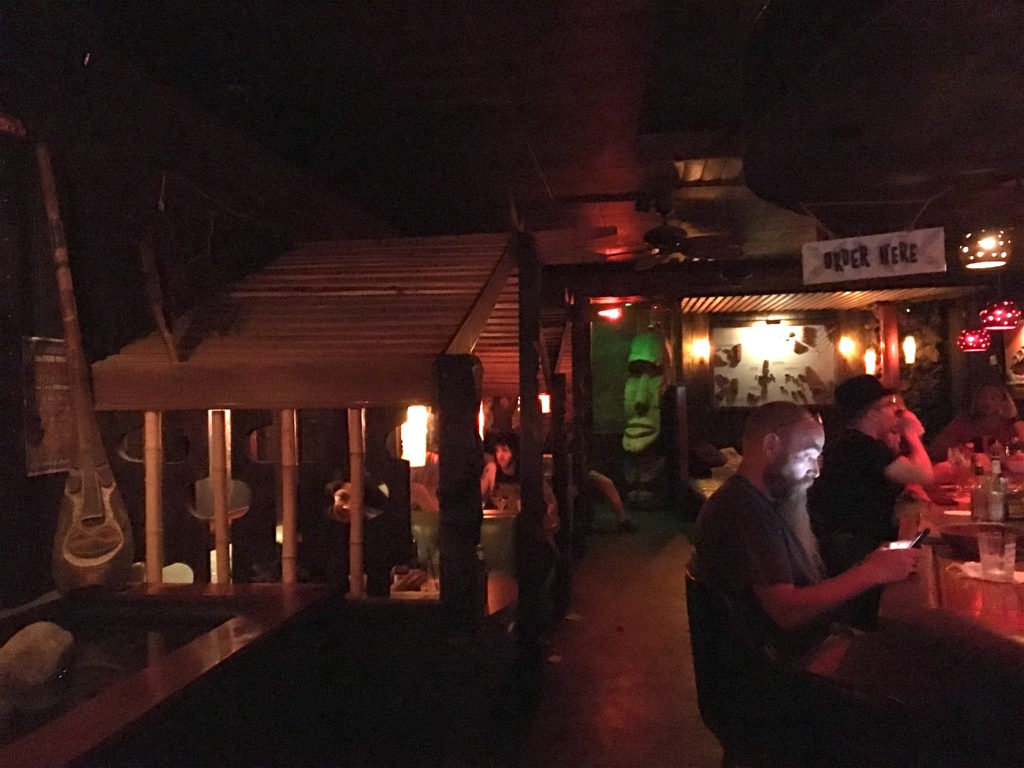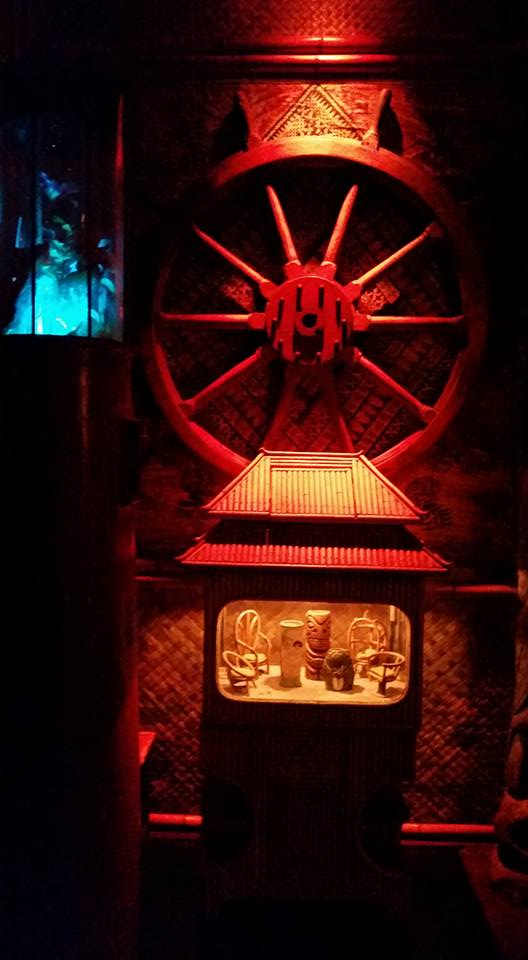 Do you feel that music has an important role in creating a great Tiki experience?
Suz- Yes! I feel like this is the biggest element in creating the right atmosphere for any establishment. If the music is wrong, the rest does not even matter in my eyes, or shall I say, ears. There is this country western-themed restaurant in San Diego that my husband and I used to like to go to. They had some of the best vintage western themed décor, but the music was always top 40 hits. It drove me crazy. It is definitely one of my biggest pet peeves. I don't want to call them out directly, but there are a few Tiki bars I have been to recently that are guilty of this for sure.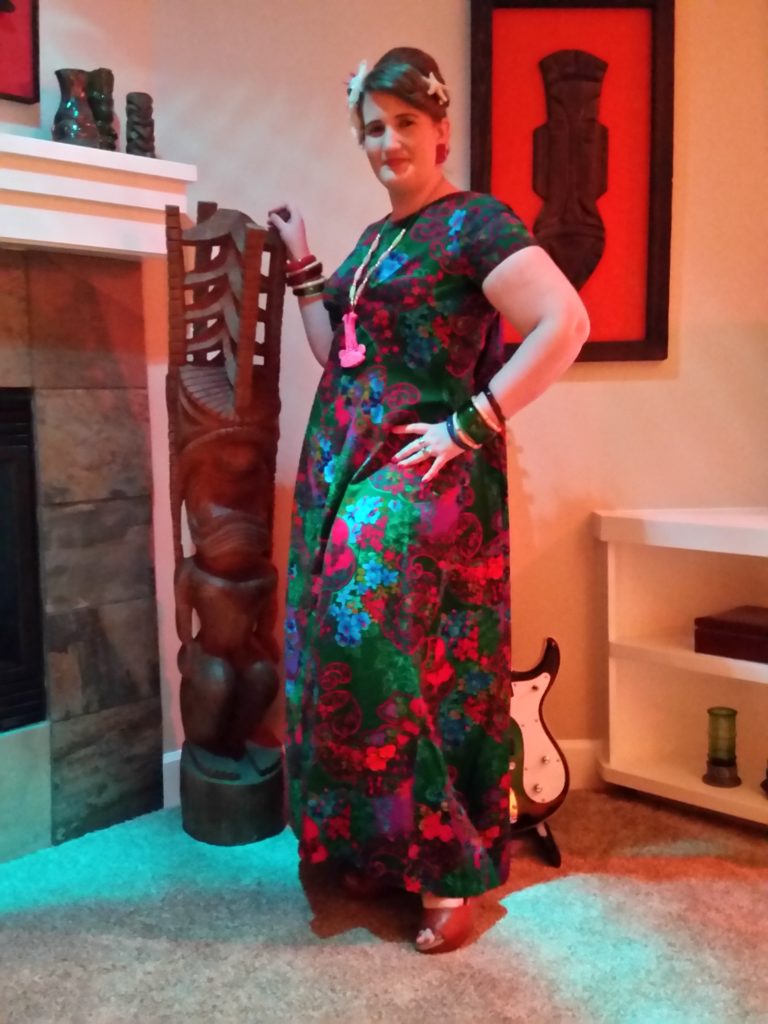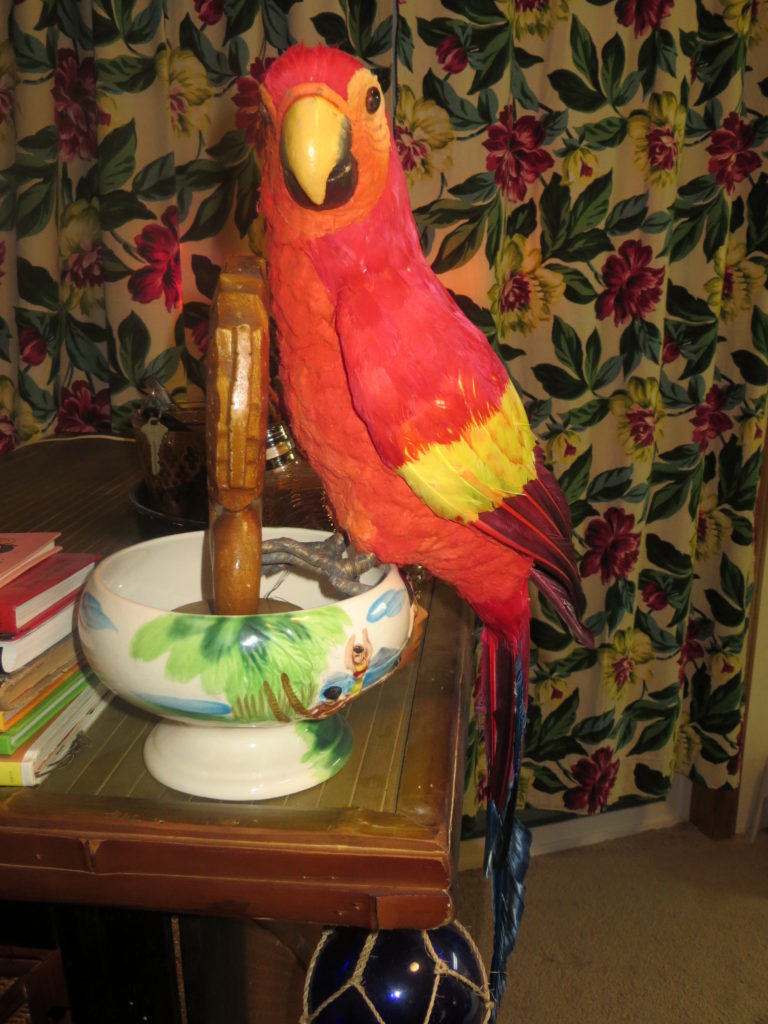 What does the future hold for you and your bar?
Suz- Hopefully the house hunt goes well and we are able to either find a home with a basement or extra room to create our own home bar. It's definitely one of the priorities on our list for our home search.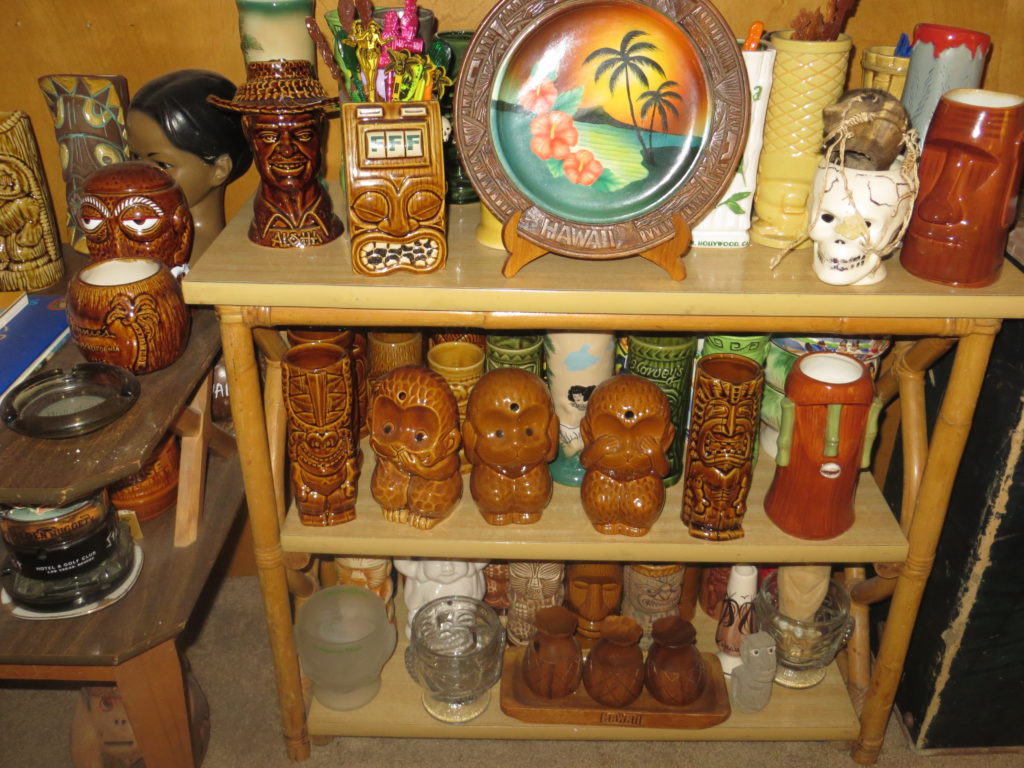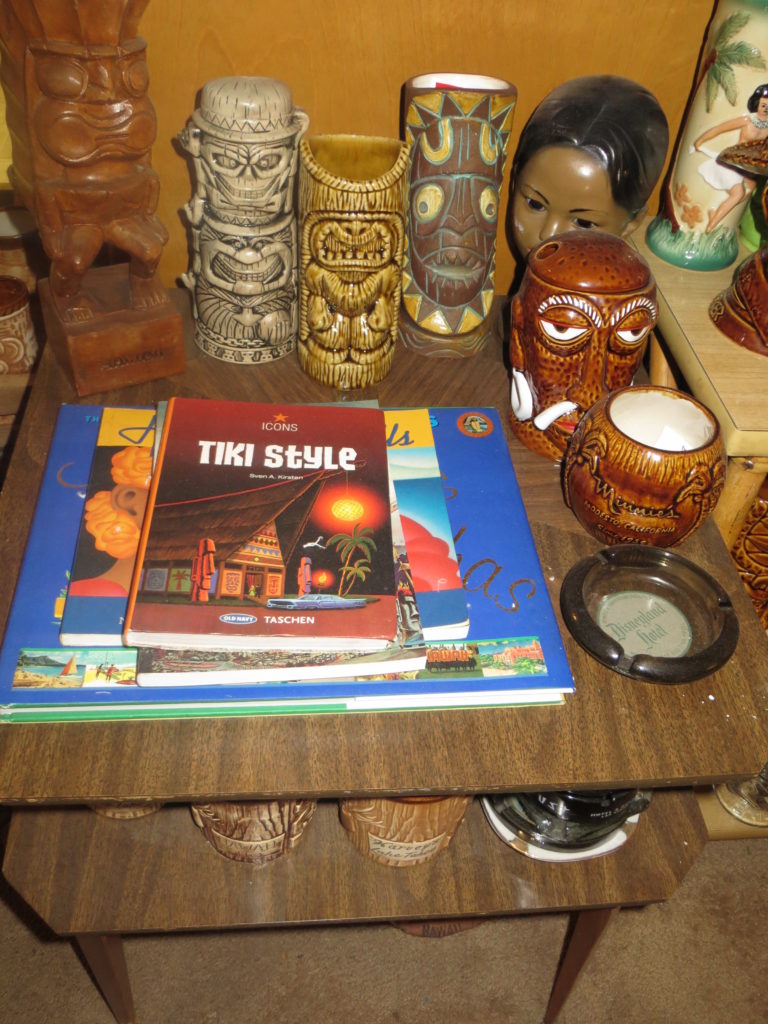 Anything else you would like to add?
Suz- Even though I feel like I have a lot of material "Tiki stuff," be it mugs, artwork, accouterments, I truly feel that Tiki is more about the Ohana. I have made so many incredible friends from the scene and continue to meet so many incredible people either at events or various bars we have visited. I look forward to what is on the horizon for our Tiki Ohana and hope it continues to grow and expand.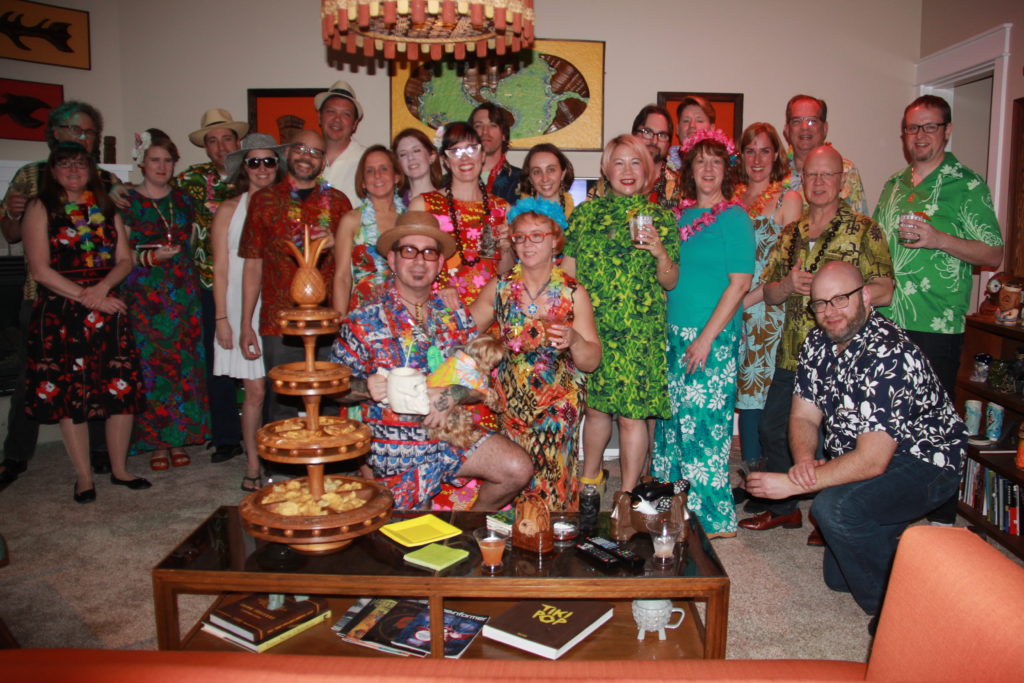 Here is the Facebook page for Tiki Day at Disneyland
Follow Suz on Instagram: TheSweetieSuz