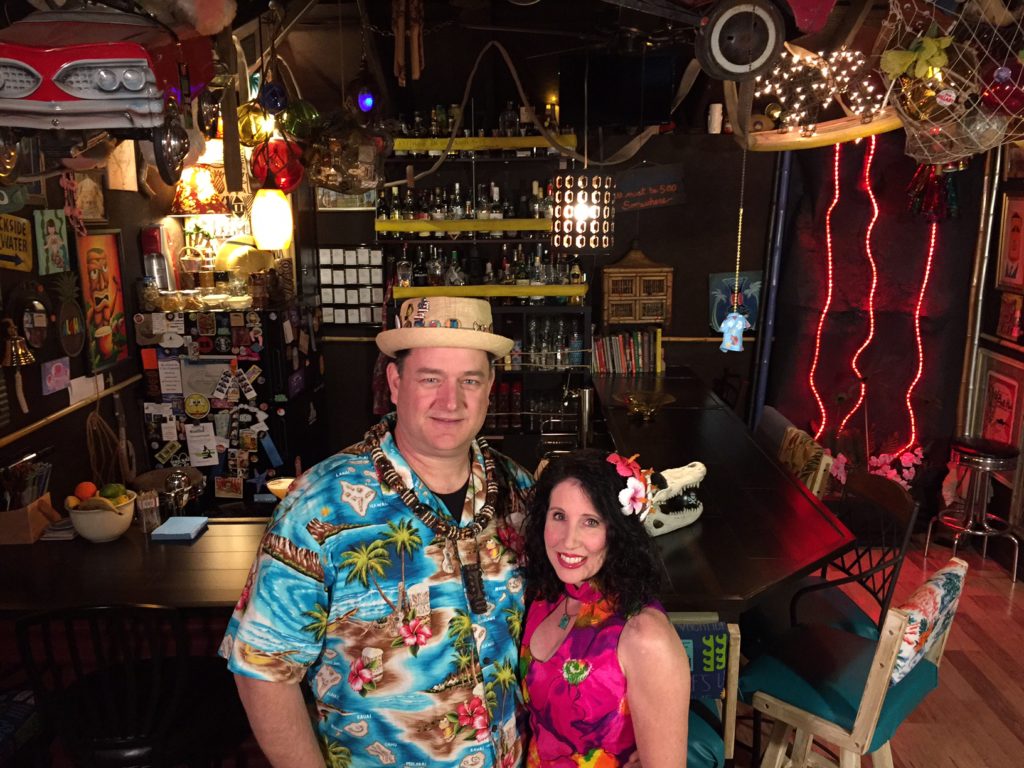 I remember reading a book from Chuck Palahniuk called Diary. The main point of the story is that everything about you is a diary. Everything is a "tell." How you act, the way you dress, the type of music you listen to, etc. Even your furniture choices show your personality.
What makes every home Tiki bar special and unique is that the space was created and designed by the owner and no one else! As the old saying goes, "You can't judge a book by its cover," but you can learn a lot about someone through their Tiki bar!
Disney, Hawaii, Tiki, and bulldogs. These are the passions of Brigitte and Jim "Kimo" Crawford and Kimo's Iki Tiki Ahi Hale tells their story…
What brought you into the "Tiki lifestyle" and how long has it been part of your life?
Brigitte– When I read the question out loud, our daughter and fellow Tiki-phile said, "It was a slow creep, not a big splash." True. I think back to my love of a very exotic-to-an-8-year-old restaurant we went to on only special occasions. They served cocktails in various Tiki mugs and their landscaping was incredible. I also know that our first family vacation with our children to Disney had all of us drawn to Adventureland as the favorite part of the park. For our 15th wedding anniversary, we made our first tip to Maui and renewed our vows at Ulua Beach. I have worn a flower in my hair for years and in both of the communities we lived/live I am referred to the as "the lady with a flower in her hair."  My fitness studio had a Tiki theme and that was a big draw for most of my clientele. If I had to put a number on it, I would say 40 years (from childhood), or the last 12 years full-throttle.
Kimo– The lifestyle? What else is there? I can't even remember when I got my first Hawaiian (Aloha) shirt! I feel like it found us more than we found it. I remember as a young adolescent going to the Coral Reef Restaurant and Tiki Bar in Sacramento and enjoying that atmosphere! We really put the gas to getting out and mingling with others in the lifestyle about 2 years ago. Some major changes in our lives made it possible to become more immersed.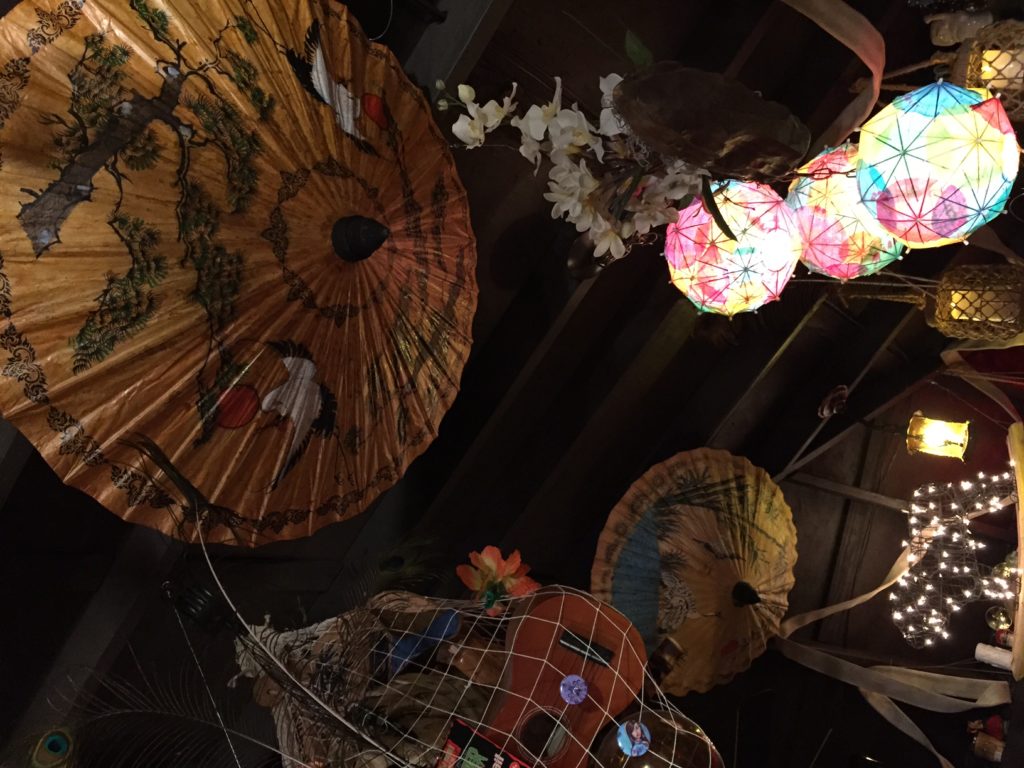 When and what made you decide to build your own Tiki bar?
Brigitte– A couple of things. First, we left a 3400 sq. ft. house for our current 1140 sq. ft. one. The Tiki collection was building. We went to our first Tiki Oasis in 2015 and realized there is an entire community of like-minded folks (plenty who live here in the Bay Area with us). I went on the 2015 South SF Home Tiki Bar Crawl and told the coordinator, "Next year we will be a stop on the crawl." James was on a fire up north, so I took pictures and told him, "We are so building a Tiki bar." We really wanted to create an environment that reflected who/what we love and welcomed all of our friends and family.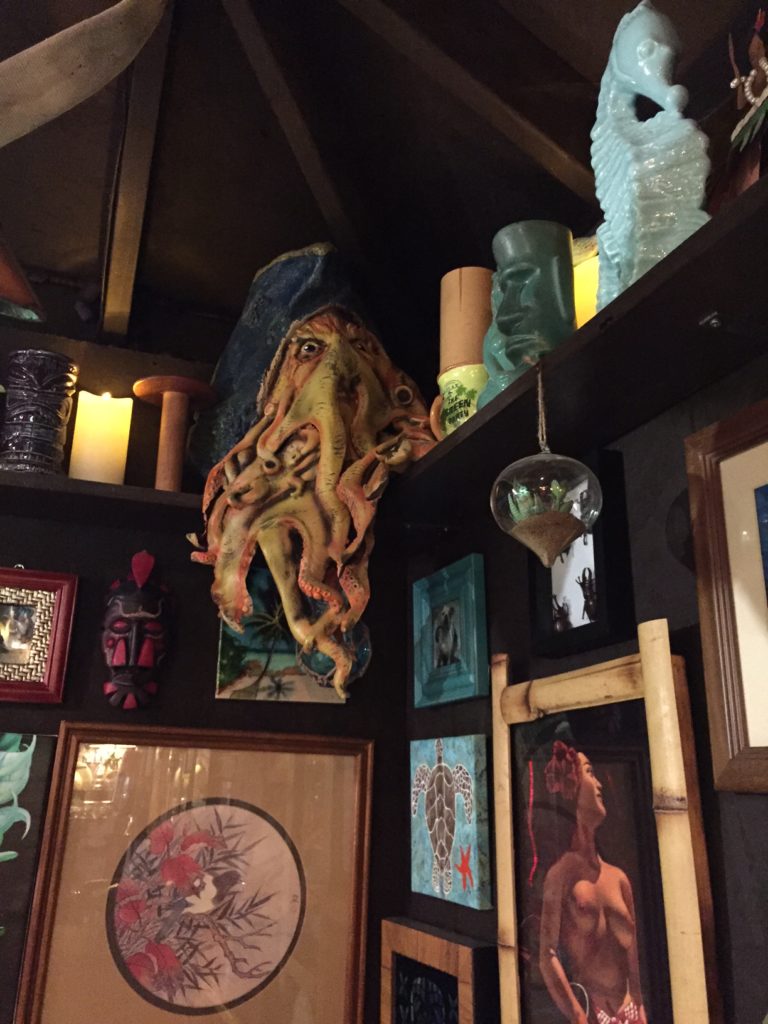 Kimo– About 2 years ago, after the first Tiki crawl that Brigitte attended (South SF Bay Area; I was at work), we started discussions about building a Tiki bar. After a few months and a whirlwind of other events (including our first Tiki Oasis), we were sure we needed to do two things: build a Tiki bar at home and build a Tiki bar Airstream that we could take on the road! One done, now on to the Airstream!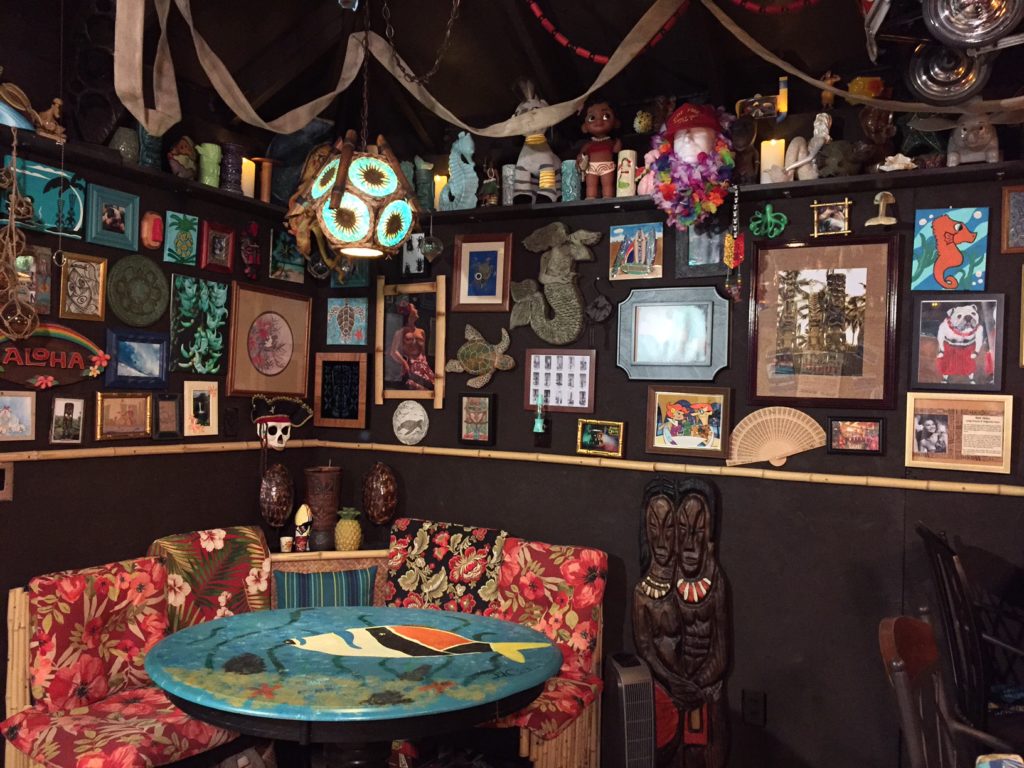 Can you give a little history of how it all came together?
Brigitte– My thought was 4 poles and a palapas roof.  Build out our outdoor kitchen and call it good. James reminded me that it can get chilly here in the South Bay and we should have 4 walls and a Hip roof. 16′ x 20' later, Kimo's was born. We built it from the ground up (broke ground March 1 and opened for business Aug. 5). We only had help with pouring the piers, putting up the Hip roof frame, one side of the roof, plus having the plumber hook up the sink/water heater and the electrician connecting the building. I scoured dumpsters, Facebook and craigslist posts for reclaimed wood for the outside and completely decorated the inside. While home alone one weekend, I even constructed the lava wall without any help. James designed the interior of the 8′ X 9′ bar area (storage, sink, counter tops, shelving) and it has come together nicely.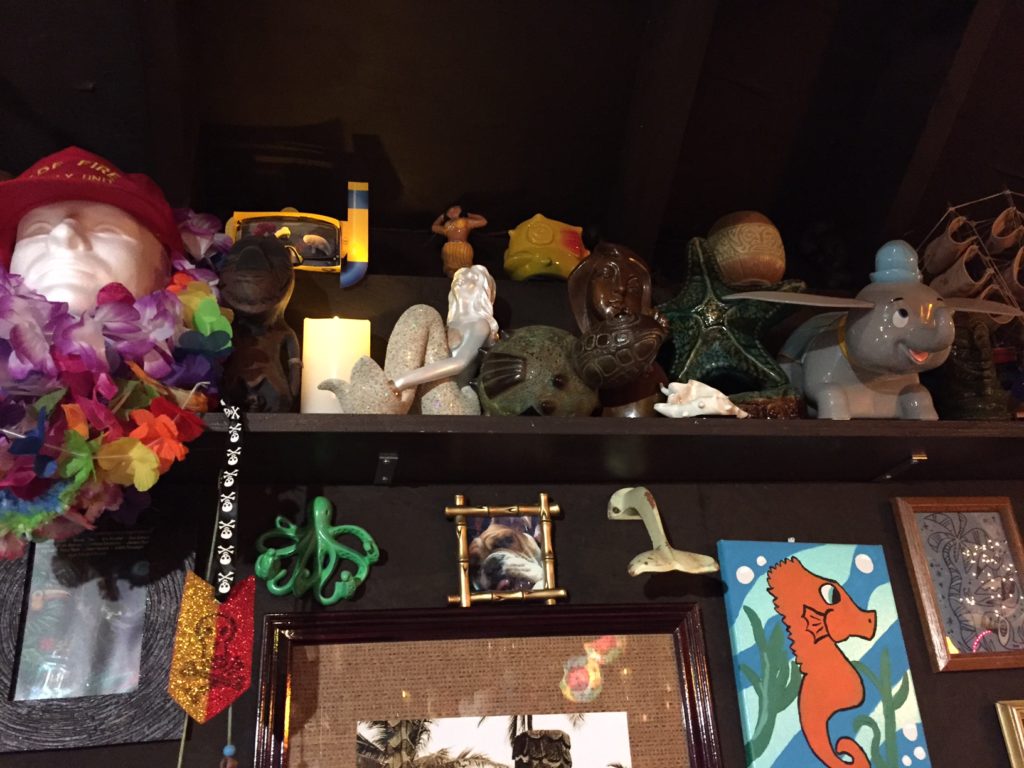 We were the Saturday night final stop on the 2016 South SF Bay Home Tiki Bar Crawl.  Despite pouring rain, there were over 40 attendees from as far north as Sacramento and as far south as Ventura County.
The exterior is a "Gilligan's Island" feel, where each side of the exterior is different (and yes, I put up each and every piece of reclaimed/cull wood myself on the 11′ x 20' exterior walls).
The interior reflects our loves and lifestyle: Disney, Hawaii, Tiki, bulldogs (we have six English bulldogs), and the fire department. All of this is married together with art, mugs, kitsch, knick knacks, and the like. I am most proud that. Probably 80% of the art on Kimos' walls has been done by artists we know and can call Ohana.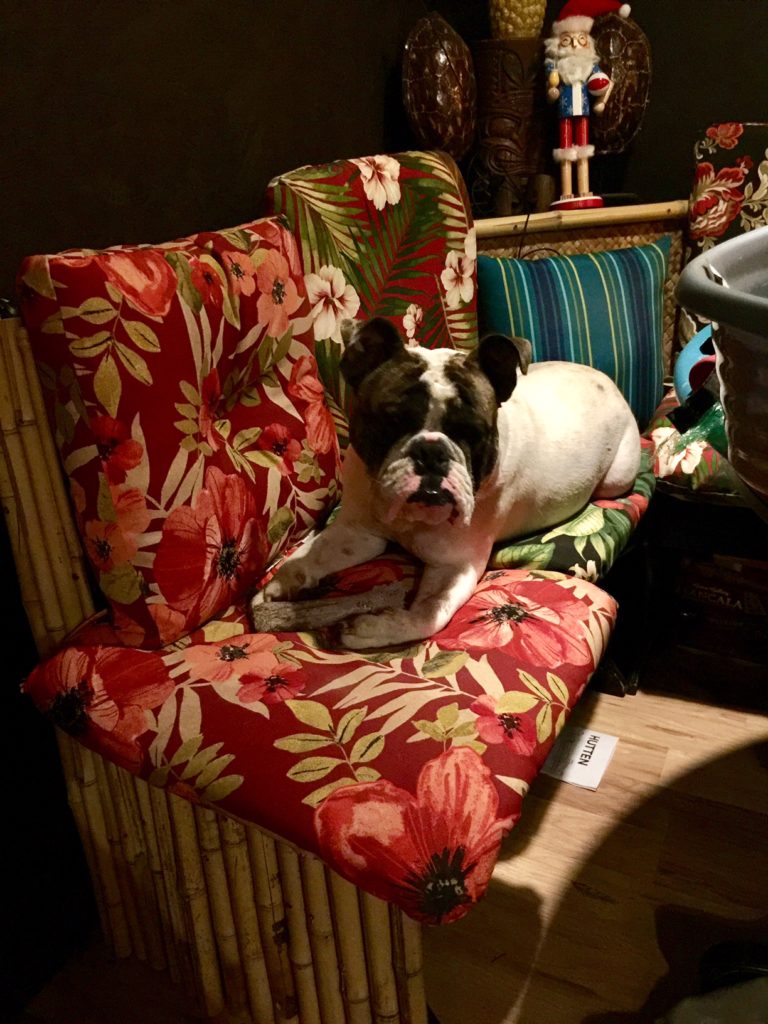 It is our piece of paradise and our motto is the cheeky, "E Como Mai".  All are ALWAYS welcome and we have had folks from all over come to the area and want to stop in for a peek and I get on the PuPus and Kimo makes up the cocktails!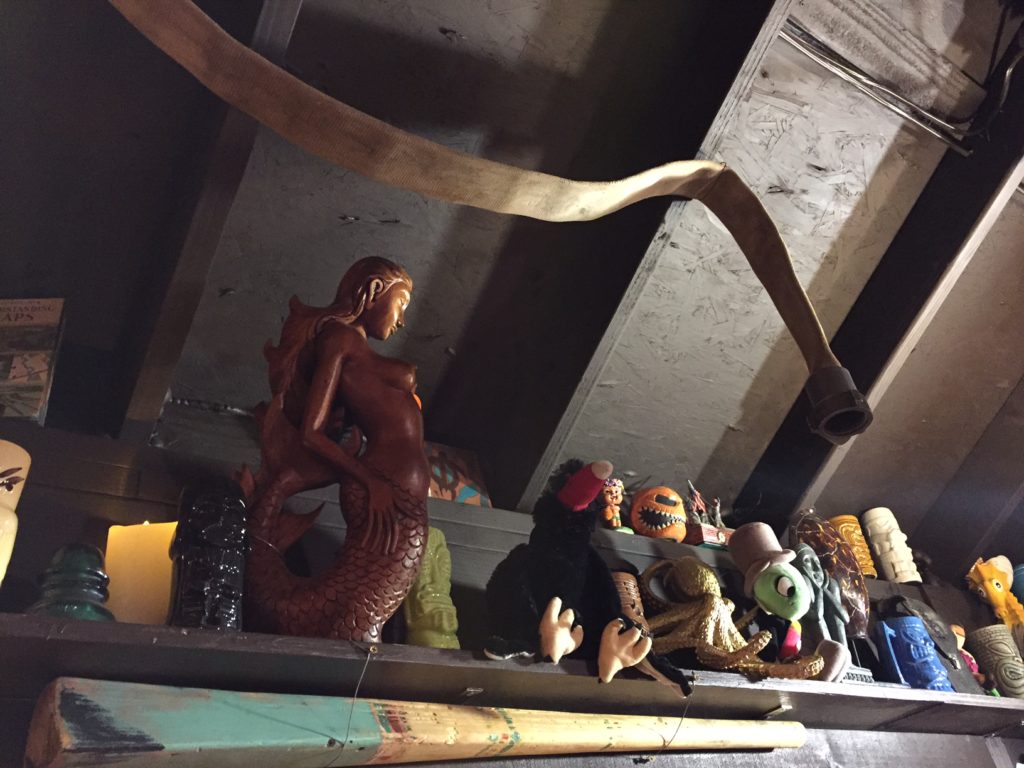 Kimo– We decided as I stated above and then we figured out a location in the yard, pulled out pencil and paper, and started looking at designs. We wanted to be sure we could take it apart. We looked at other bars and wanted to do our best to make use of the yard and building space. There were many nights and weekends, interruptions and distractions, but we got it done!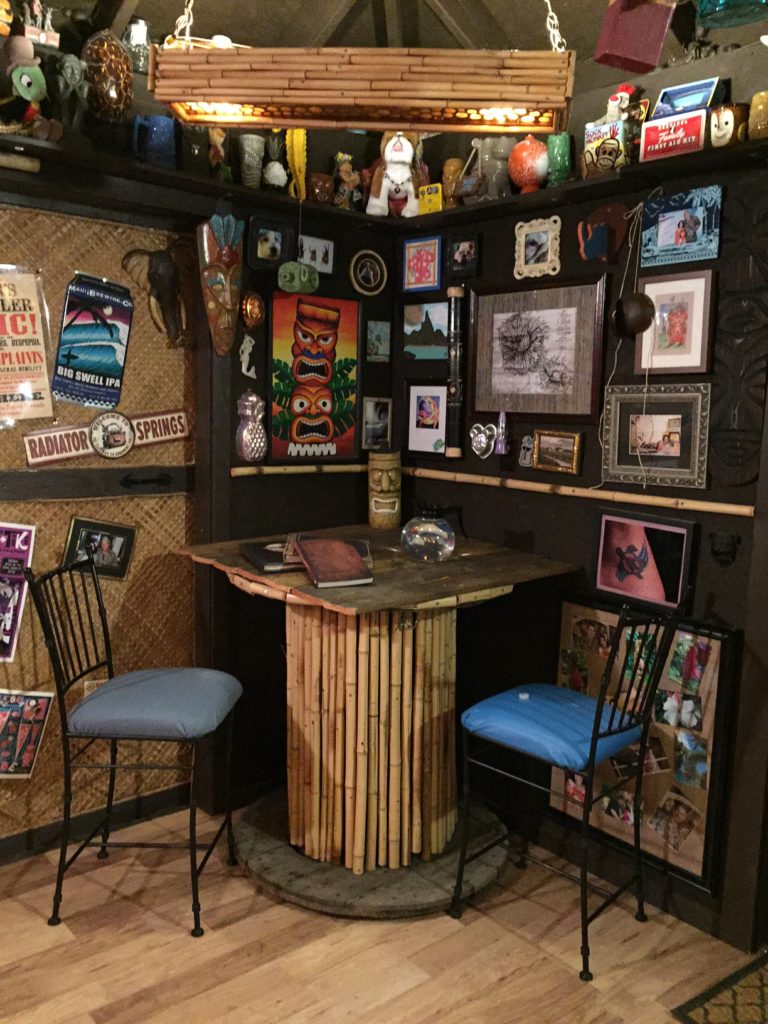 How did you come up with the name of your Tiki bar?
Kimo– That was ALL BRIGITTE!  Fun and a little silly, but all ties in.
Brigitte– Our bar is called "Kimo's Iki Tiki Ahi Hale," rough (Hawaiian) translation: Jim's Little Tiki Fire House. James is the fire chief and we live in a little house on the fire compound.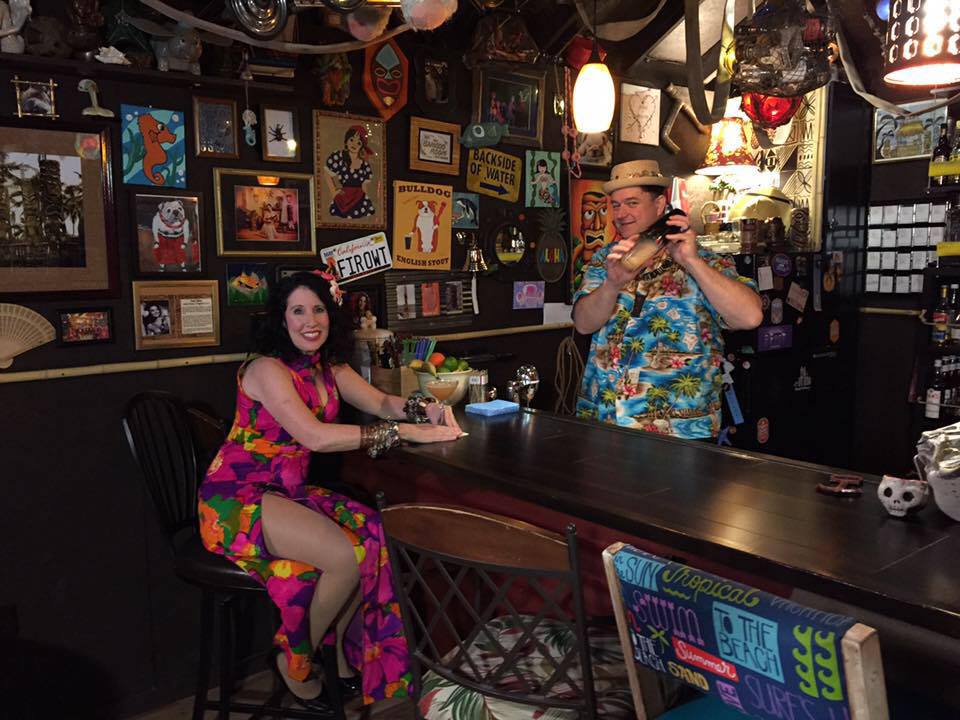 What is your favorite Tiki drink? What do you think makes the perfect cocktail?
Brigitte– My favorite is the Saturn. I believe that the perfect cocktail is born when the bartender knows and loves their craft and puts in that little extra effort for each recipient.
Kimo– I have yet to find the perfect Tiki drink, but still trying. As I have learned more I have enjoyed the tasting of many different rums and that is a true enjoyment. Tiki drinks are good too, but something about the spirit in its pure form. We have over 50 different rums at Kimo's. Most are some type of blender's idea of perfection—most are awesome!
The perfect cocktail is truly a blend of an attentive bartender that enjoys the craft and that bartender's understanding of the consumer. It is not as much about the perfect recipe as it is about the match of consumer to server.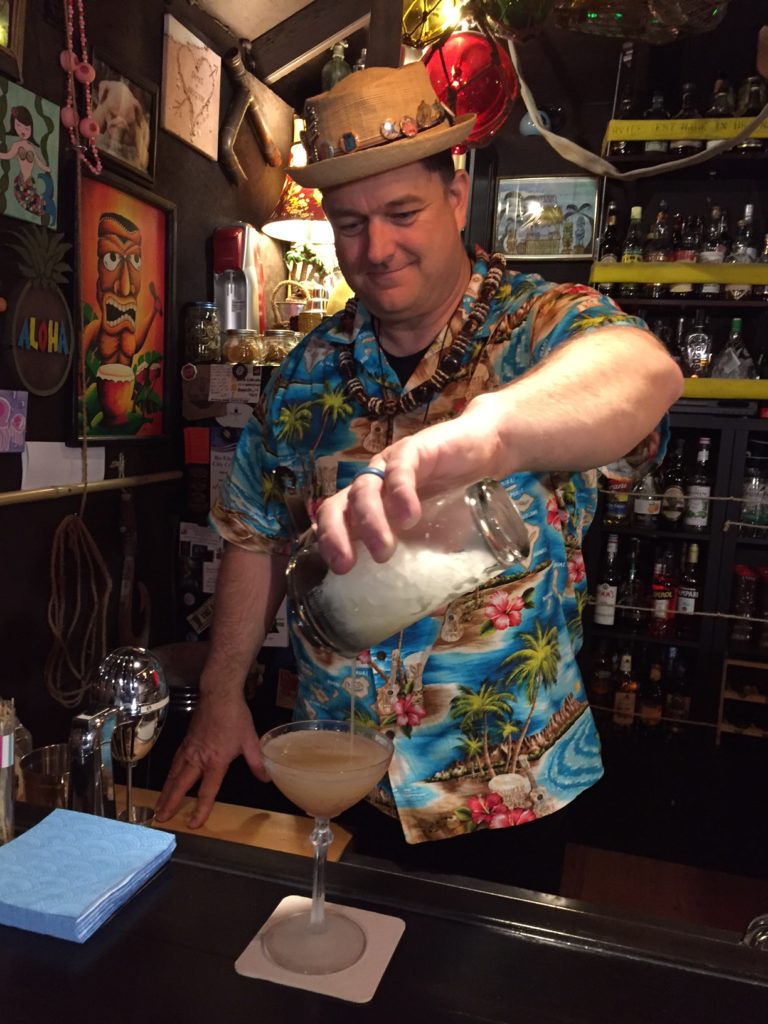 What is your favorite Tiki bar (not including your own!)?
Brigitte- That is a trick, if not very difficult question!  Trader Sam's at Disney. They are Ohana there, James plays fantasy football with them, Eric officiated our vow renewal in front of Sam's for our 25th Anniversary—a whole other adventure to share another time. Forbidden Island. Once again, the crew is family and we expanded our Ohana ten-fold thanks to traveling up the to the island. Pagan Idol and Jungle Bird for the same reasons: the connection we have with the bartenders and their love and dedication to Tiki.
Kimo– It's wrong to judge. I am still so new at this, I don't even know what I don't know!  Anyplace where the establishment enjoys the consumer as much and the consumer enjoys the establishment! We have met a number of great owners, managers, bartenders, and servers. Become friends with some and cherish our friendship! We have seen different examples of successful Tiki bars and we enjoy them all!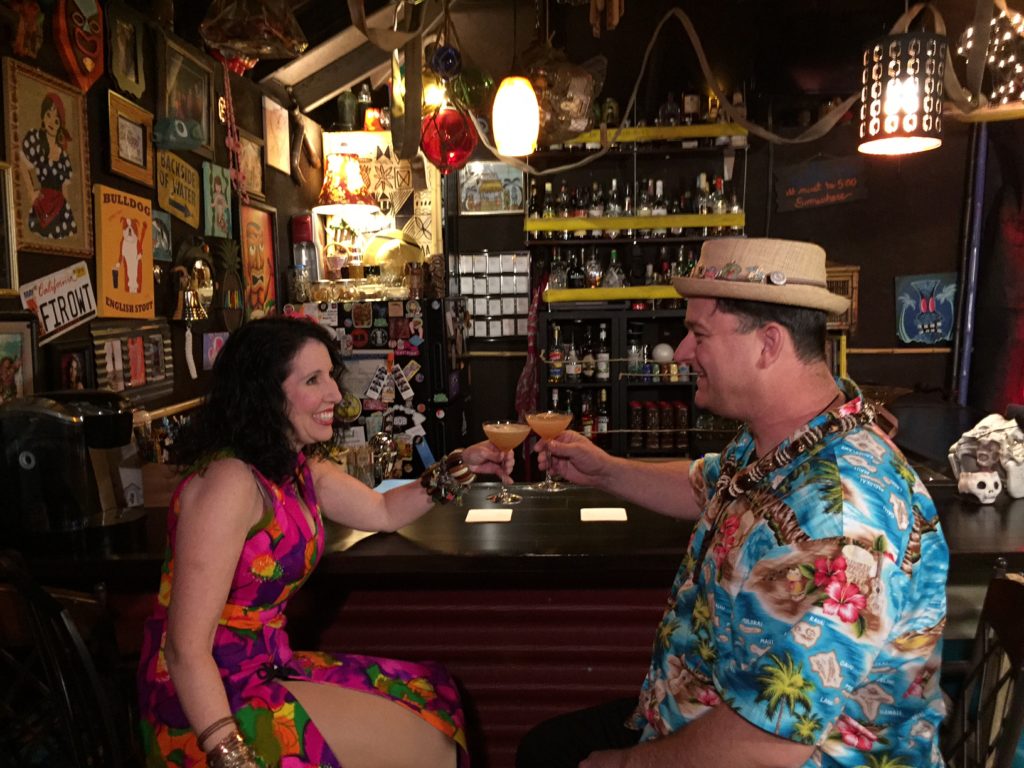 Do you feel that music has an important role in creating a great Tiki experience?
Brigitte– Yes. My decade is 1955-1964. It takes every decade a few years to establish their identity. I love the Exotica, love the old-school Hawaiian genre. Sprinkle in some Jackie Gleason Orchestra, Classic Sherman Brothers Disney, Don Tiki, Tikiyaki Orchestra, and a few others and I don't need much more!
Kimo– Yep! Music came before the Tiki for us. It has always had a strong influence on our lives. One could just blog on that!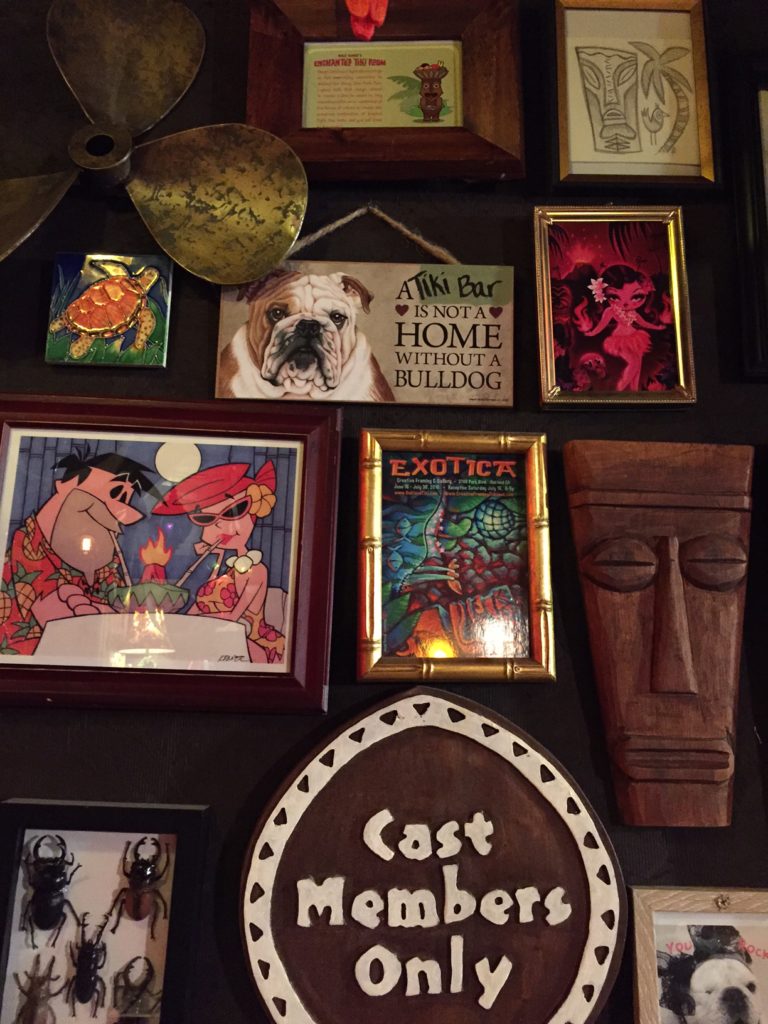 What does the future hold for you and your bar?
Brigitte– Plenty more opportunities for PuPus & Cocktails. Our inaugural party was for my birthday and it was themed Baby Dolls & Cabana Boys. We like just Tiki, but also themed nights just to add another layer of fun!
Kimo– Kimo's has less than an 8-year life. It will be torn down. Change will happen. Change has happened more than once for us. It will be reborn in a location at a better latitude!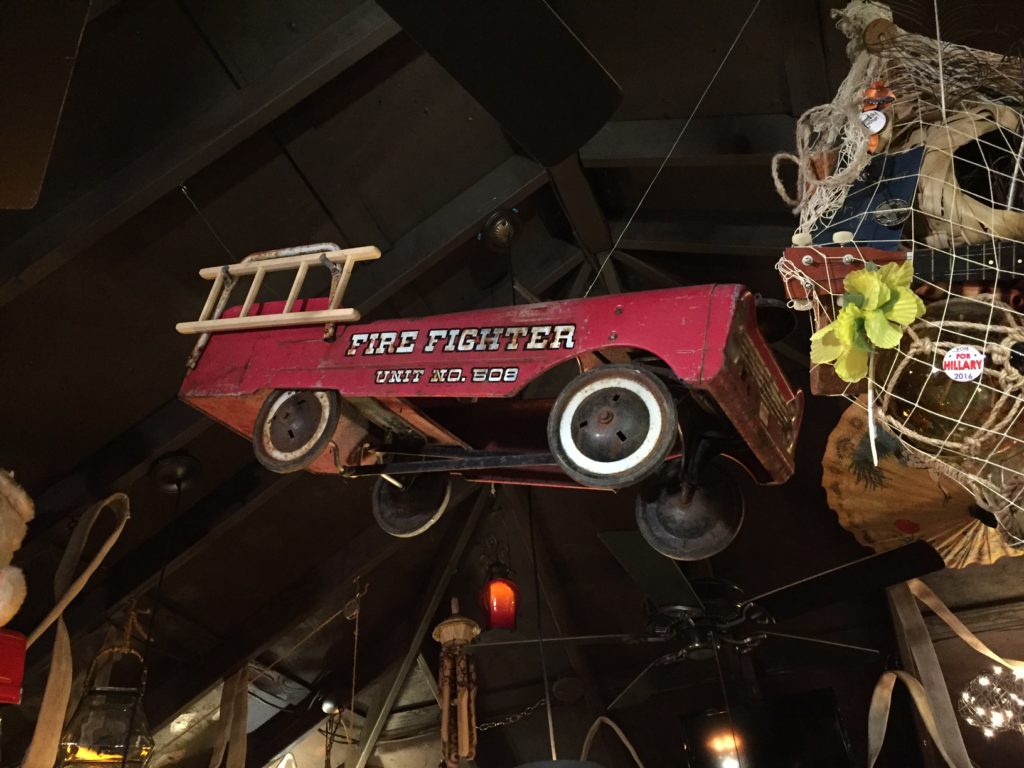 Anything else you would like to add?
Brigitte– Anytime anyone is in the neighborhood, we are just moments off the 101 and would love to share PuPus and Cocktails.
Kimo– Enjoy the culture, including Polynesian and Tiki! Don't take yourself too seriously, or others too seriously. Enjoy the experience without judgment! To steal a quote from Hard Rock Cafe, "Love all, serve all." To serve is more than a drink….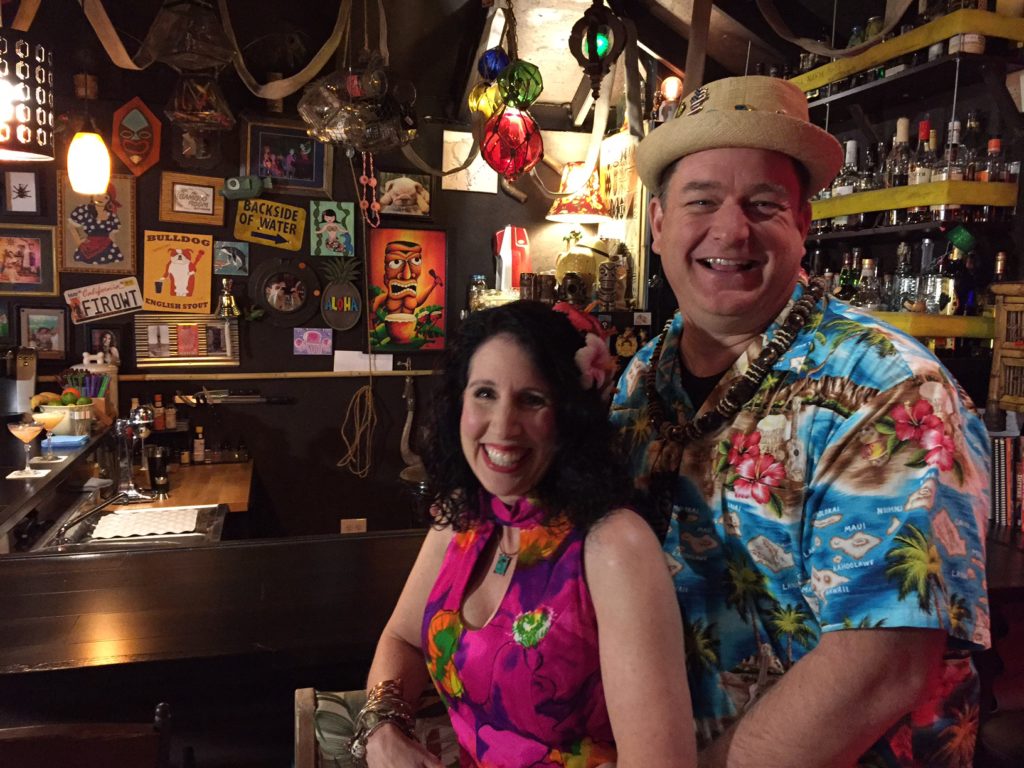 Like Kimo's Iki Tiki Ahi Hale on Facebook!