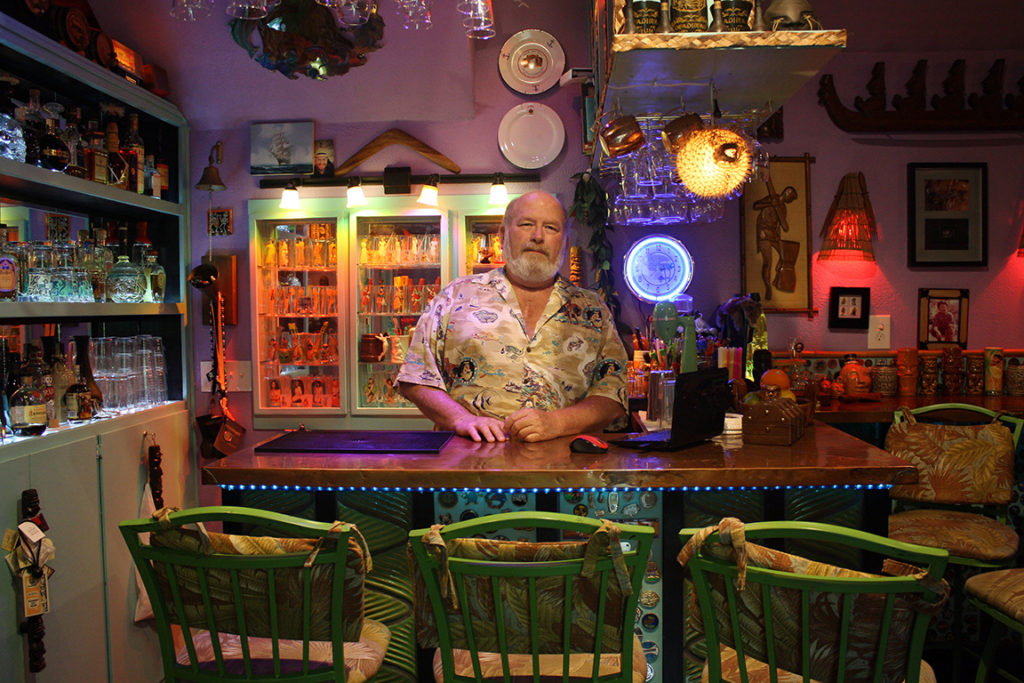 Remember that old saying "as the crow flies?"
It meant the actual distance between two points via a straight line. The town of Olalla is only 15 miles away from Seattle, but that doesn't mean it's close—let alone easy—to get to. The Puget Sound stands between Seattle and Olalla, which means you have two ways of getting there: taking a ferry or driving around and below the Puget Sound. A ferry trip is not cheap, so that means driving is the best way to get there. Why all the fuss about getting to Olalla? Because Debbie and Mark Whitehead live there and down in their basement lies the Fuzzy Smudge…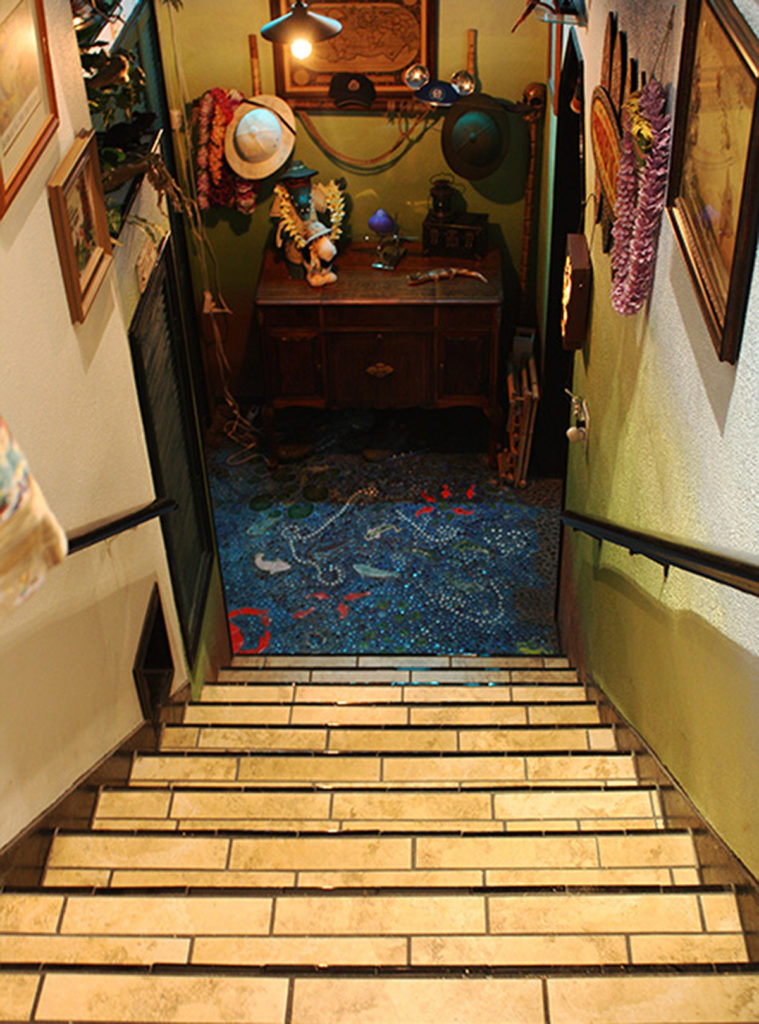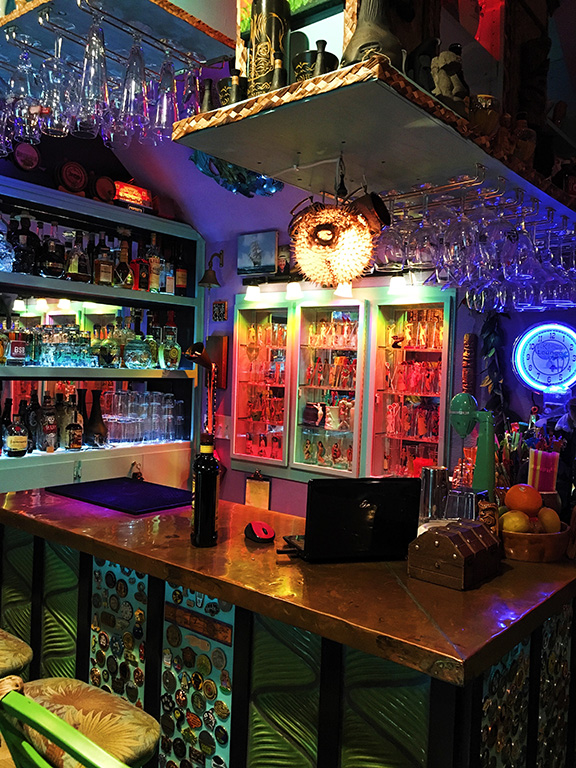 Here is Debbie and Mark's story…
How did you get into Tiki?
Debbie- I think it really started for me when we went to our first Tiki Kon in Portland. Being a collector of stuff, this opened up whole new doors to treasure hunting and learning.
Mark- I didn't so much get into Tiki as I was sort of drug into it. I knew of it of course, but that was about it. After Tiki Kon, I started to enjoy it and it slowly ballooned from there.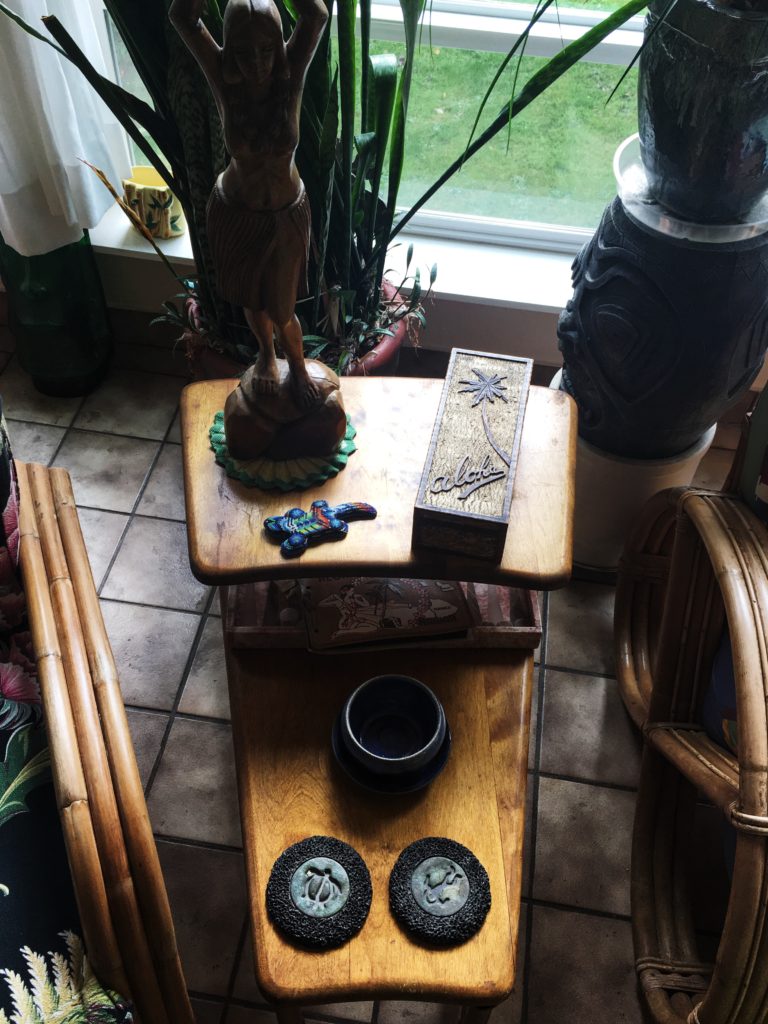 How did you and Debbie meet?
Mark- I was her Dial-A-Sailor date. The ship I was on was sent up to Portland for Rose Festival. We were told about this DaS program on the way there. The guy I was running with looked at the notice board and signed us up for a date with a couple of gals. As it happened, Deb was my date. We hit it off and saw each other the next day as well. The day after that, she had to work, and the ship was leaving to return to San Diego.
How did you come up with the name of the bar?
When we bought the house, there was a grease and hair smudge on the floor in the Fortress of Solitude (the shop). There was a lot of discussion among us and our various friends about what it was. Some thought is was a rat, some a cat, some (including me) a squirrel, and one smart-ass said it was a wombat! I finally pointed out that it was my shop and my fuzzy smudge, therefore it was a squirrel. Sometime later, when we were trying to come up with a name for the bar, we both hit on the Fuzzy Smudge at the same time. So, the place is named after a dead squirrel.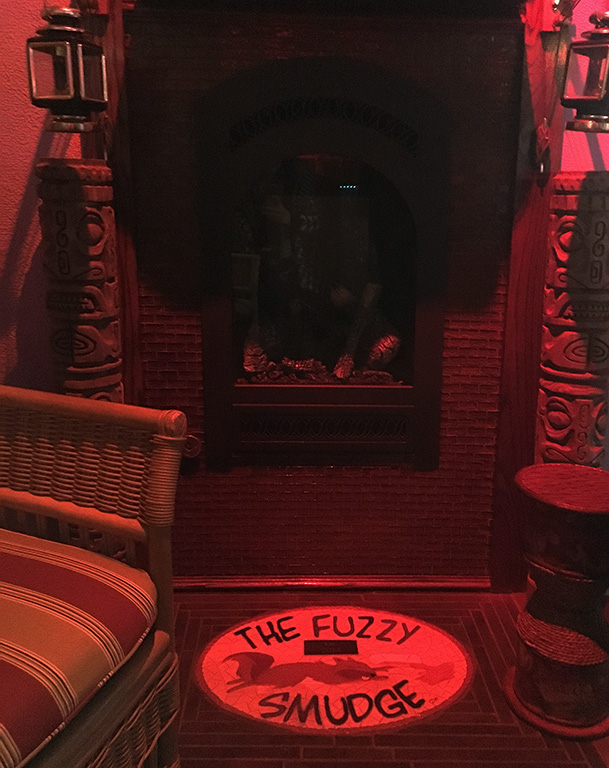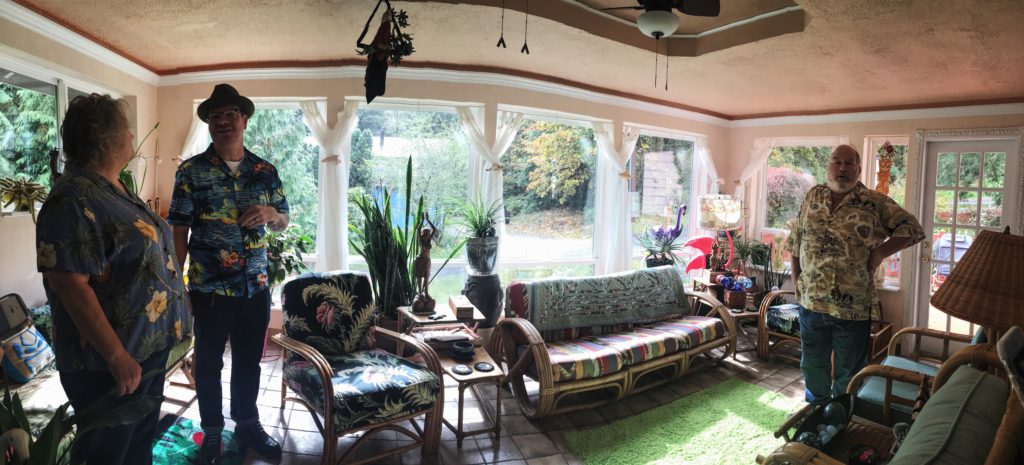 How did the English library come about?
I've wanted a library for a very long time and I wanted it to reflect the old-style English libraries you would see in the movies of the '40s and '50s. One of the first room assignments when we bought the place was which room was the library going to go in. It took a bit to nail down the look of the shelves and the lighting for them and for the room in general. Once those were ironed out, we made a trip to Ikea for the tall shelves and their lights and Fred Meyer for the smaller shelves. The color scheme was determined very quickly, as was the scheme for the furniture that's in there. Every book in that room has been read by one or both of us. We don't do "decoration books."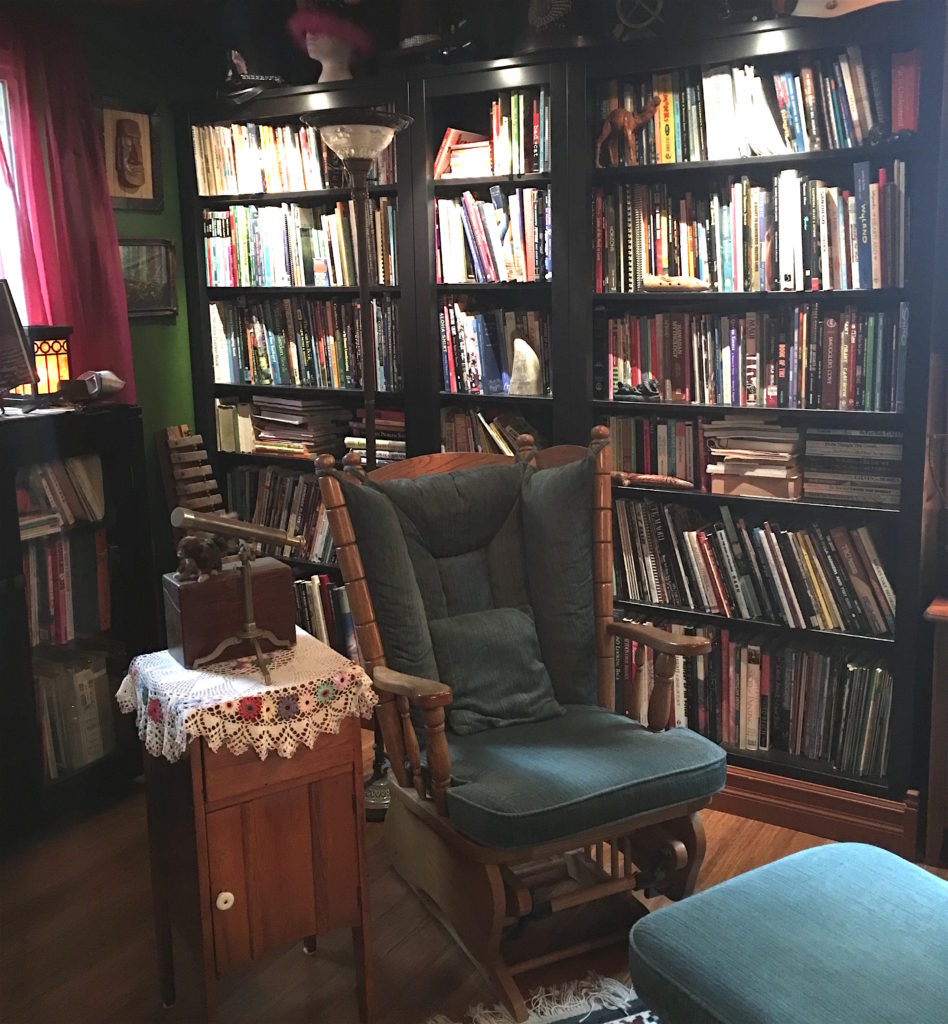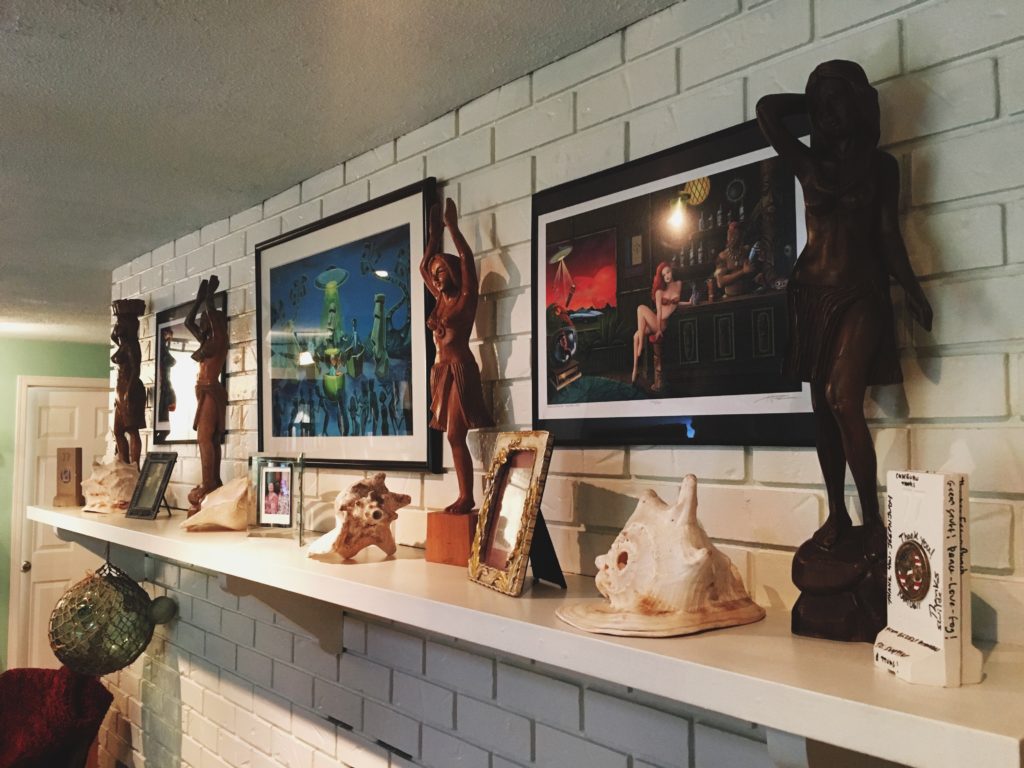 What is your favorite Tiki drink? Why?
Mark- My favorite(s) are the 1944 Mai Tai and the 1937-ish Zombie. Yes: the original recipes. They are the ones that pretty much started the whole thing and I'm not a huge fan of overly sweet drinks. My "customers" pretty much all prefer the 1975 Hale Koa Mai-Tai, but even it is too sweet for my taste, generally.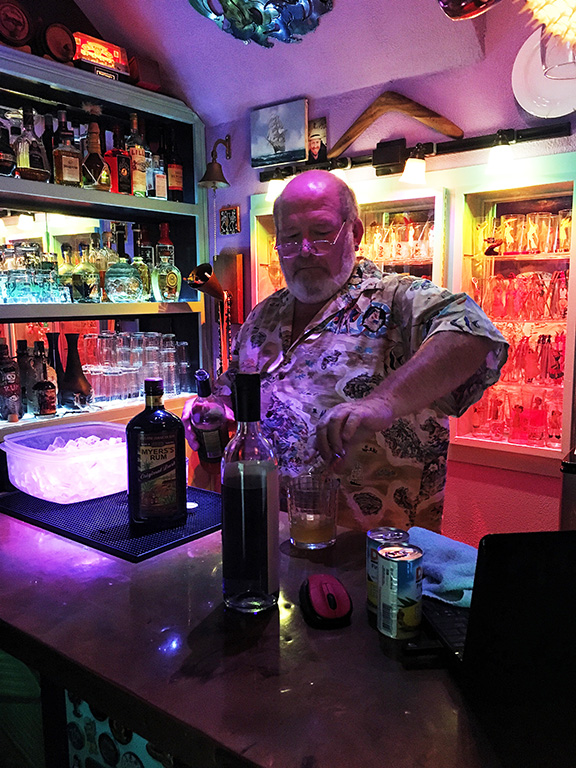 Not including your own, what is your favorite Tiki bar?
Mark- For a pro bar, I will have to say it's gonna be Tacoma Cabana. It has more of the feel of the bars of the '60s and '70s than most of the newer ones. Alibi in Portland comes in a close second.
For home bars, there is one in Seattle that is heavily influenced by Gilligan's Island. I can't remember the name any longer, but it was a stop on one of the Jet City Tiki Crawls when they were still happening.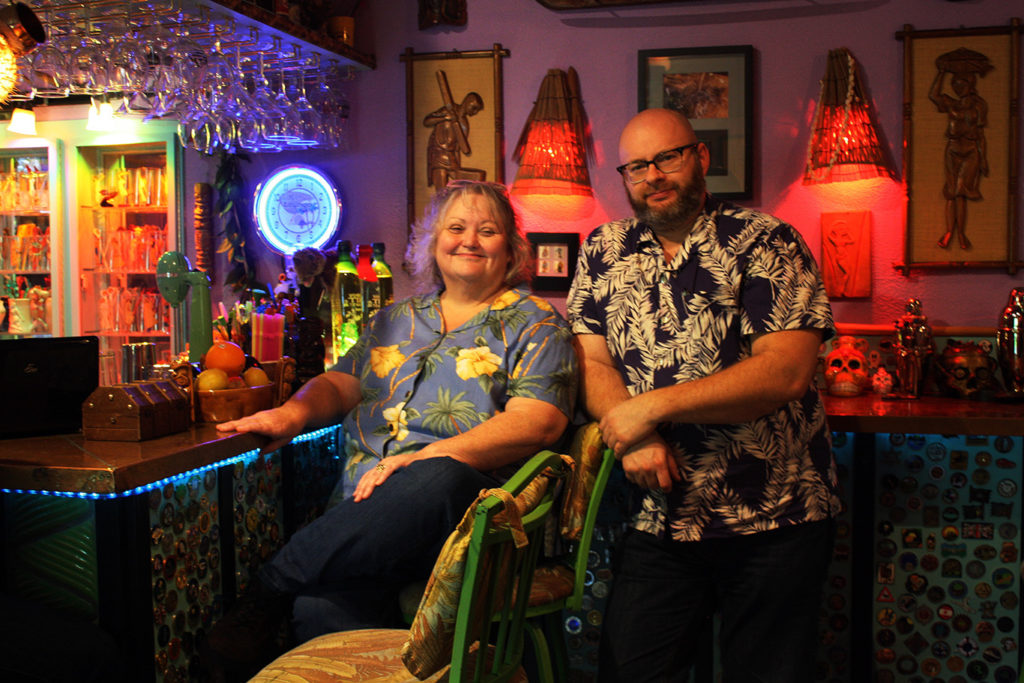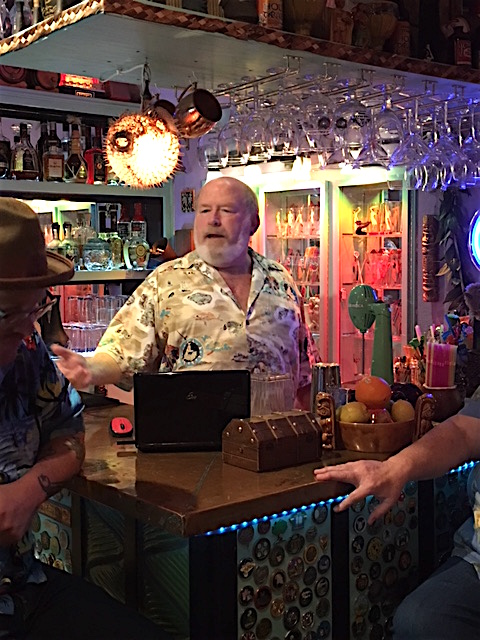 When and what made you decide to build your own Tiki bar?
Mark- I've always wanted my own bar, but we never had room until we bought this place. The Tiki part of the bar happened because we had over the previous 25 years bought a LOT of Hawaiian and Tiki stuff.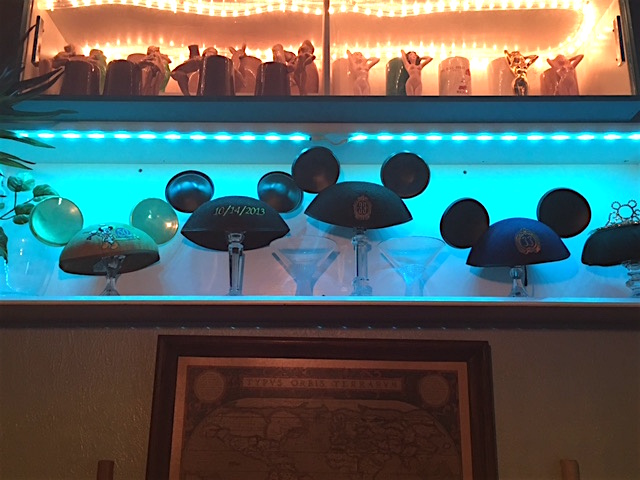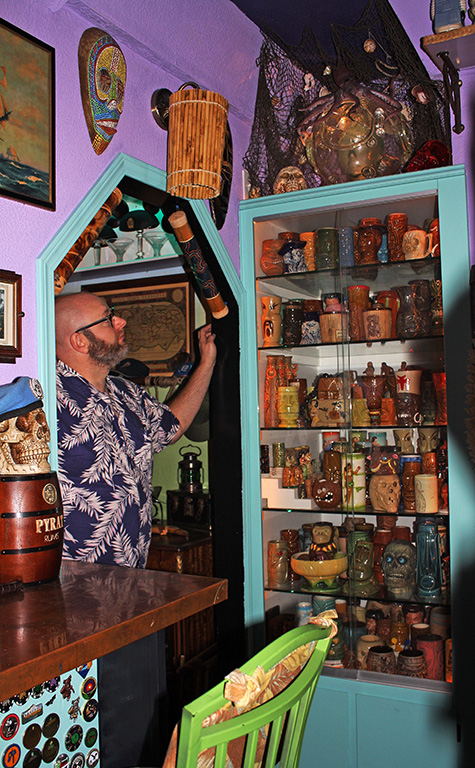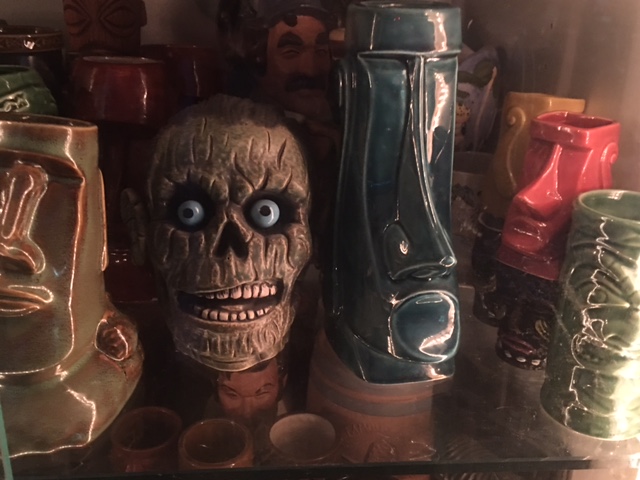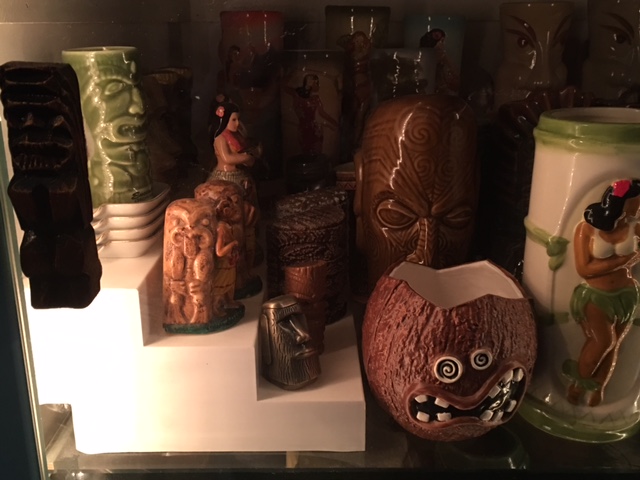 What was the first piece you bought on the path to making your own Tiki escape?
Mark- The first piece I ever bought was a Tiki that I got in Tonga back in 1978. It does live in the Smudge.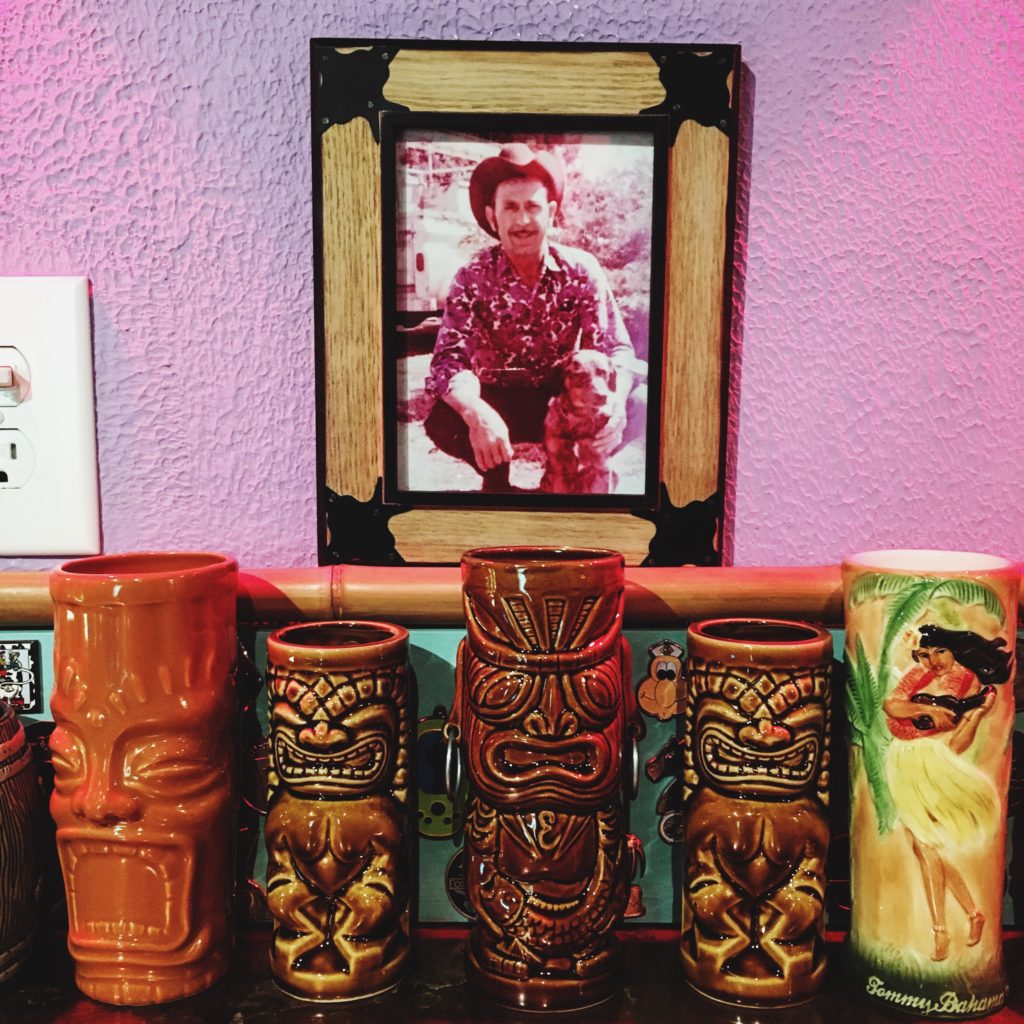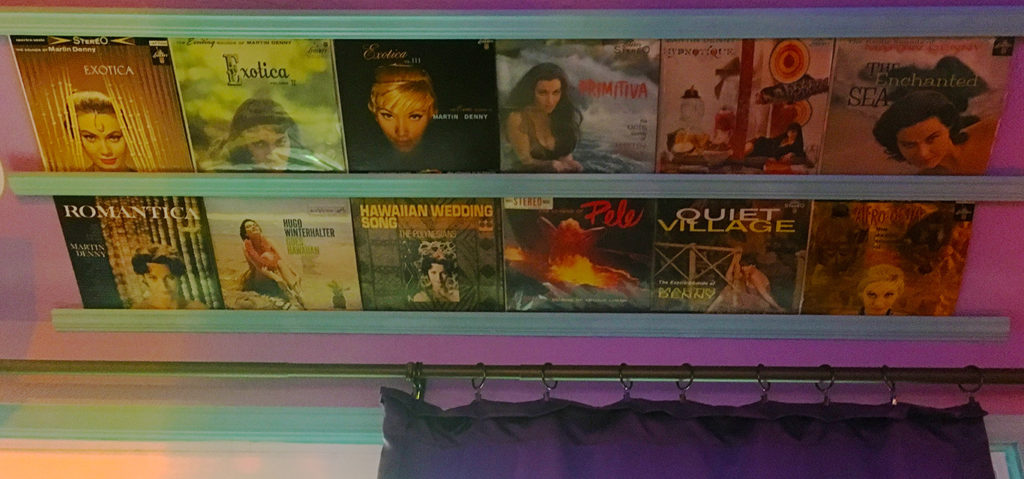 Can you give a little history of how it all came together?
Mark- The best way is to show you the pictures we've taken over the construction of the Smudge. All told, we probably devoted nearly two years to it. The photo album lives here.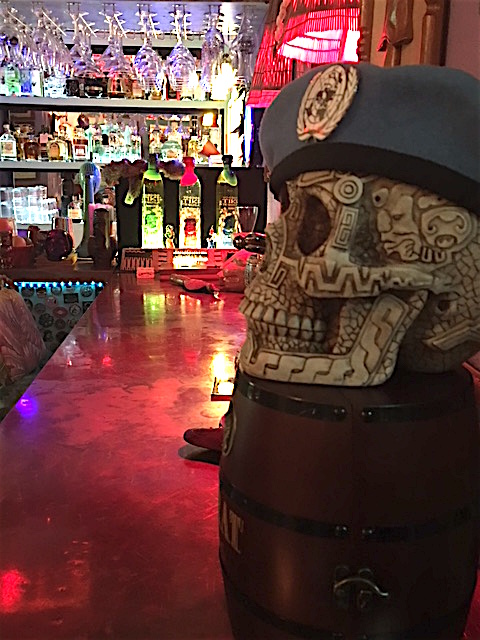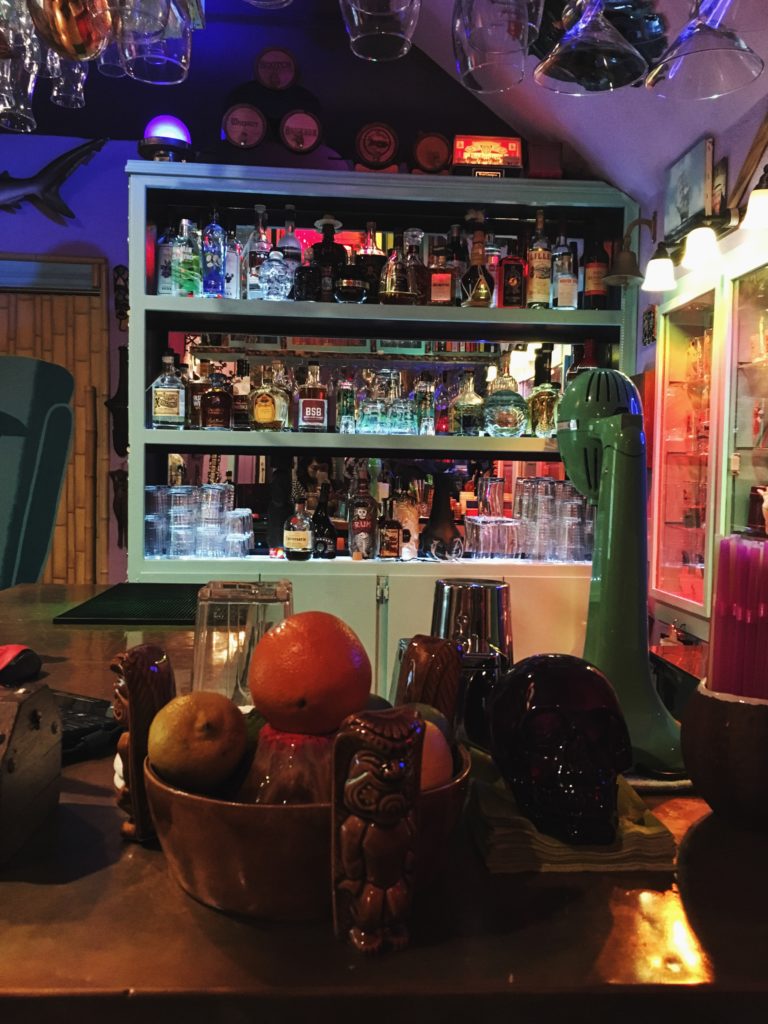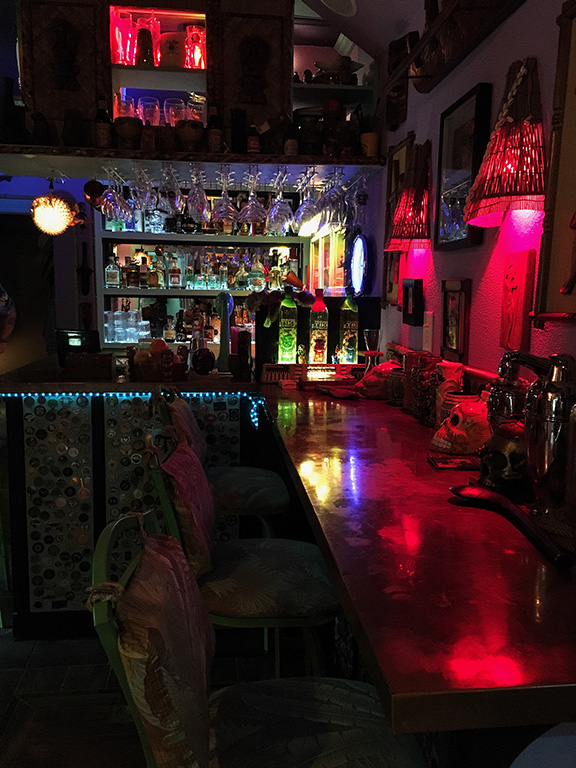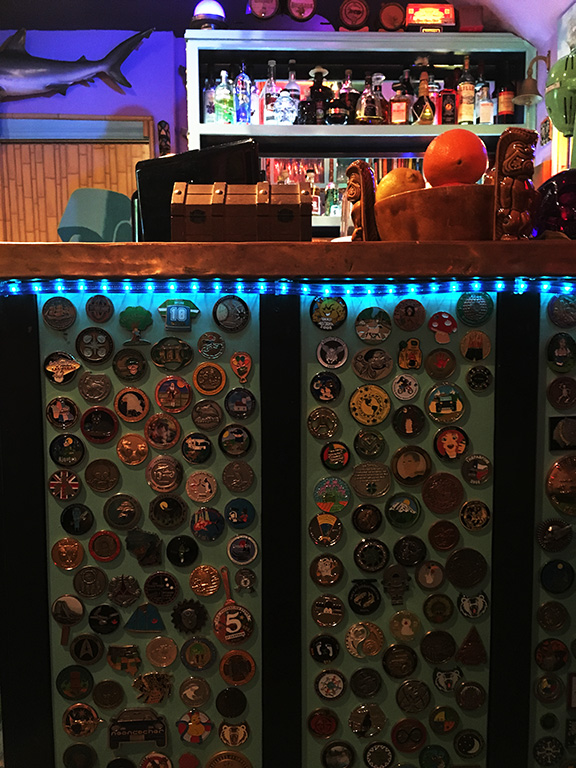 Any future plans?
Mark- Always. Right now, I'm planning on moving a boatload of Moai to make room for another Tiki mug shelf and cutting in come wall cabinets for the rare mugs we have. I'm also thinking about removing some rope lighting and replacing it with led strings.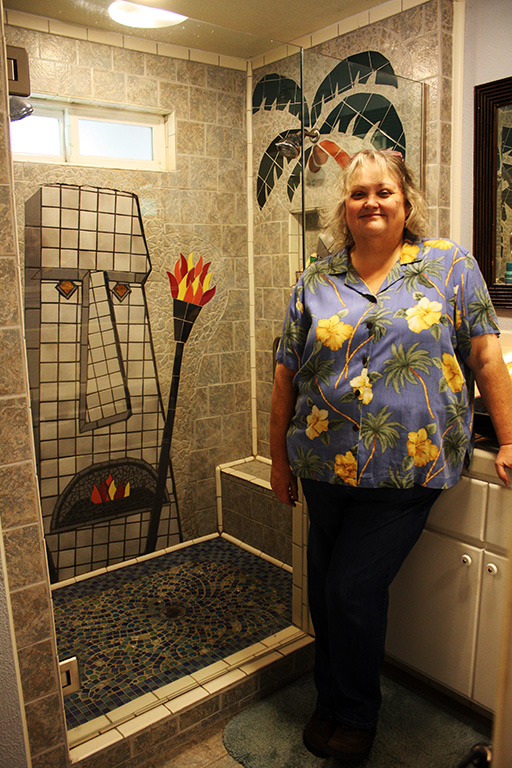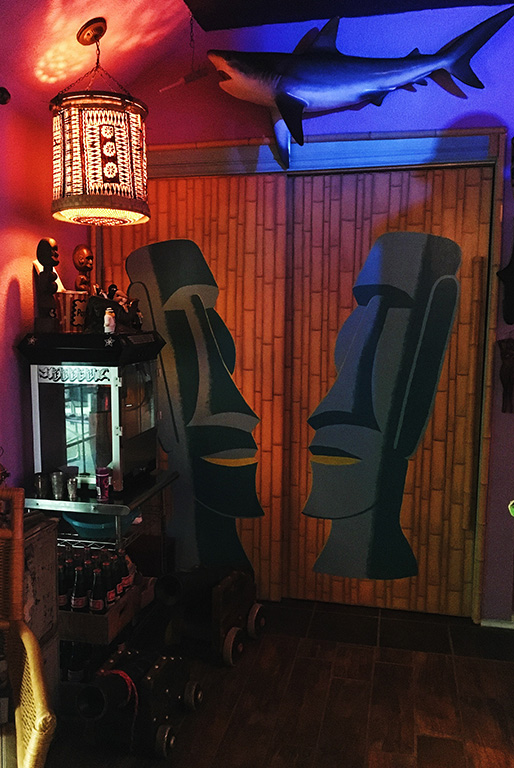 Anything else you would like to add?
Mark- A wise man told me a long time ago that a Tiki bar is perfect when the owner is happy with it. My place isn't all Tiki and it was never going to be. I also have some navy and pirate in there and I'm happy with it.
I also know a number of folks that have decided they are experts on how Tiki bars should look. As a rule, what they think is the proper look oddly fits exactly how their place looks. My issue is they have the nerve to tell others what is "right" and "wrong." Having been alive in the '60s and '70s, I do remember what home bars looked like then. The "experts" have no idea. They weren't alive then.
And finally, I make a point of finding and using original recipes. You can go to any hotel or bar and get a load of ice with some booze and sugar and think you're getting a Mai Tai. Here, you're gonna get as close to the original as I can make. Same with Daiquiris, Margaritas, and such. You want a slushy? Go to 7-Eleven. You want a good drink? I'll do my best.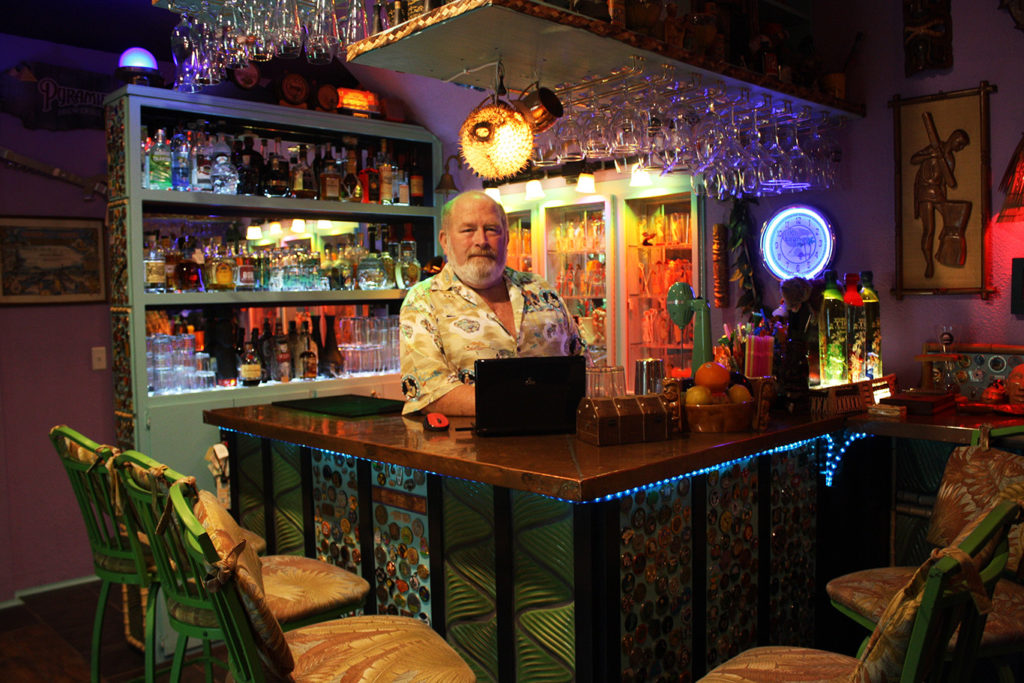 I would like to thank Erika with Yellow Wallpaper HM and Christina Sneath for their photographs.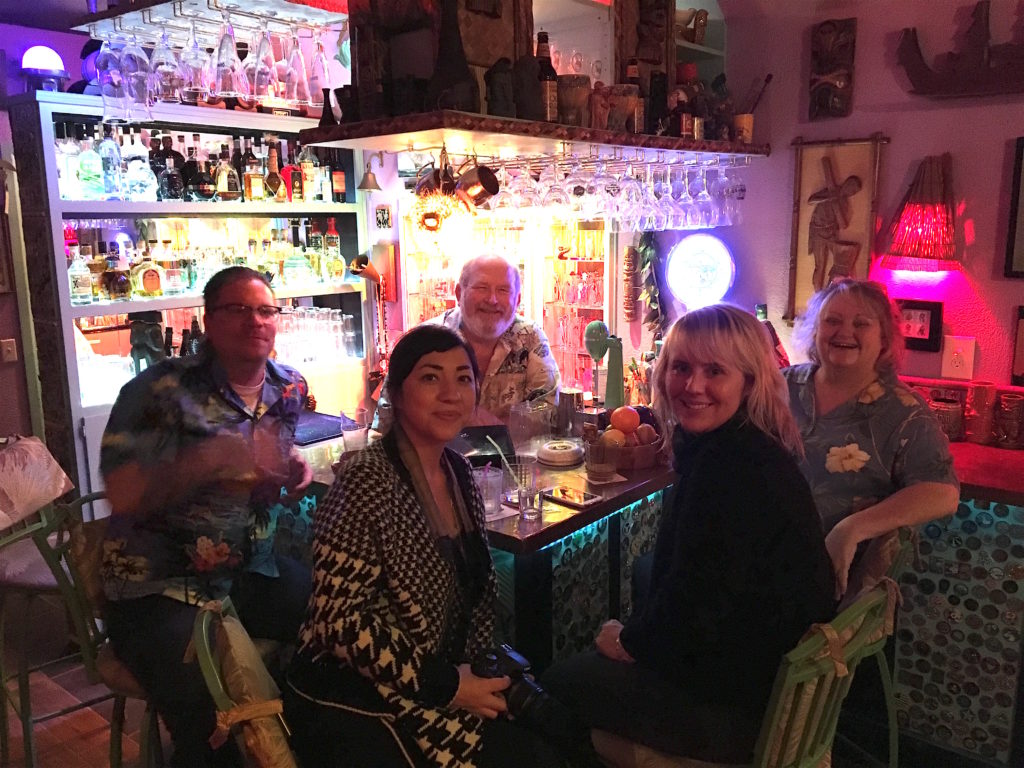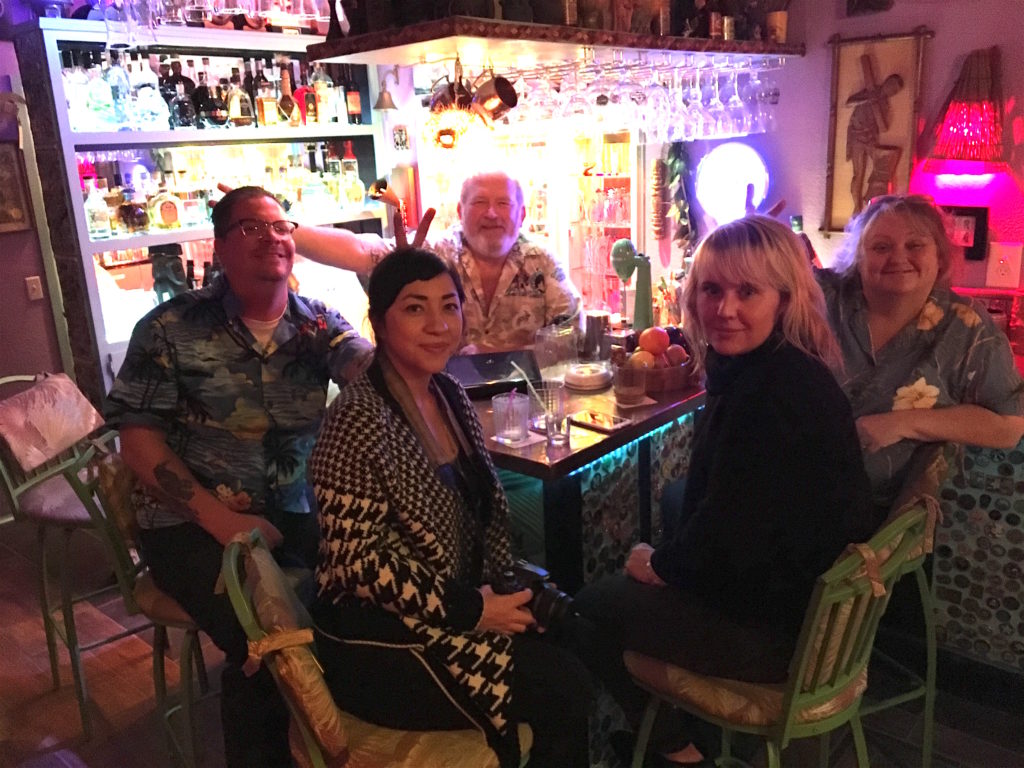 Here is the Fuzzy Smudge's Facebook page.