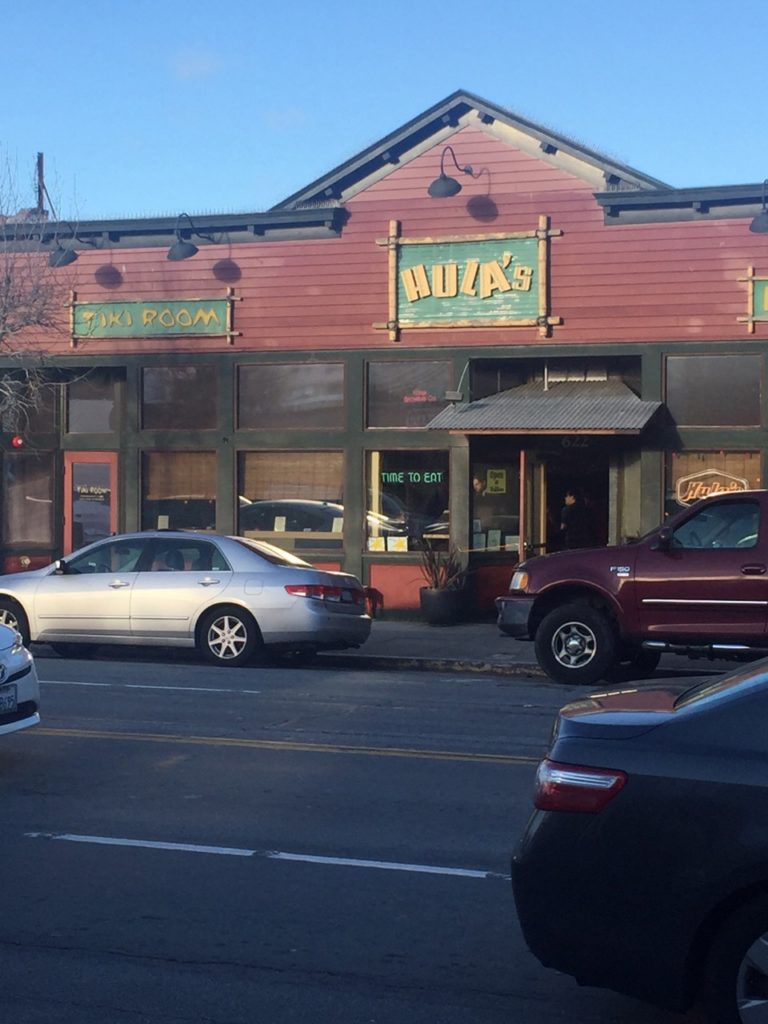 So many Tiki bars, so little time…
My list of Tiki bars to visit is long—very long. I'm only one man and I only have so much time. That's what friends are for! Carla and Joe took a trip to Monterey, CA and stopped in at Hula's Island Grill. Here's what they have to say…
Monterey, California may be an ocean-side community, but it hardly conjures up the image of an island oasis. The high dunes to the north and rugged coast to the south are more likely to bring to mind the awesome raw power of nature to build and destroy rather than the dulcet and smooth tones of exotica. If anything, this former colonial capitol of the great state of California is more famous for its history as a military stronghold and as fish cannery to the world. While the realities of those entries into the historical past of Monterey have long been laid to rest, it still seems an odd place to find a Tiki bar (and a damn fine one at that).
Hula's Island Grill can be found just off of the city's Cannery Row tourist area, which is another red flag for the potential quality of its fare. As such, my wife (Carla) and I entered cautiously. We expected this to be a quick visit. We were going to have a drink, take some photos, write the place up for Ray, and get on with our night. However, here, among the fudge shops and 2-for-1 t-shirts, Hula's is serving quality Tiki drinks and excellent food. Carla and I stayed for nearly two hours and we re-upped our food and drink order twice.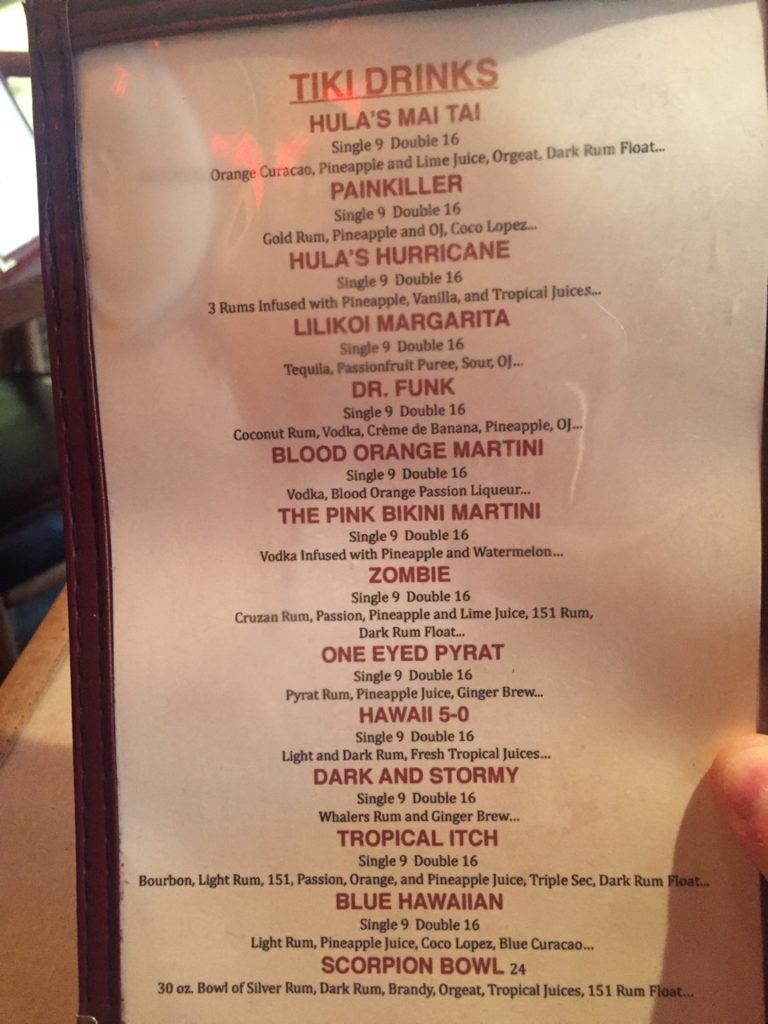 We arrived at the bar during Happy Hour. This was fortuitous, as we were able to sample their drinks at a significantly reduced price as well as partake in their tremendous Happy Hour food menu. We decided to order food first, so we got sweet potato fries and sashimi peppers. I know this is not strictly Tiki bar food, but bear with me. My wife loves sweet potato fries (I do not) and I love wok-fried sashimi peppers (she does not). We never get either because we cannot share. Since they were both on the Happy Hour menu for $6, we decided to satisfy both of our desires for once. The peppers had a salt and sauce accompaniment that was wonderful. It accomplished what every bar wants from its food, in that it made me want to drink more. The fries had a ginger dipping sauce that was outstanding. By the end of the night, we had ordered another round of each and were happily sharing the snacks. Hula's appetizers had brought my wife and I closer together and strengthened our marriage. Is there anything that Tiki can't do?
So it seems I have gotten off track…What about the drinks? While we were waiting for food, I also got the single Mai Tai for $6! It was done very well. It was not overly strong, but was made correctly. I liked it a lot and quickly finished it. Since the drinks seemed to be of good quality (and were cheap), I opted to go for the double Zombie ($12) once our food arrived. The Zombie was strong, but well balanced. The rum was clearly in there, but it was not particularly forward. The drink was also well presented. It paired nicely with my food, which is not always the case with heavily-rummed drinks. Carla, who sadly is not particularly fond of strong Tiki drinks (I still love her), liked it a lot.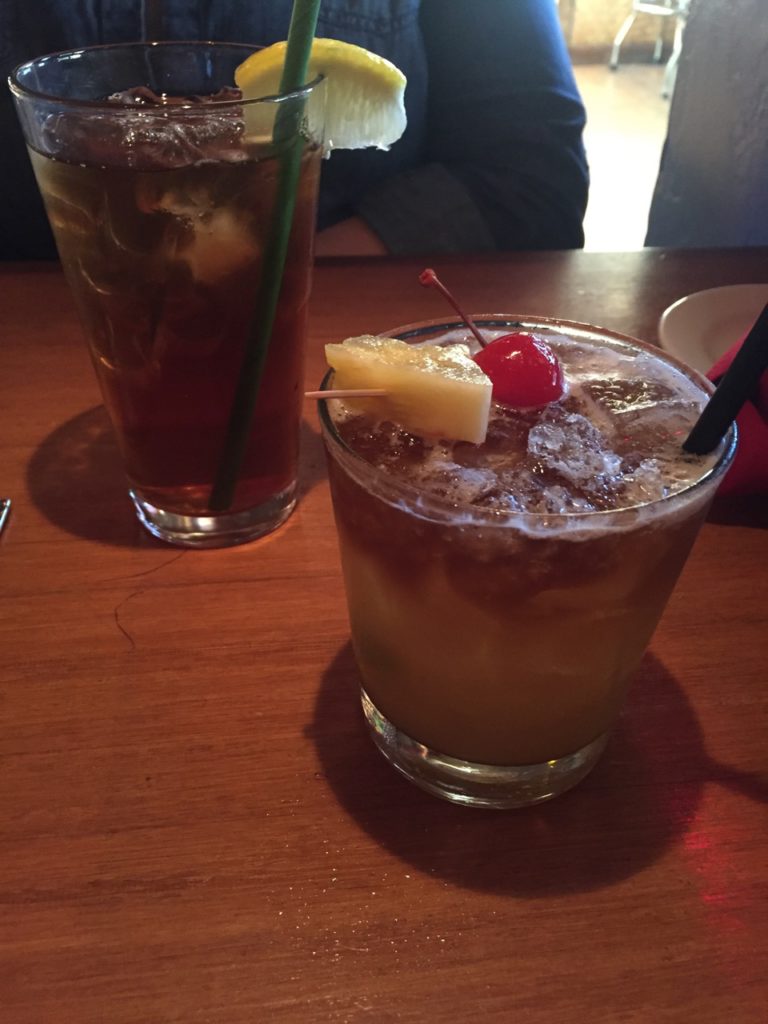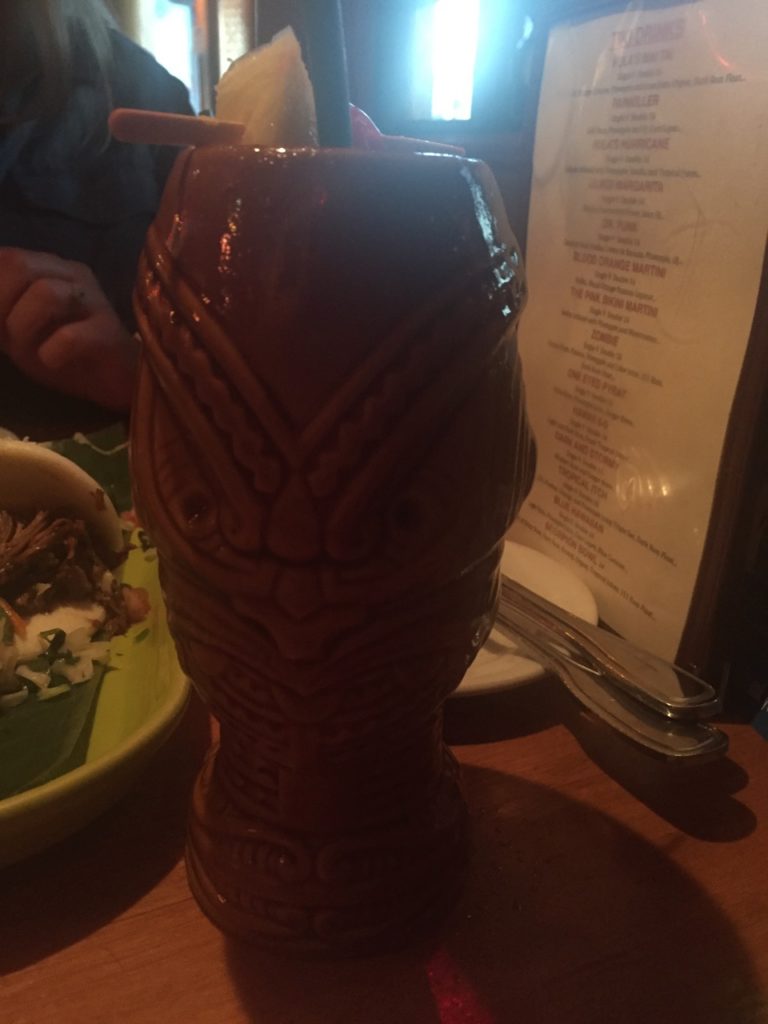 Hula's has two separate rooms. One is a dining room that is very family friendly and leans less heavily on the island theme. It was nice and seemed perfectly appropriate to the restaurant on this busy evening. They also have a Tiki lounge that has everything that you would expect from the décor. There are the requisite woven panels on the walls, big stuffed fish, string lights, novelty barware, and large Tiki statues to greet you. The staff was very friendly and quick. My only complaint—and it is admittedly small—was that the music choice on this night was classic rock. It seems that they may have been able to find something better for at least the Tiki lounge side of the house. Bachman Turner Overdrive just doesn't put me in the island mood.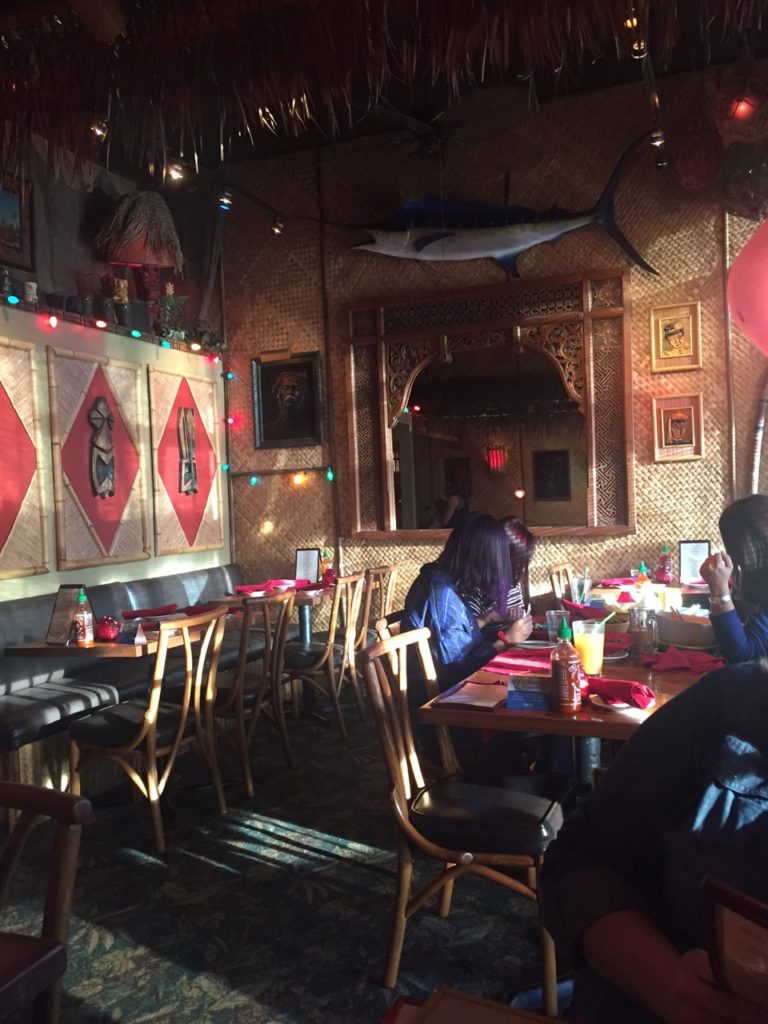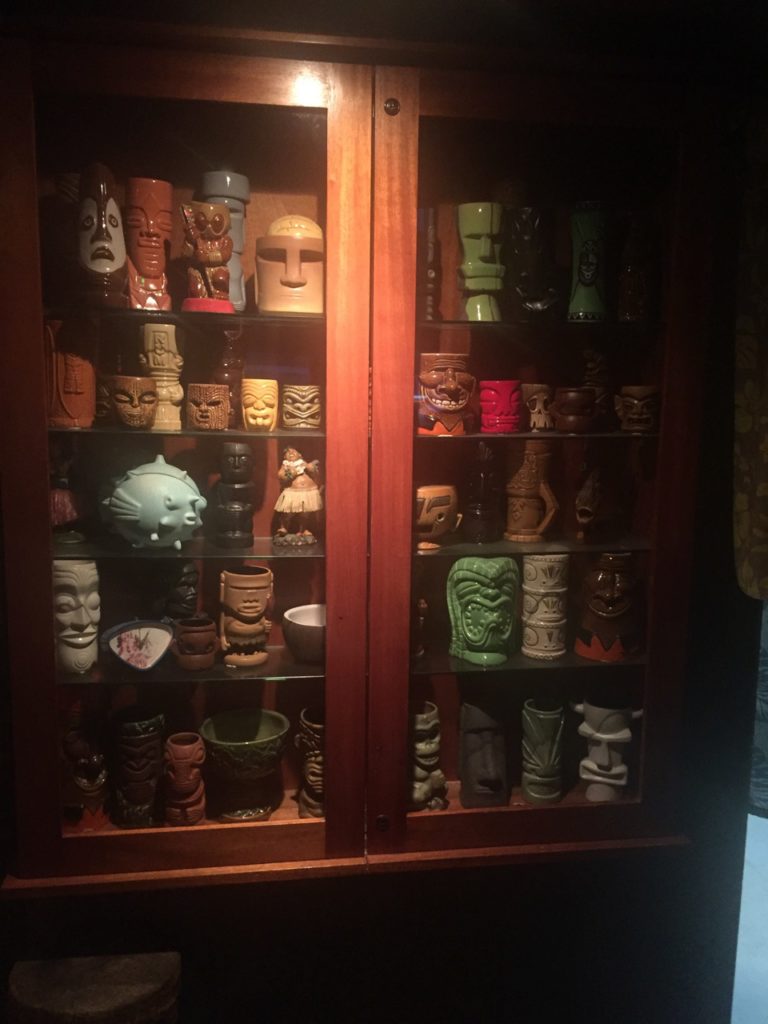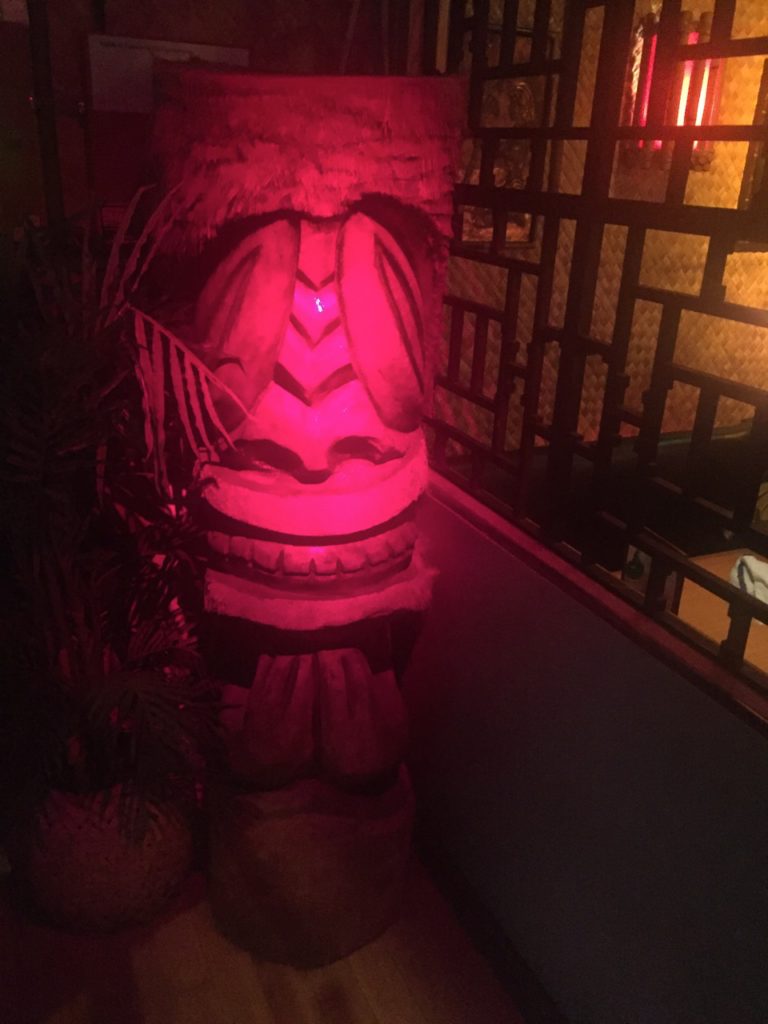 Once we finished all of the peppers, sweet potato fries, and drinks, we headed off into the still young night. We ended up parked alongside the ocean listening to the relaxing sound of the waves powerfully crashing against the shoreline. In that moment, quiet but for the roar of those waves, it seemed that perhaps Monterey did have something in common with the fantasy islands embraced by Tiki culture. Well fed, full of rum, and relaxed by the sounds around me, it was a very good night. Carla and I love the Monterey/Pacific Grove/Carmel area and hope to spend as much time as is possible there over the next several years. We will certainly be back to Hula's on our next trip.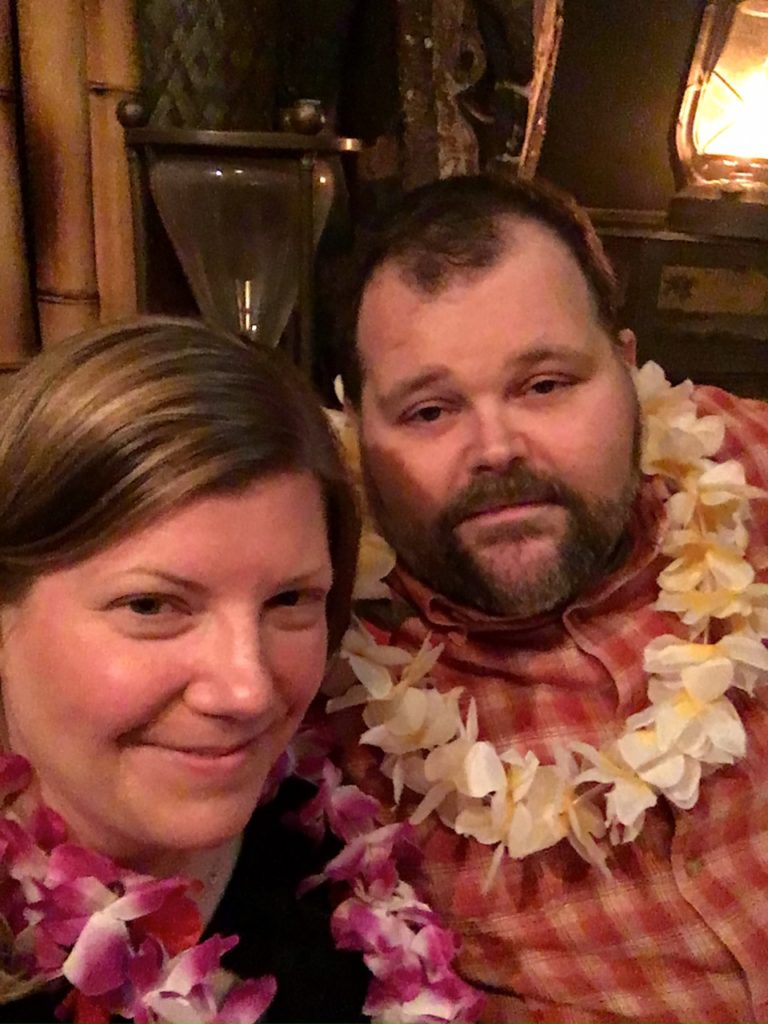 Here is the website for Hula's Island Grill
And Facebook page.